Are you somebody that doesn't half do anything? Have you been dreaming of hosting the perfect rustic wedding? Here's everything you need to include to create the ultimate rustic wedding.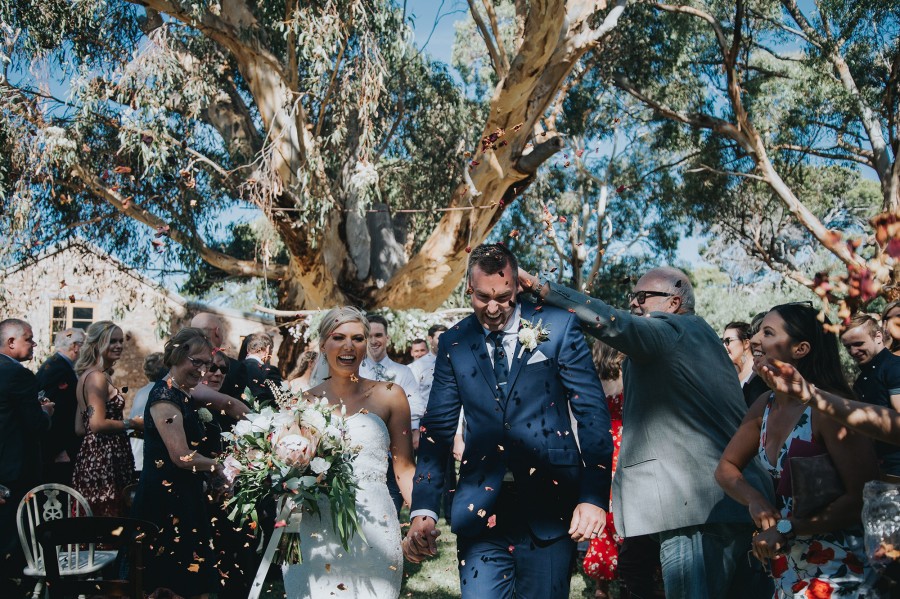 The rustic wedding theme
A rustic wedding focuses on wildlife and natural elements rather than purchased luxurious items. It's all about simplistic beauty. The rustic theme is up there in the top 10 most popular wedding themes, among classic/traditional, romantic, garden/outdoors, vintage, contemporary and glamorous, beach, vineyard and boho chic.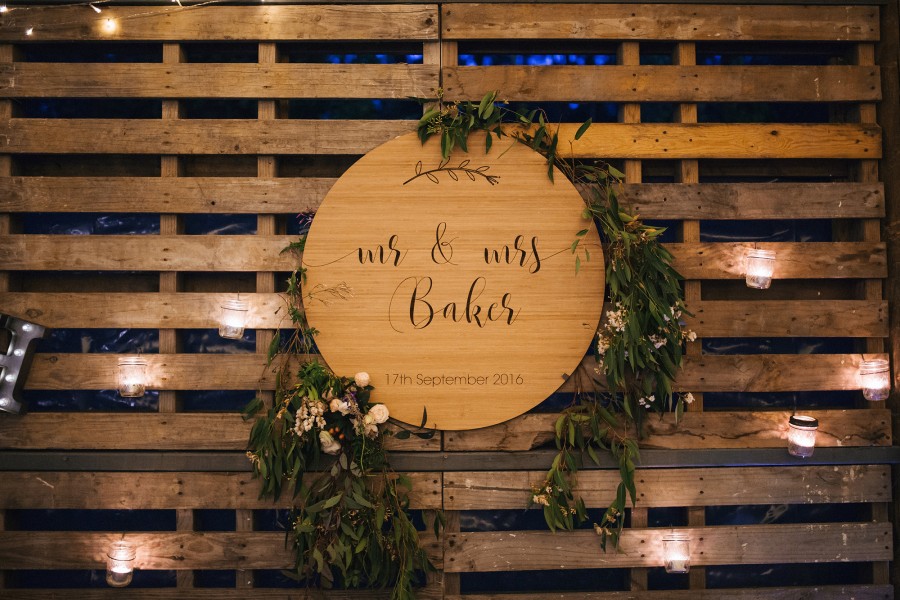 The vision
Couples who embark on planning the quintessential rustic wedding want to create something that appears effortless – even when it's not. These couples often enjoy the simpler things in life, and see the beauty in natural things rather than purchased luxurious items.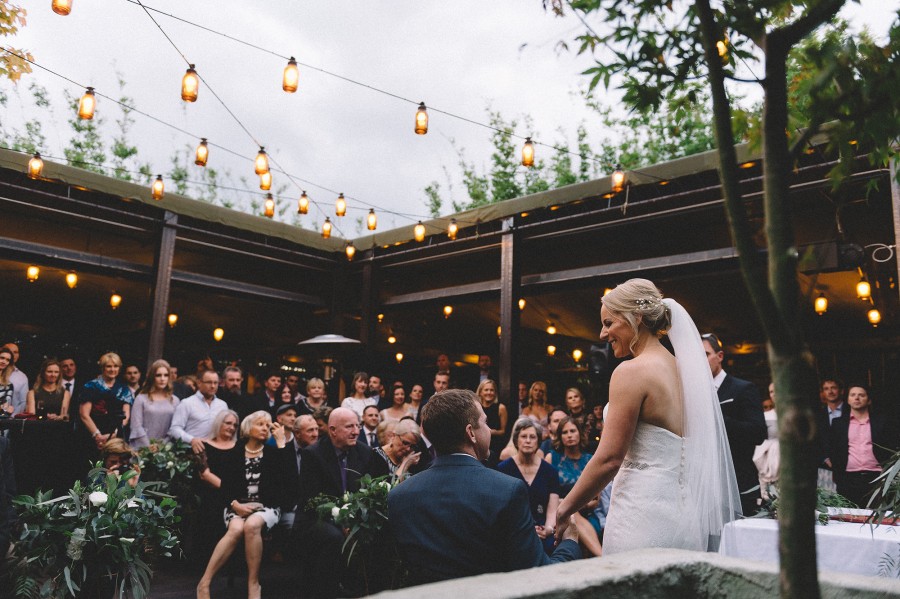 Ceremony venue
The typical rustic wedding usually begins in an outdoor ceremony venue. These can include gardens, parks, beaches, and farmland. The decor is usually very natural and earth, and there's a large emphasis on minimalist beauty.
If the ceremony is indoors, there's usually a point made to bring the outdoors within. For example, couples may exchange vows in front of elaborate floral altars, or next to a large floral hanging installation. Anything that screams 'nature' is welcome at a rustic wedding.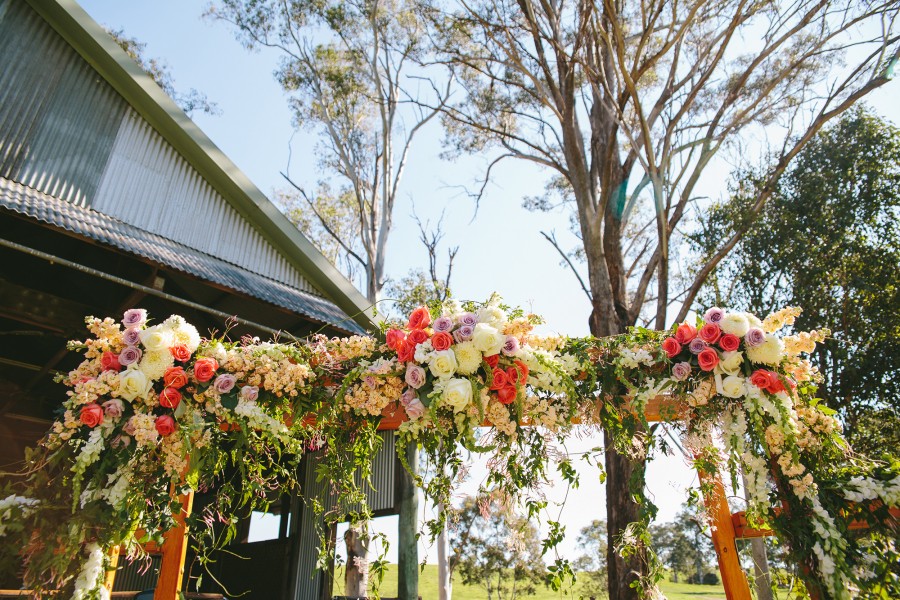 Reception venue
At the typical rustic wedding, the party will kick on in a barn, a farm house, or a shabby-chic venue. Usually these venues feature exposed beams and looks of wood elements.
There's a large emphasis on location however, so now matter what the actual venue looks like, a rustic wedding usually occurs somewhere with a gorgeous atmosphere – like a rural country town, a secluded beach, or in untouched bushland.
We suggest before booking your venue to ask whether they've held a rustic wedding there before. If the venue has held a rustic wedding, perhaps they can show you photos of the styling for inspiration, and suggest other suppliers that work well their venue to create the perfect rustic theme.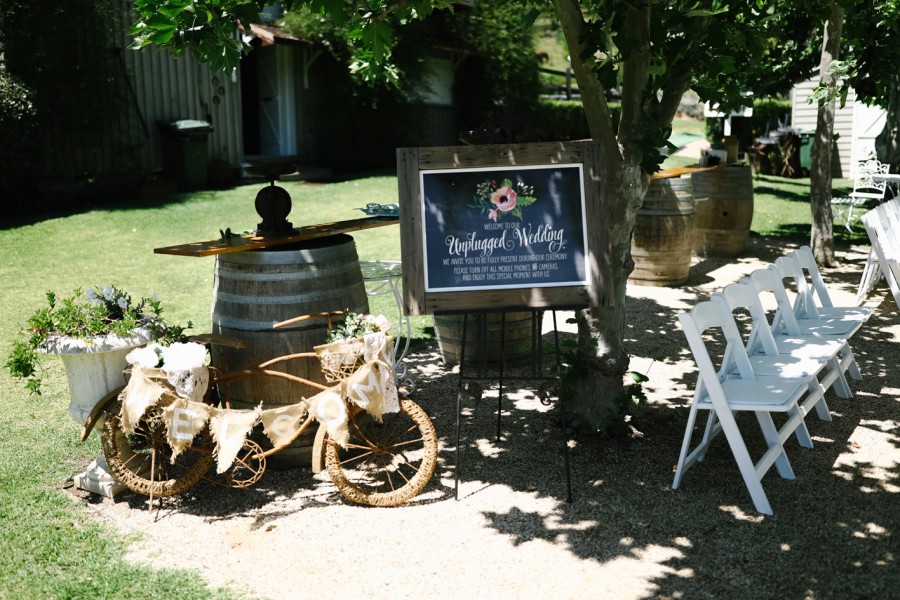 Invitations
The rise in popularity of rustic weddings has also seen the rise in more natural wedding invitations. Invitations that suit the quintessential rustic wedding include invitations made of wood, simple letterpress invitations, and those that include lace and burlap.
We suggest shopping around for your invitations before putting all your eggs in one basket. With so many options to choose from, you're spoiled for choice!
Click here to discover 6 beautiful letter press wedding invitations that'll go perfectly with your rustic wedding.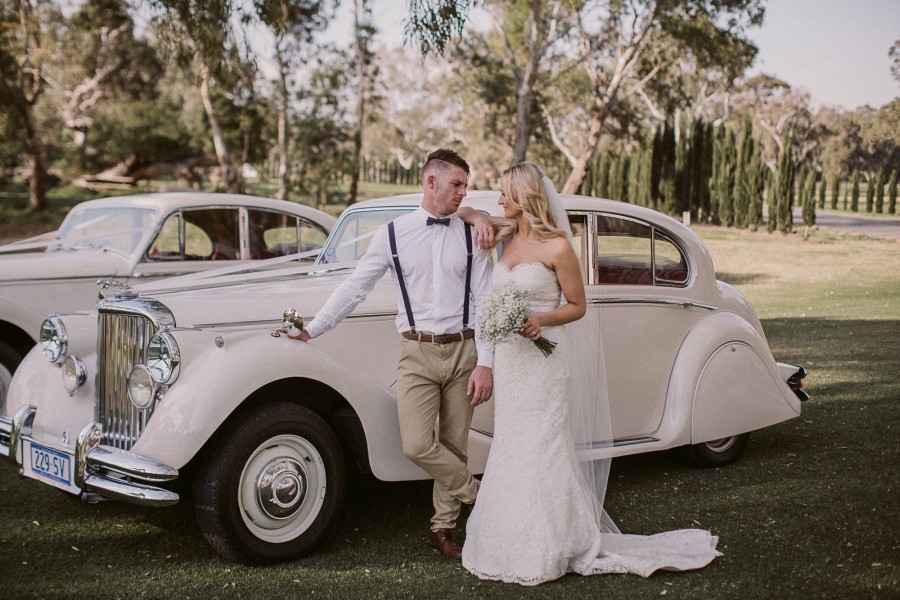 Decor
Rustic weddings place a large emphasis on natural elements, so it makes sense to bring the outside within when it comes to wedding decor.
The quintessential rustic wedding will have naked chairs (no chair covers), and large floral hanging installations that cascade from the venue ceiling or across the tables themselves.
The lighting is usually dim, lit with fairy lights, or simply candlelit to add extra romance and ambience to the reception.
For perfect use of your venue space, we suggest booking a decorator who has created a rustic wedding before.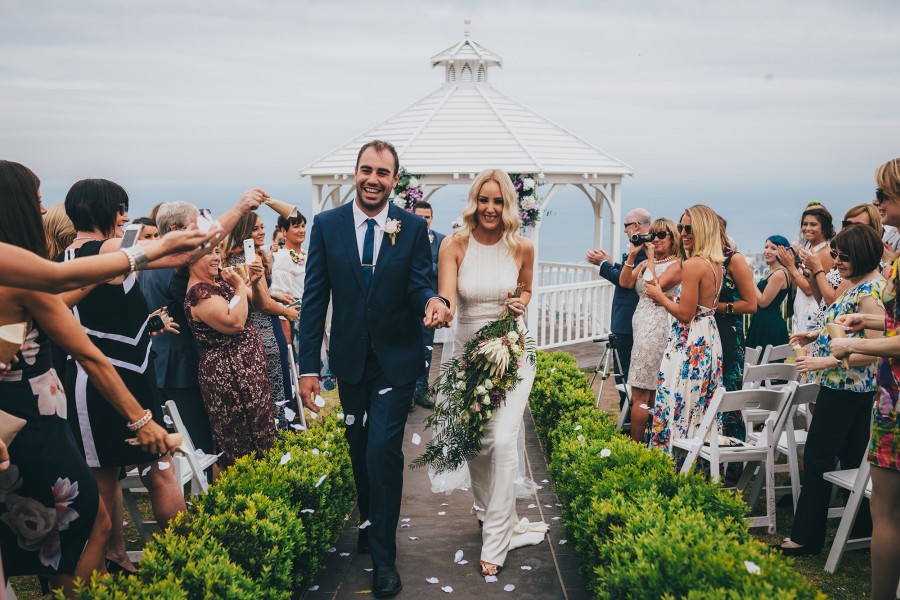 DIY
The overall relaxed "just thrown together" look of a rustic wedding lends itself to DIY elements. Couples may choose to create elements of the decor themselves by collecting vintage glasswear for the tables, or perhaps creating centrepieces with their own skills and talents.
Click here to discover some simple ideas to enhance your DIY wedding.
The arch in the image below was built by the groom himself!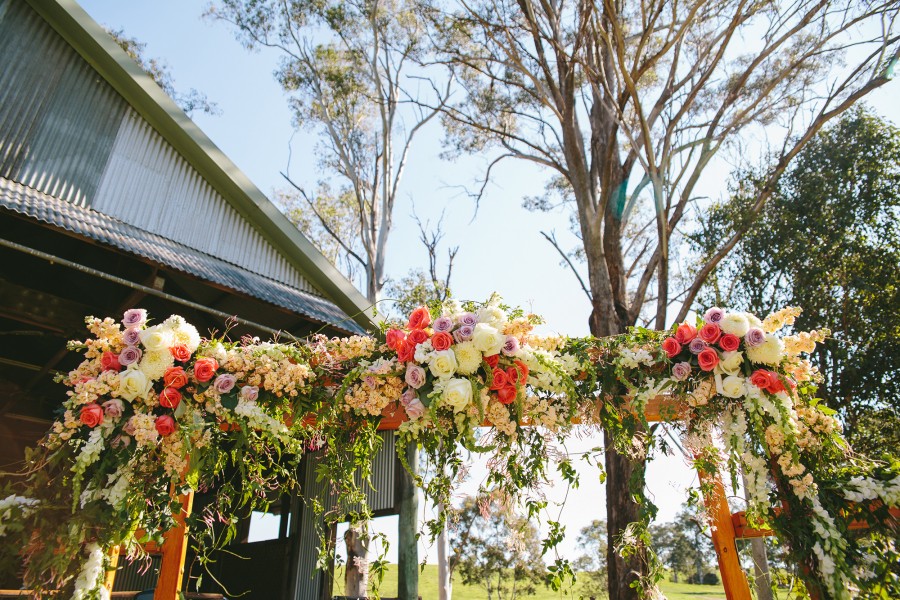 Flowers
When it comes to rustic weddings, the bigger the bouquet – the better! Nothing screams rustic like an unstructured oversized bouquet full of beautiful flowers.
The whole point is to make it appear you've just thrown together a bunch of flowers you've picked from your garden, even though your florist has probably painstakingly arranged the bouquet that way.
There's also a large emphasis placed on foliage rather than actual flowers, so cascading greenery is prominent in the typical rustic wedding.
We suggest asking your florist about what they can create with currently trending Native Australian flora. What's better than a native bouquet at your nature-filled rustic wedding?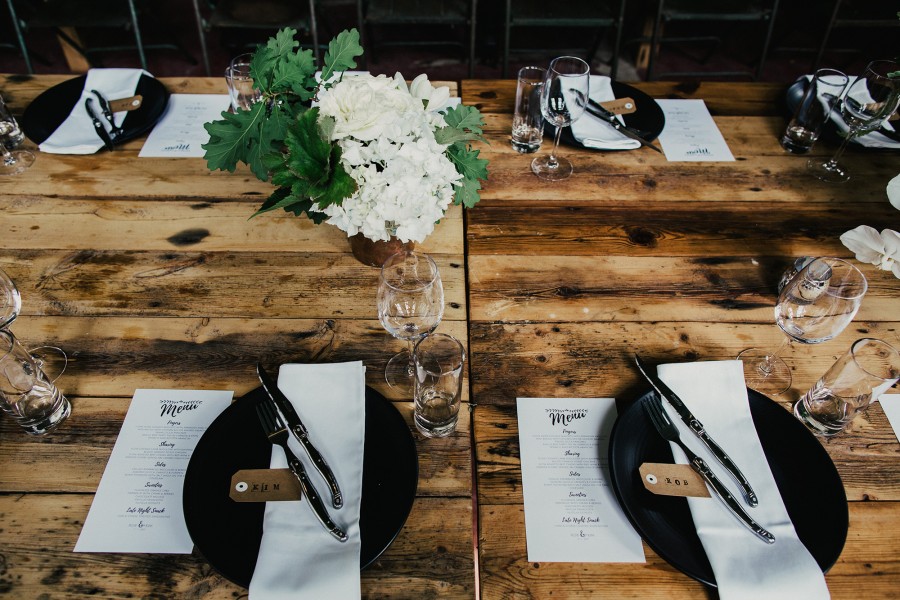 Photography
Photography at a typical rustic wedding focuses on the natural elements of the wedding and its location. Photography usually occurs outdoors, where nature becomes the real star of the show.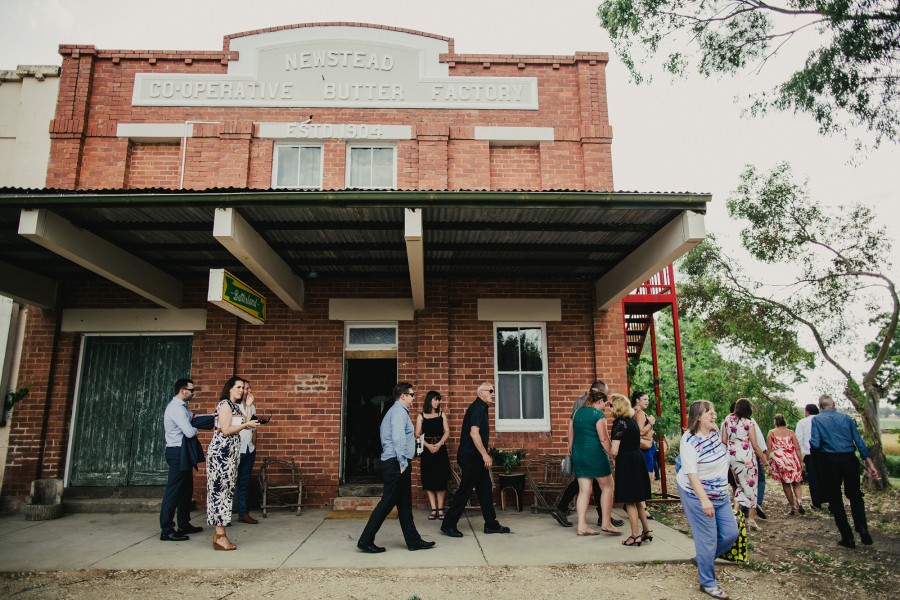 Bridesmaids
Bridesmaids at rustic weddings are usually dressed in flowy bridesmaid dresses. Typically, they are mismatched to suit their individual style and comfort, but the entire bridal party aesthetic is tied together with a common denominator – such as shades of the same colour, or perhaps similar dress fabrics and textures.
Usually the bridesmaids will wear a soft colour, such as blush, cream, or light blue to not take away from the natural beauty of a rustic wedding.
Bridesmaids will also carry oversized bouquets, but certainly not as oversized as the bride's.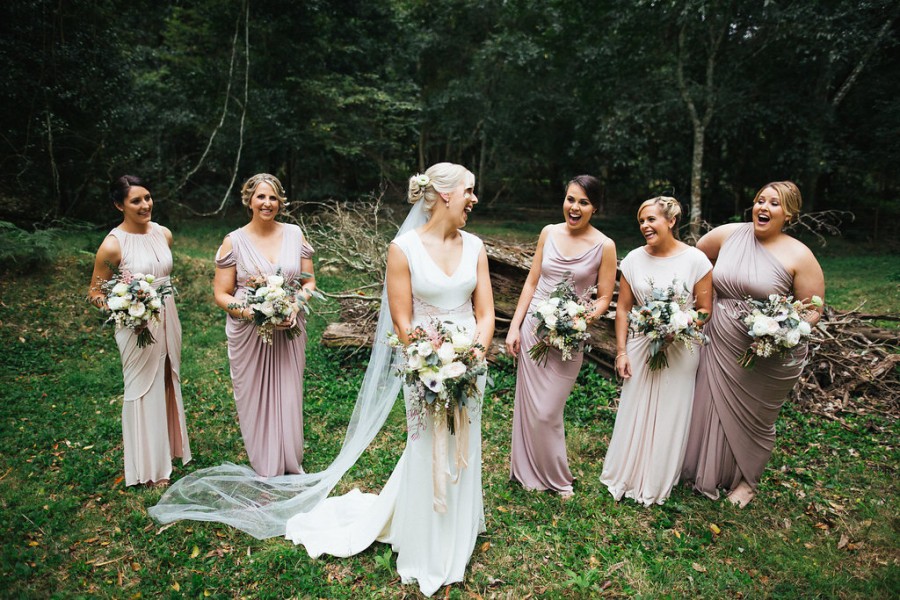 Wedding dress
The typical rustic wedding dress is flowy and incorporates lace in some way. Brides will opt for a casual boho look, and often wear flowers in their hair. The dress itself is usually easy to move in, as the typical rustic venue is outdoors and may have uneven terrain and bushland that can potentially dirty or snag the dress.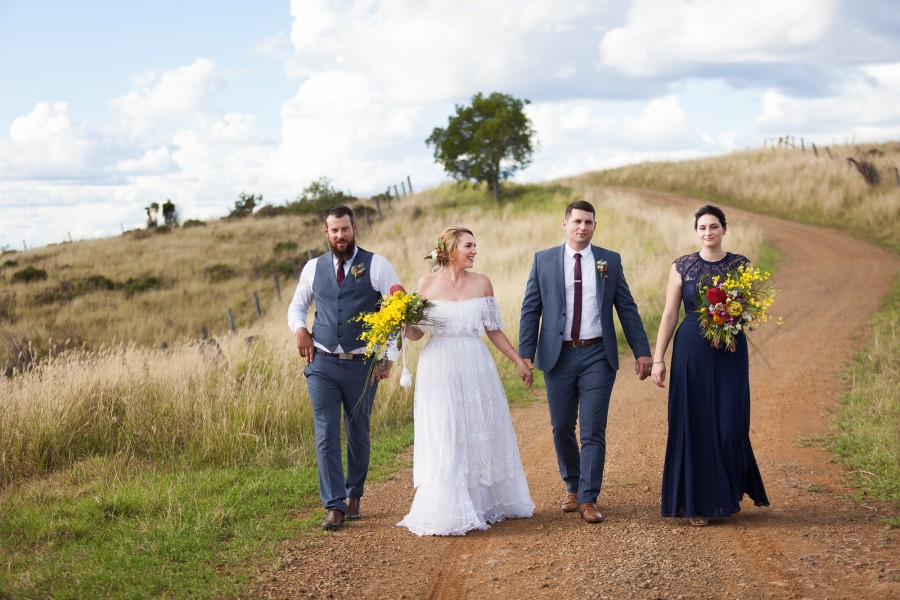 Formal wear
Grooms will typically wear a suit, though usually in colours other than black for alternatives and relaxed take on formalwear. Grooms and their groomsmen might opt to wear bow ties instead of the traditional neck tie, and they may choose this to be colours other than formal black.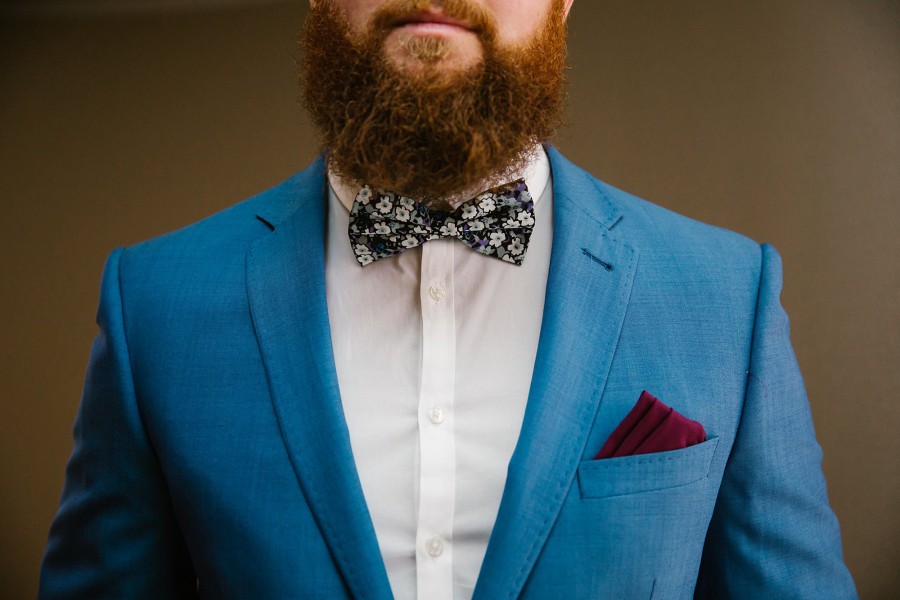 Catering
The catering at a rustic wedding is usually alternative (for example, a food truck or street food), or create to appear deconstructed. There's a large emphasis on taste rather than appearance, and some rustic weddings will feature large 'grazing tables' filled with antipasto (cheeses, hams, crackers, olives, mushrooms, etc.) These grazing tables not only look fantastic with the whole 'deconstructed' and 'natural' aesthetic that rustic weddings crave, but also fill up your guests' stomachs quite easily and with little effort!
We suggest taking a look at some alternative catering options that'll complement your rustic theme. For instance, a 'family meal' alternate to catering creates a relaxed party vibe that goes perfectly with rustic weddings.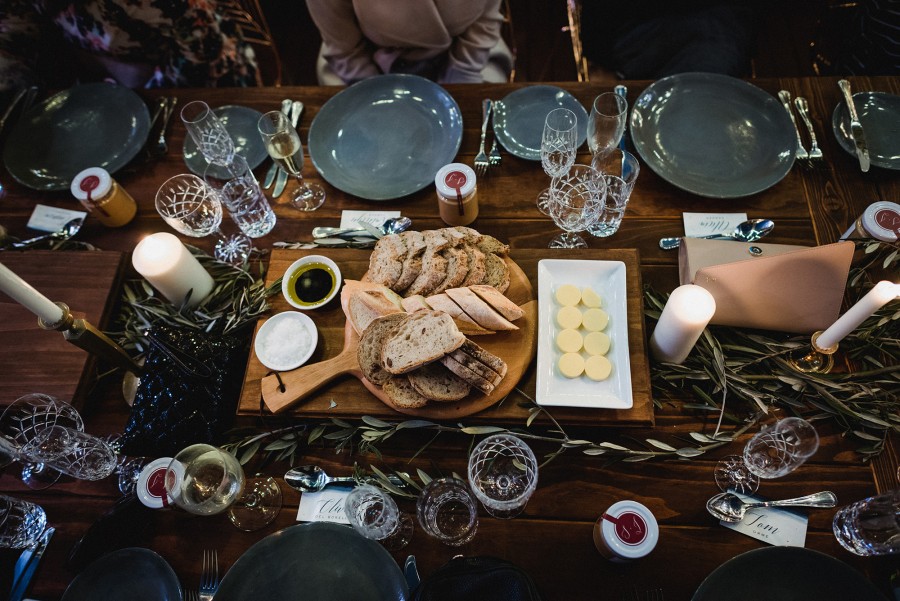 Cake
Currently, the most popular style of wedding cake for rustic weddings is the naked cake. These are great because they not only look fantastic, but they cost considerably less than fully decorated wedding cakes. As garnish, naked cakes usually include fresh seasonal berries, flowers, or foliage to complete the rustic "effortless" look.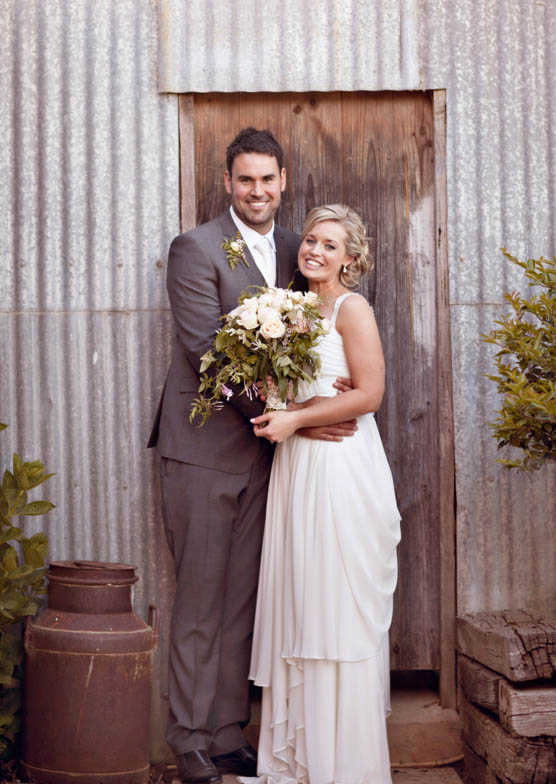 Transport
When it comes to wedding transport, it really depends on your personal preference. However, rustic weddings typically include a classic style vehicle to complement the natural elements of the day. For instance, a bright yellow Hummer may stick out like a sore thumb at a rural location.
Cars we suggest for rural rustic weddings include Bentleys, Rolls Royces and Chevrolets. For a rustic wedding set on a secluded beach, we'd suggest a Kombi van.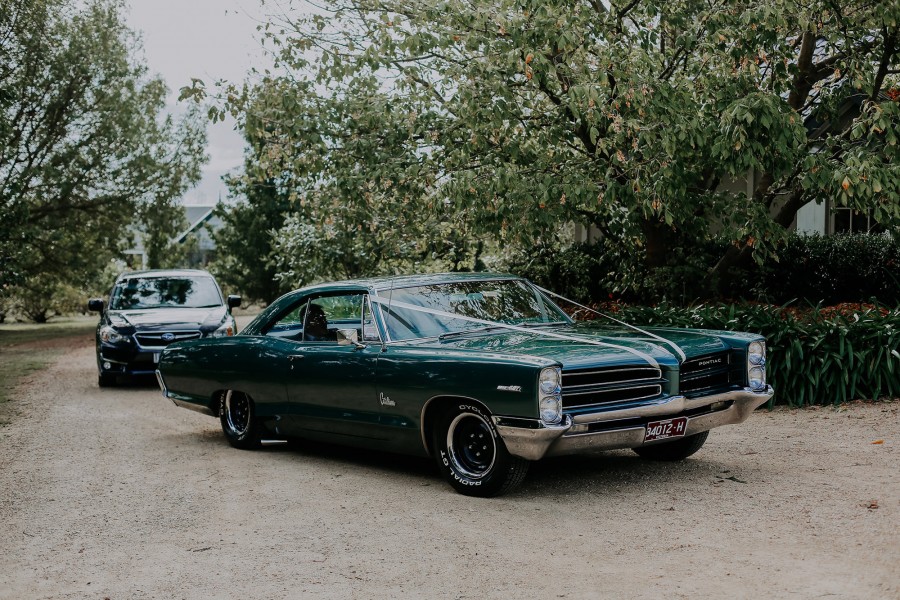 Music
Due to the relaxed nature of a rustic wedding, what better event to have a live musician perform? There's something truly special and atmospheric about having a live band, and the inclusion of live music will only add to the overall rustic – back to nature – feel of the day.