The typical marriage celebrant cost ranges from $400-1500 in Australia. Below, popular Australian celebrants discuss the details of what their services include and how their pricing works.
According to our 2023-2024 Australian Wedding Industry Report, the average marriage celebrant cost in Australia is $874. This is up 7% from the previous year, signifying that couples are happy to continue choosing to invest in the most emotional part of their wedding day.
When it comes to understanding the cost of a celebrant, it might help to take a look at everything they put into making your ceremony run seamlessly. Tweed Coast-based marriage celebrant Rachel Johnson, also known as The Lady Who Weds, includes multiple meetings, a custom ceremony script, and much, much more. She says that her ultimate goal is "to make all your guests believe that I know you both." In addition, she always makes sure that "the ceremony is stress-free and exactly the vibe that you want."
Melbourne-based marriage celebrant Zena Lythgo added that she spends an average of 15 hours on a wedding. She says, "I meet with the couple in person usually three times before the day. I like to use a face-to-face interview technique rather than relying on questionnaires for answers; that way I am seeing and hearing their personalities, views and what matters to them." For her, the most important aspect of the celebrant gig is "creating a warm, welcoming, genuine space that helps your personalities come through and represents you as a couple."
Read on below for more details about what each of these celebrants brings to your wedding.
---
---
The marriage celebrant cost ranges from $400-1,500 in Australia
According to Zena, "If you want a legal only 2-minute ceremony that is in my suburb, that may only be $400, but most people don't want just that. Most people want a memorable experience that requires a lot of guidance."
In saying that, a simple courthouse wedding will set you back between $250 – $320 anyway, so it really is worth investing in a celebrant that can create a ceremony that does your love story justice. For a full service, Zena charges up to $1500. She says, "A great ceremony sets the tone for the whole day and can have the party started before you've even kissed off on it. It's important to remember that each vendor you employ for your wedding is a small business, and there are many costs associated with that, from GST to insurance to superannuation."
For Rachel, prices start at $700 for a wedding ceremony and range depending on travel and other requirements, though her legal-only weddings and commitment ceremonies are priced differently.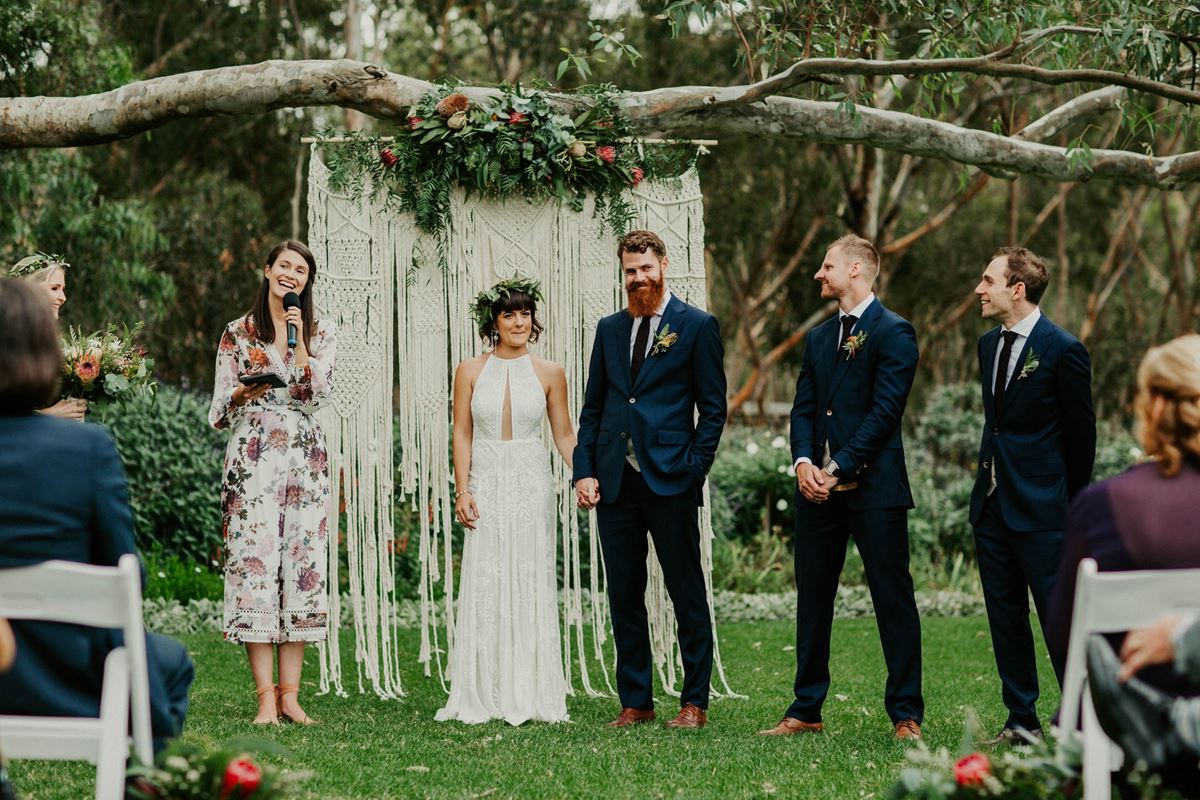 Here is what's included in the wedding celebrant cost
When quoting clients, Rachel includes a no-obligation first meeting, a thorough planning meeting, personal scriptwriting, vow writing tips and inspiration, examples of readings and poems, a rehearsal, the use of a great PA system, lodging all the government paperwork, help with applying for the official marriage certificate, and guidance if you'd like to change your name.
Zena provides a personalised ceremony filled with your own words, PA use, vow writing support, resources to assist with the ceremony planning, and a final meeting to prepare, but no onsite rehearsal. She says, "Extra travel cost may be included if it's going to be a serious road trippin' day!" She will also let you have your say in what she wears on the day, which is great for getting those gorgeous wedding ceremony shots with your wedding photographer!
What a marriage celebrant's services are worth
Celebrants often go above and beyond when making you officially married. Zena says, "I want to over-deliver to the people I get to work with — I love hearing their stories and getting to know them; I don't want to cut them off as they tell me about what's most important to them in their life because the time is up for our hour-long meeting! I would rather set a rate that is fair for both sides."
---
---