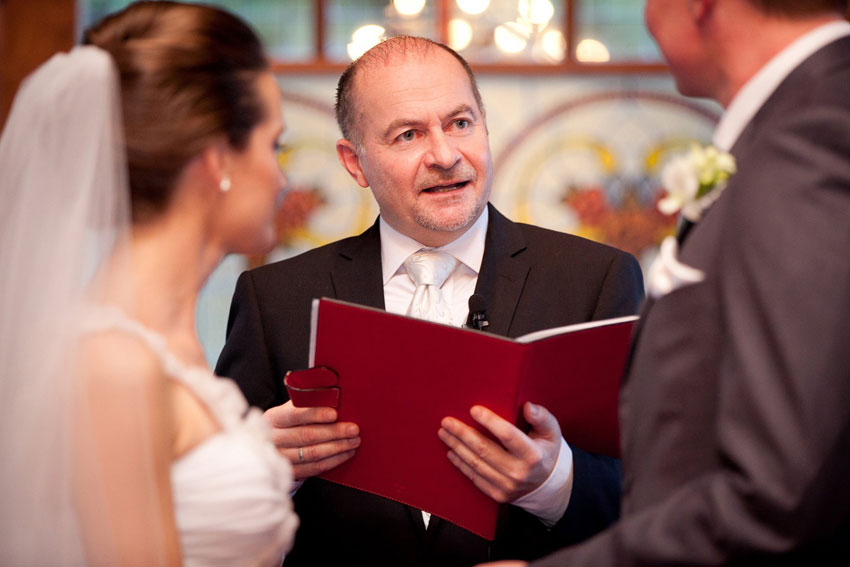 While every one of your wedding vendors is crucial to pulling off your big day, your marriage celebrant is the person who'll ensure that the legalities of your all-important wedding ceremony are completed properly, so, without them, well, there's no wedding – or marriage – to be had.
But choosing a wedding celebrant is about more than just finding someone who can, competently, cross the Ts and dot the Is. They are in charge of ensuring your marriage is legally recognised and, ultimately, they will also have a huge hand in how your wedding ceremony will feel and run, so it's absolutely crucial to find someone you truly like and have an affinity with to perform your wedding ceremony.
Here are 14 questions that will help you choose the perfect wedding celebrant.
Are you available on our wedding date?
This should be the very first question you ask any vendor you're considering for your wedding. After all, if they're already booked on your wedding day, there's little point asking the questions below and, given some of the most popular celebrants can be booked up several years in advance, it's wise to get this question out of the way first.
What are your qualifications?
Unlike in other countries, you can't just register to become a marriage celebrant online. In Australia, marriages must be performed by a qualified wedding celebrant, one who is recognised by and registered with the Attorney-General's Department. These are the only people allowed to perform marriages in Australia.
If you're holding a religious wedding ceremony, you may not have a choice in who officiates your wedding. It's likely to be a priest or religious official attached to the house of worship in which you're marrying and, though some of the questions below will be relevant, most will not since you will, essentially, have to take whomever you get.
[ew-supplier-carousel]
If, however, you're holding a civil wedding ceremony, the person who will officiate your wedding won't, likely, be someone with religious training, but will, instead, be someone who has completed a training program in celebrancy that is recognised by the government.
Regardless of who is conducting your wedding ceremony, be they a civil or religious celebrant, they must be registered with the Attorney-General's Department.
Other than ensuring they have a legally recognised qualification, who you choose to celebrate your wedding is up to you and your fiance.
What is your style as a wedding celebrant?
Every wedding celebrant is different, not just in personality, but also in their style of performance and how they like to run a wedding ceremony. Some are formal and reserved, others are anything but. Your celebrant should be someone who gels with you both and the style of wedding ceremony you wish to have.
What is your background and how long have you been a celebrant?
While there are plenty of newly minted celebrants who will be perfect for your ceremony (and, let's face it, every celebrant has to perform their first ceremony for someone), it's always nice to know about a potential wedding celebrant's background and experience.
Many celebrants have had other careers and that background will bring all sorts of skills to their work as a marriage celebrant, which only makes their ceremonies better! For example, a celebrant who may have been, say, a business executive, may have particularly well-honed public speaking skills, while one of Easy Weddings' celebrants is a trained actor who will even get into character for the weddings she performs!
How many weddings have you conducted?
Following on from the question above, don't forget to ask, specifically, how many wedding ceremonies your potential wedding celebrant has conducted. Just because they've been a celebrant for, say, two years, doesn't mean they've performed too many wedding ceremonies. The core of their business may be funerals or naming ceremonies – or they may just only do a handful of ceremonies a year.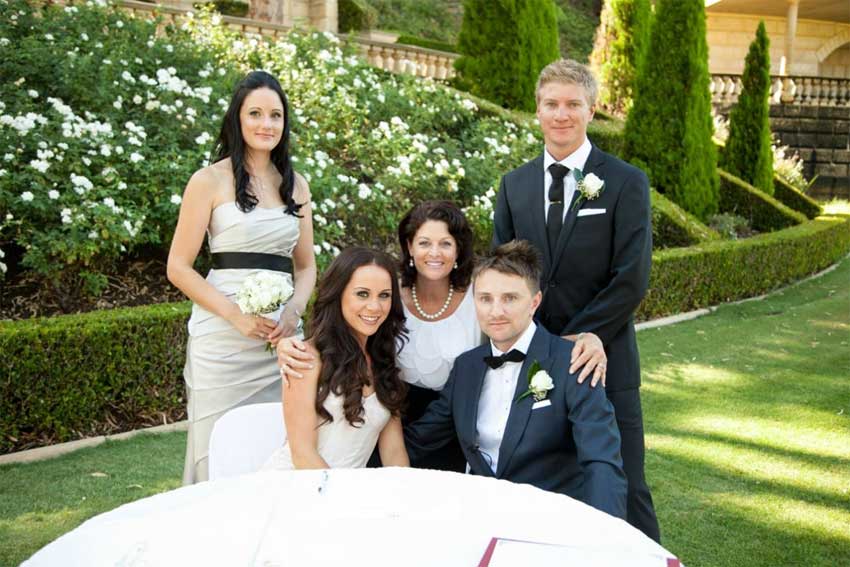 With 79 five-star reviews, it's easy to see why Jane Silich is so in-demand with Perth couples.
How much will it cost?
This is an obvious question. How much will your service cost? There is no set fee for marriage celebrants and the prices vary by, sometimes, many hundreds of dollars. You'll find celebrants available for a few hundred dollars to more than $1500 depending on their experience, availability and overall offerings.
Don't forget to ask when payment is due as payment options, too, vary. Some marriage celebrants will charge a deposit with the outstanding amount due a few weeks before the wedding, while others will charge an initial deposit with a payment due once the ceremony has been drafted. The third and final payment will be payable before the wedding takes place.
What is included for that fee and are there any additional fees?
Be sure to ask what is included in the overall fee. For example, does filing the official marriage documentation cost any extra or is it included in the final price? Also, is there a rehearsal before your big day and how many meetings will we have beforehand? If you need extra help for, say writing vows, will that cost extra?
And, if you do have a run-through, is it in the celebrant's office or at the actual venue? Will you incur a further cost if it isn't at the celebrant's office?
Will you help me with my wedding vows?
Don't worry! When it comes to your wedding vows and the order of the ceremony, your marriage celebrant will work with you to craft the perfect ceremony, offering guidance throughout the process.
As for the actual vows, there is certain wording that must be said by both the celebrant and the couple marrying (ie. I, Mary Smith, take you, Jack Jones, in front of these witnesses to be my lawfully wedded husband) and, of course, in addition to what is mandatory, some religious institutions will have their own preferred wording.
However, outside of that, there is no limit on what you can – and can't – say, so feel free to be creative and infuse your wedding ceremony with emotion and whatever your heart needs to express. Your celebrant will be able to help you with your vows and, if you have a bout of writer's block, they will, no doubt, have plenty of sample vows from which you can borrow!
Otherwise, here's some further inspiration:
– Wedding vows guaranteed to make you (happy) cry
– Traditional religious wedding vows from across the world
– Funny wedding vows
– Pop culture quotes for modern wedding vows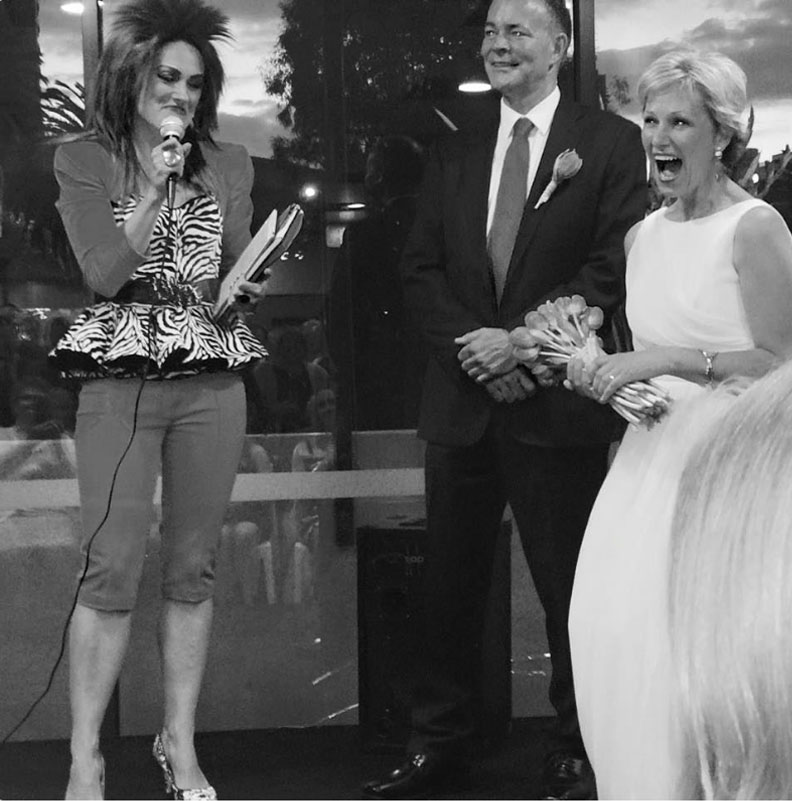 How will you be dressed on the day?
Most wedding celebrants will dress with utmost respect for the occasion, however, everyone has a different natural style of dress and that style may not always appeal to a couple, so be sure to clarify with your celebrant what they will be wearing on your wedding day.
If, for example, it's a hot day, would you be comfortable if your celebrant wore shorts or no jacket? Or, if the celebrant tends to wears blue suits – and it clashes with the groom's blue suit – you may want to ask the celebrant to wear another colour. Similarly, if you're having a black tie wedding, you don't want your marriage celebrant turning up in a polka dot dress.
That said, if you're holding a themed wedding, many wedding celebrants will be happy to join in the fun. Some will even dress in theme!
What is your cancellation and/or refund policy?
None of us likes to think about the worst, but it is wise to plan for it, so find out what the consequences will be should you need to cancel your wedding or postpone the date. 
That's why it's important to ask this difficult question but, frankly, your celebrant will, likely, be very transparent about the answer.
Be sure to ask how much noticed you must give in the event of a cancellation or postponement.
Will you lose any deposit? Deposits are mostly, non-refundable, especially if the celebrant has already spent time drafting your wedding ceremony. 

Will you do all the paperwork and take care of all the formalities/legalities?
You shouldn't need to ask this, but it's best to double check. As fun as weddings are, they are part of a legal and, therefore, very formal process. There is legal paperwork that must be completed in a certain order and within a certain timeframe.
This paperwork is what your celebrant, be they civil or religious, will be in charge of filing in order to ensure that your marriage is registered and official. Within 14 days of your wedding ceremony, they'll file a copy of your marriage certificate with the local Registry of Births, Deaths and Marriages.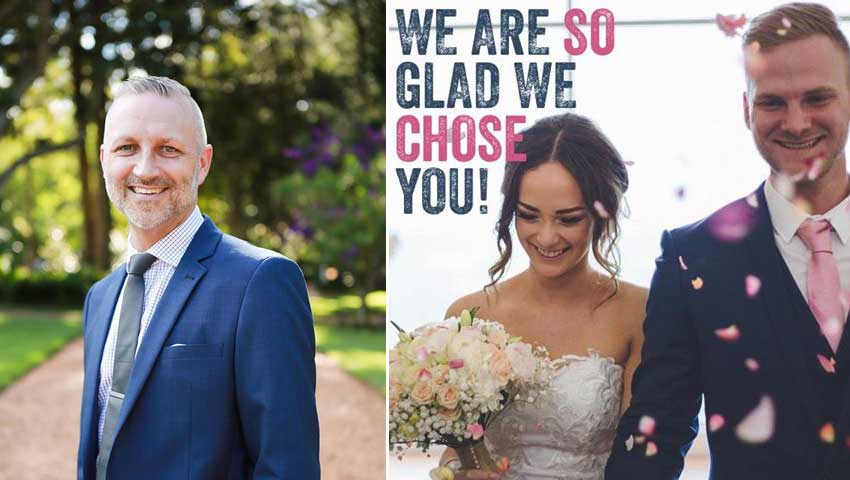 What do you need from us?
There's nothing you should have to do on this front except, of course, sign various papers and provide required paperwork such as ID, birth certificates, passports and, in the case one of the parties is a widow or widower, death certificates. Your celebrant will guide you through this process.
What equipment will you bring with you?
For the most part, your celebrant won't need any equipment, per se, however, many will have their own PA systems and/or microphones to ensure everyone can hear what's going on – and they must be able to hear what's going on according to the law around witnesses and wedding ceremonies.
Some celebrants will even provide the chairs and tables where the couple can sign their marriage certificate once the vows are completed!
Will you be putting our photos online?
Not everyone wants to share their private wedding photos with the world, so if you don't want your images going online, certainly before you've had a chance to vet everything, make that clear to your celebrant. as many wedding celebrants will share your happy news on their own social media fairly soon after your ceremony.