Are you engaged and ready to start booking your essential suppliers? If so, you've probably started looking for a marriage celebrant. But what does a celebrant actually do? There's so much more to the role than simply marrying a couple and taking care of the legalities.
If you view them more as your number one fan and supporting character throughout your wedding experience, you'll be able to better choose someone that aligns with your overall wedding vibe and personality.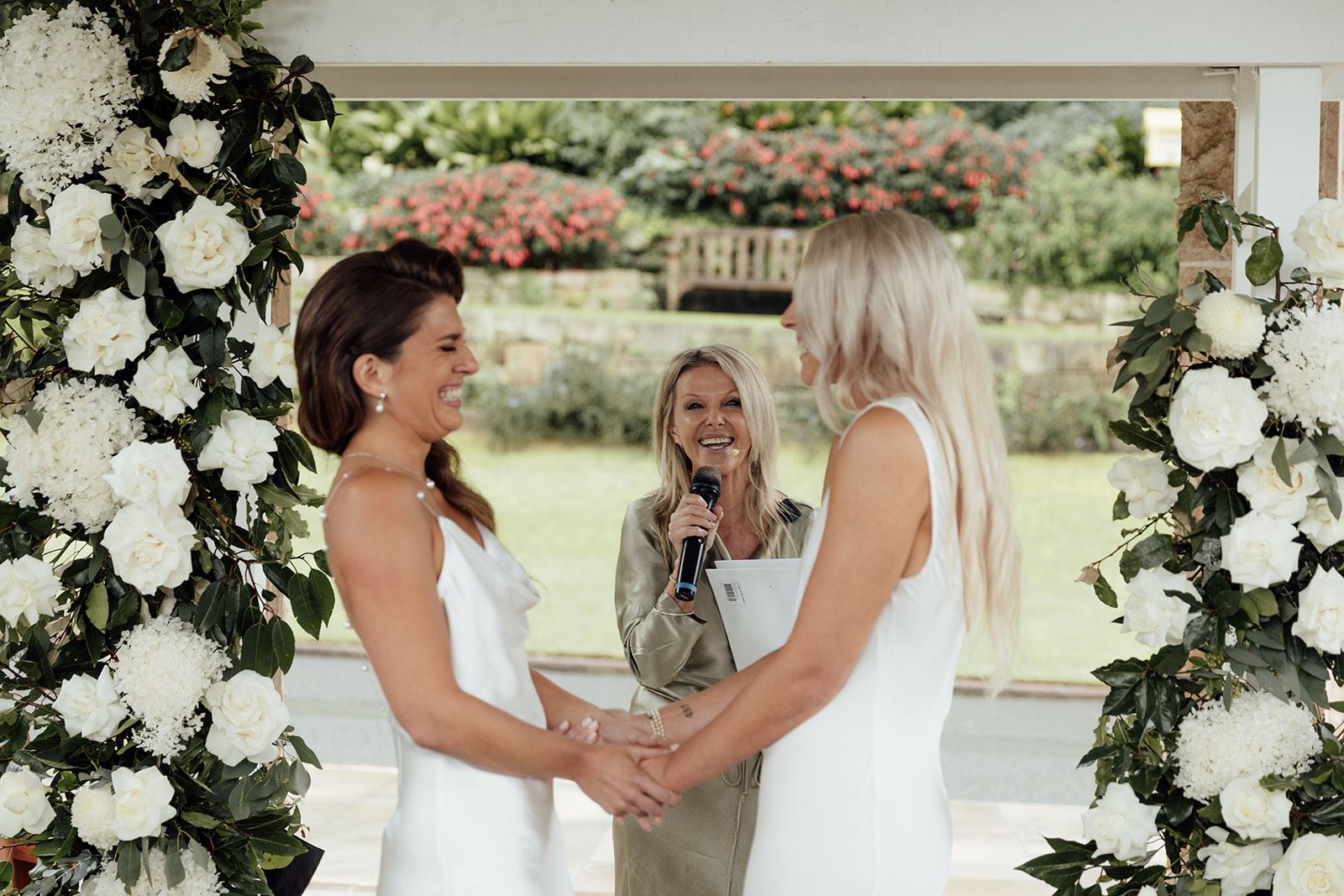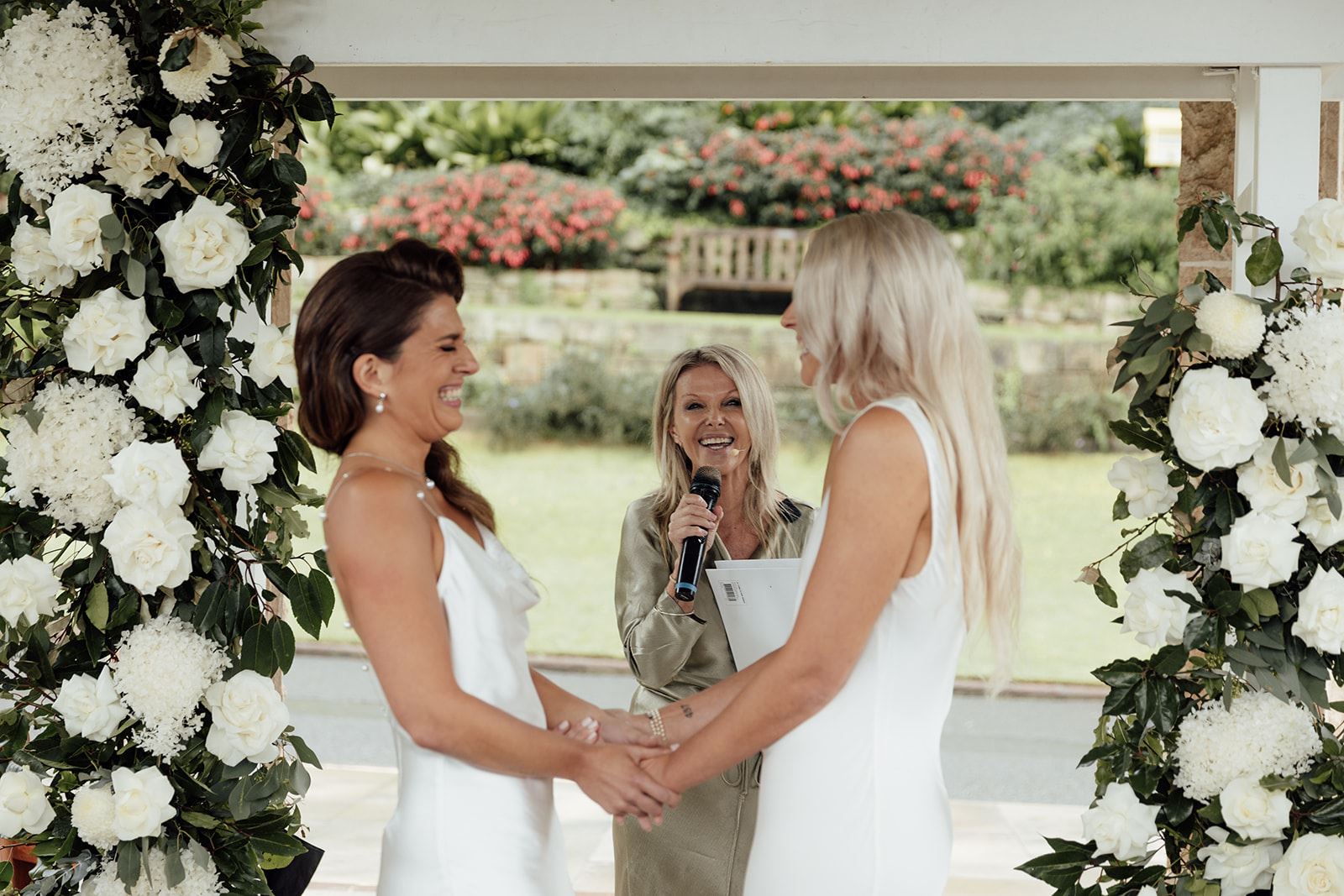 From your initial wedding planning stage to the big day and beyond — your marriage celebrant handles a wide range of duties and extra special tasks. From assisting with music and ensuring your family knows what they're doing to emceeing and liaising with your vendors.
The level of involvement during your wedding day can vary, depending on your wedding style. If you're after a simple yet magical elopement with little fuss — there are celebrants willing to get the basics done for you and leave it at that. If, however, you're planning a more personalised ceremony, there are celebrants who will go above and beyond to craft a highly engaging, unforgettable moment for you and your guests. You're investing in their creativity and expertise to ensure everything goes to plan.
If you're unsure as to what a celebrant offers throughout your wedding experience, here's everything they can do before, during, and after your big day.
Find Your Celebrant
---
Your first meeting
Celebrants usually offer couples a non-obligatory first meeting to get a sense of who you are, toss around ideas, and ultimately check out whether they match your wedding vision and personality as a couple. It's a great opportunity to help your celebrant understand what you want and see if they can deliver your dream ceremony.
These sessions usually go from half an hour to an hour over a cup of coffee. If you can't physically meet up, many offer virtual chats instead.
Writing your ceremony script
After you've met and booked your celebrant, they may provide you with a couple's questionnaire to fill out. This will give them a greater sense of who you are and what chapters make up your unique love story. If your celebrant hasn't already, they'll talk you through the different types of ceremonies they've performed so that you can get an idea of what will best suit your vision.
Based on your questionnaire and initial chats, your celebrant will write up a personalised ceremony script for you and welcome any changes or feedback you may have.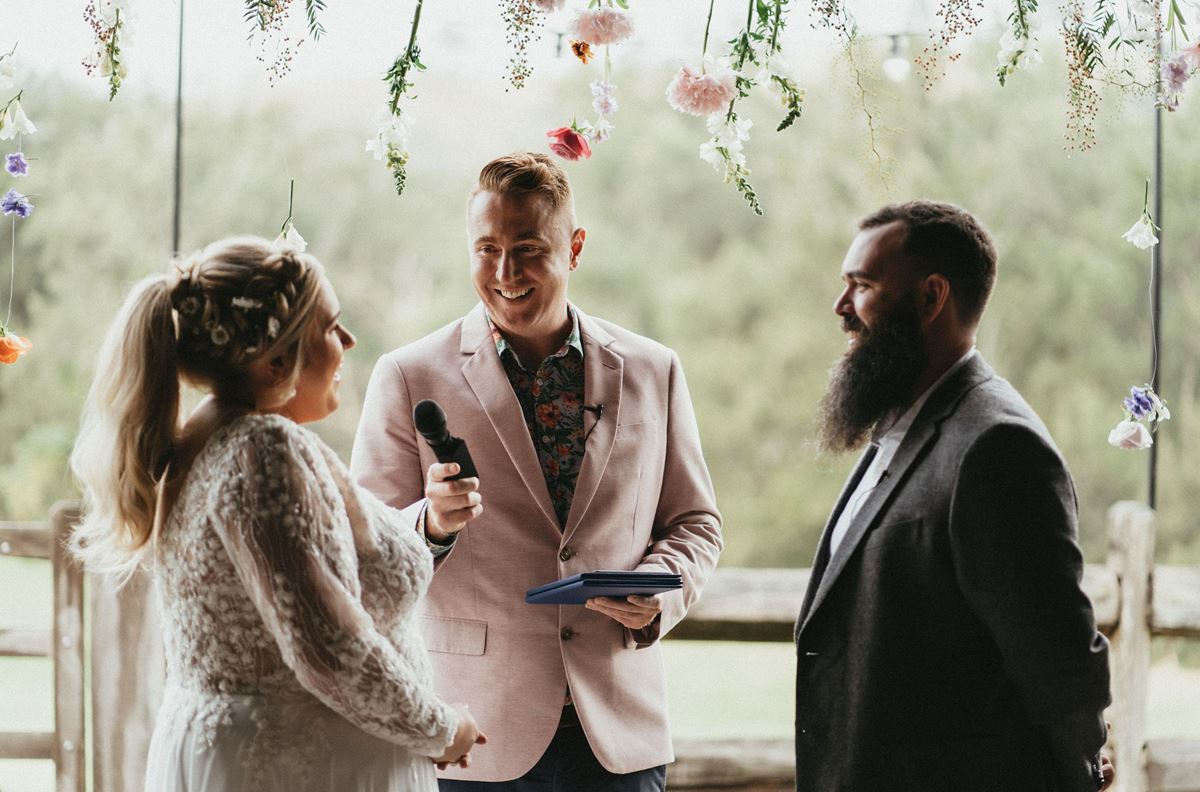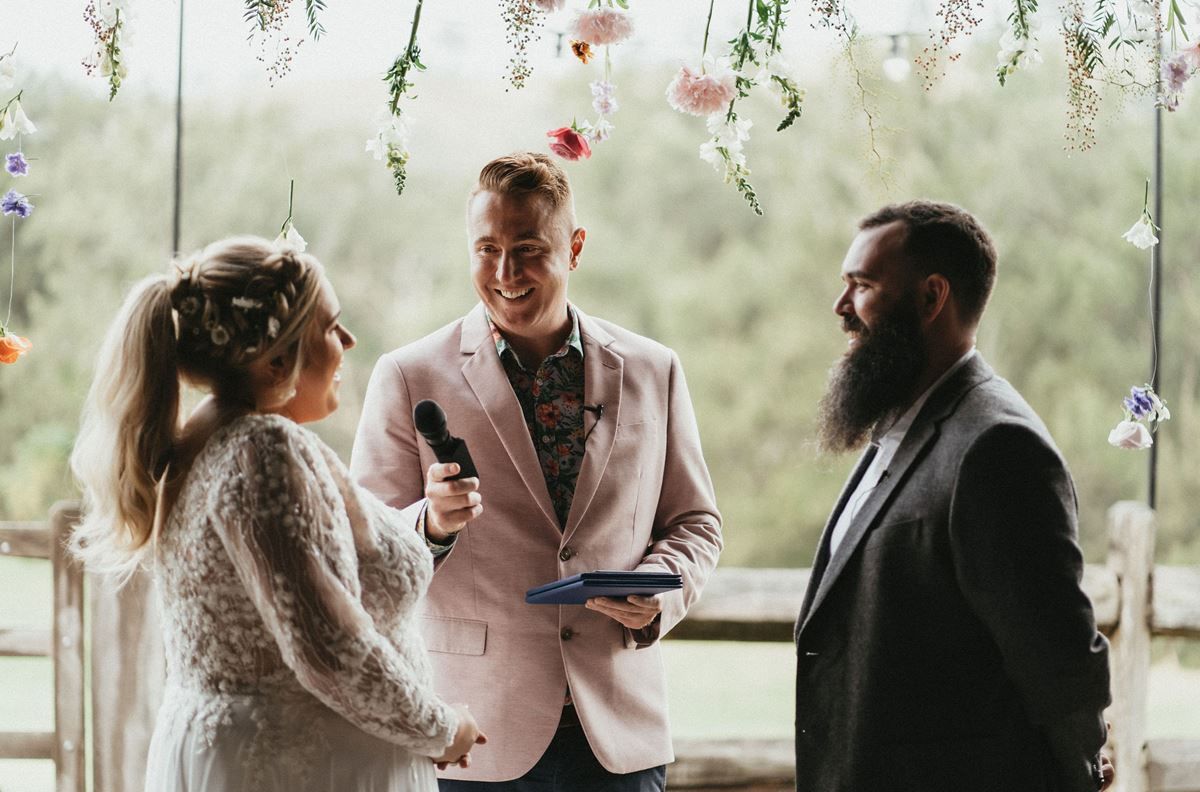 Assisting with your vows
While some couples wish to write their own vows with little or no input, if you aren't a wizz with words or prefer a little extra help — your celebrant is your go-to wordsmith! They'll read through your initial thoughts and ensure your vows authentically represent your true feelings.
One thing you might not think about is how your vows match one another in tone, style, and even length. Your celebrant can act as a great third party for you and your partner to ensure they work together without seeing what the other person has written.
Add personalised touches
If you want your wedding ceremony to scream individuality, your marriage celebrant can help facilitate this! As Victoria's Heartlight Celebrant states,
'They can arrange rituals and special effects such as doves and butterflies, but most importantly, they ensure your wedding goes smoothly with compassion, humour, and love!'
They can naturally incorporate your chosen cultural traditions and rituals into your ceremony and join in on the fun, quirky, and daring aspects. From costume party weddings and pet involvement to formal, traditional affairs — they can add as many special touches as you desire.
As Brisbane's Patricia Greaves expresses,
'Your Celebrant will be able to suggest possible verses, poems, and readings that you may wish to include in your ceremony. Your Celebrant will be able to assist you with any rituals that you may also like to include, such as a sand ritual.'
Follow-up meetings
Most celebrants will offer couples unlimited communication in the lead-up to the wedding. If you have any questions, fears, or details to finalise — they're always willing to discuss and put your mind at ease.
They should 'provide whatever quality time is needed to assist the couple to develop a ceremony that meets their needs and values. The time is provided in face-to-face, zoom, or mobile settings,' as Bendigo's Paul Fogarty expresses.
Taking care of the legalities
Your celebrant will take care of all the nitty-gritty legal details, so you don't have to worry!
These may include:
Lodging a Notice of Intended Marriage (NOIM)
Organising Declaration of No Legal Impediment to Marriage
Ensuring all legal documentation is submitted to the Registry of Marriage
Acquiring a legal certificate of marriage
Ensuring all information is correct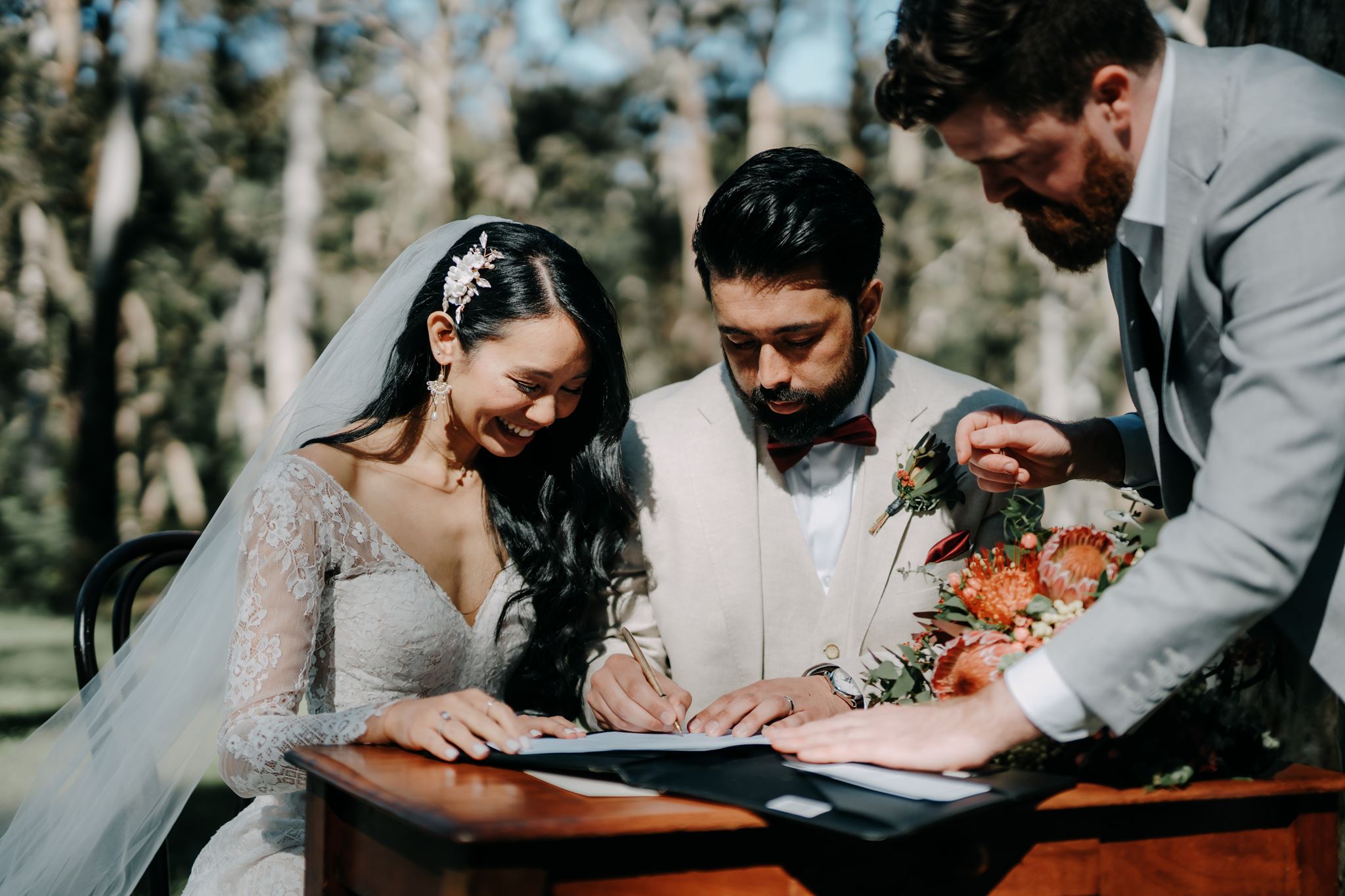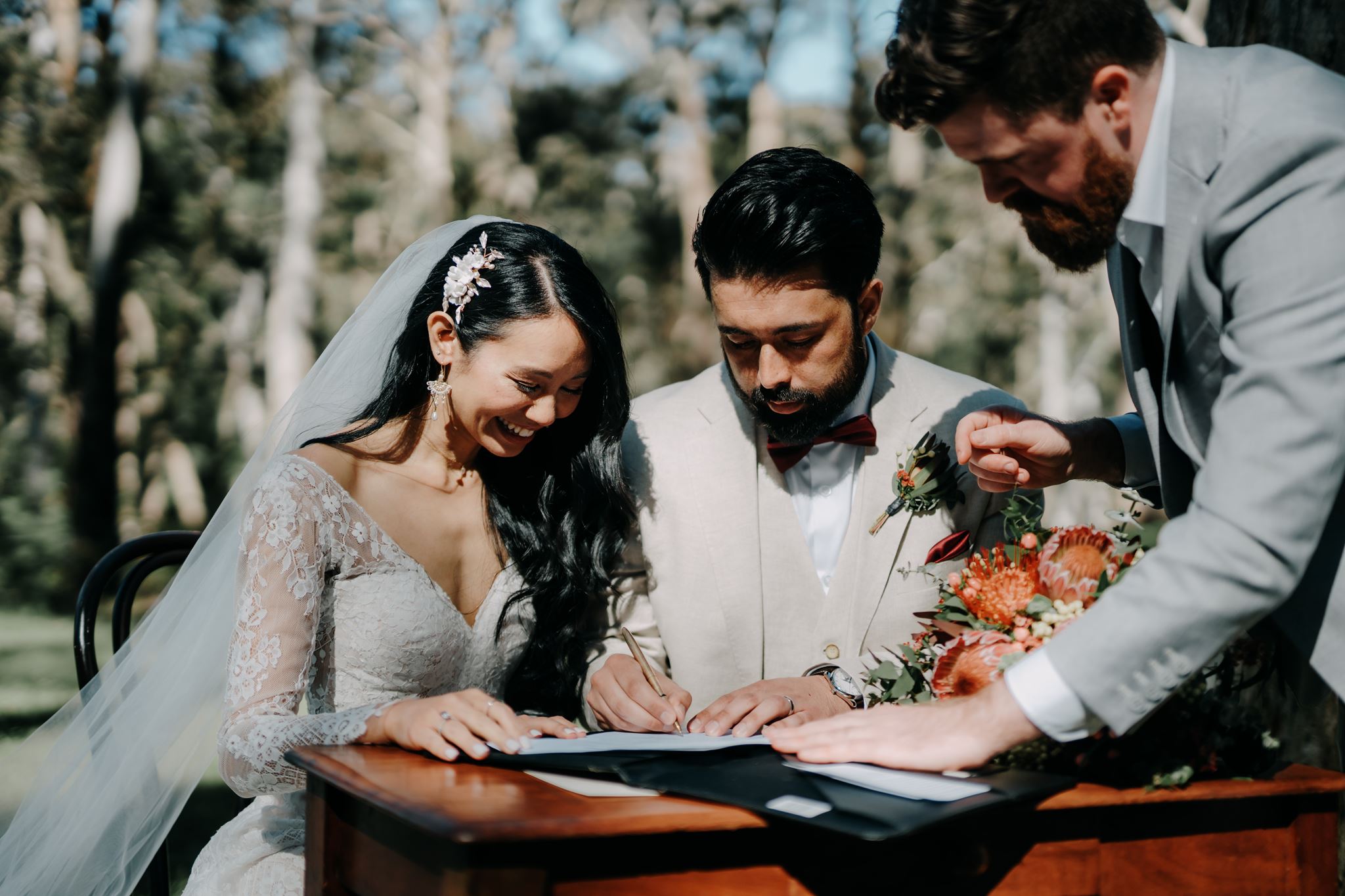 Providing equipment
Celebrants will often come prepared with their own high-quality equipment, including a PA system, microphones, a signing table, and other optional decorative items. They may even provide a selection of music to browse.
Liaise with vendors
Weddings are definitely a group effort! Your marriage celebrant will liaise with your other vendors to ensure everything runs smoothly and works like clockwork. As New South Wale's Jane Dawson Celebrancy summarises,
'I liaise with all your other vendors so we are all working together as a team, stepping aside while your very expensive photographer gets those beautiful shots of you both.'
From your wedding planner and photographer to your florist — your celebrant will assist, coordinate, and help wherever needed.
Emceeing
Your celebrant will act as your ceremony MC — accompanying your guests to their chairs, letting people know your ceremony is unplugged, and announcing when photos will be taken.
Many celebrants also offer MC services for your reception if you can't get enough of their bubbly personality and stellar assistance! This may incur an additional fee.
Offer as much support as needed
For couples who haven't booked a wedding planner or coordinator, your marriage celebrant is the supplier who will be there throughout the entire wedding process — eager to support you physically and emotionally. They're one of the first suppliers you'll book, and they are there from ideation to execution. This means they are the best source of support and knowledge for you throughout your entire wedding planning process. Throughout your wedding day, if you need reassurance, a few laughs, or even a hug before your ceremony — your celebrant will be there for you.
New South Wale's Jane Dawson Celebrancy expresses,
'Your celebrant is your go-to for pretty much everything, including moral support leading up to and during the ceremony. You should build a great connection with your celebrant as they are telling your "Love Story". They pretty much know you like a friend. If it rains, I run around and wipe the seats for your guests, play your music, check your guests are okay, and inform your parents where they are sitting.'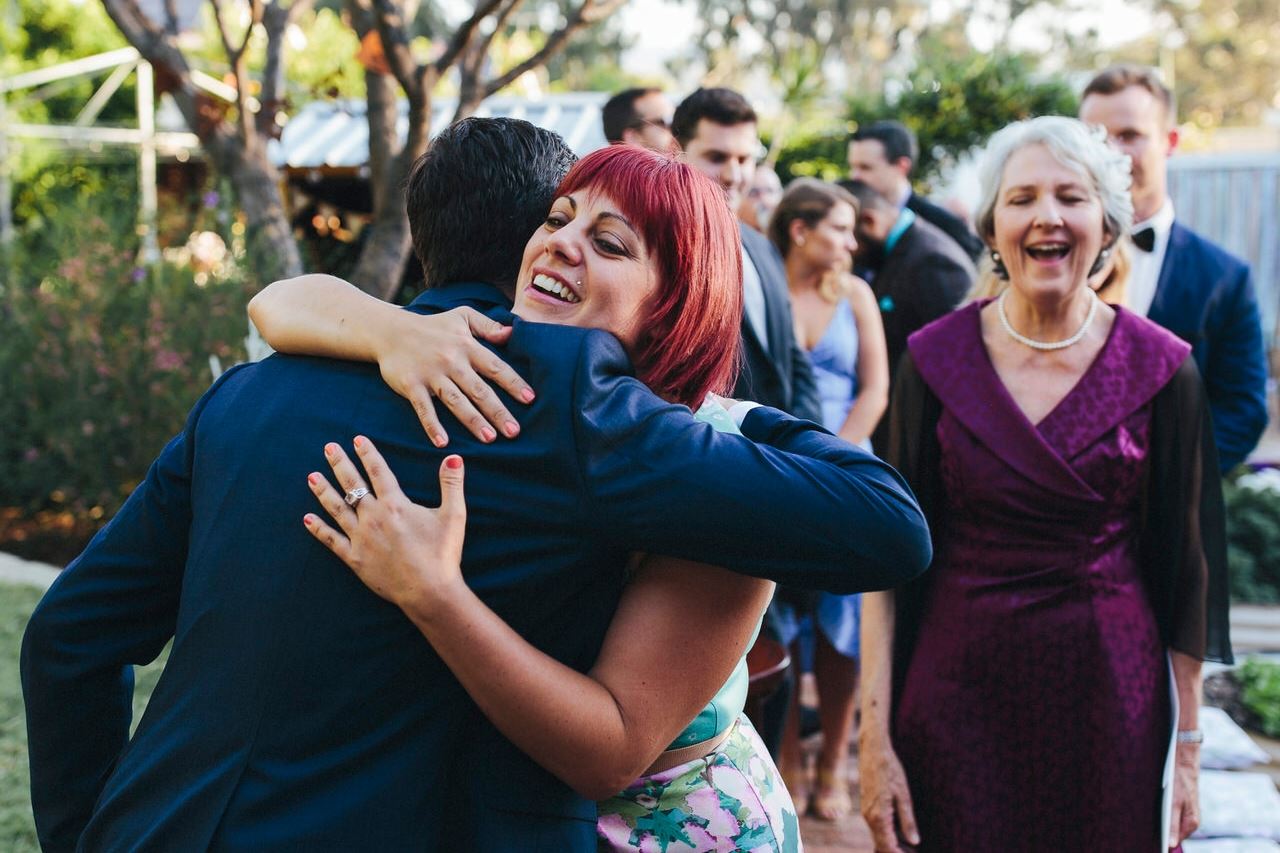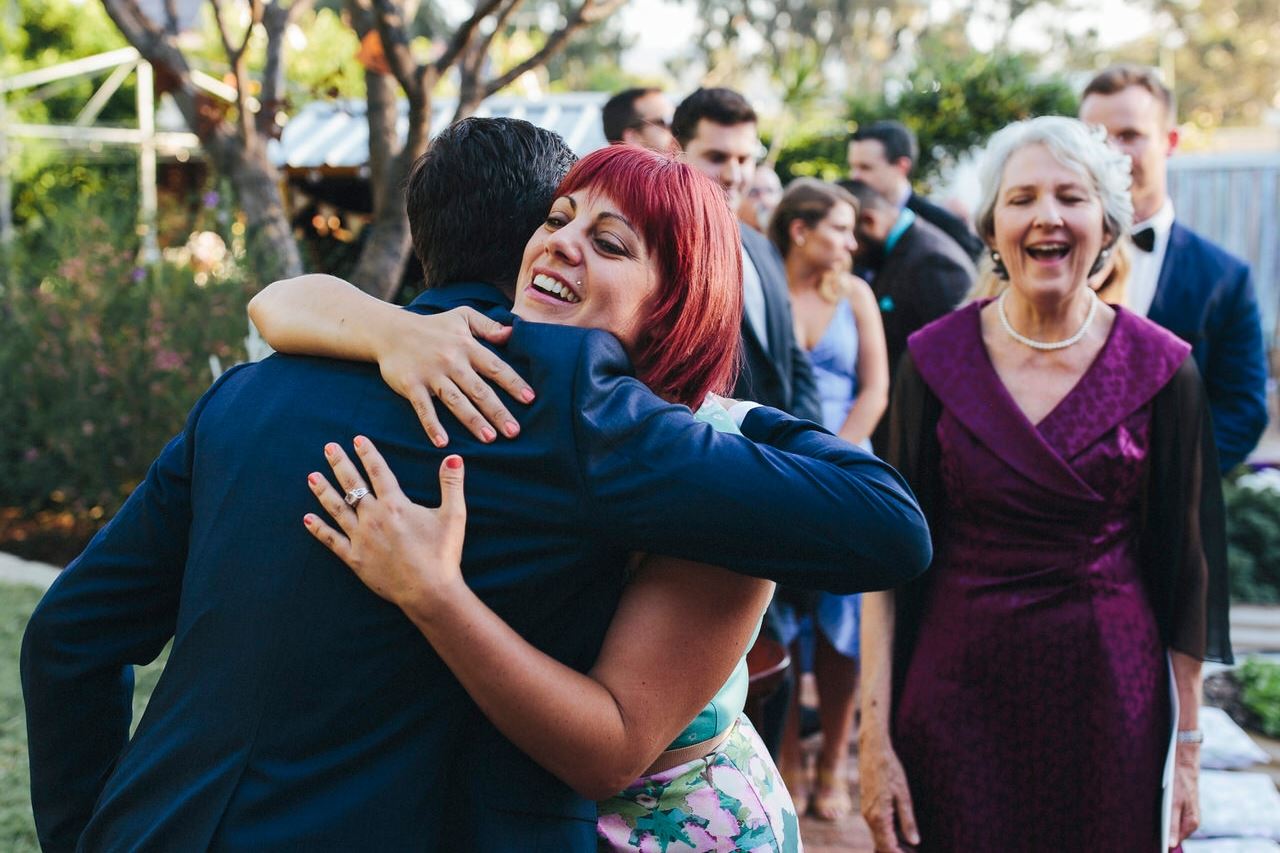 Coordinating family and guests
You don't want to be running around coordinating all your friends and family during your wedding — leave this to your celebrant!
As Victoria's Celebrate With Deb explains, celebrants should offer:
'Guidance to the bridal tribe, guidance to family and friends as to what happens next or where to go for group photos. One of the most important actions for you to rely on from your celebrant is to keep everyone relaxed, calm, and ready to participate.' 
After the wedding
A celebrant's job doesn't finish at the wedding ceremony. While you're off enjoying your honeymoon, they'll submit all of your legal forms to Births, Deaths, and Marriages for you to ensure your marriage is actually recognised.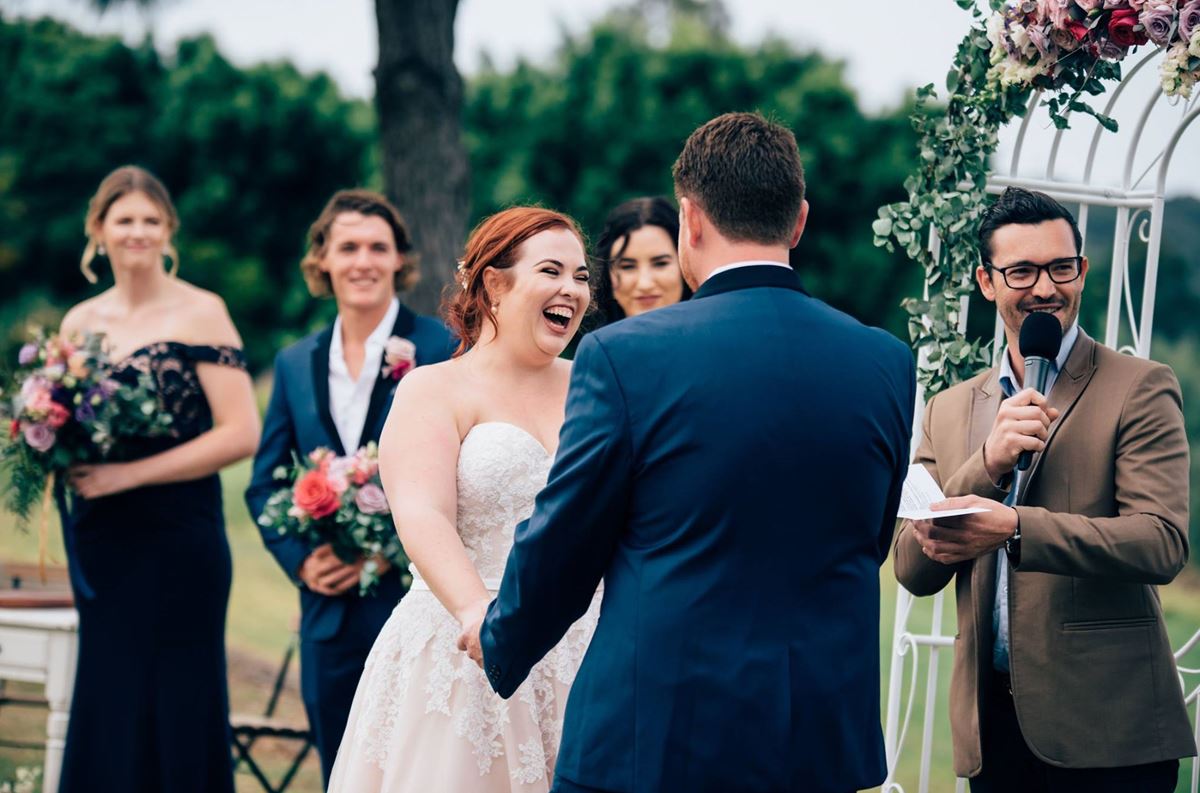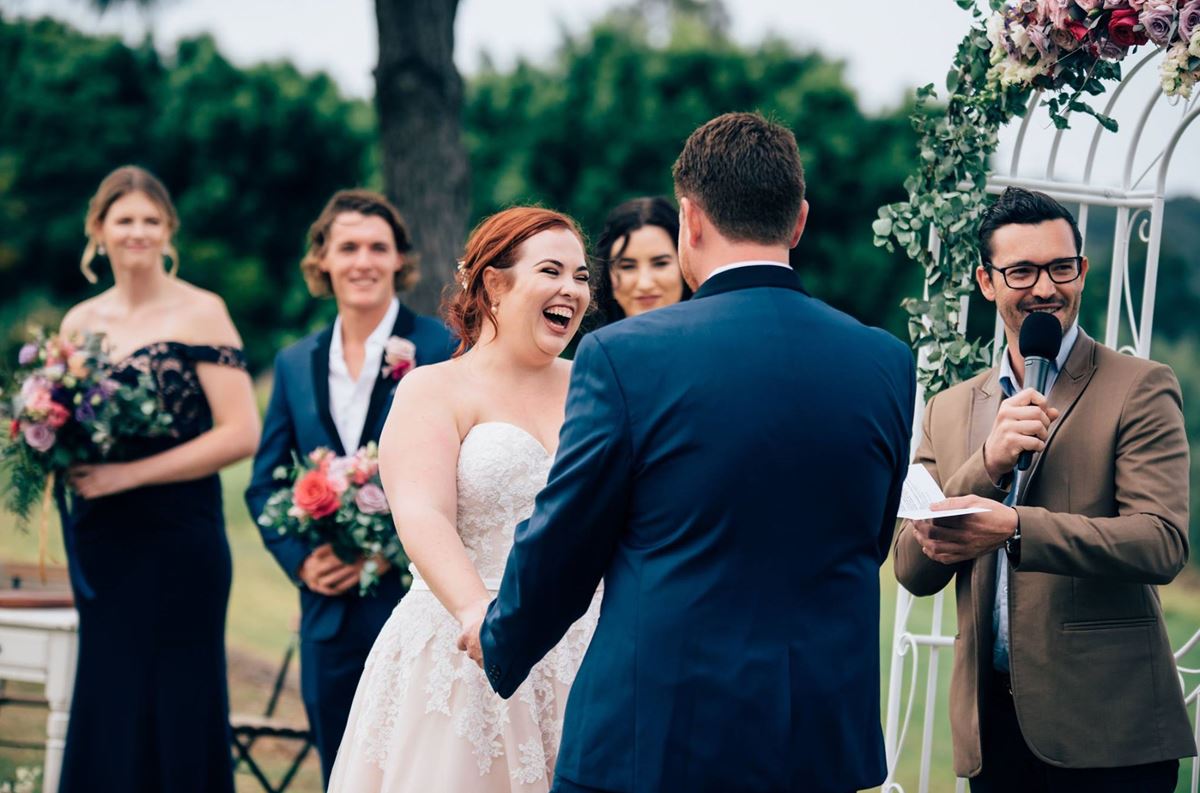 Your celebrant is your number-one fan and source of support. They will help guide you through the wedding planning process and ensure you feel your most comfortable, confident selves on the day!
Find Your Celebrant