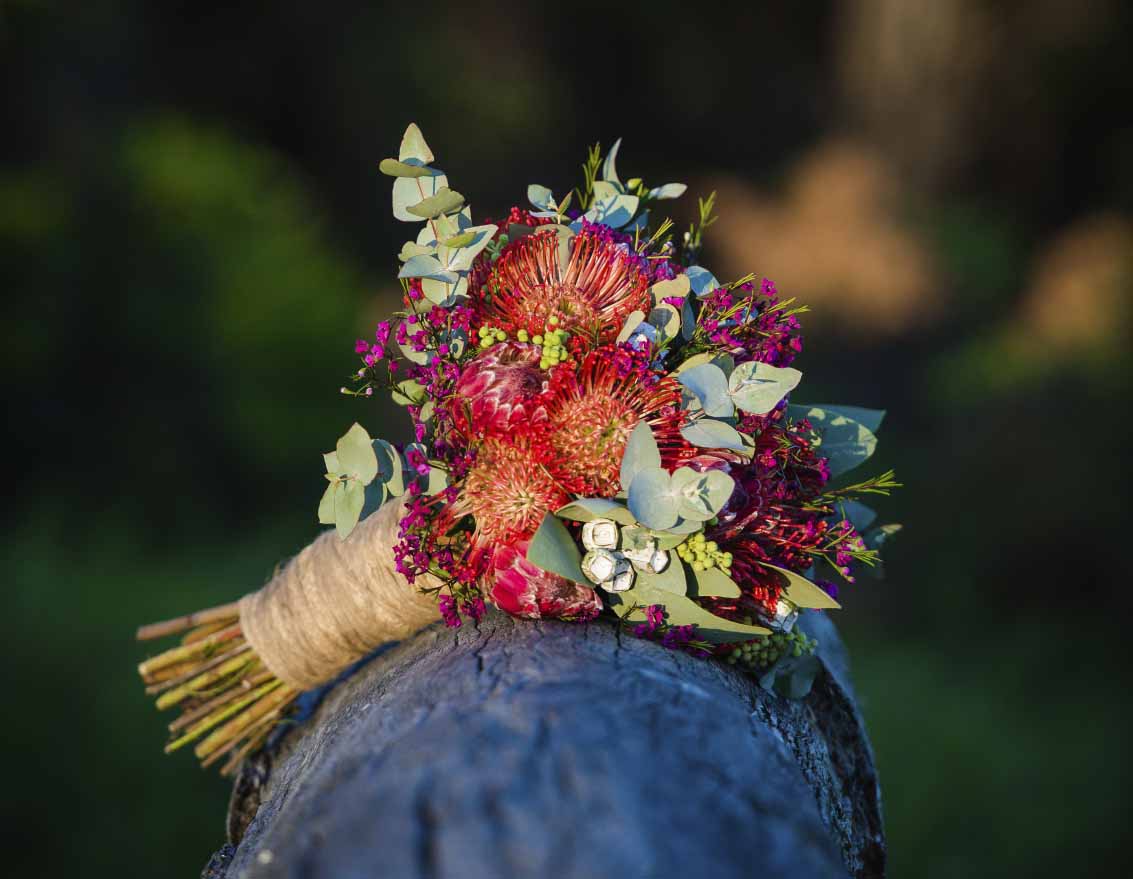 One of the many lucky things about living in Australia is that we have access to some truly breathtaking flora and fauna. In recent months there has been an increasing amount of brides opting for native bridal bouquets in lieu of traditional styles. Here are some unique offerings from our ecosystem which make for stunning native bouquets.
Native Australian flora for bridal bouquets
There are more than 24,000 different plant species native to Australia and many of these look fantastic as native bridal bouquets for brides and their bridesmaids. In comparison to traditional flower choices such as roses or lillies, native plants can offer some far more interesting textures and colours. Here are some native Australian flora and fauna which are becoming increasingly prominent in bridal bouquets.
Flannel Flowers
These gorgeous daisy like flowers are gaining popularity with Australian brides, not just for their native bouquets, but also for buttonholes and centrepieces. These delicate blooms have a gorgeous soft texture very much like the flannel they are named for! They are ideal for a soft, romantic bouquet with their sage green and creamy yellow centres and pale ivory petals. They make a beautiful native bouquet on their own, but can also be teamed successfully with eucalyptus leaves or soft pink or apricot proteas.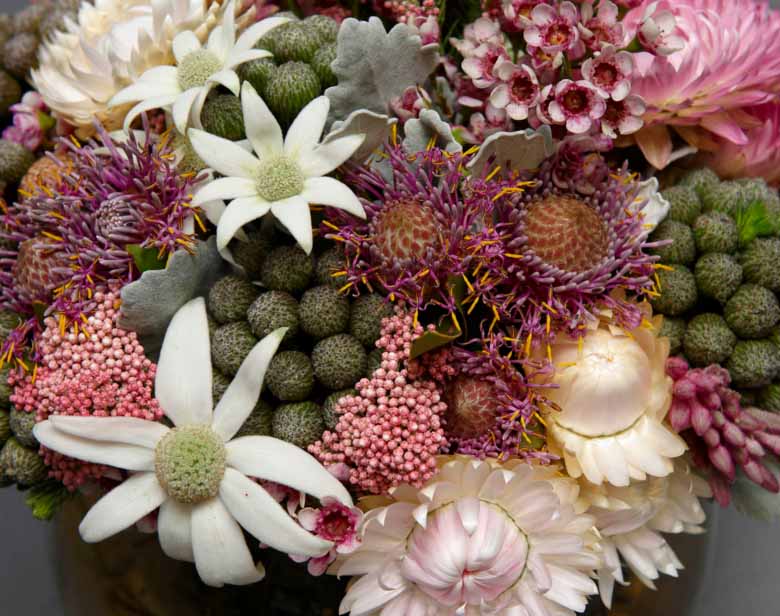 Leucospermums
Leucospermums are often more commonly referred to as Pincushion Protea thanks to their distinctive spiky petals. They are an evergreen shrub and feature leathery leaves that grow in a spiral arrangement. This makes them a popular choice for more rustic native bouquets as both the bloom and the foliage can be incorporated. The flowers are seen in a range of fiery shades of oranges, yellows and red which makes them a very striking choice for a bridal bouquet.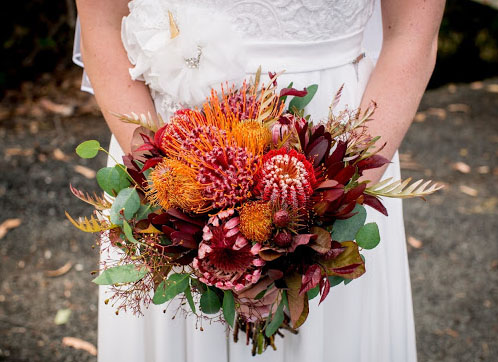 [ew-supplier-carousel]
Blushing Bride
If you are going to choose an Australian native bouquet, then what better bloom to opt for than blushing brides? These were just made for bridal bouquets! These stunning pink blooms are part of the Protea family, just like the leucospermums, but these have a distinctive star shaped bloom with long needle like leaves. The petals are actually white, but feature a bold pink blush that makes them appear pink from a distance. There are a selection of varieties including 'pretty in pink' and 'sugar and spice', both of which are popular choices for brides.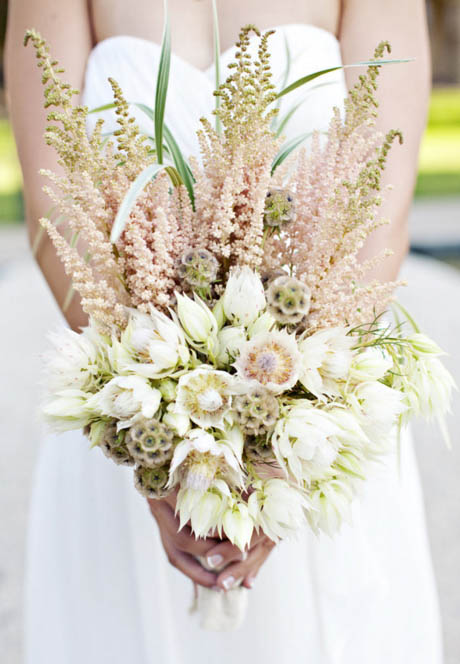 Banksia
One particular native plant which is very under-represented in native bouquets for brides is the Australian Banksia. These are a very bold choice, so perhaps not for the more traditional brides out there. However, in the hands of the right florist this bulbous bloom can be the focal point of a modern and quirky native bouquet. Acorn Banksia are a particularly great choice for native bouquets thanks to their soft apricot colours.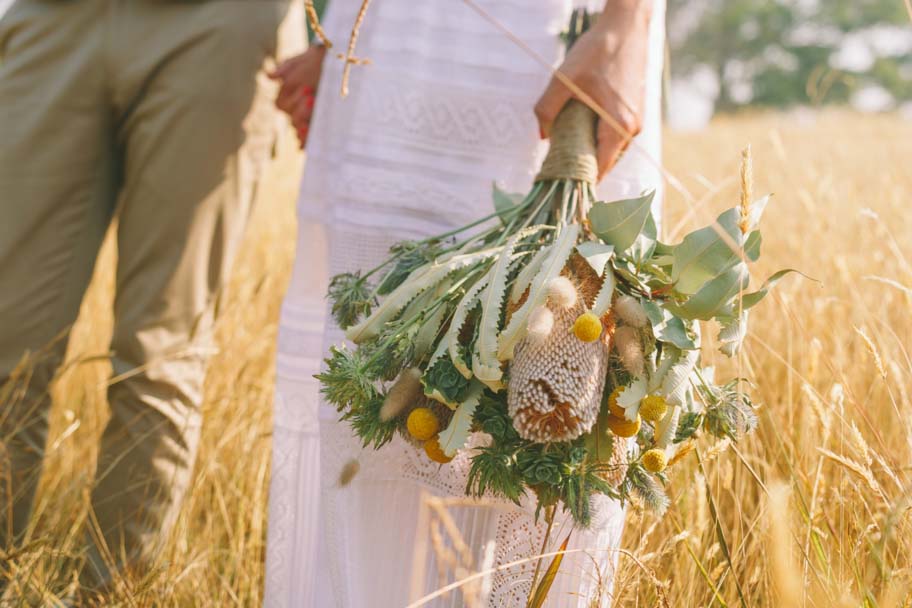 Bottle Brush
Bottle Brush (or Callistemon) is perhaps one of the most widely known and/or recognised plants native to Australia. There are around 1000 different varieties with unique spiked flowers that resemble a bottle brush – hence the name. The commonly seen colours include all manner of shades of green, yellow, white, violet and red. They look very striking in a native bouquet, especially when paired with native wild flowers and foliage.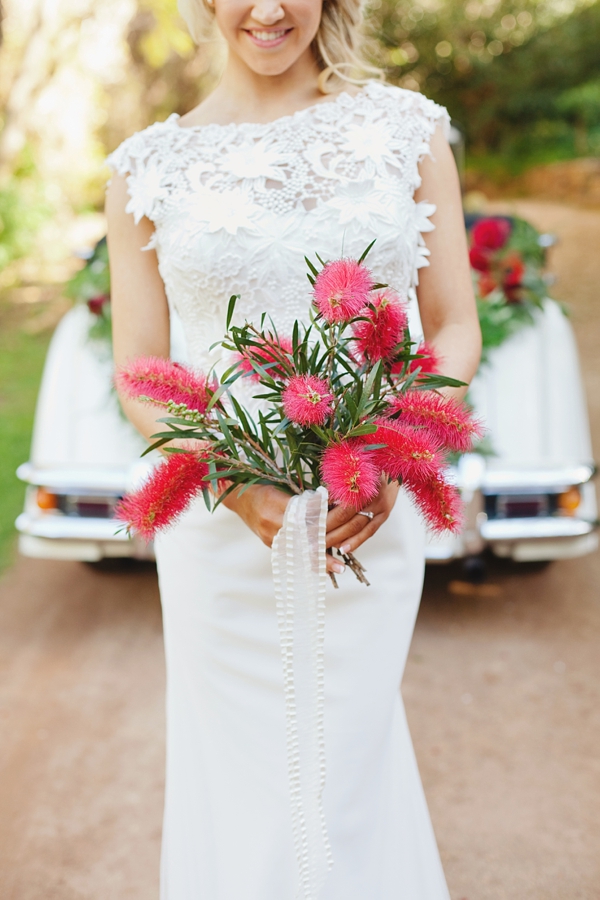 Kangaroo Paws
The Kanagroo Paw, or Anigozanthos to give it its proper name, is a very distinctive flower which is found in the Western part of Australia. The flowers are tubular with a velvety texture and they closely resemble the claws of a Kangaroo. The colours of the bloom vary depending on the species and the conditions in which they are growing. Perhaps the most prevalent is the red and green Kanagaroo Paw which is actually Western Australia's floral emblem. Thanks to the wide range of colours this is a particularly versatile flower which fits with a multitude of style. It can be paired with roses for an elegant bouquet or with native wild flowers for something with a little more edge. They are also an excellent choice for the men's buttonholes!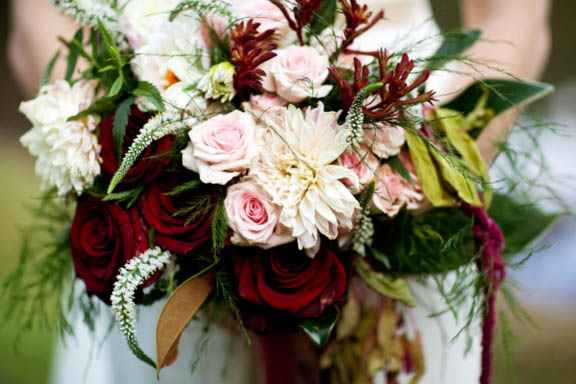 Billy Buttons
One native flower that you have probably seen used not only in bridal bouquets, but also in home arrangements and design features are Billy Buttons. These cute ball like flowers are fantastic when used both fresh and dried. They can be used alone for a pop of modern colour or can be mixed with any number of other flowers including waxflower, flannel flower or paper daisies.