Some breathtaking Australian scenery in today's Real Wedding, captured by Steven Murray of Creative Image Photography.
Canberra couple Lucy Stewart and Adam Davidson love the quiet and solitude of camping in the high country and Snowy Mountains region.  When they got engaged, they could think of nothing better than to share their favourite piece of Australia with their family and friends in a rustic bush wedding by Thredbo River and reception at Lake Crackenback, NSW.
Lucy tells, "As soon as we explored the Lake Crackenback/Thredbo River area we knew it was the perfect spot for our wedding. The 10 minute walk down the track alongside Little Thredbo River really set the scene for our guests and allowed them to fully enjoy our favourite part of the Australian bush."
Celebrant, Antoinette Braeder, helped the pair write their own vows, but also to build in some light-hearted humour which shines through in their photos with huge smiles all round. Lucy says, "We didn't hear each other's vows until the ceremony. Not knowing what each other had written made saying our vows even more special. They were raw and straight from the heart."
From one beautiful scene to another, the couple spent their honeymoon self-chartering a yacht around the Whitsundays before mellowing out for a week by an infinity pool at Airlie Beach.
"Our honeymoon was a trip we will never forget," remembers Lucy. "We set the course and sailed where we wanted; anchored for the night where we wanted; found our own secluded beaches; explored the islands and rainforests and, bathed in freshwater waterfalls. Adventure, seclusion and relaxing to the rocking of the yacht – it was exactly what we wanted."
Despite this chilly winter weather, I'm feeling all warm and fuzzy. Congratulations Adam & Lucy.
With a lilac colour-theme, infused ever so beautifully into her Australiana bouquets by Tanya Burton, Lucy also wore the perfect pair of violet satin peep-toes from Lily Rose Shoes.
The bride's gown was an ivory silk Fiorenza design, fitted through the waist and hips and flaring out into a pickup skirt. It featured whispy feathers at the sweetheart neckline.
Adam and his groomsmen were dressed by Roger Bartholomew Menswear, in white open collar shirts, peak-bottom waistcoats and flat-front trousers.
This cheeky photo shows the versatility of the bridesmaids' multi-way wrap dresses by Twobirds. Lucy says, "Twobirds was the first and only place we visited for the bridesmaids' dresses. We had so much fun finding the best way to tie the neckline for each of the girls."
Guests received large heart-shaped freckles (with a personalised message from the couple) by Pink Frosting as wedding favours.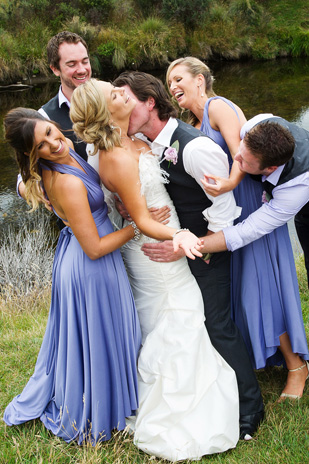 "We enjoy the simple things in life," says Lucy. "We dream big and share the same dreams, interests and direction in life. We bring out the best in each other and make a great team."
The couple's wedding cake – "mouth-wateringly delicious," says Lucy – was not your average ivory wedding cake, that's for sure. How cool are the strawberry cake toppers – dressed just like the bride and groom with feathers and all.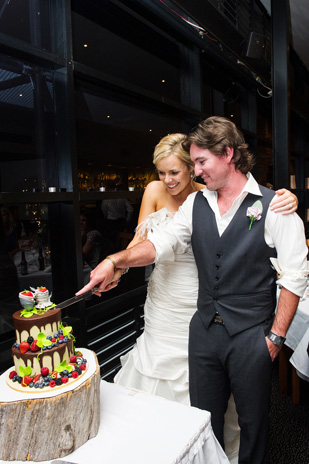 "Walking down the aisle with my parents to Adam was the greatest and most exciting moment of my life so far," says Lucy.
Her advice to other brides-to-be: "Decide the feel you'd like your wedding to have (to reflect you as a couple), find your ceremony and reception location, decide on the date and book the venue/s and photographer first. Then focus on finding the perfect dress. With the smaller things don't do too much research because it gives you too many options!"
Photos courtesy of Creative Image Photography.
Featured Suppliers:
Bomboniere: Pink Frosting / Brides Accessories: Michael Hill Jewellers / Brides Gown: Fiorenza from Affordable Bridal, Gunderoo / Brides Shoes: Lily Rose Shoes / Bridesmaids Accessories: Lovisa / Bridesmaids Dresses: Twobirds Bridesmaid / Celebrant: Antoinette Braeder / Ceremony Music: Own playlist / Ceremony Venue: Threadbo River, NSW / Flowers: Tanya Burton / Grooms Attire: Roger Bartholomew Menswear / Groomsmen Attire: Roger Bartholomew Menswear / Hair: Bobbys Barber / Honeymoon: Whitsunday Escape / Invitations: DIY / Makeup: Bridesmaid / Photobooth: Mugshots Photo Booths / Reception Venue: Cuisine Restaurant - Lake Crackenback Resort, NSW / Rings: Solitaire - Canberra / Venue Decor: DIY / Videographer: Friend / Wedding Night Accommodation: Lake Crackenback Resort