Dreaming of the quintessential beachside wedding? Here's some beach wedding inspiration, provided to you by real newlyweds in our Real Weddings section!
Amy and Alessio held their reception at Orso Bayside Reception at The Spit in Mosman, NSW. "Across the road was perfect for photos, and the balcony was so great for people to look out at the water and boats, and just hang outside," says Amy.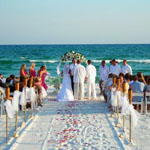 Josefine and Jamie met in Lisbon, and returned there to get married. The pair married at Arriba by the Sea in Cascais, Portugal.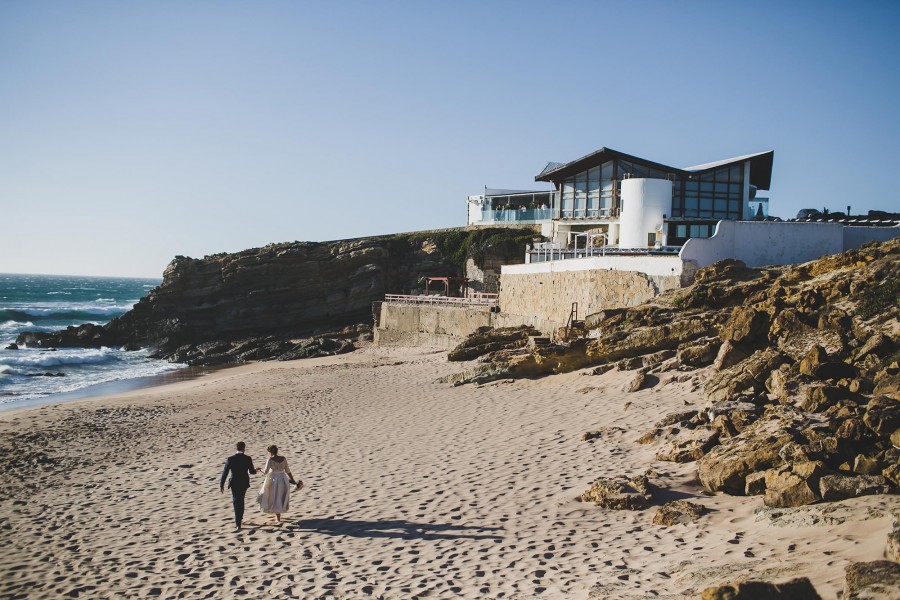 Megan and Travis married at Torquay Surf Beach not far from the iconic "Pole House" located along the Great Ocean Road, Victoria. They also captured photos along the boardwalk, at the Round the Twist lighthouse, and the swing bridge.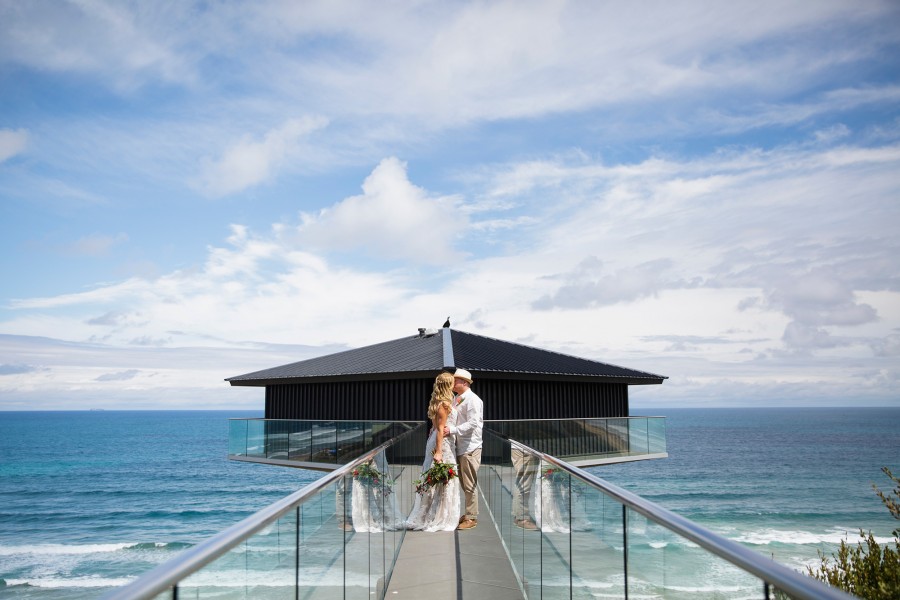 Alisha and Matt held their elegant beach wedding at Coogee Beach Surf Club. The lifesaving club south of Fremantle boasts stunning ocean views. "We had friends and family come from all over Australia to share our day and it was full of laughs," says Alisha. "It was simple but yet so magical."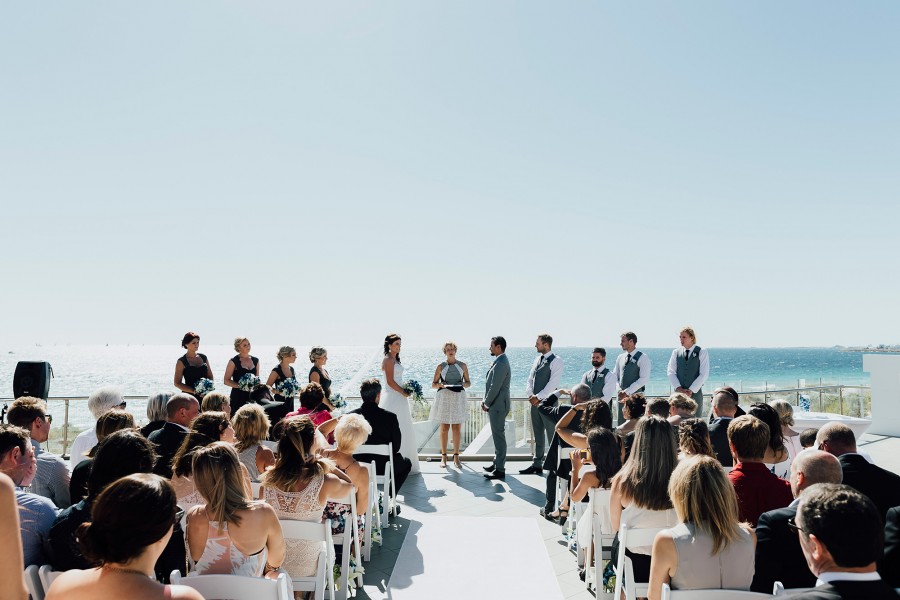 This beach-loving couple held their vintage beach wedding reception at Tugun Surf Life Saving Club. Taryn and Andrew chose bright turquoise blue and bright spring colours to style the vintage beach space. The pair even hired a Kombi van to help create the summer vintage vibe they were after.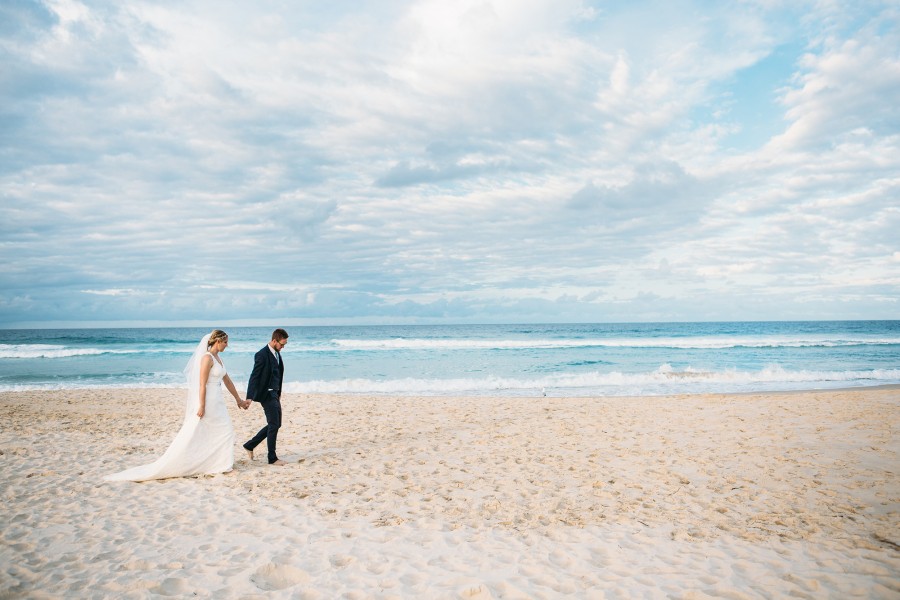 Jen and Mat's waterfront ceremony at Harbourview Newcastle was not far from where Mat had proposed.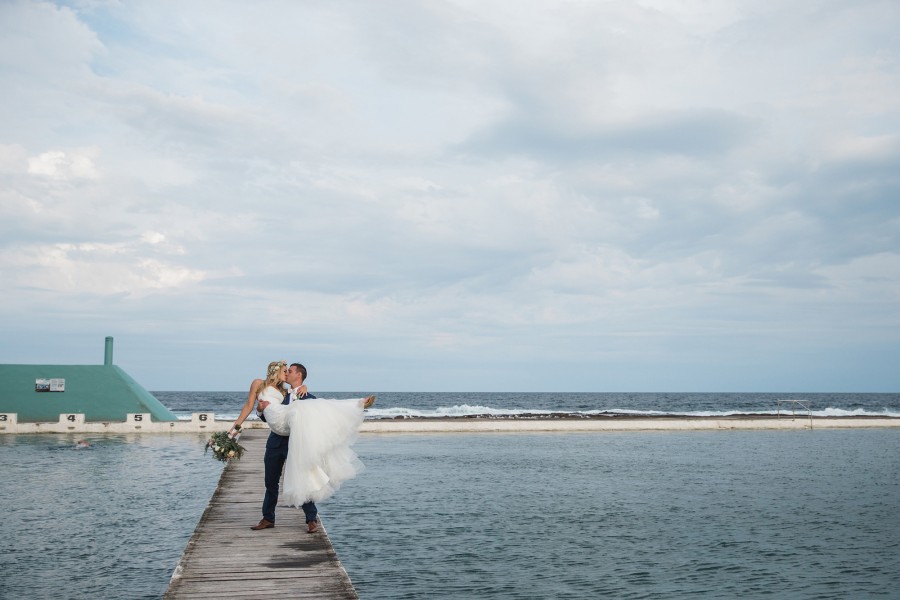 Friends for 20 odd years, Brita and Tim had their first date on the beach – which eventually led to their gorgeous beachfront wedding in Bali!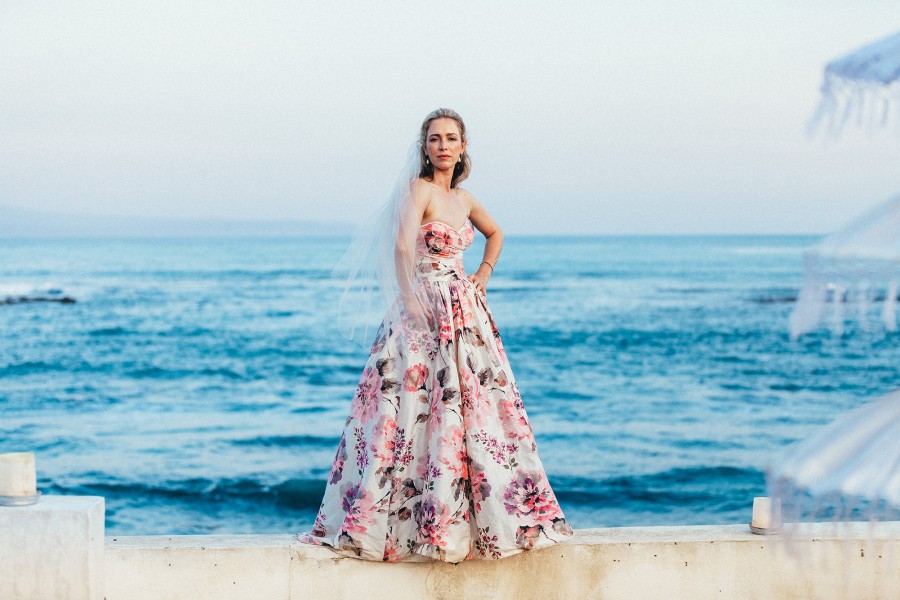 "With both of us growing up in Cairns and now residing in Brisbane, we decided to plan our wedding at the beautiful Palm Cove as it holds many fond memories for us both," says Nikki.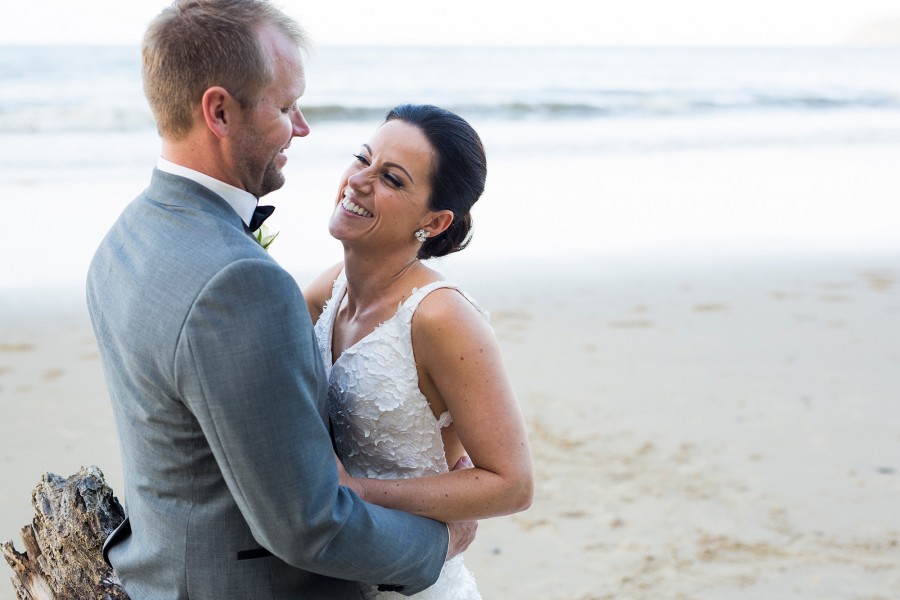 Amy and Samuel's wedding took place at Elwood's Sails on the Bay. "The location of our wedding being the beautiful Elwood beach and the gorgeous sunset was absolutely magical," says Amy. "It all made our day feel even more like a fairy tale."
Mikaela and Scott held their wedding at Tathra Surf Life Saving Club – which donates the venue free directly back into the lifesaving club to help their volunteers.

The guests at their beachfront wedding were also treated to a selection of fresh local seafood. "Scott and I designed and built a fish and chip cart at home on the farm," says Mikaela. "The cart served cones of freshly fried flathead and chips to guests. This was an enormous hit! We also had one of the chefs outside on the deck barbecuing prawns, scallops, and lamb cutlets."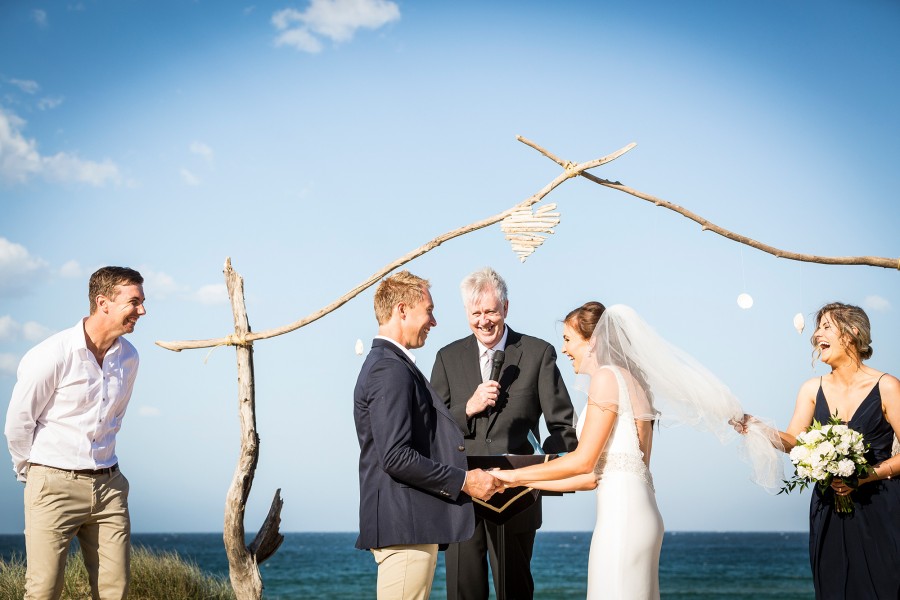 Robbie proposed to Stephanie while the two were holidaying in Indonesia. "He managed to find a secluded section of white sandy beach, framed with palm trees and with a view across the still water of the sun setting behind Bali," says Stephanie.

In keeping with the seaside proposal, the couple held their beach wedding on Rottnest Island, WA. "We had a beach ceremony followed by celebratory drinks and nibbles on the beach immediately after, which was followed by a cocktail style reception in a private marquee on the beachfront at the Rottnest Hotel."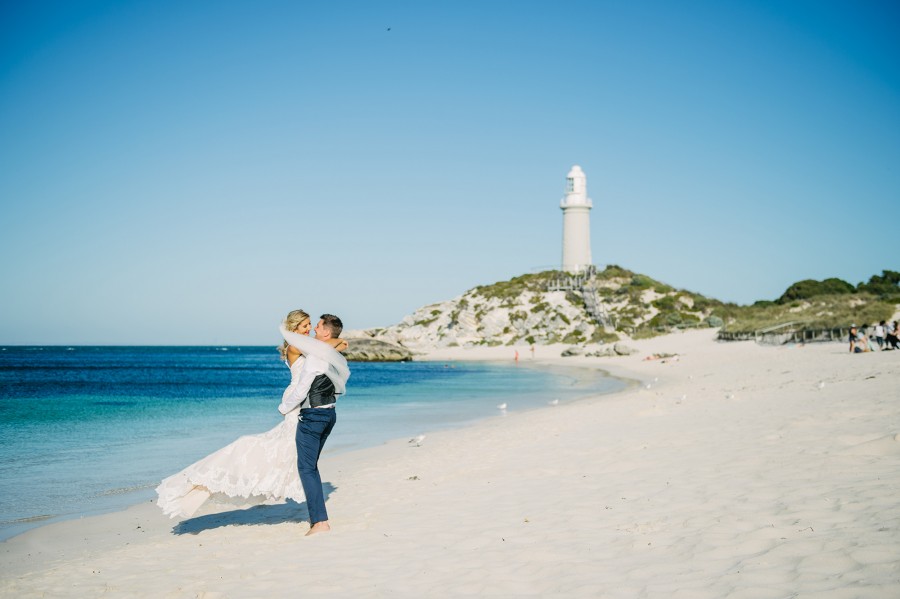 English-born Phil and Australian Rhian, though they now live in the UK, returned to Australia to host their beach wedding on the Sunshine Coast. The ceremony at Sunshine Beach Surf Club was followed by a reception at the same location for a chilled vibe.

"It was a relaxed and laid-back beach holiday combined with a wedding, connecting friends and family from all round the globe," says Rhian. "Our guests had time to get to know each other in the lead up – high tea, fishing, beach time, beauty parlour, group meal – maximising party time on the big day!"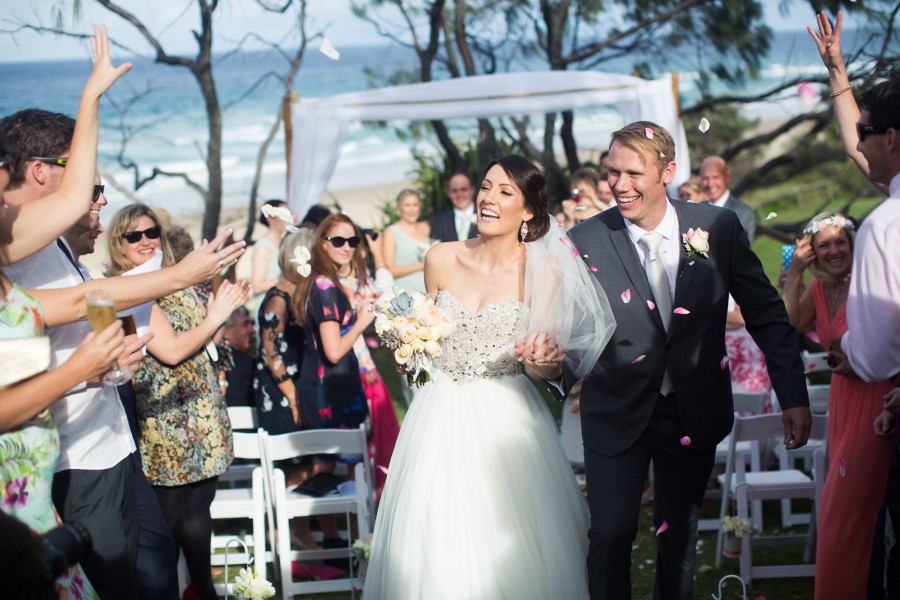 Naomi and Warren held their destination wedding in Nusa Dua Benoa, Bali. Almost 40 guests made the journey to watch them say 'I do'.

The weather was perfect for a beach wedding, and Naomi's bridesmaids wore stunning aqua coloured gowns – a fitting colour for the seaside.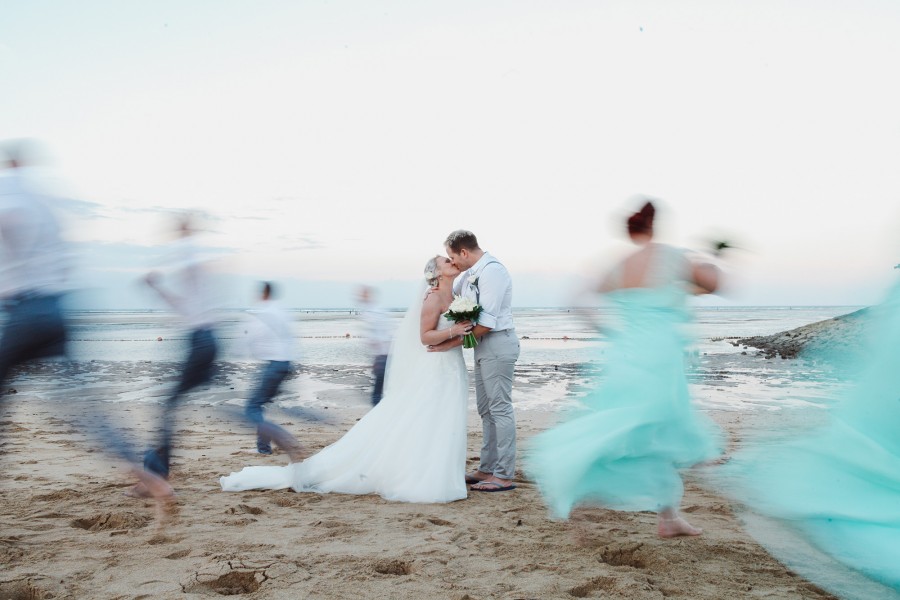 The Melbourne pair decided on a ceremony at their local beach in Aspendale. "The wedding was perfect," says Loren. "The ceremony was relaxed, with our guests and wedding party barefoot."

Loren says of the location, "We were married in a beautiful place that we will visit many times a year for the rest of our lives."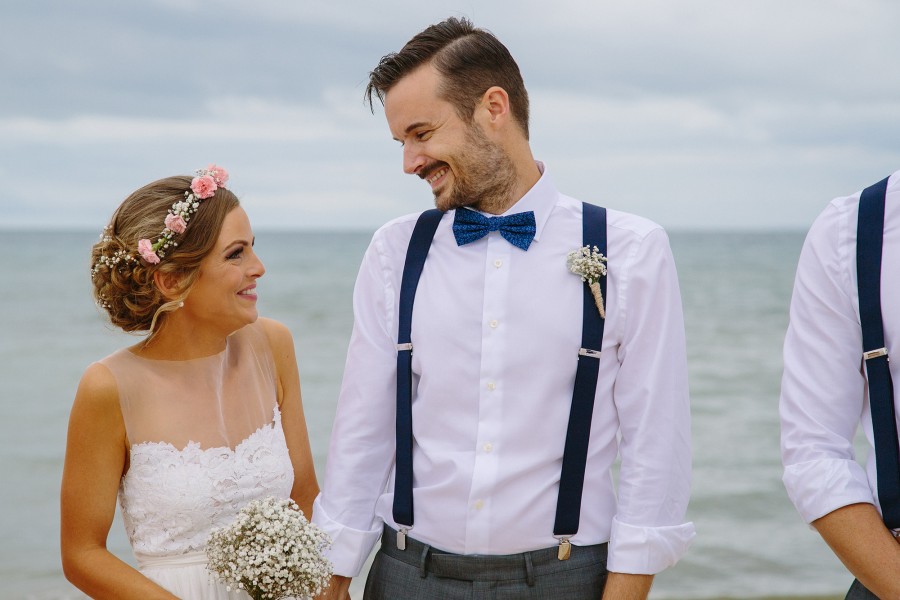 German couple Sissy and Marco had always dreamed of marrying in Australia – and the fulfilled their wish on a four-month holiday Down Under. The pair said 'I do' on a stunning Perth beach.