When it comes to planning your wedding, unfortunately, there are a few things that might not always go to plan. It doesn't matter how much you've planned beforehand, the weather is one of them!
Fortunately, the more you do plan, the more you can be prepared for a weatherproof wedding with a wet weather, hot weather, or even winter wedding option. Because while there's always someone who will tell you how rain on your wedding day is meant to be good luck, at the time it might not feel like it!
But we want to reassure you that despite the weather, there are so many gorgeous ways to celebrate your rainy day nuptials. So whether it's checking out your venues wet weather option, grabbing some umbrellas, or making the most of it and dancing in the rain, don't be afraid if the heavens decide to open up on your big day!
Don't hesitate to use the wet weather plan
Darby and Michael had planned a beach ceremony, but the weather had other plans. So instead they hosted their intimate ceremony inside their house and it looked stunning! They also managed to get those photos on the beach they wanted during the day when the rain did clear up. Chat with your photographer and videographer if it does rain to see what moments you can make the most of!
When it came to the reception they were still all smiles when the rain bucketed down on the tipi tent in their backyard that sheltered their guests.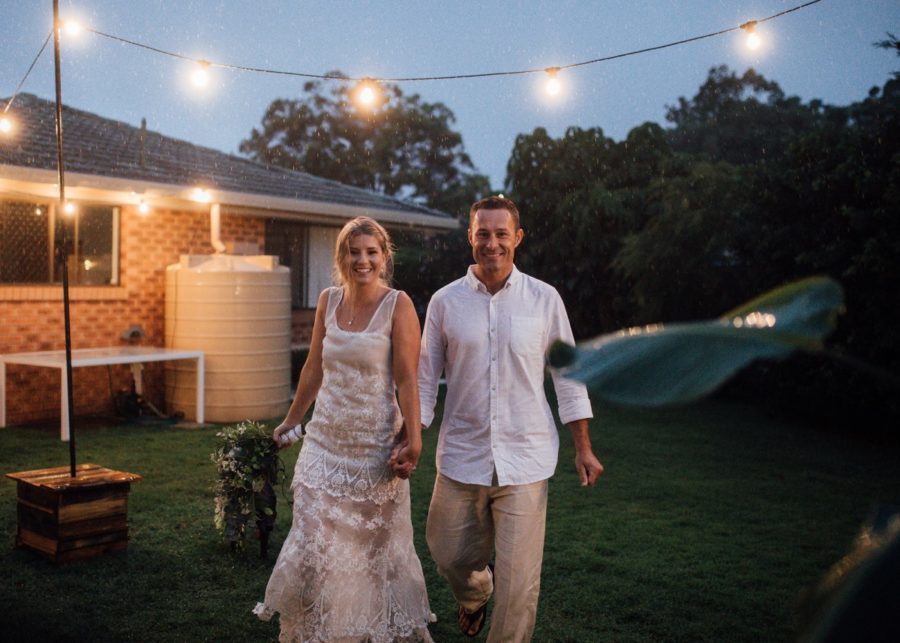 Make sure to have fun!
Having a wedding in the city? Then don't forget to sing in the rain! Sammy and Mikee made the most of their rainy day by having fun! Rain in the city meant the cobblestones and moody lighting come evening made for some stunning shots, while both being dancers they couldn't NOT post for this excellent photo!
At the end of the day, you're still marrying the person you love, so don't forget to have fun even if the weather isn't as good as you hoped!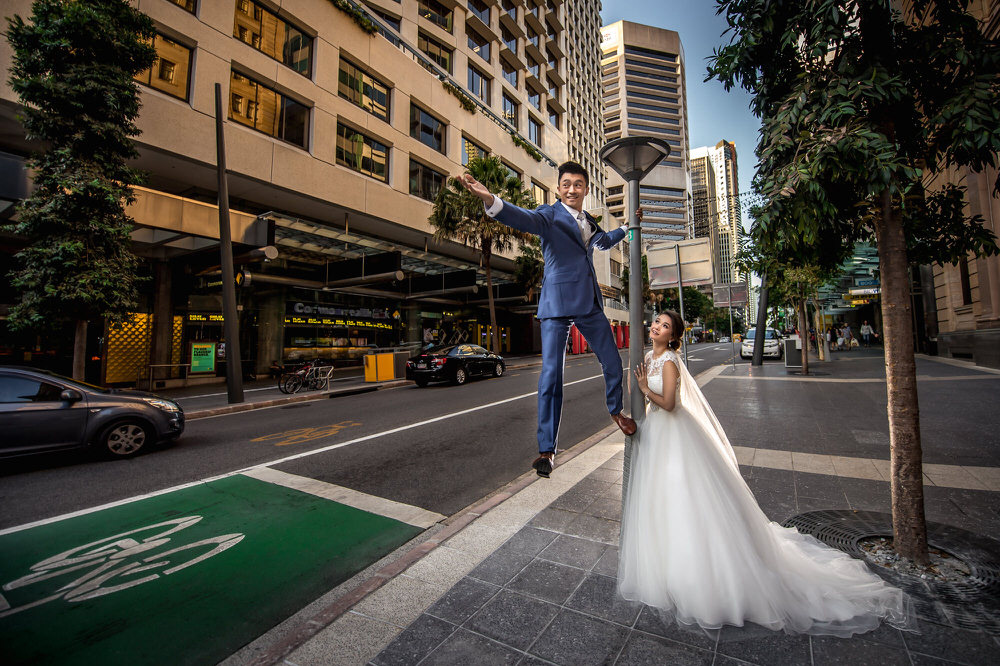 Get photos you wouldn't in the sunshine
Chat with your photographer about what they can actually do with the wet weather! An experienced photographer will have a range of shots in their portfolios and memory that they can help you set up for your wedding day.
The backlit shot with a couple silhouetted is nice, but add the romantic touch of an umbrella and some drops of rain and you have something truly special, and Vanessa and Adam found out.
We also love the way the photographer has used both the pouring rain and puddles to frame this stunning shot of Maggie and Richie.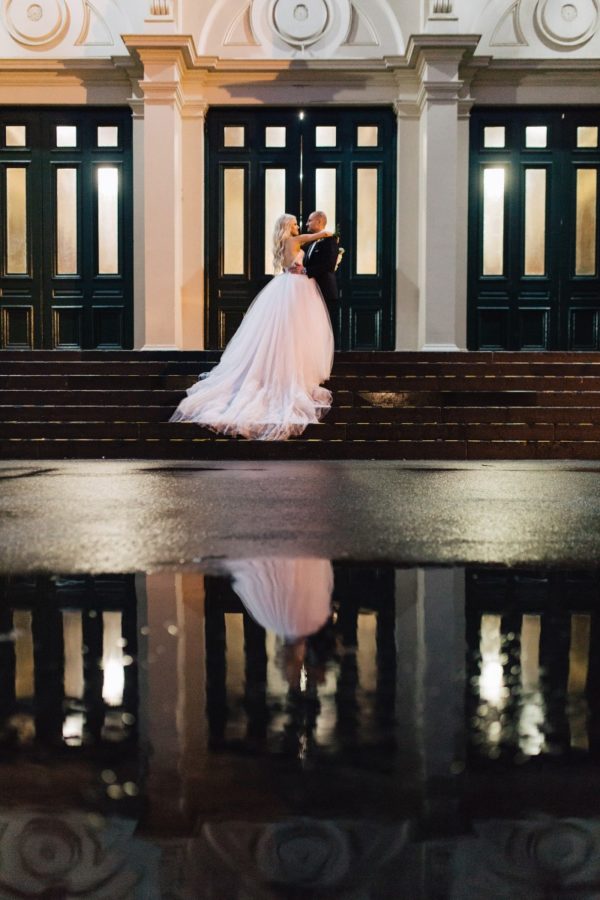 And how could you not smile when seeing this fun photos of Amy and her bridesmaids making the most of the wild winds at her wedding to Michael.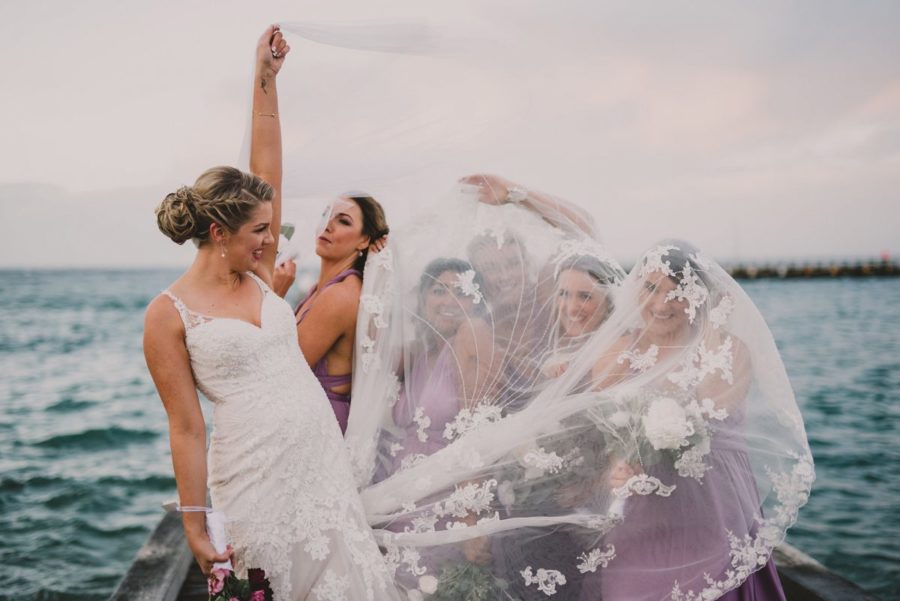 Stall for a break in the rain
If you have a chance to check the radar then you might be in luck and see that the rain is going to ease up for a particular part of your wedding day that's outside. If that's the case, don't be afraid to talk to your venue about pushing back your ceremony or photos by half an hour if they have the flexibility.
Brantley-Marie and Simon stalled their ceremony to a point where they could celebrate with the glistening trees without getting wet themselves. But it looks like their furbaby might have got a bit wet earlier!
Just go ahead anyway…
You can't wipe the smile off Hannah and Sam's faces here, and the fact that it's raining during their ceremony doesn't seem to bother them! If a little bit of rain doesn't scare you away then have fun with it and go ahead anyway.
Some umbrellas for your guests, some laughter, and making sure you hitch your wedding gown up that little bit higher, will give you the gorgeous and fun wedding you've always dreamed, without the stress of the weather.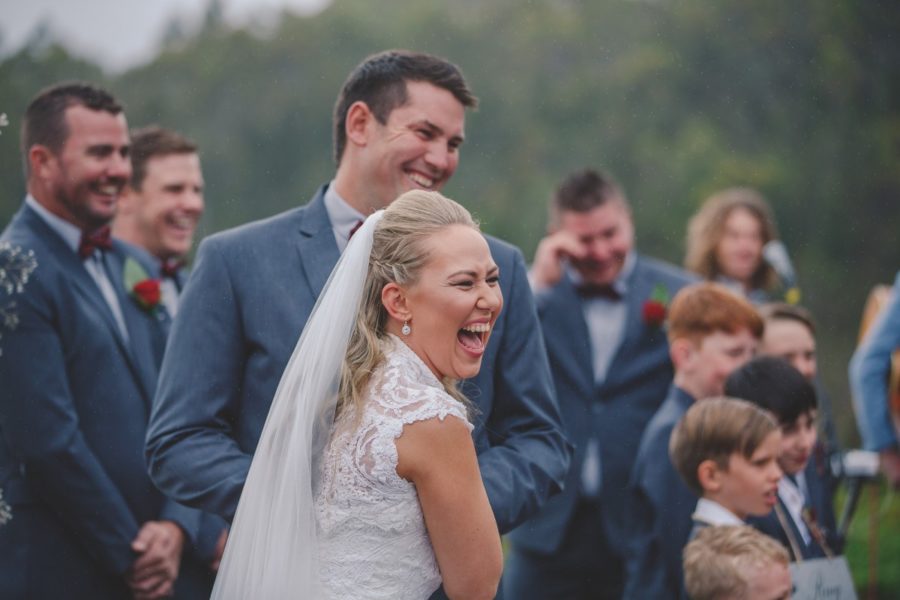 …and fully embrace the rain!
You can even go one step further, especially if you're hosting an outdoor reception or wedding, and just embrace the rain! Lisa and Jonathan did just that, with Lisa being drenched before she even walked down the aisle at their rainforest wedding.
Their guests all embraced the rain too, making for a fun and memorable night that no one will forget.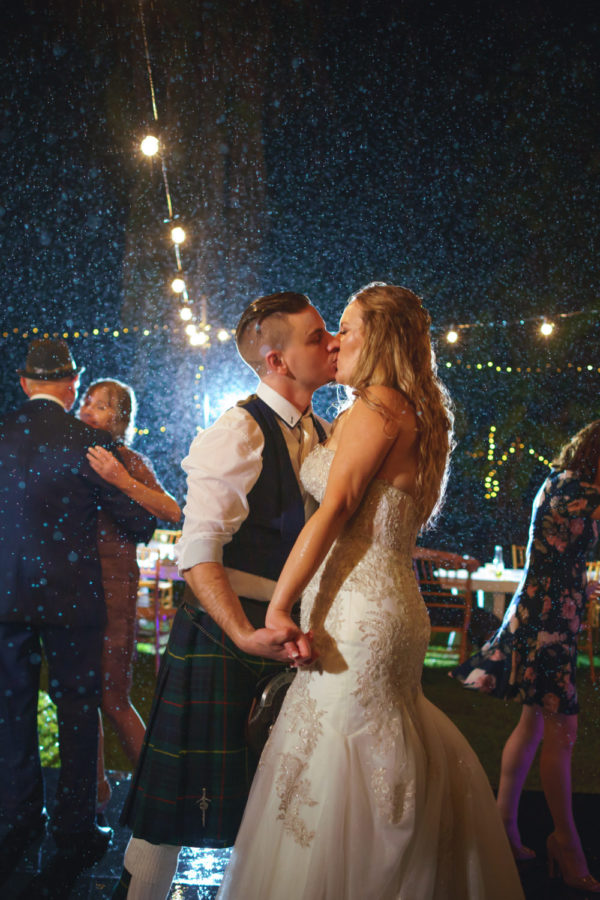 Plan for the wet weather look
Cobblestones and rainforests get an even more beautiful feel when they're in the wet, and they can look absolutely stunning when it's been raining. So if you're having a wedding in the city or a forest-style location and think it might rain on your day, make the most of it by adding it to your theme!
We love the bright bold colours paired with the dark cobblestones of Melbourne and pops of laneways at Patcharee and Adam's city wedding.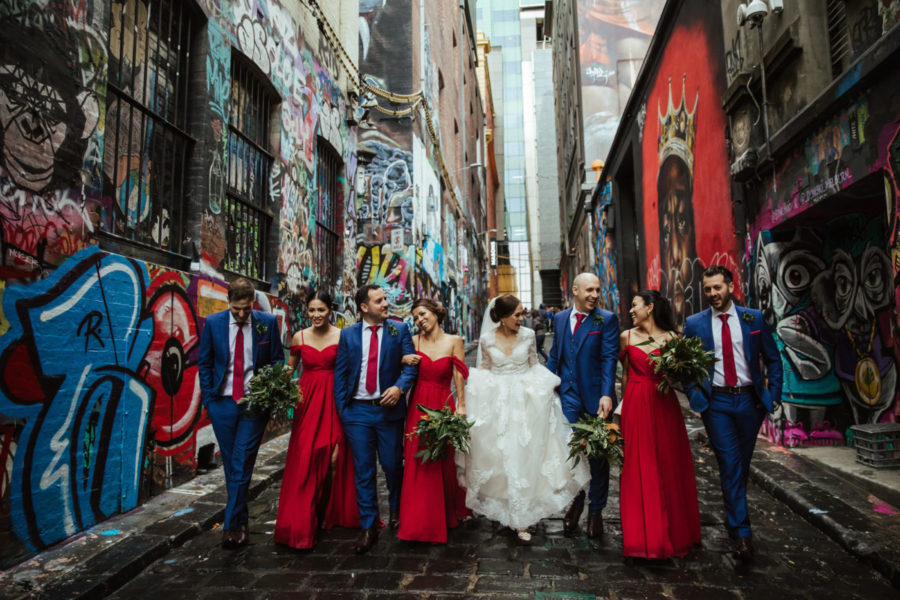 We're also big fans of the darkened colours and romantic atmosphere at Lee and Stephen's forest wedding.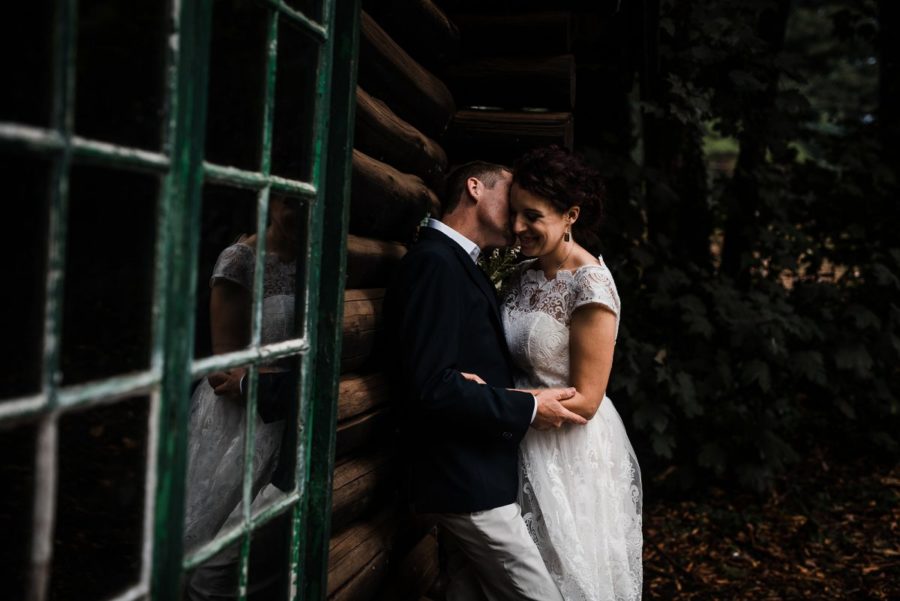 Finally, don't be afraid your iconic moments will be ruined
A lot of the time when we visualise weddings we think of them being picture perfect with couples smiling and not a cloud in the sky. But know life isn't always like that, so don't worry about losing the iconic moments because it's raining on your big day.
At the end of the day, the rain becomes a part of your wedding so your iconic moments should include it. Then you can look back and smile on the day that you had, and those memories will be more real and unique because of it.
From Jonah walking down the aisle to marry Publius, Tingting and Sean hanging out with their wedding party, or Lina and William walking down the aisle with their umbrellas on the wettest day in 25 years, your iconic moments are just that. They are yours. So make sure you treasure them rain, hail, or shine.