Hosting your wedding in iconic Melbourne and searching for the perfect location to shoot your all-important wedding photos? Here are 15 Melbourne wedding photography locations to consider for your upcoming big day.
Hosier Lane
Hosier Lane, Melbourne VIC 3000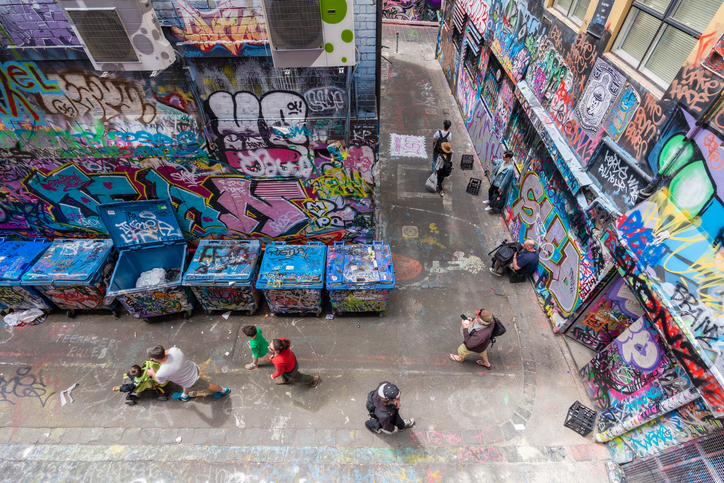 Renowned for being Melbourne's most celebrated laneway for street art, Hosier Lane is the perfect place to visit to capture your forever cherished wedding photos. Located in the heart of Melbourne, this street art laneway is famous among tourists for its vibrant colours, edgy graffiti, stencils, and art installations. And, with street and graffiti artists adding to the walls as you watch, Hosier Lane is an experience like no other.
For those wanting classic wedding photography, perhaps Hosier Lane isn't for you. However, if you desire contemporary photos that capture the true essence of what makes Melbourne great, then Hosier Lane is the ideal place to create unique and artistic wedding photography.
If you were thinking of visiting Hosier Lane for your wedding photography, keep in mind that the laneway is relatively small and is often filled with people admiring the street art, so your photos may include members of the public in the background.
Melbourne couple, Amanda and Ben, chose to visit Hosier Lane on their special day in 2015.
"I wanted an eclectic feel," Amanda explains. The inclusion of Hosier Lane's street art as backdrop just added to their art-filled day, as the pair held their reception at South Melbourne's Smart ArtZ Gallery. See their entire wedding here.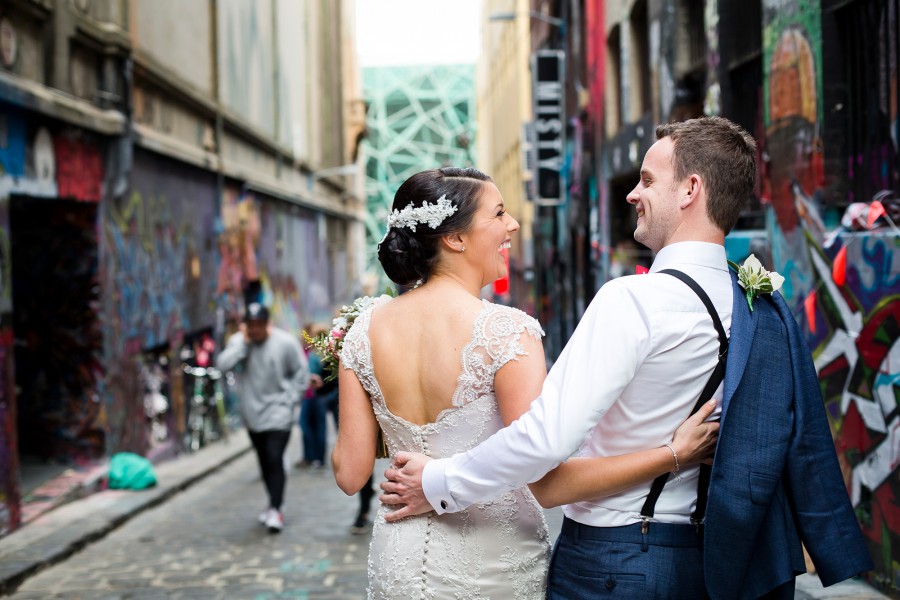 Parliament House
Spring Street, Melbourne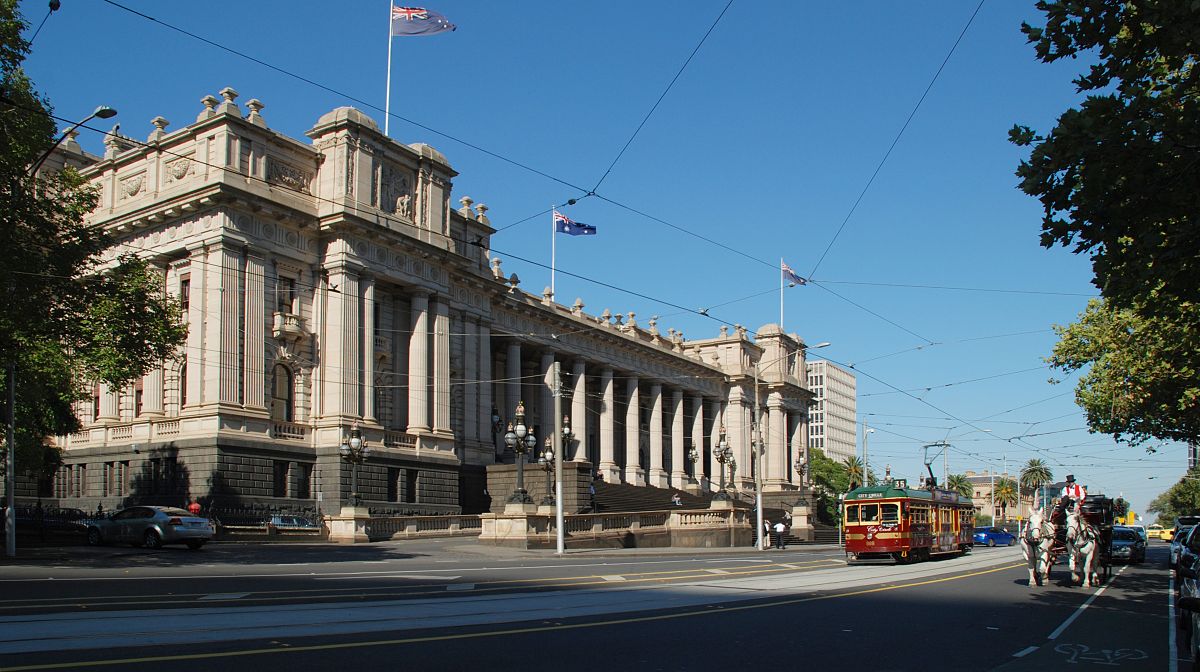 Constructed between 1855 and 1929, Parliament House is perfect for those looking for something grand, classic, and historic as backdrop to their all-important wedding photos. Listed on the Victorian Heritage Register, and having celebrated its 150th anniversary in 2005-06, Melbourne's Parliament House is iconic and therefore very popular among tourists and – of course – weddings!
If you are hoping to visit Parliament House on your wedding day, keep in mind that this particular location is situated in a very busy and popular location in Melbourne's CBD. If you're not into the hustle and bustle of the city, perhaps this wedding photography location isn't for you.
If you do go ahead with your Parliament House wedding photos however, you will end up with something timeless, classic, and truly beautiful in a historic setting.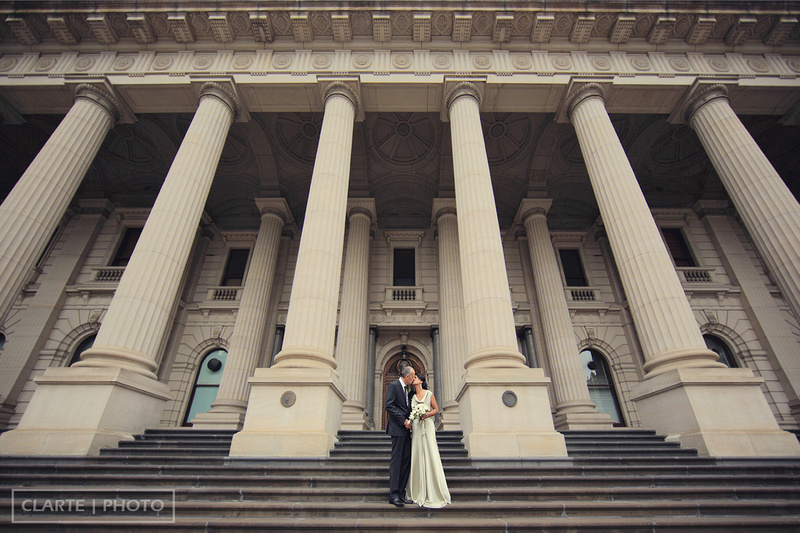 Brighton Beach
Brighton Beach, Brighton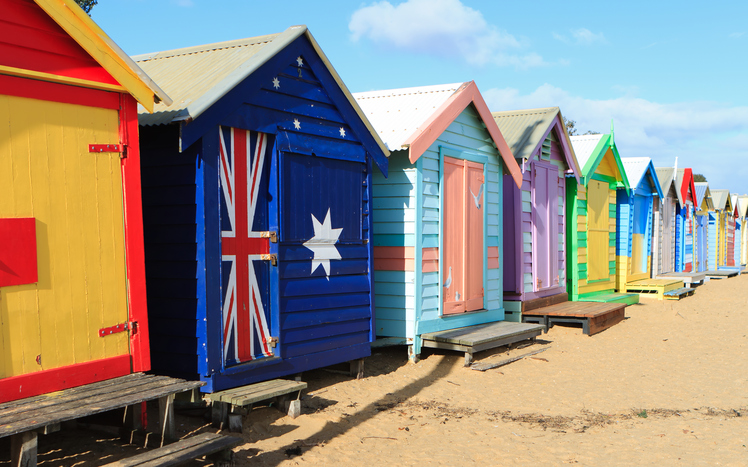 Located in the affluent beach-side suburb of Brighton – only 11 kilometres south-east of Melbourne's CBD – Brighton Beach is ideal for those searching for a beach photography location with a point of difference. Famous for its colourful beach bathing boxes, tourists flock to Brighton Beach purely to marvel in their quirky glory.
The backdrop of the colourful bathing boxes is popular among wedding parties searching for a unique beach location, however, so keep this in mind when choosing to visit Brighton Beach.
Those who are interested in visiting Brighton Beach on their wedding day usually hold their wedding ceremony or reception somewhere nearby as it is not the closest beach location to the Melbourne CBD, and wedding photography sessions often do not allow enough time to be travelling all around Melbourne. Click here to browse wedding venues near Brighton. 
Pictured below, Melbourne couple Priti and Justin wed nearby at St James Catholic Church in Brighton, making the trip to Brighton Beach an obvious choice when it came to wedding photos.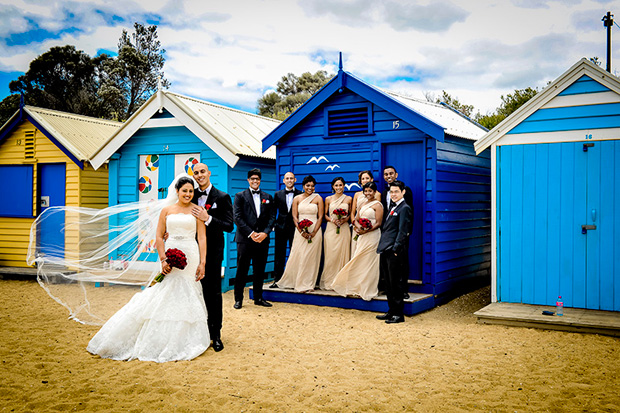 Albert Park Lake
Albert Park, Victoria 3206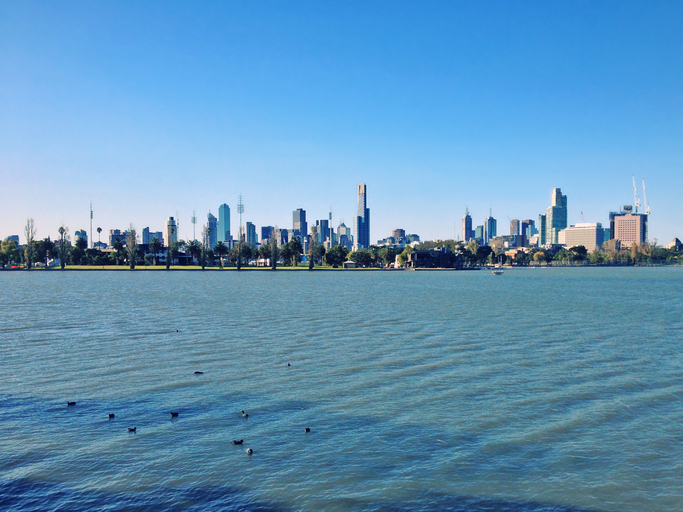 Stretching over 2.25 square kilometres of parkland, Albert Park certainly has enough space to create your dream wedding photos. This parkland is perfect for garden wedding ceremonies overlooking the lake, and has an abundance of waterfront wedding reception venues nearby for those looking to just duck away for a few hours for their photos. However, with its close proximity to the Melbourne CBD, wedding parties flock from ceremonies and receptions from all over the city to take their photos in Albert Park.
Click here to browse wedding venues near Albert Park.
Pictured below, Melbourne couple Megan and Matthew shot their beautiful wedding photos in Albert Park, and continued their celebrations at a nearby waterfront venue – Carousel.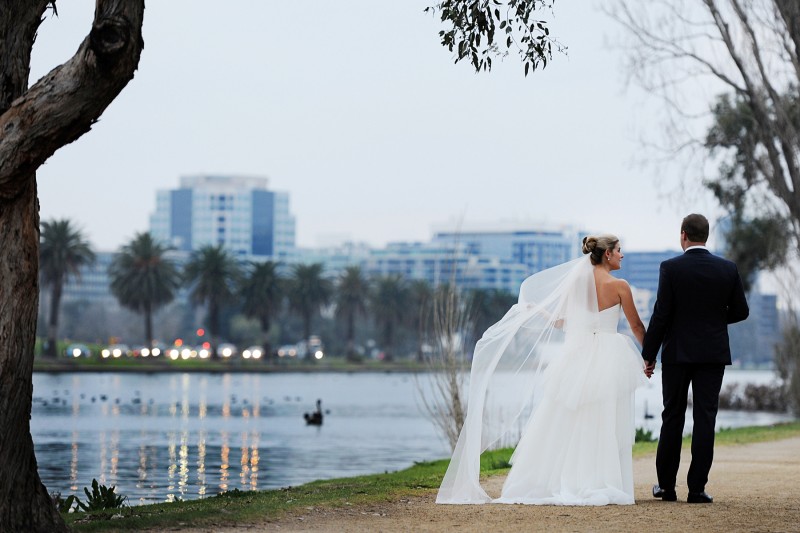 St Kilda Beach
St Kilda, VIC 3182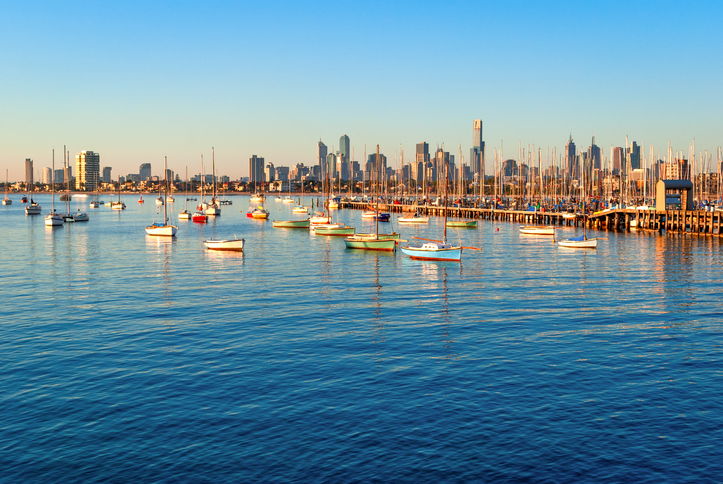 6 kilometres south of Melbourne's centre, St Kilda Beach is perfect for those looking to create quintessential beach wedding photos. With a number of recreational activities taking place at St Kilda Beach, including swimming, sunbathing, windsurfing, sailing, kitesurfing, rollerblading, beach volleyball, jet skiing, and water skiing, wedding photos taken here are guaranteed to be something special.
St Kilda Beach is popular due to its proximity to nearby St Kilda wedding ceremony and reception venues, meaning ideal wedding photography opportunities are often only a walk away. Because of this, St Kilda Beach's proximity to venues fits the relaxed nature of a beach wedding.
And, being only a short stroll from iconic Luna Park, you can also include that location as backdrop to your wedding photos.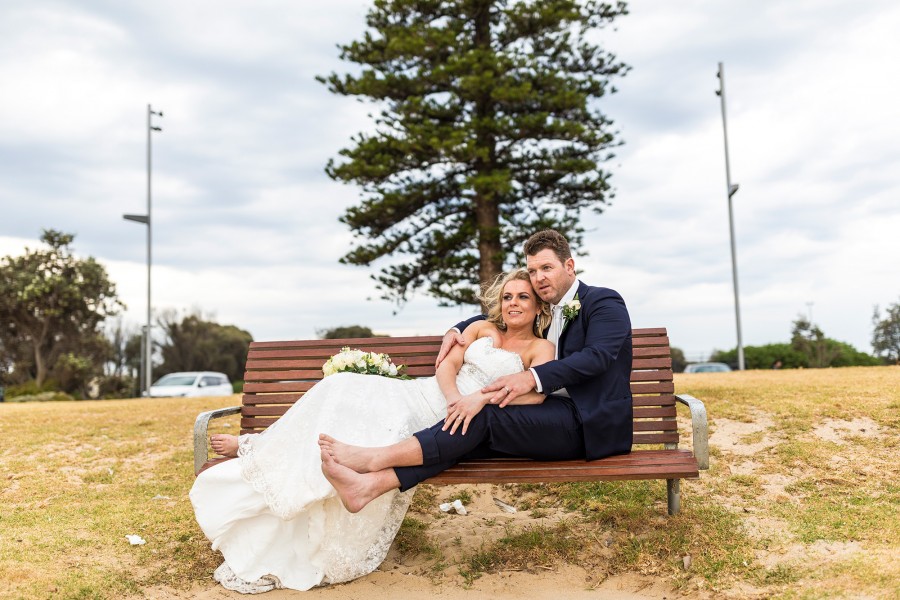 Flinders Street Station
Flinders Street, Melbourne VIC 3000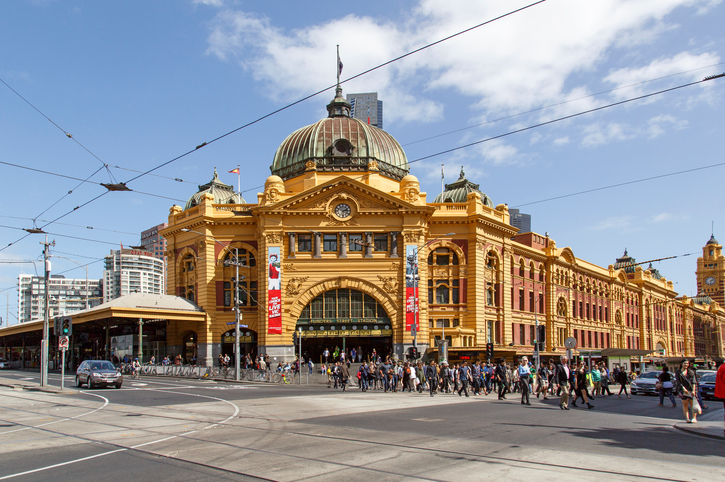 Officially opened in 1910, Flinders Street Station is perfect for those wanting to incorporate Melbourne history into their cherished wedding photos.
If Melbourne's hustle and bustle isn't your idea of fun, perhaps iconic Flinders Street Station is not the wedding photography location for you.
Should you be interested, keep in mind that it is often hard to organise your wedding photos in a location that is so widely used by the Melbourne public. There's little to no chance you'll capture the iconic building without a few of the public in your shot, so if privacy is important to you, perhaps it's best to reconsider Flinders Street Station. However, if you're in the area anyway, you could simply cross the road and take your photos at Federation Square instead.
Pictured below, newlyweds Candy and Paul used the public outside of Flinders Street Station to give their wedding photos a point of difference. See their entire wedding here.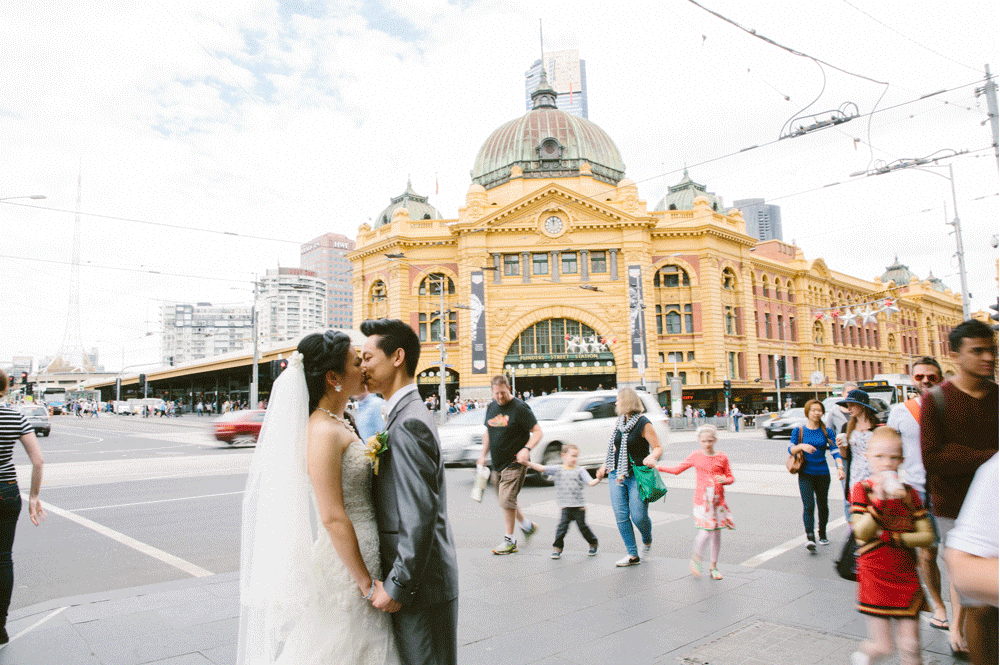 Federation Square
Swanston Street & Flinders Street, Melbourne VIC 3000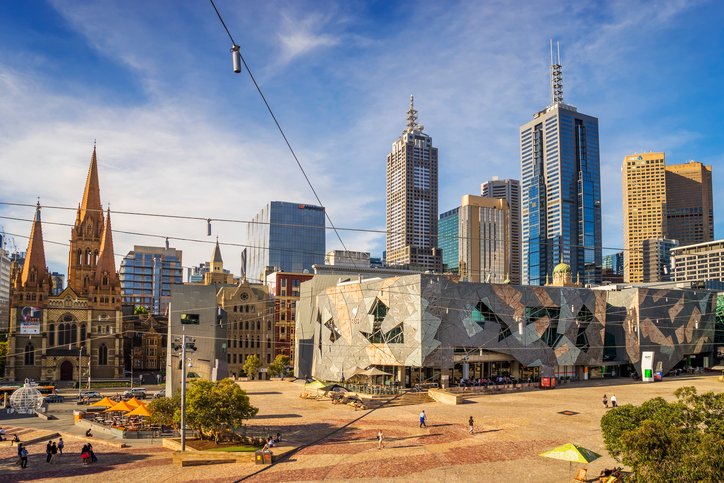 As mentioned above, Federation Square is just a stone throw away from Flinders Street Station. Built on a concrete deck above Melbourne's busy railway lines, Federation Square is a multi-use development created as a public gathering place within the CBD. Because of this, many couples and their wedding parties flock to Federation Square to showcase Melbourne City as backdrop to their wedding photography.
Federation Square is the perfect place to take your wedding photos if your ceremony or reception is located in the vicinity. As this location is incredibly busy at all times, there may be some difficulty with parking your wedding transport nearby. This may present itself as a roadblock (pun intended) and may waste valuable photo shoot time.
Pictured below, Melbourne couple Christine and Marko visited famous Federation Square for their wedding photos. See their entire wedding here.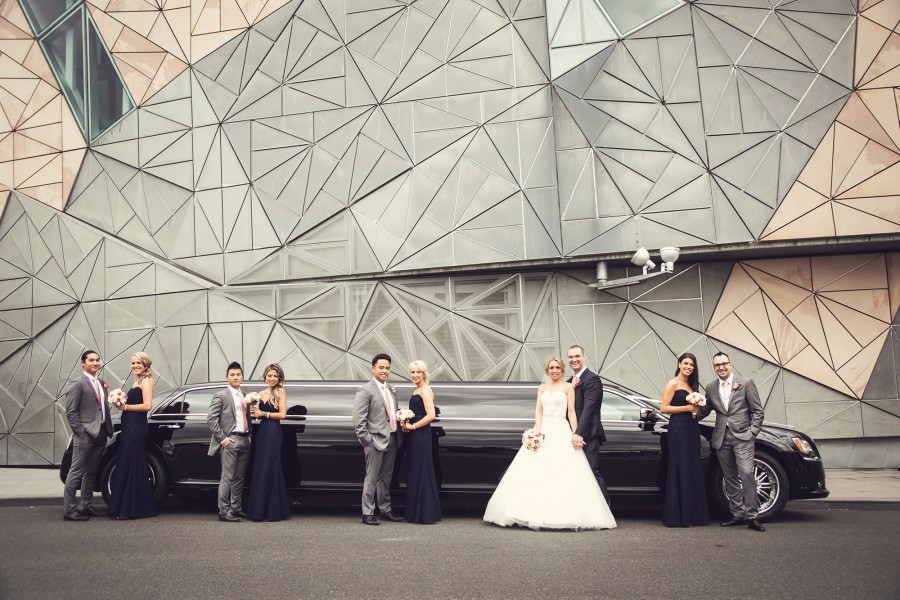 Melbourne University
Melbourne University, Parkville VIC 3010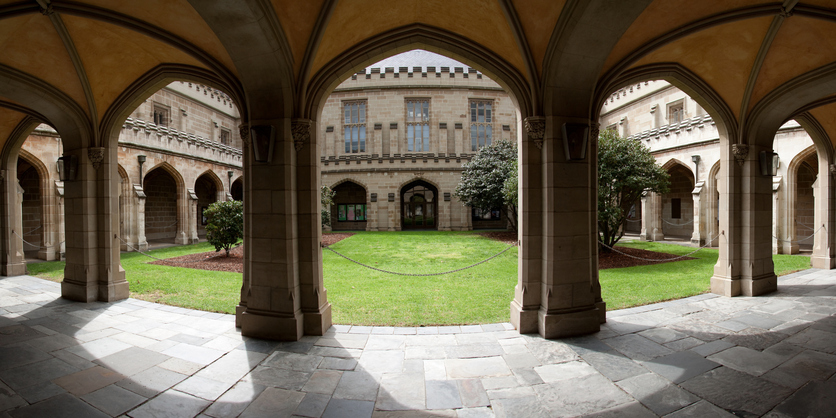 Founded in 1853, the University of Melbourne is Australia's second oldest university and the oldest in Victoria. It is for this reason that hundreds of newlyweds each year flock to Melbourne University's grounds to take their wedding photos.
Featuring period architecture, the University of Melbourne is known for creating classic and timeless wedding photography. It is a popular location among future newlyweds looking for somewhere to take their wedding photos because of its history, gothic charm, and its incredibly beautiful grounds.
For those thinking about visiting the University of Melbourne for their wedding photos, keep in mind that the university is teeming with students during the week, so this location perhaps isn't ideal for those planning a weekday wedding.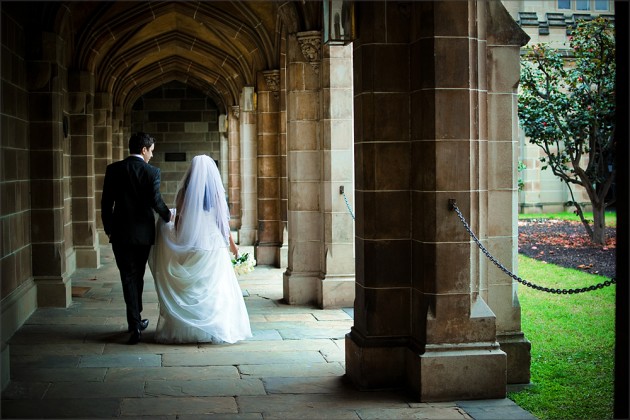 Treasury Gardens
2-18 Spring Street, East Melbourne VIC 3002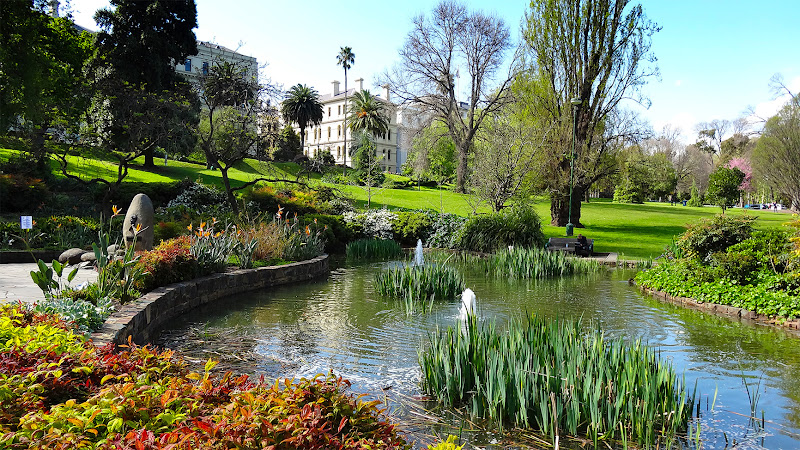 Located on the south-eastern side of the Melbourne CBD, and consisting of 14.4 acres of parkland, Treasury Gardens has plenty of space to accommodate your wedding photoshoot needs. Listed on the Victorian Heritage Register, these gardens are popular among future newlyweds searching for photo locations for its historical, archaeological, social, and horticultural importance.
Due to its proximity to the CBD, Treasury Gardens is ideal for anyone planning a Melbourne city wedding.
While there is plenty of space to take your all-important wedding photos, keep in mind that Treasury Gardens is public parkland, and you may attract some observers during your photo shoot.
Treasury Gardens is also a popular garden ceremony location. Click here to discover five other Melbourne wedding ceremony locations.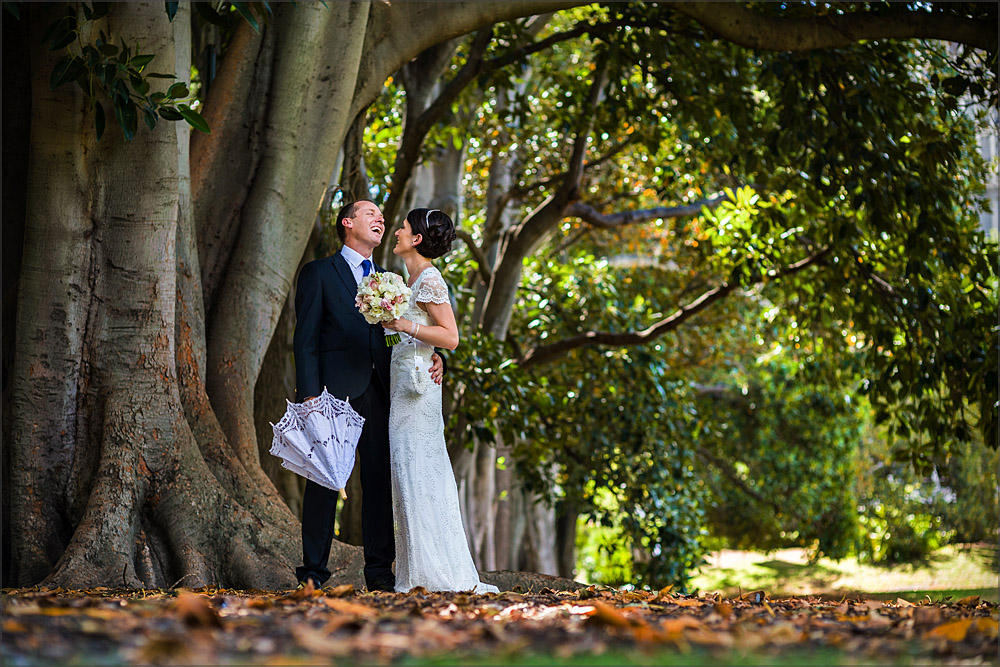 Royal Exhibition Building and Carlton Gardens
9 Nicholson Street, Carlton VIC 3053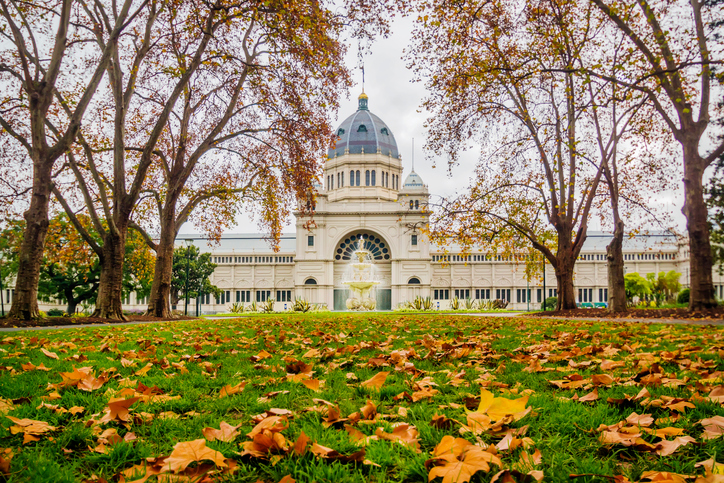 Completed in 1880, World Heritage Site-listed Royal Exhibition Building and the surrounding Carlton Gardens at the north-eastern edge of the CBD are popular among those searching for a beautiful garden location as the backdrop for their wedding photos.
An example of Victorian landscape design, the sweeping lawns of Carlton Gardens exhibits European and Australian tree plantings, and features a network of tree-lined paths highlighting the fountains and architecture of the Royal Exhibition Building. It is because of its historical, architectural, aesthetic, social, and scientific importance that the Royal Exhibition Building and the Carlton Gardens is so popular among couples planning their wedding photos.
The Carlton Gardens can even host your garden wedding ceremony! Click here to find out more.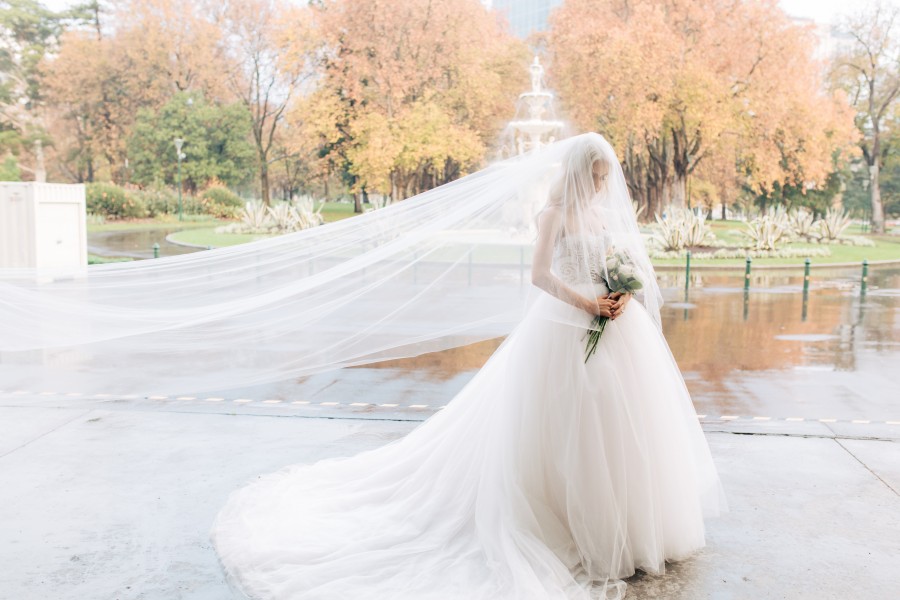 Royal Botanic Gardens Melbourne
Birdwood Ave, South Yarra VIC 3141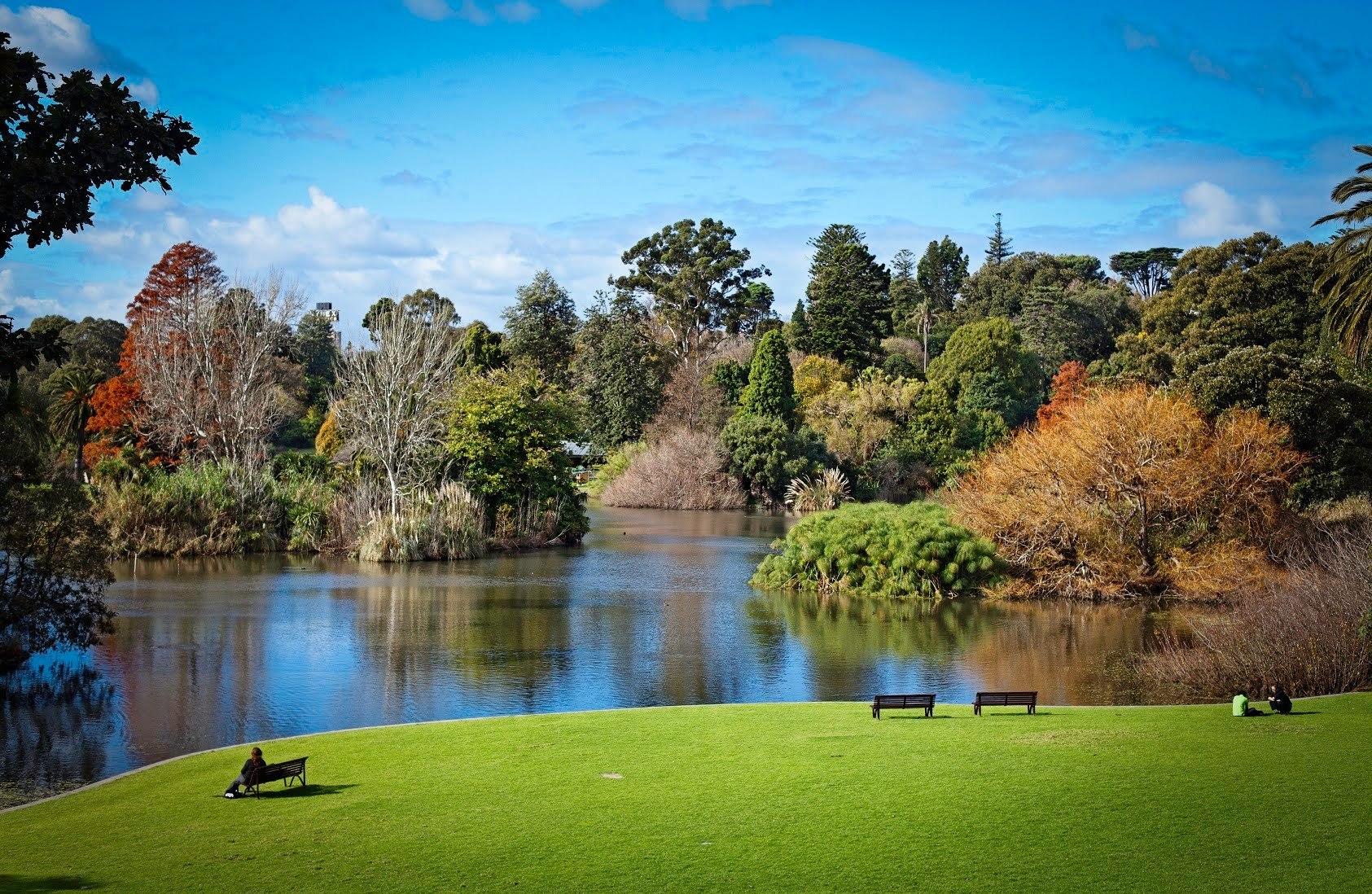 First established in 1846 by Lieutenant Governor Charles La Trobe, Melbourne's Royal Botanic Gardens is one of the most visited landscapes this beautiful city has to offer.
This incredible garden setting stretches over 36 hectares, full of unique opportunities such as lakes, trees, garden beds and lawns for couples to take their wedding photos among.
The Royal Botanic Gardens is the perfect choice for those seeking classic photos for their wedding album, but we must warn that this landmark is also a fan favourite among tourists visiting Melbourne city. If you are looking for a secluded photoshoot location that has little chance of having multiple wedding parties fighting for the same shot, perhaps Royal Botanic Gardens isn't for you. However, the sheer expanse of the gardens means couples and their wedding parties can simply find another gorgeous spot if particular photoshoot locations are already occupied.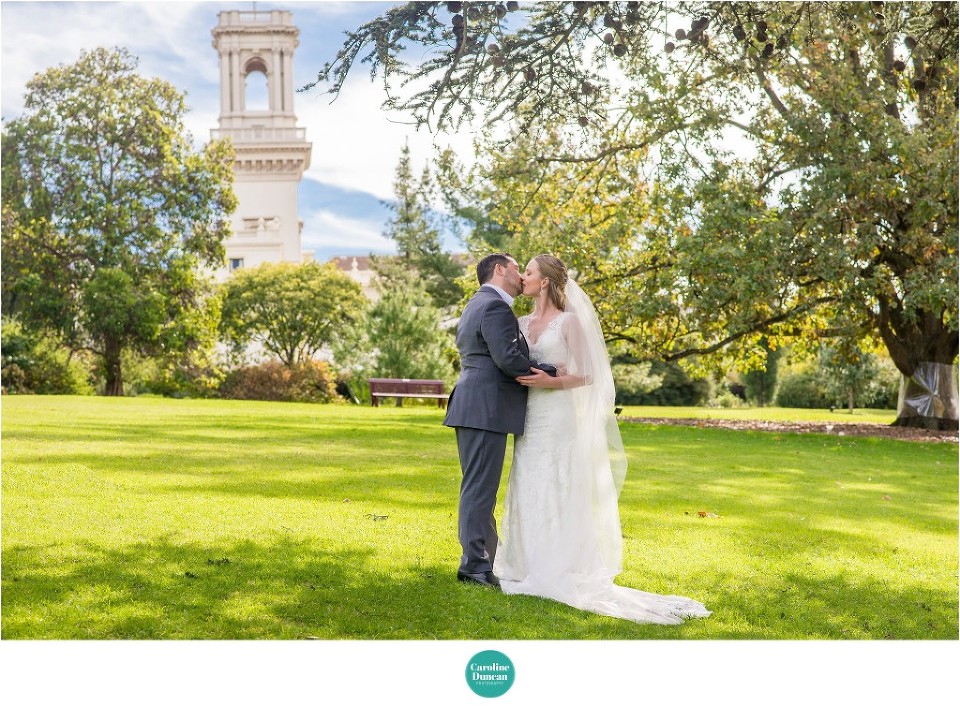 Eureka Skydeck
7 Riverside Quay, Southbank VIC 3006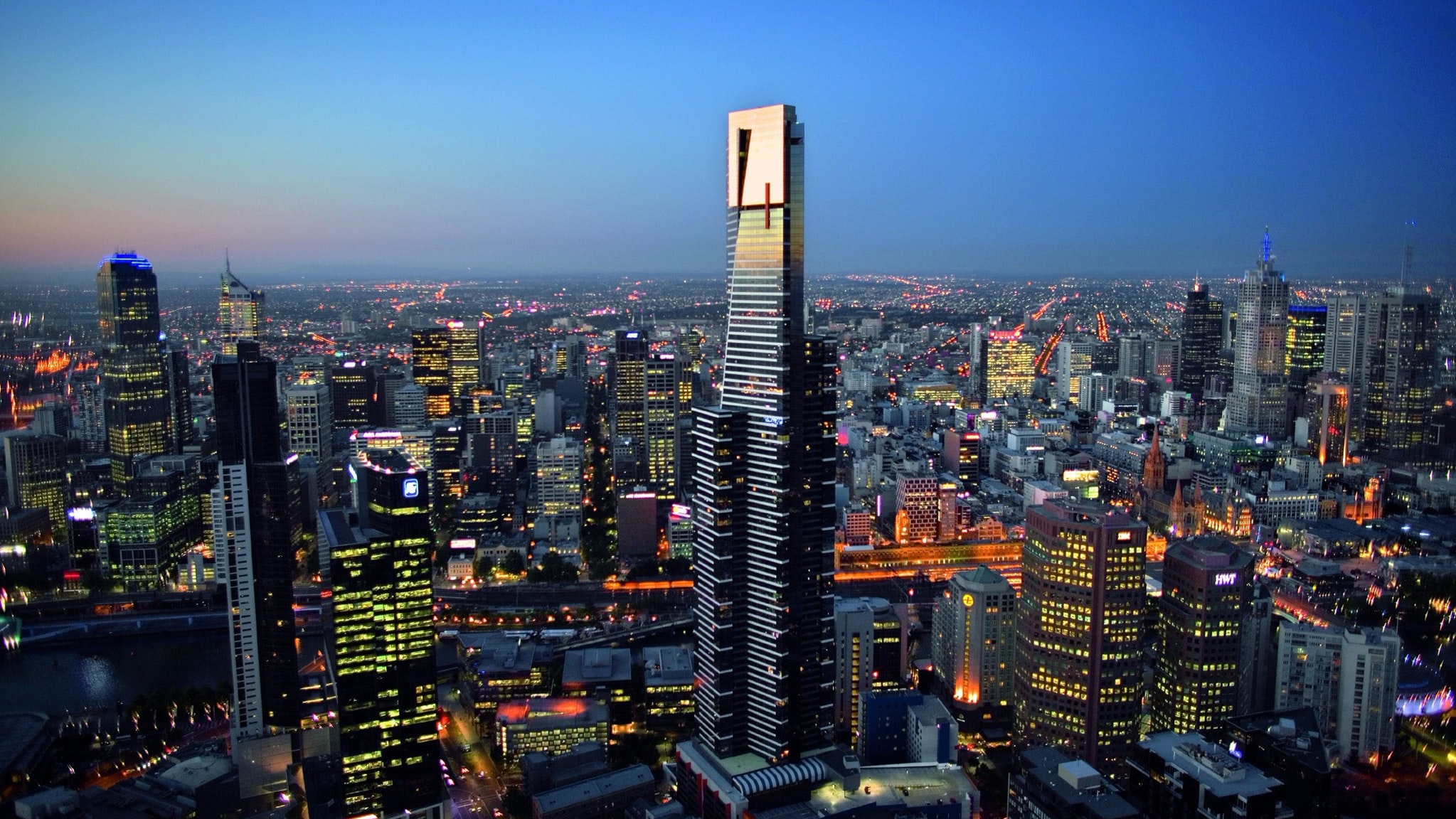 Eureka Tower and its Skydeck is a popular tourist attraction for those visiting Melbourne city – and therefore also a favourite among those hoping to capture photos that are quintessentially 'Melbourne' for their big day.
Sitting high above the city, Eureka Tower is a 297.3-metre skyscraper completed in 2006. At the time the Tower was the world's tallest residential tower, and is currently Australia's second tallest building behind Q1 in Queensland.
Eureka Tower is famously known for its observation deck known as Eureka Skydeck 88. Opened in 2007, the Skydeck is the highest public vantage point in a building in the Southern Hemisphere – making it a popular choice for couples seeking unique photos overlooking all Melbourne has to offer.
For those daring couples, photos can be captured at the Tower's Edge – an opaque glass cube that turns clear once fully extended over the edge of the building. The Edge makes for some seriously unique photos.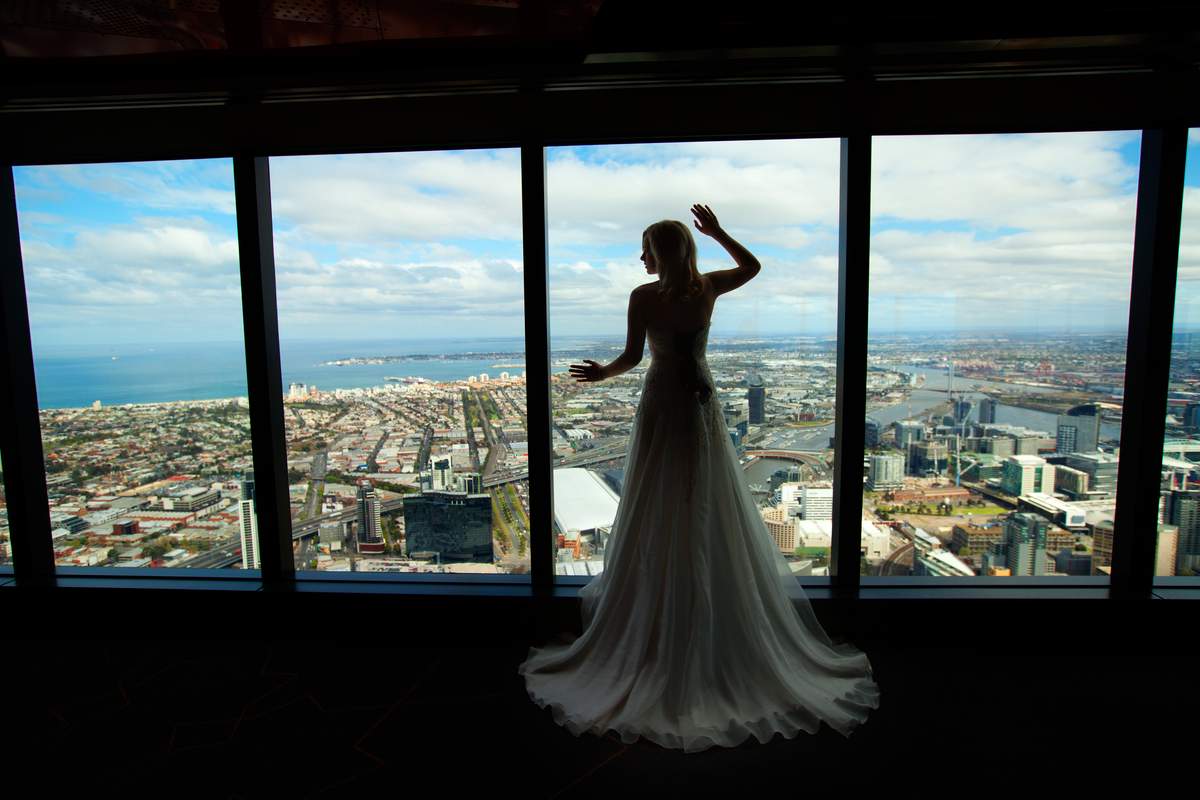 Fitzroy Gardens
Wellington Parade, East Melbourne VIC 3002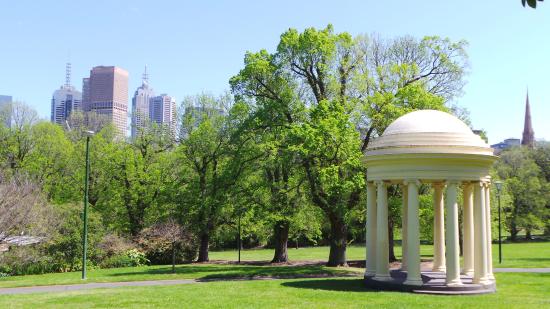 Stretching over 26 hectares, Fitzroy Gardens is full of great photoshoot opportunities for wedding parties.
Set on the edge of the Melbourne Central Business District, Fitzroy Gardens is just a stones throw away from all the popular wedding venues this gorgeous city has to offer. This means wedding parties can simply walk to their photoshoot locations – maybe even stop along the way at any opportunities that arise.
Like other popular Melbourne wedding photoshoot locations, Fitzroy Gardens is known for being a tourist attractive and therefore always teeming with people – especially on days with pleasant weather. We warn that couples may have to wait their turn as tourists and wedding parties may be after the same photo opportunities.
Popular locations within Fitzroy Gardens include along the tree-line pathways, by the creek and under the shady willows.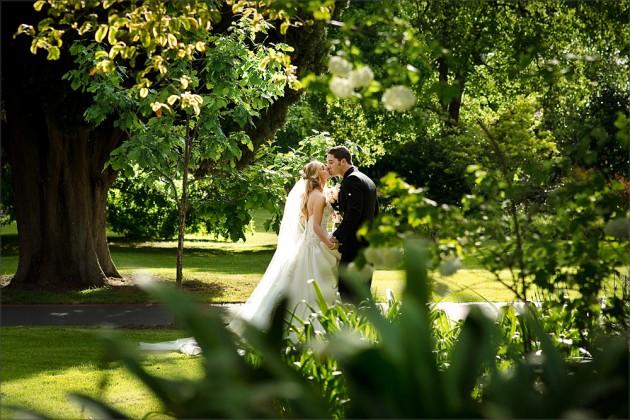 St Kilda Beach
St Kilda, Port Phillip, Victoria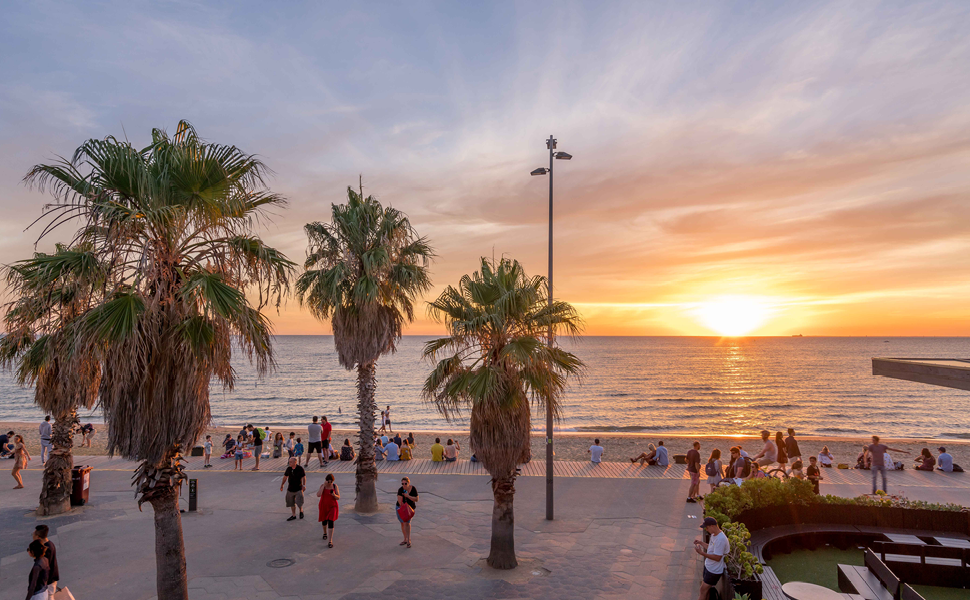 Always a hive of activity, St Kilda Beach is a favourite among those searching for beautiful wedding photoshoot locations in Melbourne.
Known as Melbourne's most famous beach, St Kilda Beach is the perfect opportunity for beach-loving couples to capture beach wedding photos regardless of their wedding theme or venue location.
And, with its close proximity to the iconic Luna Park, couples can utilise the theme park as backdrop for their unique wedding photos.
But again, we warn, St Kilda is a popular tourist destination and therefore couples may be at risk of running into other wedding parties on their special day.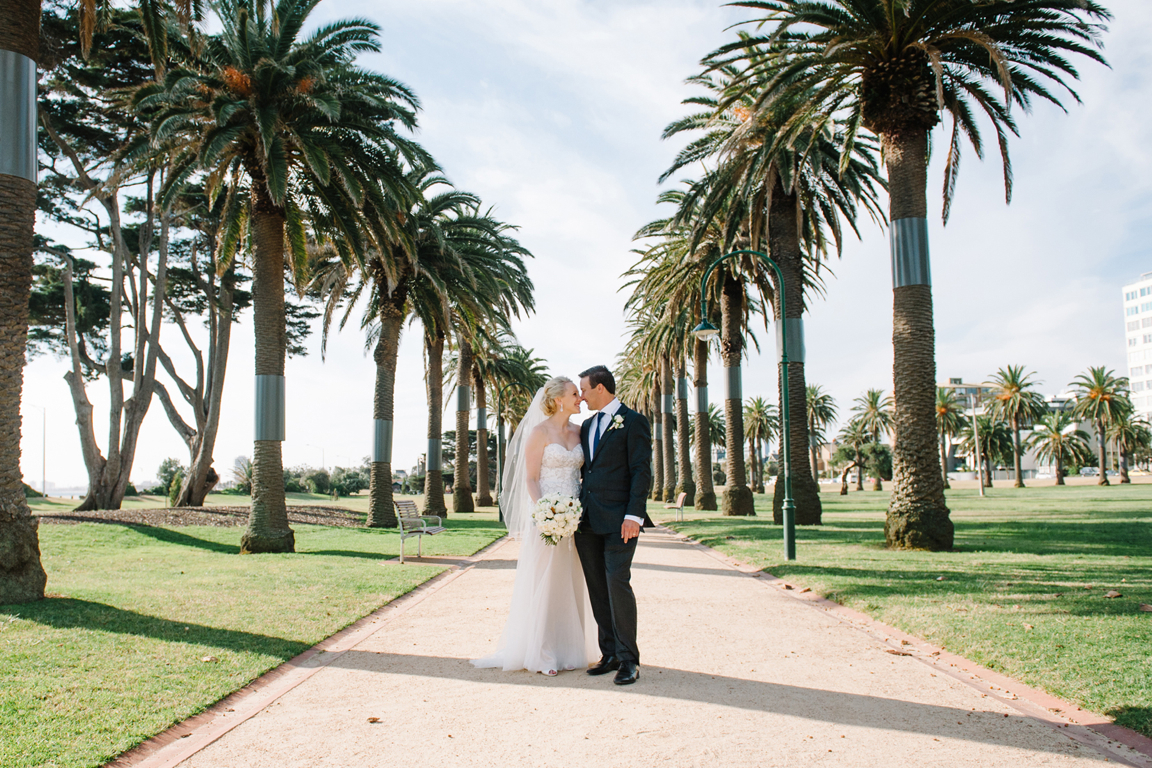 Southbank Promenade
Southbank, Melbourne 3006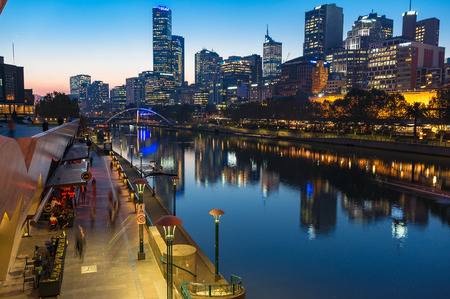 Located just one kilometre from Melbourne's CBD, Southbank is an inner urban neighbourhood filled with unique wedding photo locations.
Southbank Promenade and Shopping Precinct, set on the Yarra River, is considered one of Melbourne's major entertainment precincts – and therefore a great opportunity for lively, quintessentially Melbourne photos for wedding albums.
And, with the Princes Bridge and the Sandridge Bride connecting the Promenade to the city, couples can simply walk to this photoshoot location from any of the inner-city wedding venues.
Southbank is also home to the Eureka Tower and Skydeck mentioned above, so wedding parties can utilise both popular wedding photoshoot locations in one fell swoop.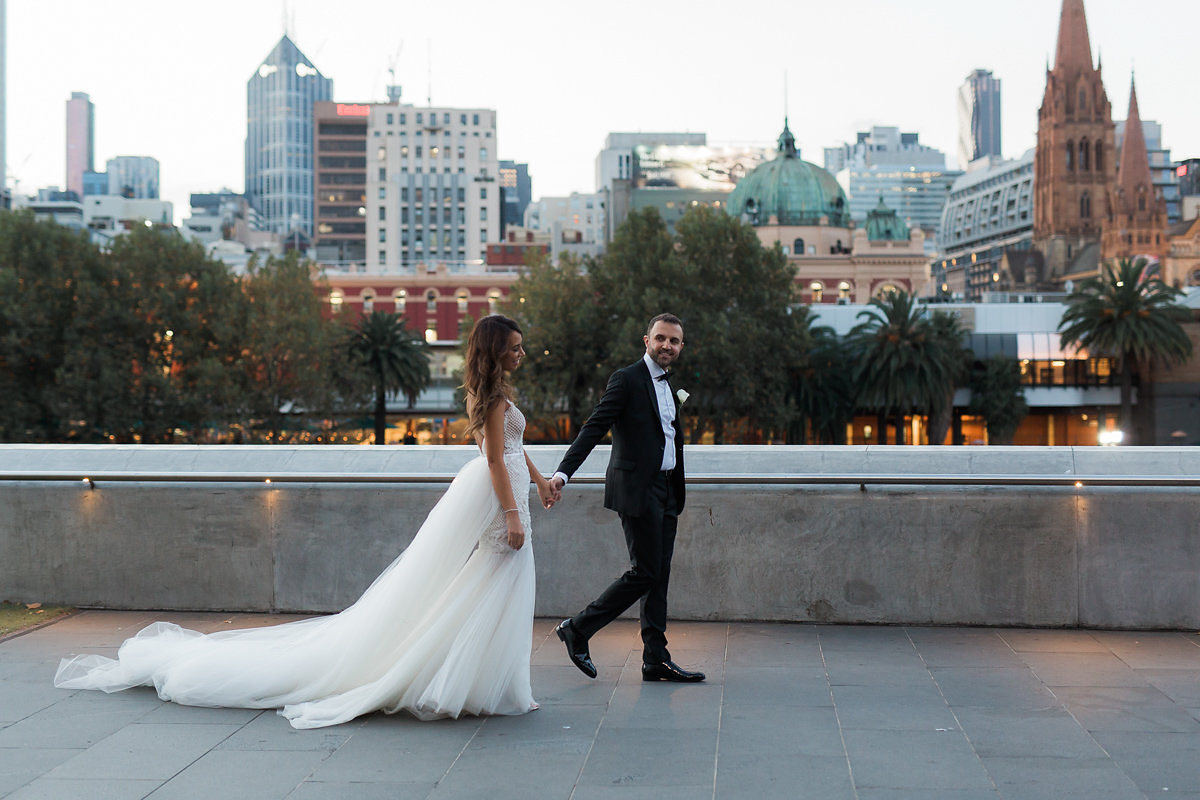 For thousands of couples across the country, booking a reputable, experience wedding photographer is just the start of their journey toward creating unique and timeless wedding photos. For those Melbourne couples who simply have no idea where to journey to for their wedding photos, our list showcasing the 15 best Melbourne wedding photo locations the perfect place to start.