The health and safety measures issued in light of COVID-19 have already had an unprecedented impact on the wedding industry in 2020. And we're all going to need to work together to get through to the other side.
Despite the fact that weddings can technically still take place (current restrictions as of writing are that a wedding can take place with no more than 5 people), the impact of these restrictions and uncertainty on both couples and vendors is ongoing. Emotionally and financially.
While the impact of this coronavirus is unprecedented, recessions are a part of world history. We've reached out to business experts and older businesses who have faced financially trying times before, to give you a guide of what you can do during this time.
Despite being in a difficult spot now, it's important to remember that the wedding industry is a fairly recession resistant industry. There will always be couples who want to get married. And after all of this is over, many will want something extra to celebrate. It doesn't mean that it's going to be any easier to get through the tough times, but it is worth remembering that there is a light at the end of the tunnel. And when we get there, it's going to be a bright one.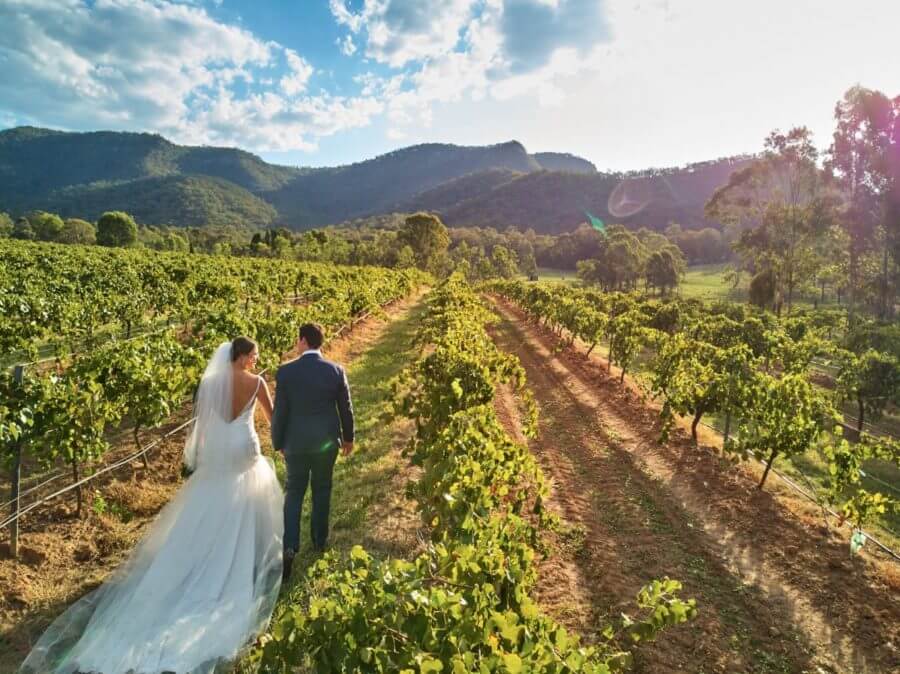 What impact will COVID-19 have on the wedding industry?
In mid-March we conducted a survey with businesses who have been operating for more than 10 years, to see how they expect coronavirus measures to impact their businesses. Many of these owners have gone through hard times before or were operating during the GFC.
The bad news is that most businesses expect an average loss of 50% across the 2020 year. There are around 120,000 weddings in Australia every year. This is expected to drop down to 60,000 for the 2020 calendar year.
The good news is that the projections for 2021 and 2022 are much more positive. Most businesses expect COVID-19 measures to have a minimal impact on their revenue for 2021, with a potential loss of just 10%. We also predict that this will be the case as many of the weddings that have been postponed from 2020 take place in 2021. We're expecting 145,000 weddings to take place next year. That's a 20% increase from the usual year.
We can also expect an additional wave of weddings in 2022 as those who were thinking of getting engaged sooner do so later, or those originally planning a 2021 wedding push it back to avoid postponements. We're expecting a massive 150,000 weddings in 2022. This will well and truly put Australia's wedding industry back on the map.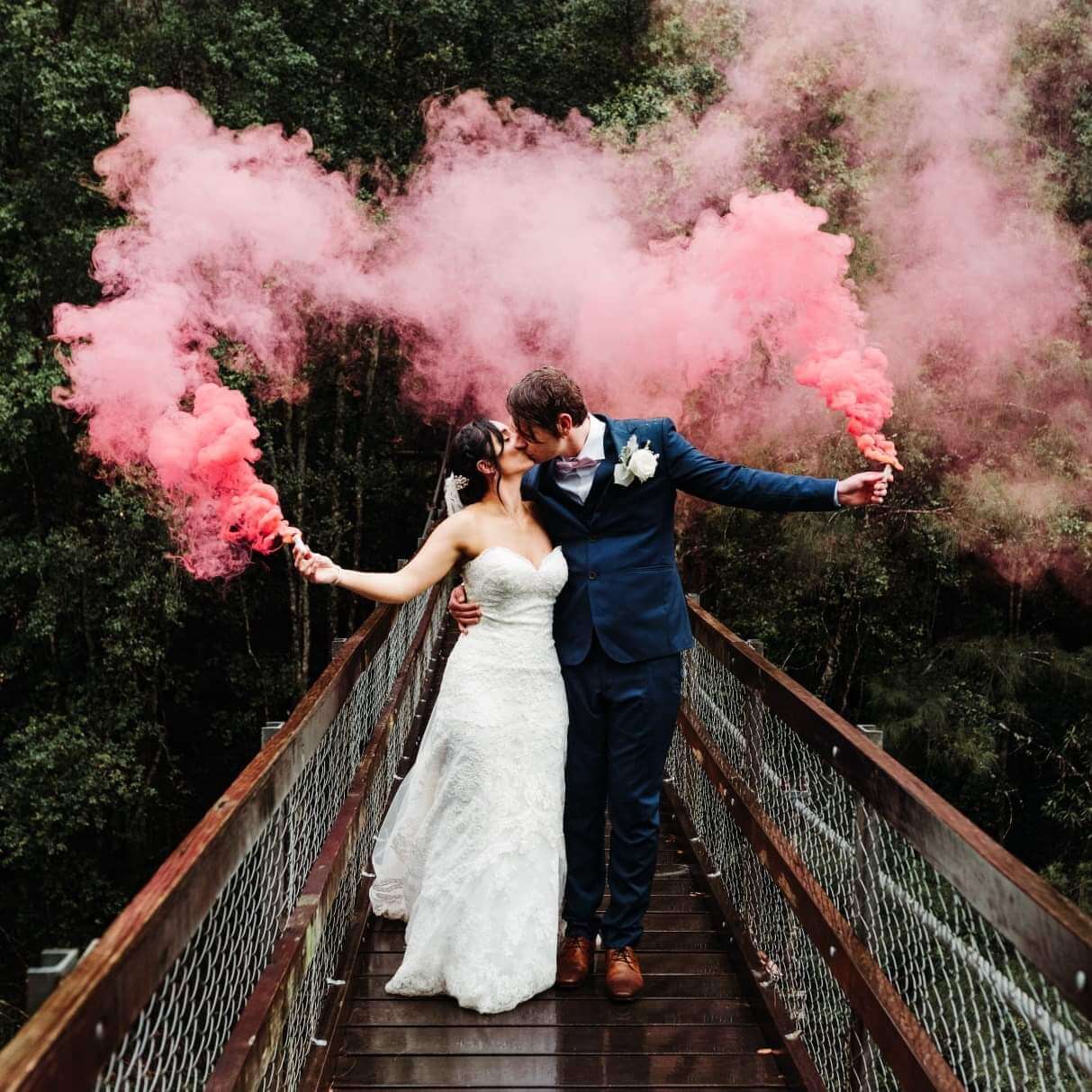 How can you make sure your business is ready for the boom of 2021 and 2022?
We reached out to several businesses to see what they're doing during this time and get recommendations on what others can do.
One of those was Alan Berg, US wedding industry expert, sales guru and business advisor. He had this to say:
"Don't shut off your marketing engine now. People will be home and if their weddings are many months away, or even next year, they're still going to be looking for suppliers. There aren't many things you can cut now except possibly staffing costs, especially if you pay for servers and the like on a per-event basis. If you can afford it, don't cut your full-time staff as you may not be able to get them back when you need them."
A similar message comes from Kerrie at Magical Makeovers:
"Trust your service and know there will be a market for it again in perhaps 6 months. Keep posting, optimistic and inspiring images to keep a presence. There will be a lot of people using social media to keep in touch if they are self quarantining so we may have an avid audience. People will want to feel happy again, and nothing brings happiness quite like a wedding. Couples will come back. In the meantime, use the time to re-evaluate your terms and conditions, get further training for various other elements of your business you've been meaning to do (online), and keep in close touch with the couples who have rescheduled. Keep strong, keep safe."
The main message throughout all the advice we have that has been backed up by these businesses is that now is the perfect time to work on your business. Take note of those projects you've always wanted to do but not had the time for. Think about the processes you have in place. Look at your reviews and what you can do to get more support at the moment. And make sure you keep a presence on social media to stay connected with couples, who are also feeling the same uncertainty as you are.
However, we know that it's not just about what you can do for your business. The wedding industry has also been hit hard financially. We know that many businesses need to know how to pull their business through before you can look at the future weddings of 2021 and beyond.
There are several government initiatives that you may be eligible for within your business. The major one of these to look into is the Job Keeper stimulus, which is available to businesses who have lost more than 30% of revenue over a minimum one-month period.
It's certainly an interesting time for many businesses, but one that we can get through. We love this advice and perspective from Miranda at G&M Event Group:
"Your mindset is key. Look after your mental health. Don't be afraid to ask for help. Help each other help. Take advantage of Government assistance packages. We are all about to discover just how lean we can run our businesses, so take notes. Use this time to work ON your business. Refine sales processes, schedule social media posts, develop marketing materials. Do all the things that you wish you had time to do. If you didn't have a rainy day fund for this, put plans in place to start one for next time."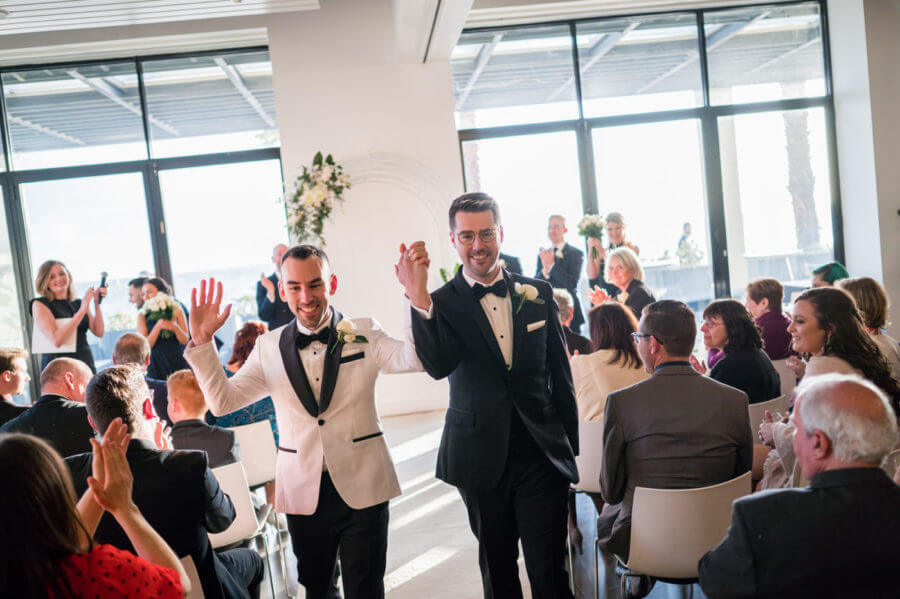 How can you talk to couples about postponements, or worse, cancellations?
An important thing to remember during this time is that couples are feeling as emotional and uncertain as you are. Many of them have been planning this significant moment in their lives for more than a year, only to have it all come crashing down around them. It's important to be emotive and proactive, while also doing what is best for your business and the couple. Remember, at the end of the day many couples are postponing rather than cancelling and you want to make sure you're still included in their big day.
Alan Berg recommends being proactive with couples rather than shying away from what is now a reality.
"While it's painful, it's best to initiate the conversation with them and not just dread when the phone is going to ring. Be proactive and talk about when they're planning on rescheduling, assume that they are unless they tell you otherwise. Hopefully, most will still want to get married, just delay it. Some will want to have the ceremony now and the celebration later, when things return to a more normal state."
Alan also has a message about safety and what is technically allowed at the moment, or what could put more people at risk.
"Your first priority is the safety of your family and staff. Do not take chances when the consequences, both physically and legally are so dire. Now is the time to invest in training and show your customers that you have this as under control as possible."
Andrea Eppolito is a wedding planner based in Las Vegas and international wedding business educator. She says that as wedding businesses we all have a responsibility and duty to our couples, outside of our contracts.
"As wedding professionals, it is our job to safeguard our clients against any pitfall or challenge they may encounter, and COVID-19 is no different.  As an industry, we would all have talking points available in terms of what your local centre for disease control recommends, what individual hotels are doing, and how you as a business plan to shepherd them through the process.

We want to work with our clients to reschedule events within this calendar year. It's about being a good partner and taking care of people. You want them to have the experience that they had planned on, you want to create options and opportunities for the future, and I would never suggest being anything but empathetic to your clients. Understand that their world's in a free fall right now, and you need to protect both your bottom line and their experience."
Ben from Ben Newnam Photography has been altering his email wording to address the needs of couples at the moment. Particularly where couples are rescheduling weddings based on the venue availability, he recommends other suppliers reach out to couples to ensure they can be kept in the loop of new dates and decisions.
We like this template from Ben to reach out to couples and also let them know you still want to work with them.
Hi [Bride/Groom],

I hope you and [Partner] are getting through these crazy times.

Just touching base to ask if you could keep me in the loop and offer as many possible new dates if you decide to reschedule your wedding.

By then things may be back to normal so I understand you are holding off for the moment.

If the time comes for you to make a decision.  Please reach out to me and find all my available dates so we can all work together with you, your venue and your other wedding suppliers.

Take care.
With government restrictions and mandates, what you can or can't refund is going to be dependent on your individual contracts or terms and conditions. We recommend seeking formal legal advice if you have further questions.
However, when it comes to those obligations the way that you discuss this with your couples is critical. Alan sums it up well.
"Since more will be rescheduling than cancelling, that is the conversation to have. For those that want to cancel, if it's soon, then you have to weigh the pain of giving a refund against the possible social backlash if you don't. What would you want if you were the customer?"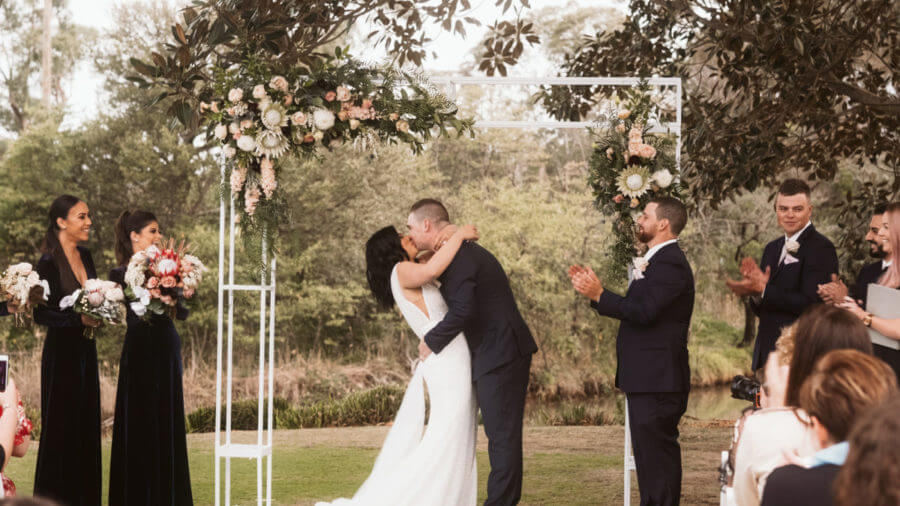 What should we do right now?
No one knows when restrictions will be over and weddings as we once knew them will be able to go forward again. The health and safety of yourself, family and friends comes first and we recommend staying on top of the latest official health and safety advice. Here are a few links to websites that may come in handy for official COVID-19 updates:
As an industry, if we help one another through this rough patch then we will be able to make it through to the wedding boom of 2021. We'll leave you with these messages of hope and solidatiry from our industry leaders. Because together, we can get through this.
Alan Berg:
"I've been in the wedding industry for more than 25 years and have lived through many ups and downs. We are in a recession-resistant industry, and things will come back. Those best prepared will come out of the best. Take this time to invest in yourself and your team. If you have your head in the sand, you won't see when the smoke is clearing."
Miranda:
"Do right by your couples and they will do right by you. Do right by your staff and they will be there help when the flood of events comes in after. Keep your team informed of the situation. They will appreciate your honesty and most likely come up with some innovative ideas."
Andrea:
"Our lives will continue to go on because they have to. The human race is social, and we always seek each other out. After going through something like this, you need a light at the end of the tunnel. We need a place and a moment to look forward to. The way that we come together and move forward, the way that we gather, it will all change. In many ways, it will become more meaningful because our being together is no longer a forgone conclusion. We are no longer taking for granted that we will have these opportunities, and so a wedding is going to mean that much more to us all."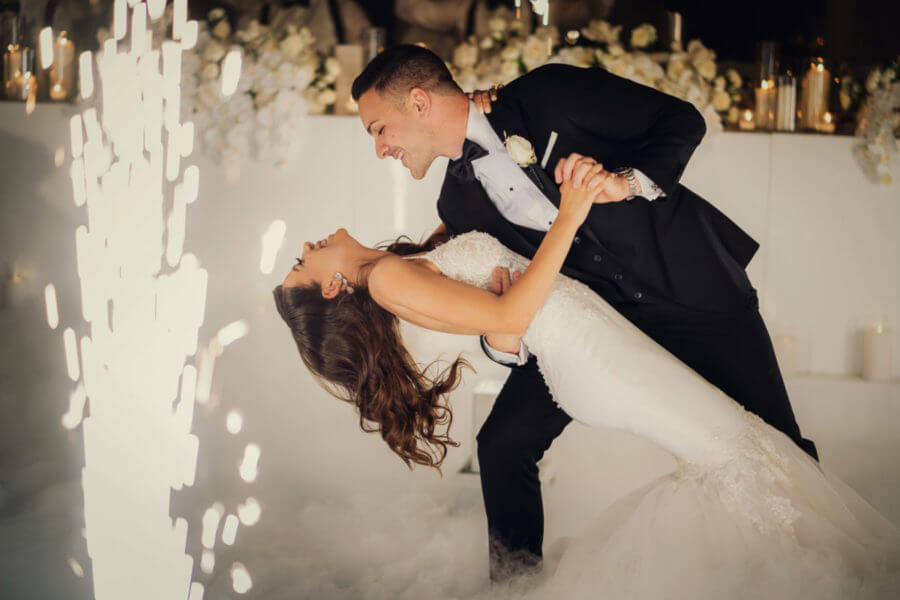 ---
Interested in Australia's top wedding advertising platform? Speak with a business advisor to find out how we can help your business grow.
---
Interested in the state of the Australian Wedding Industry right now? Download our FREE Wedding Industry Report.
Get Wedding Industry Report