There are many boxes to tick in order to plan your dream wedding in Sydney. From venues to flowers, outfits to desserts, this once-in-a-lifetime event can take months of research and planning to execute perfectly. Here's how you can get started planning your Sydney wedding.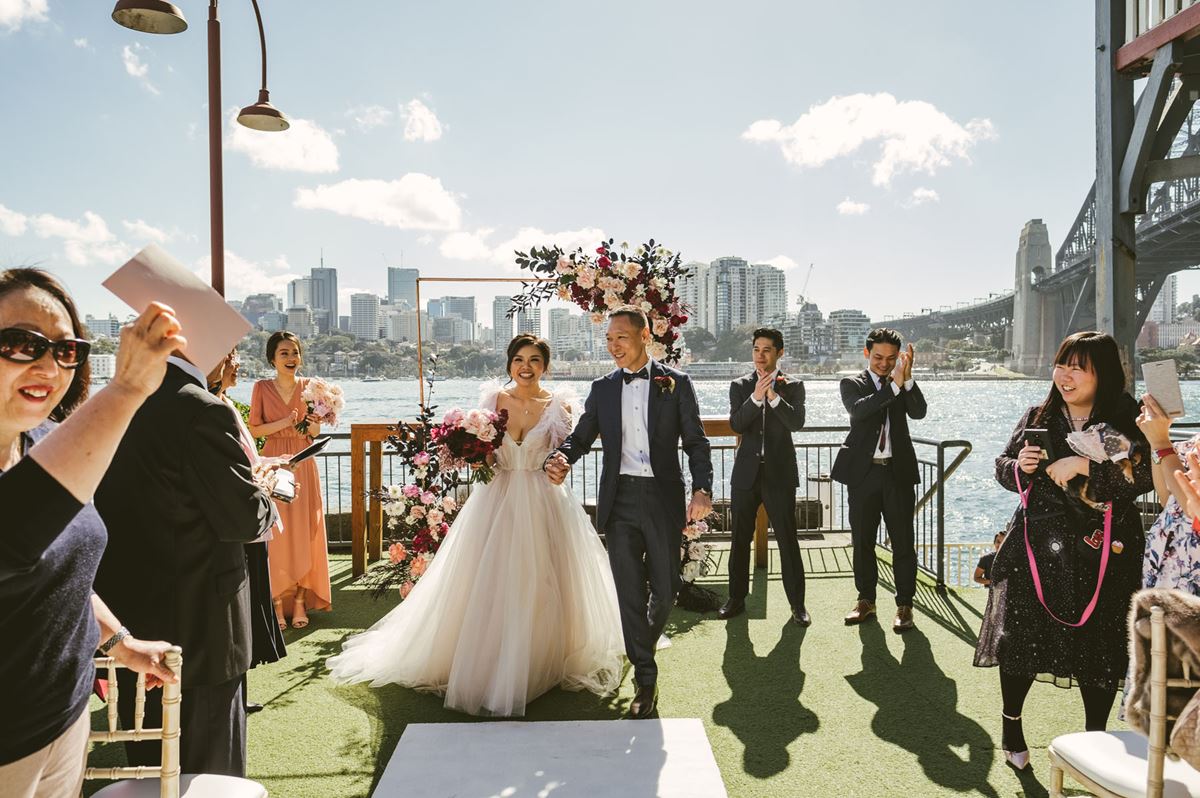 In this article, we'll share the best tips and tricks to finding the right Sydney wedding venue to suit your theme, vision, and guest list. We'll outline the best strategy for hiring suppliers, and showcase some of our favourite Sydney real weddings to get you hyped for planning your big day.
---
What's included in this article:
---
When to start planning your Sydney wedding
Since the pandemic began, setting a plan in place for a wedding has been challenging at best for most couples. Many have had their plans in place just to have a last-minute lockdown or COVID safety protocols derail their wedding vision.
Now that vaccines are rolling out quickly and we're starting to see a light at the end of the tunnel, venue and supplier bookings for 2022-23 are going wild. We're seeing more couples than ever considering weekday weddings and off-peak dates just to get their day locked in.
All that to say, the sooner you can start planning, the better access you'll have to the venues and suppliers you love. One of the fastest ways to find out who's available for your date is to speak with our wedding packages team — they can sort out availability and suggest personalised options for your wedding style, budget, and date.
Get more info on wedding packages
How to find a Sydney wedding venue
When choosing a wedding venue in Sydney, your first step is to decide what kind of wedding appeals to you and your partner. If you close your eyes, what does your dream wedding look like?
Is it a country romp in rural NSW with rustic aesthetics, timber accents, and open fields overlooking the Hunter Valley or the Blue Mountains?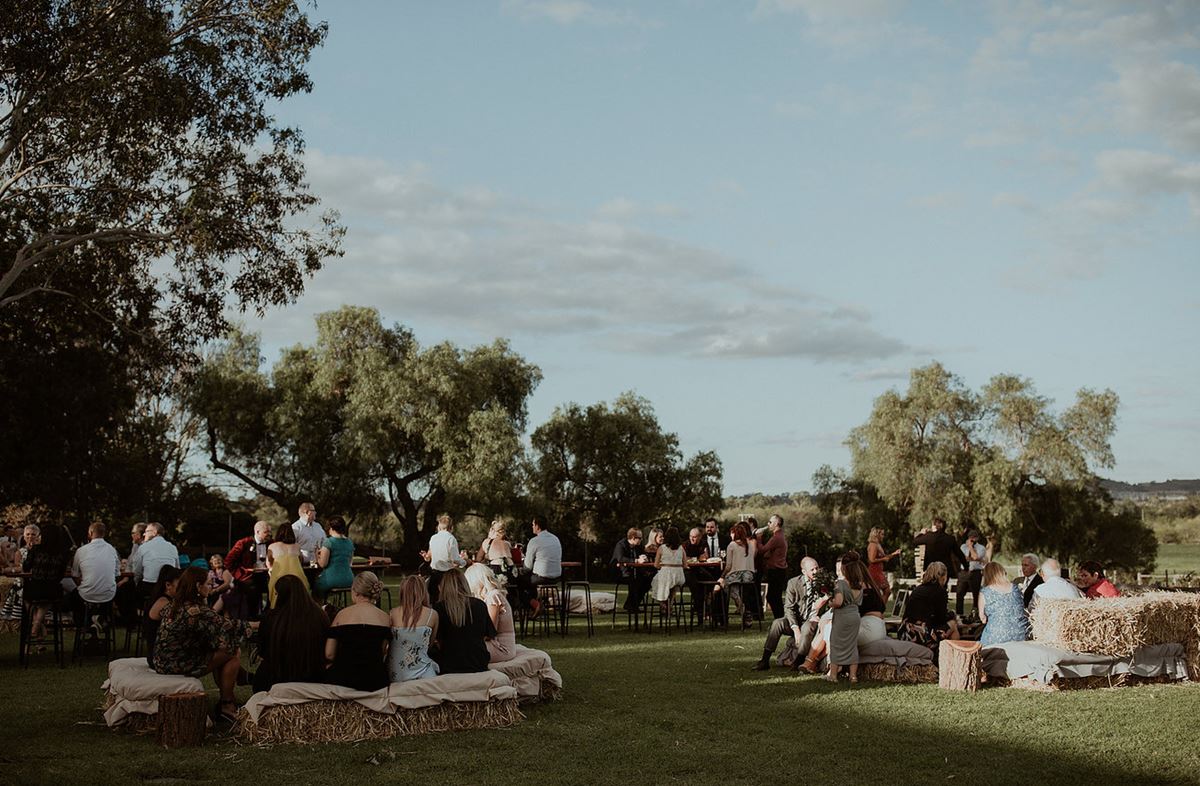 Is it a coastal affair in Bondi or Coogee Bay with white walls, seaside views, and a beach photo opp?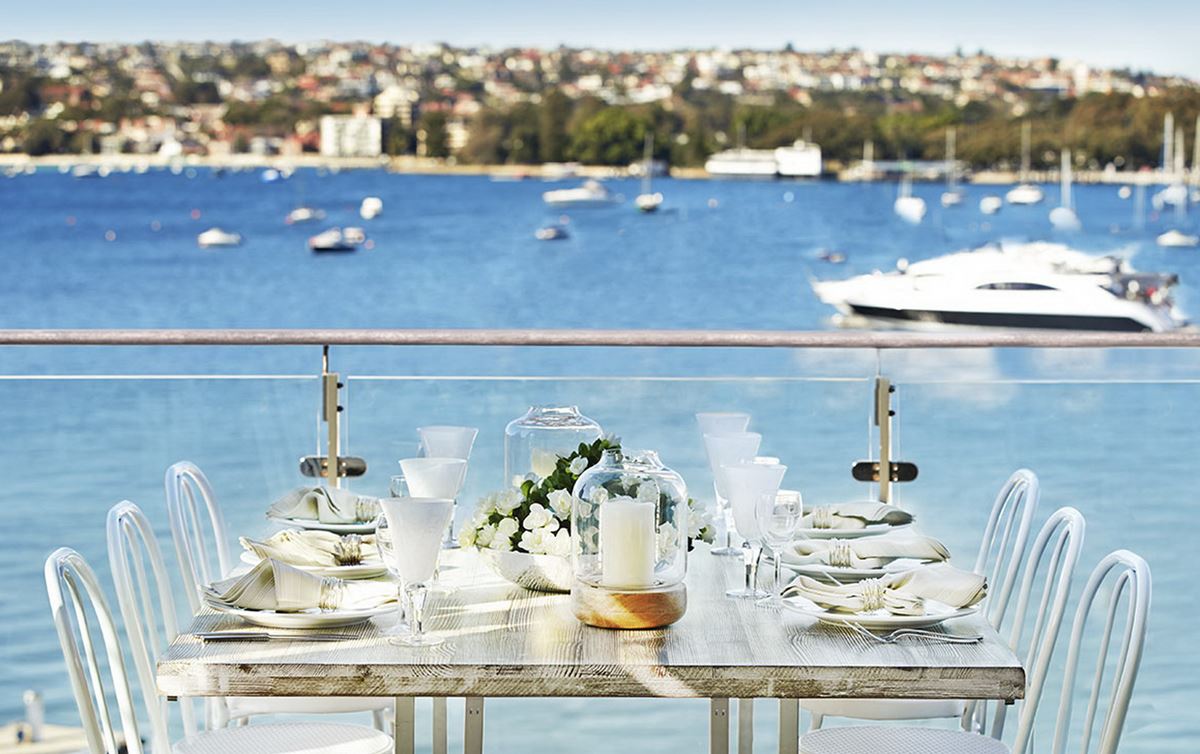 Or something urban and sleek in Sydney's inner suburbs with modern fixtures and CBD accessibility?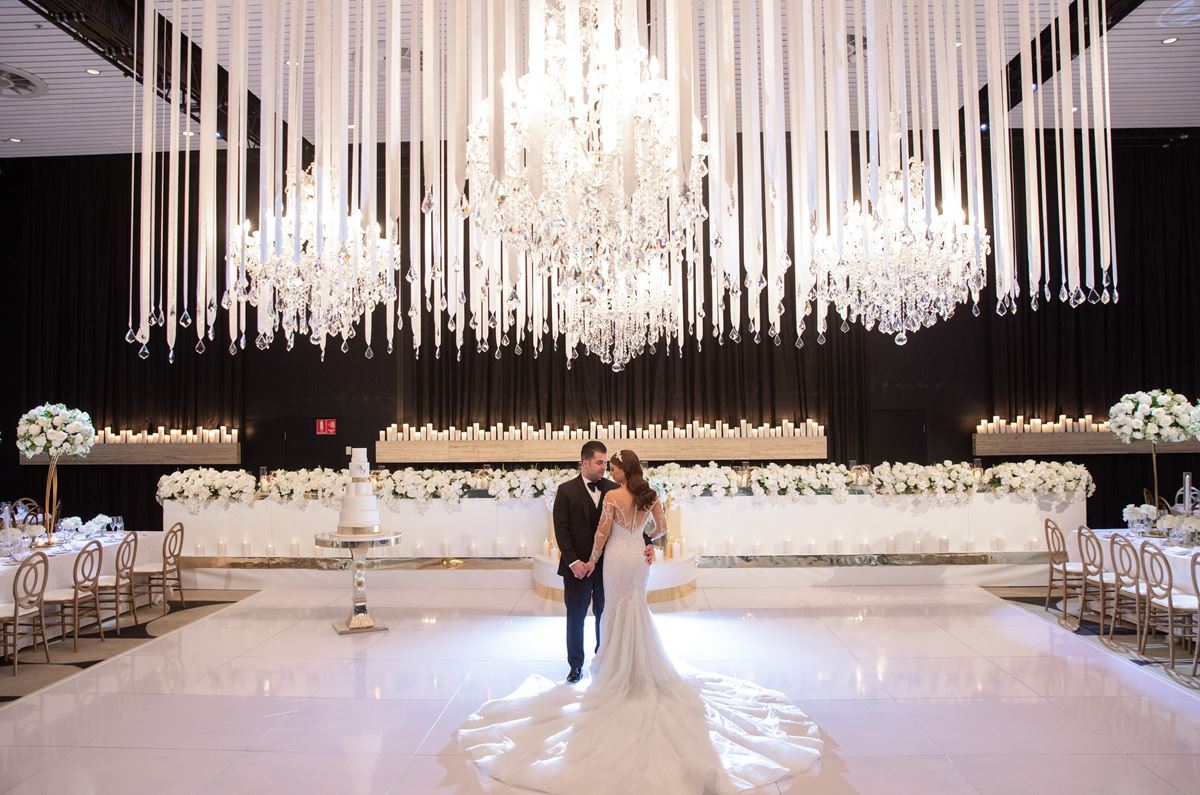 Sydney is home to hundreds of stunning wedding venues that offer the best of all these worlds. Our Sydney Venue Specialists pound the streets looking for the city's best-hidden gems, be that a quirky restaurant in the inner suburbs or an award-winning winery out amongst the rolling hills.
Perhaps you're after a luxury Sydney hotel venue with boutique accommodation and a suite where you and your crew can get ready on the morning of the wedding? Maybe a renovated warehouse with an industrial vibe, hitting those cool inner-city Sydney aesthetics perfectly? Once you decide on the vibe, finding the place is a far easier process.
Our free Venue Finder service is designed to make this search easier. The in-house experts at Easy Weddings will conduct an in-depth assessment of your wedding style, budget, and must-haves to match you with a list of your most suited wedding venues.
If you're still on the hunt for your dream venue, take advantage of our free Venue Finder service.
Speak with a venue expert
Choosing a Sydney wedding date
Ahh, the first question you will receive as soon as you announce your engagement to the world: when is the wedding?
If you're planning on basking in engaged bliss for an indefinite amount of time, feel free to shut those questions down with a smug smile and a, "We're just enjoying this chapter for a while". If you're keen to dive straight into the planning process, then the date is absolutely the first thing you should decide upon. And there's no reason to panic if that date is coming up soon.
"It's funny — a lot of couples assume that planning a wedding in a short time frame means they'll have to sacrifice quality," says Darcy. "But that really isn't the case. You can actually have a wedding that's just as gorgeous and unforgettable even if we plan it in just two months' time."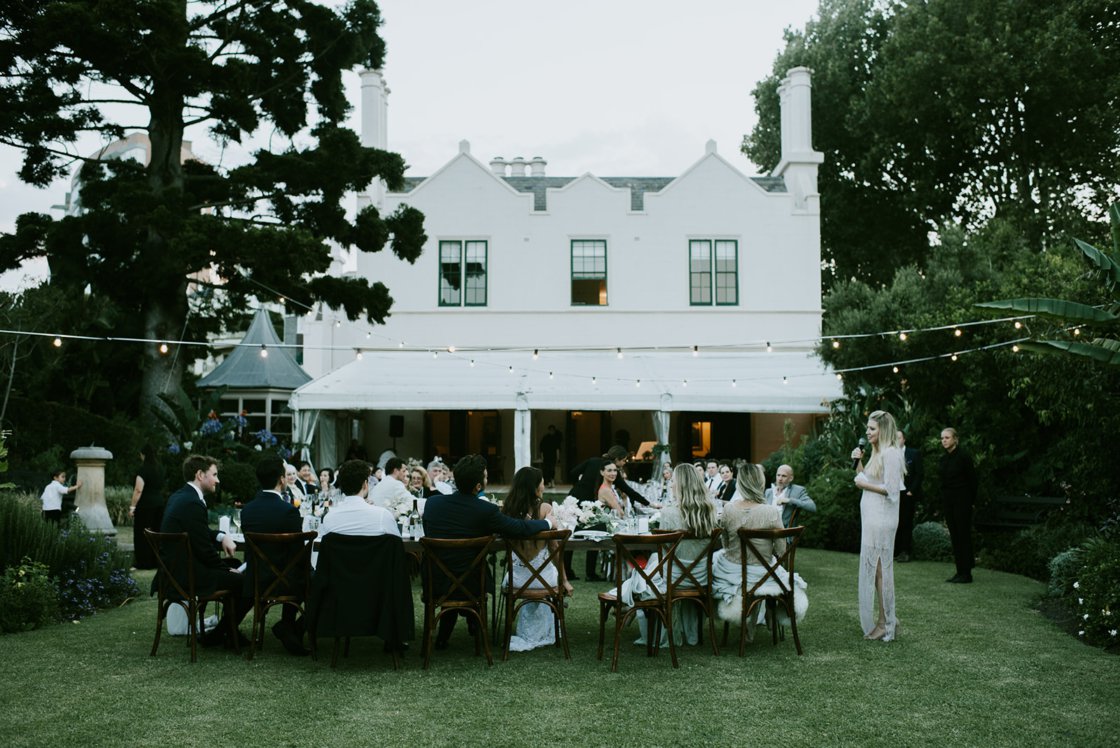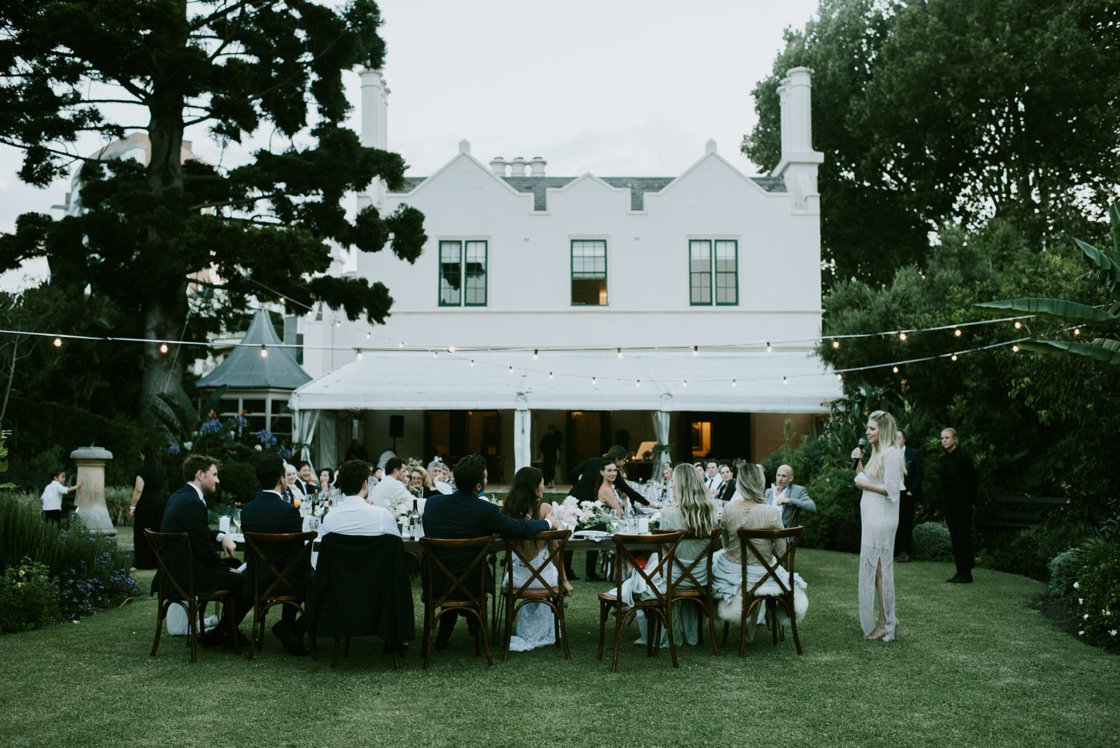 Often, choosing a wedding date goes hand in hand with choosing a venue. For people who are set on a particular Sydney wedding venue, they may not be too concerned about the date itself; as long as they have the right location, they're happy to say "I do" on any day, any time, any season. If that's the case, then your task can be slightly easier – simply get in touch with your venue and find out what their calendar looks like over the next few months or years.
On the other hand, many couples lean into the romance of marrying the love of their life by choosing a date that's significant to them. That could be the anniversary of your first date, a special birthday or holiday (Valentine's Day is corny enough to be cute, right?), or the date of an event that shaped you as a couple. If you've got a dream date in mind, we say go for it!
Just keep in mind that it might require you to be flexible about your venue and suppliers as they could already be booked for that day. Weekends are always going to be in higher demand, but weekday weddings become more and more popular every year.
Search Sydney venues
Budgeting for your Sydney wedding
Of course, there's another major consideration to booking a venue: your budget. Data from our annual wedding survey from 2020 shows that Australian couples spent an average of $27,228 on their wedding, and you can expect a significant portion of that to be dedicated to your venue.
Venue packages will often include a catering and beverage selection, which is another consideration you'll have to factor in when choosing your Sydney wedding venue.
If the idea of a wedding budget has you feeling spooked, we've got your back. Couples who have found their dream venue and suppliers through Easy Weddings have also taken advantage of our easy-to-use Budget Calculator. This tool itemises all of your wedding expenses, including quotes from the venues you've enquired about, actual costs, and the payments you've made.
If you're struggling to stay on top of all your wedding planning tasks, including that pesky budget, the Easy Weddings mobile app is filled with useful planning tools. This all-in-one wedding planning app allows you to keep track of all the different elements of your wedding and includes a wedding checklist, budget calculator, style quiz, supplier directory, and vision board creator.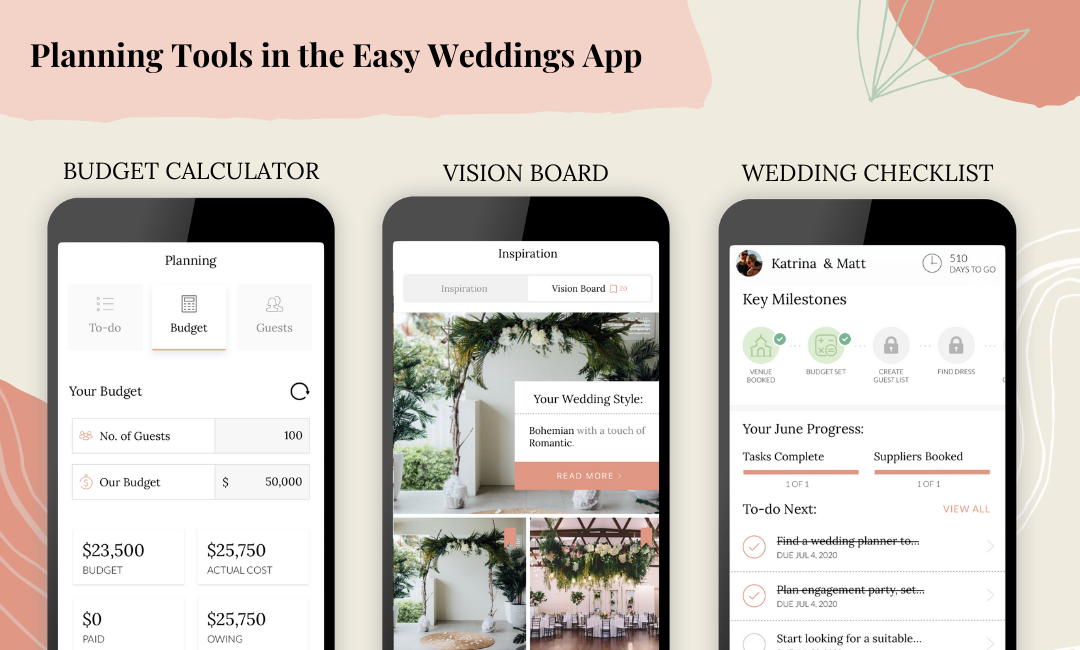 download the app
What suppliers to hire first
Common (and sometimes misinformed) advice about hiring suppliers is that you should book them all as soon as the ring settles on your finger. However, our in-house wedding experts suggest a different approach that depends on the scale of your Sydney wedding, be it an intimate micro-wedding with a handful of friends and family or a large-scale event with hundreds of guests and a whole network of suppliers.
The primary factor will be the timeframe for your wedding. Some couples are adamant about keeping their engagement as short as possible, happy to make all the necessary arrangements within a few short weeks or months. If that's your situation, you'll need to book your venue, celebrant, photographer/videographer, and florist as soon as possible, as their calendar will likely be full or close to it.
Chat to a wedding expert

If you've got more time on your hands, we recommend locking in your key suppliers as soon as you've chosen a date and a venue and then pacing out the others. Your key suppliers are the people/services that your wedding simply can't go ahead without, so allowing yourself time to fit into their calendar is imperative.
"If you want to have the most options available and you're stuck on a particular season or location for your wedding, eighteen months of planning is really the sweet spot," says Darcy Allen, one of our resident expert wedding planners. "If you're the type of person who wants to be able to plan every last detail exactly as you want it, I'd probably recommend twelve to sixteen months."
Our recommended wedding supplier booking time frame looks like this: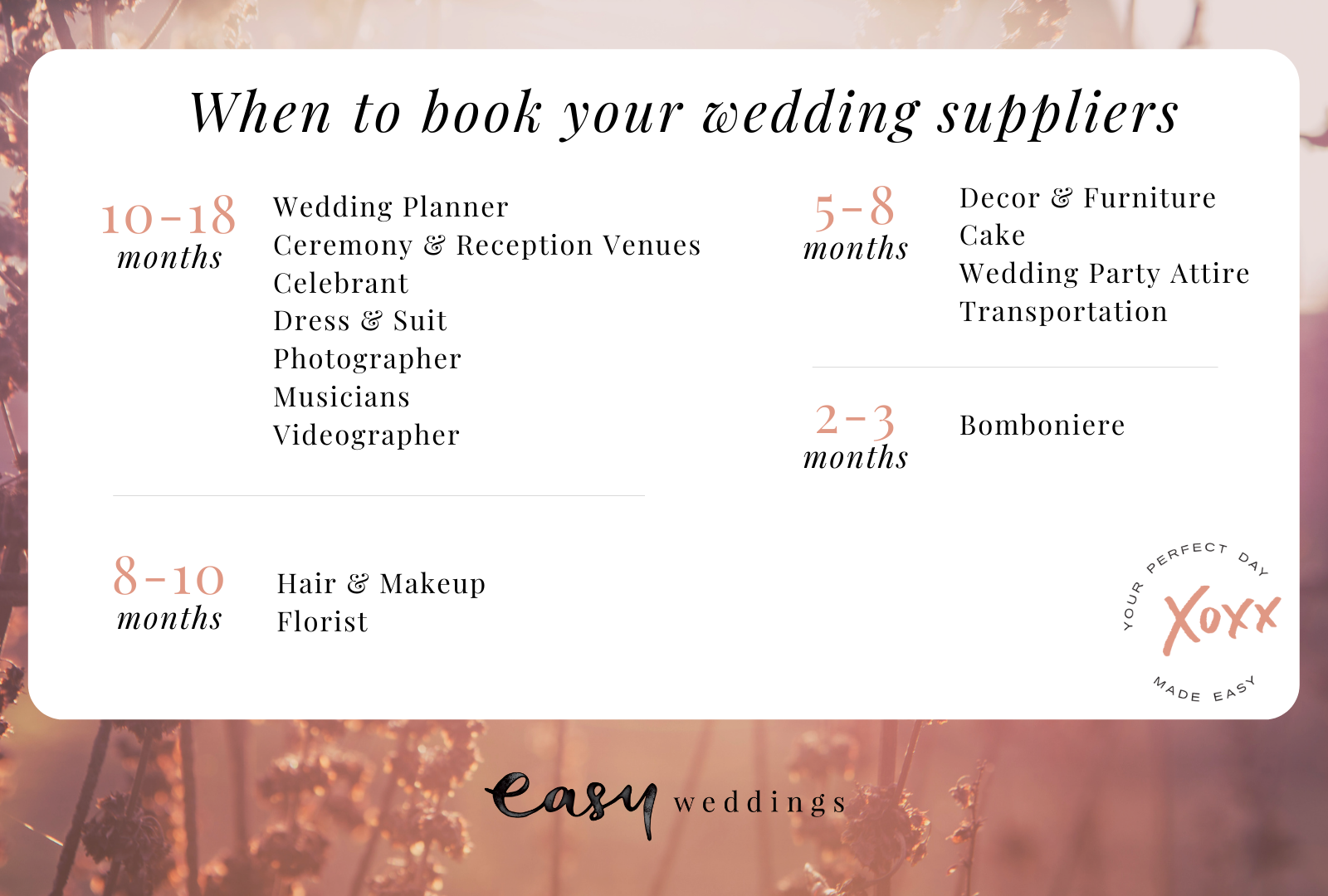 When it comes to choosing suppliers, buckle in for an extensive research period. There are thousands of wedding suppliers in Sydney, each offering a range of services and experiences that will bring your dream wedding to life. Though they're individual suppliers with important jobs, the most crucial thing is that they're able to come together and work cohesively on the day.
Bringing Sydney wedding suppliers together is something we know a lot about as a wedding directory, which is why we launched our Easy Weddings Supplier Packages. You'll receive high-end service from our experienced concierge team who will learn the vision for your dream wedding, then source the perfect suppliers on your behalf.
You've chosen your venue; let our experts find your wedding day dream team with a photographer and videographer, musician, celebrant, transport, and hair and makeup artist. Best of all, our packages give you access to wholesale rates that will save you money (basically, your wedding budget will love us!)
Speak to a wedding expert
Gathering inspiration for your Sydney wedding
You're already on your way to planning your dream wedding in Sydney, and here are some of our favourite real weddings to get you inspired!
Brenton and Clayton's secret garden wedding at Burnham Grove Estate in Camden NSW was deceptively simple, but each element is rich in detail. The floral arrangements were DIY, and a wedding planner helped them bring every other element together.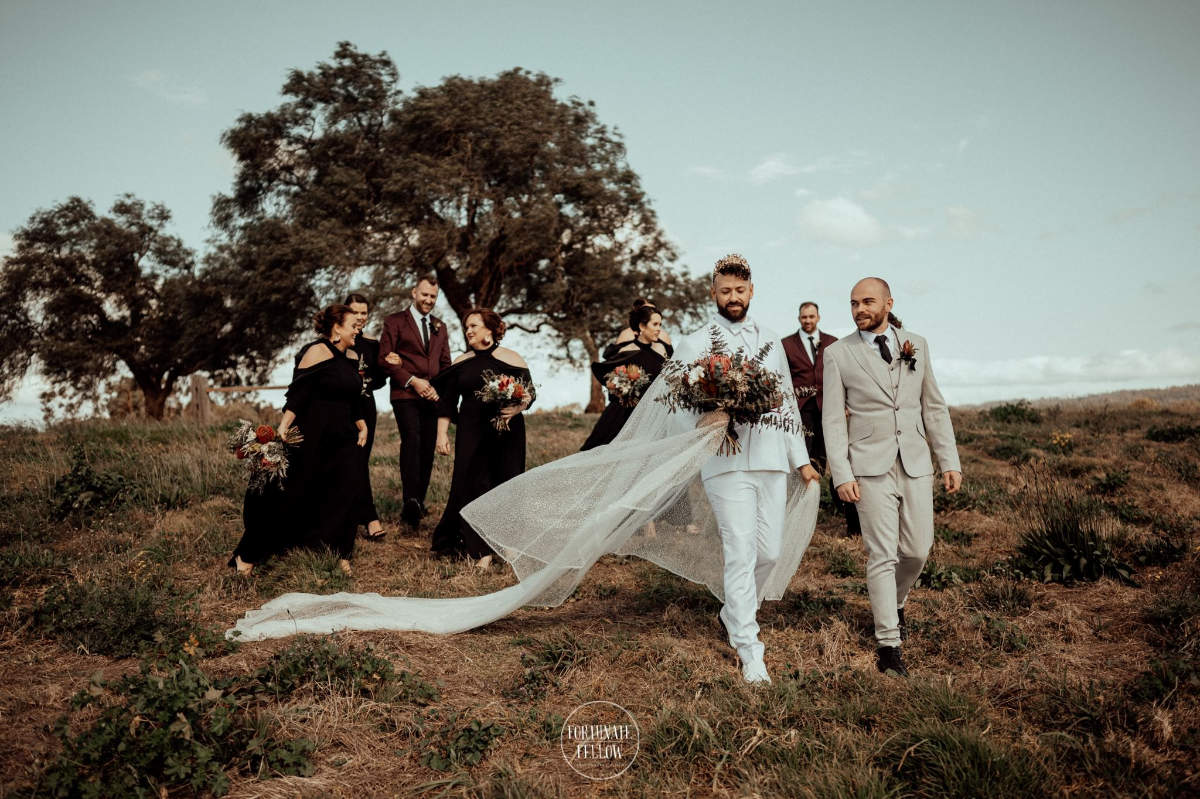 See more garden wedding venues
Silvia and Anthony went bold for their high-energy wedding at The Tea Room QVB Sydney and leaned into bright florals, neon signage, and hot pink bridesmaid gowns!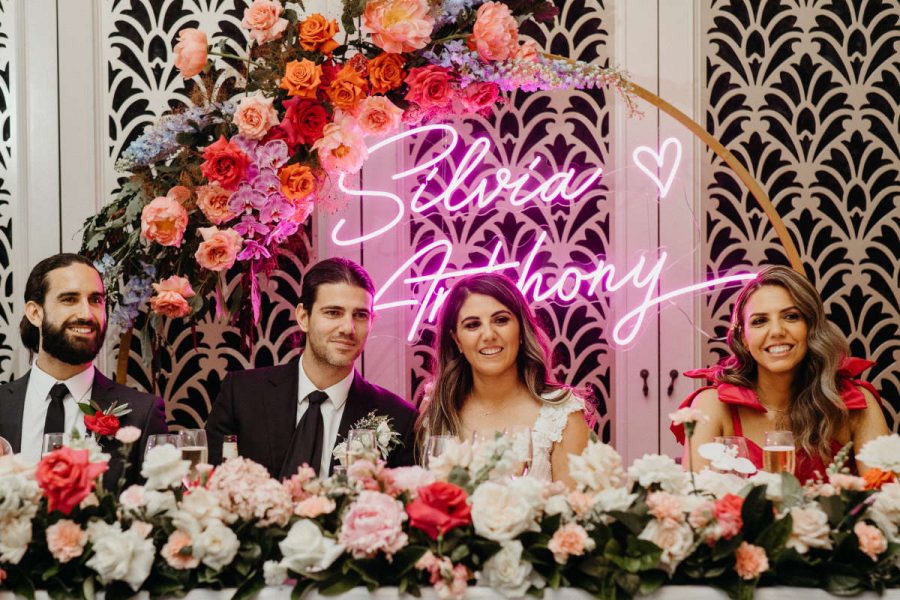 See more luxury wedding venues
High school sweethearts Georgie and Mitch exchanged vows overlooking Sydney Harbour at Zest Boathouse at the Spit, a stunning coastal venue with relaxed rustic interiors.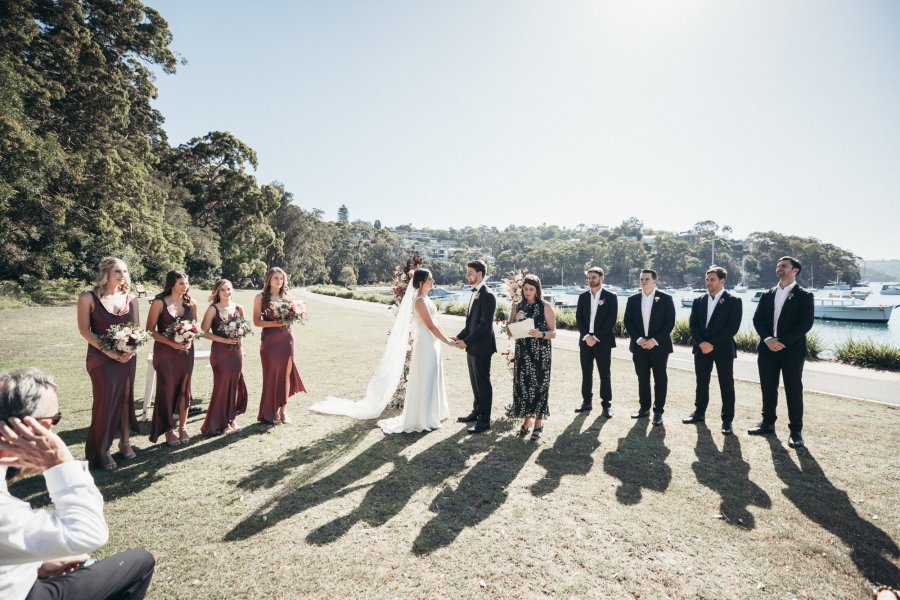 See more waterfront venues
Want more inspiration for planning your dream wedding day? Check out our favourite real weddings from across Sydney and NSW.
---