Red is the colour of love, seduction, and passion so there is little wonder why couples want to incorporate this colour into their wedding day. Whether you like the look of minor accents or feel bold enough to make it your prominent feature colour, you can't go wrong with red. So if you'd love a red wedding (non Game of Thrones style), read on!
Some of our Real Weddings couples have used red accents with amazing effects. Check out these 10 weddings with red accents here:
Kate and Guy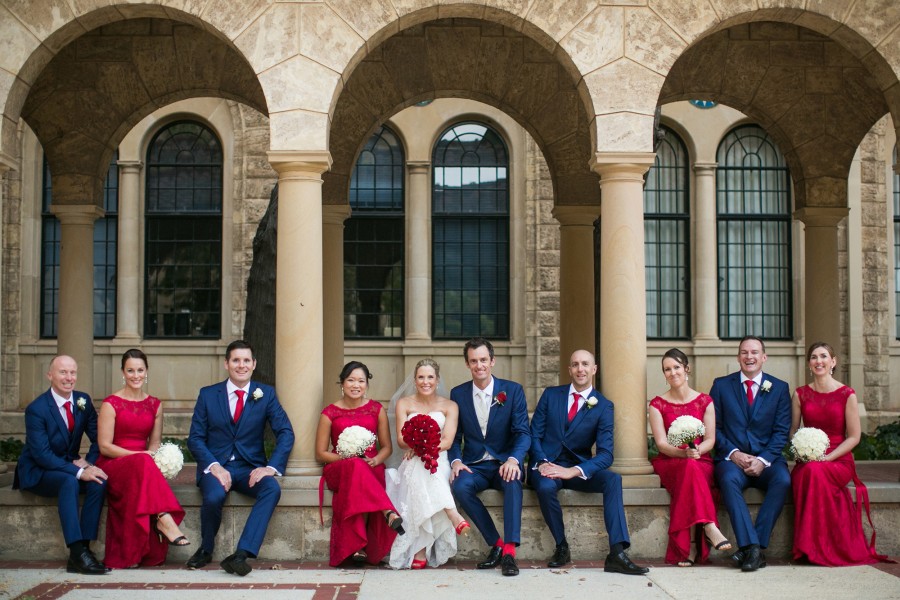 Red has always been a lucky colour for Kate Bevilaqua – it is the colour she paints her nails before she competes in a major triathlon.
So it is no surprise that red featured heavily when she married her beau, and fellow triathlete, Guy Crawford on May 13, 2017, at Fraser's, overlooking the Perth city skyline.
Everywhere you looked, your eyes were greeted with splashes of red; Kate's shoes, Guy's socks, the bridesmaids' dresses, groomsmen's ties, and Kate's stunning teardrop bouquet.
There was even more red at the reception, with red flowers adorning the wedding cake, lush red bouquets as table centerpieces, red napkins, and red, white, and black M&Ms in the lolly buffet.
Stephanie and Mitchell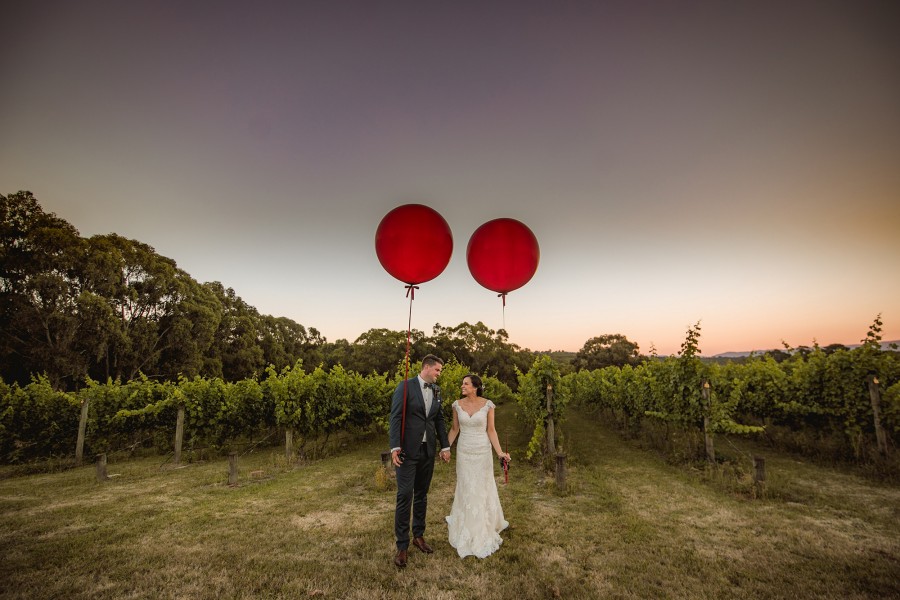 Stephanie Hutton and Mitchell Keogh hosted an intimate wedding with an elegant country theme on January 21, 2017.
Although the predominant colours in their wedding were pink and blue, they managed to squeeze in pops of vibrant red to offset their big day at the Yarra Ranges Estate in Melbourne.
Stephanie's shoes, tucked away under the beautiful gown, were bright red, and the couple held onto oversized red balloons in the vineyard to create stunning visuals for their photographer.
Alexandra and Kamsen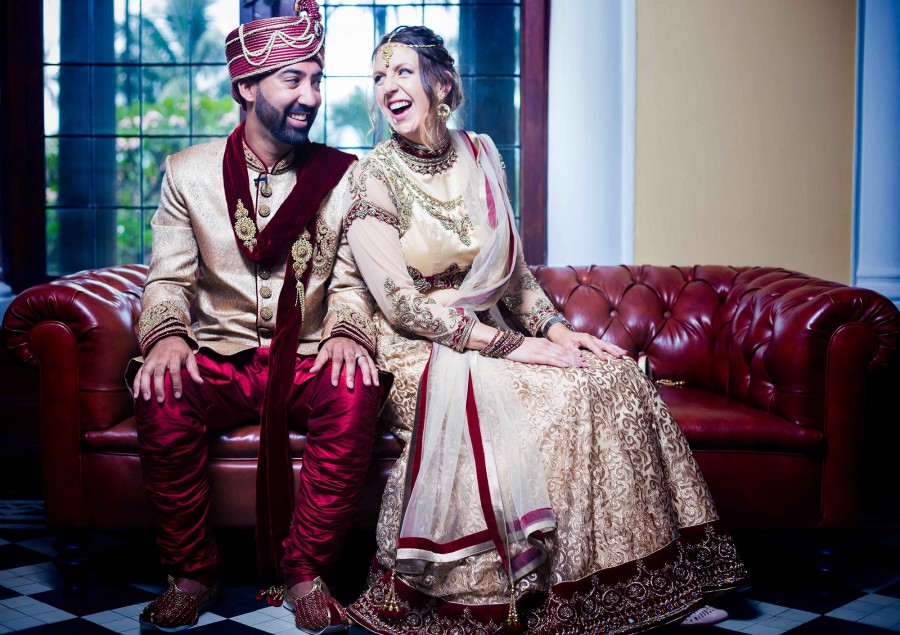 Alexandra Staley and Kamsen Rajah embraced red in all its glory at their South African destination wedding on January 7, 2017.
Halfway through their Hindu celebration, complete with stunning red and gold outfits, they changed into their western outfits for more photos and speeches.
Jonah and Publius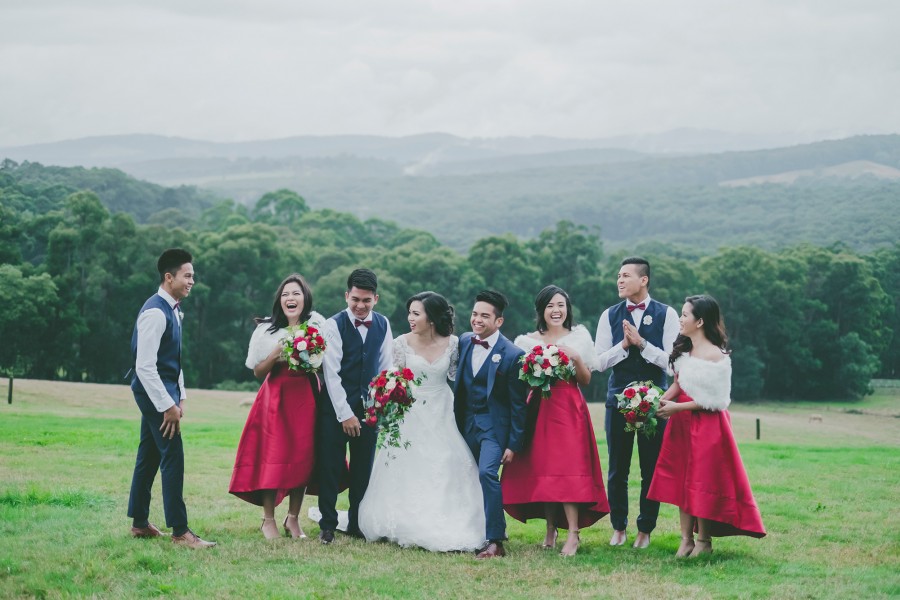 A slight autumn chill was in the air as Jonah Saletrero and Publius Briones tied the knot on June 5, 2017, but the glorious hues of red throughout their wedding party really livened up the day.
The couple wed at Melbourne's St Patrick's Cathedral before a reception at Forest Edge in Gembrook with a cute flower girl dressed in red to match the bridesmaids and the lovely red-hued bouquets.
Daniel and Olivia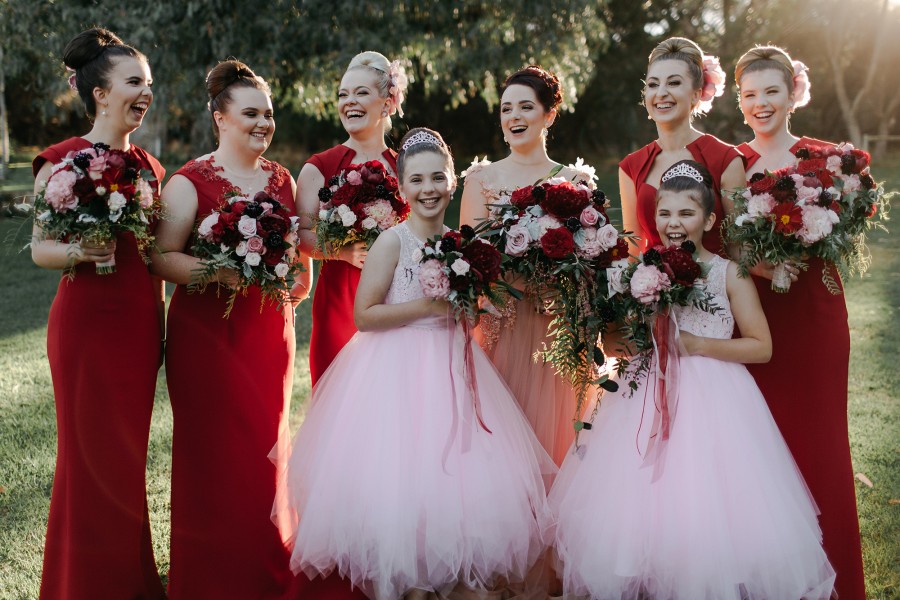 With a romantic-themed wedding, Olivia Brenzi and Daniel Coleman featured red heavily in their wedding colour palette.
The Perth couple married on April 29, 2017, at the Fremantle Sailing Club in Perth's south west.
Dressed in pastel pink, Olivia chose vibrant red gowns for her bridesmaids and offset them with bouquets that included both pink and red to tie it all together beautifully. The gents wore matching red boutonnieres. We love weddings with red bridesmaid dresses!
Ri and Chris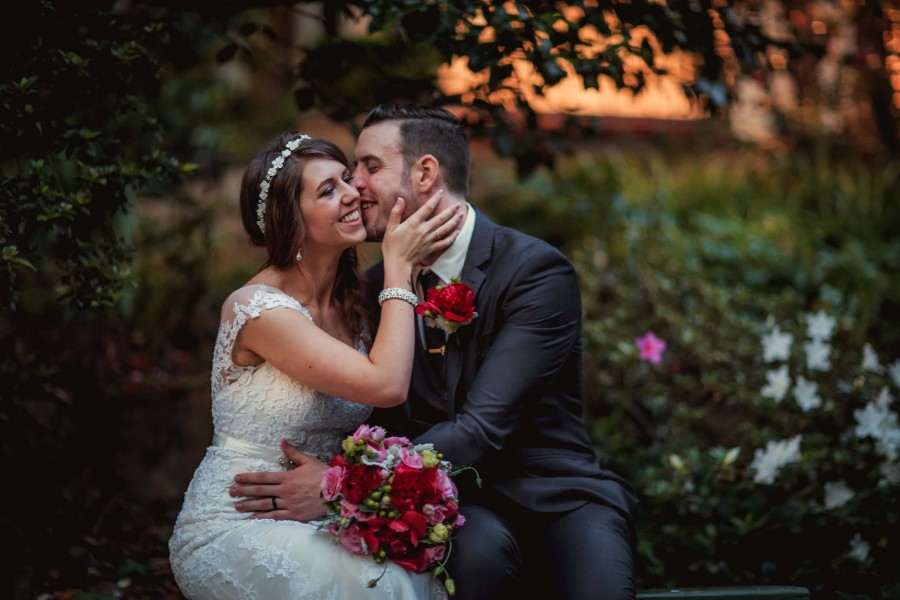 Rianna Burgess and Chris Treherne incorporated two of their great loves – Harry Potter and Marvel superheroes – into their big day.
The Melbourne couple brought a sense of fun to their Chateau Wyuna wedding, held on October 28, 2016 at their celebrations on the foothills of the Dandenong Ranges.
Although their predominant colours were green and white, they incorporated pops of red in the floral elements on their big day to add a touch of romance and sophistication.
Alison and Eamonn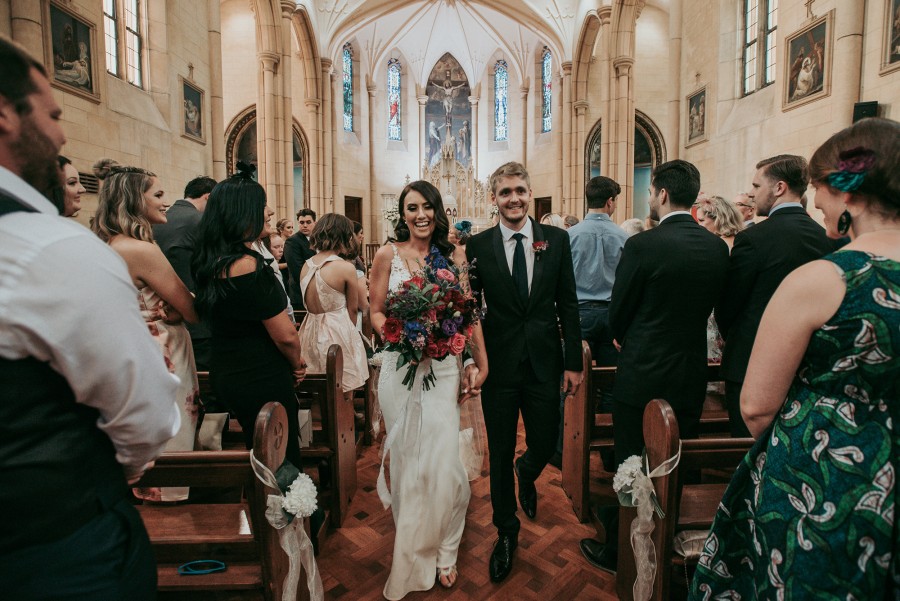 Red was one of the subtle colour elements of the elegant marquee wedding of Alison Campbell and Eamonn Fitzgerald.
The pair married on November 5, 2016 with a ceremony at St Michael the Archangel Church in Leederville, and reception at Caversham House in the Swan Valley.
Red was a small component of the bouquets and boutonnieres, adding a blast of colour to the traditional backdrop.
Darsh and Aurnen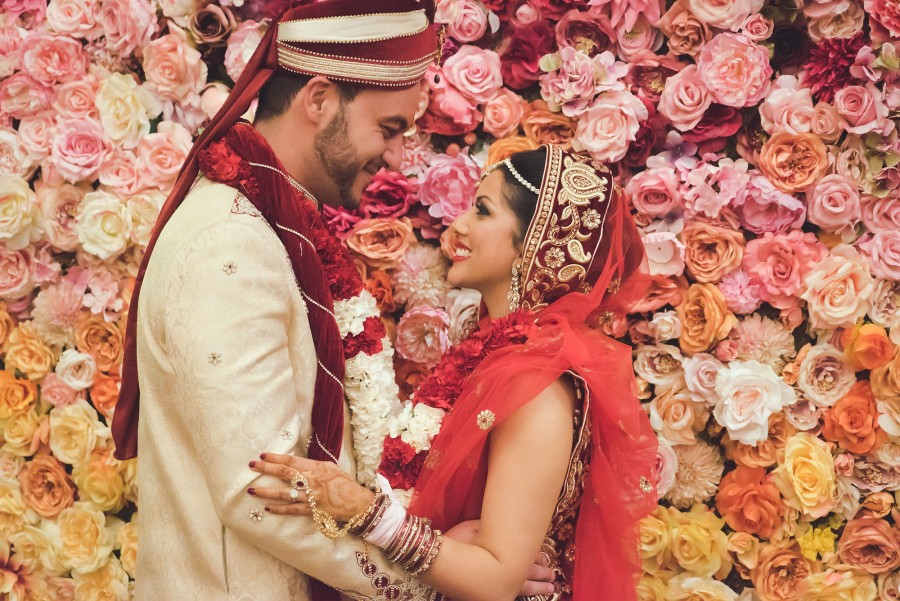 Adarshna (Darsh) Shankar says she and Aurnen Mikhaeel defied the odds in their journey to becoming husband and wife and they celebrated their union in true vibrancy with red a dominant colour in their nuptials.
Darsh is a Hindu Fijian Indian and Aurnen is Catholic Assyrian and their first wedding was a traditional Hindu wedding decked out with colours and music.
A week later, April 30, 2016, the couple held another celebration at St Brigid's Catholic Church in Melbourne's Fitzroy North in front of 280 friends and family.
While the former was filled with hues of red and gold, creating a feast for the eyes, the latter had a much more subdued colour palette of navy and white.
Beverley and Earl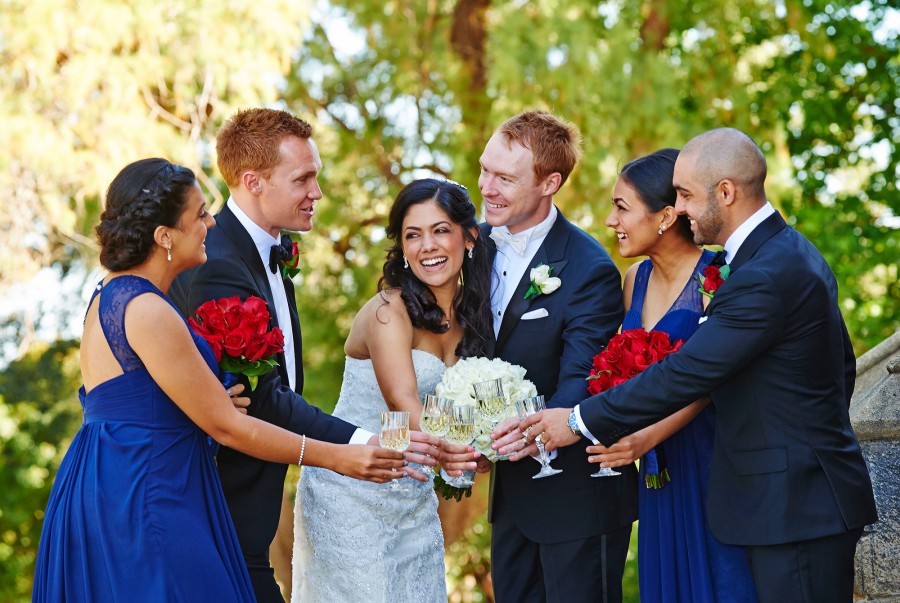 Beverley Stacey and Earl Hopkinson married at their classic wedding on November 13, 2016.
Their ceremony at St Michael the Archangel Chapel in Leederville and reception with 120 guests at Rambla on Swan was accentuated by small pops of colour in the bridesmaids' bouquets and modest rose centerpieces at the reception.
Netna and Darren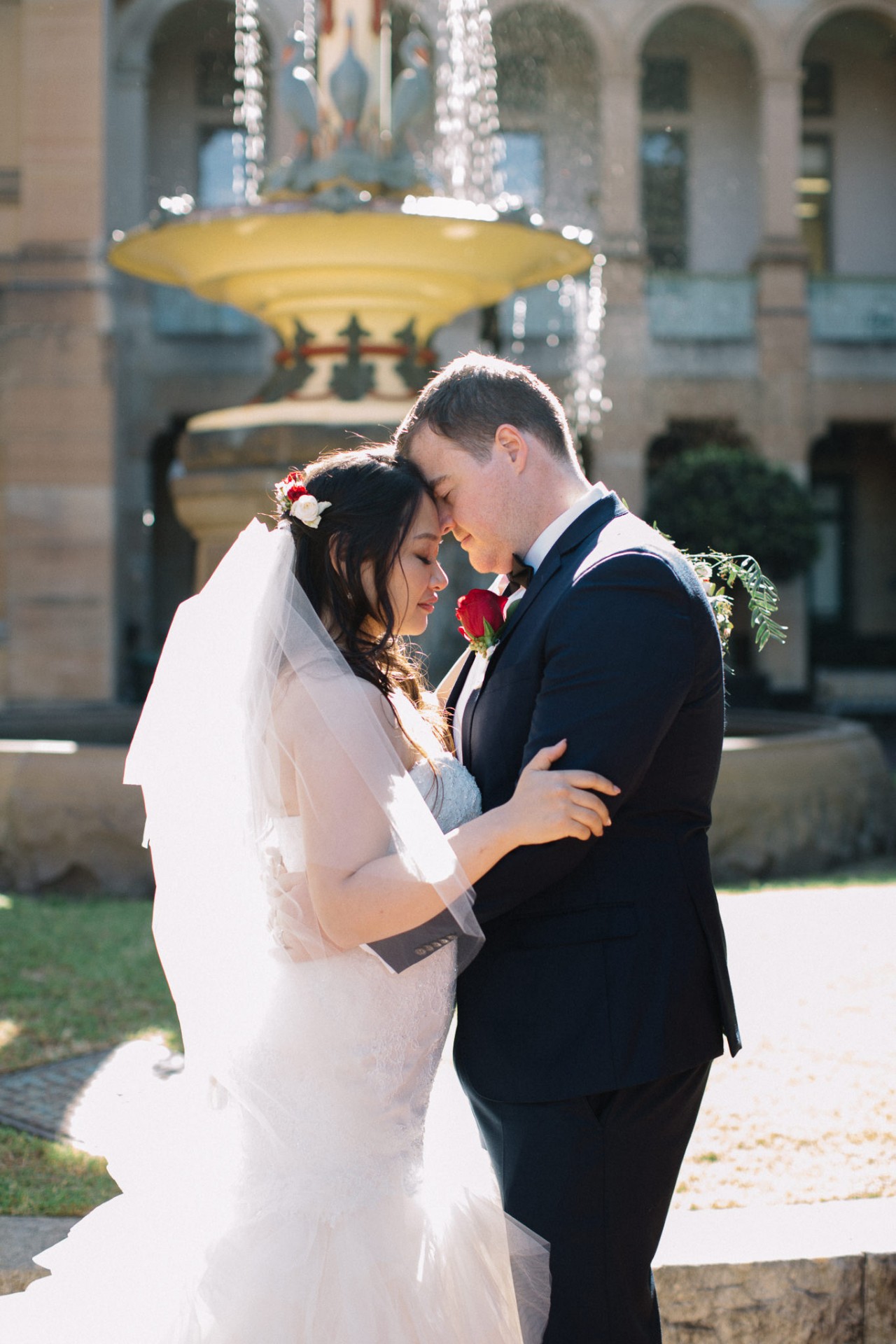 Netna Nguyen and Darren Johnstone are living proof that opposites attract, but when they wed on October 15, 2016 at St Francis of Assisi in Paddington in Sydney, they combined the best of both worlds.
Their wedding was grand, luscious, and opulent and accentuated with small embellishments of red in Netna's stunning heels, a simple floral adornment in her hairstyle and her bouquet.
Want to see more weddings with red accents or entirely red colour themes? Click here.