Your wedding invitations might only be small, but they can actually be a big influence on your day. After all, how else are you going to ask all of your guests to celebrate one of the biggest days of your life!?
We absolutely love being able to make a statement with your first impression and tying it into your wedding day. And it seems you do too! Luxury wedding invitations and stationery have become more popular than ever before.
We chatted with Giant Invitations who have been watching the rise of luxury stationery to see what pieces are the most popular, and how you can incorporate them into your day. Here are some of the top luxe stationery trends to watch out for in 2020.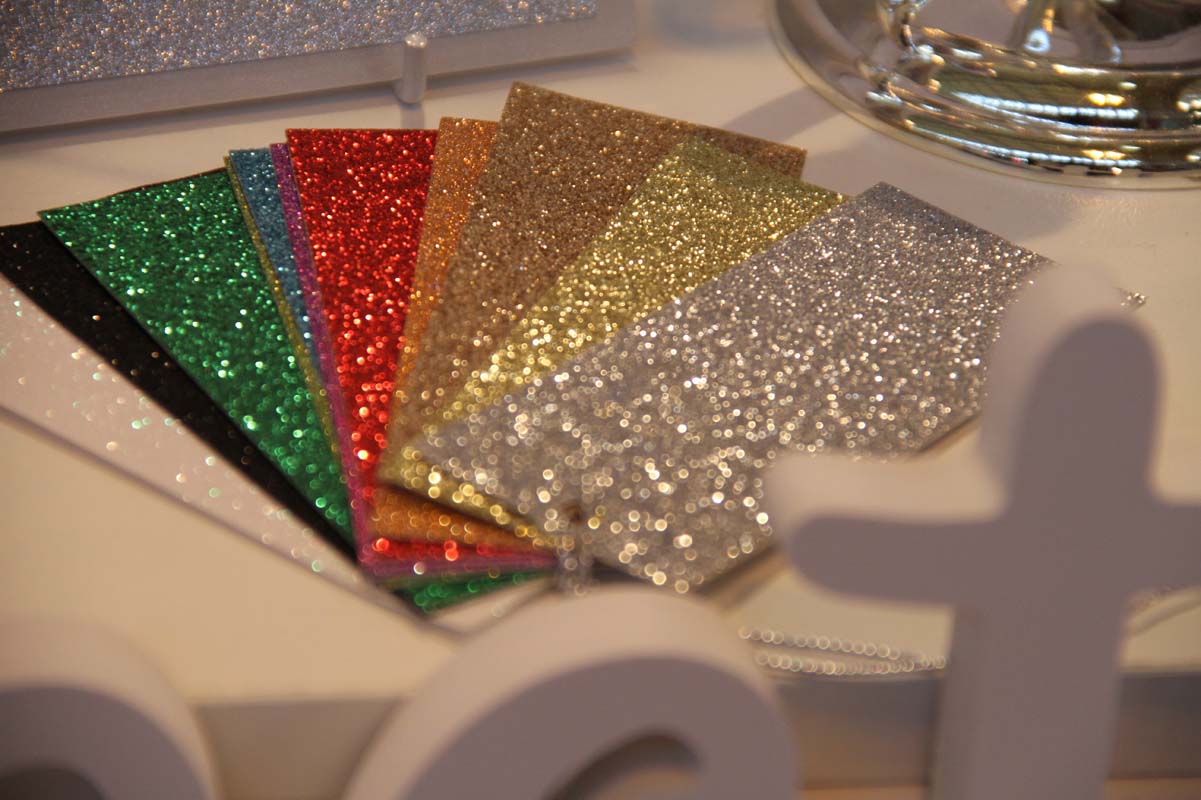 Wedding Invitations
Your wedding invitations are the first impression your guests are going to get of your wedding. Make them count! There are so many different ways you can give a bit of luxury to your big day, from classic and elegant weddings to modern or rustic. Here are the most popular ways to add a tad of luxe into your invitations.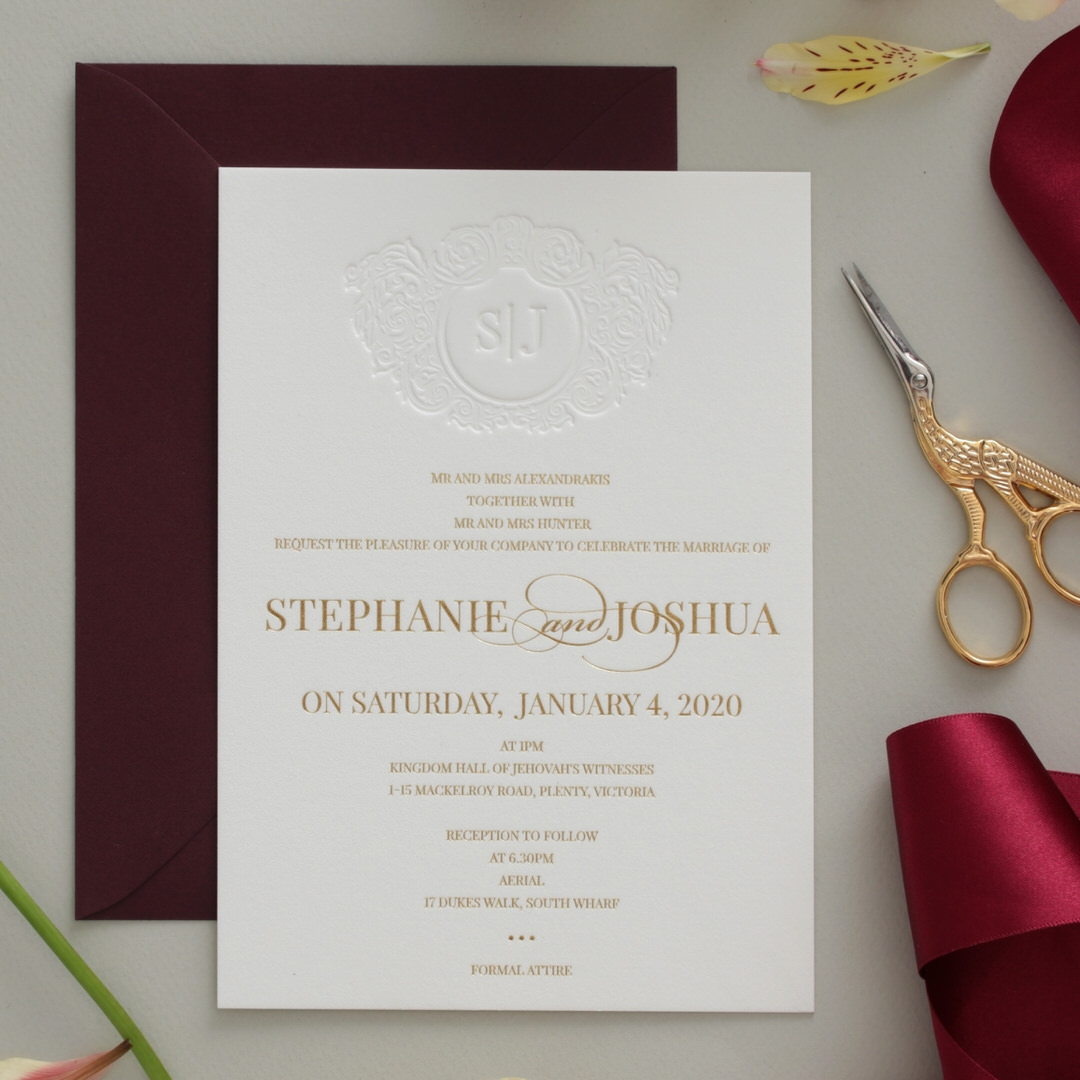 Letterpress with foiling on thick cotton
Luxury isn't just something that you see, it's something that you feel as well. And cotton paper is going to give your guests that luxe aesthetic when they hold your invite in their hands.
Add a classy and minimalistic look by pairing your cotton with letterpress and foiling. Letterpress will make an imprint on your thick paper to add to the aesthetic of feeling your invites, while the foiling will add to the the luxe look.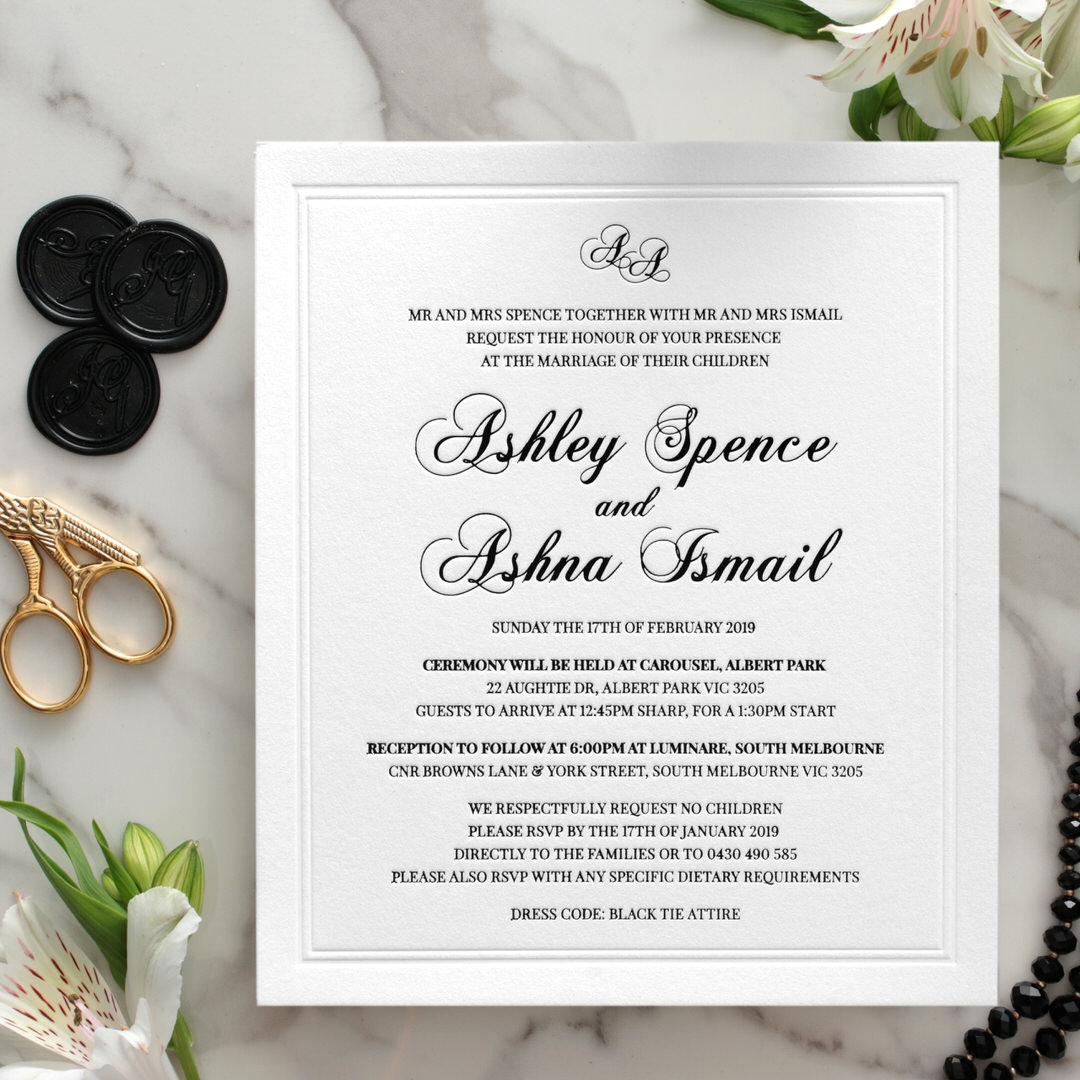 Hardcover Invitations
When's the last time you went to a fancy restaurant for dinner and weren't handed a hardcover menu? Never! That's because they do such a good job of adding to the elegance and experience of your night. Hardcover invitations are no different and will make such a statement for your big day.
Imagine the luxury of receiving a hardcover invitation and opening it up to reveal your personalised invitation? We are totally on board with this trend.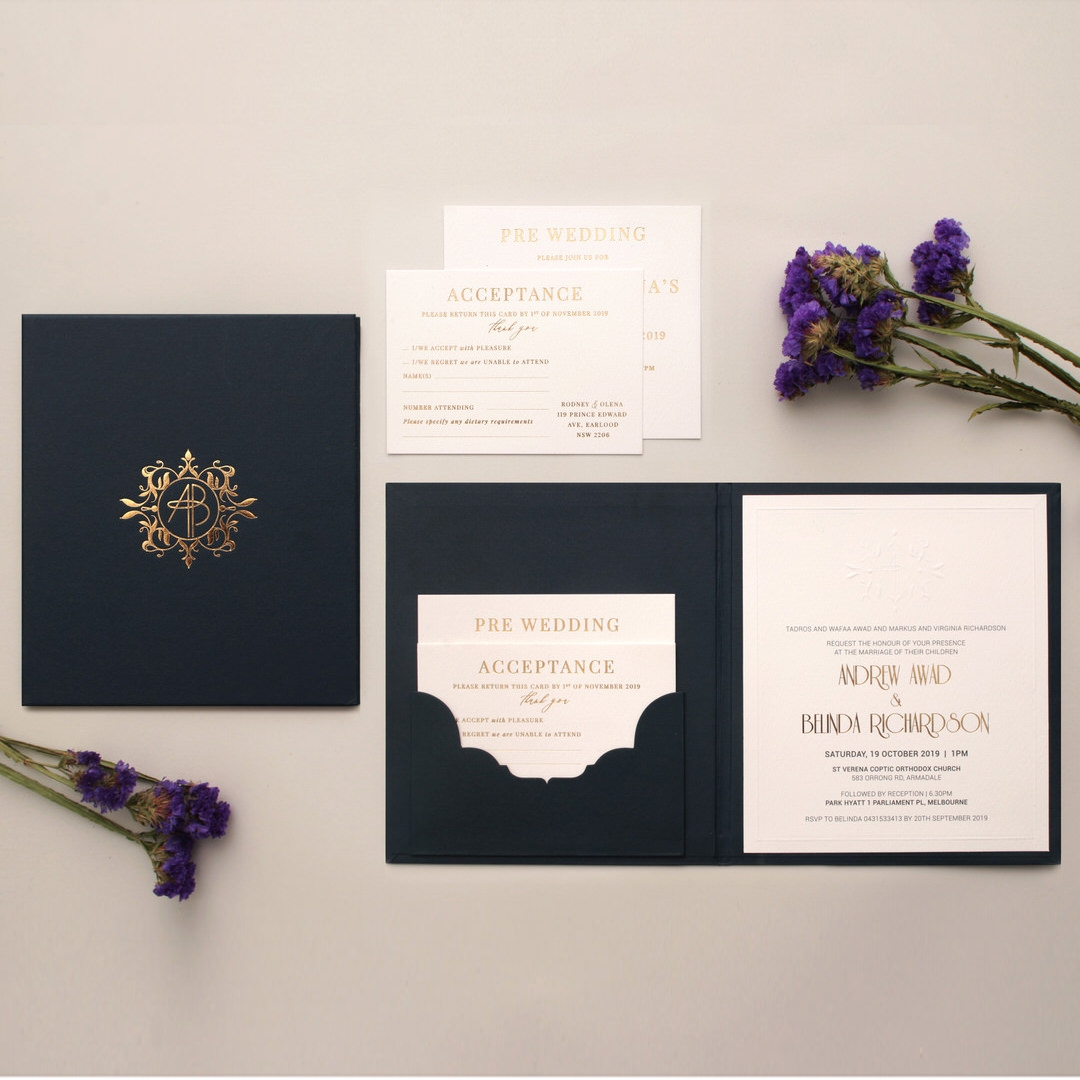 Luxurious pocket invitations with foiling
If you're after a shinier foiling look then opt for foiling on your invites and make a statement with the design of your paper instead. Pocket invitations add elegance, class and luxury to your wedding. They also add a beautiful aesthetic for your guests when they unveil your invitation like a personalised card.
Pocket invitations are the perfect solution if you have several cards involved in your invites, such as transport directions or RSVPs. There's no excuse for your friends or family to lose their RSVP card now!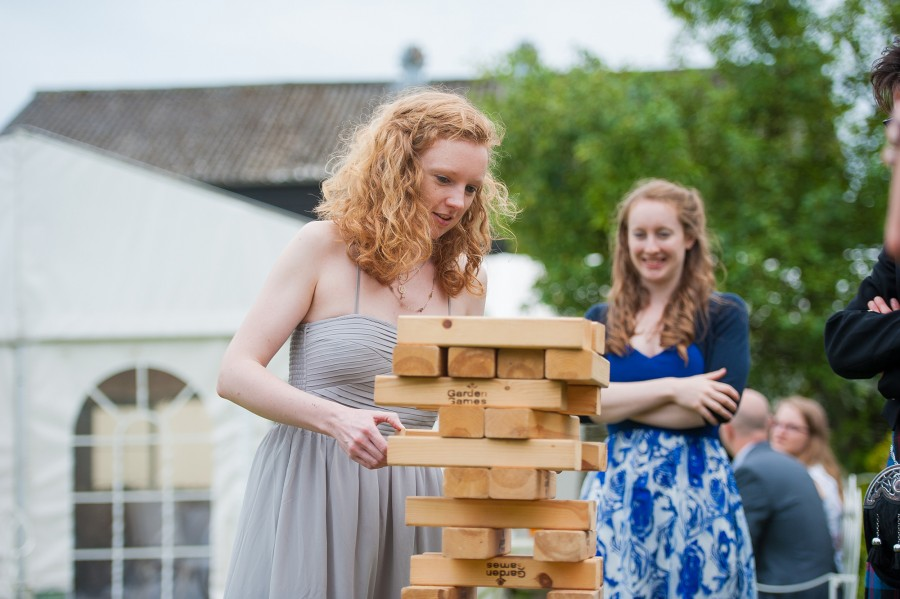 Acrylic Invitations
Similar to hardcover invitations, acrylics add a beautiful and solid invitation for your big day. The experience of holding a hard acrylic invitation just does not compare to a single piece of paper. The weight itself makes it more luxurious.
Acrylic invitations are elegant and will suit perfectly with a modern or crisp luxury wedding theme.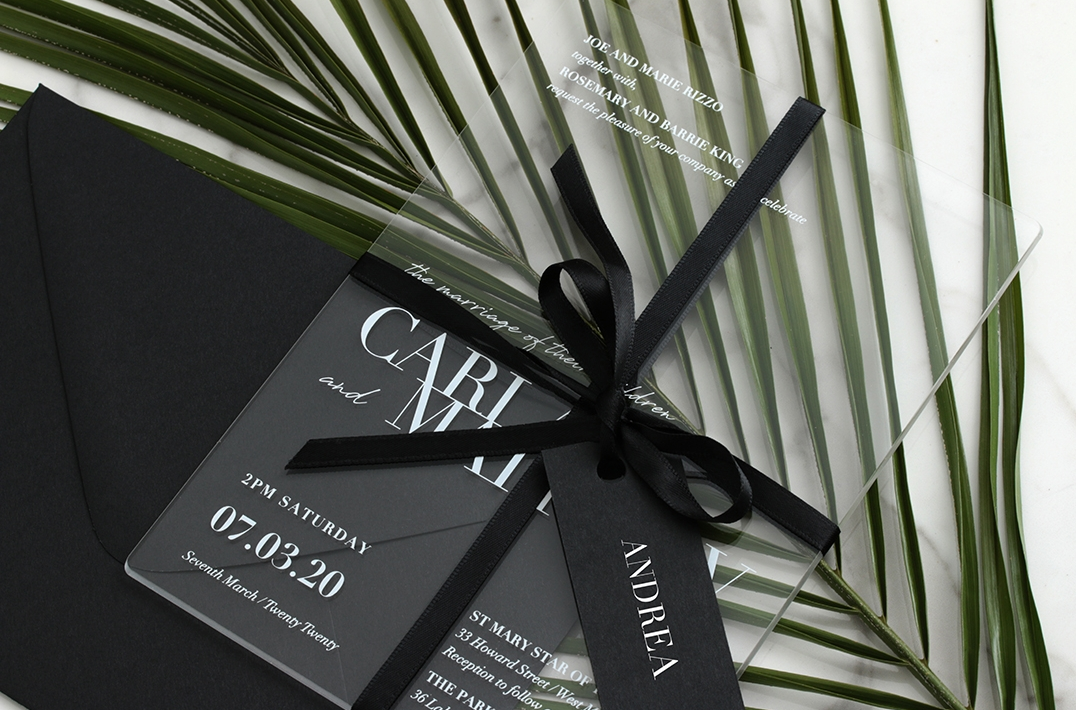 On the day stationery
Speaking of acrylic, it has taken over! Acrylic features are now the most popular form of on the day stationery at your wedding. From menus and place cards to welcome signs, here are some of the most popular ways to use acrylic stationery for your big day.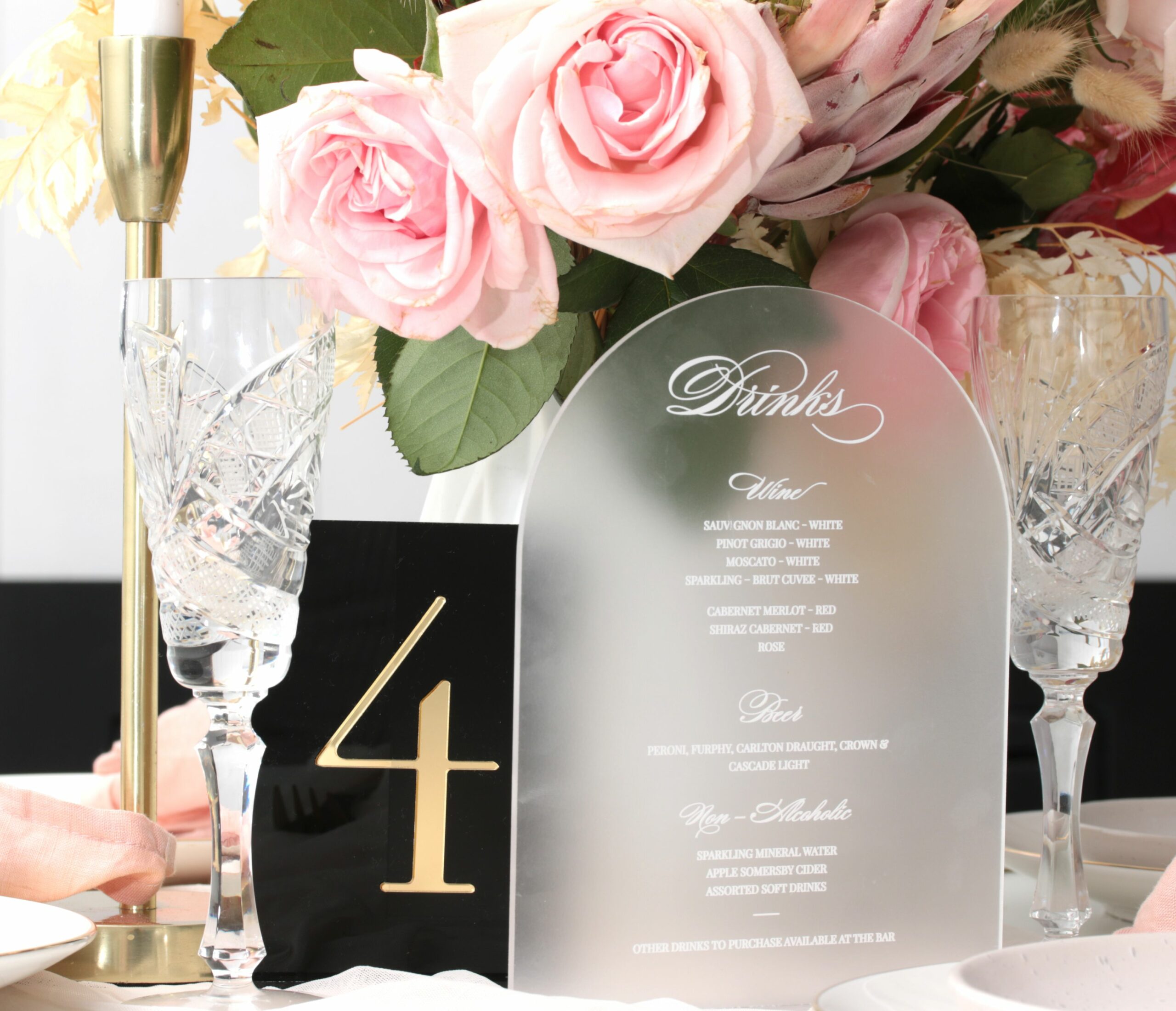 Welcome signs and seating charts
Like your invitations, your welcome sign or seating chart will set the tone for your wedding and wedding theme. It will likely be the first piece of decor your guests will see entering your ceremony or reception, so make it count.
There are so many ways you can customise an acrylic feature. For the modern minimalists, you could opt for acrylic with ink printing. For an elegant look, you might choose laser-cut acrylic writing on an acrylic backing. Or, for a luxury and vintage look how about a mirror acrylic with engraved wording?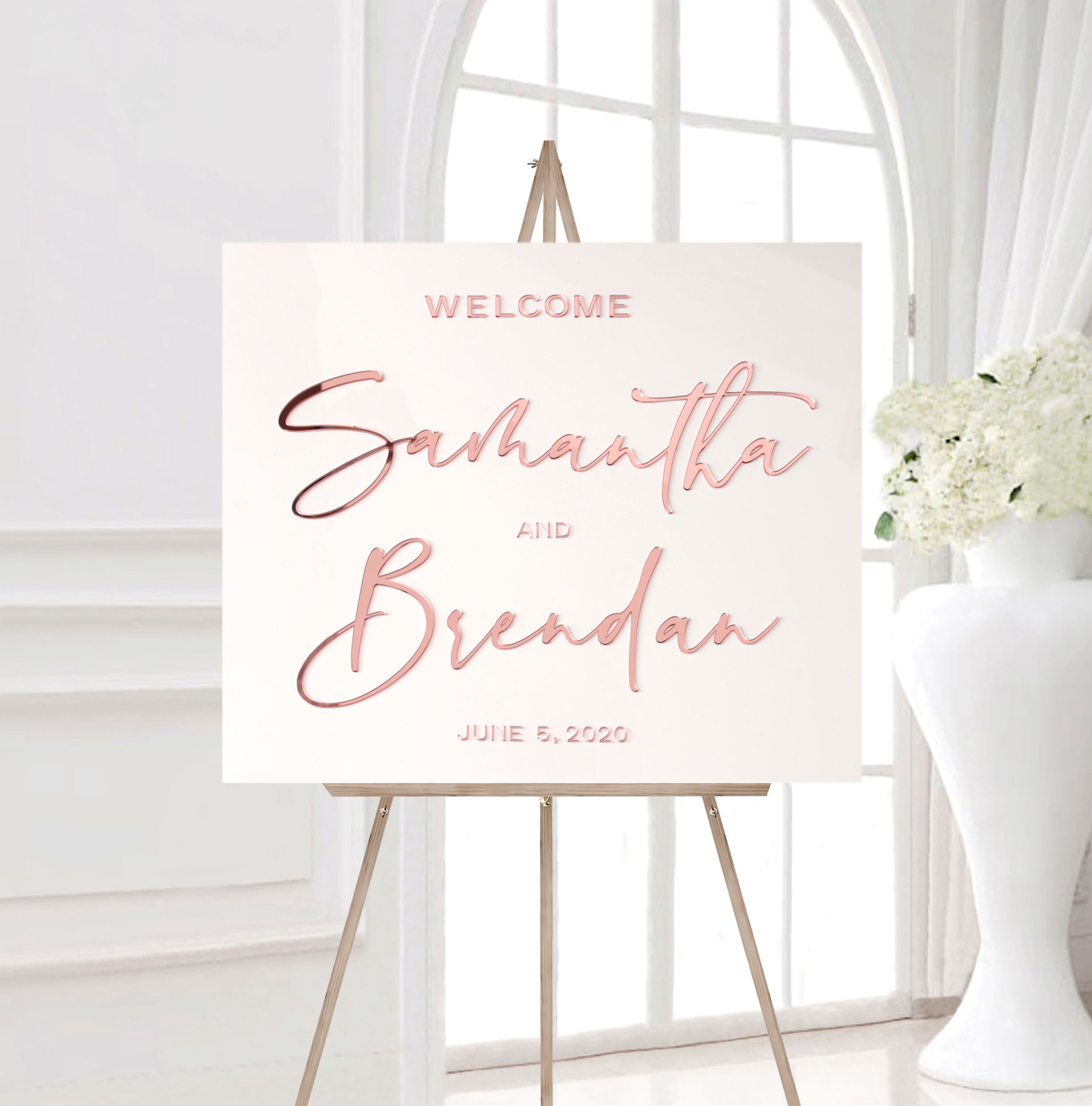 Table Numbers
Once they've seen your seating chart your guests will start looking for their table. Tie your acrylic feature in with stunning floral centrepieces to match your theme. Like your seating chart, your table numbers could involve ink printed on acrylic or laser-cut numbers.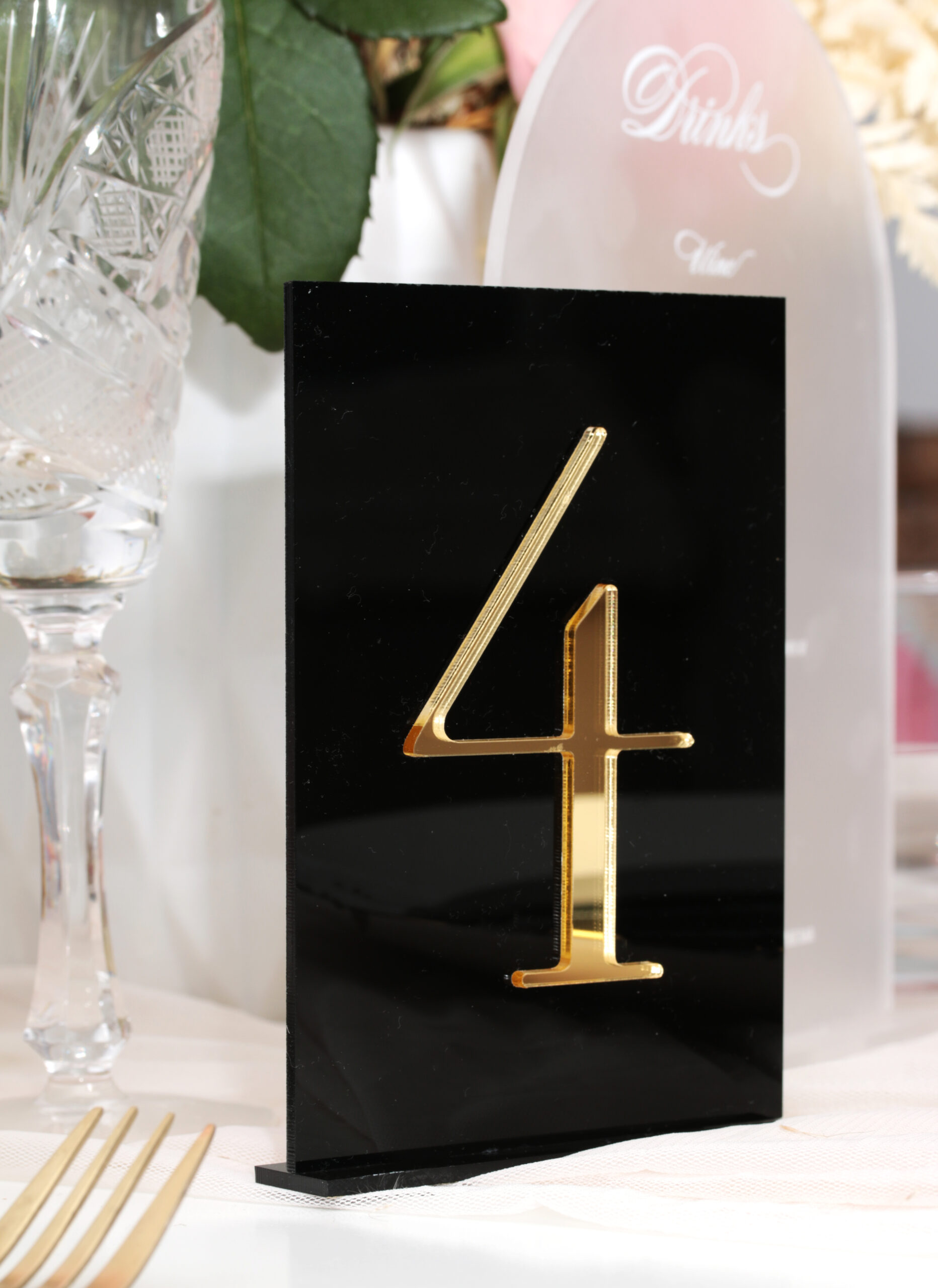 Place Cards
What comes after finding your table? Finding your seat! Give your guests a stunning take-home present and place card in one with some stunning acrylic designs.
Laser-cut guest names in cursive have been extremely popular recently and make a beautiful keepsake. Or why not take the name out of the place card? A round design with guest names laser-cut out of the acrylic will add a stunning and unique feature.
There are also mirrored acrylic place cards with engraving and ink printed options in custom shapes and styles to enjoy.
Menus
With your seating chart, table numbers and place cards your table settings are already looking amazing. So why not choose a stunning menu design to finish the look?
We love dome-shaped acrylic menus with ink printing that can stand up on your table. These take up less room and also look stunning paired with your table numbers. You could even opt for a menu that has the table number on it.
Popular options for flat menus include acrylic round designs with ink printing that fit perfectly on your reception plates. There's also the option of gloss gold, rose gold, silver or bronze foiling to add that luxurious metallic touch to your day.