We were wondering about the current design trends in wedding stationery so we posed our questions to one of our fave experts in the industry. We spoke to professional invitation maker and designer Hayley Saretta from thriving invitation business Personally Invited about the current wedding stationery trends.
Are there any new trends in fonts you are noticing com through in wedding invitations?
"Hand-drawn look brush scripts are increasingly popular. They are beautiful and organic and have an intimate tone to them. They really fit well with personally inviting someone to share such a special moment in your life."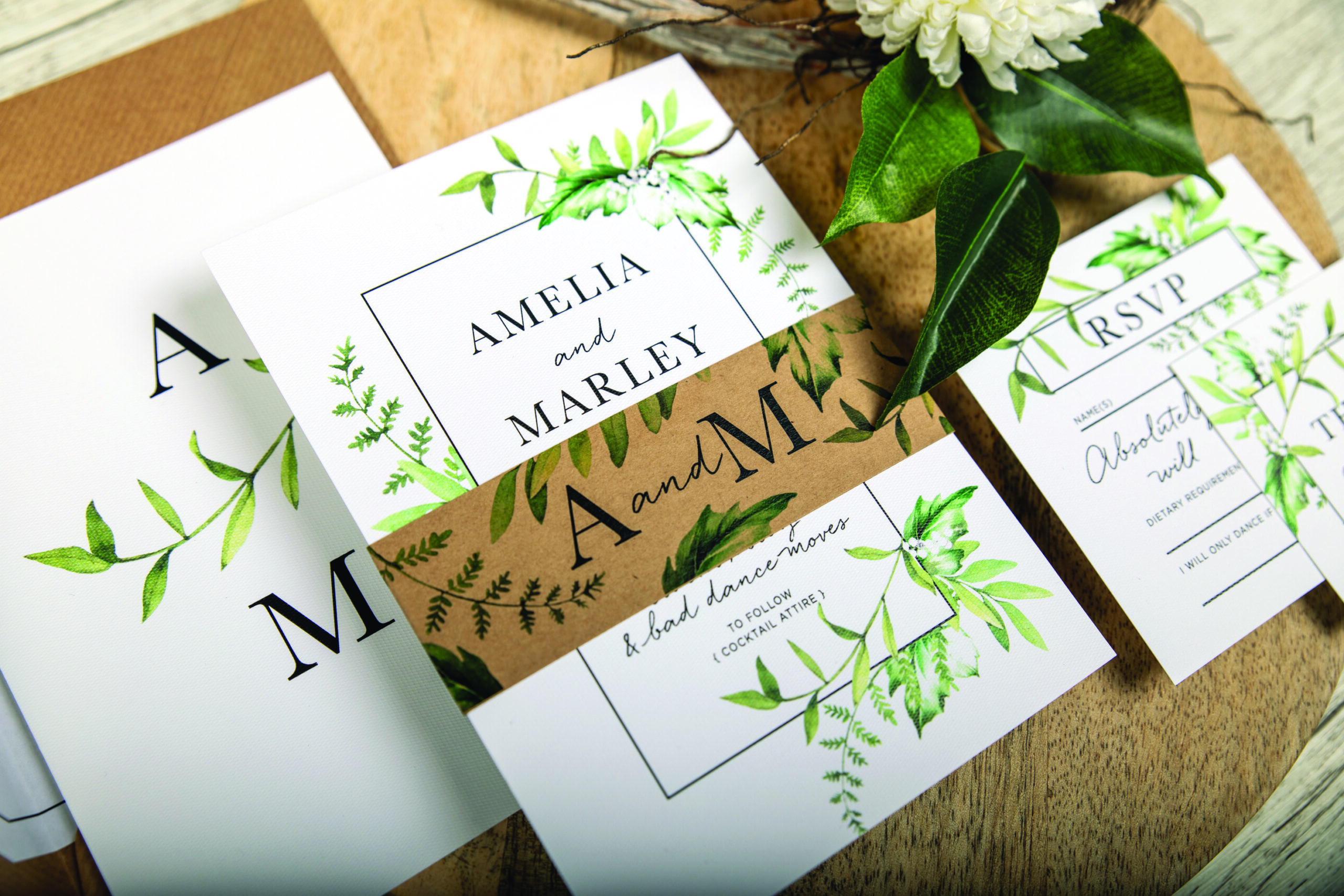 Are couples drawn more towards florals, modern sleek invitations or something else entirely at the moment?
Our couples are headed for less colourful designs currently with more simplified graphic elements or even their stylised names drawing the focus rather than decorative elements.
Greenery : Crisp green natural foliage with contemporary typefaces.
Black/white: minimal design with bold contemporary typefaces and clean white space.
Gold/black/white – black with gold text, moody and formal."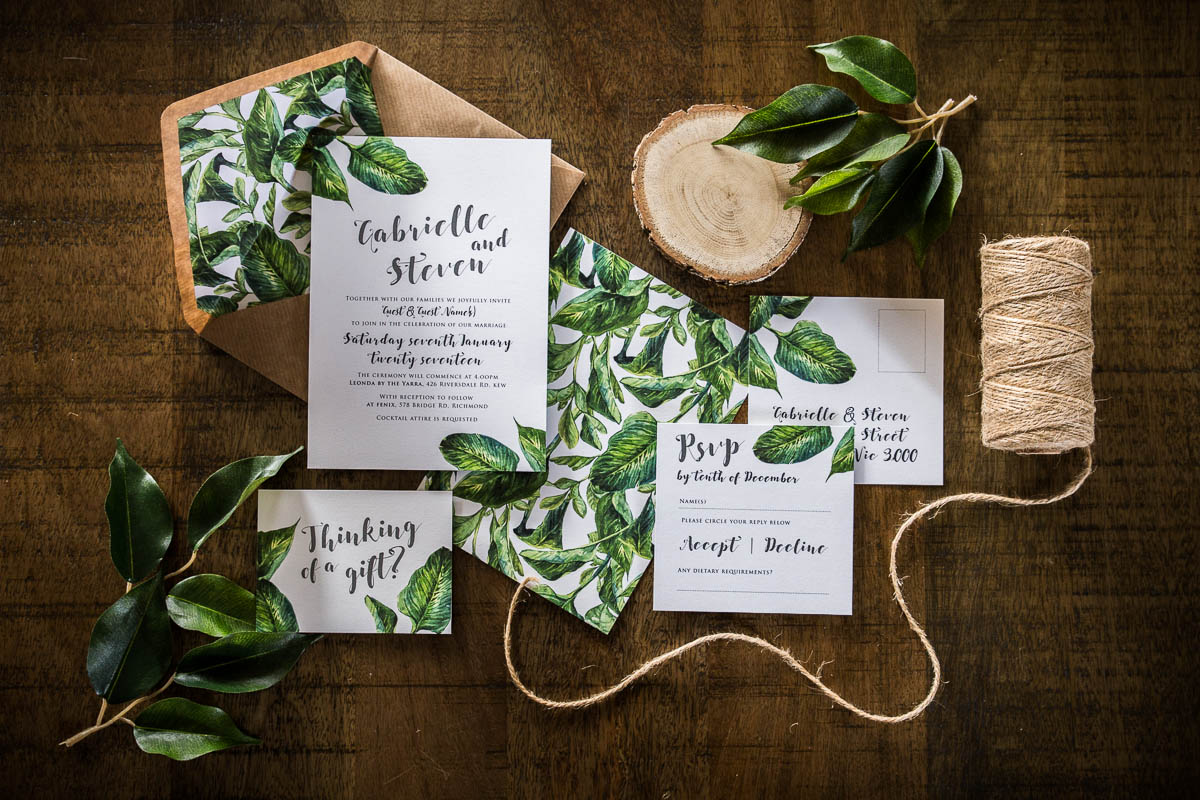 Are you seeing foiled text trends stick around? What are the most popular colours?
"Foil is still huge and there's definitely been a swing towards gold and away from the rose of last year. We offer a complete metallic gold cardstock as a unique alternative of a foil print and its had a surge in popularity. Couples are really going for the bling in 2018!"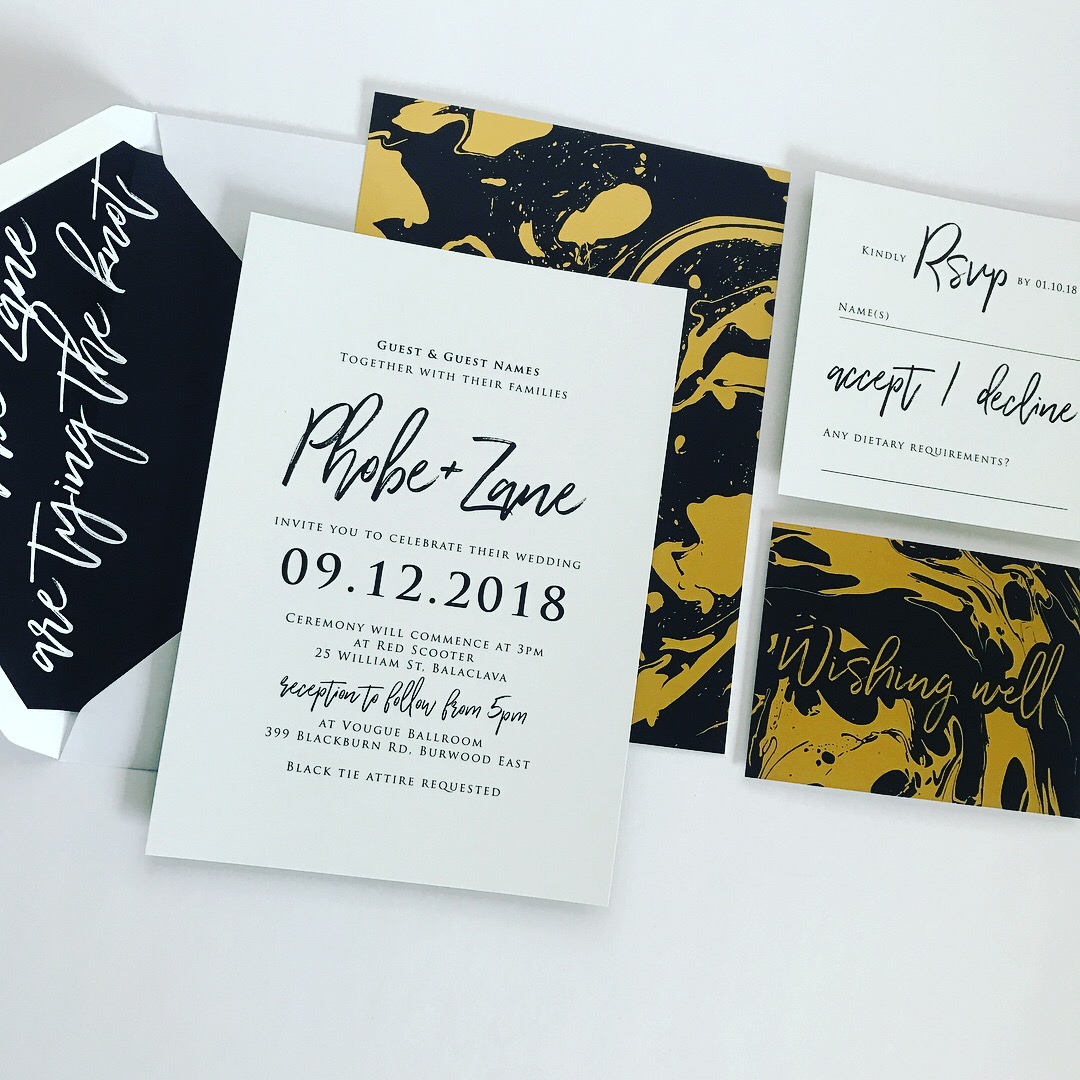 Are there any really unique invitations you've created that you're really proud of?
"We offer a collection of different layouts for our clients, my personal favourite being our 'accordion' layout. It has all the stationery items typically included in an invitations suite rolled into one piece. It has an invitation at the top, with a wishing well panel below connected via a fold and then a tear-off RSVP panel below. Not only is it gorgeous and unusual, it is really fun guests to interact with the stationery to return the RSVP. It also helps keep any items from getting lost. This layout is available across all our designs and card stock options."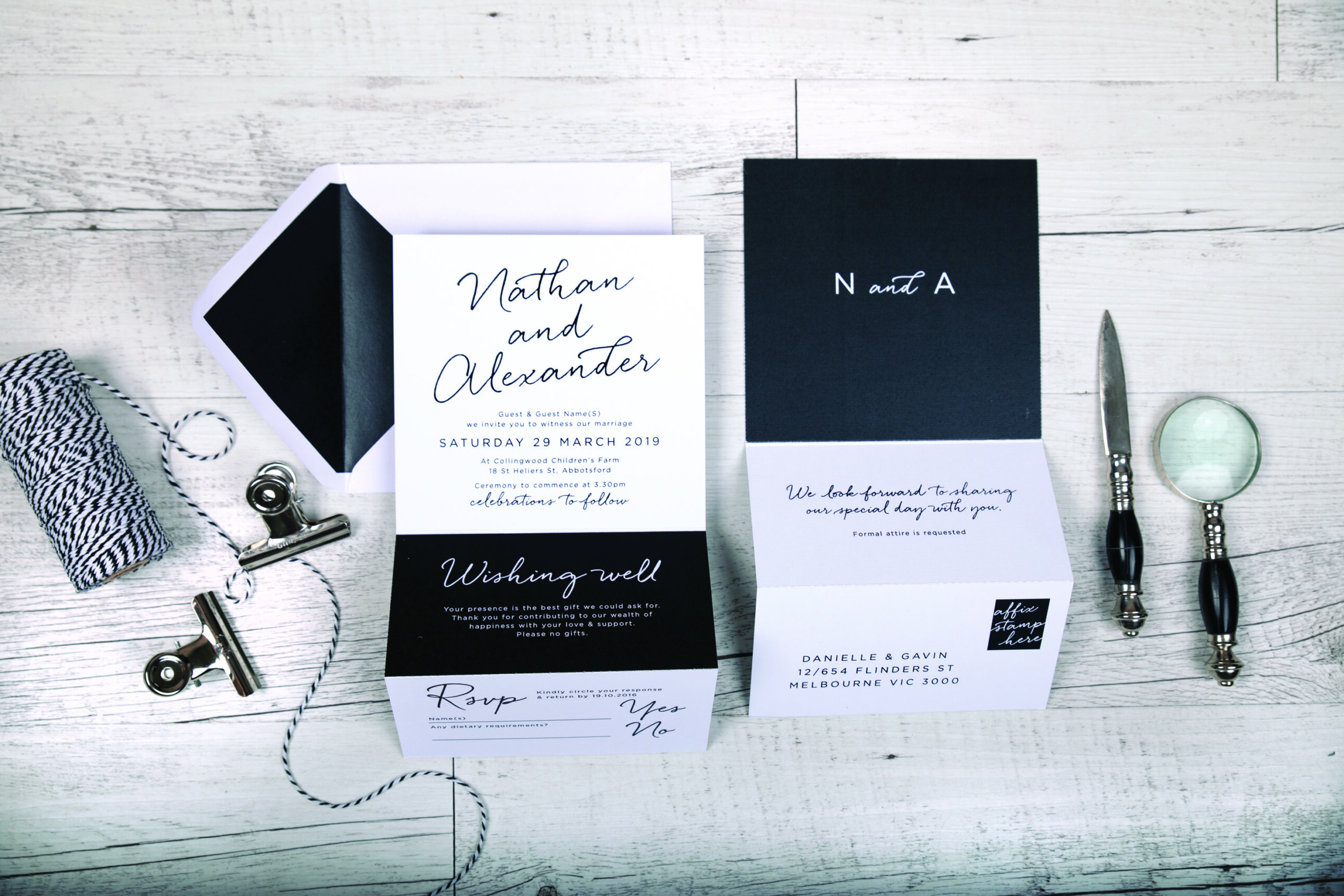 What are your thoughts on wood, acetate, letterpress etc invitations? Are they here to stay?
"We believe that good design and quality card stock are key and can replace the need for (often expensive) paper alternatives or extra processes such as these. We feel our collection bridges the gap between luxury design and the budgets of couples currently planning their wedding."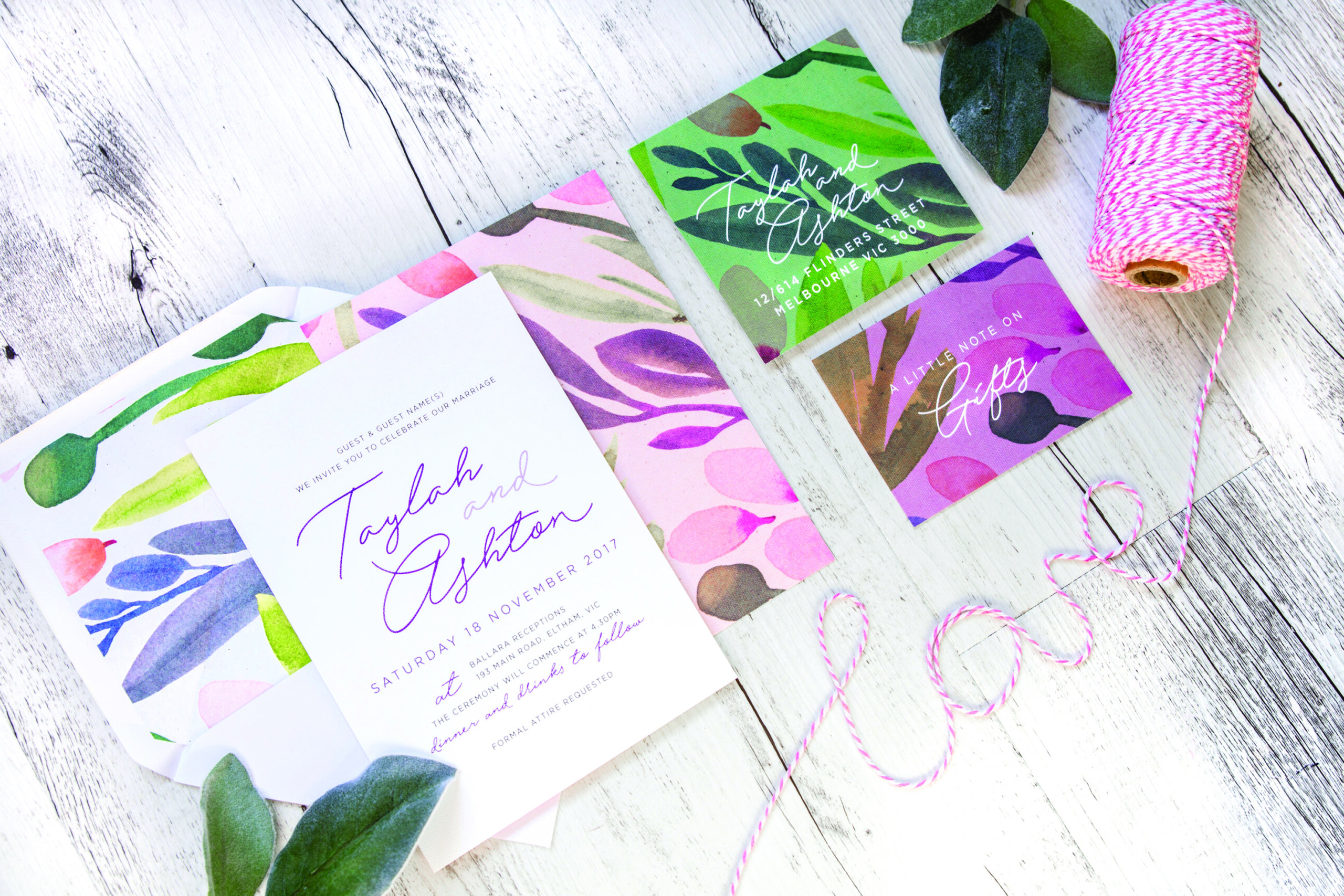 Do you find more couples want you to create their design and then DIY it or do most couples want you to do it for them?
"We are seeing more and more couples want be involved more in the creative process which we absolutely love! It's so nice to work alongside them in creating their vision. We find that we are a good fit for couples with a creative flair or strong vision so we tend to attract them organically. That said, most are then happy for us to take care of the production side of things to achieve the professional finish they are looking for."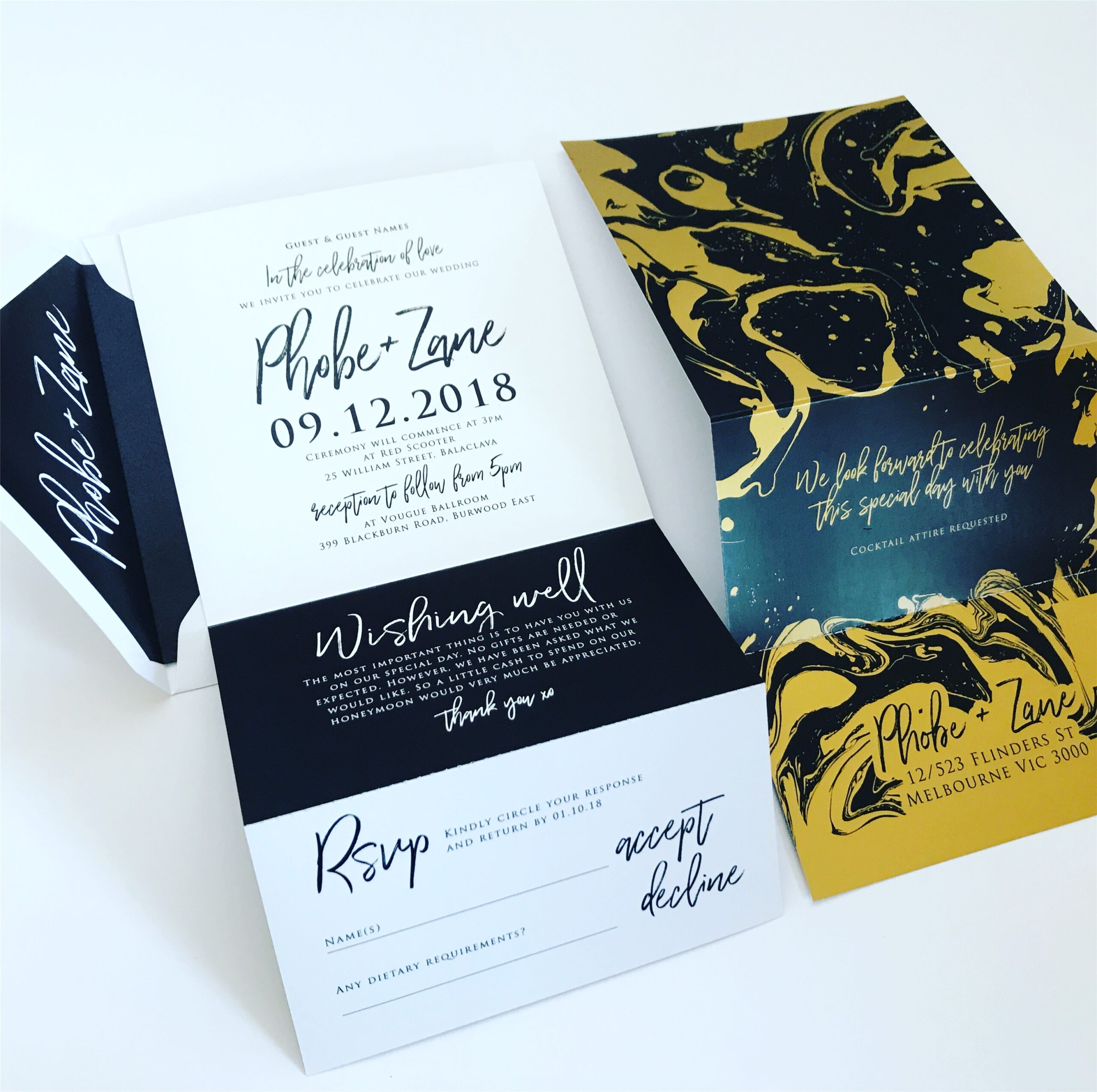 What are your favourite colour combinations to work with?
"Kale green and blush! So romantic and modern and so versatile you can make it formal or rustic. Oh, and we have been having a lot of fun lately with the boldness of just black and white. So striking."