Wondering what to include in your wedding invitations and when to send them? This in-depth guide covers everything you need to know about save the dates, RSVPs, and the all-important wedding invitation suite.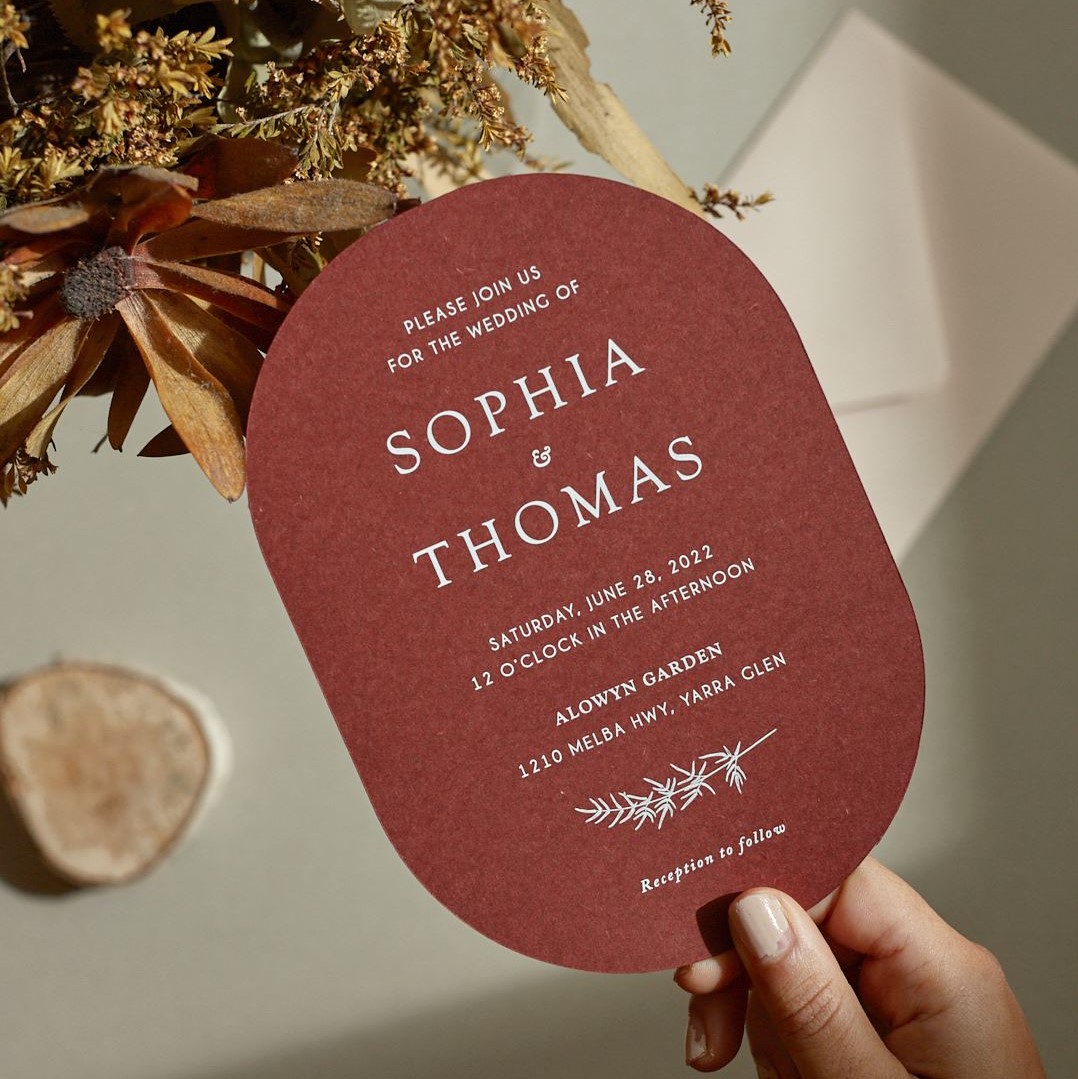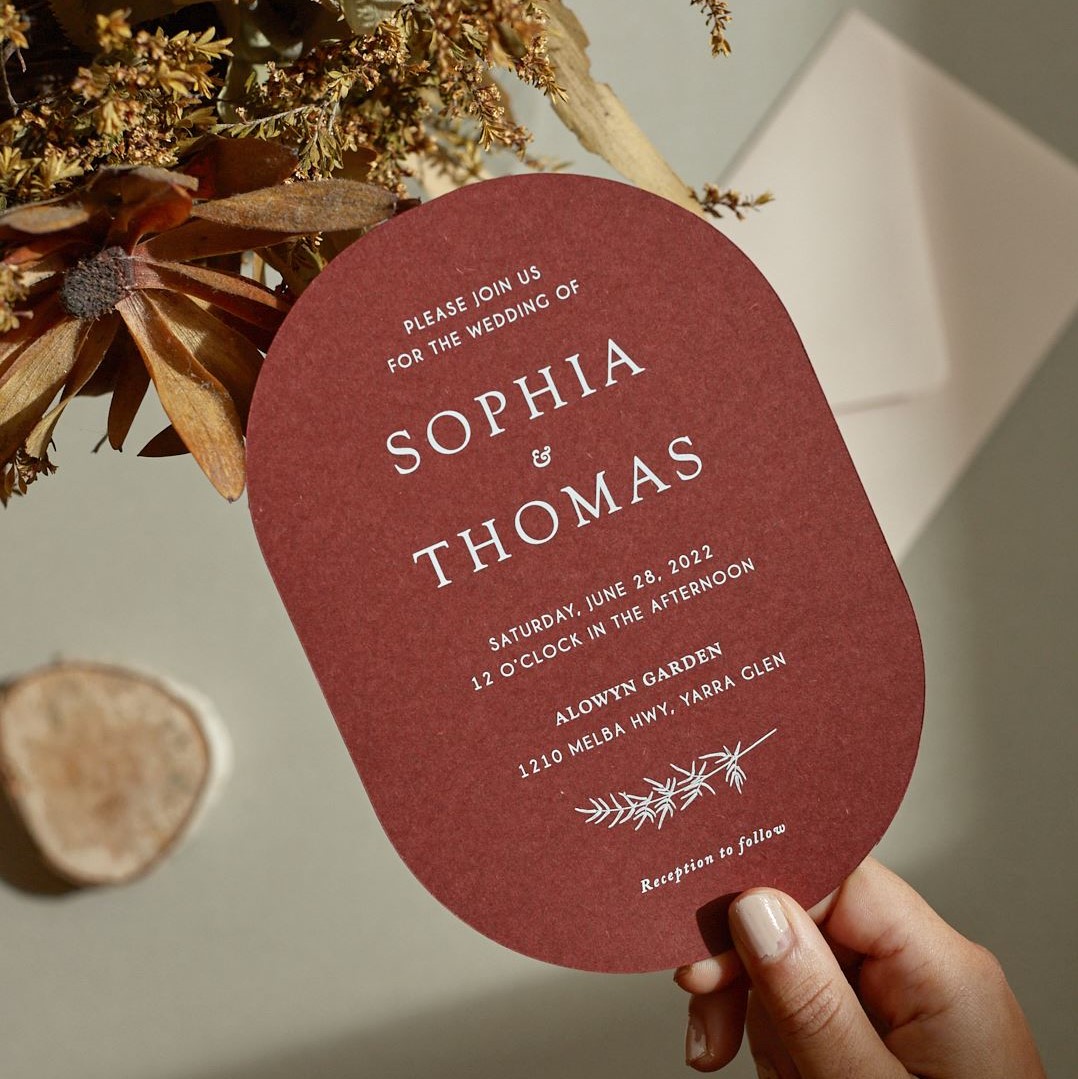 If you're like us, your wedding Pinterest board or Instagram collection is probably filled with photos of dreamy invitation suites (handwritten calligraphy, dried florals and personalised wax seals — we see you).  But before you can start designing and personalising your wedding stationery, you'll need to consider the practicalities, like what to include in your invitations and when to send them.
There are some standard things that a wedding invitation needs to communicate, but there are also some additional elements you might like to include, such as accommodation information, gifting options, and song requests. Your invitations can be as detailed or as pared back as you'd like them to be, with many couples now choosing to create a wedding website to communicate additional information and save space on their printed invites.
browse invitation designers
Save The Date Cards
Save the date cards are the first piece of stationery you'll be sending out to your wedding guests. They're a casual notice (typically a double-sided postcard or a one-sided card) asking guests to mark your wedding date on their calendars.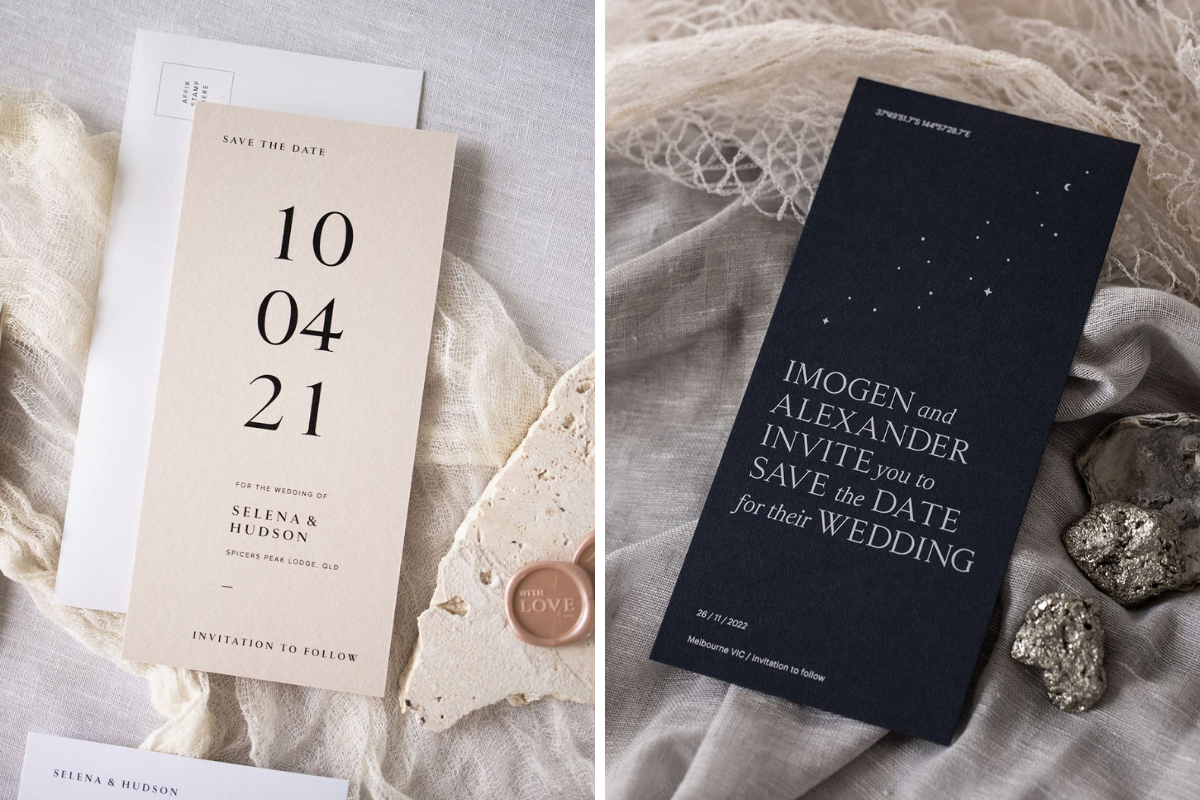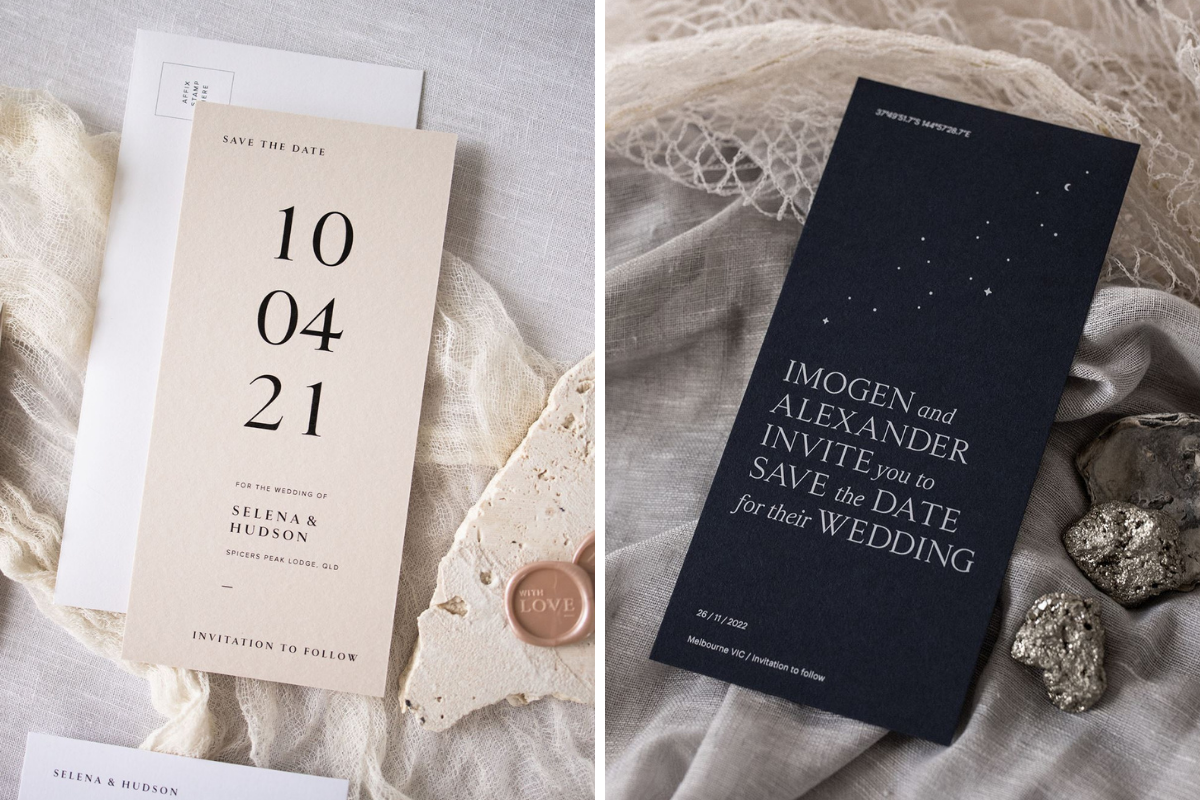 What to include?
Your save the date cards should include your names, the date of your wedding, details of the location, and a comment to let your guests know that a formal wedding invitation is yet to come.
When to send them?
As a general rule, we suggest sending your save the date cards out six to eight months ahead of the wedding date. This gives your wedding guests plenty of time to arrange accommodation, flights and child care (if necessary). If you're having a destination wedding, give your guests more time to prepare by sending your save the dates at least eight months in advance.
Other things to consider:
Sending save the dates is optional and can also be done digitally to save time and money
Only include information that you are 100% sure about
For a fun element of personalisation, you could include an illustration of yourselves, a photo from your engagement shoot or a map of the city the wedding will take place in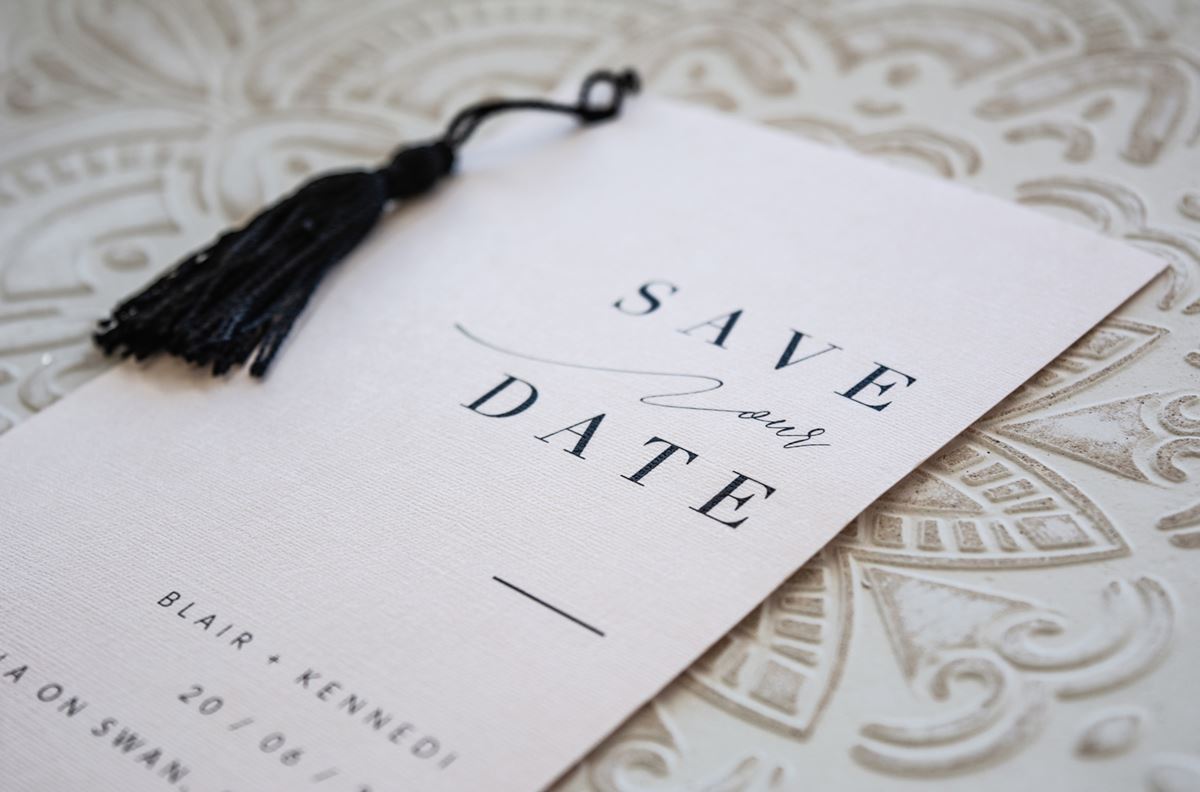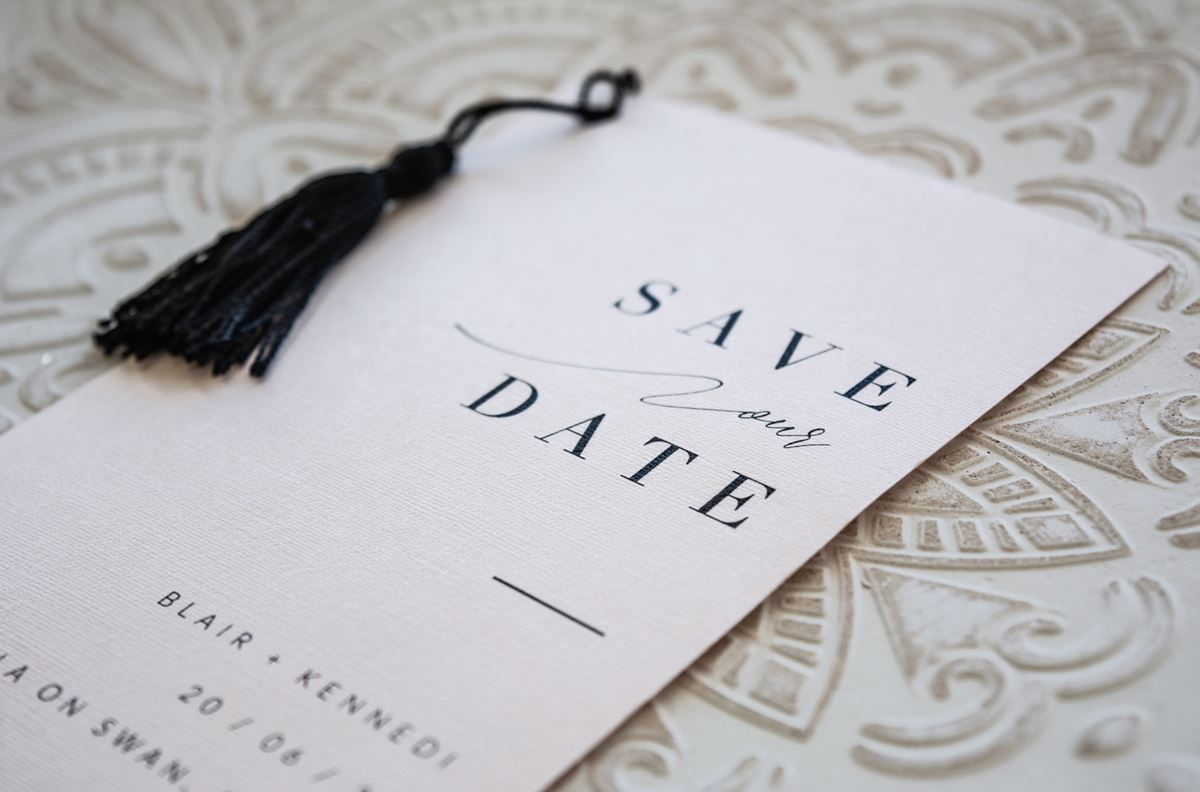 Wedding Invitations
Your formal invitations will be the centrepiece of your wedding stationery and should reflect the overall theme of your wedding, whether that's rustic, modern, traditional, beachy or boho. The colour palette, fonts, and other design elements of your invitation suite should tie in with your on-the-day stationery, including menus, name cards, and signage.
If you're investing in physical paper invites, you'll want to put a little bit of thought into how they're going to look and how that ties in with your personal style and vision for the wedding day. Working with a talented wedding invitation designer will save you endless amounts of time and stress as they take note of all your important wedding day details and work their magic to create a stunning invitation suite.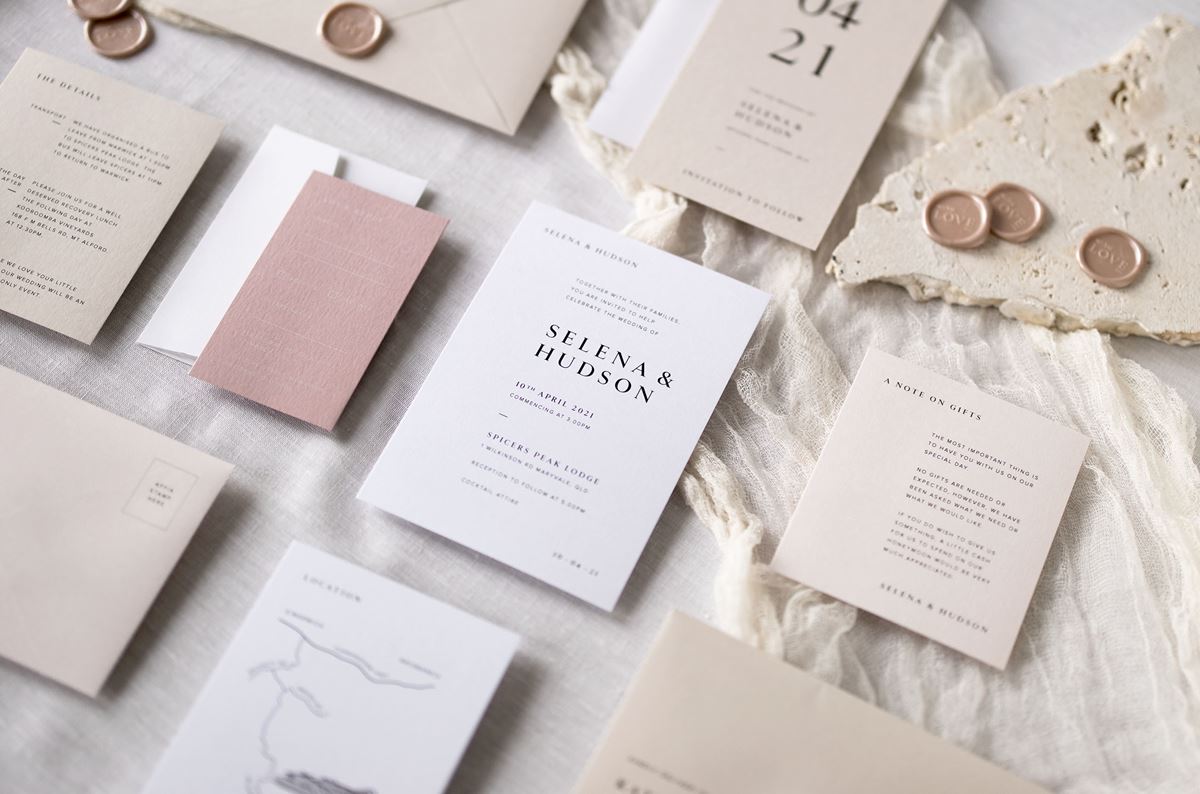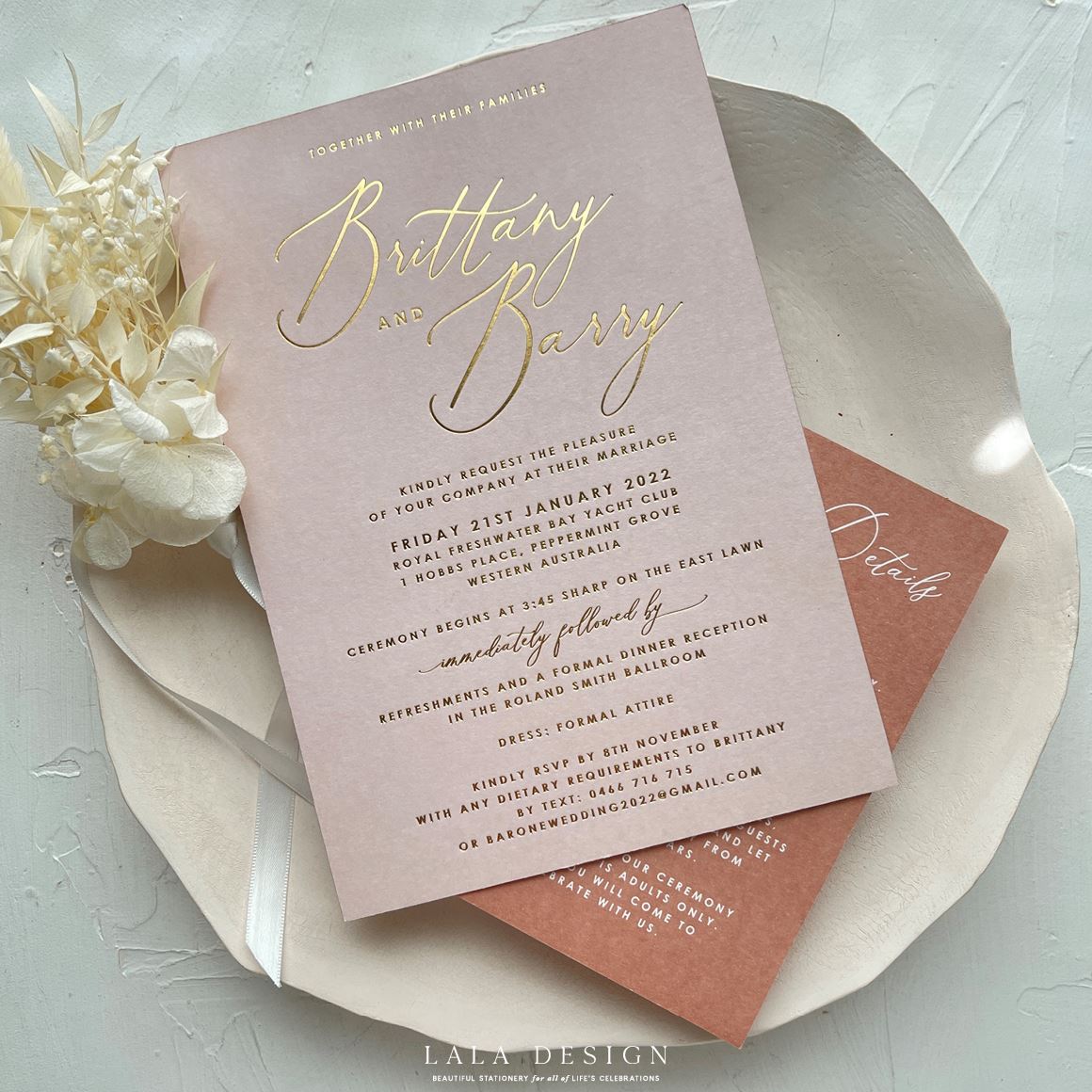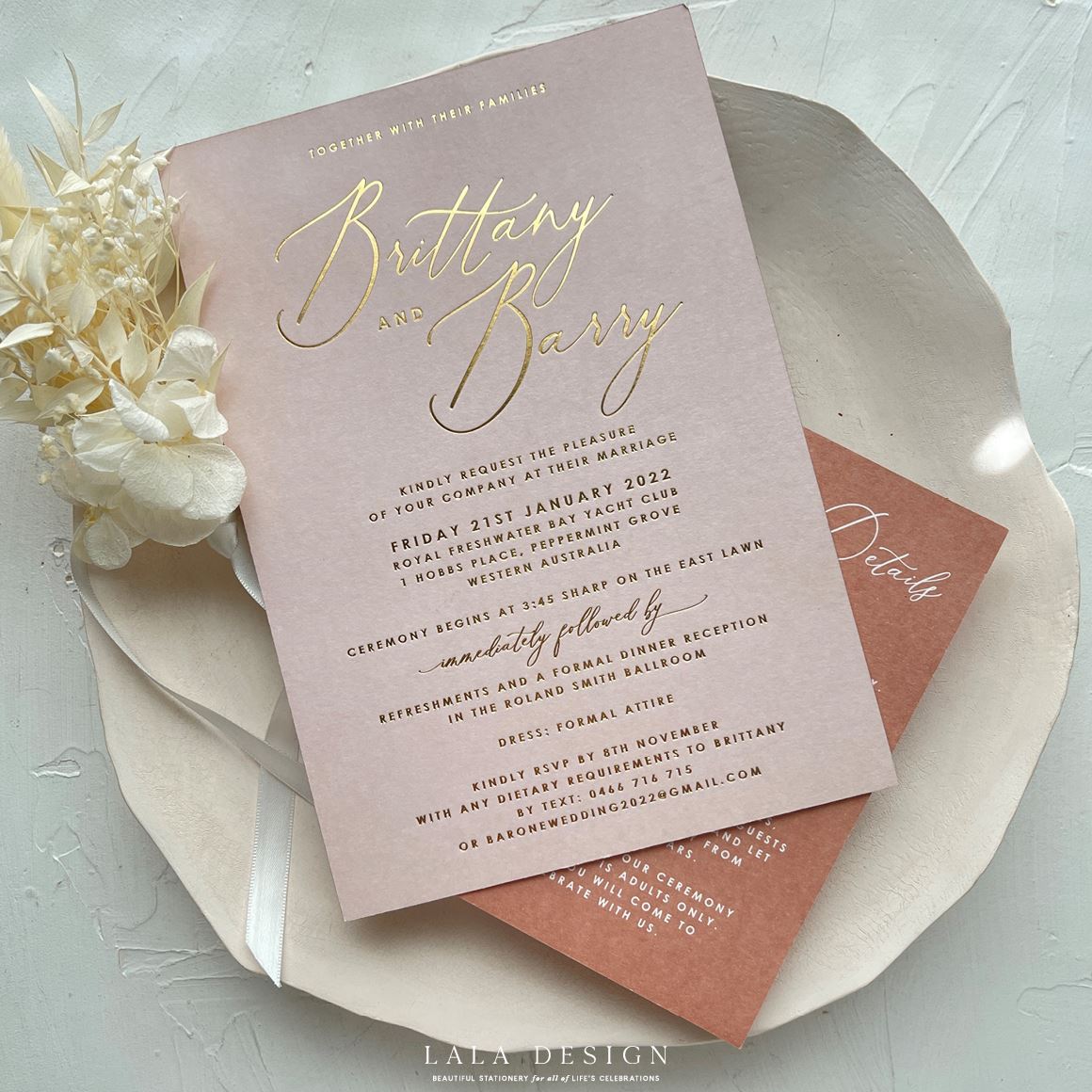 What to include?
The essentials:
Date and time
Location (ceremony and reception)
Type of reception (formal, informal, cocktail or dinner)
Dress code
Wedding website link (if you have one!)
RSVP details (include a stamp for returning the response or a link to your wedding website if the response can be made online)
Optional extras:
Directions to the venue and a map
Transport and accommodation information
Itinerary (this is usually only relevant if your wedding goes for more than one day or includes multiple activities)
Music requests
Gifting information (to let your guests know if you're having a wishing well or gift registry)
Whether children are welcome or if child care needs to be arranged
When to send them?
We'd recommend sending out your wedding invitations with enough time for guests to receive them around three months before the actual day.
Other things to consider:
Your wedding invitations can be as detailed or simple as you'd like them to be, as long as you're including the essential information (date, time, location, dress code, RSVP etc.)
Additional information such as dietary requirements, song requests, accommodation options and gifting instructions can be included on your wedding website to save space on your printed invites
Wedding stationery is a great way to showcase your personal style and wedding theme, so don't be afraid to get creative with colour palettes and designs!
To keep things consistent, it's a good idea to use similar design elements across each card or piece of paper, whether that's in your invitation suite or your on-the-day stationery items
For efficiency and cost-effectiveness, we suggest ordering all of your wedding stationery (invitations, menus, name cards and signage) from the same place and, ideally, at the same time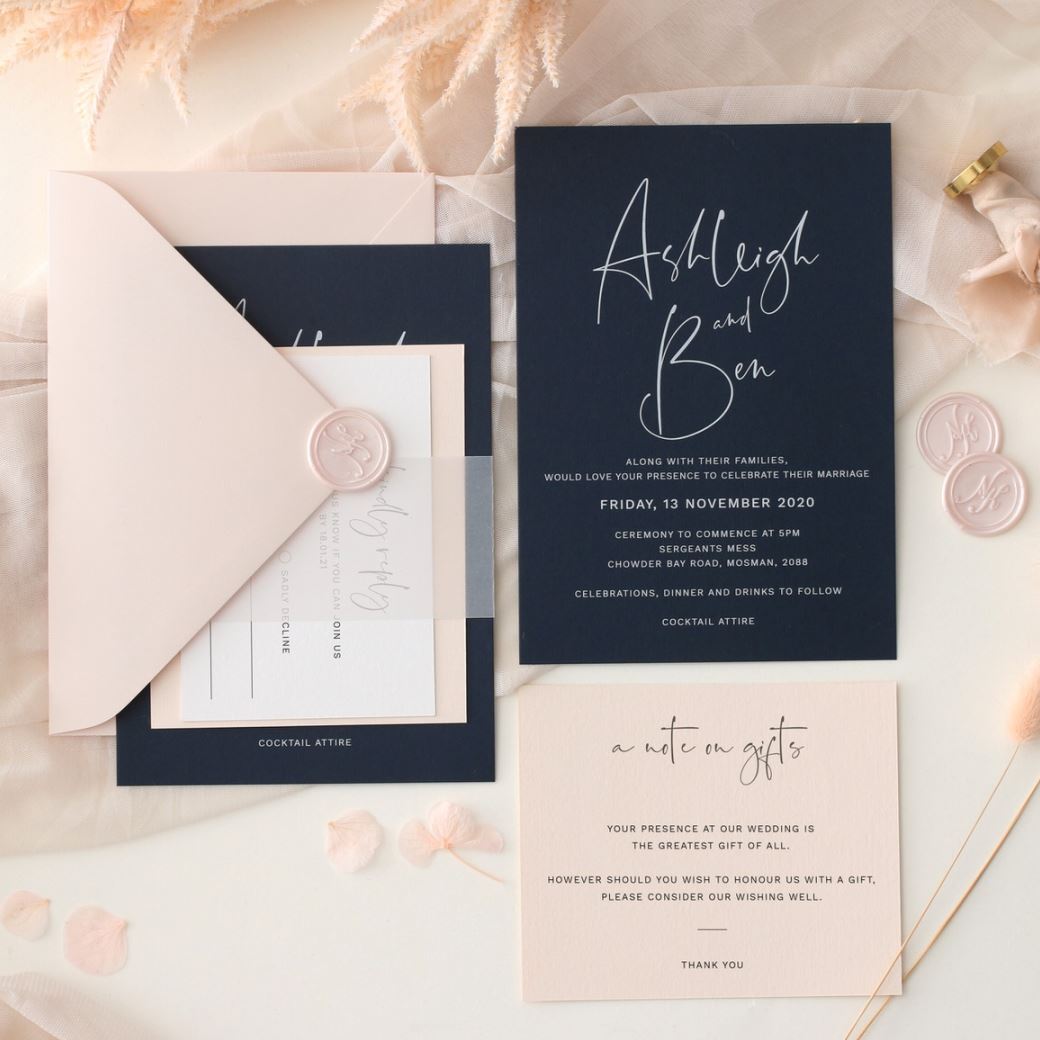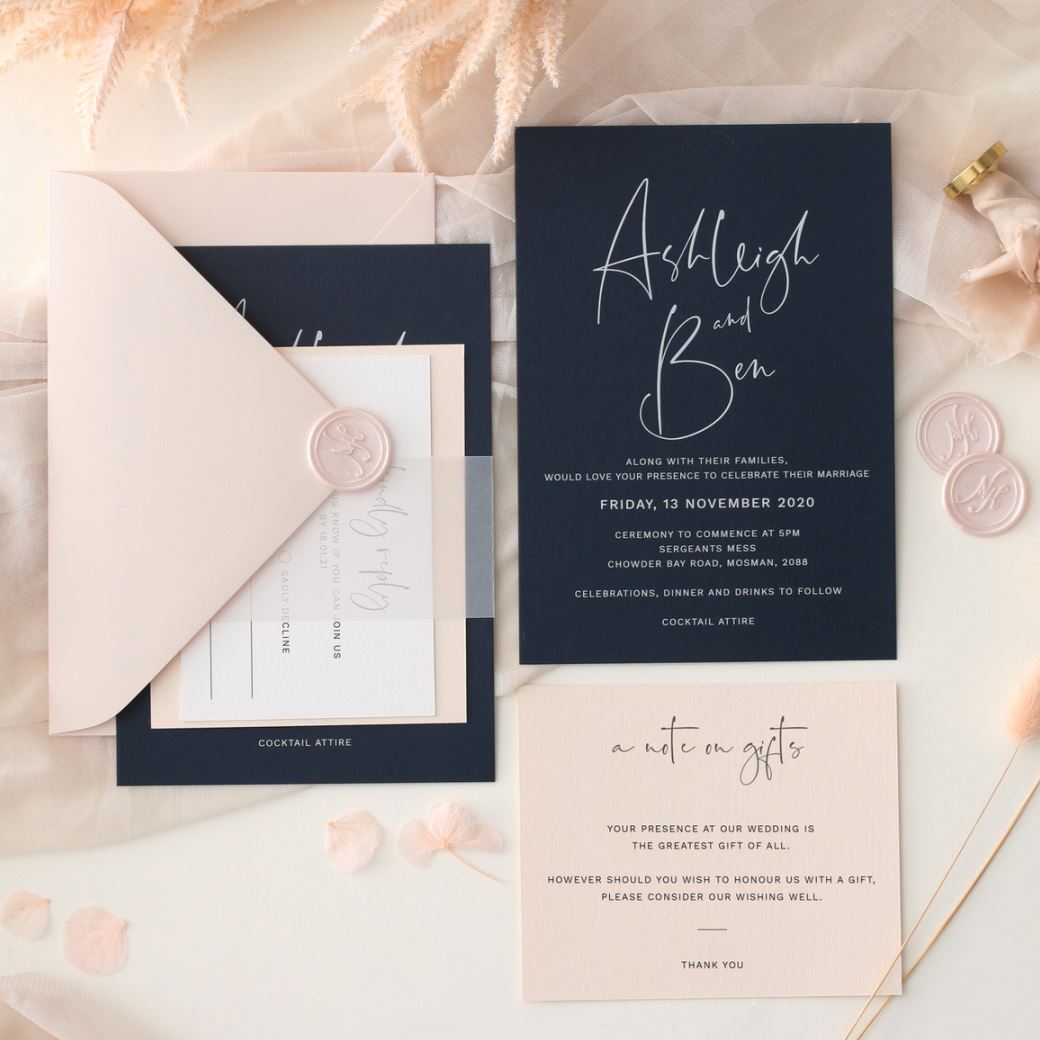 RSVPs
Your wedding RSVP cards (which guests use to indicate if they're coming to your wedding) are typically sent with your invitations, along with a self-addressed, stamped envelope. It's ideal if guests RSVP in a timely manner in order to confirm with your vendors the exact number of guests attending and any dietary requirements they may have.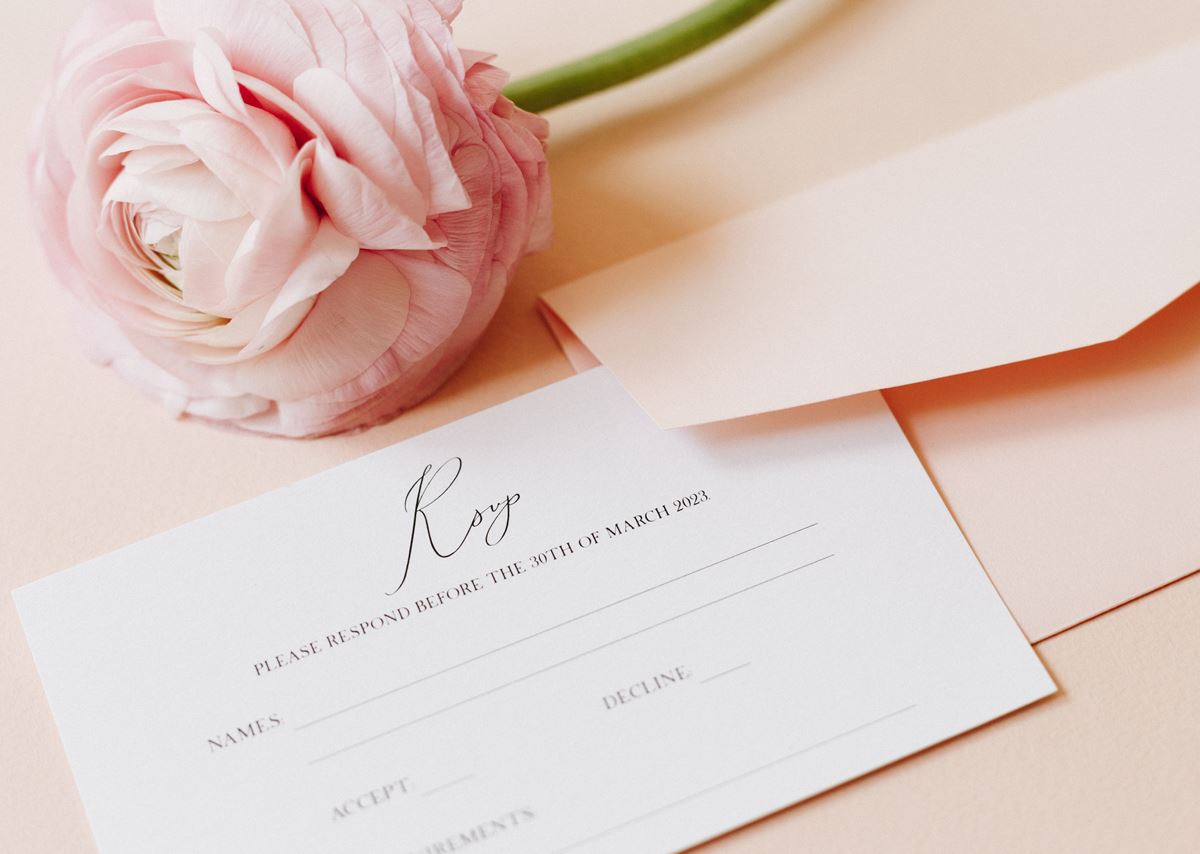 What to include?
Names of the guest or guests
Paid envelope to return a response
Email or website to respond digitally
Option to accept or decline
Dietary requirements
Deadline to respond
When to send it?
RSVP cards are sent out as part of the wedding invitation suite, around three months prior to the wedding, expecting guests to respond as soon as possible. A cut-off date for the return of the reply card is essential so that you can give a headcount to your venue and caterer ahead of time.
Other things to consider:
If you would prefer digital RSVPs, this can be done via email or your wedding website
It's best practice to send a pre-addressed envelope and stamp with the reply cards to make the process easier for your guests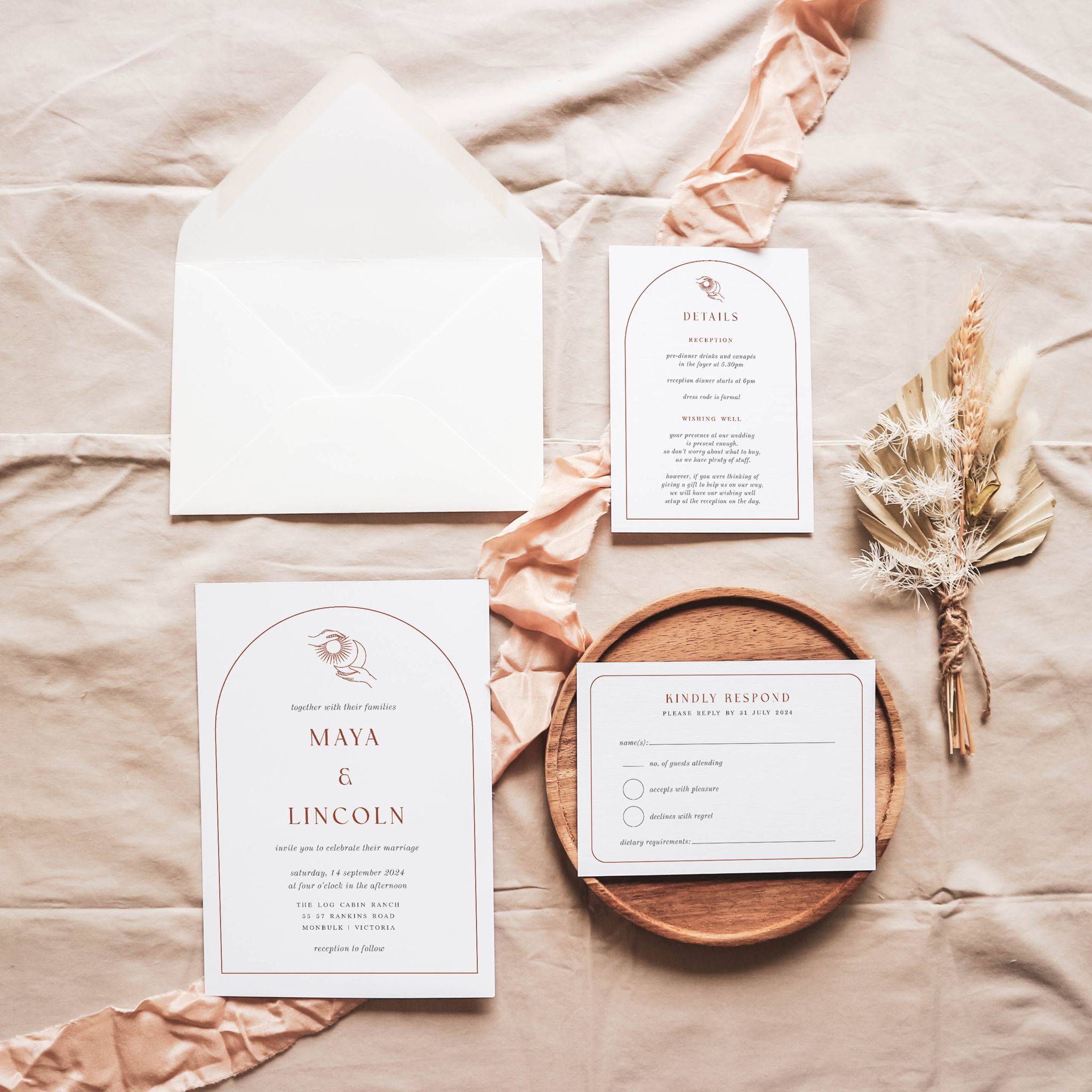 ---
browse invitation suppliers
---