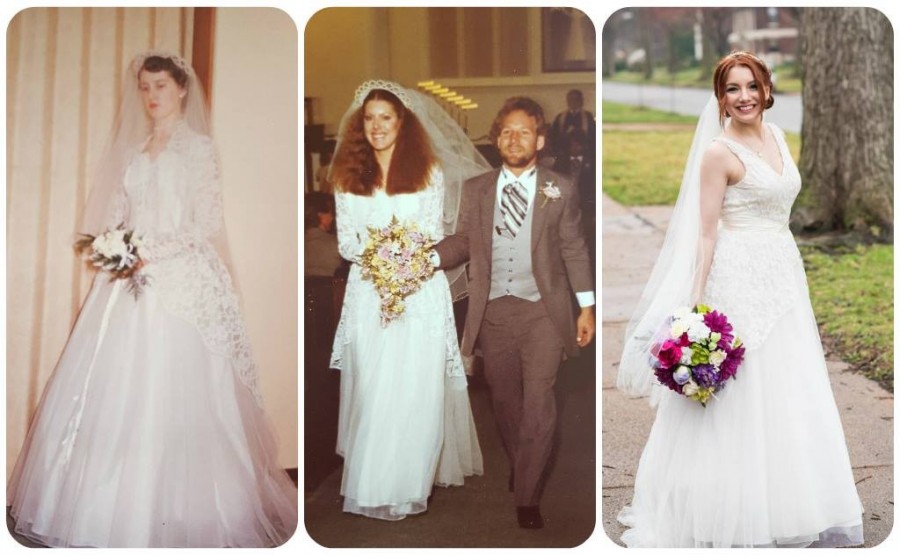 An American bride has walked down the aisle wearing the same wedding dress worn by her mother AND grandmother – and all three were accompanied down the aisle by the same man, her grandfather.
When Mississippi blogger Julia Cain married in March 2016 she did so in her grandmother's 63-year-old wedding dress, which she found while rummaging through her grandparents' attic years earlier when she was 16.
Naturally, she tried it on and, when her grandfather walked in and saw what she was wearing, he explained that it was the wedding dress worn by both her own mother, Susan Kay Traver in 1953, and her grandmother, Phyllis Jo Raymond in 1983.
Julia then promptly forgot about the family heirloom until she became engaged to former US Marine Lance Cain and started preparing for her own wedding. 
Rather than heading to the nearest wedding dress shop, Julia decided she would modify the pretty lace dress to make it look a little more modern, but it was still very much the same dress her grandmother wore 63 years earlier and her mother 33 years earlier! And to add to that, Julia's grandfather, Harold Traver, walked her down the aisle just as he had walked her mother and her grandmother down the aisle years before her.
Julia recently detailed the events on her blog, Oh, Julia Ann, describing the process of modifying the gown to give it a more modern twist.
The original version of the dress worn by her grandmother had a hoop skirt underneath to give it more volume. Her mother modified it with an extra lace panel to fit her shoulders and decided to add length to the gown by removing the hoop skirt. Julia decided to make more drastic alterations to the dress.
"While they both looked great in the gown, I wanted a few changes." Julia wrote. "The high sweetheart neckline and petite jacket weren't for me…or my chest, which didn't fit quite right.
"We decided to lower the neck and back into deep Vs using the jacket's sleeves as new straps."
Julia's alterations were a success and she looked stunning walking down the aisle in her modern adaption of the vintage gown. And she also had a great time doing so.
"I am so happy to finally be married to my best friend," Julia told The Huffington Post. "Wearing a dress worn by so many women I love was the icing on the cake."
Find local wedding dress suppliers here.