Vanessa and Joe brought a little Hollywood and a whole lotta love to their glamorous Peterson House wedding in the Hunter Valley.
Enlisting Hunter Valley wedding planners, stylists, and all-round wedding pros Hunter Events NSW, the couple's Great Gatsby-inspired nuptials on February 7, 2021, went off with a bang.
Literally.
Culminating in a spectacular fireworks display lighting up the sprawling vineyard, the Sydney couple's big day with 95 guests drew inspiration from Baz Luhrmann's distinctive style, and in particular, favourite films Romeo and Juliet and The Great Gatsby.
We used Hunter Events NSW who were our stylists bringing our bespoke vision to life and representing us as a couple. They were a godsend. Especially with COVID and trying to rearrange 15 vendors to a new date. Louise and her team were a military operation! We would hire them again in a heartbeat.

My George Elsissa gown was a throwback to old Hollywood, with feathers and sequins; a lace top with boning and a cap sleeve; and the skirt was a trumpet style with a magnificent train.

The Peterson House marquee went through an extension during COVID. We were able to have our long double trestle tables, fit our band and dancefloor, and the lighting and styling created a magical ambience.

For one night, everyone was celebrating love and it was most of our guests' first event and wedding off the back of COVID.

People had so much to celebrate – love and life.
Vanessa and Joe
VISIT HUNTER EVENTS
---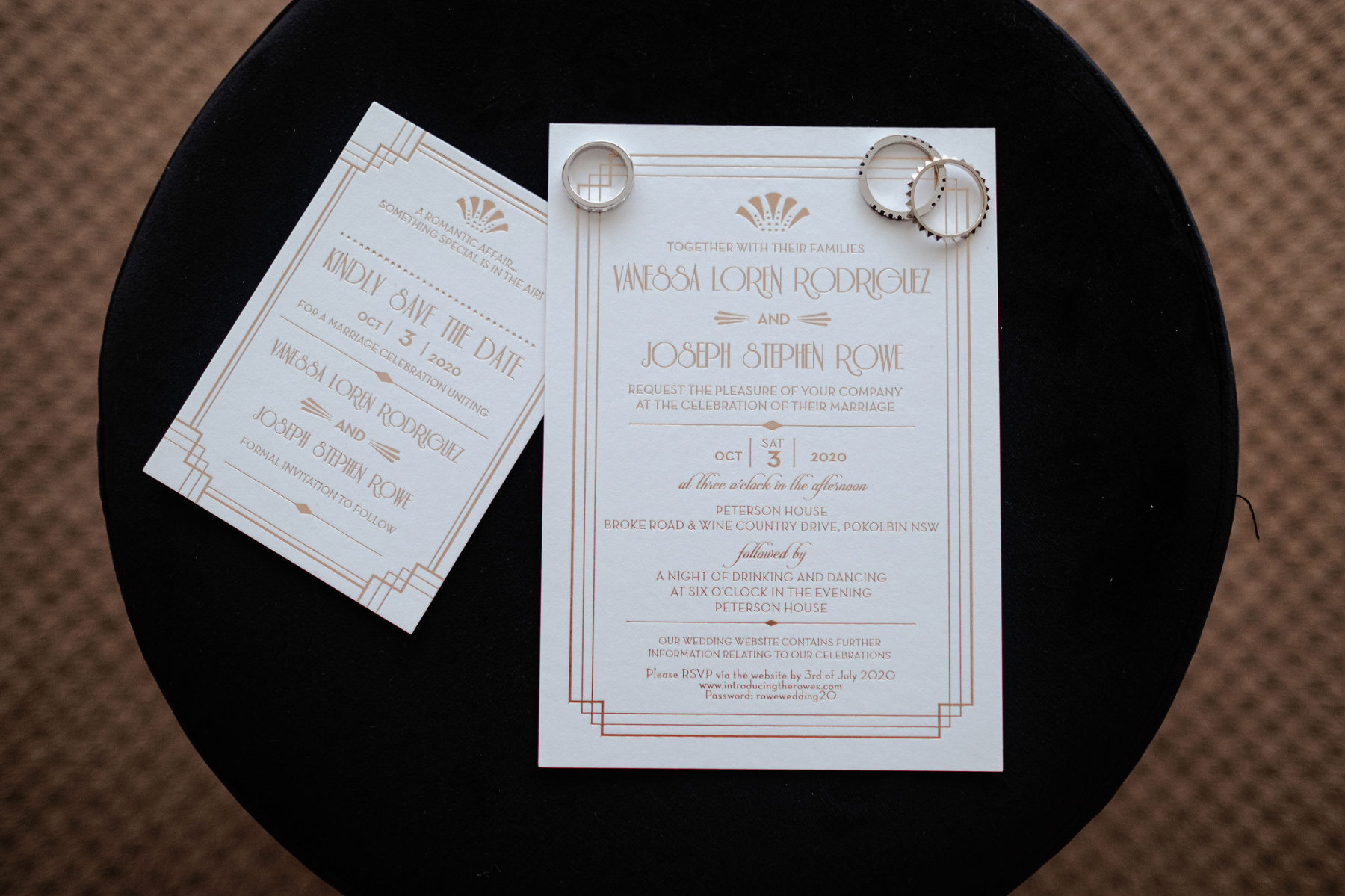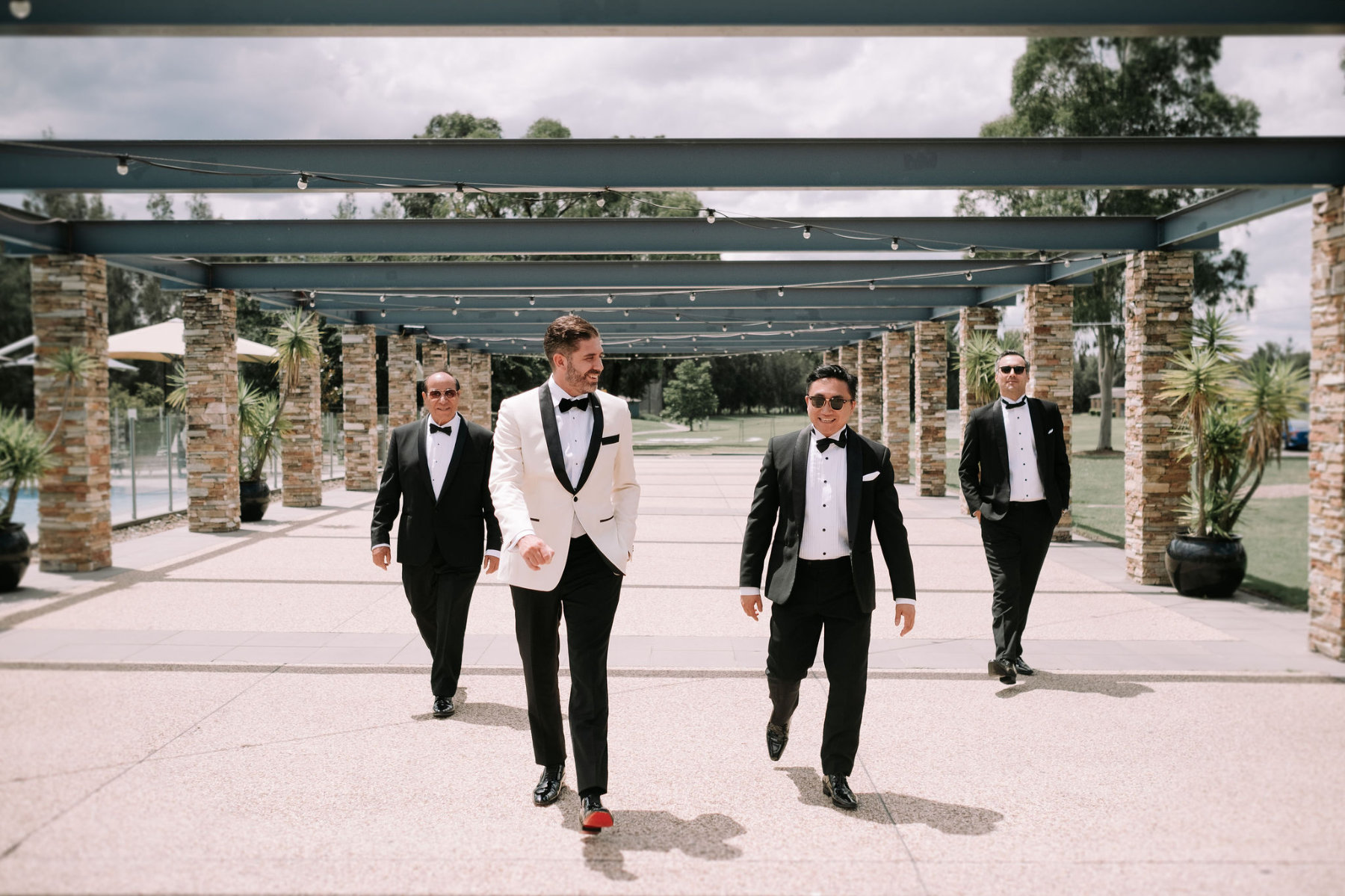 Channelling Leonardo DiCaprio, Joseph was dressed in a white tuxedo by Sydney tailors InStitchu.
InStitchu tailored the tuxedo to give it a modern classic homage to the Golden age of Hollywood – white tux jacket and bow tie. Joe's shoes were Christian Louboutin patent shoes.
Vanessa
CHECK OUT INSTITCHU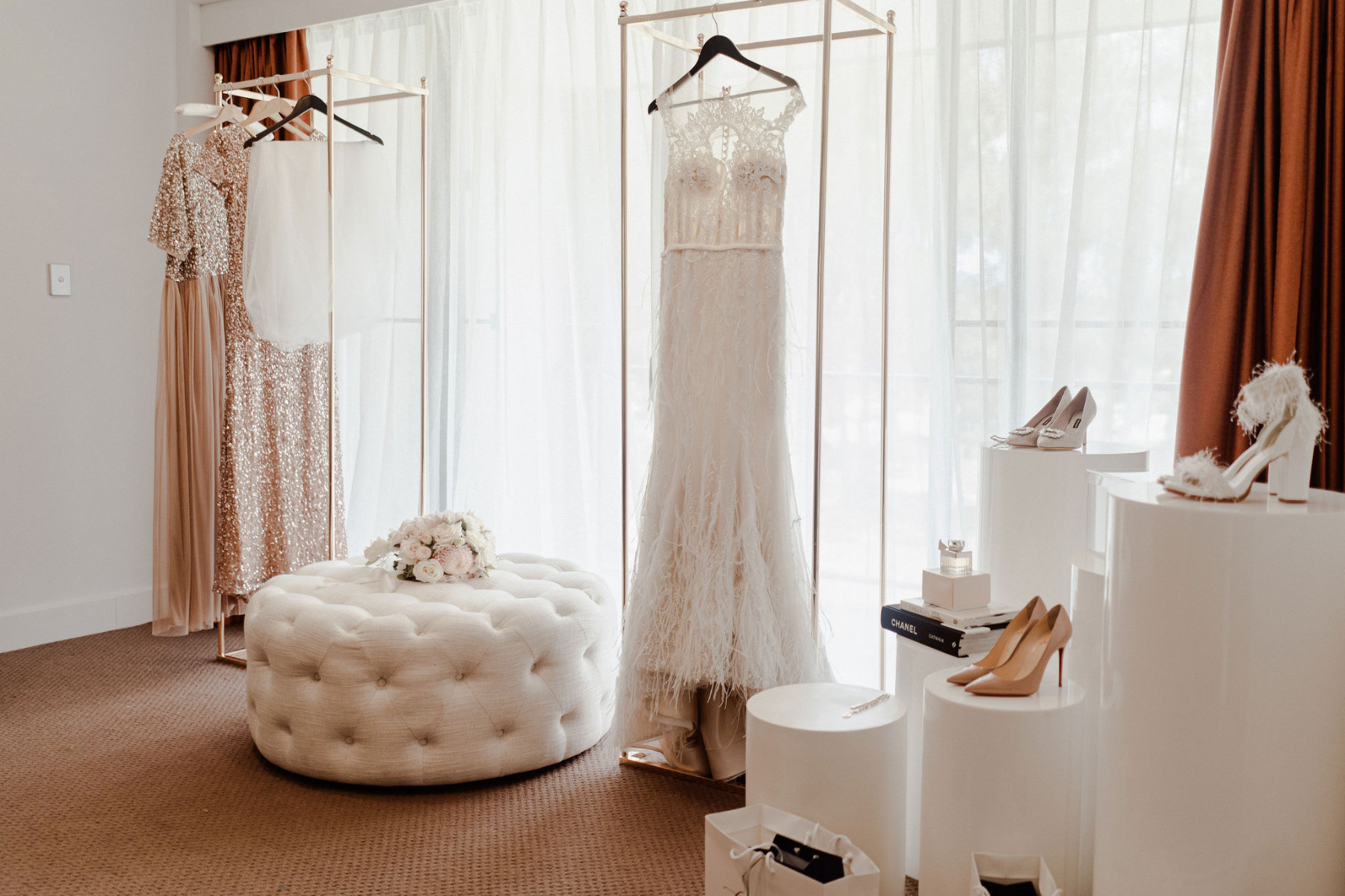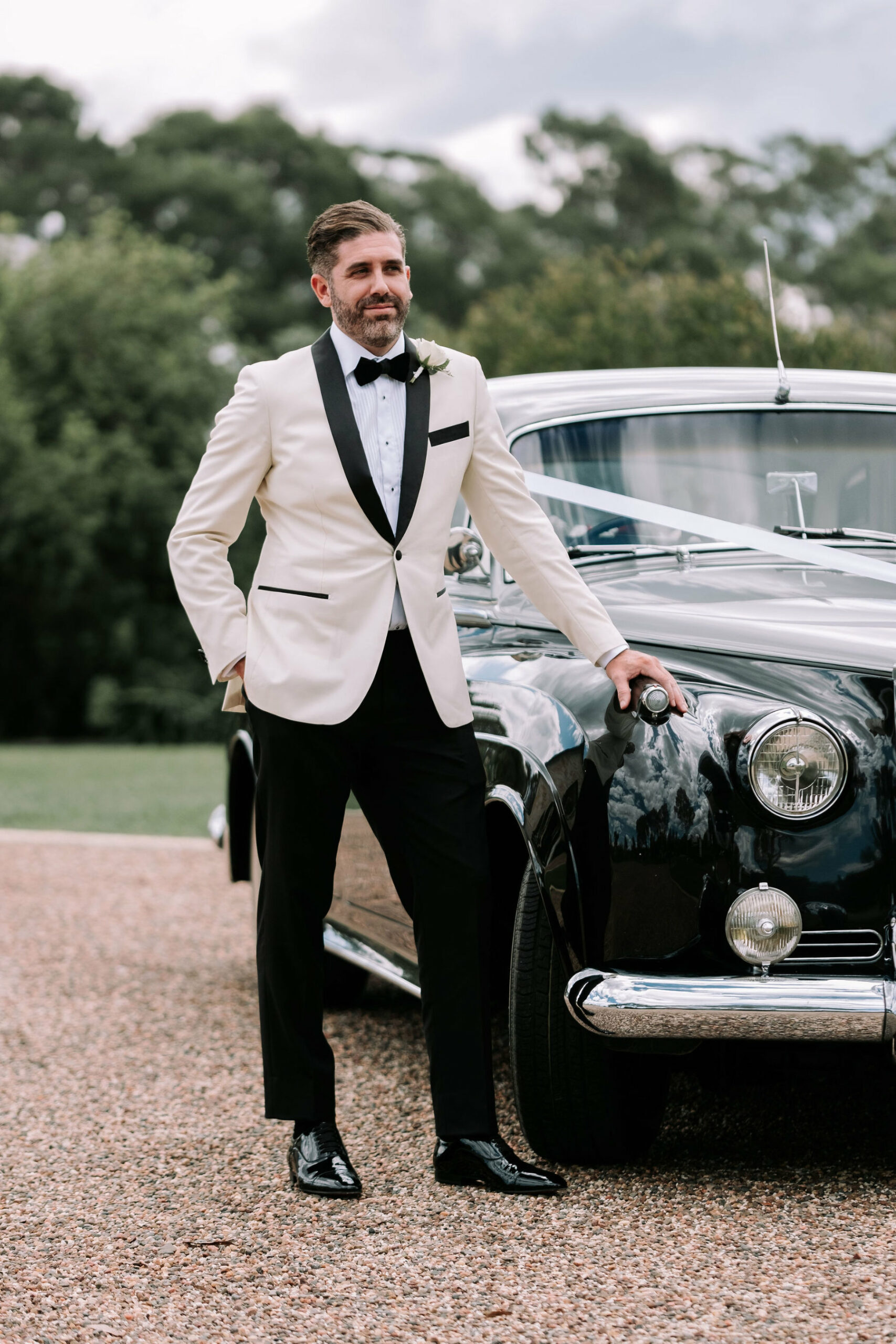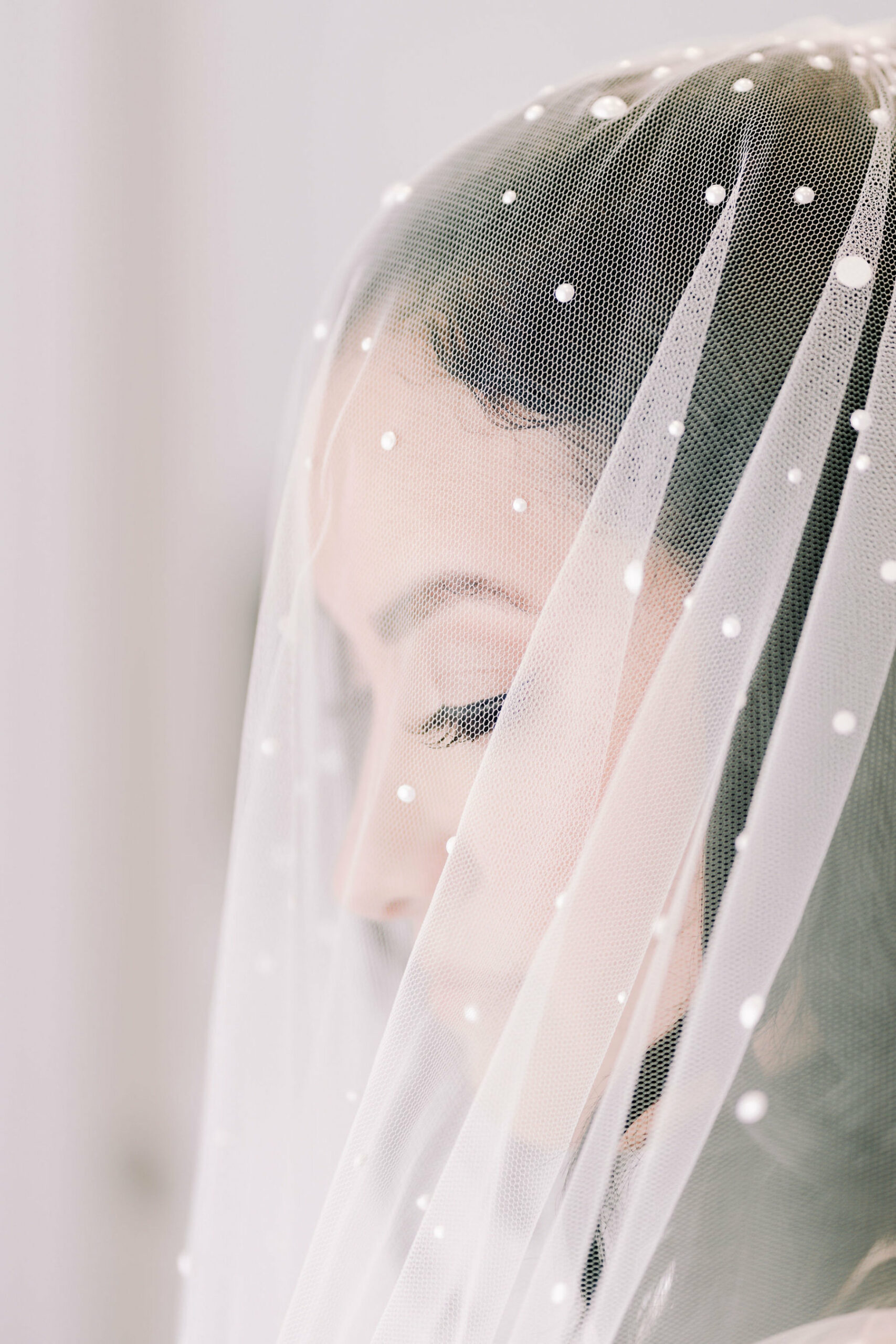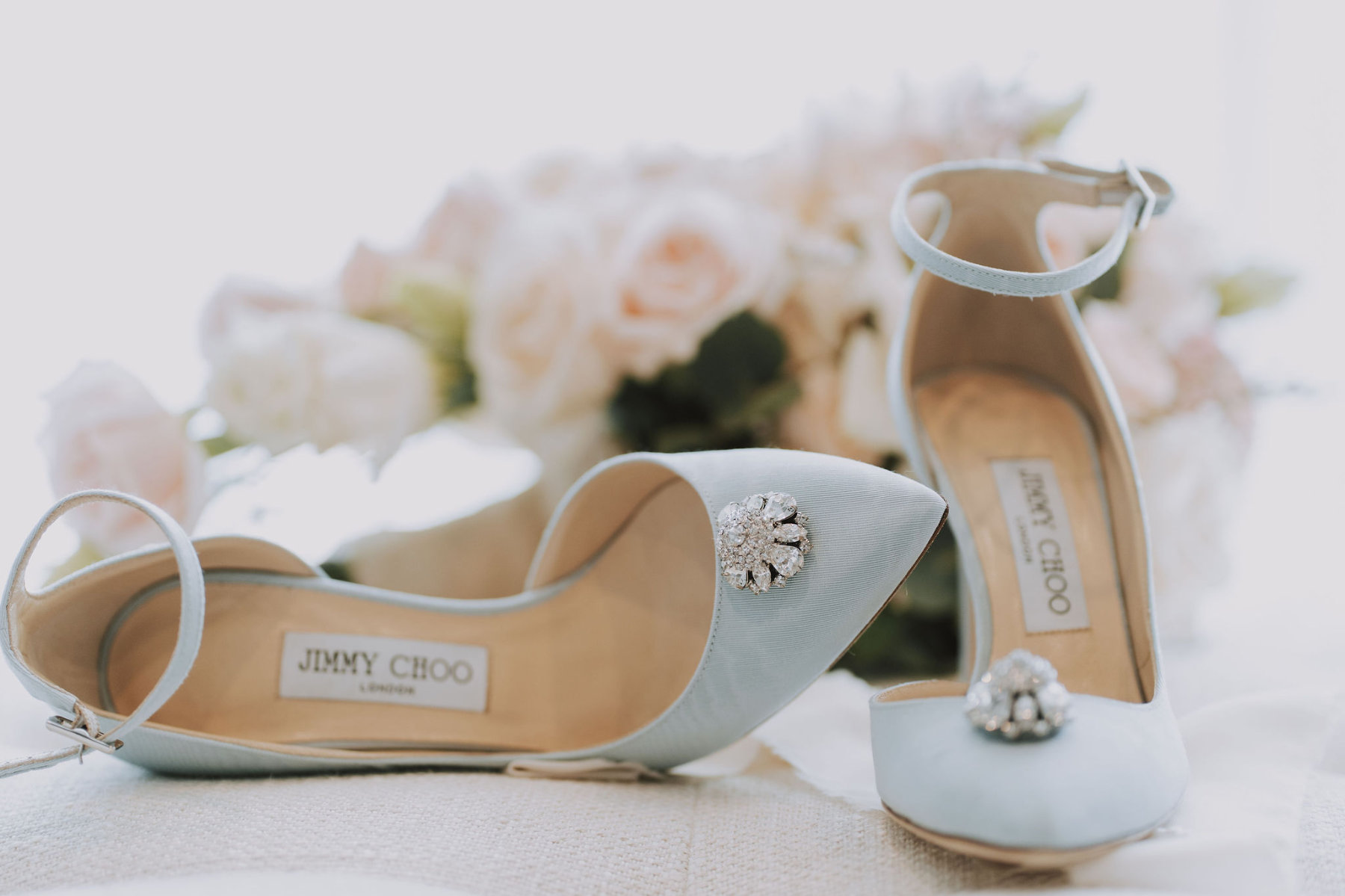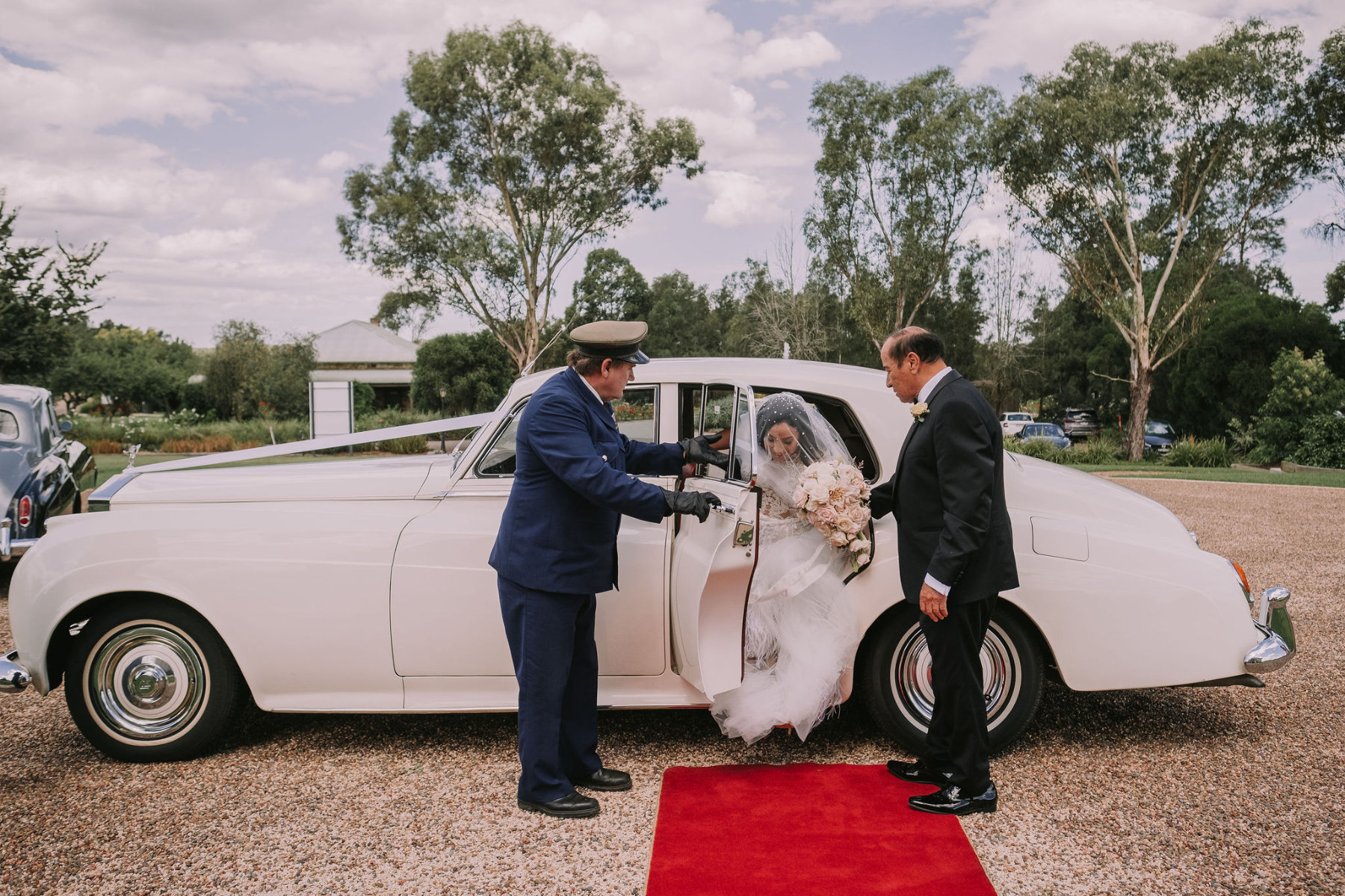 Exclusive Vintage Wedding Cars, the largest fleet of wedding cars in Newcastle and the Hunter Valley, chauffeured the couple and their wedding party for the day.
We hired "Isabella", a 1960 Silver Cloud 2 Rolls Royce; "Martha", a 1959 Rolls Royce Cloud 1; and "Elizabeth", a 1956 Rolls Royce Cloud 1. Fact – this car was used for a photoshoot for the movie Four Weddings and a Funeral with Hugh Grant! The Martha reference was truly significant as my mum passed away six weeks before our wedding. Her name was Martha.
Vanessa
CHECK OUT EXCLUSIVE VINTAGE WEDDING CARS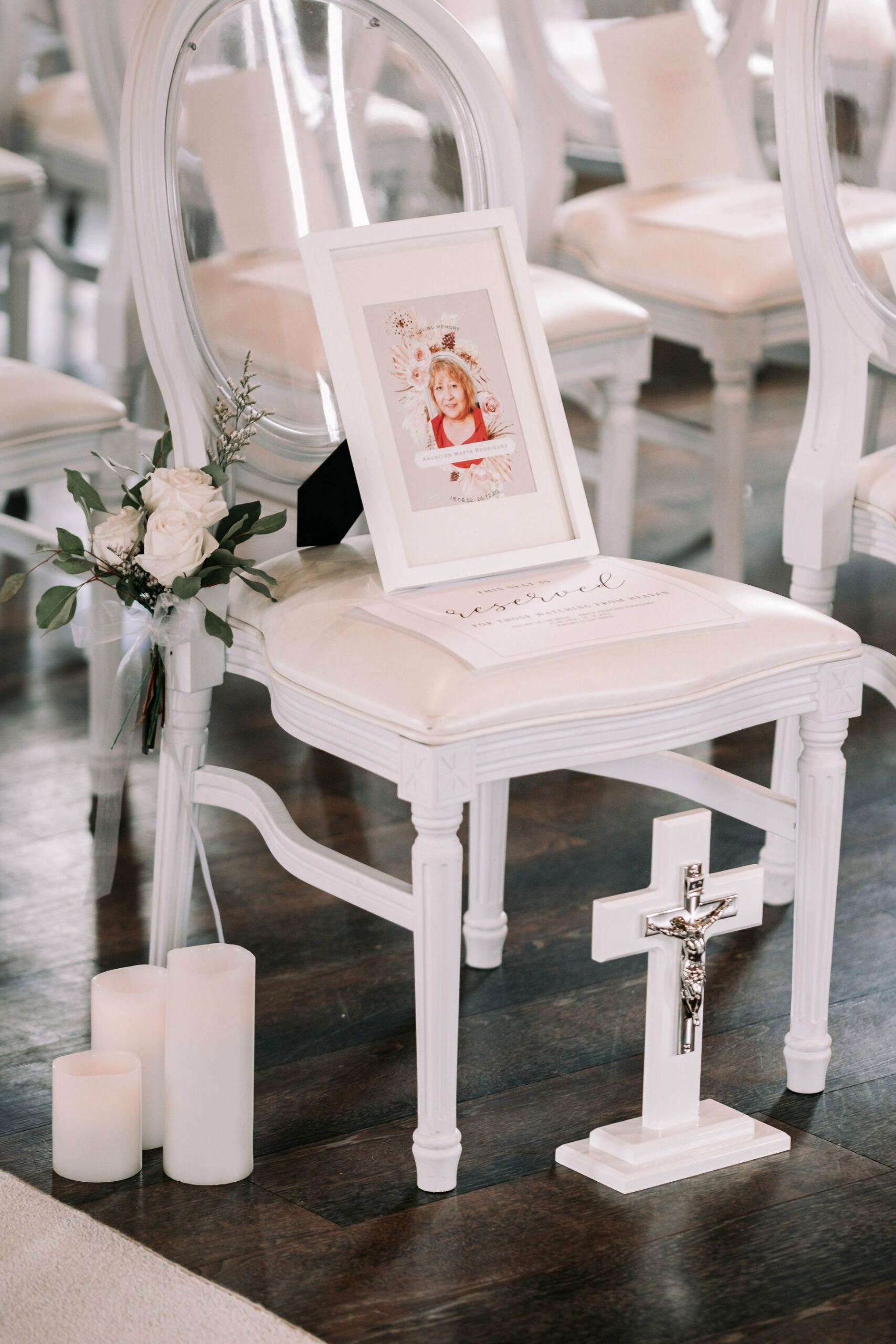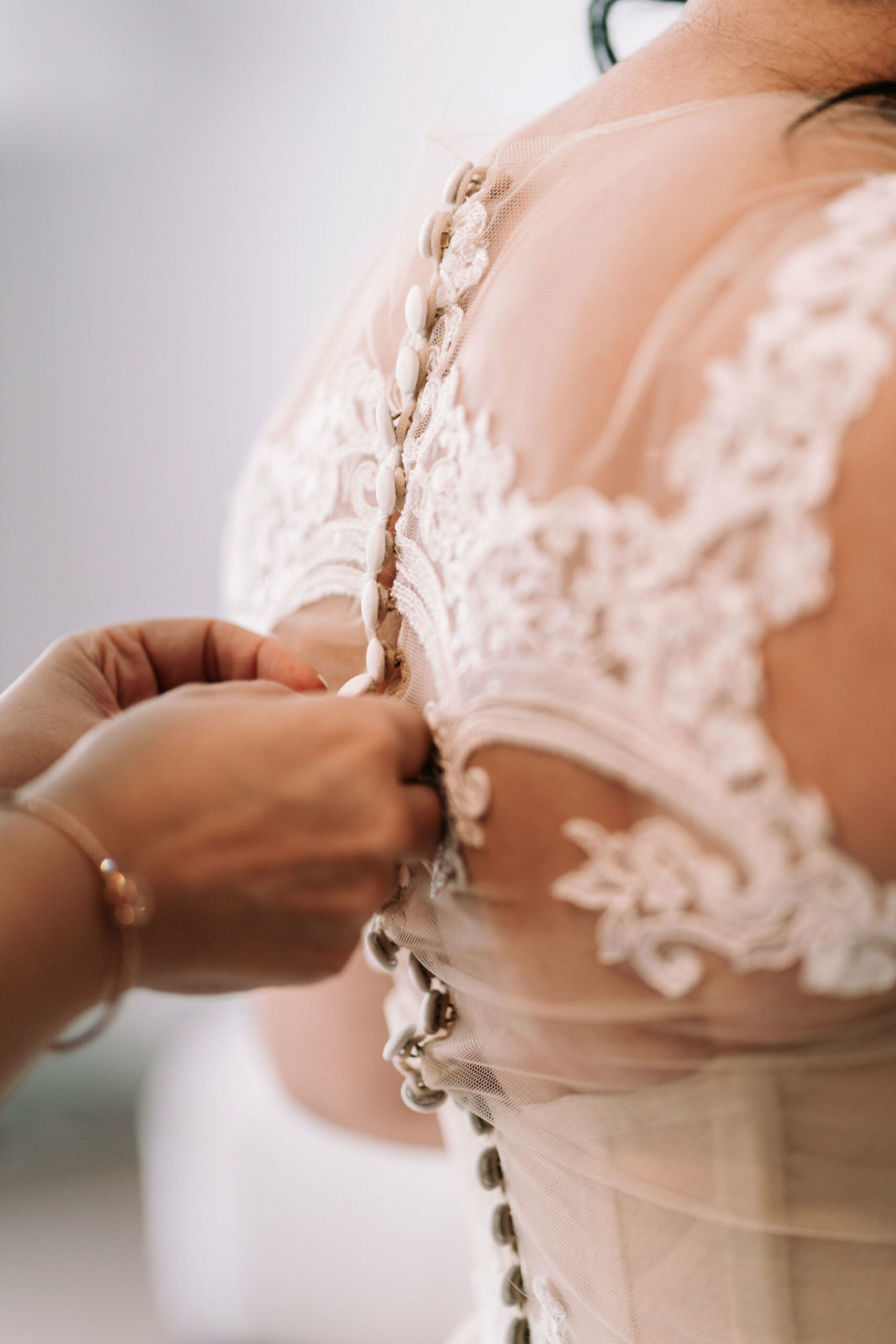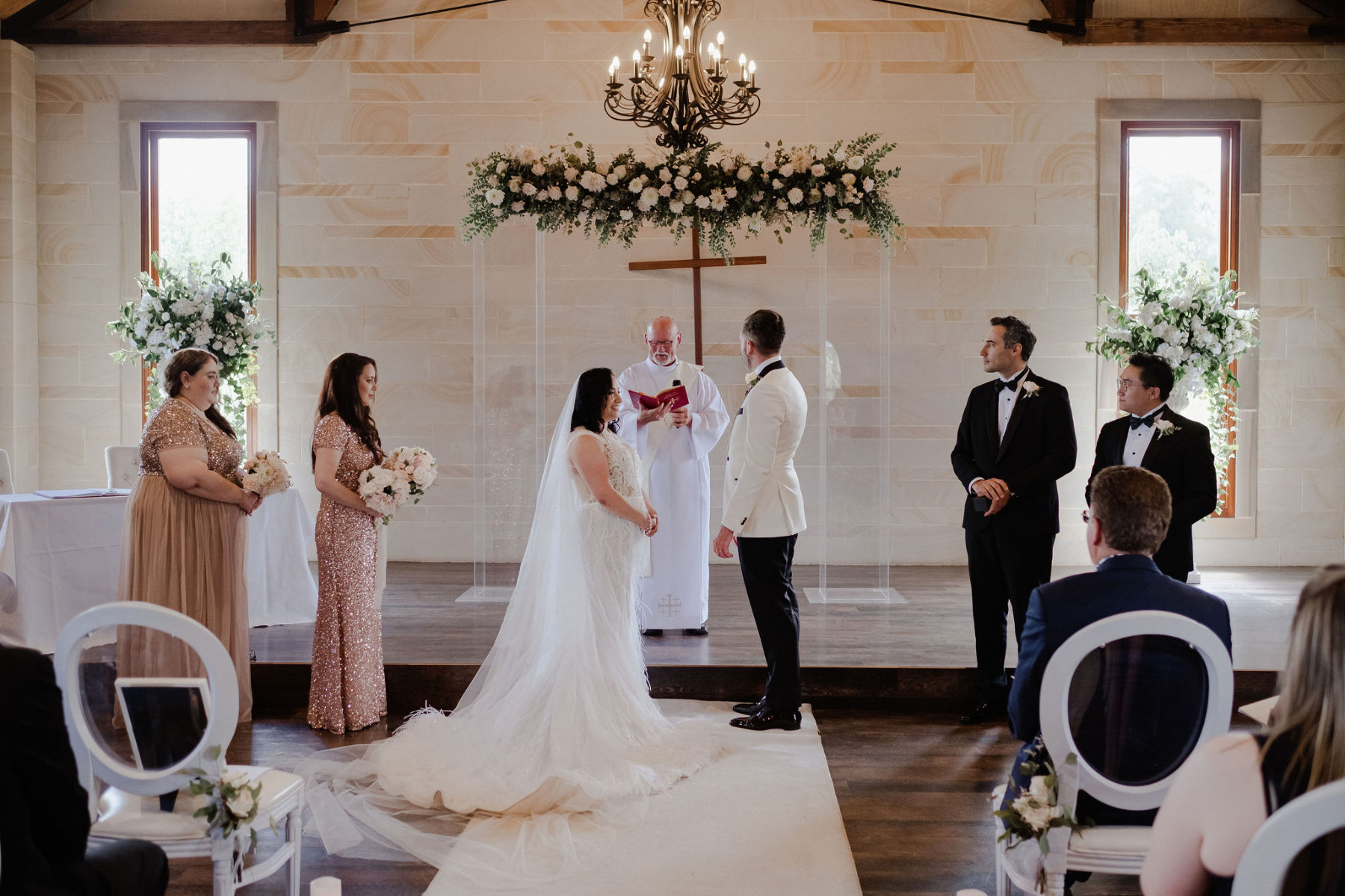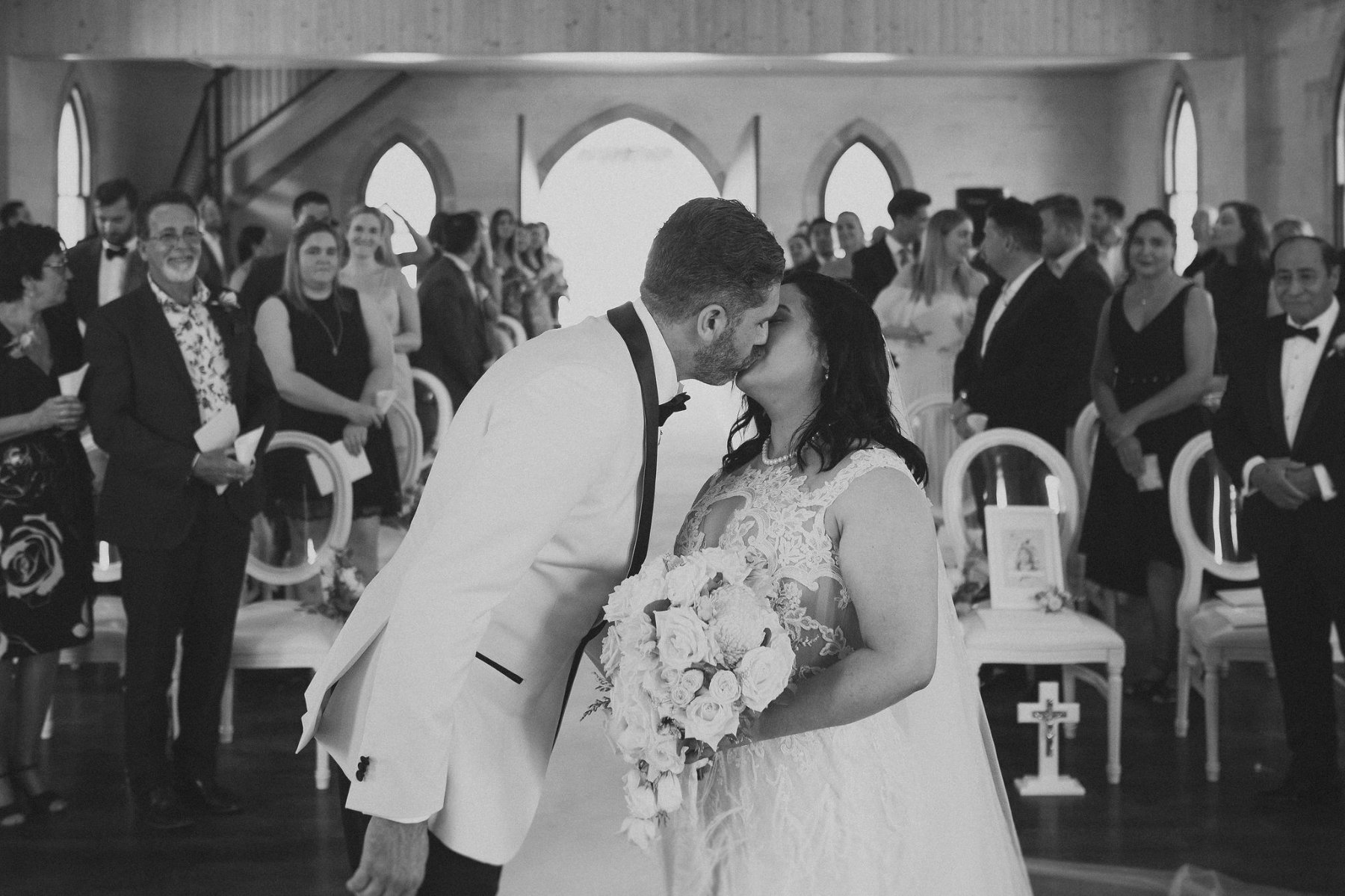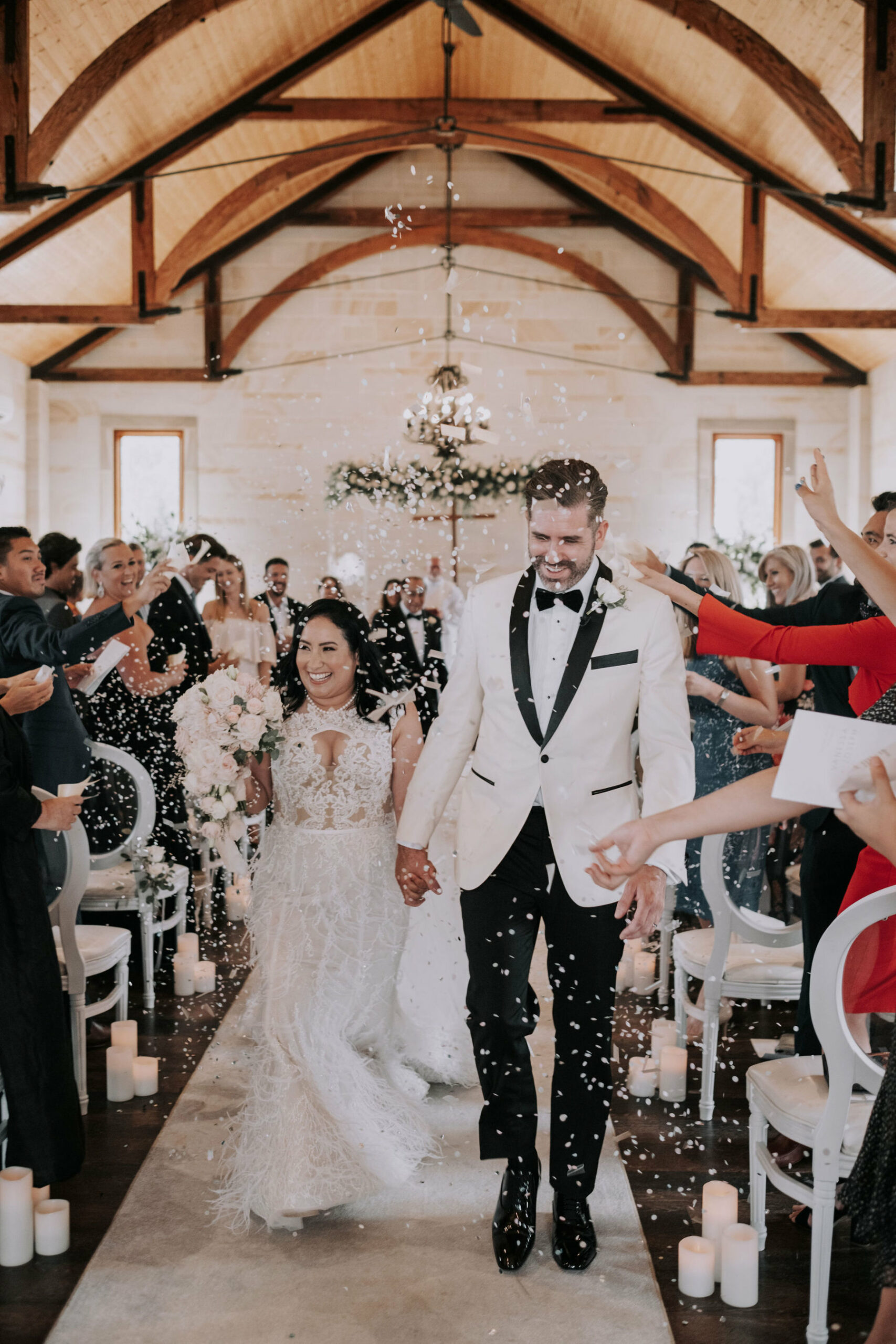 Vanessa and Joe's Catholic wedding ceremony was held inside Peterson House's onsite sandstone chapel.
The chapel is beautiful in terms of design, acoustics, lighting and architecture… apparently the owner purchased a beam from a chapel that had been destroyed in the Newcastle 1989 earthquake and has now built the beam into the structure of the Peterson House chapel. Joe, being an architect himself, thought it was a nice historical touch to the building.
Vanessa
CHECK OUT PETERSON HOUSE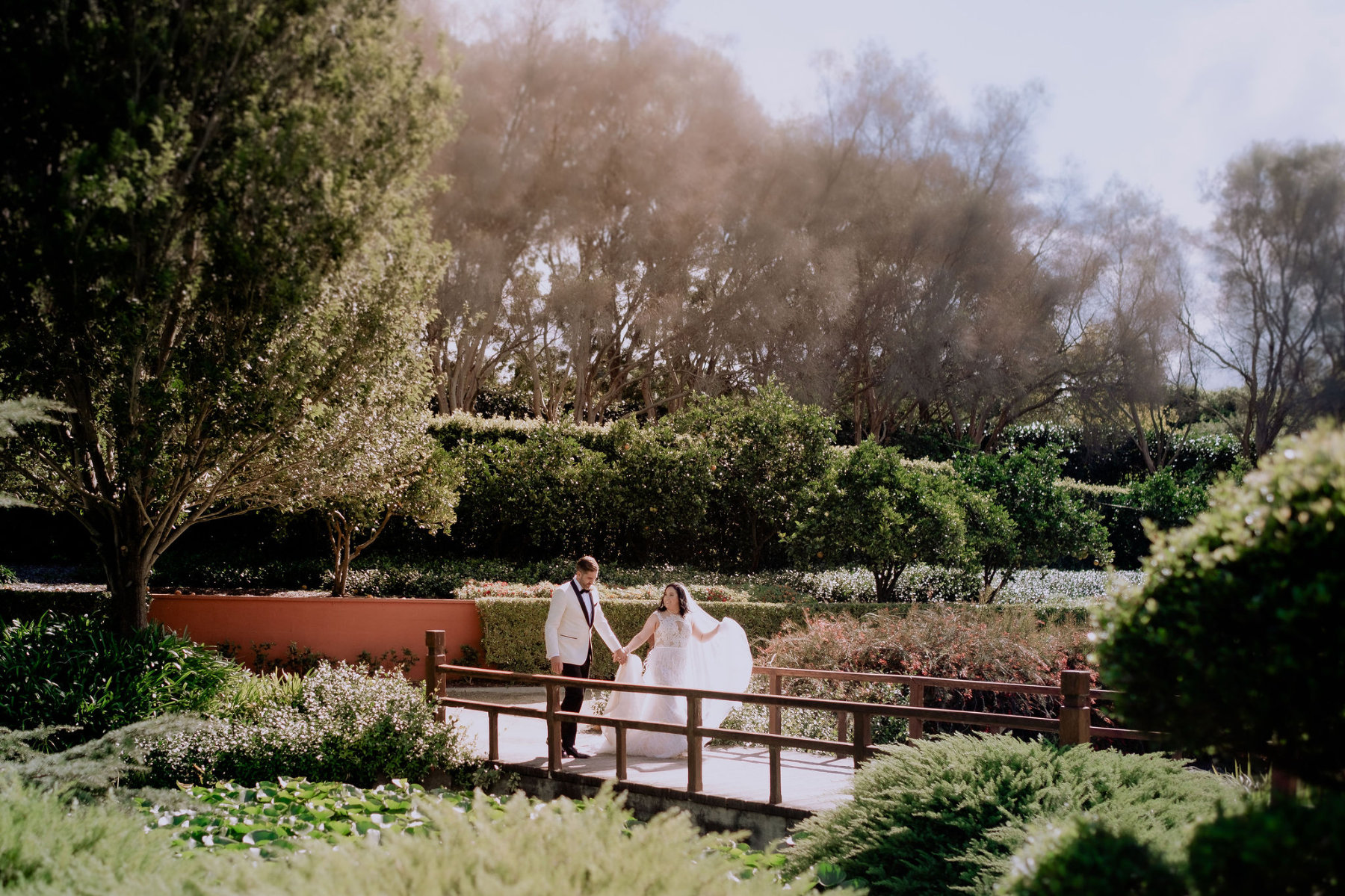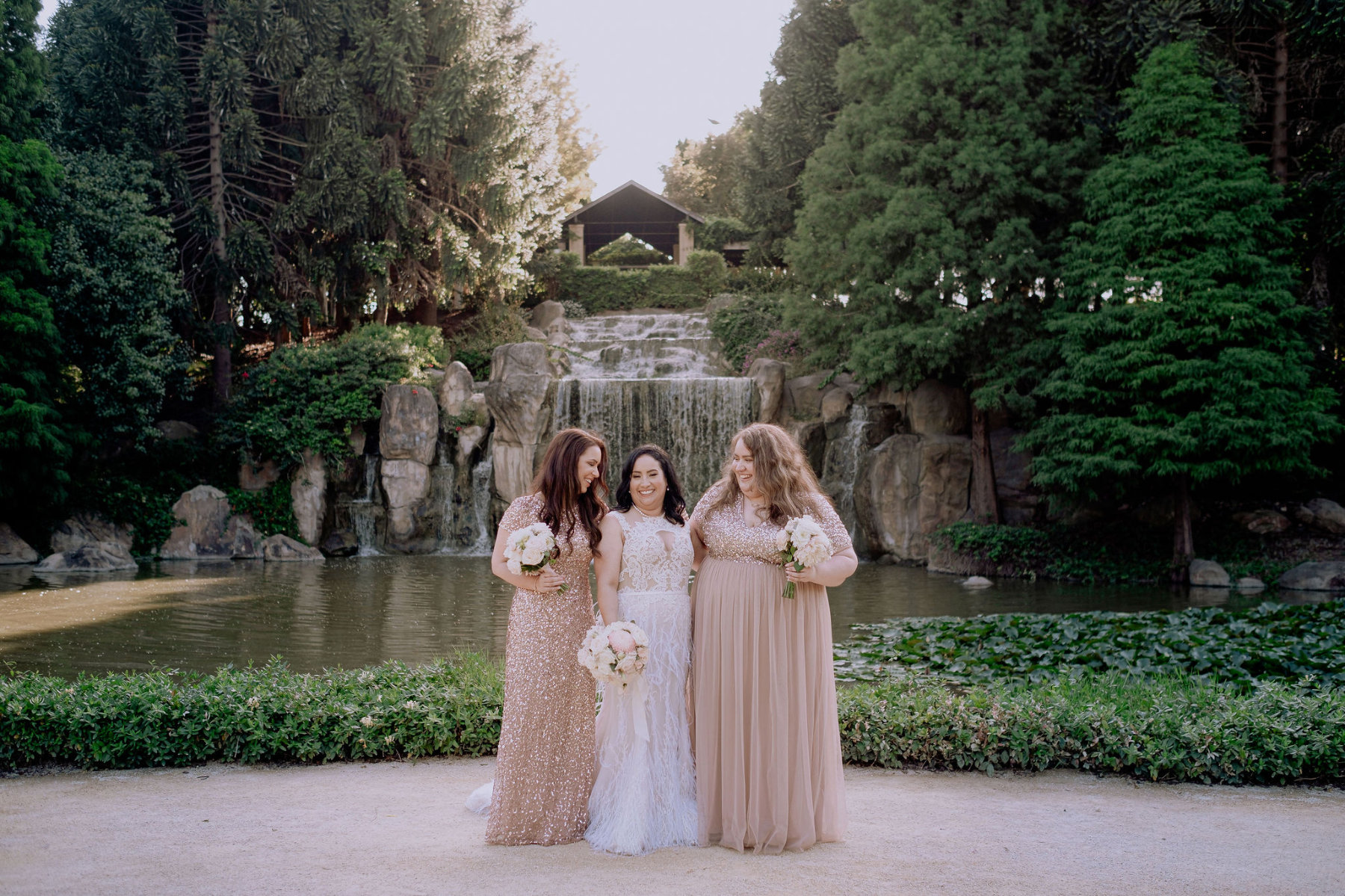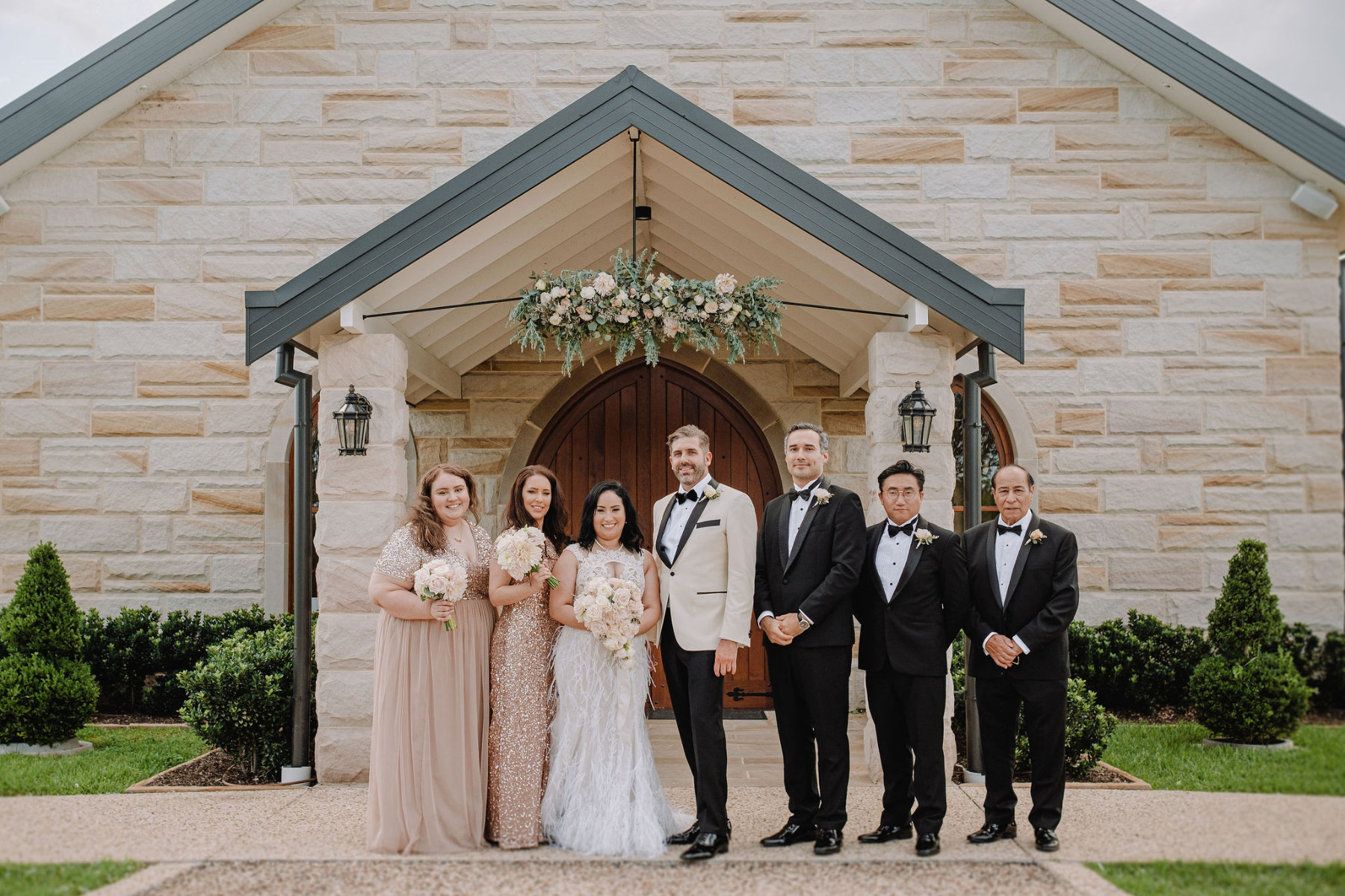 Hunter Valley Bouquets crafted gorgeous arrangements for the Gatsby-inspired wedding including bouquets, corsages, buttonholes, runners and an impressive flower wall.
We wanted some greenery and eucalyptus because of the natural scent it gives away, along with roses in blush and white. My bouquet was a drop bouquet with a mix of blush and cream roses, peonies and eucalyptus. The runners were exquisite and she arranged a flower wall for us as well which looked great as a backdrop. The corsages and boutonnière were also very beautiful and smaller versions of the bouquet flowers.
Vanessa
CHECK OUT HUNTER VALLEY BOUQUETS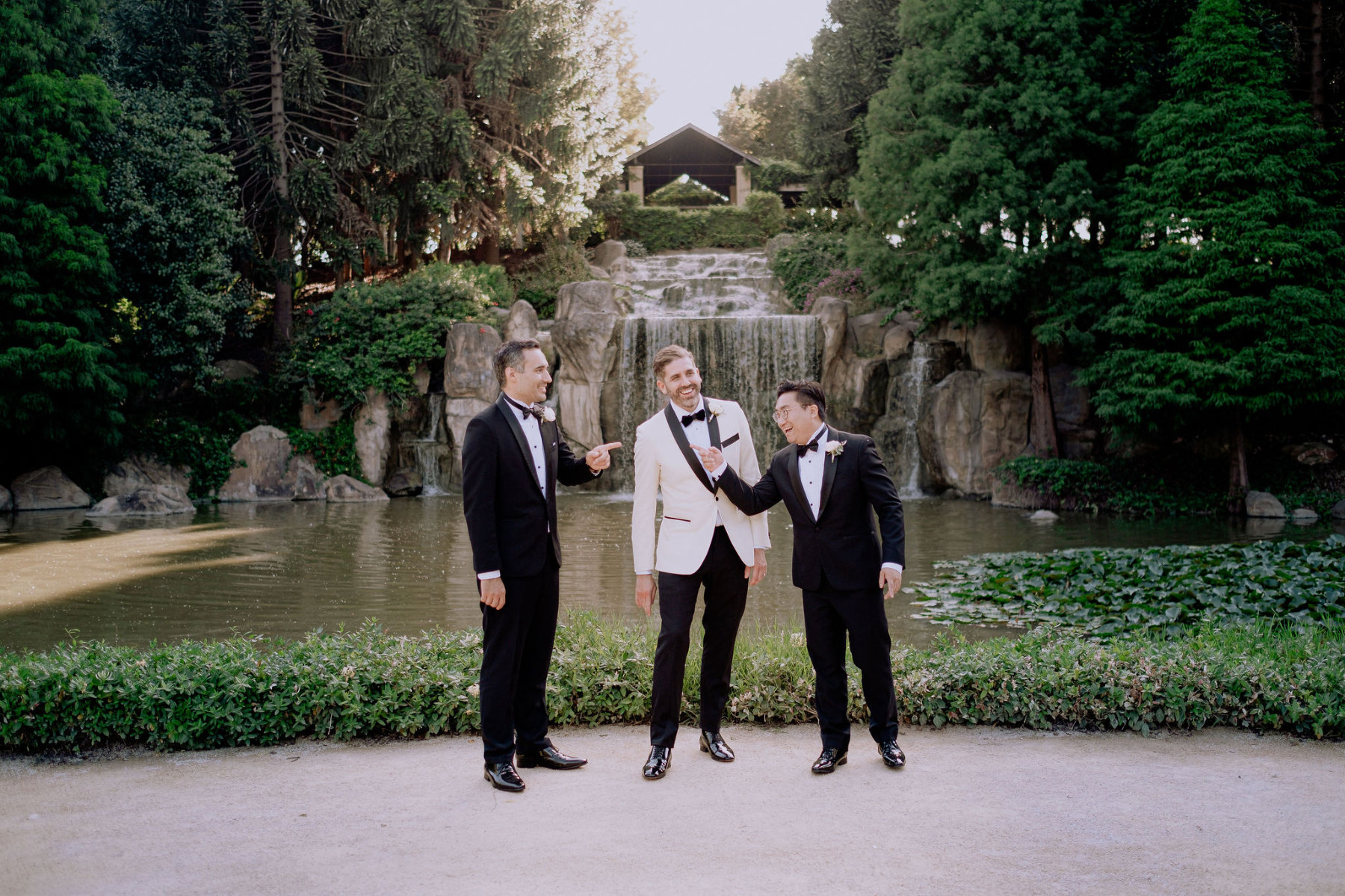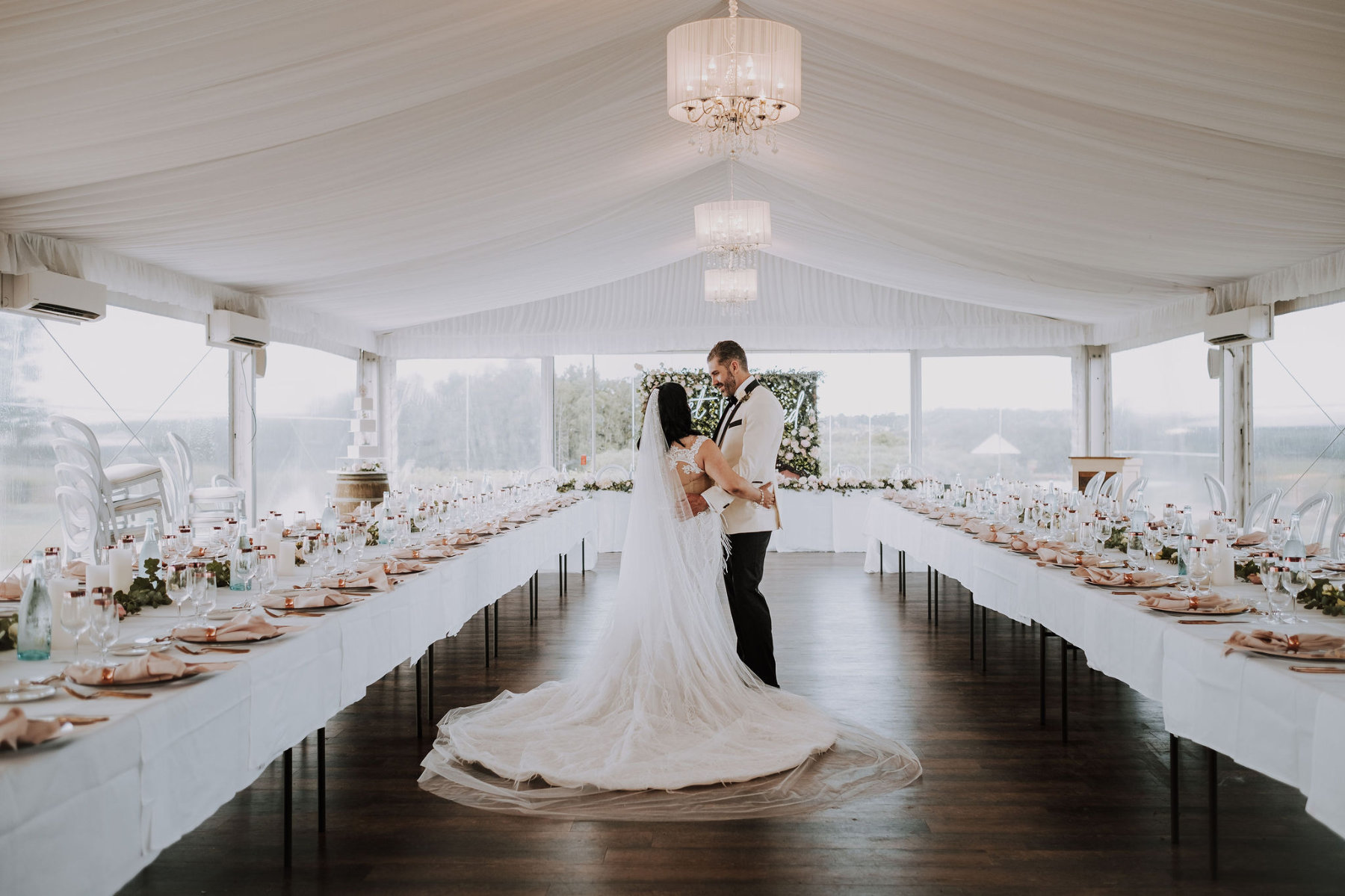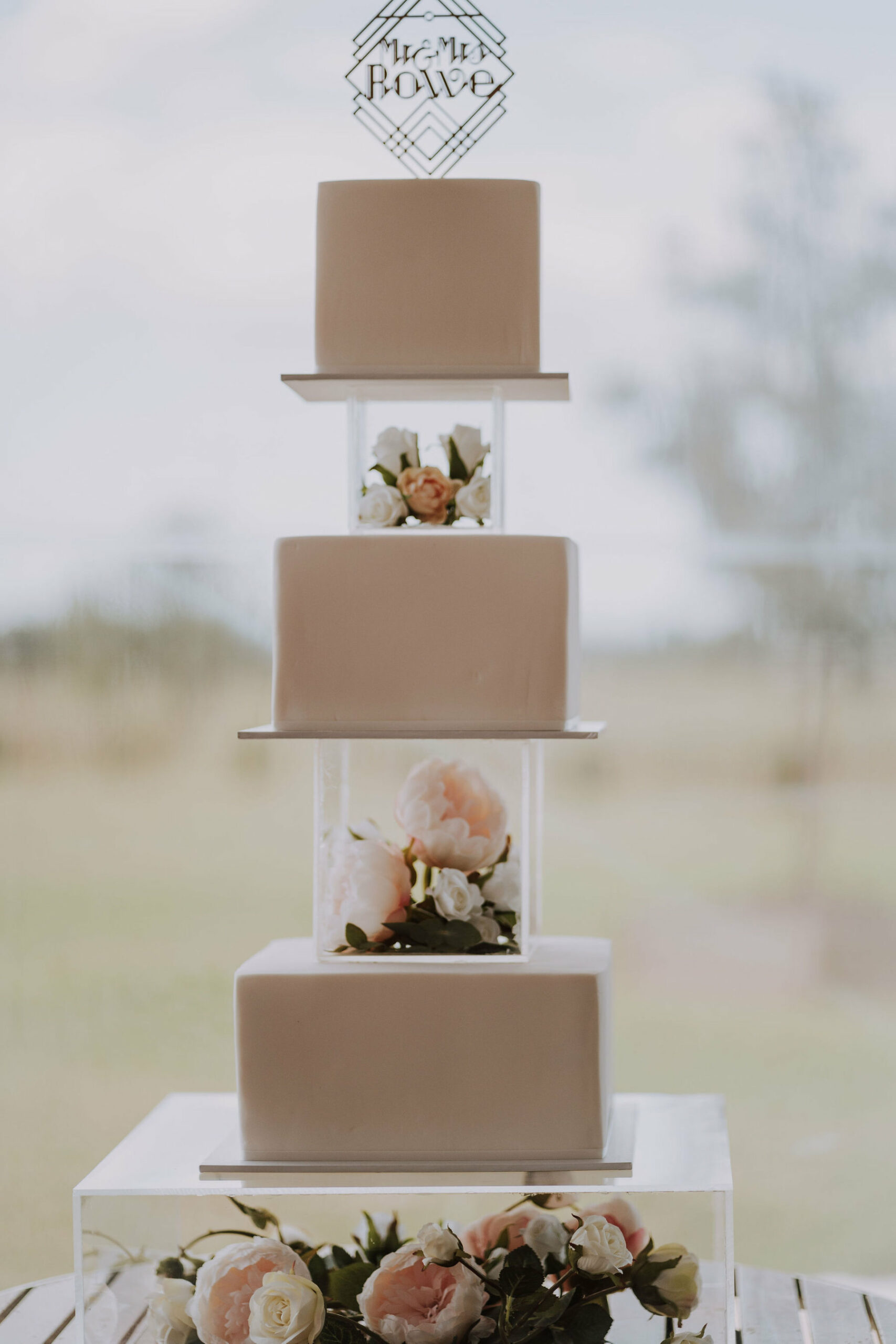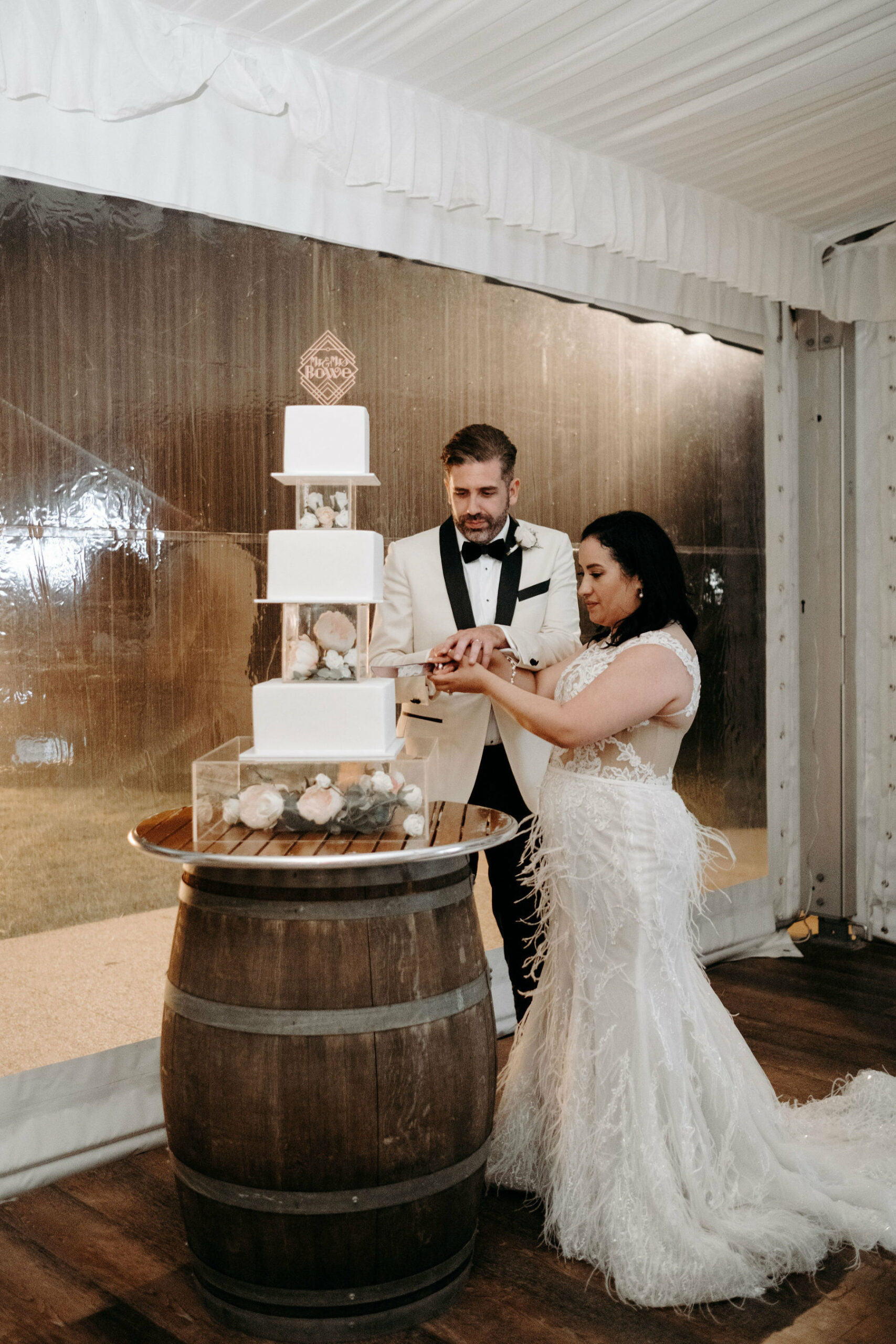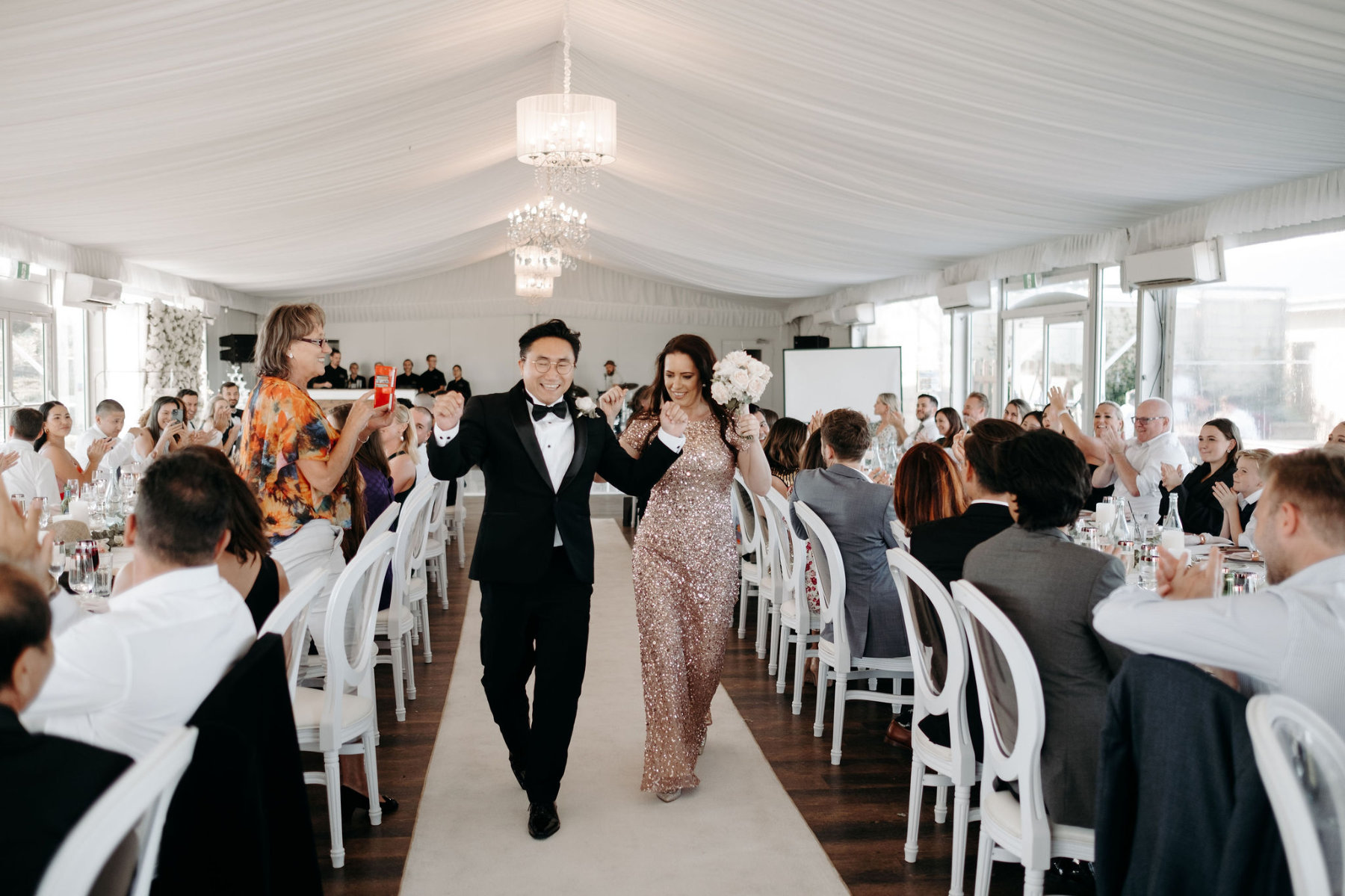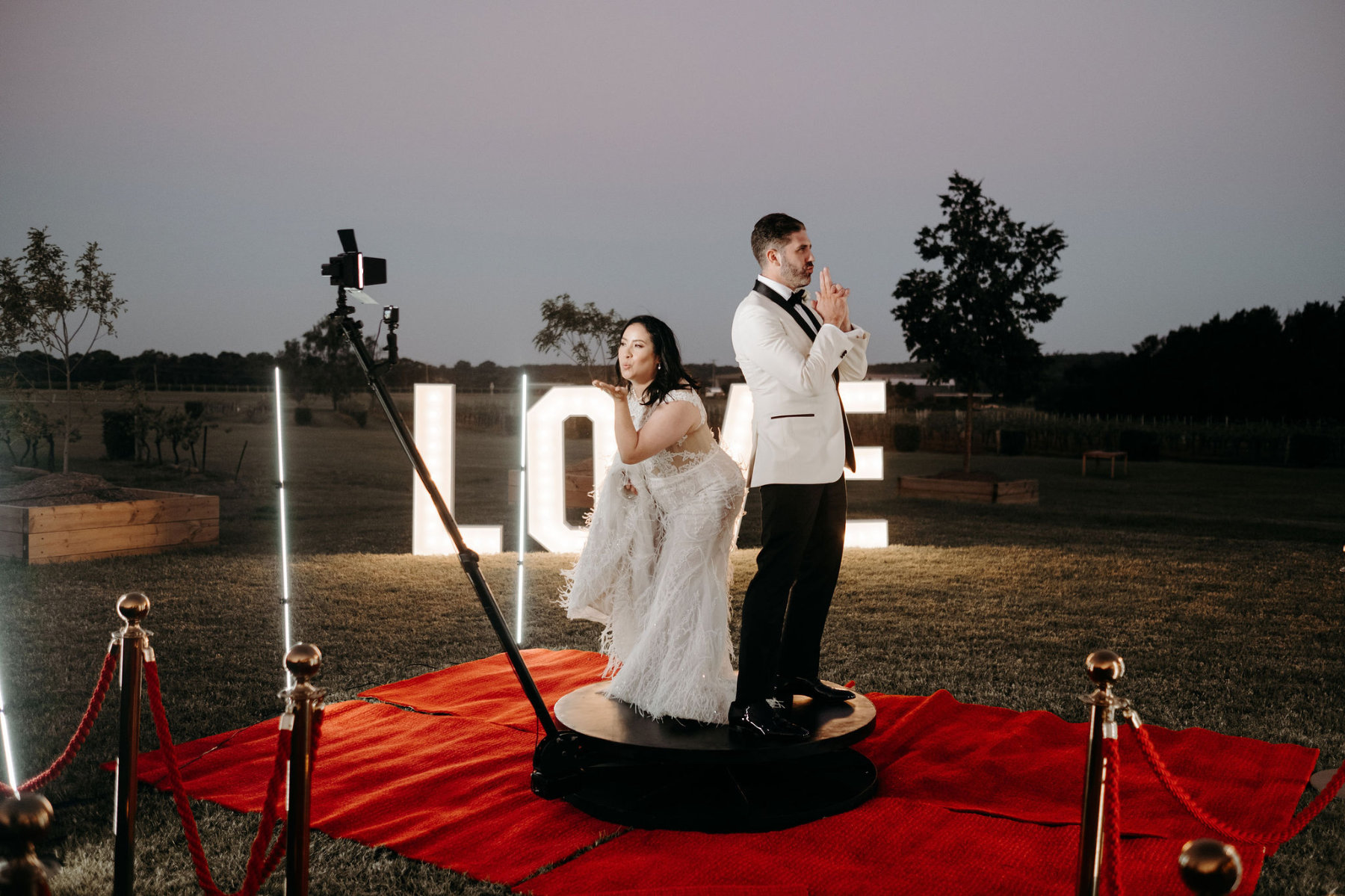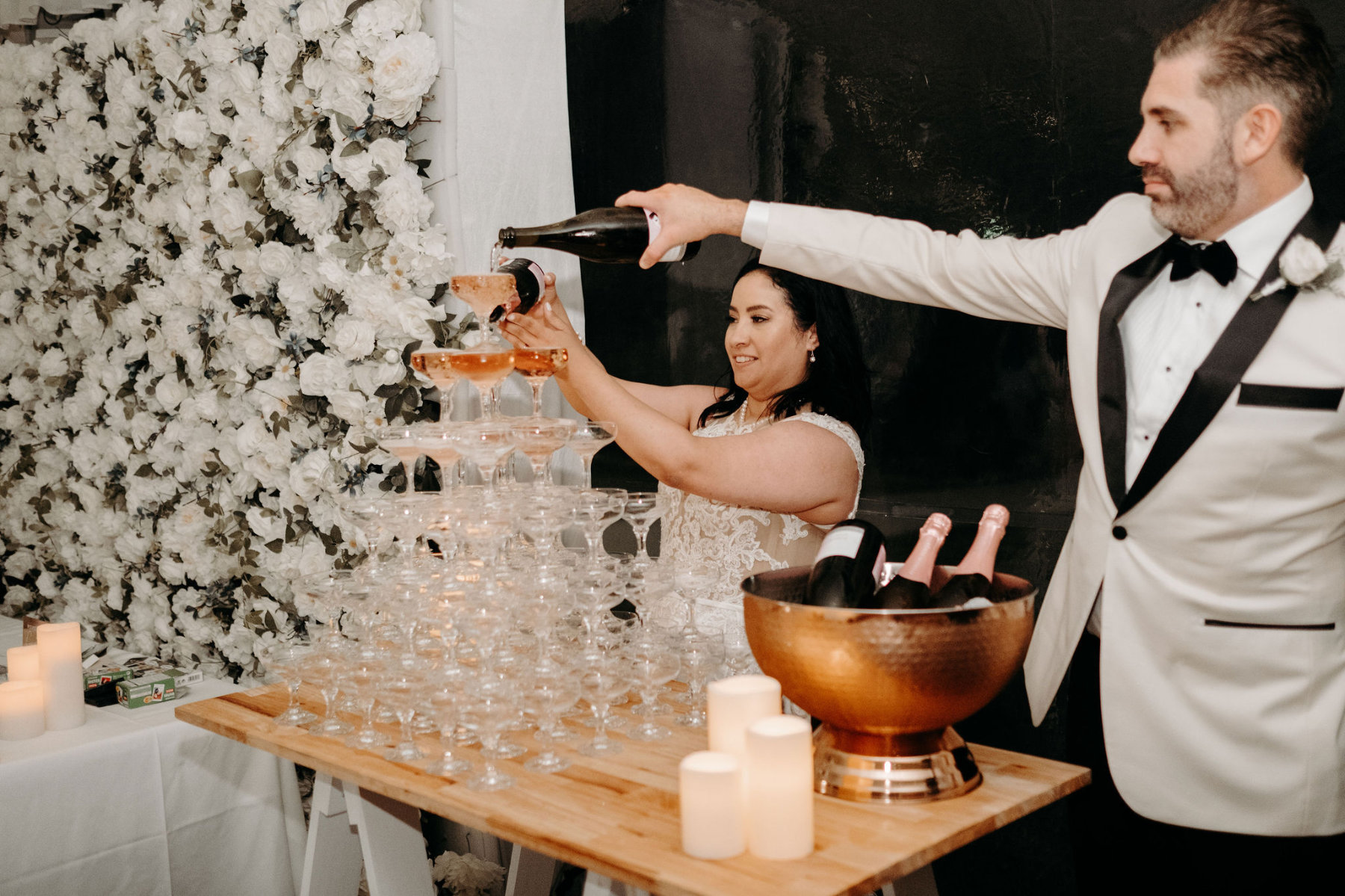 Vanessa and Joe's big priority for their wedding day was the perfect venue and delicious food.
Peterson House did all the catering and their food is chef's kiss! They catered for all the food types (vegetarian, vegan and allergies) and everyone said that they were satisfied with the meals. The canapés were the biggest hit and their Blush-Sparkling Rose was an absolute winner as well as their alcohol package options.
Vanessa
VISIT PETERSON HOUSE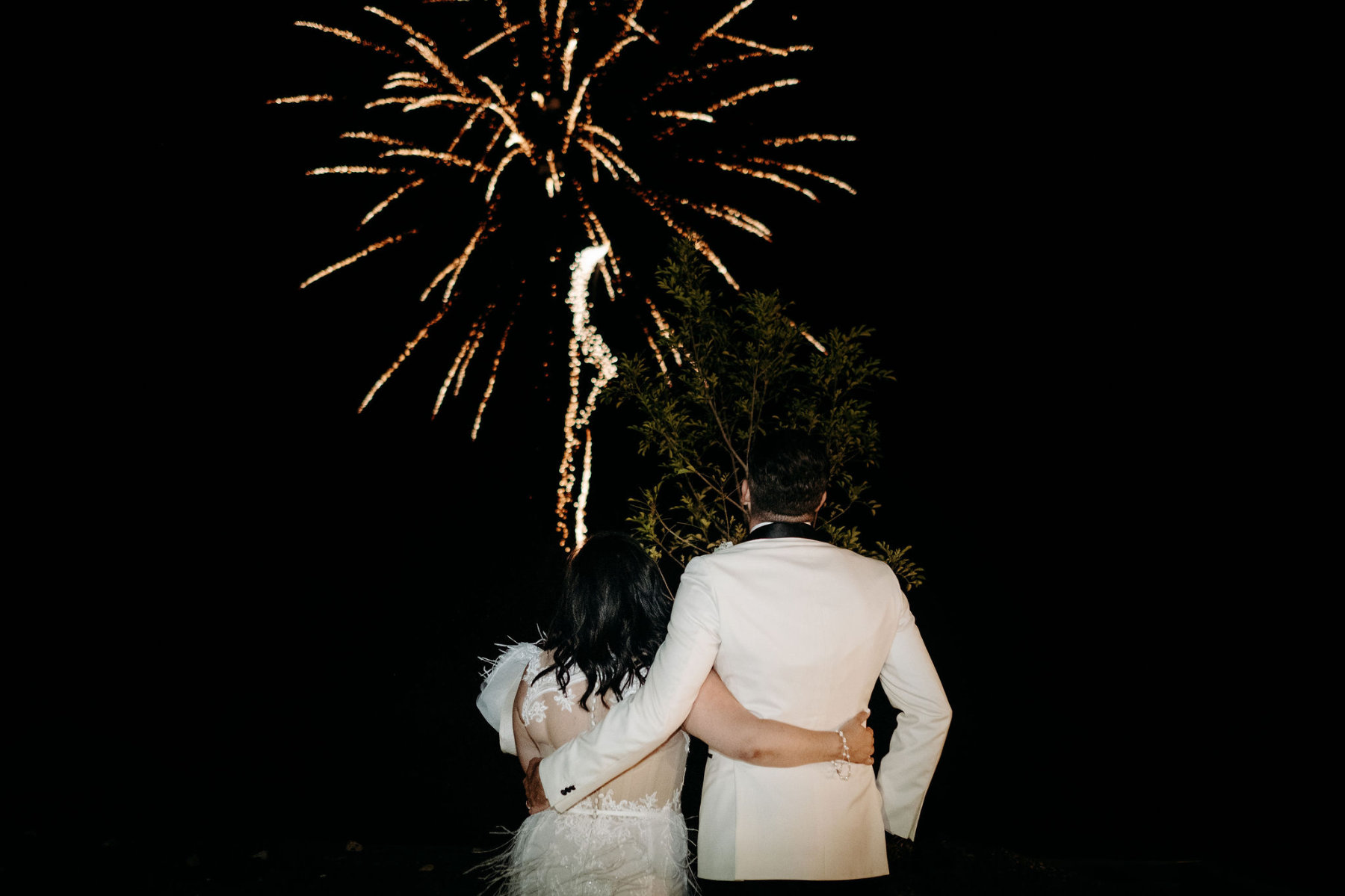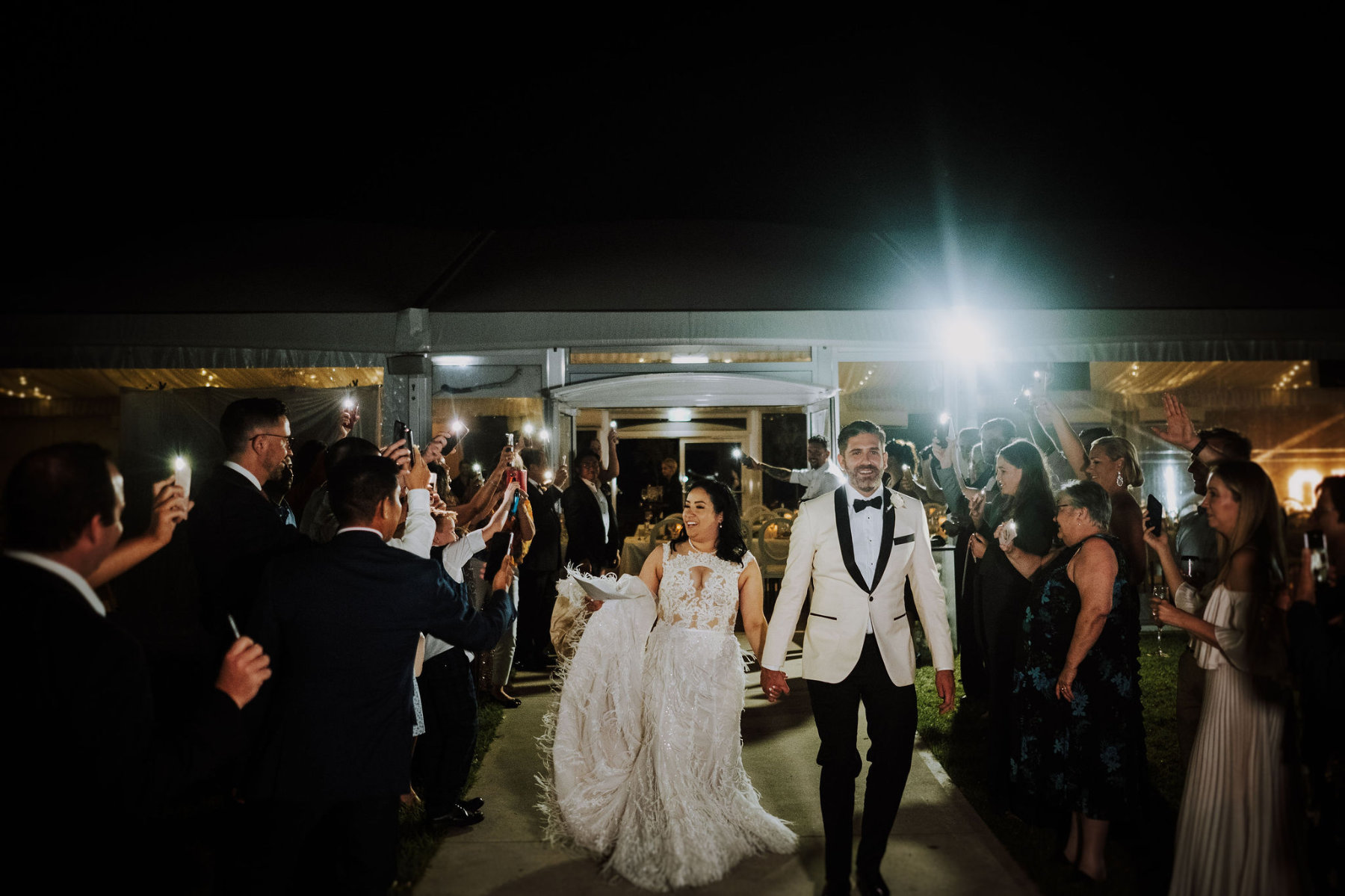 Before the couple headed to Crowne Plaza Hunter Valley for their wedding night, they paused to their big day to sink in.
We had a moment to ourselves during the fireworks, to breathe in and take a moment to reflect and enjoy the events of the evening. The day before, it was pouring rain and the morning of the wedding it was a beautiful blue sky. I want to believe my mother was watching over us and gave us the weather as a beautiful gift.
Vanessa
VISIT CROWNE PLAZA HUNTER VALLEY
See how you can bring your Hunter Valley wedding vision to life. Visit Hunter Events NSW and ask about their three planning and styling packages.