Wedding trends come and go, some faster than others, but the most popular styles often stick around for years on end. Here, we dive into the weddings trends 2021 & 2022 all wedding suppliers should know about.
Our annual survey of 4,000+ couples provides valuable insights into what wedding trends are on the horizon. In 2021, not only have we seen significant changes in the way couples celebrate their weddings, but we've also seen trends we think will likely stick around long-term.
From the increase in demand for videography to the plummeting popularity of grazing tables, there are plenty of 2021 wedding trends that are directly a result of Covid. We suspect many of these trends will stick around for quite some time to come.
As for the most popular wedding styles of 2021 and 2022, we've seen a big uptick in outdoor weddings and rustic weddings this year. Barn, winery and waterfront weddings remain quite popular, while fewer couples seem drawn to DIY weddings.
Access 2021 Wedding Industry Report
A Highlight of Wedding Trends 2021
Micro-weddings and elopement packages continue to trend, especially for couples hoping to marry before the end of the year
Live streaming and videography are more popular than ever — over half of couples opt to have some form of video coverage
Grazing tables and interactive food stations may have seen their glory days. While popular in 2019, shared food is something most couples are opting against in light of Covid.
Candid photography styles reign supreme — 44% of couples prefer candid photos with natural lighting and another 52% are happy to have a mix of candids with a few posed shots for portraits and family photos
Dried and preserved flowers continue to be popular options for wedding styling in 2021
Most popular wedding songs 2021 include Ed Sheeran's Perfect, Elvis Presley's Can't Help Falling In Love, and Christina Perri's A Thousand Years
Popular Styles & Wedding Trends 2021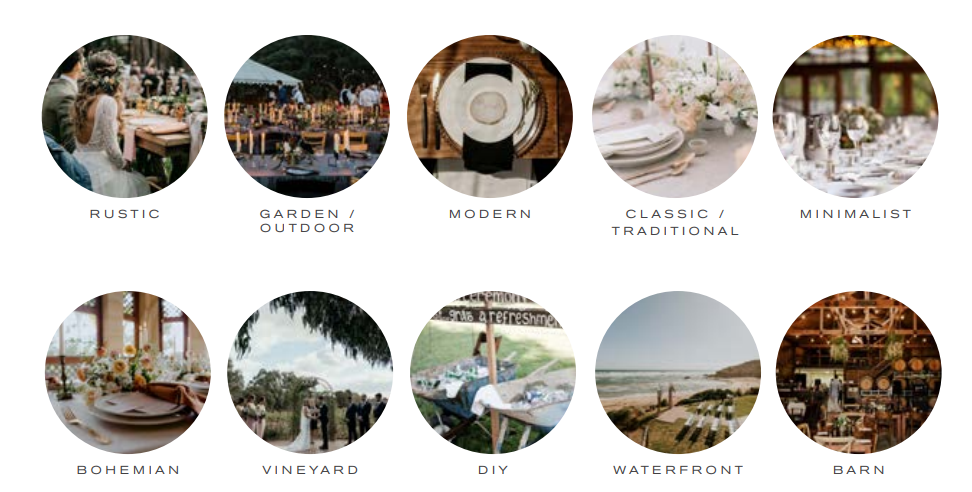 Rustic weddings remain the most popular wedding style in 2021, with 38% of respondents to our survey of over 4,000 Australian couples opting for this theme. What's great about a rustic wedding is that it evokes a particular aesthetic across every category of supplier.
Rustic wedding venues like barns and cellar doors continue to be popular this year. Catering that's more casual and low-key can easily be considered rustic — think spit roasts and whole fish cooked over open flames.
Couples opting for a rustic wedding trend toward romantic, feminine bridesmaids' attire and hair & makeup as well as soft, meandering wedding flowers that match the environment.
Among our survey respondents, 30% were planning a garden or outdoor wedding in 2020-22. Covid has certainly made this wedding style more popular, with many couples more confident booking an outdoor venue.
As a result, we've also documented an increase in demand for hire items and marquees, particularly marquees with open walls.
Natural, beautiful floral arrangements that complement the garden surroundings continue to be popular. Wedding styles like romantic, classic and rustic tend to be paired with outdoor wedding style.
About a quarter of survey respondents said a modern wedding was their vibe for their wedding style in 2021-22.
As far as modern wedding venues go, couples are mainly looking at venues that don't feel stuffy — they're paying attention to things like natural lighting, floor-to-ceiling windows, hardwood floors.
As for modern wedding day style, we see a mix of attire trends ranging from figure-hugging silk bridesmaids' dresses and playful jumpsuits for the ladies to ultra-tailored suits for the guys.
Modern flower arrangements and decor might include a mix of preserved and fresh flowers, billowing drapery, velvet lounges, or bold, modern chandeliers.
About 24% of Australian couples envision a classic wedding style in 2021. These couples are typically looking for photos that'll stand the test of time, and that really translates across everything from what they're wearing to where they're planning to host.
Couples with a classic wedding style in mind are more likely to book a venue that's fairly traditional, like a hotel ballroom or a mansion that doubles as a private event space. What couples love about these kinds of venues is that they know exactly what to expect — impeccable service and delicious food served in a beautiful atmosphere.
Flowers and decor will likely include the most popular varietals like roses, orchids and peonies. Think classic ceremony songs played by strings and a DJ who's big on dancefloor classics for the reception.
Minimalist Wedding Style
About 17% of couples say their wedding style is minimalist, which can mean a range of things. Some couples use this word to describe a fairly simple, budget-friendly wedding while others see a minimalist look as a highly edited wedding style.
That said, if a couple says they're after a minimalist wedding, don't automatically assume they aren't into decor and styling. This kind of description is a great opportunity for you to ask questions about what minimalist means to them.
Many couples who opt for a minimalist style wedding prefer to focus primarily on the setting. Is there an incredible view from the ceremony site? Is the atmosphere warm and cosy without needing much additional decor?
Minimalist wedding style can also apply to the style of dress for the wedding party. Perhaps the couple is into basic silhouettes and colours. Or, maybe they want to encourage a very modern, tailored look.
A mainstay for years now, Bohemian wedding style represents about 15% of weddings. While many suppliers think this means budget or DIY, that's often not the case. Bohemian couples might hire a Kombi van, spend $5,000+ on flowers and stretch their budget to include something memorable like a prosecco truck — these things certainly add up.
Try not to get stuck thinking that Boho weddings are the new DIY. Instead, explore with your clients to get to the bottom of their unique wedding vision. This style can often be paired with modern or outdoor wedding styles too.
When it comes to Boho attire and hair & makeup, think loose, flowy styles and a natural personal style approach. Music is usually an important part of the celebration for Boho couples too, who might want a live guitarist and singer for ceremony and cocktails followed by a big band for their reception.
Popular Bohemian wedding venues are usually going to be spaces that have plenty of outdoor event capability — whether an open lawn and rustic barn scene or a modern open-air winery overlooking vineyards.
Vineyard weddings make up about 14% of weddings in 2021-22. As far as venues go, these can really run the gamut of styling from urban winery warehouses to countryside farm stays and modern cellar doors.
If you have a client who's planning to marry at a vineyard, it's important to ask what other styles resonate with them. While their wedding will be largely focused on the setting and food and wine experience, there are still plenty of opportunities to bring in modern, romantic or rustic elements.
Candid, natural photography is going to be big with this crowd, as so much of their event is likely to take place outdoors and around the vineyards. Seasonal foods will also be important, as anything that complements the wine made on-site gets priority.
Whether on a jetty, a local beach or beside a lake, about 11% of couples opt for a waterfront wedding in Australia. Of these couples, most want some opportunity for outdoor access, even if only for their ceremony and photos on the waterfront.
The category that's probably the most affected by this wedding style is catering. Why? Couples want to serve food that reflects the place — think bright seafood dishes and light white wines or bubbly.
Formalwear is also going to be informed by the sense of place — think lightweight fabrics and light or bright colours.
Typically matched with a rustic look and feel, barn wedding style is something about 10% of couples are into in 2021. Much like rustic wedding style, this couple is all about keeping things low-key and not too stuffy. Really, it's all about the party.
A great band or DJ playing late-night in the barn is going to be a high priority for this couple's wedding vision. They might also be into low lighting and lots of candles, maybe even incorporating a dangling floral installation if the barn ceilings are particularly tall.
Expect the wedding day attire and hair & makeup styling to also match the place — relaxed, approachable and very warm.