An original 1900s federation farmhouse; two live bands, and a late-night splash in the estate's inground swimming pool created a rocking party atmosphere at this Tooraloo Farmstay wedding in Byron Bay.
Lauren and Andrew – or 'Daz' as he's known by friends – tied the knot beneath an ancient fig tree canopy at the magical Byron Bay wedding venue on October 19, 2019.
The rustic boho wedding was a relaxed, outdoor celebration that threw formalities to the wind to focus on incredible food, music, and just the right vibe at all times.
"Our ceremony at Tooraloo Farmstay rolled into one big party," recalls bride Lauren. "We had a folk band playing after our vows and our guests could order from the bar and eat straight away – no boring intervals here!
"We wanted a very relaxed reception with no seating plans where guests could eat and drink whenever they wanted all whilst listening to amazing live music.
"Speeches were relaxed and the bridal party photos dodging cow poo were an absolute hoot! As it set on dark we had a rock band set up in the gallery room that quickly turned into the entire reception singing and getting down!
"We honestly wouldn't have changed a thing, it was absolutely magical.
"Ohhh and the surprise pool jump at the very end of the night was something we will never forget!"
Photos courtesy of Sam Wyper Photography.
VISIT SAM WYPER PHOTOGRAPHY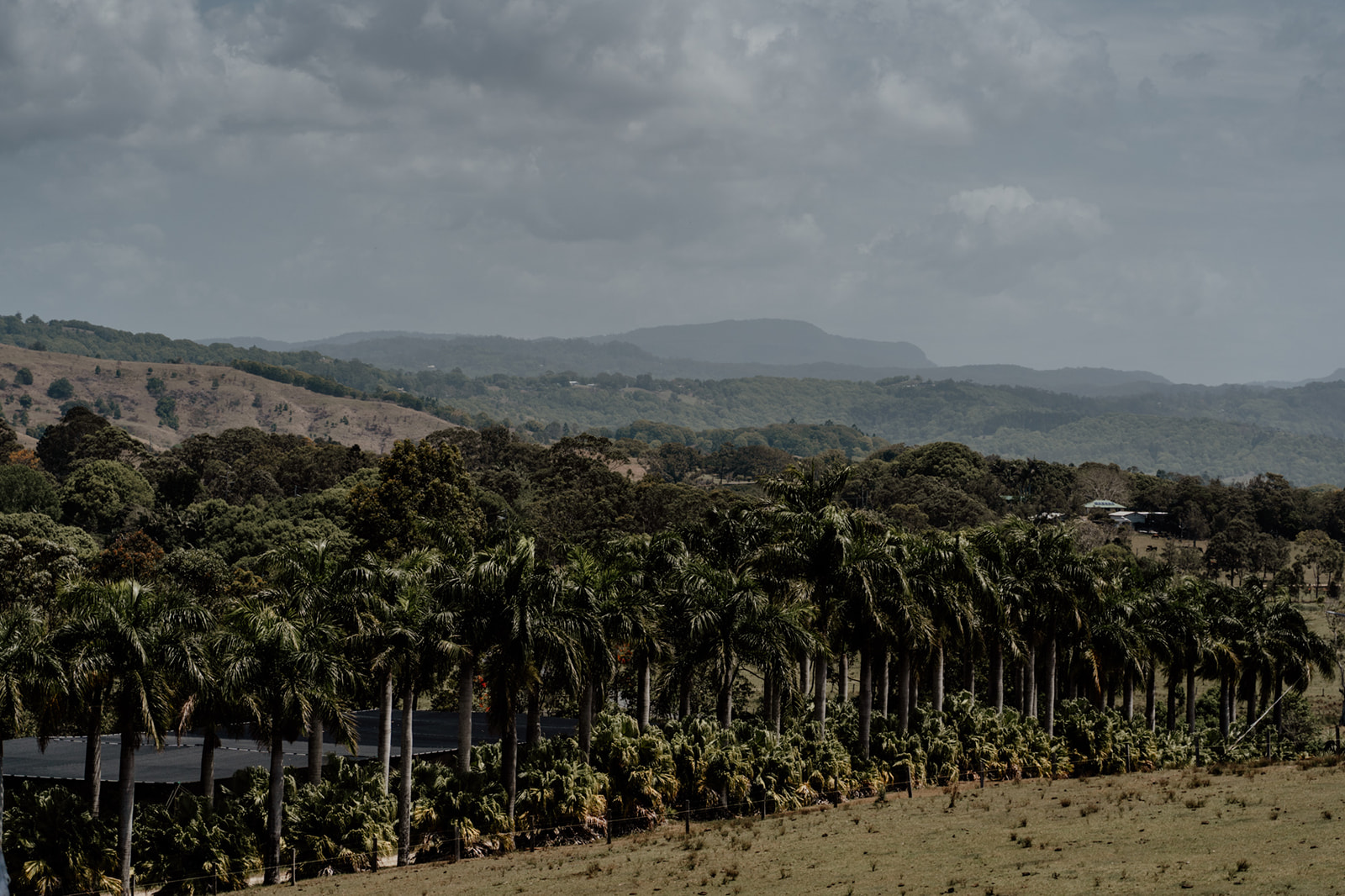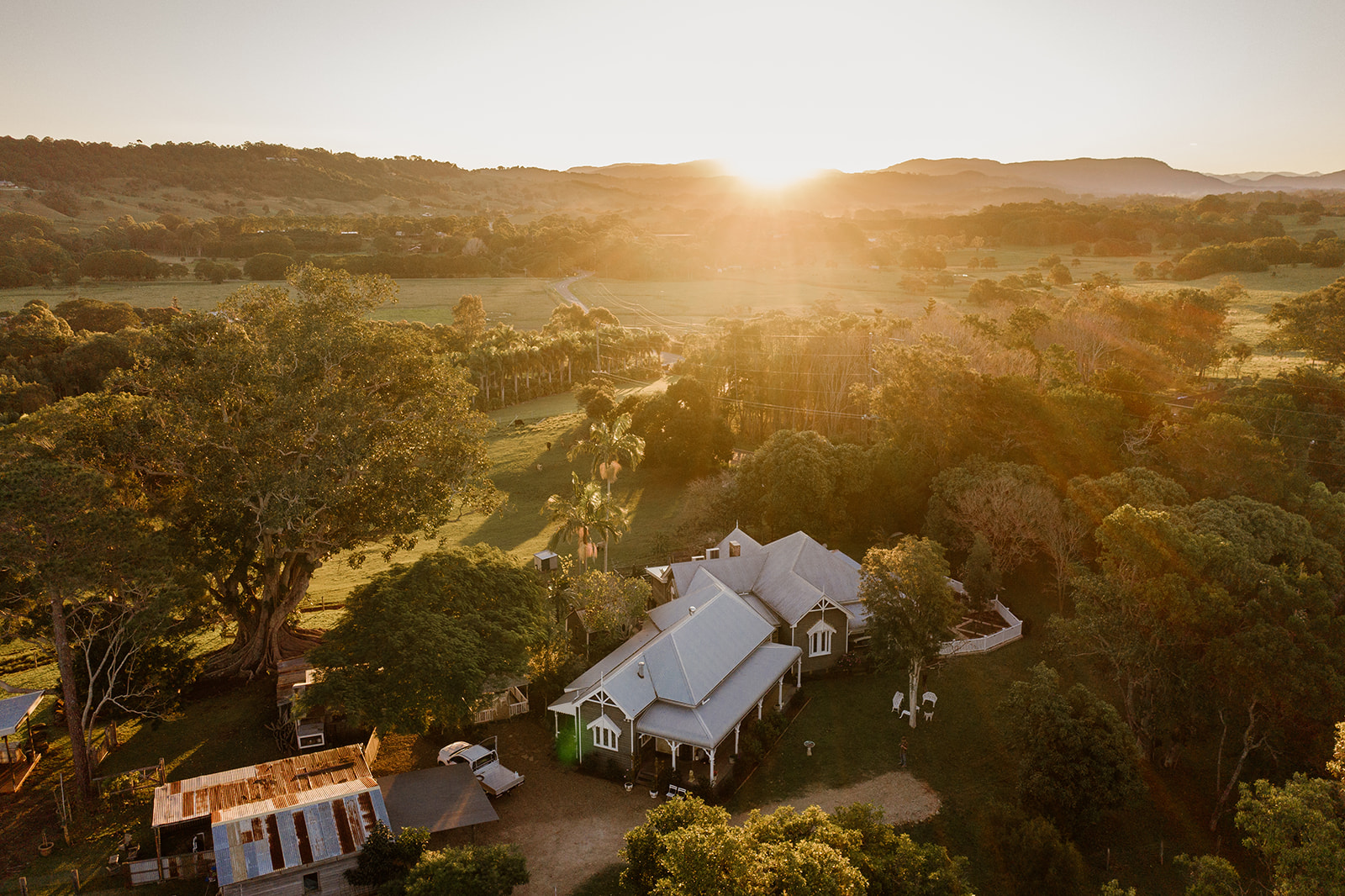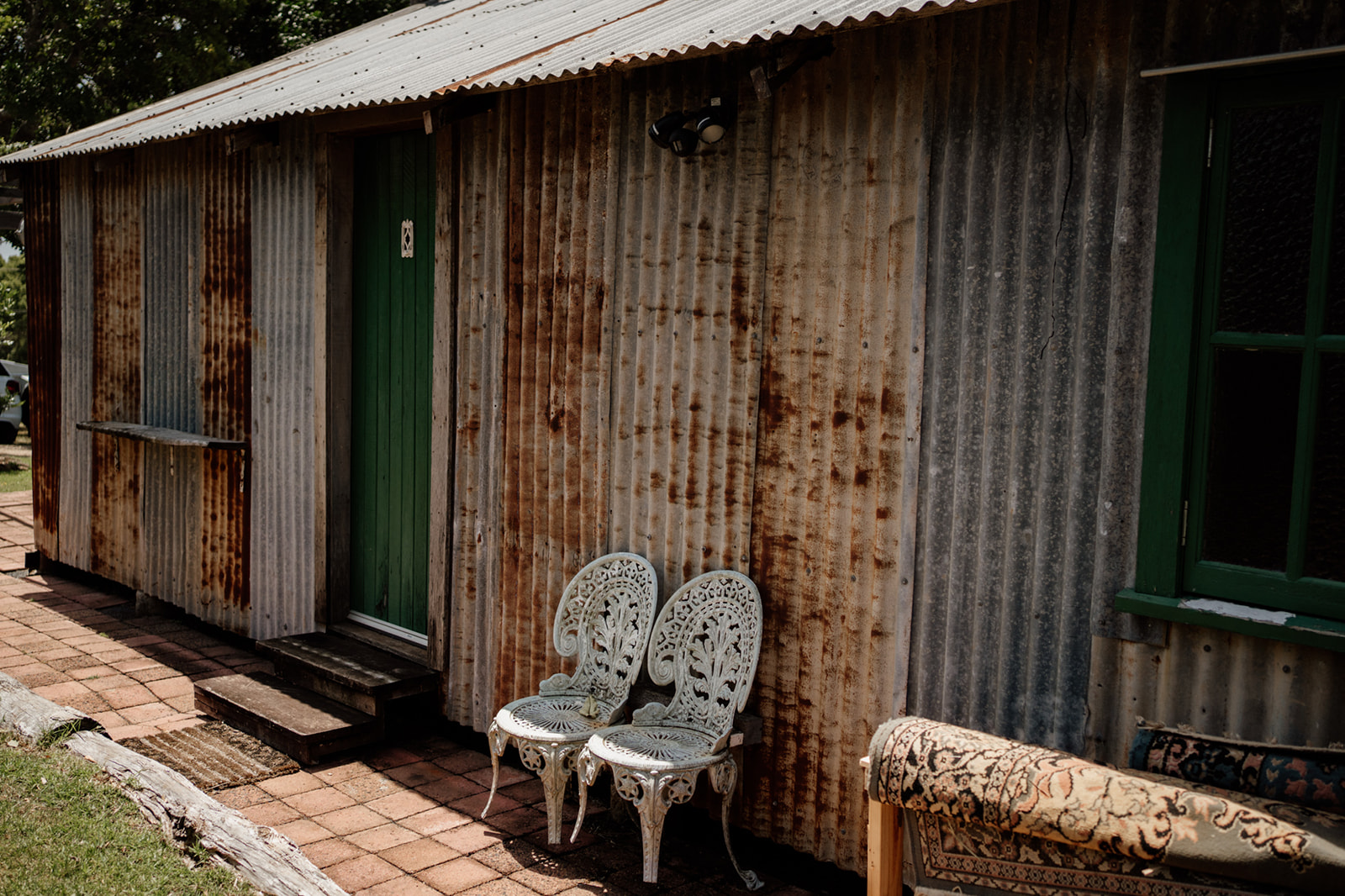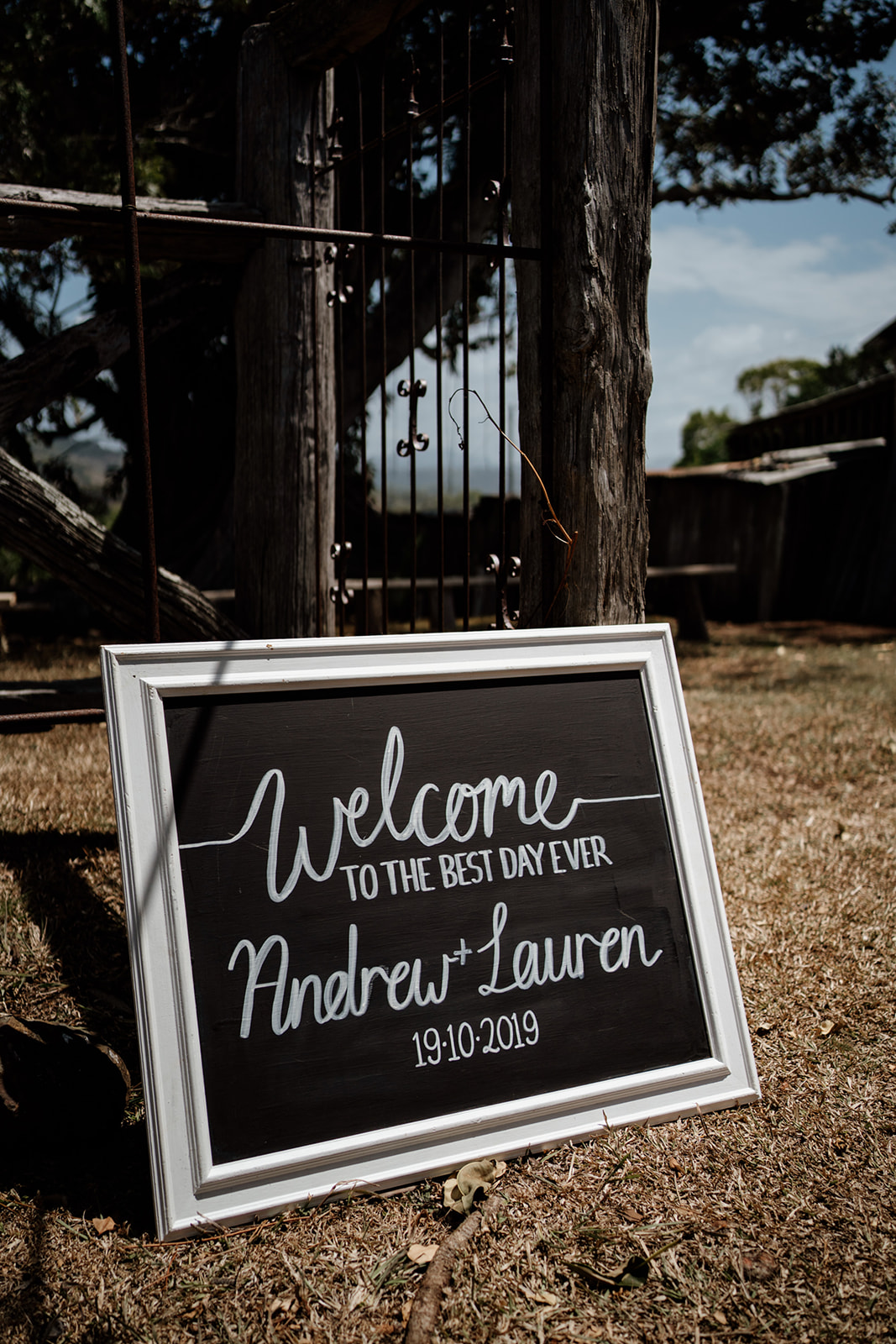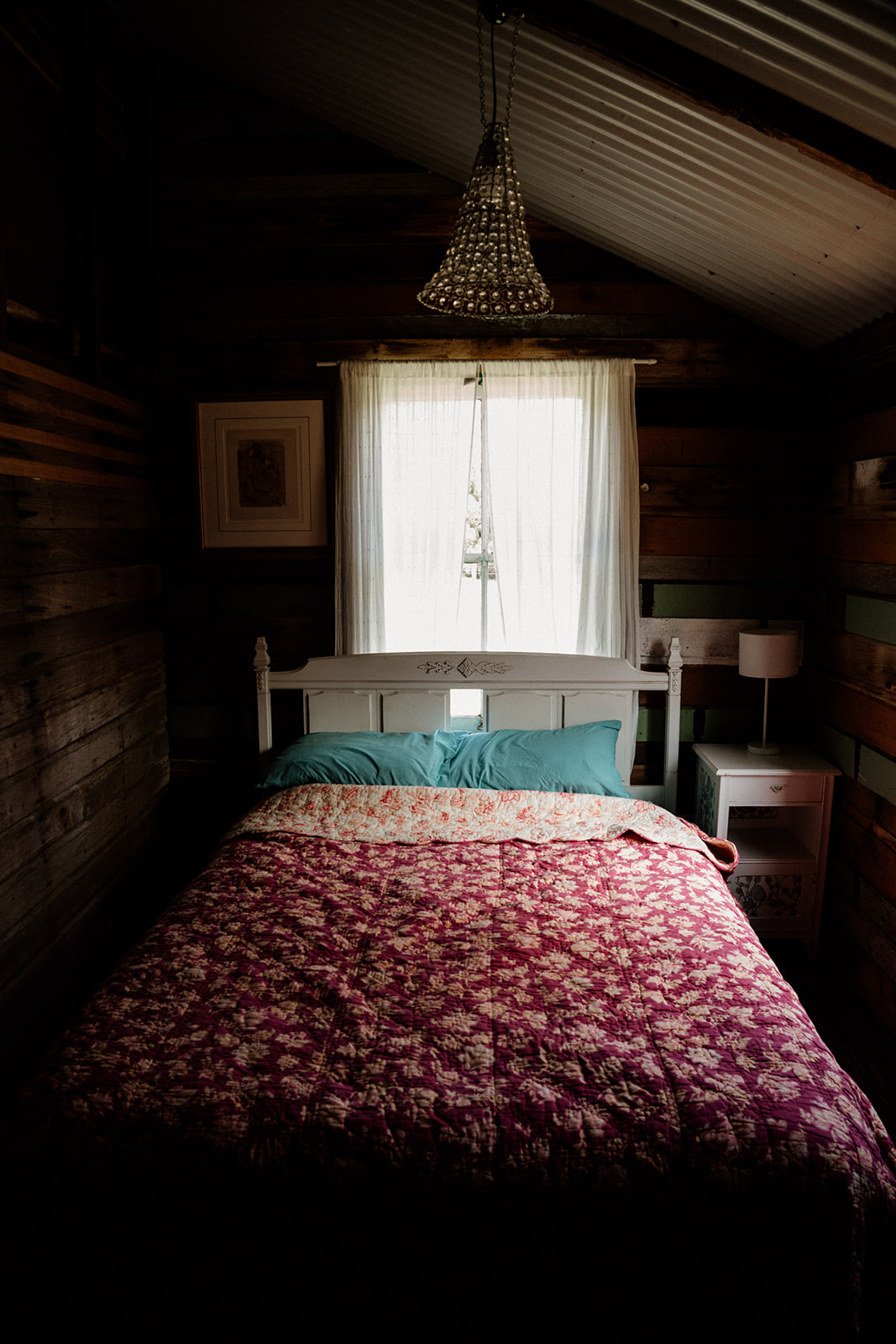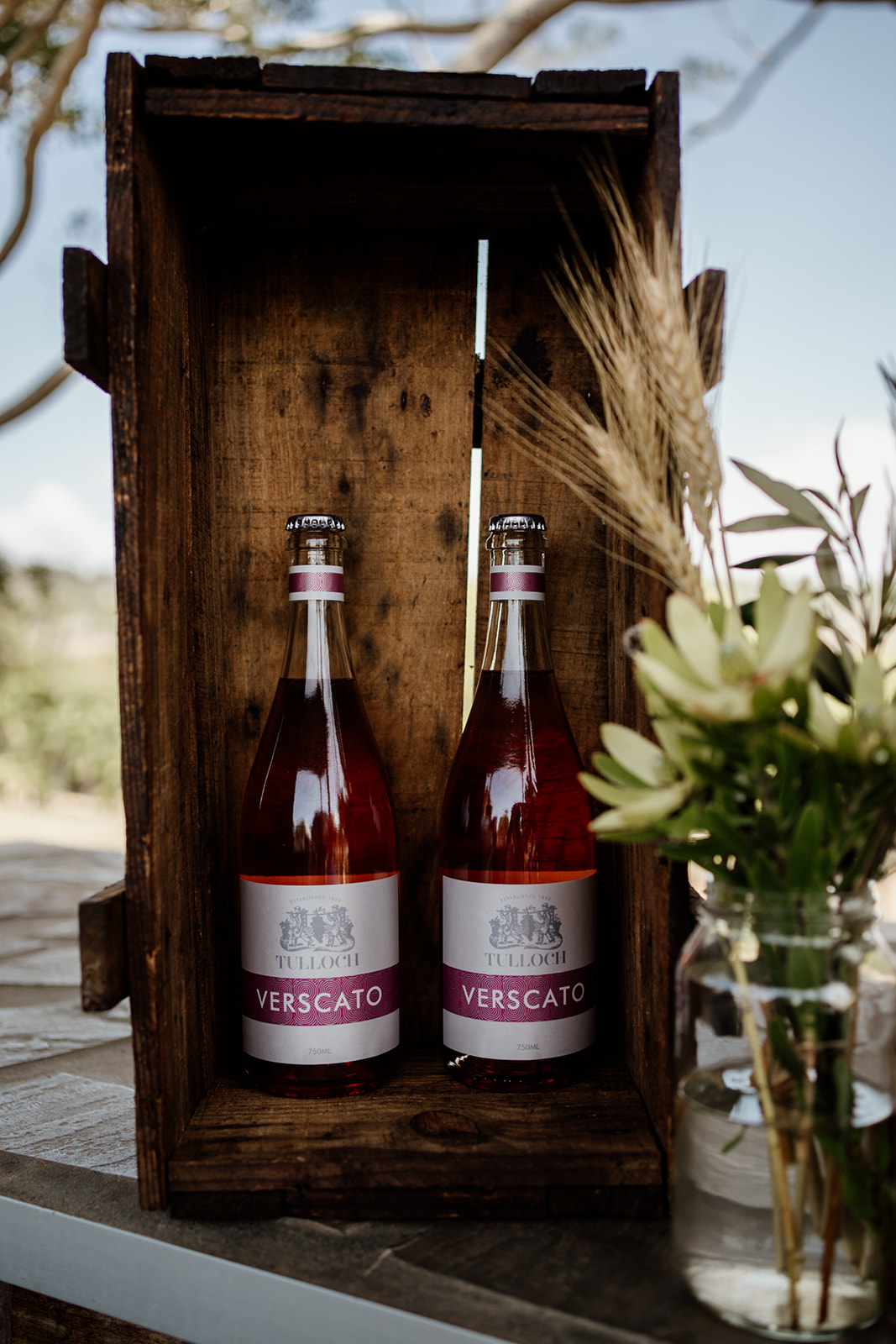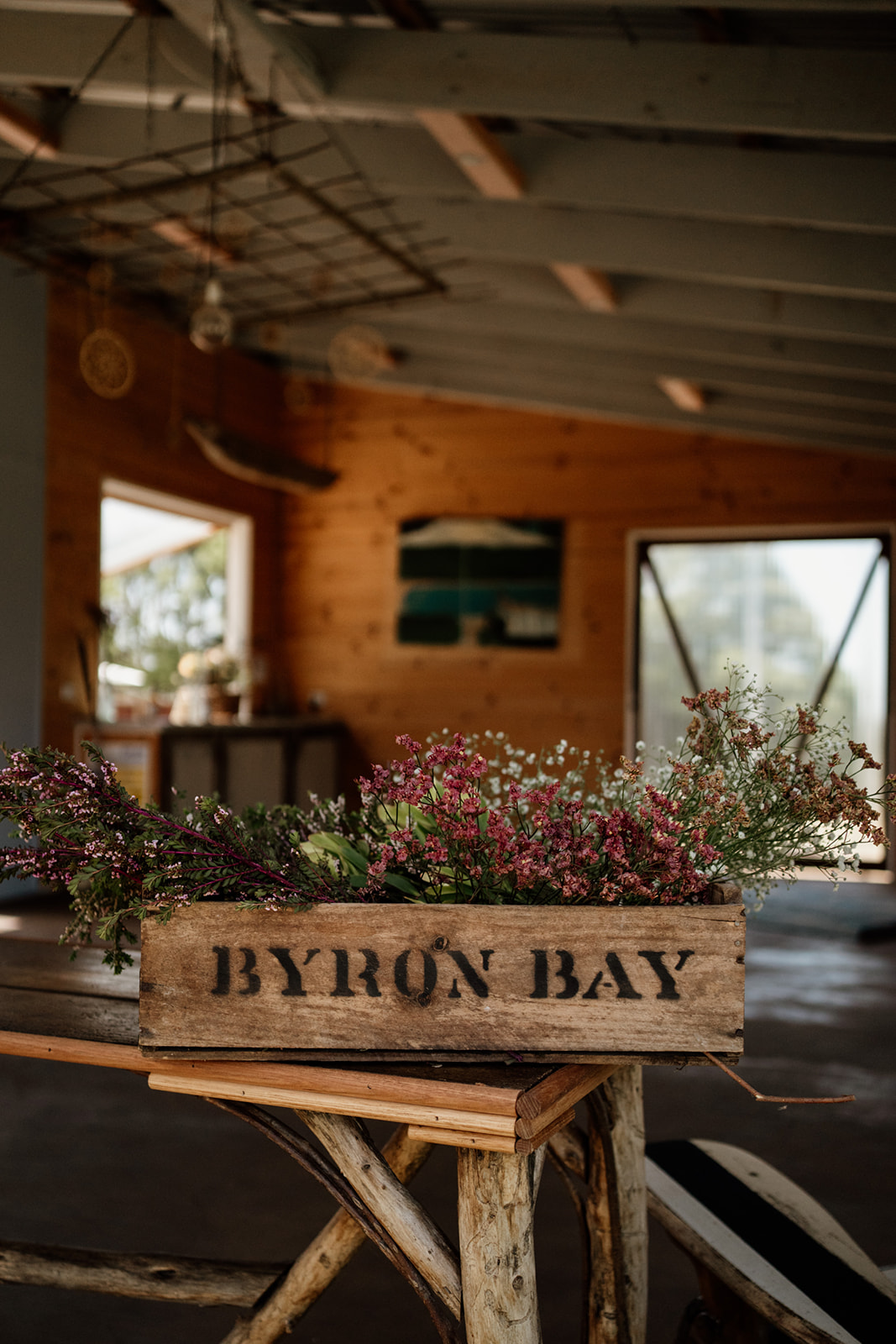 Tooraloo Farmstay in Byron Bay is a 12-acre dairy farm estate stunningly restored and eclectically styled by proprietress, Concetta Antico.
The rustic wedding venue is situated Ewingsdale with easy access to Byron Bay, Bangalow and Mullumbimby. It features three separate accommodation dwellings on the property. "We searched high and low for a venue that we could create our own relaxed vibe without the expensive price tag," says Lauren. "Tooraloo ticked all of those boxes."
VISIT TOORALOO FARMSTAY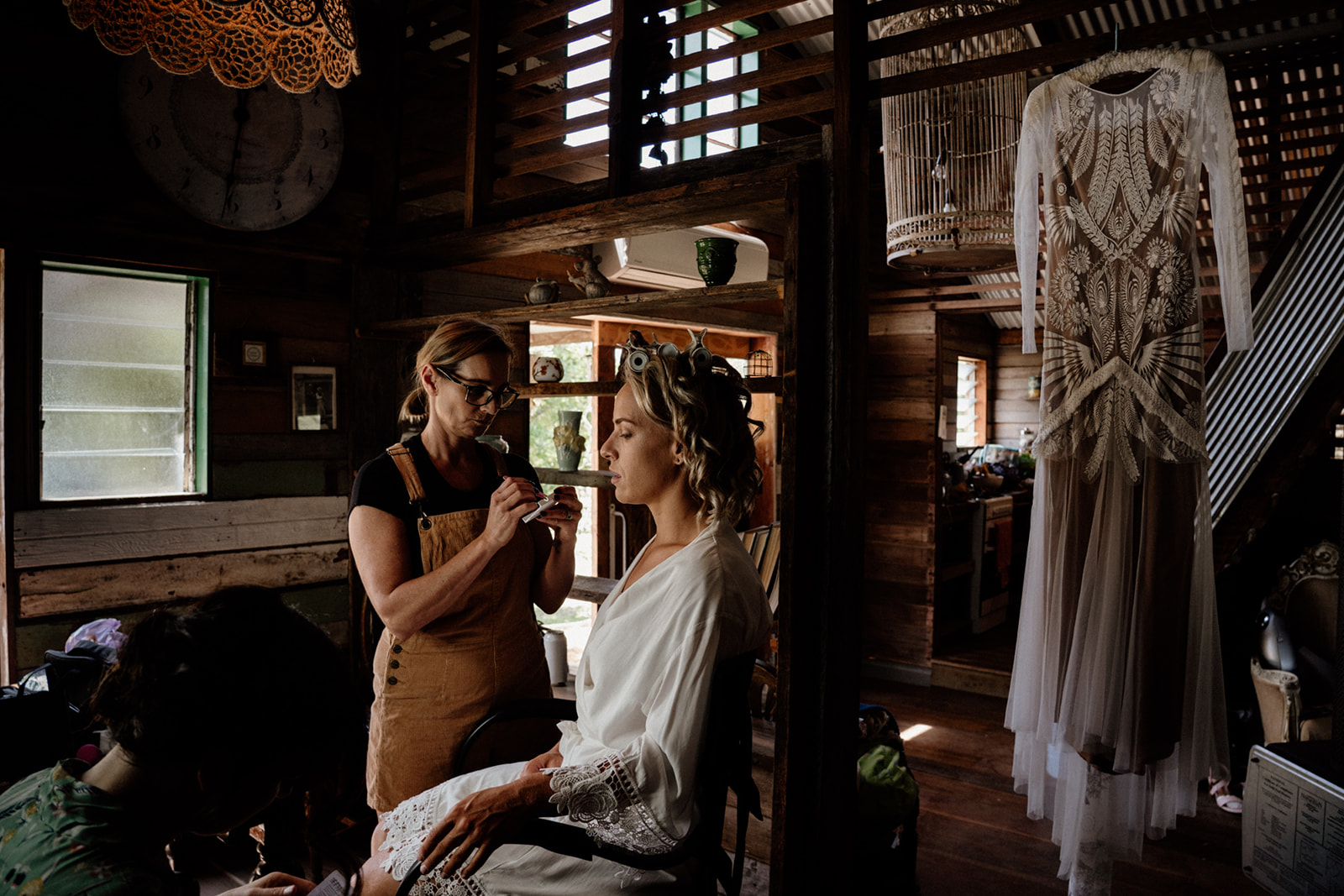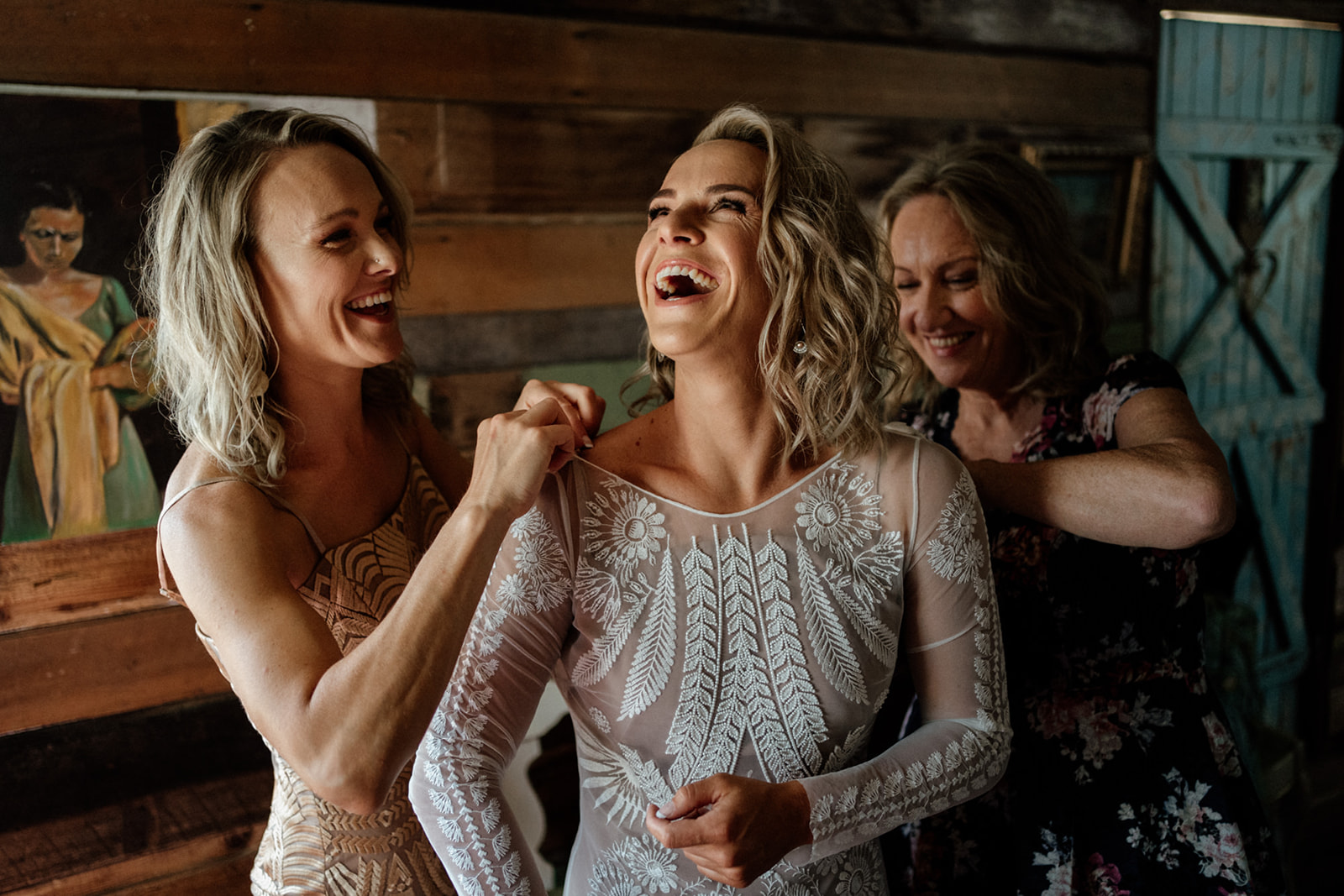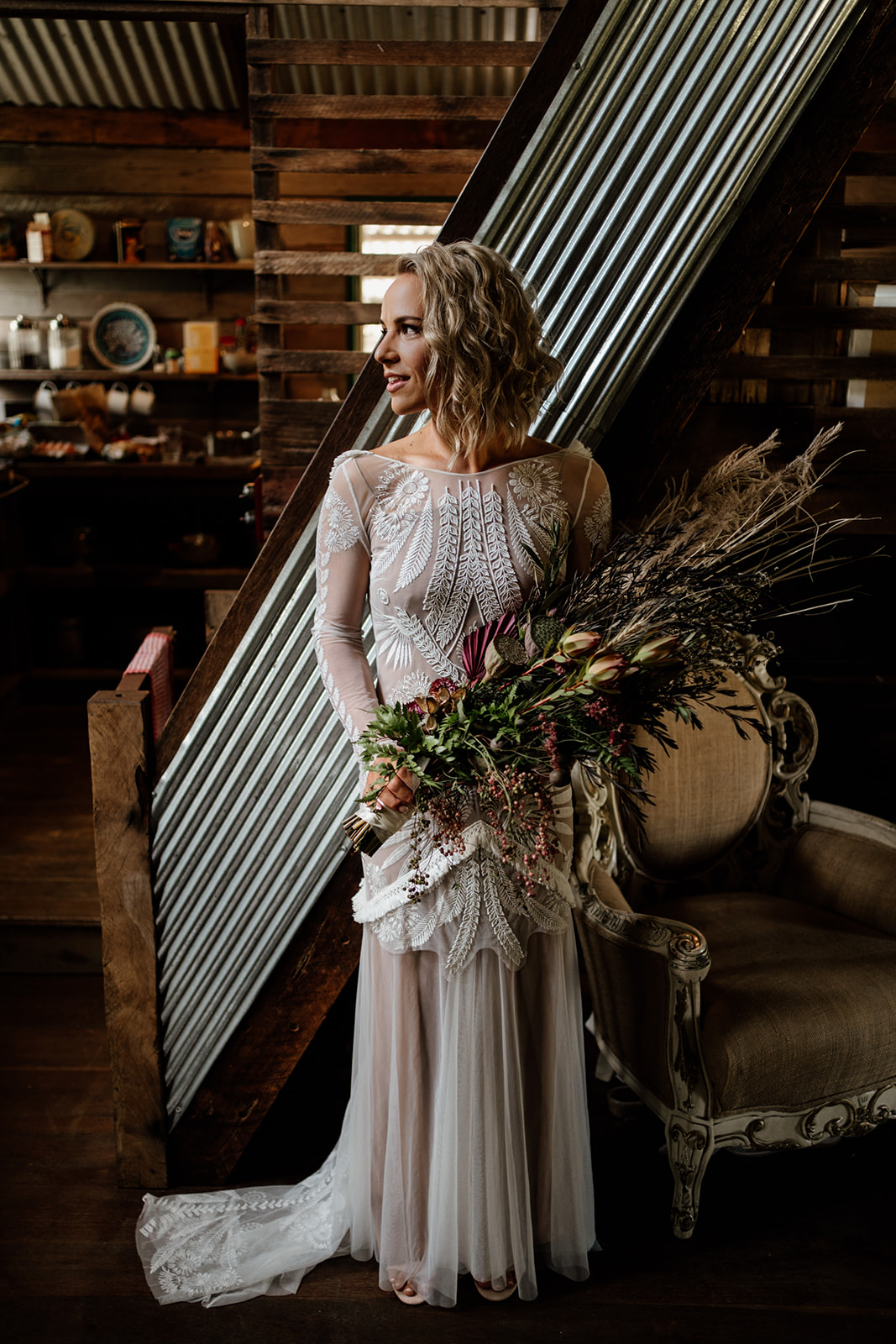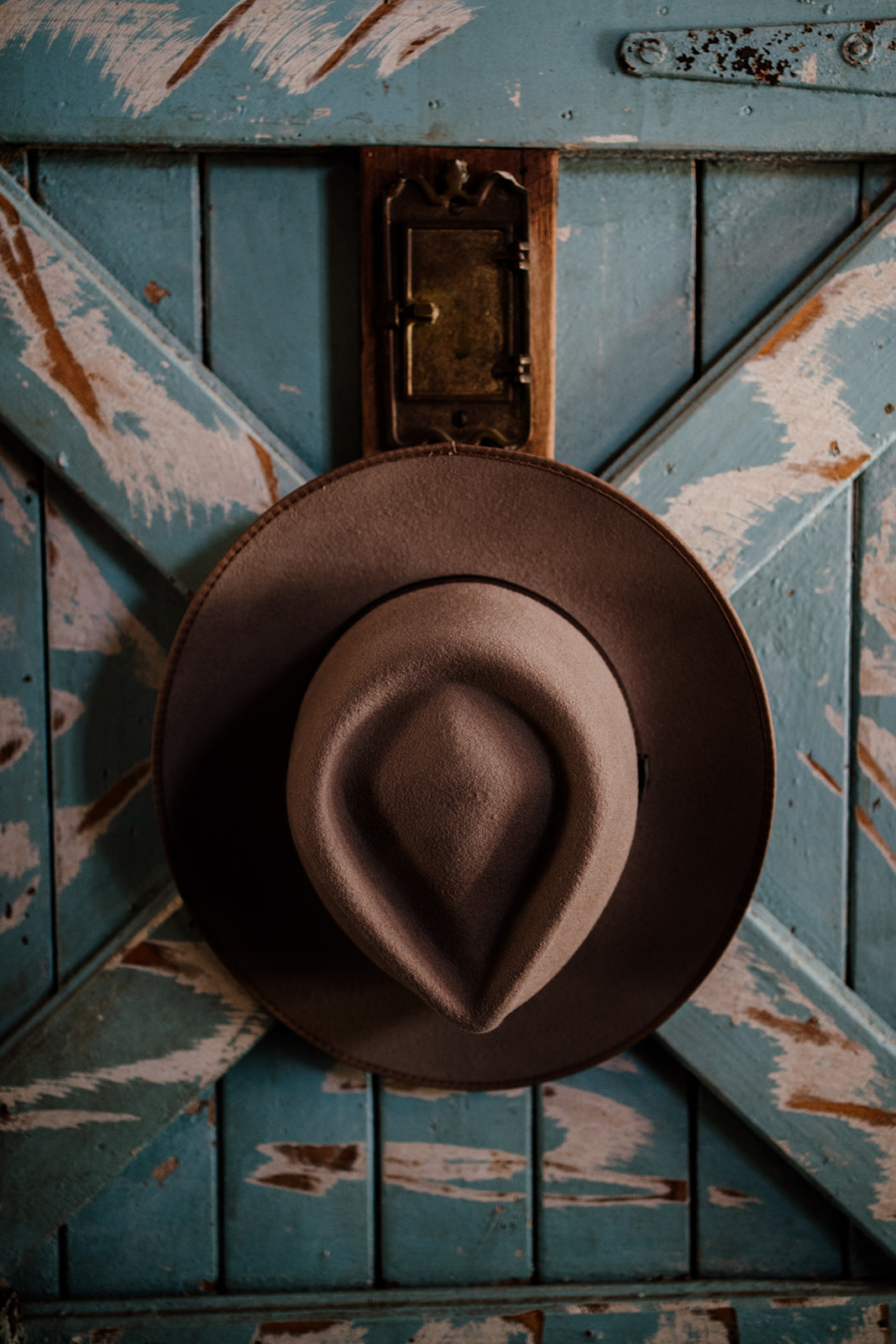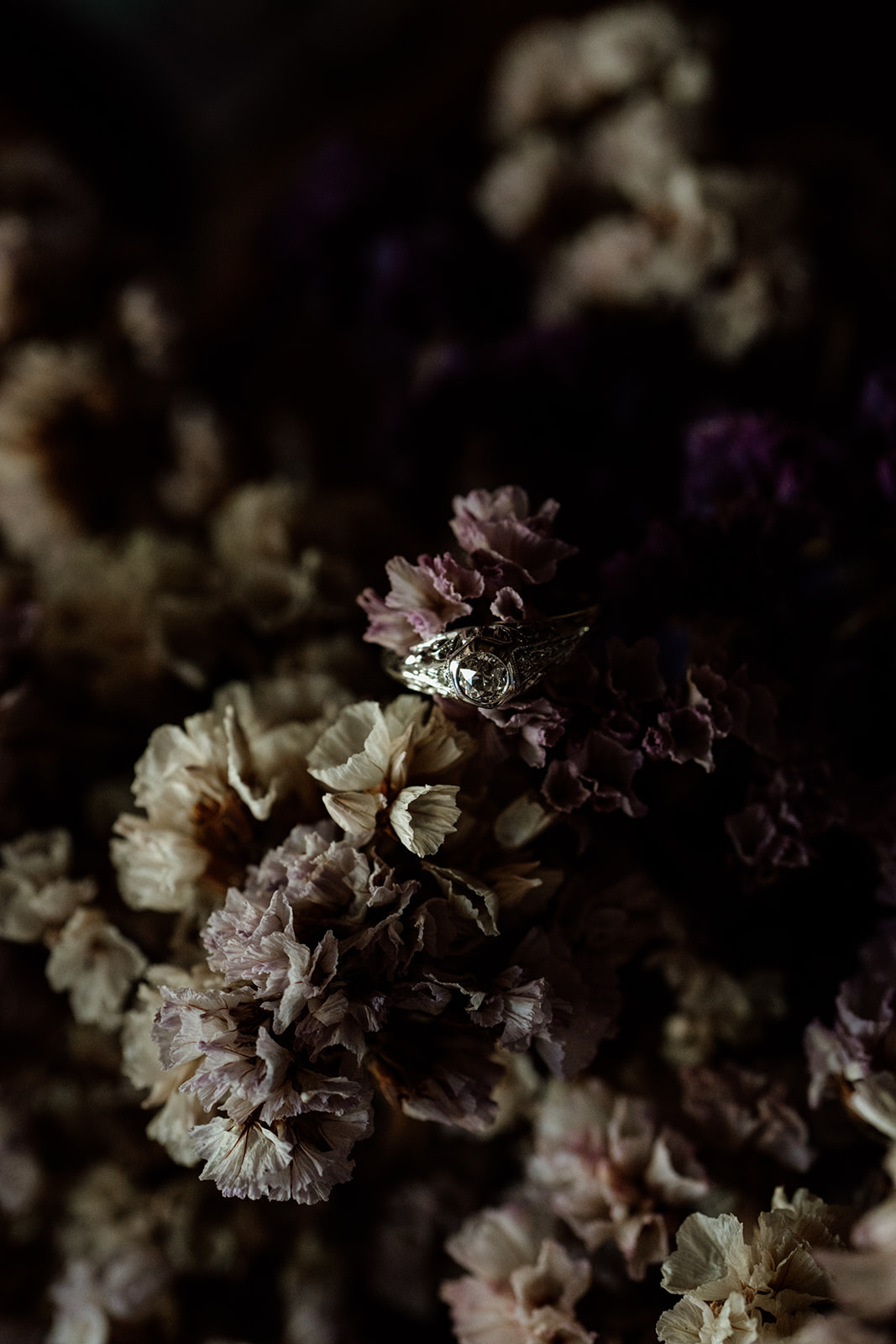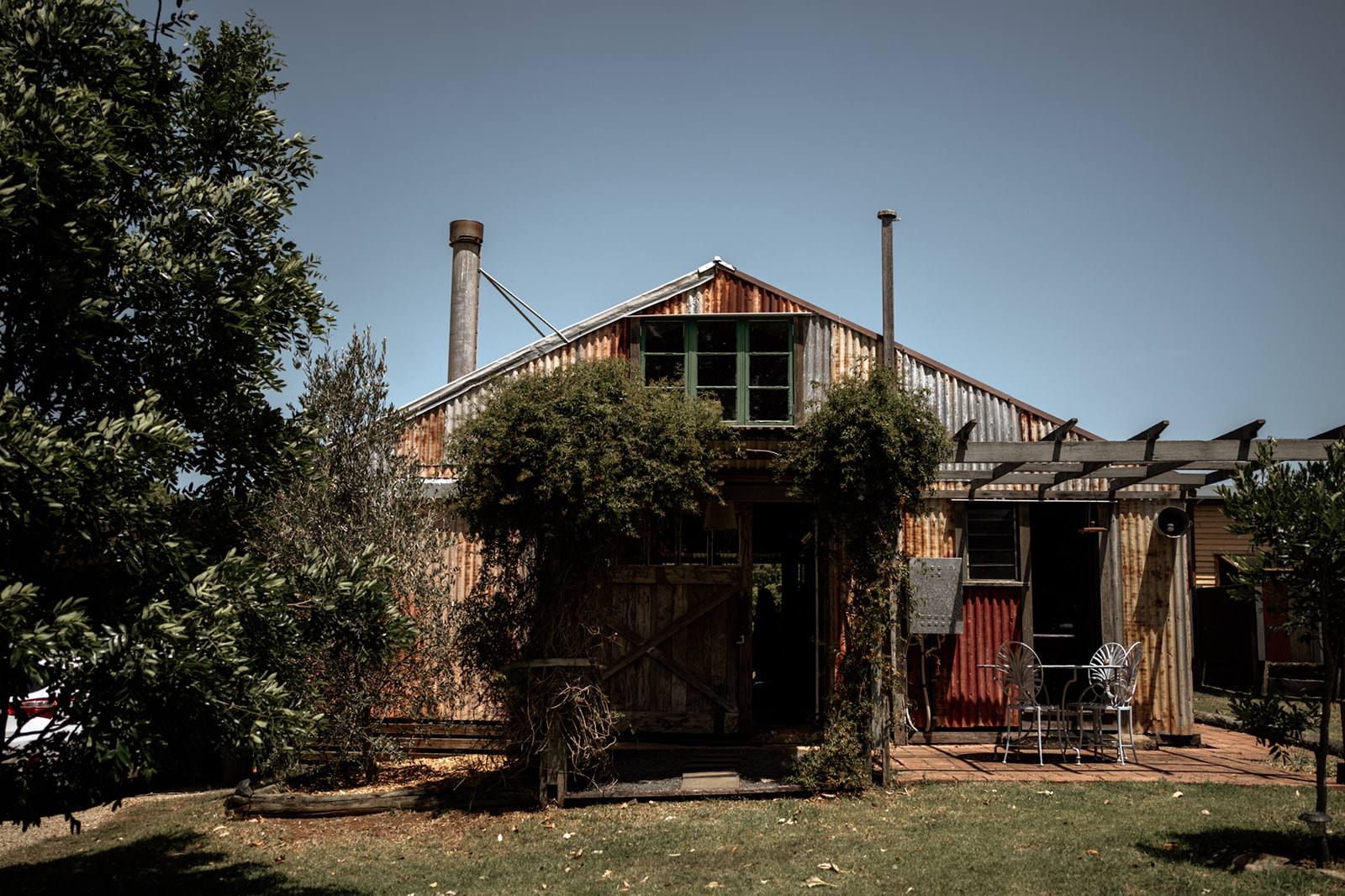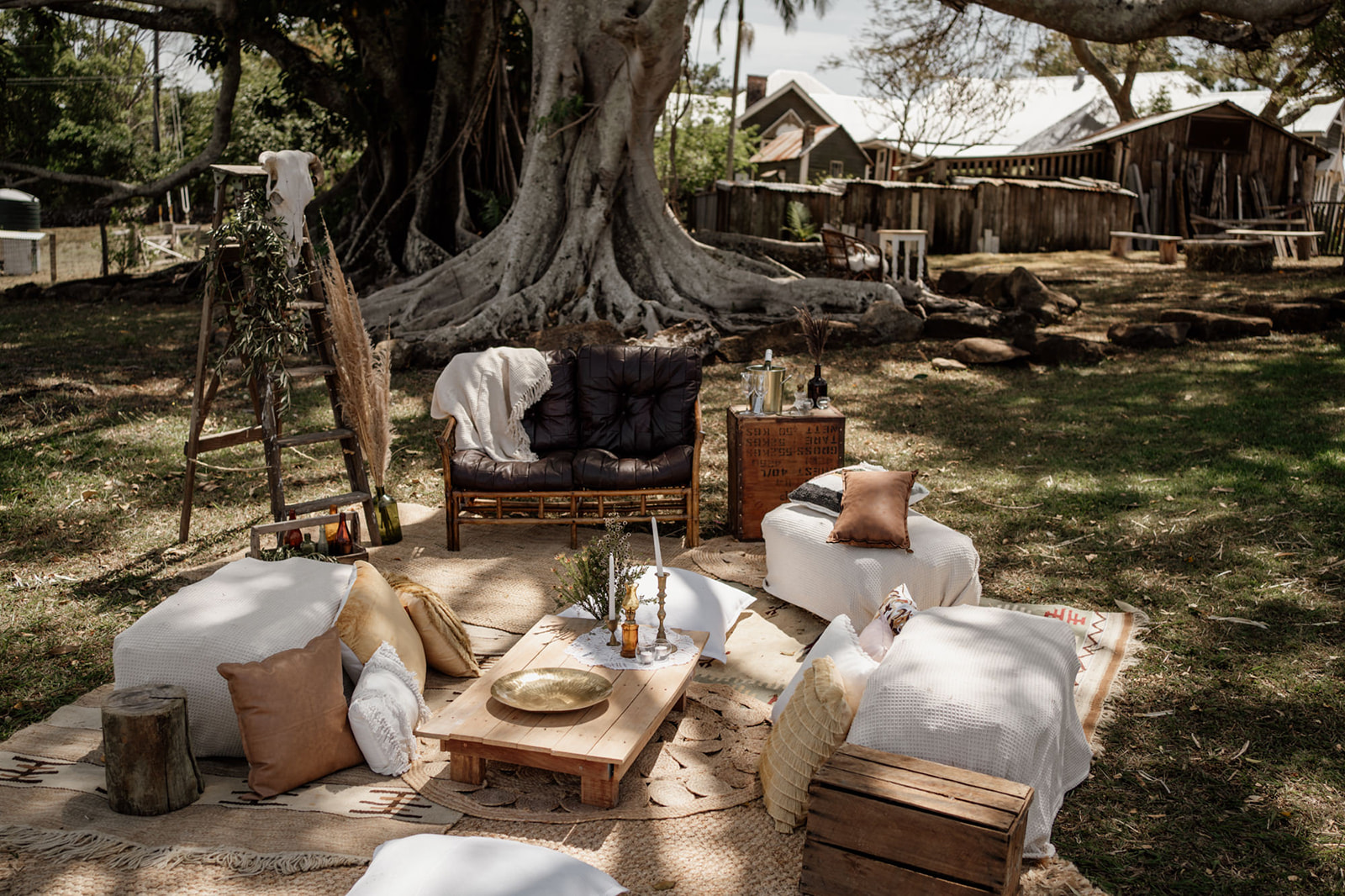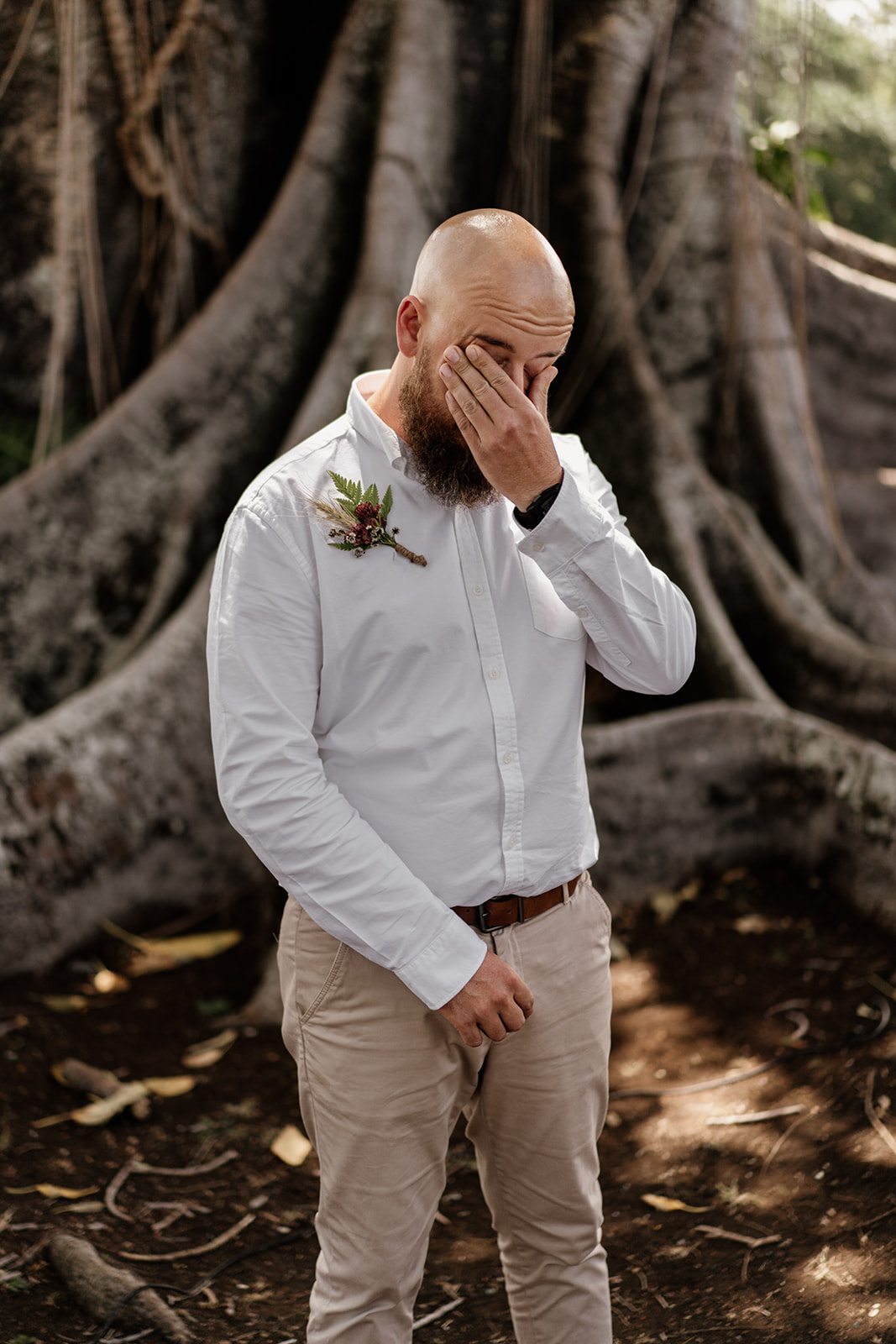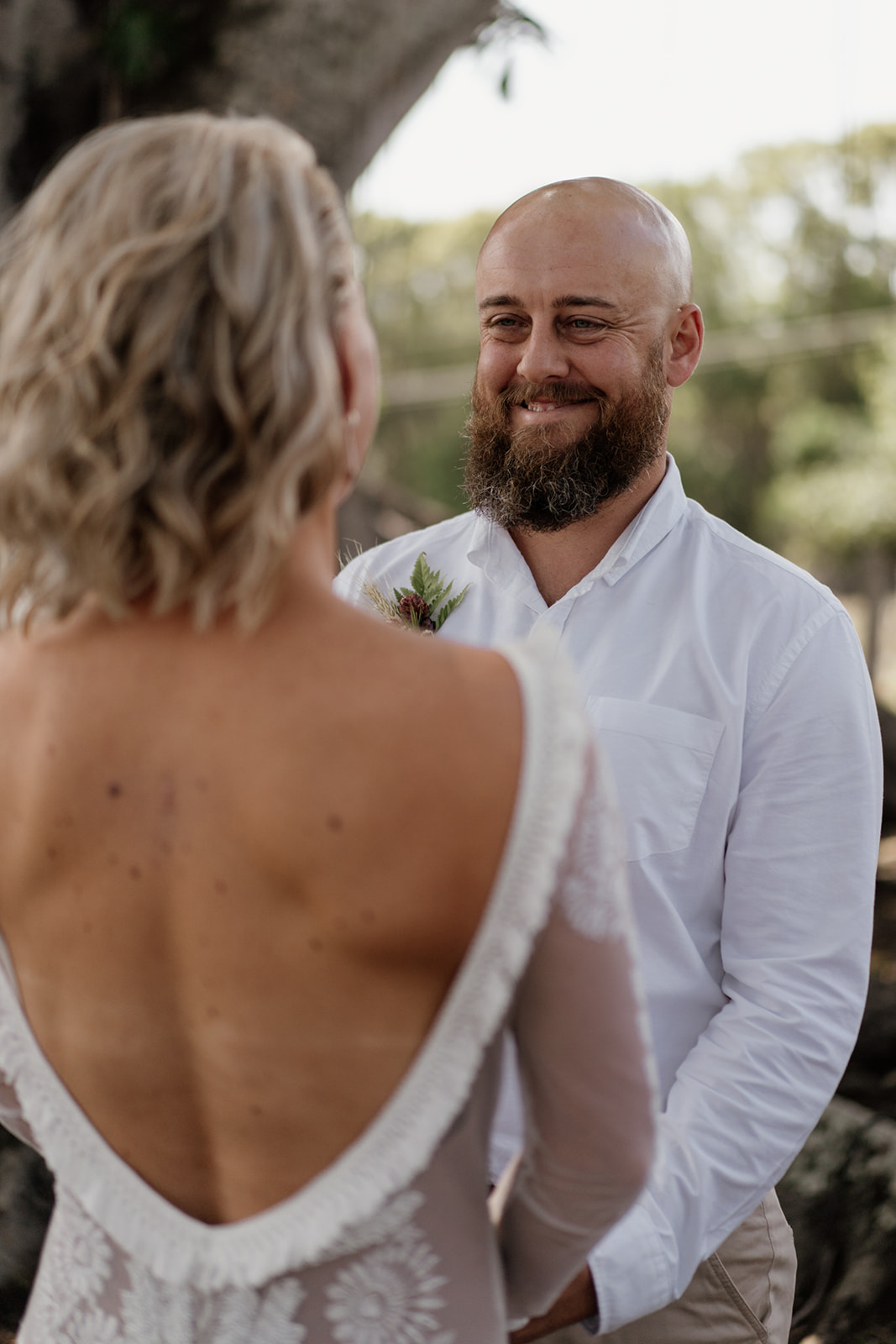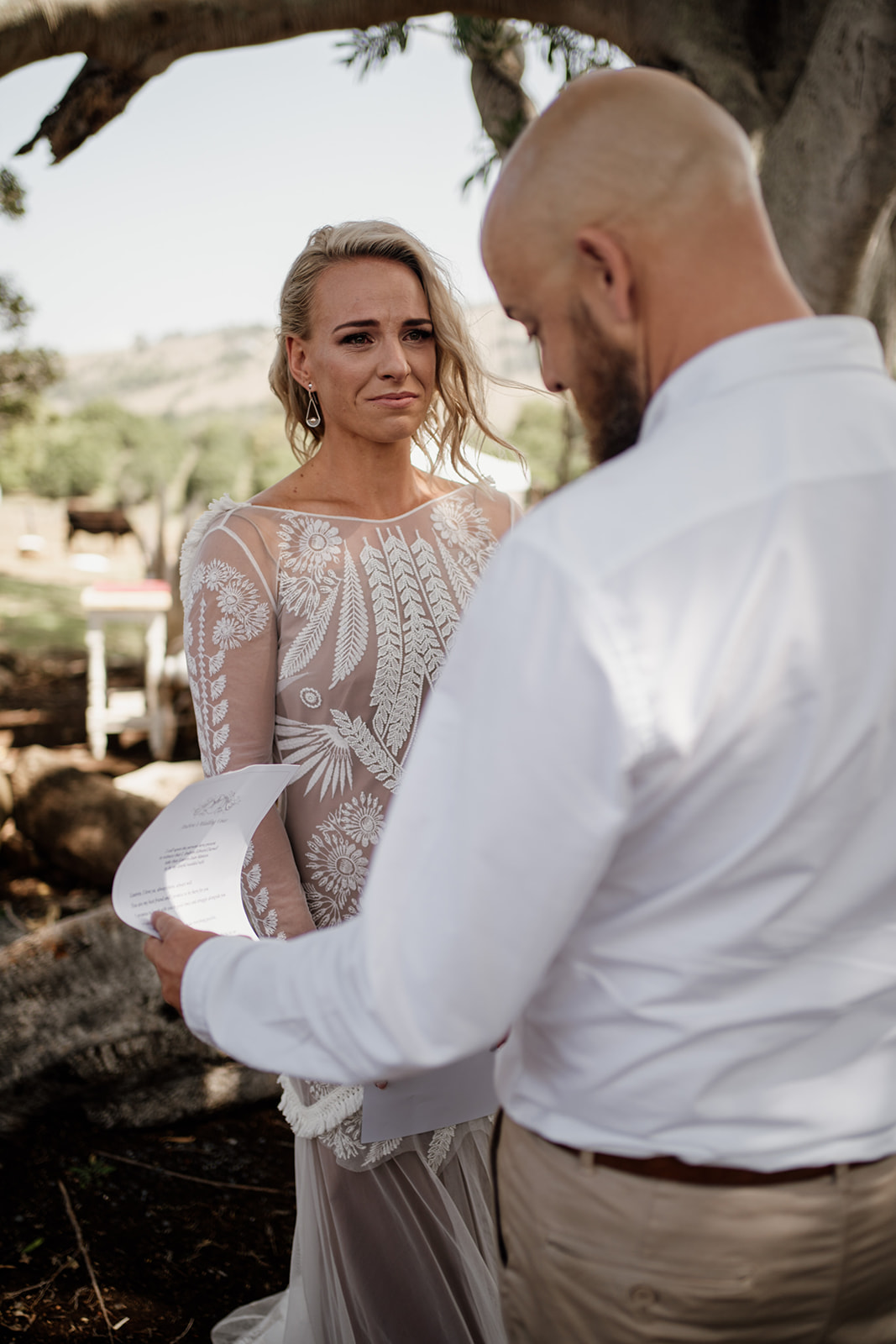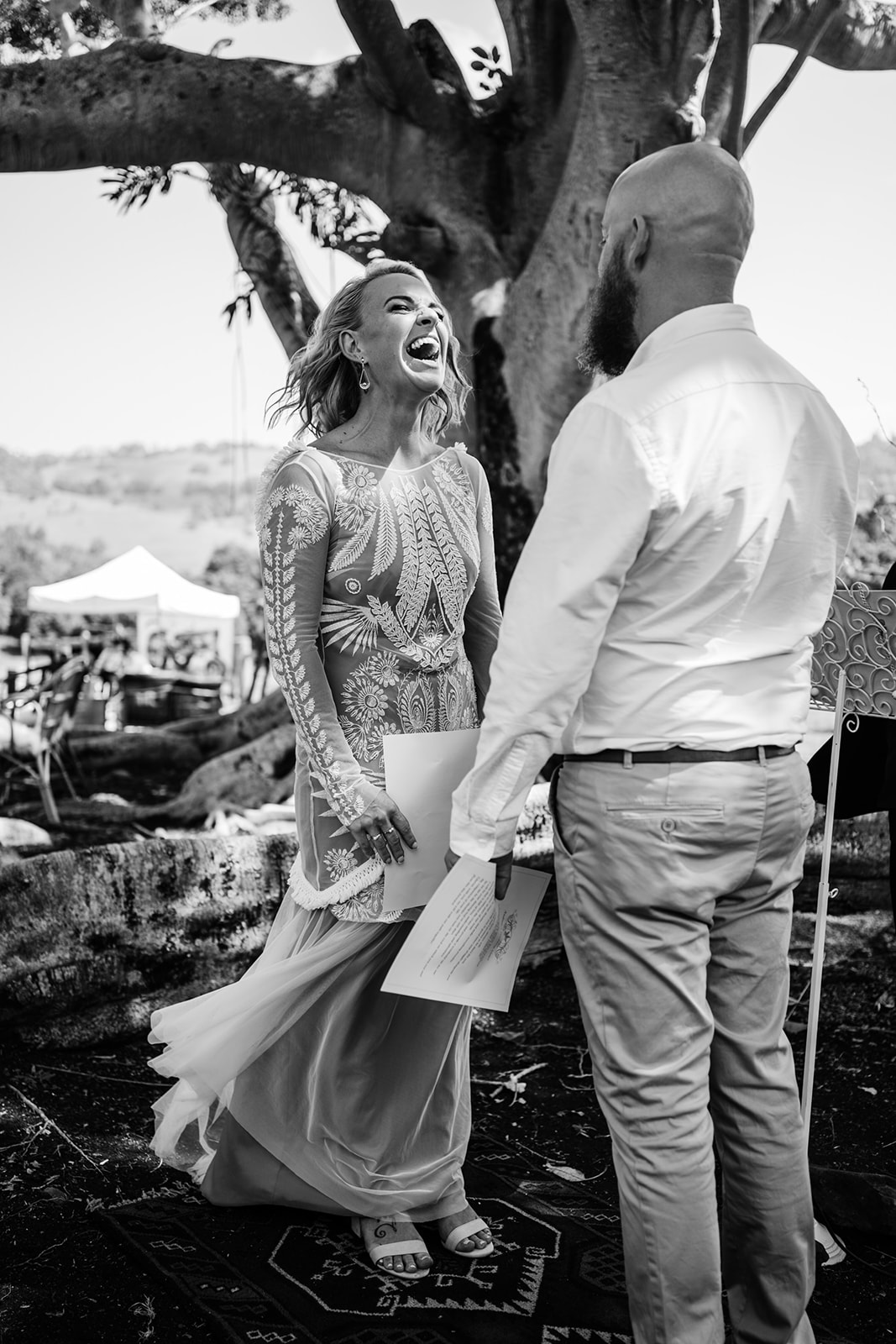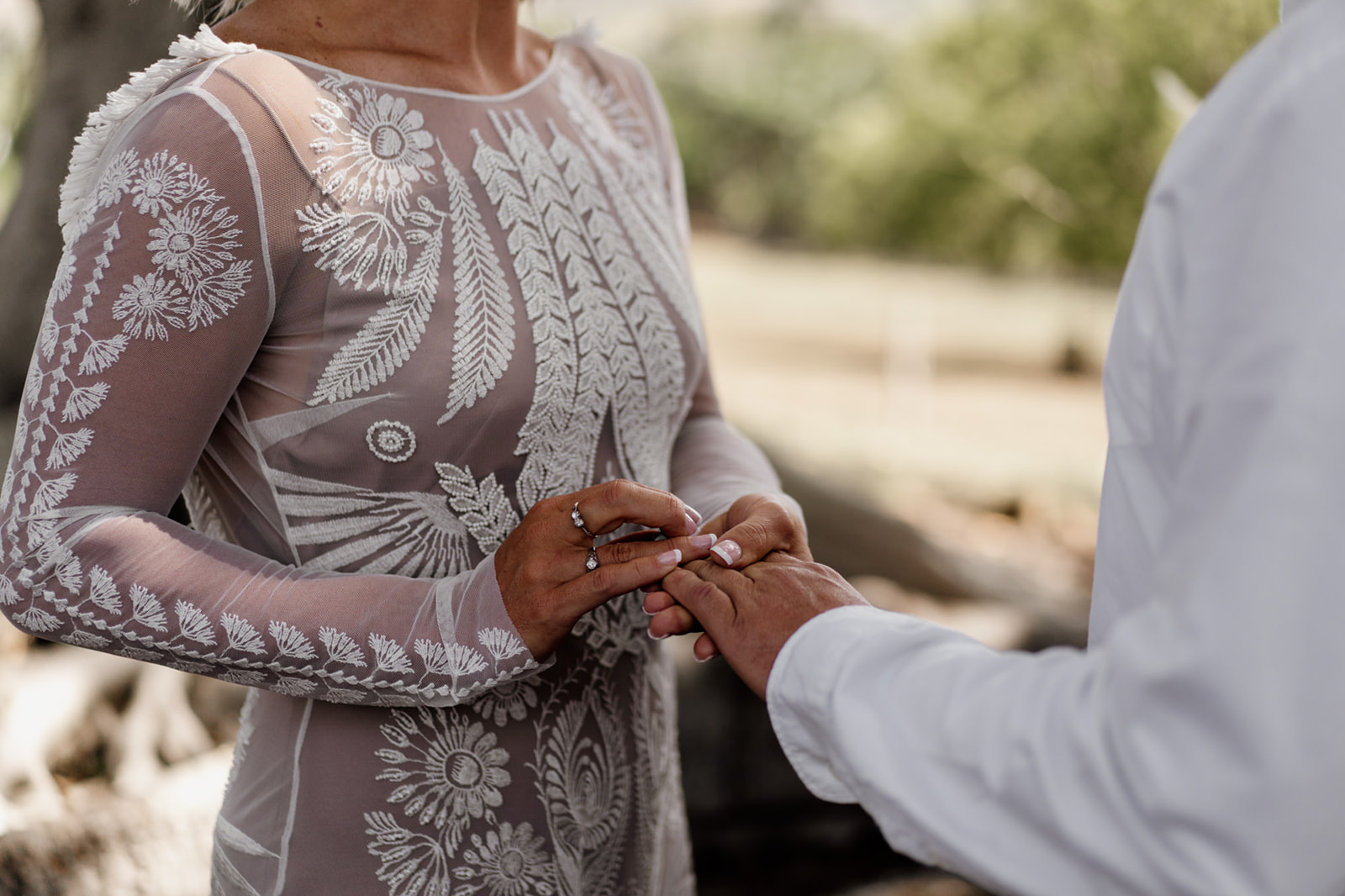 Lauren and Daz did something quite unique for their Byron Bay wedding ceremony at Tooraloo Farmstay.
"A very dear friend held the ceremony for us, while our official celebrant was the beautiful Jess Maginnity of Tie the Knot with Jess," explains Lauren.
BROWSE MARRIAGE CELEBRANTS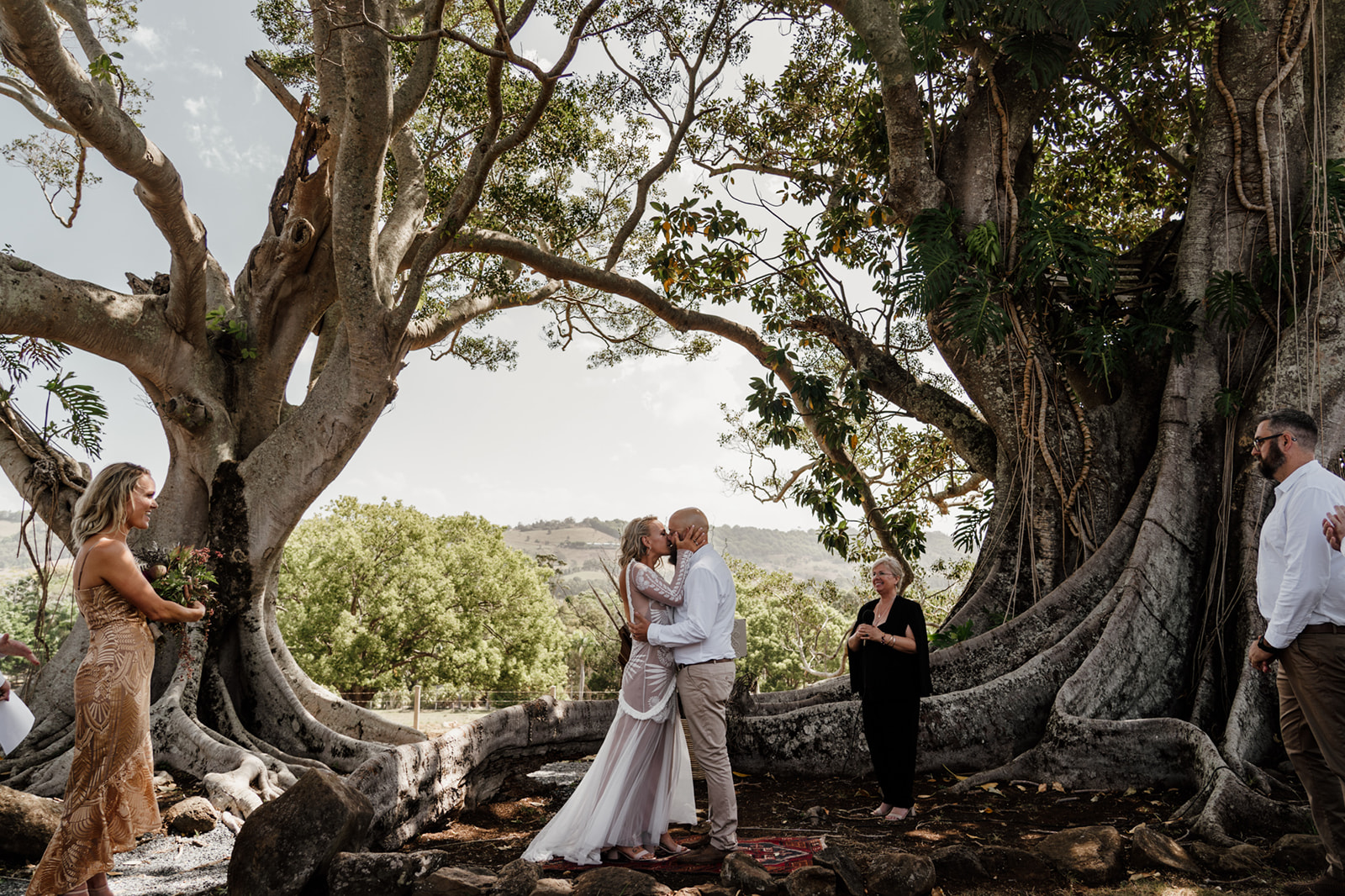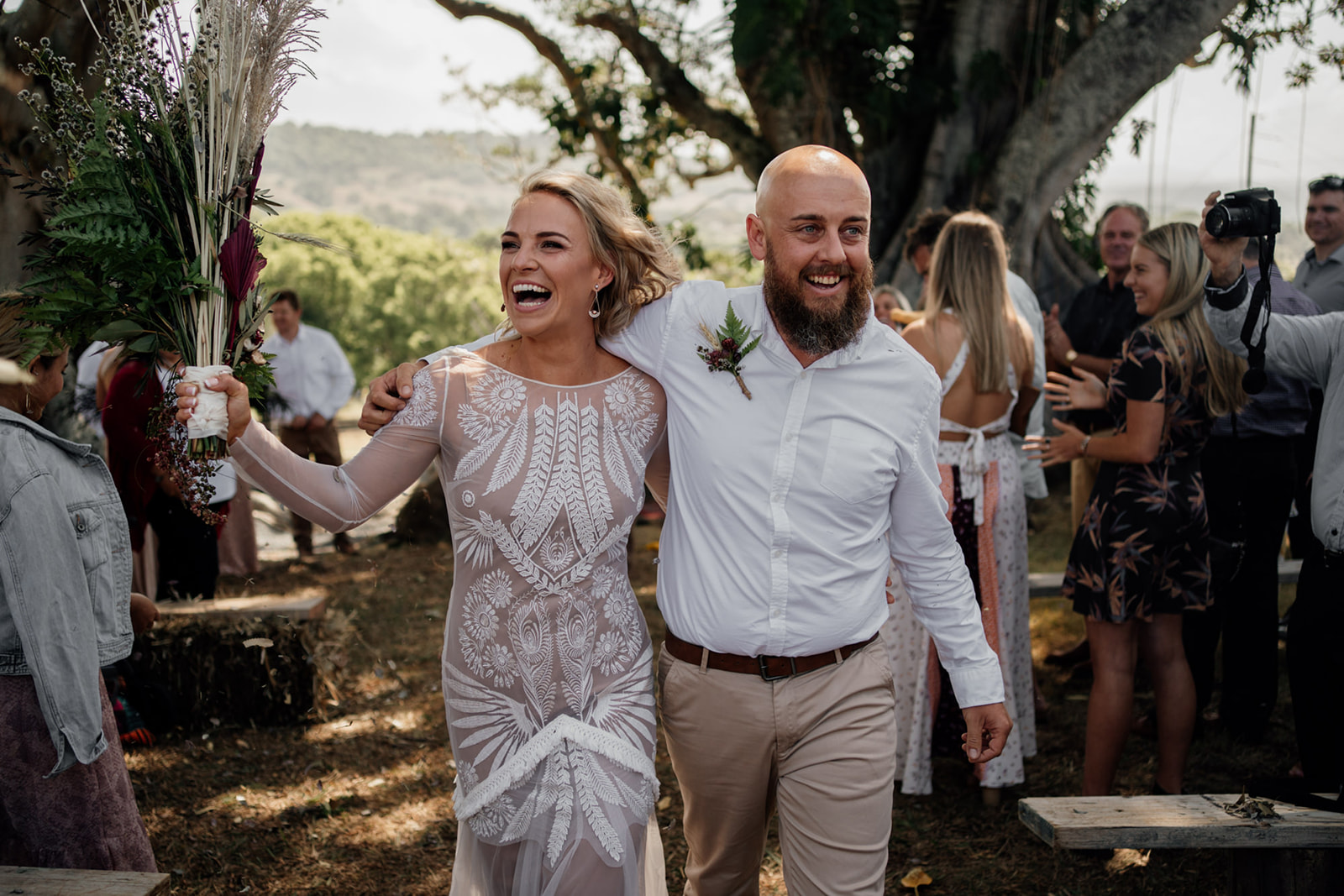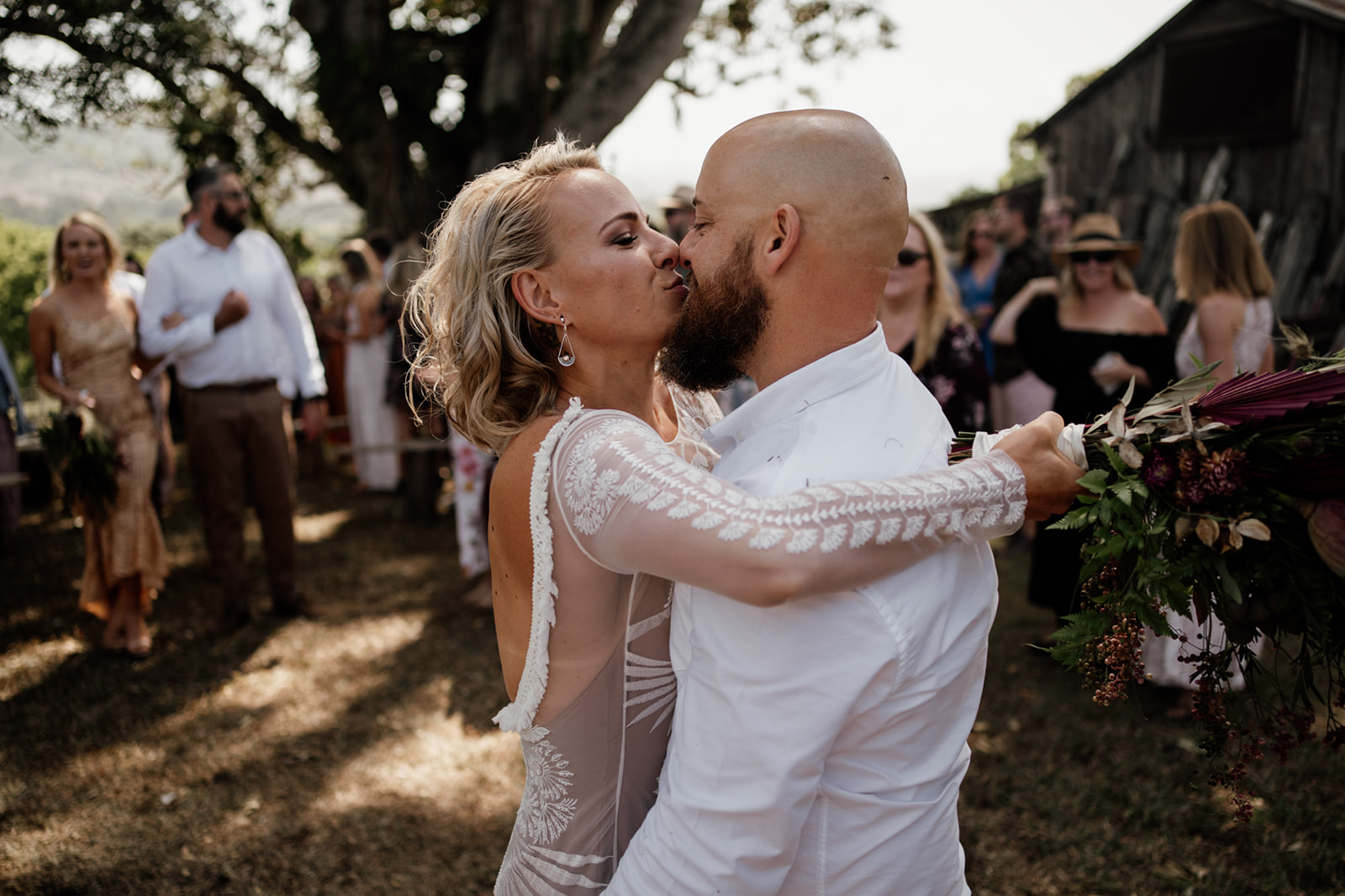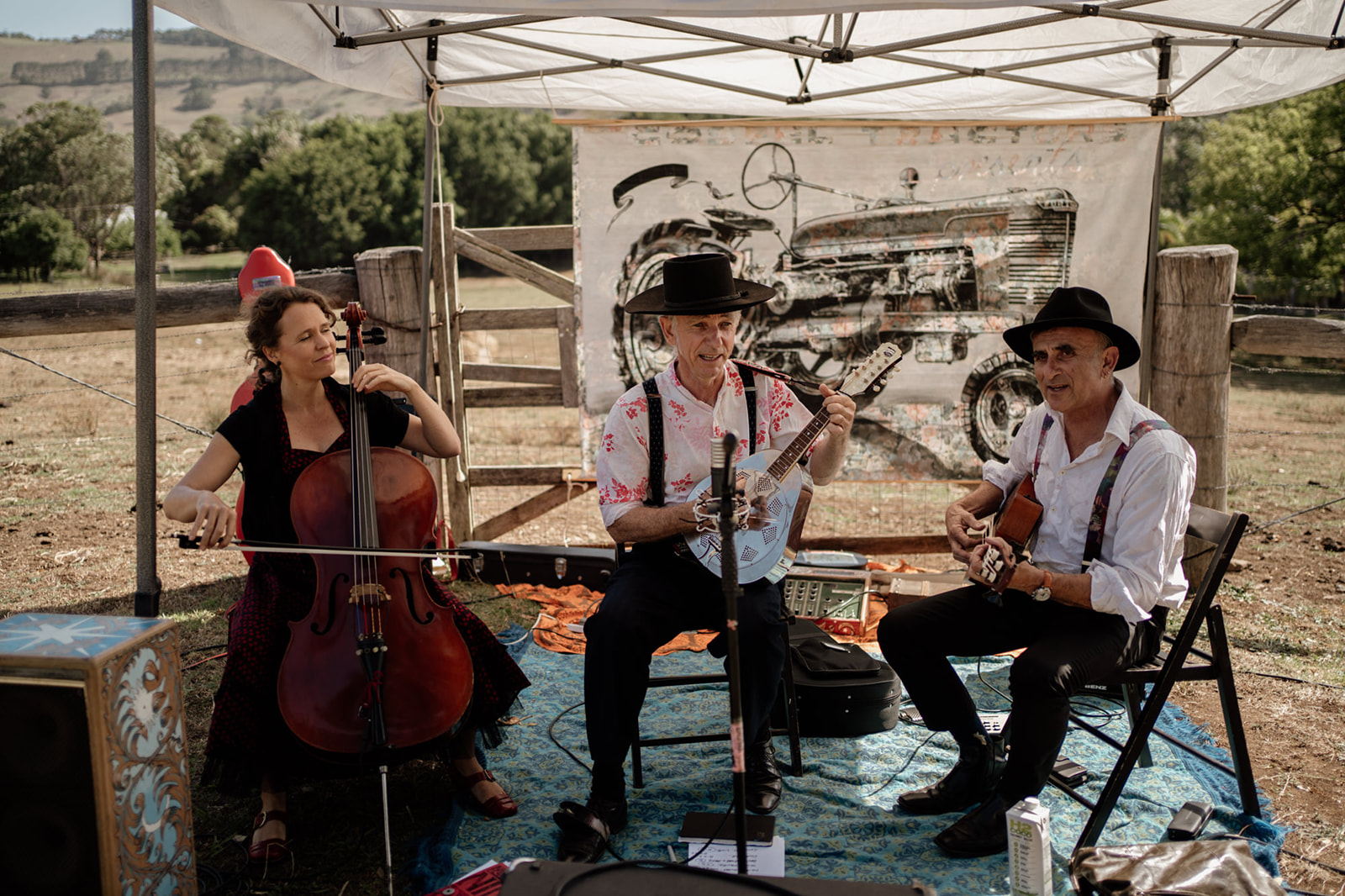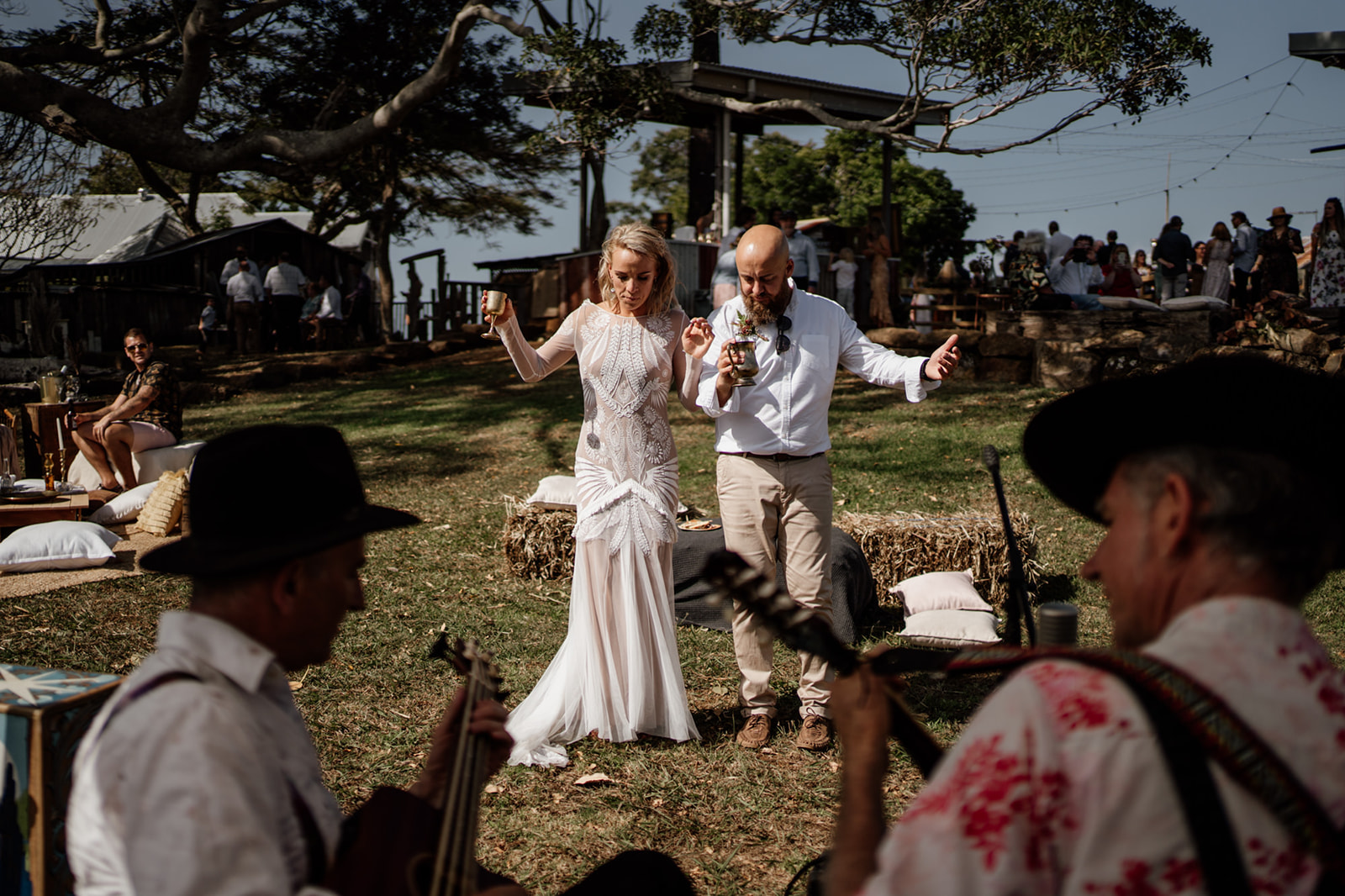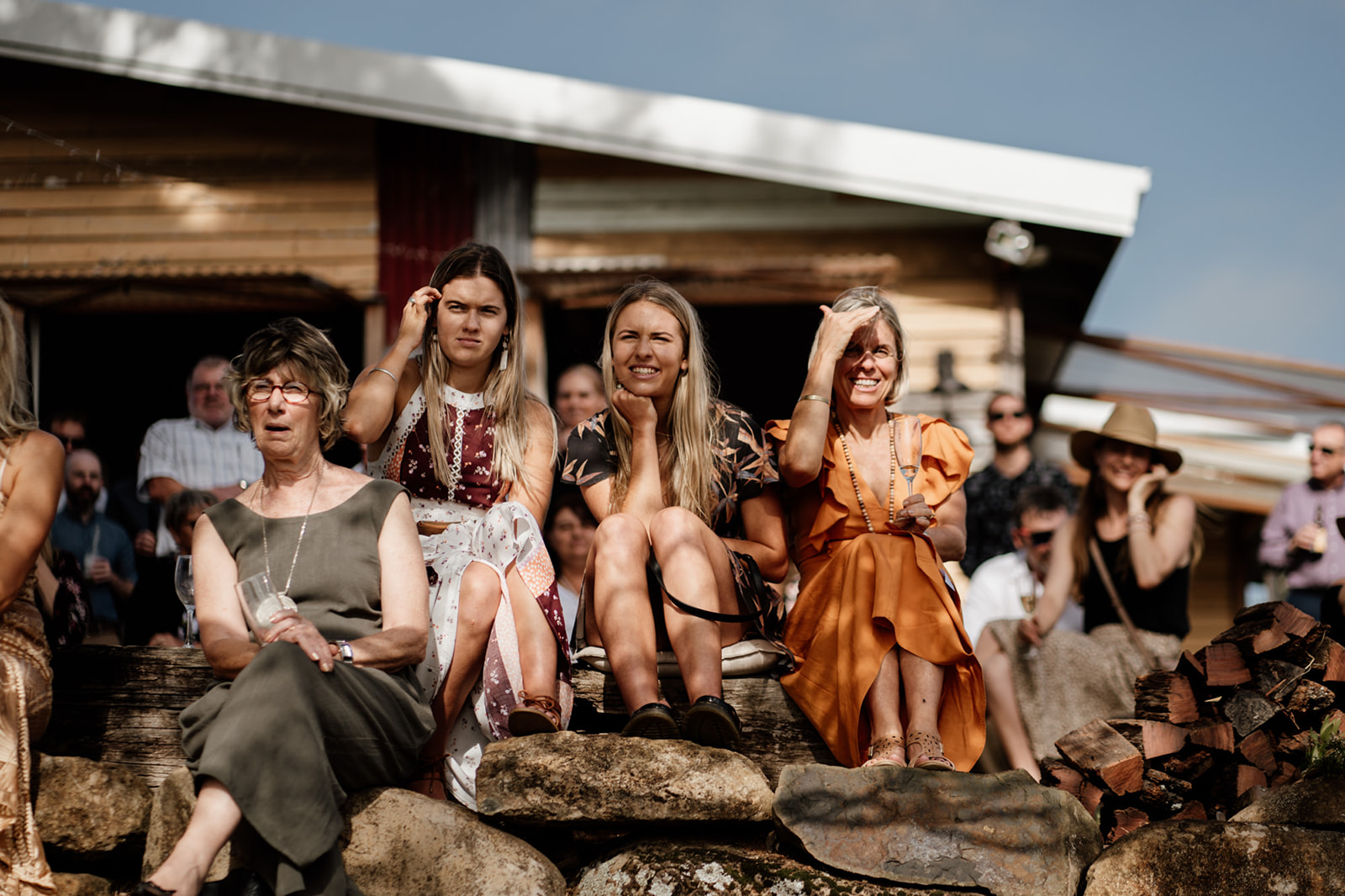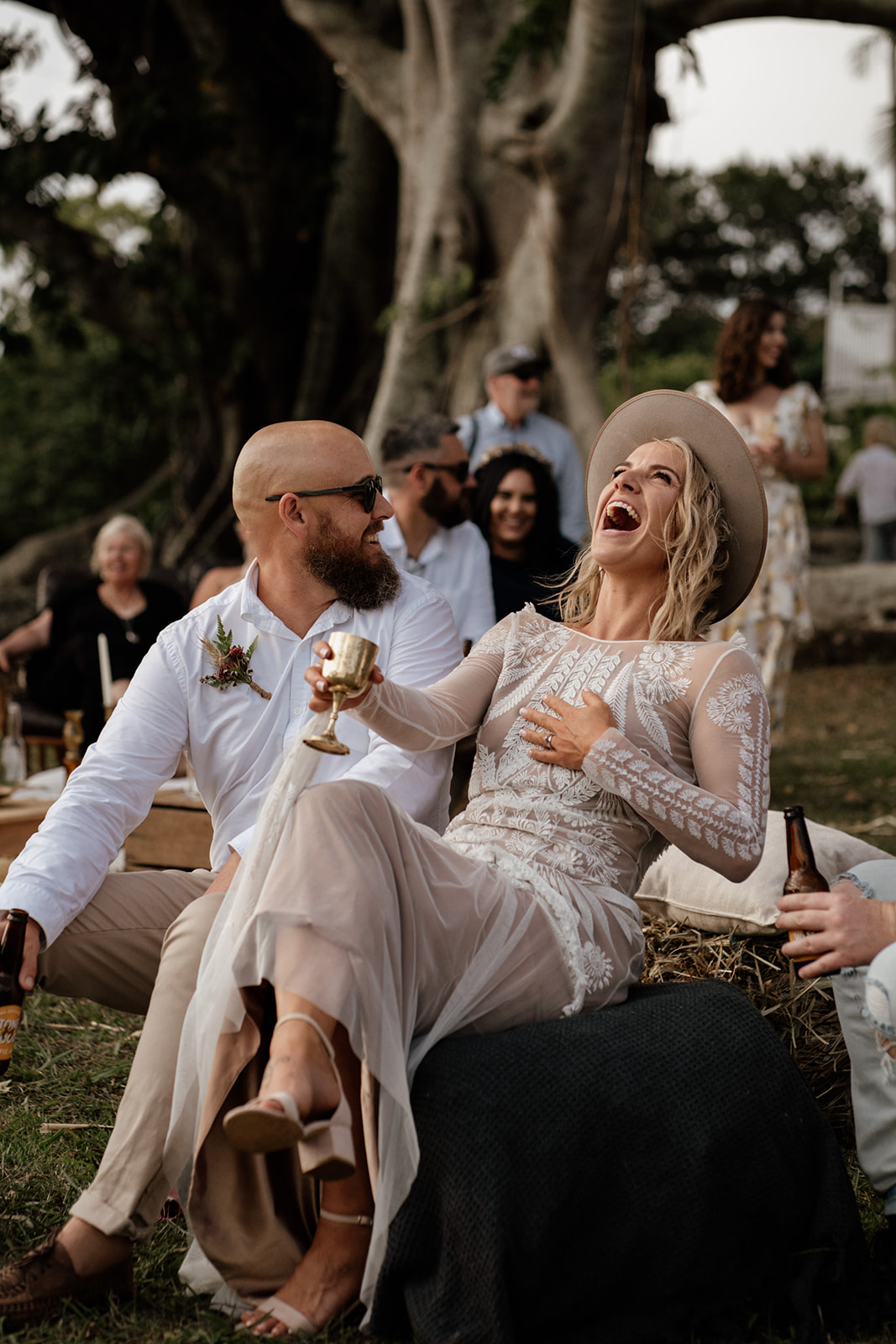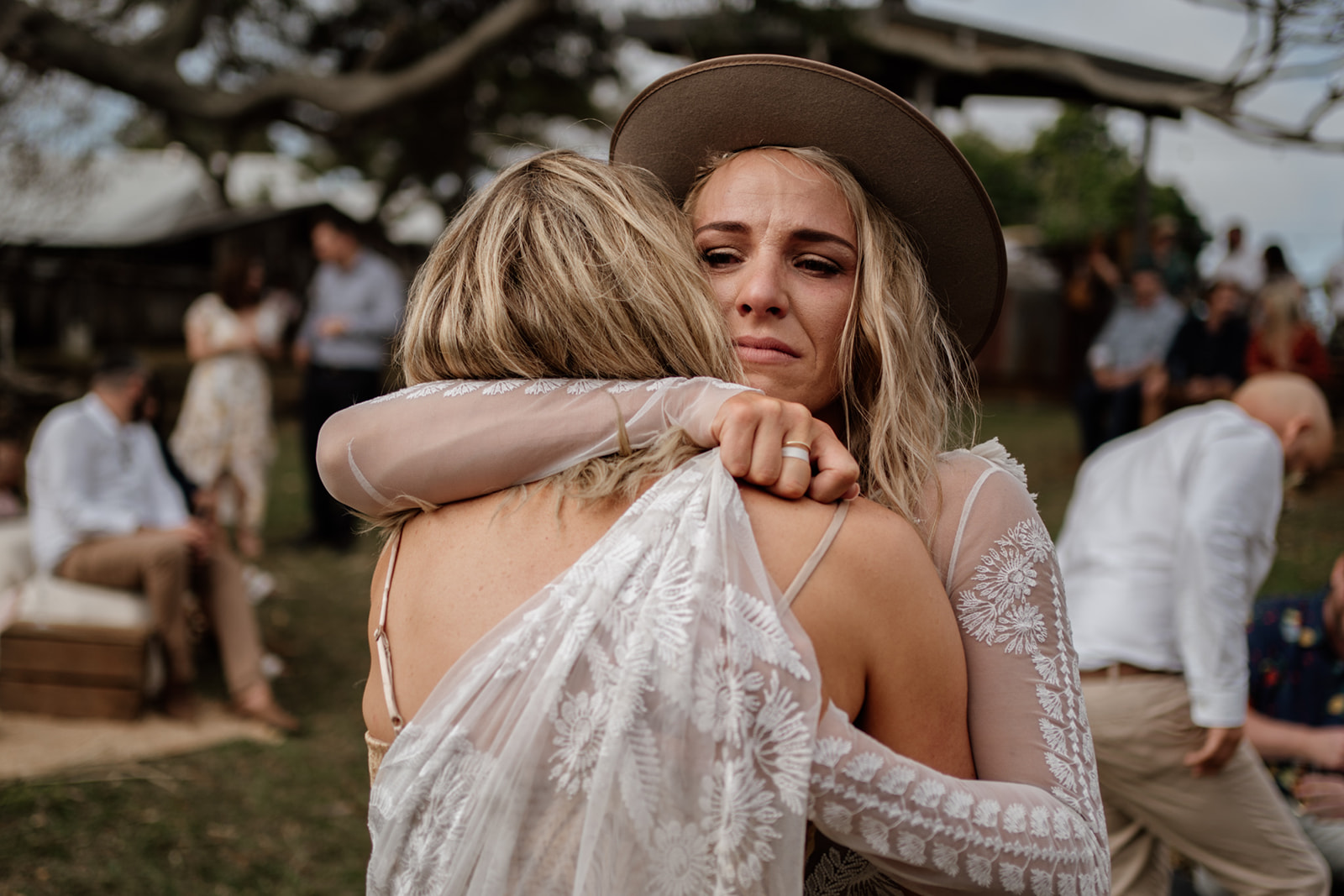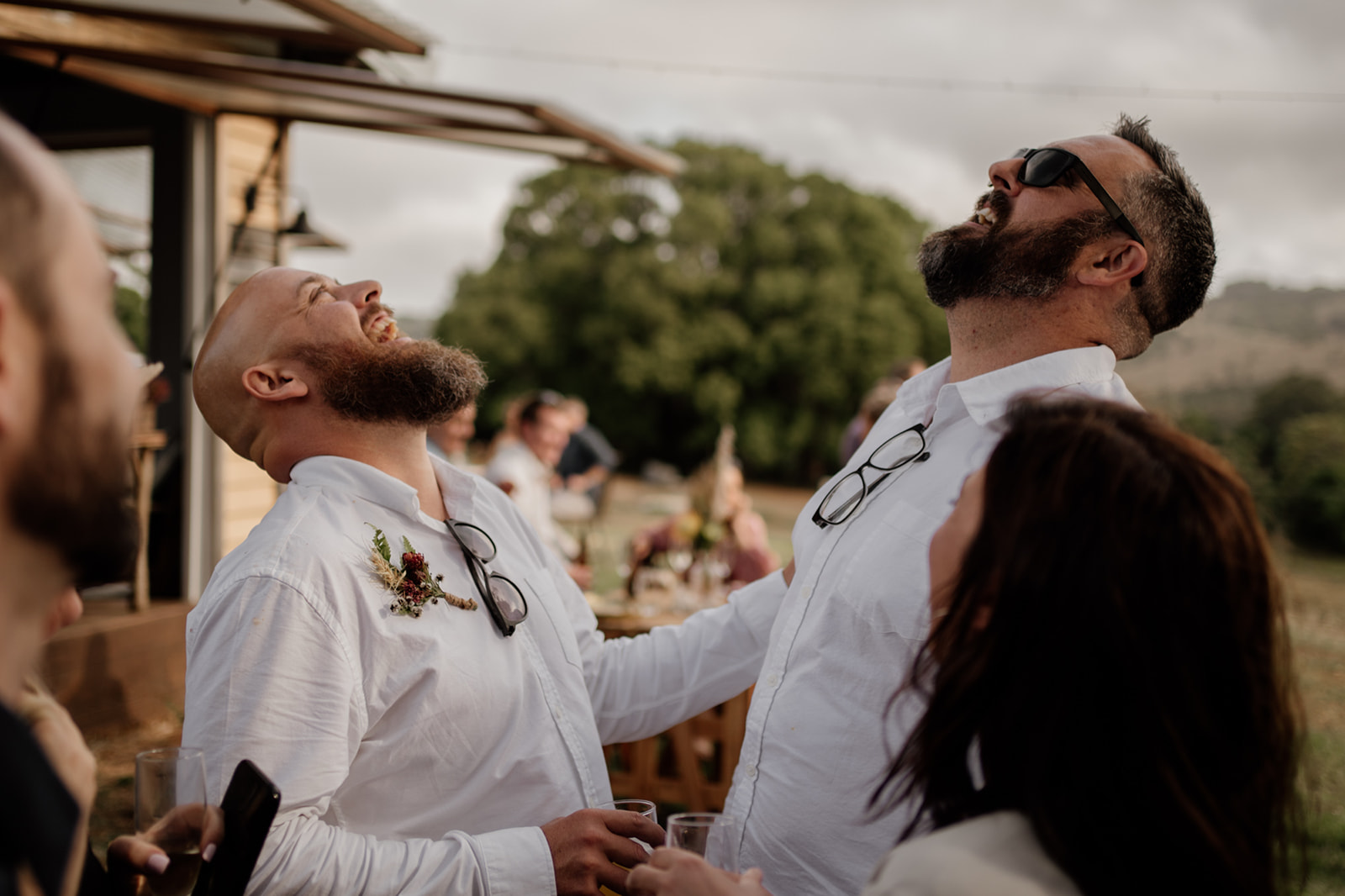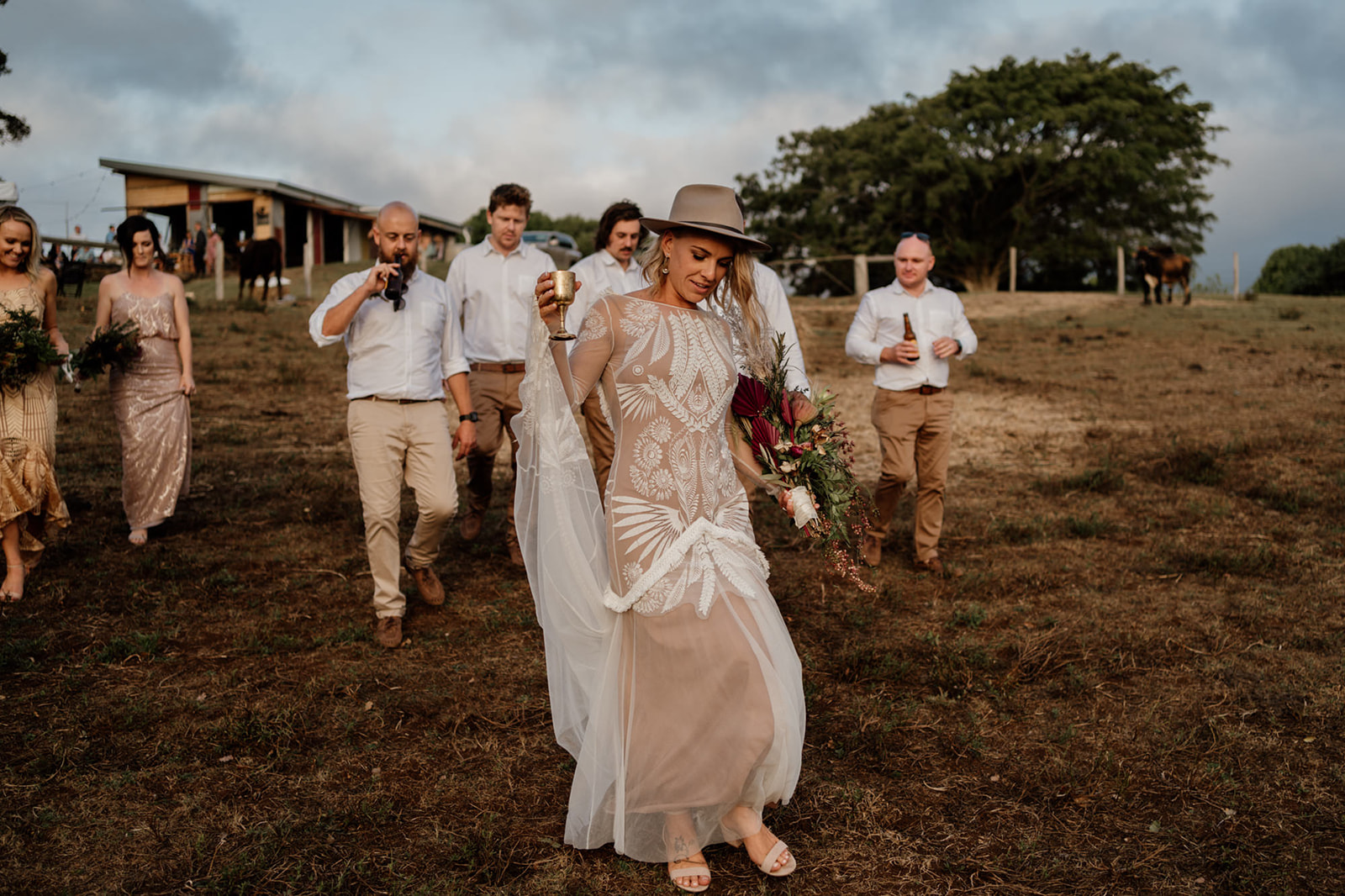 Bride Lauren totally nailed the rustic boho wedding look wearing a champagne backless dress from Rue de Seine and a fantastic wide-brim fedora hat from Will and Bear.
"My earrings were from Red Earth Jewellers. The boys wore the matching shirts, pants, belt and shoes supplied by Connor. My bridesmaids all chose their own dresses in champagne / gold colours, and Andrew's amazing cousin Kerry of Darcy and the Fox created everything flower related," describes Lauren.
BROWSE MORE WEDDINGS LIKE THIS ONE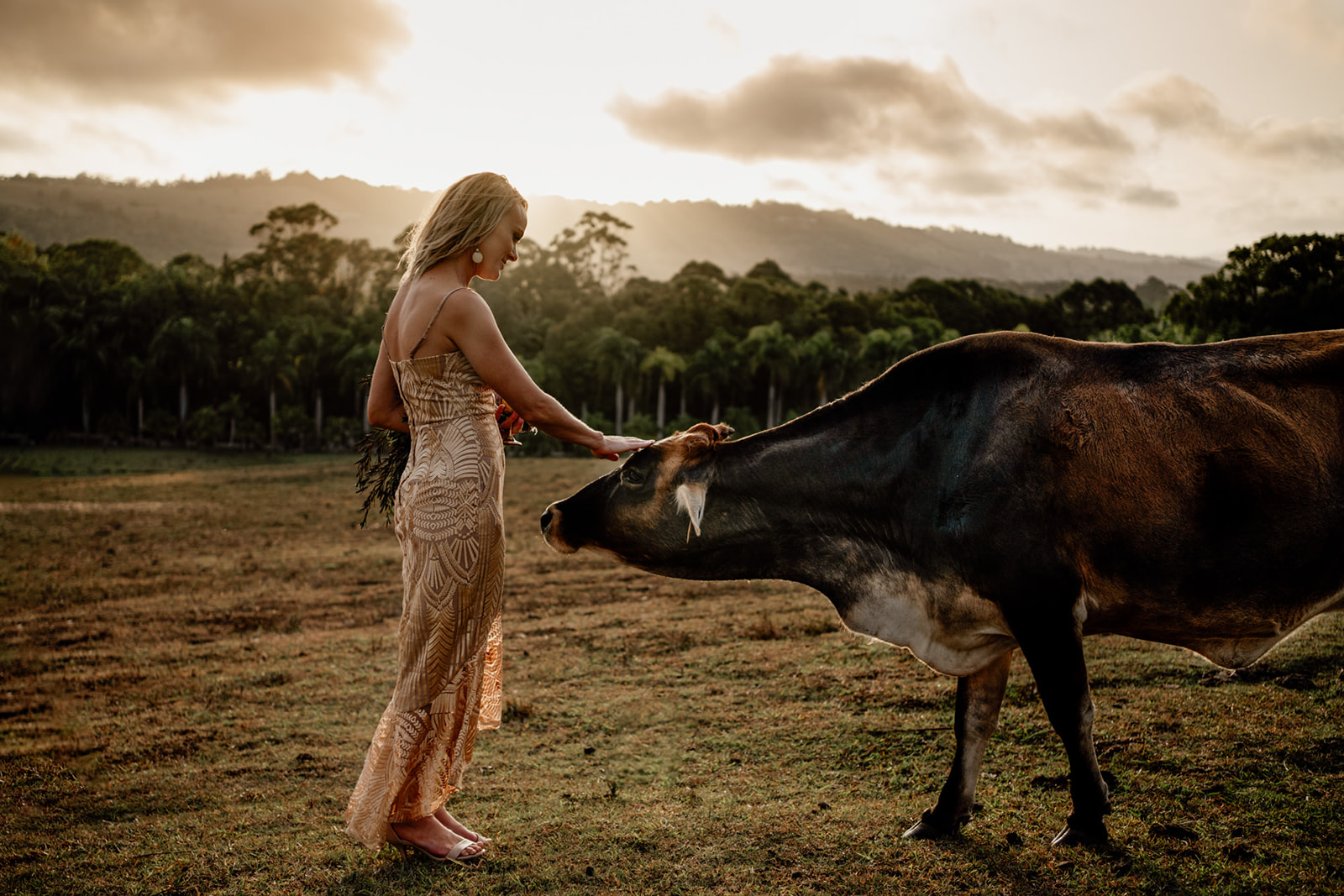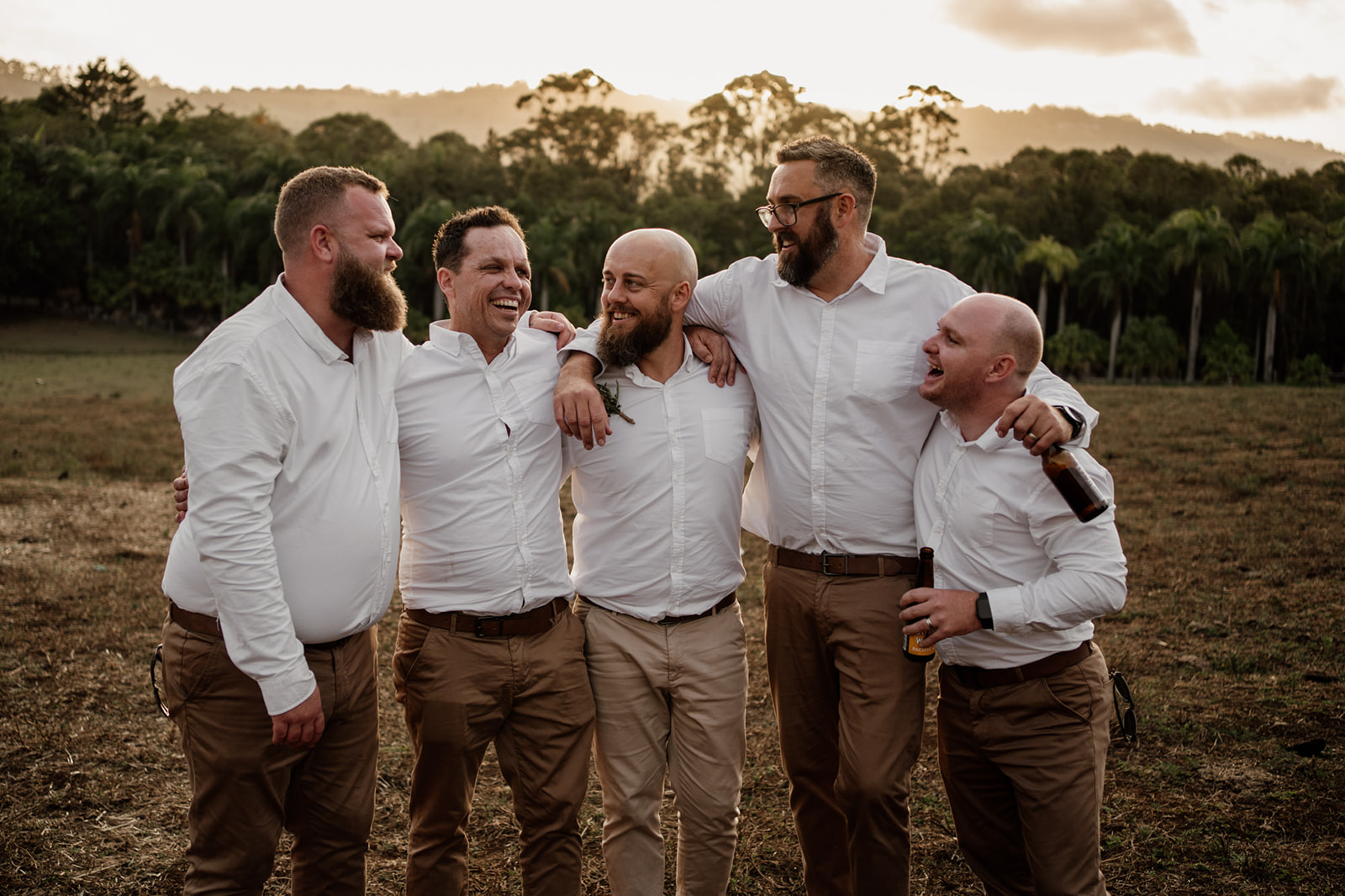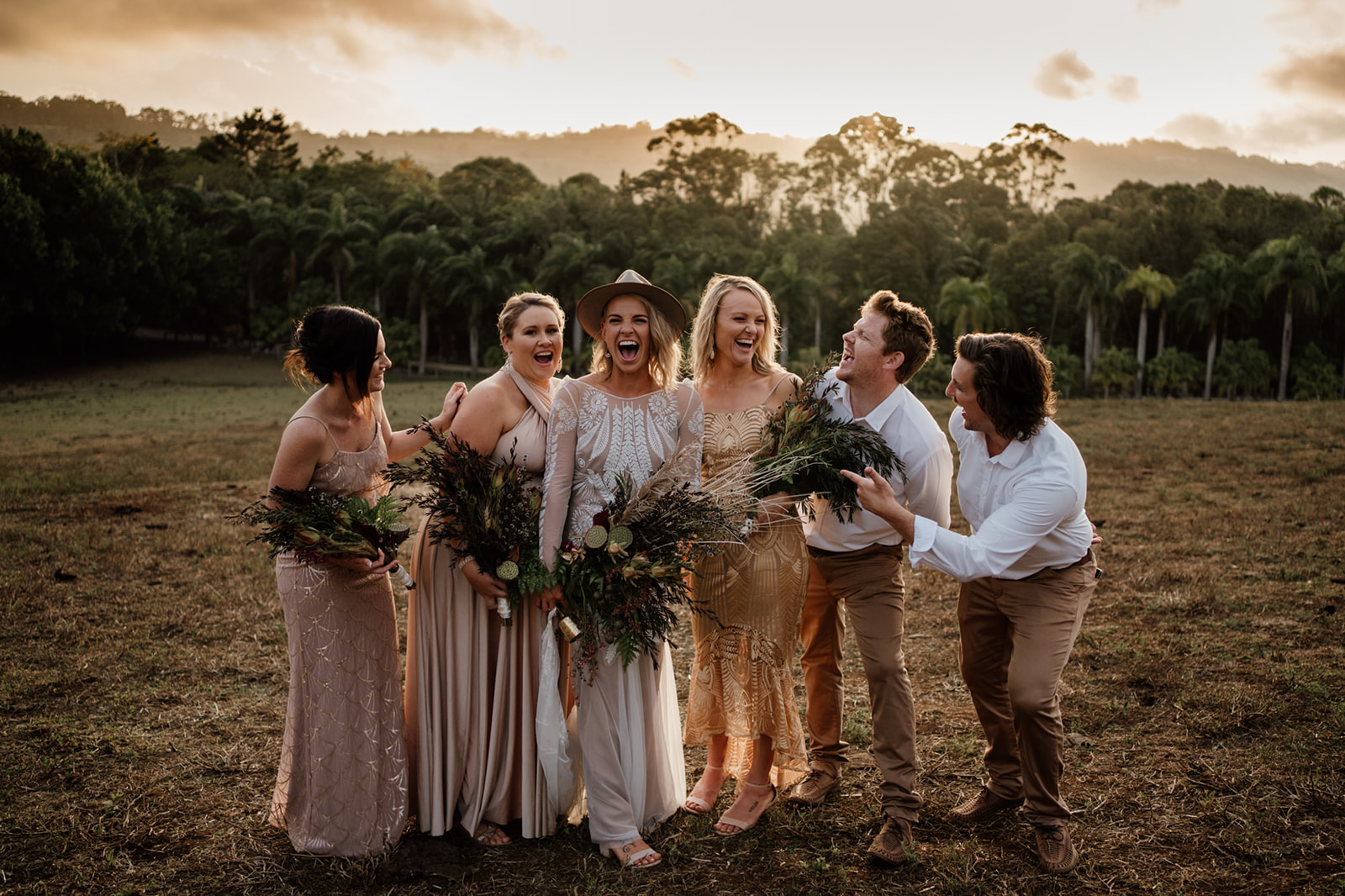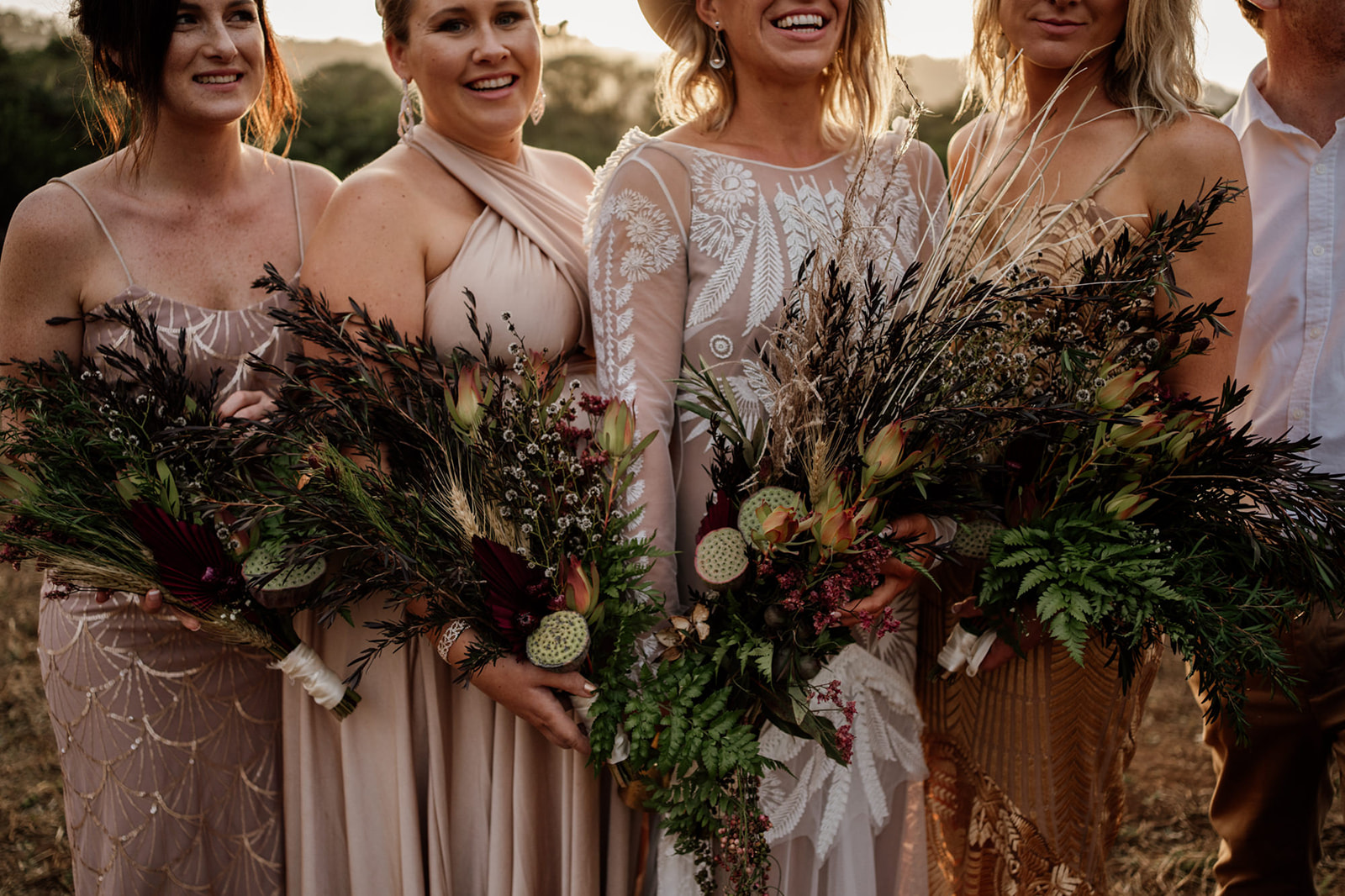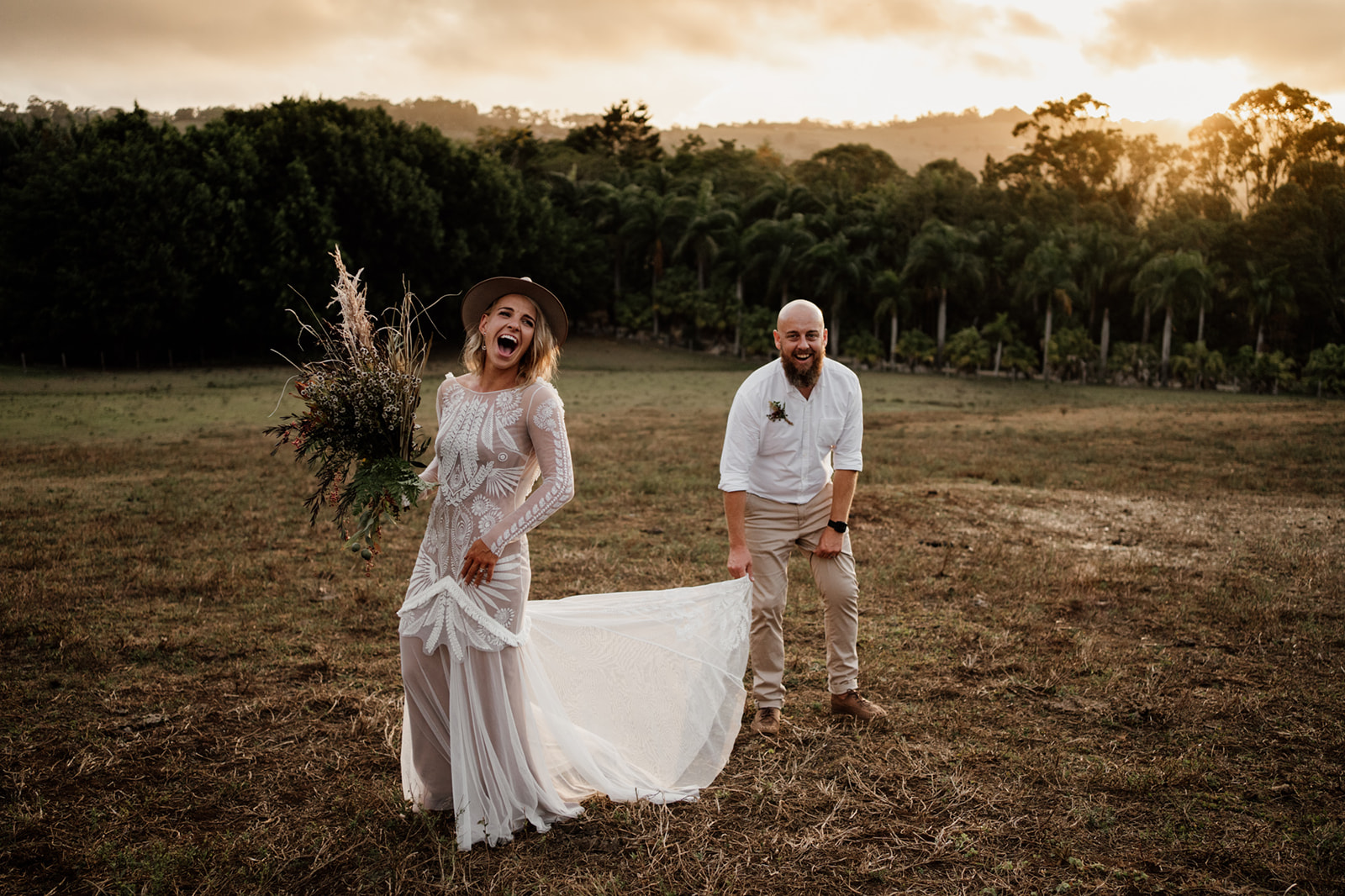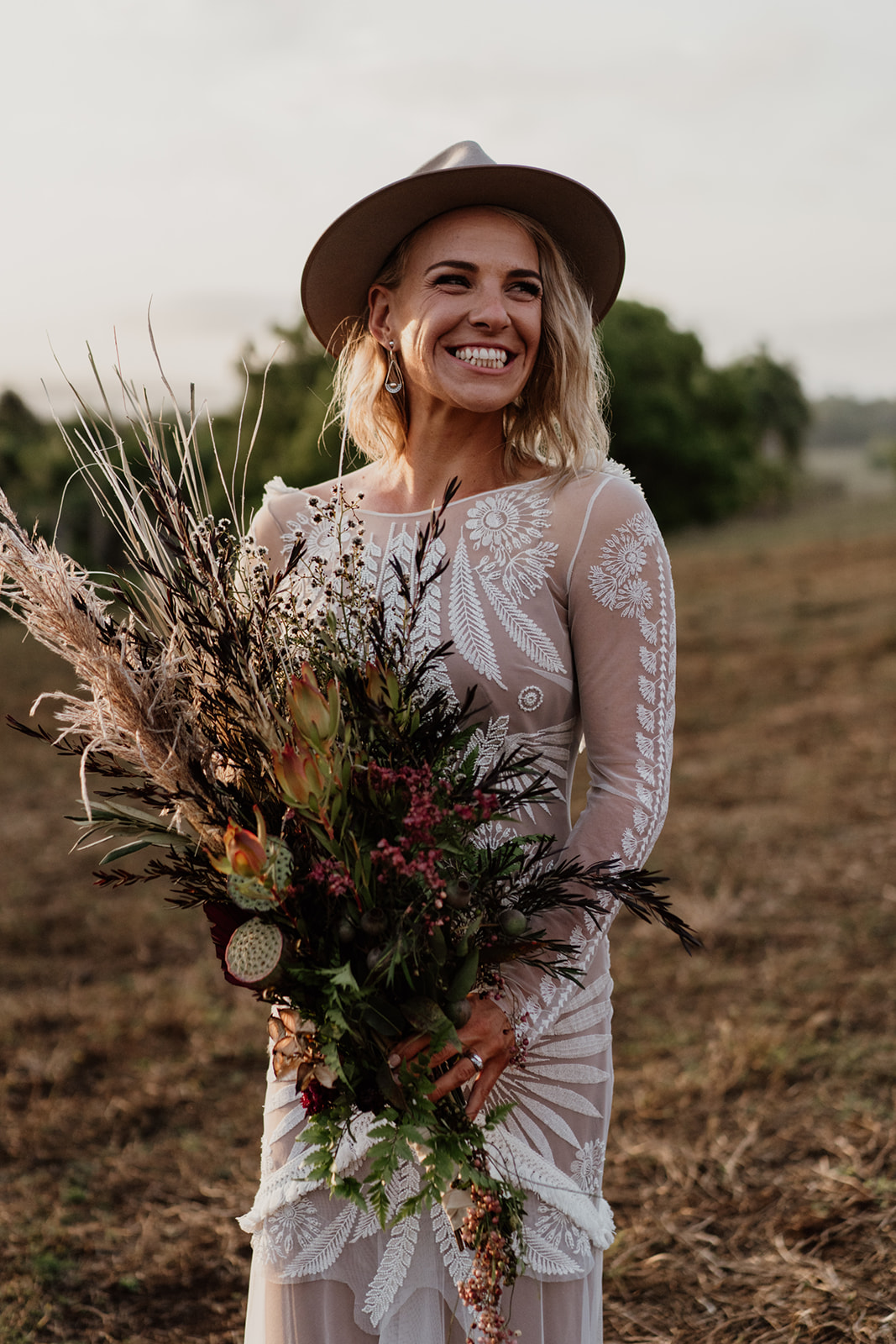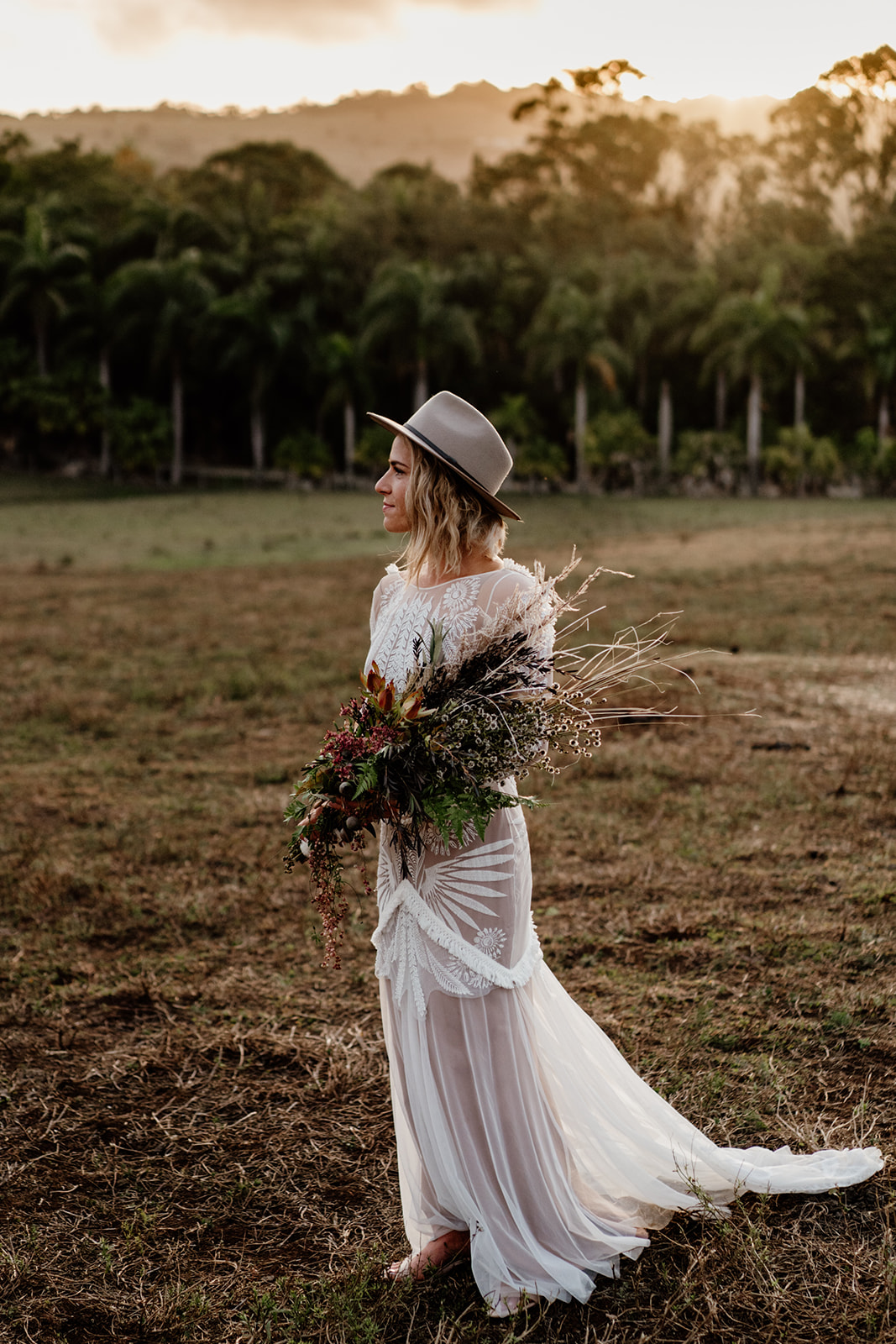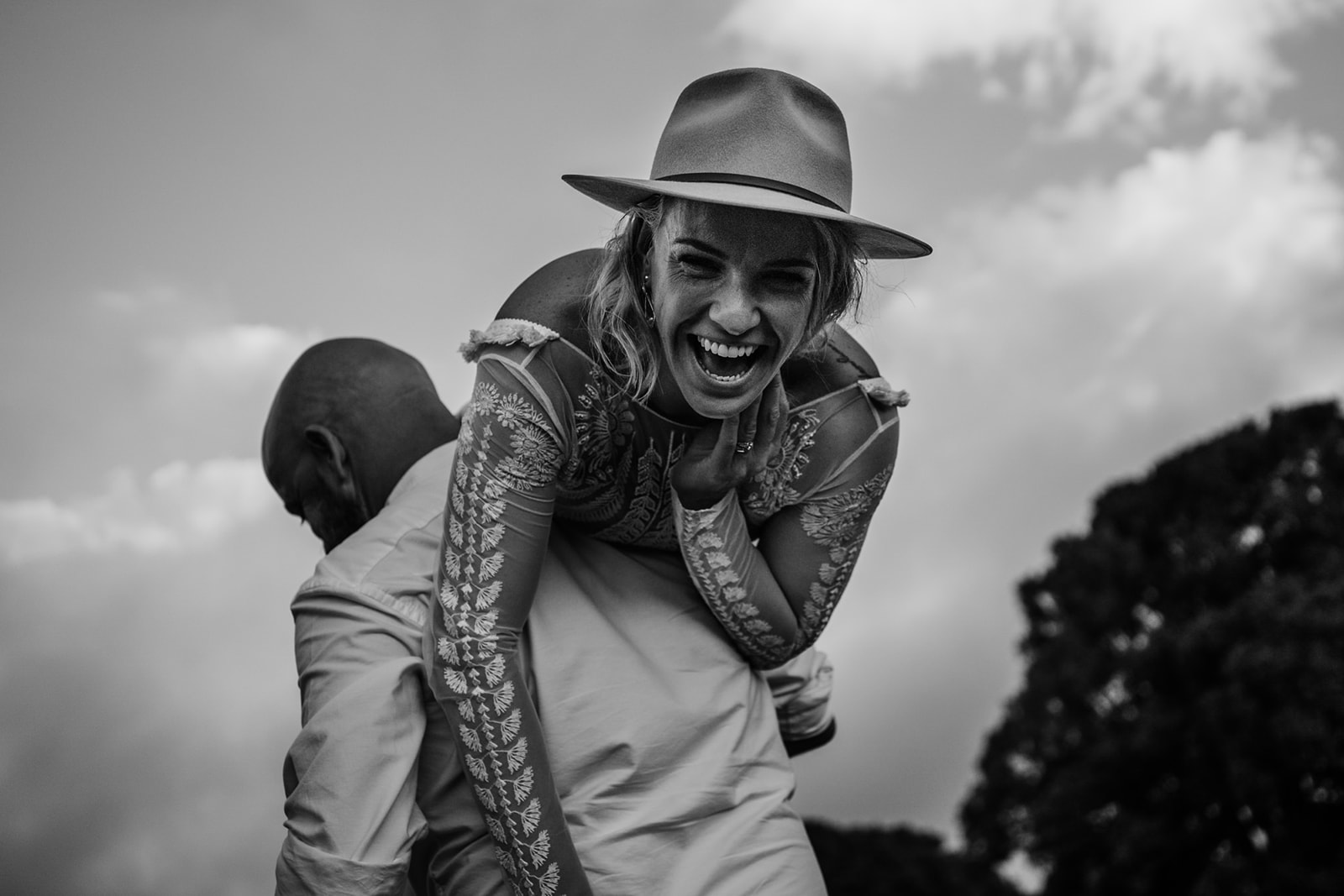 Bryon Bay wedding photographer Sam Wyper's combination of photojournalism, drone photography and creative portraits made for some stunning wedding images.
"Sam is awesome, he is such an incredible photographer and a wonderful person," says Lauren. "He was very thorough in the lead up to our wedding day making sure he knew exactly what we wanted. He captured our day so perfectly. I still cry every time I look at our photos."
VISIT SAM WYPER PHOTOGRAPHY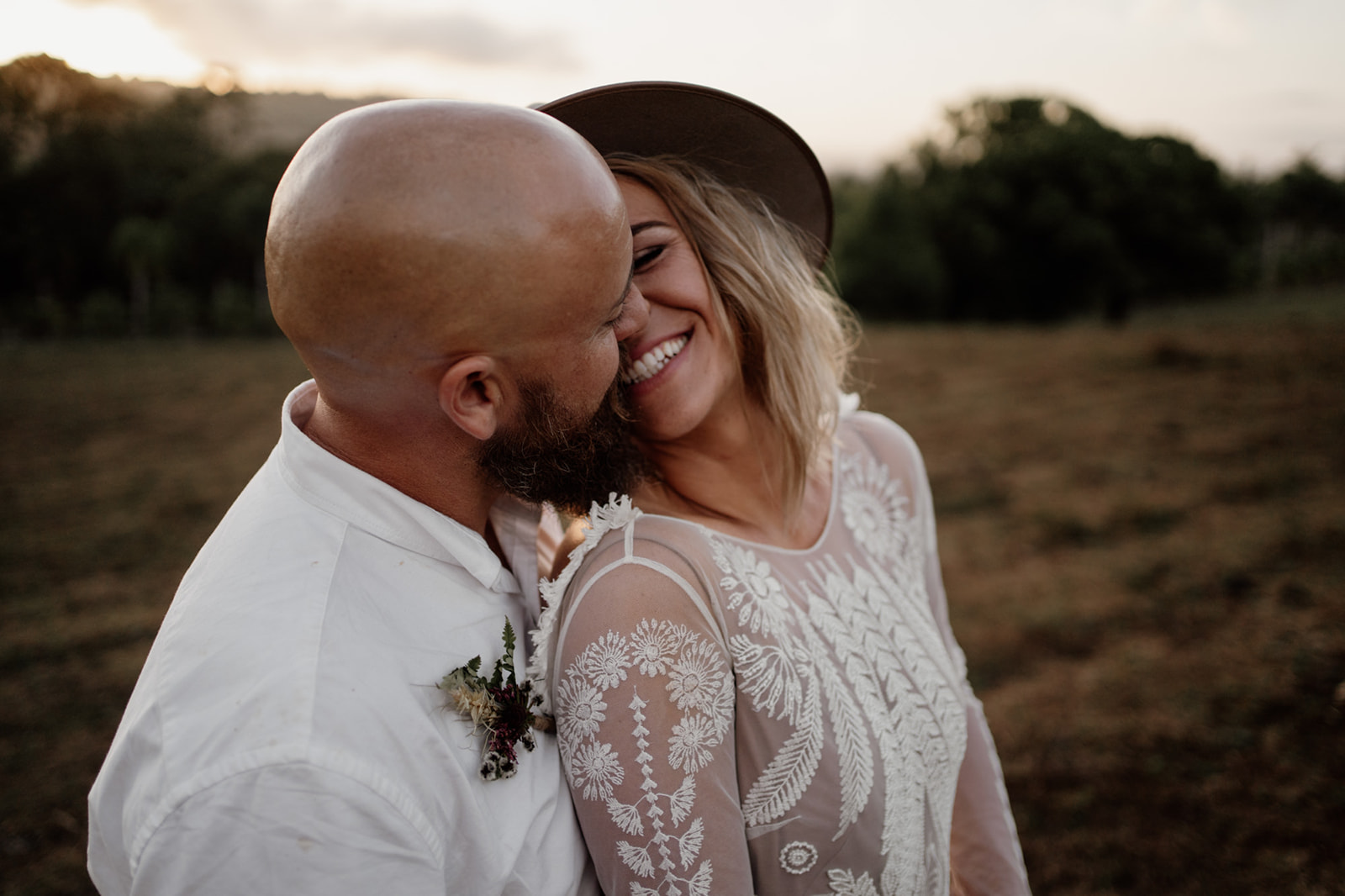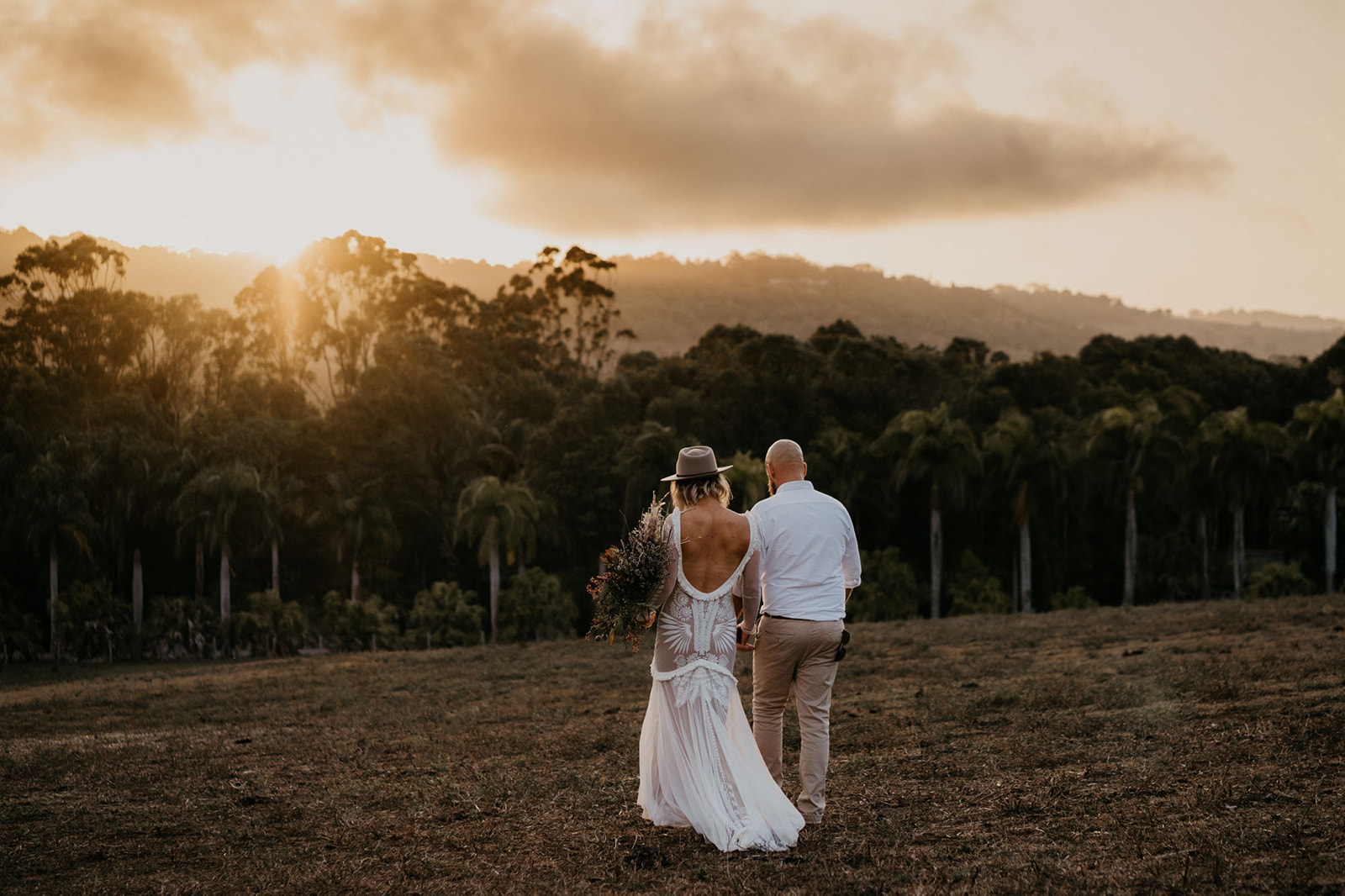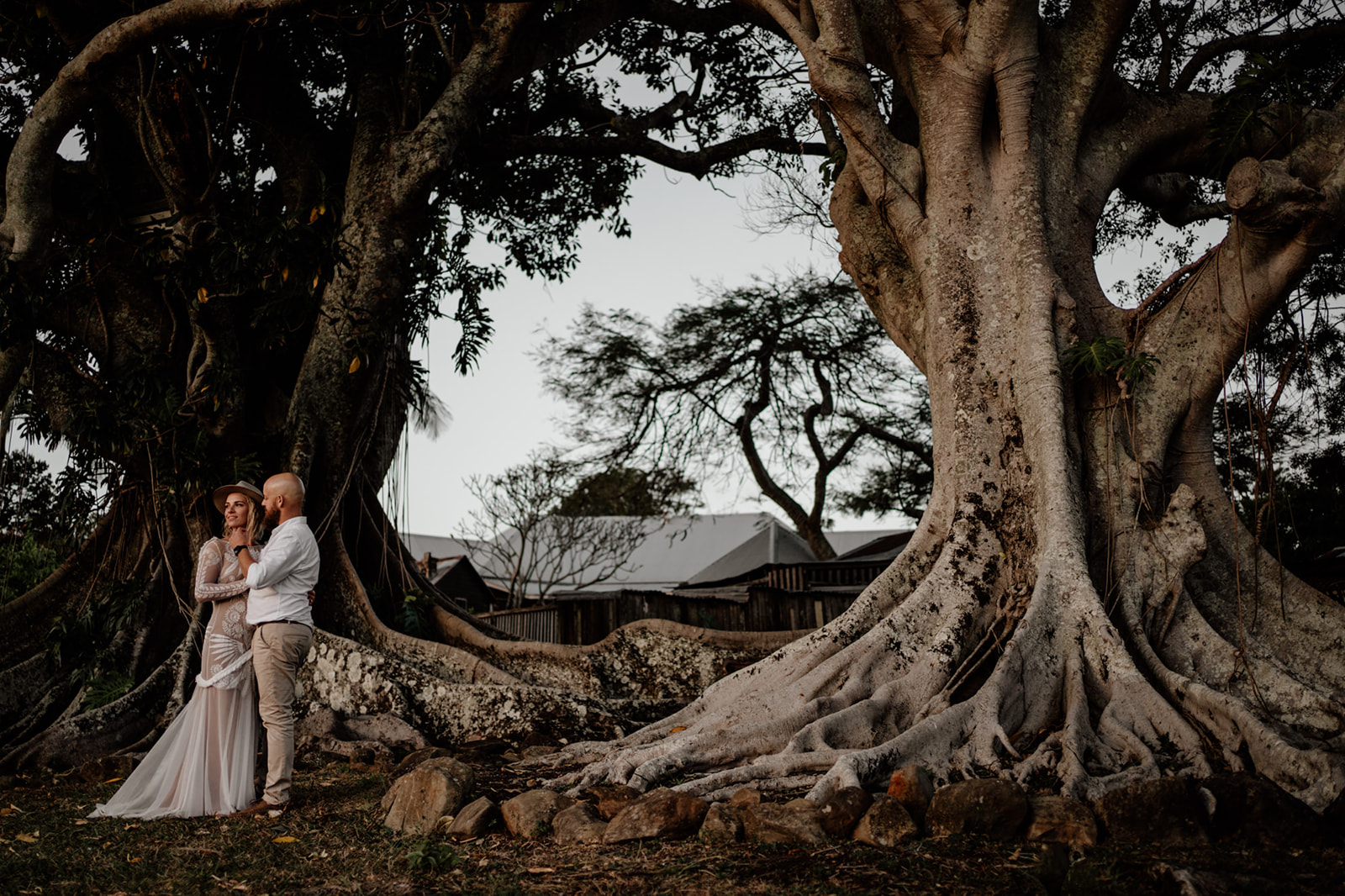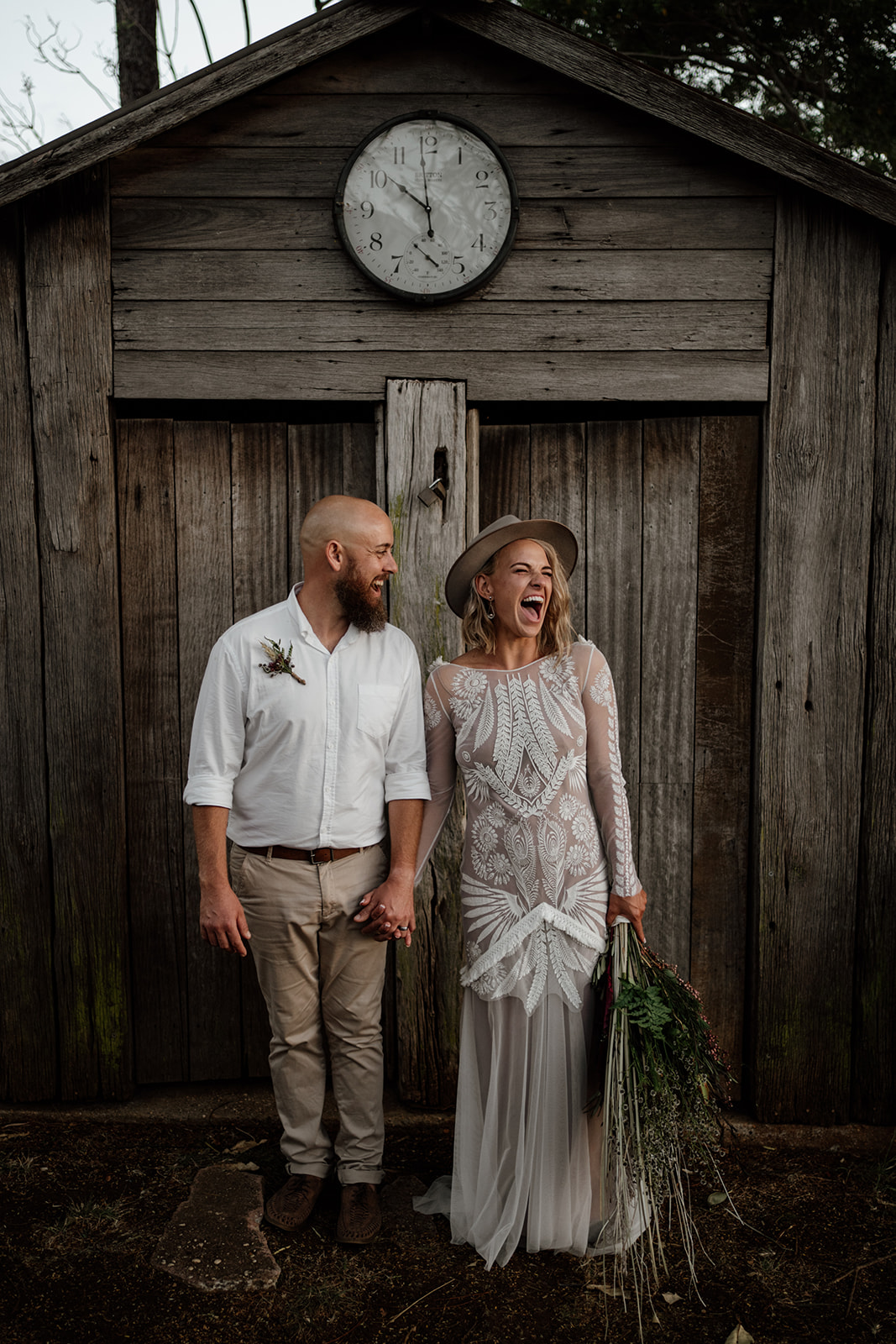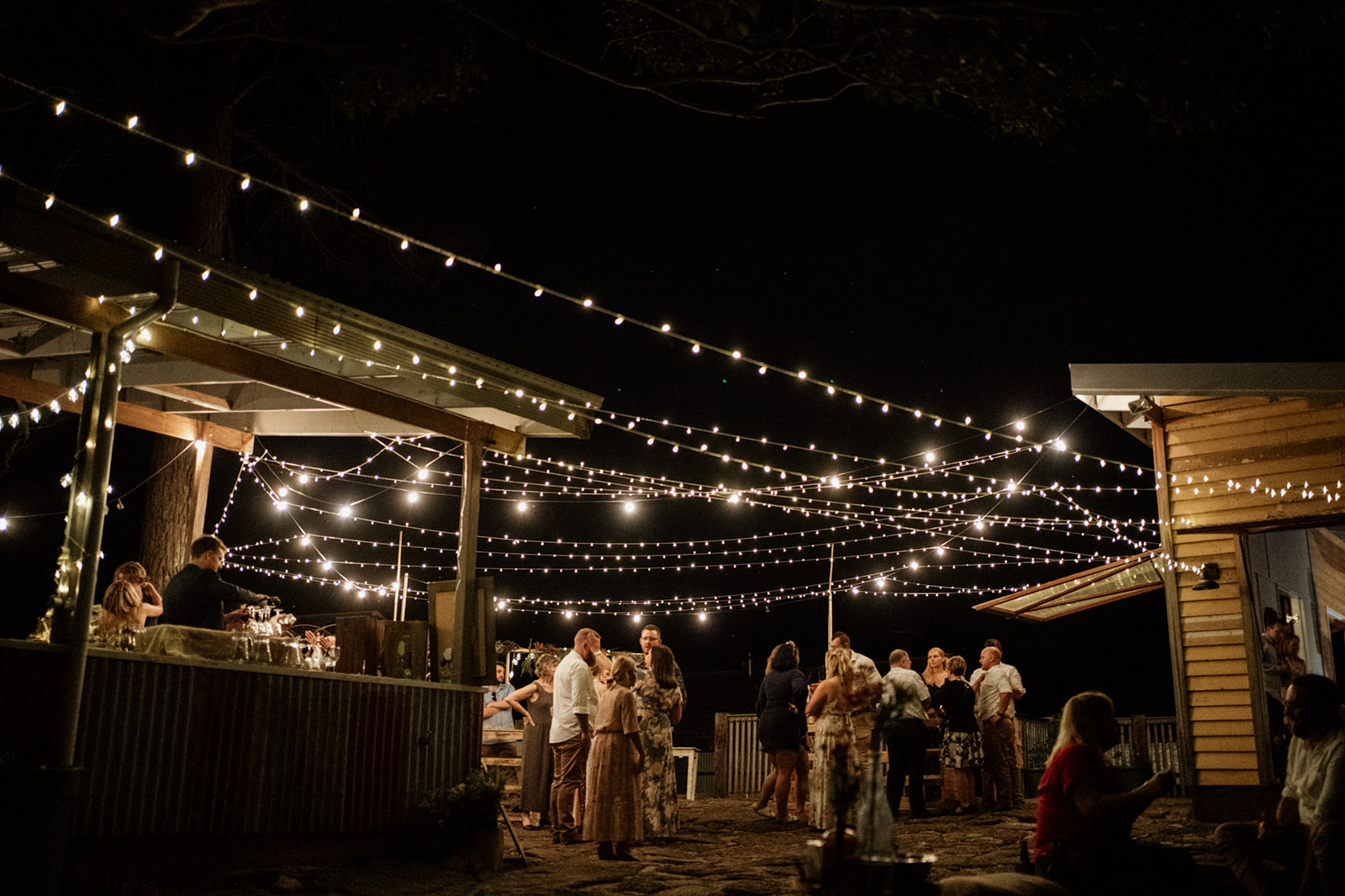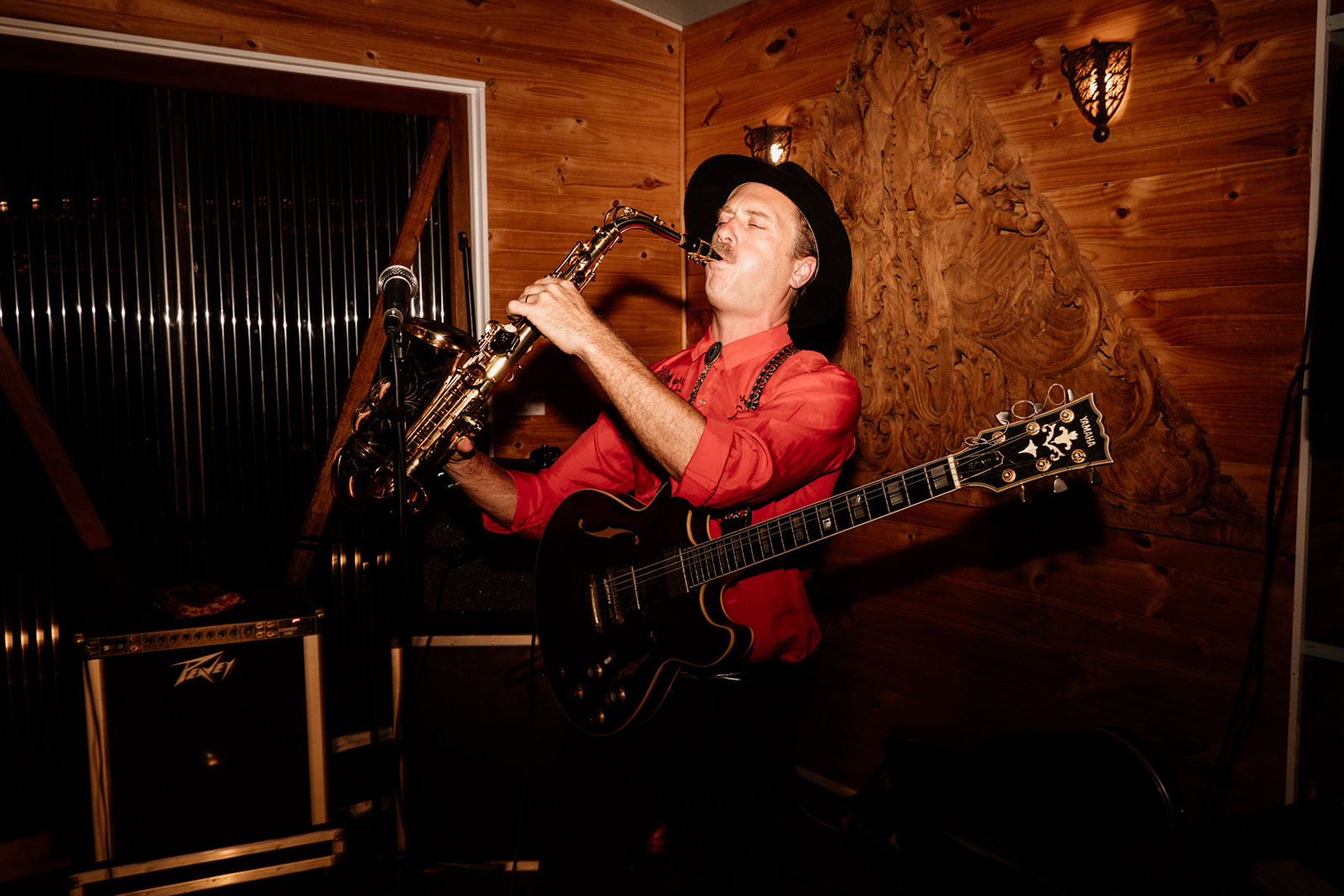 With music important on the couple's wedding wish list, a folk band and a rock band at either end of the celebrations set the right tone from start to finish.
"Black Train were the perfect fit, a folk band playing on the grassy area beside the cows and the beautiful Byron hinterland in the background. They created a very relaxed atmosphere.

Then, The Swamps were next level fun! They knew exactly how to get the party started and even played backup for my sister as she sang our first dance song. Matt has an incredible voice and ended the night with an original that we had requested. We'll never forget that!" says Lauren.
BROWSE WEDDING MUSICIANS