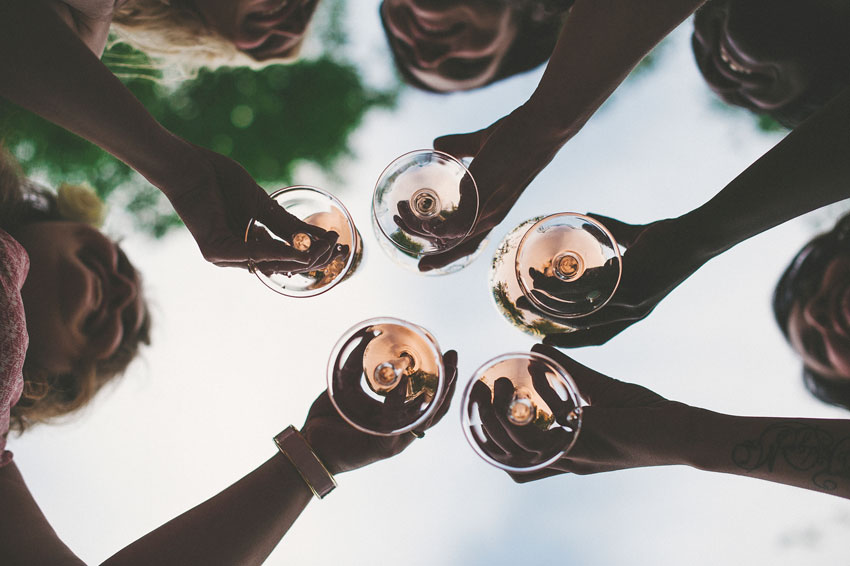 In the past, only the father-of-the-bride, the groom and the best man tended to give wedding speeches but, today, it could also be the bride, her mother, a close friend or, of course, her bridesmaids. Here are some tips for pulling off the perfect bridesmaid speech though, of course, they could be used by anyone tasked with speaking at a wedding.
It's just like telling a story
Start by jotting down a few bullet points, then think about expanding on each of those points.
Also, consider your overall message. What are you trying to convey? Is it your feelings for the bride/the couple? Is it what she means to you? What is your intent in giving this speech? Keep this in mind when you're expanding on each of the points.
Finally, maintain a logical sequence to your toast. Consider your wedding toast to be a miniature tale: you need a beginning which captures their attention, a middle which keeps it and an end that wraps your story up neatly.
Think Goldilocks: not too short and not too long
Keep it brief, but not too brief. Ideally, you'll speak for around three to five minutes. It may not sound like much, but it'll feel like forever when all eyes are glued to you. Remember there will be other speeches, either before or after yours, and you do not want guests nodding off, so don't drone one!
Practice makes perfect
It's an old adage, but it couldn't be truer: practice makes perfect.
Don't just turn up on the day and wing it. Once happy with your speech, practice, practice, practice. That way, you'll have the chance to refine your speech before the big moment and, by the time you're ready to deliver it, you'll be able to do it with your eyes closed!
Really knowing your material will also help calm any nerves as you'll be so across your material, you won't be lost for words.
Be humorous but also sincere
As wonderful as a sincere and loving toast can be, they can also be a little dull if not delivered properly. To ensure your speech is memorable for all the right reasons, sprinkle a few humourous stories and anecdotes throughout your bridesmaid speech to give guests a bit of a chuckle, but don't be derogatory and don't embarrass your friend/s in front of their nearest and dearest.
End your your toast with a story that, perhaps, even they don't know, but one that illustrates to you just how much they love each other. You can end on a high, but aww-worthy note, by telling the assembled crowd about that very special moment that you realised they were destined for each other.
Talk about the bride and the groom
If you are the bride's bestie, sister or cousin (or someone else special to her), it is easy to tell stories about her – and the antics that have occurred in your relationship together, but it is important to remember that you need to talk about her new spouse too!
If you are not particularly close to the groom, talk to other friends or family members that have gotten to know him and be sure to include him in the speech. By making the effort to learn enough about the groom to weave him into your bridesmaid speech, you will make both the bride and groom feel important and special, as well as both their families.
Planning your wedding? Find gorgeous bridesmaids gowns here.