A handmade wedding dress, mostly vegan menu, and flower crowns for all the guests made this couple's Byron View Farm wedding a memorable one.
When you start with a wedding gown handmade by the groom's mother, you know you're entering all bespoke territory. For Jono and Kylie's Byron View Farm wedding, every detail was customised, from the bride's wedding dress to the flower crowns donned by all the ladies in attendance.
"Jono's mum made me my dream dress," says Kylie. "She isn't a professional seamstress, but she's very creative and a complete whizz with the sewing machine. I really wanted a simple yet stylish dress that I would be comfortable in. I showed her a picture of what I liked. Armed with a very basic dress pattern from the '80s, she went ahead and somehow created this incredible dress. It fit me perfectly and the stretchy crepe fabric was an absolute dream to wear the entire day. So comfortable!"
More from Kylie below, including details on their bespoke vegan wedding dinner menu catered by Fig Tree Restaurant, one of our favourite Byron Bay wedding suppliers.
We're really crushing on Jono and Kylie's gorgeous farm wedding venue, Byron View Farm, which sits atop a hill with incredible panoramic views of the rolling hills and pastoral land of Byron as well as the coastline. A white cottage with a wrap-around veranda sits at the top of the scene, giving the outdoor wedding venue in Byron Bay a real backyard wedding feel.
Photos of this Byron View Farm wedding are courtesy of Figtree Wedding Photography.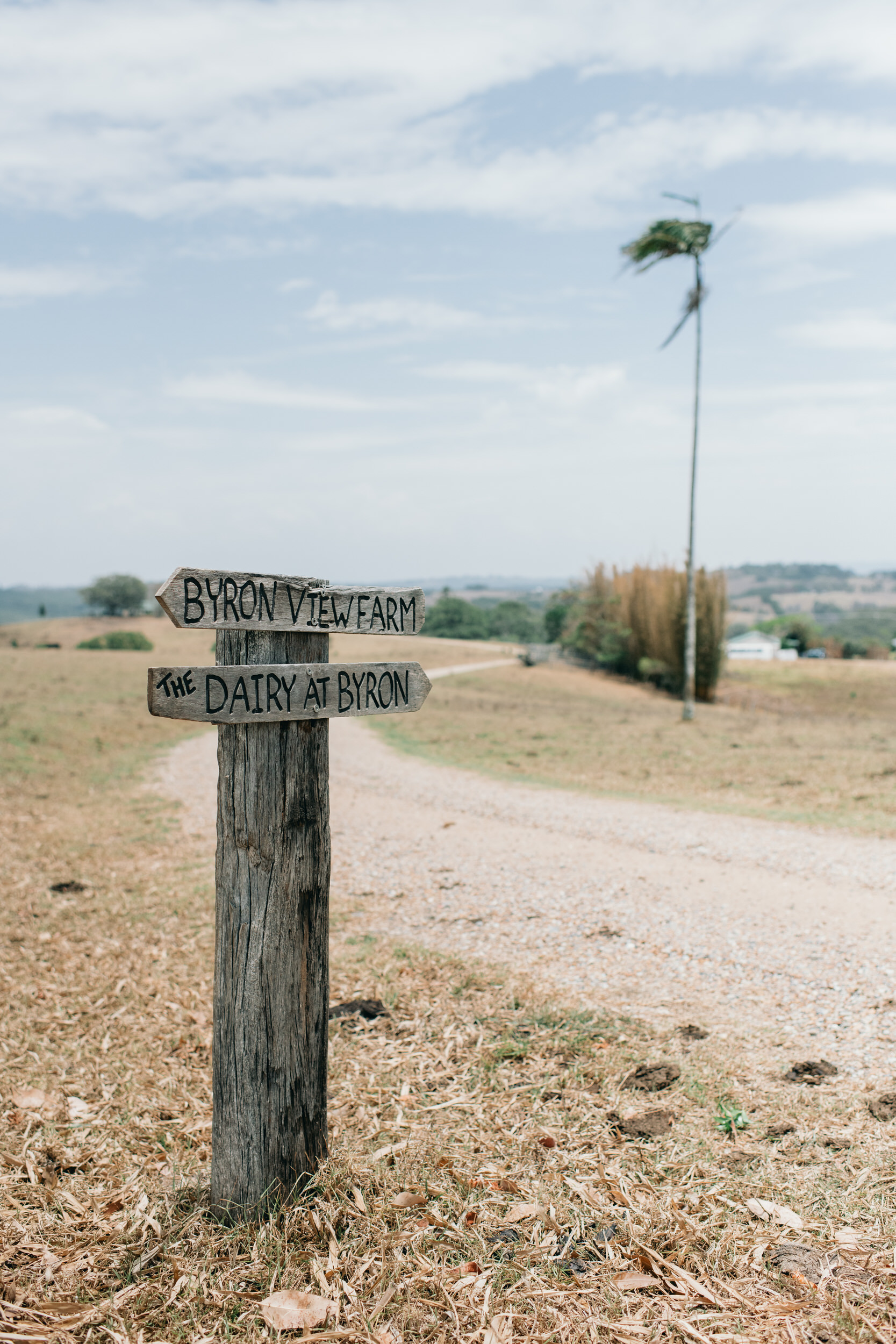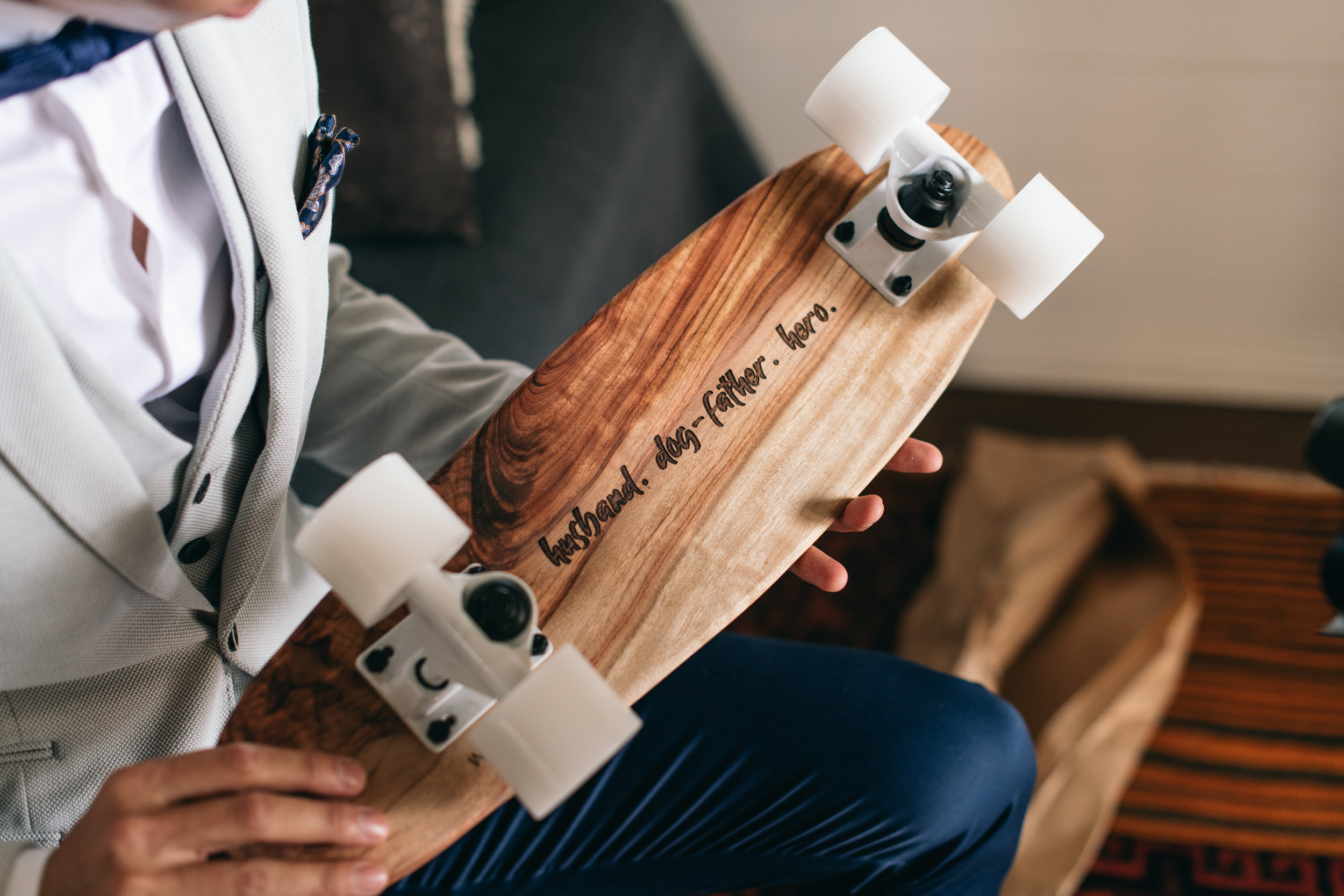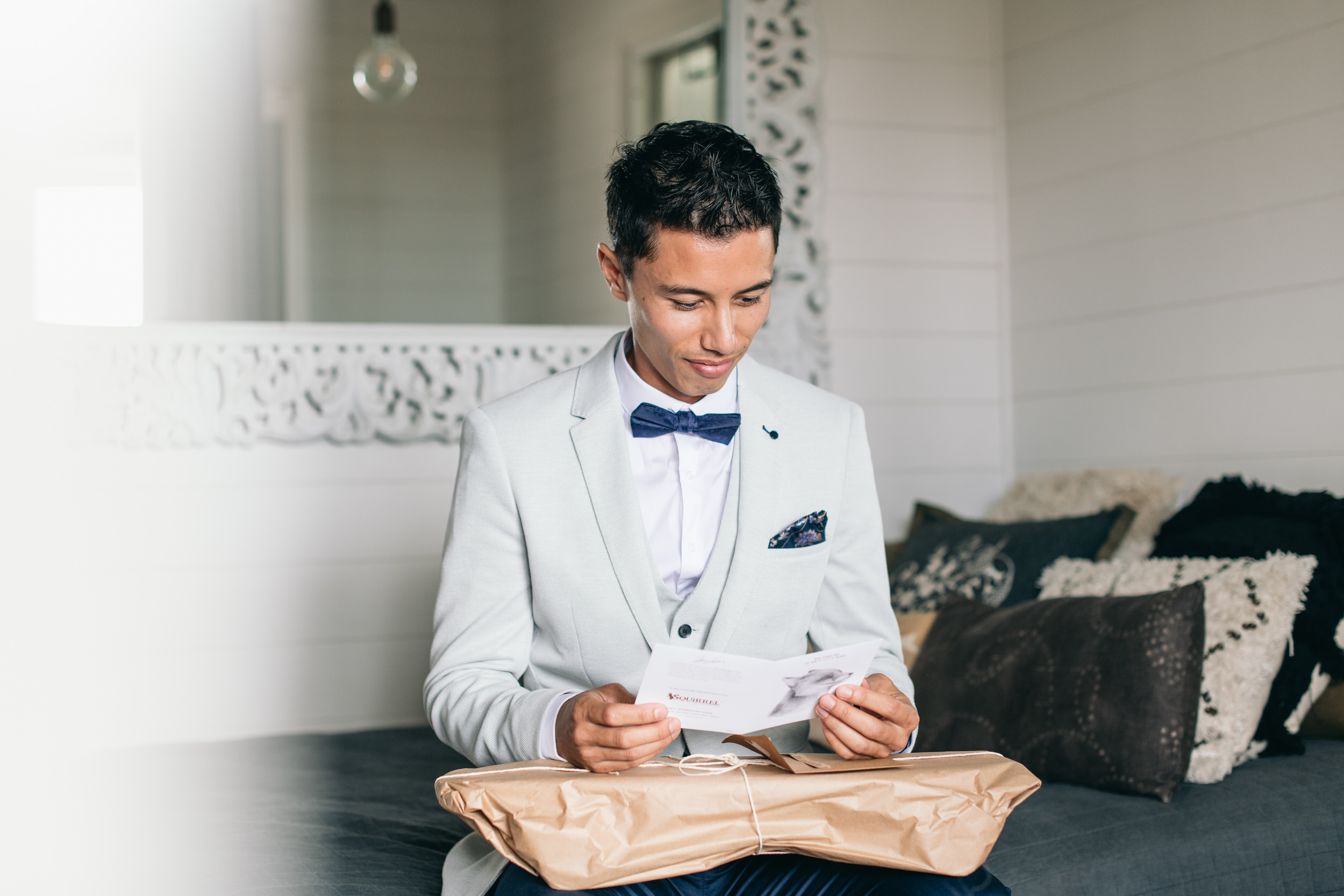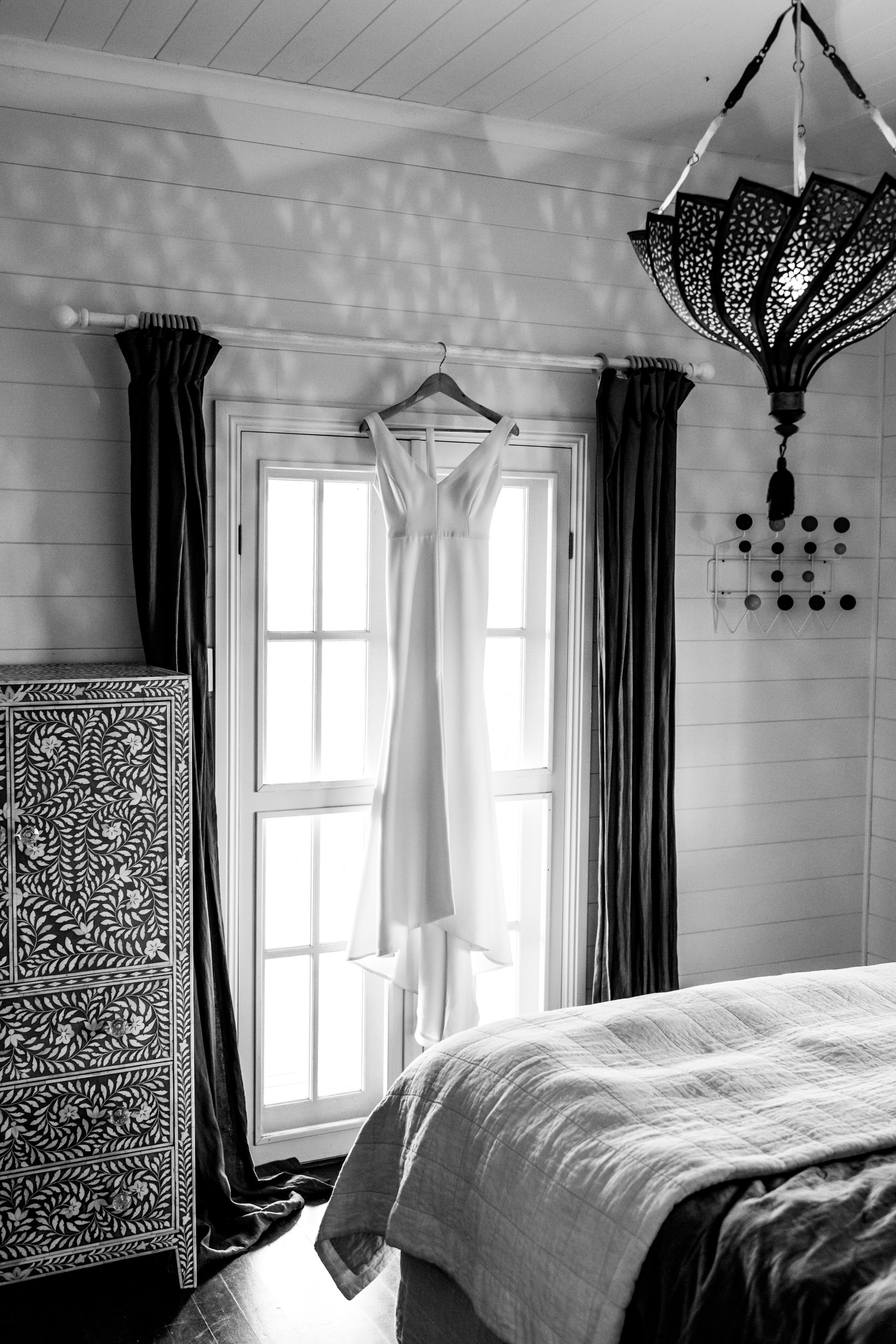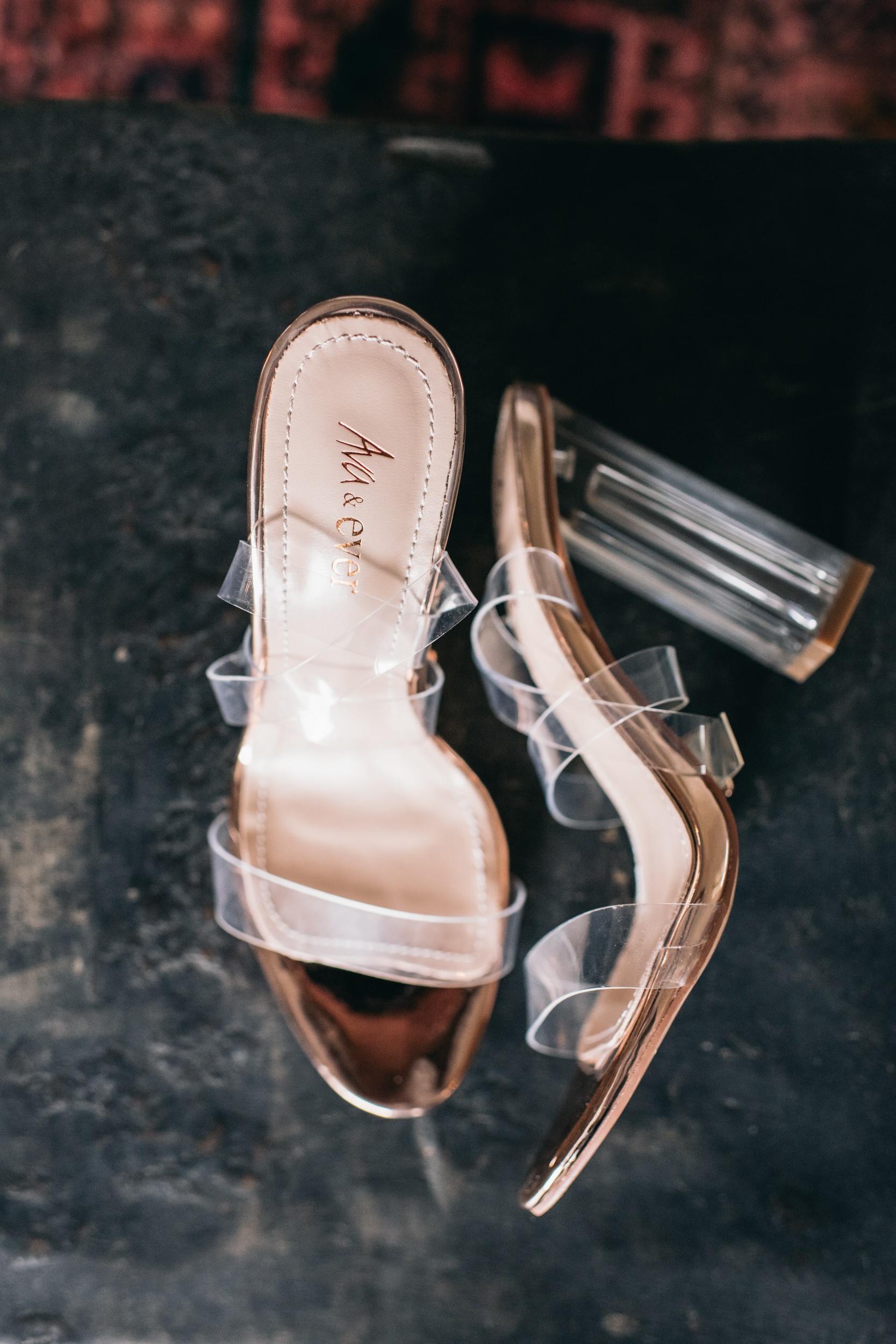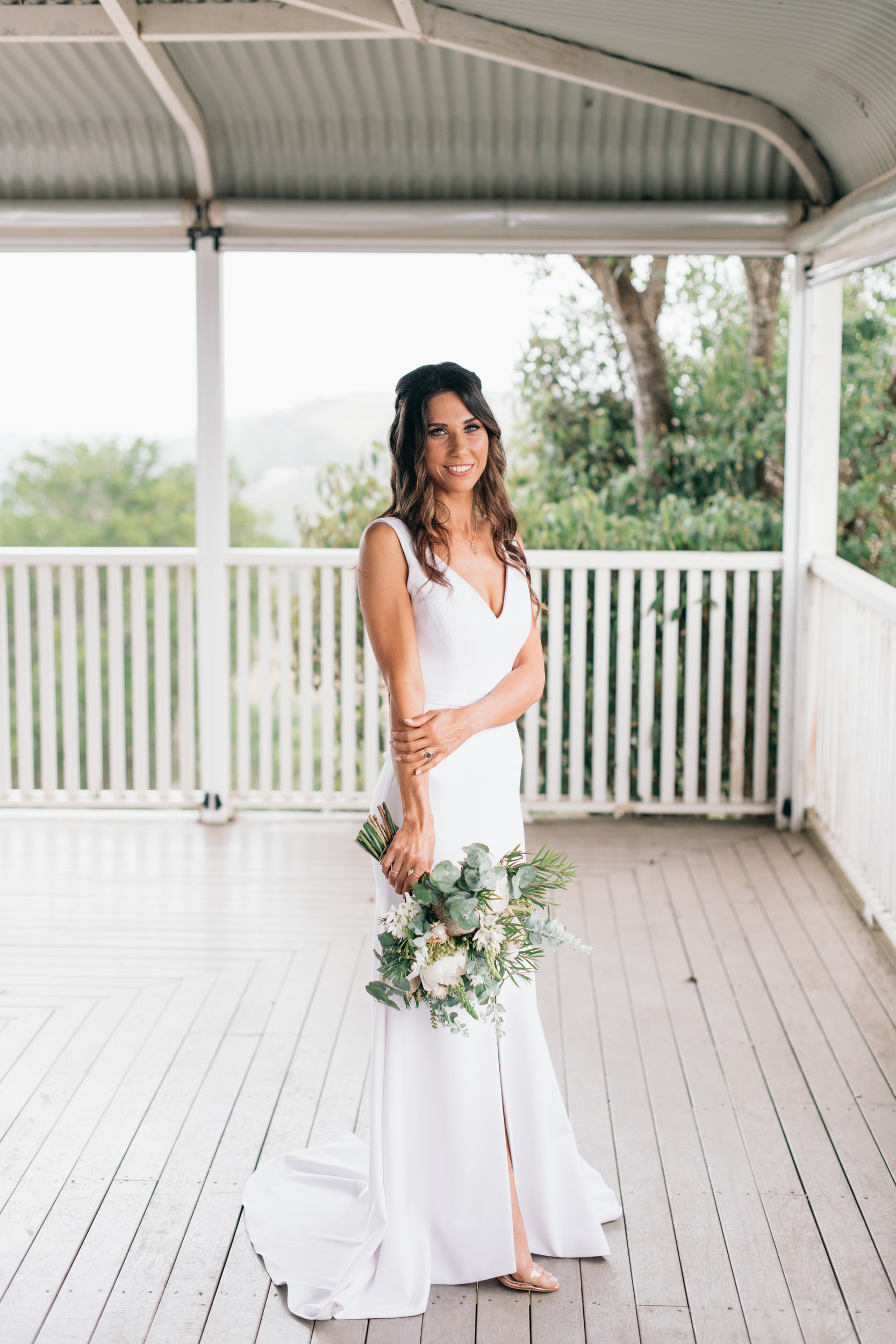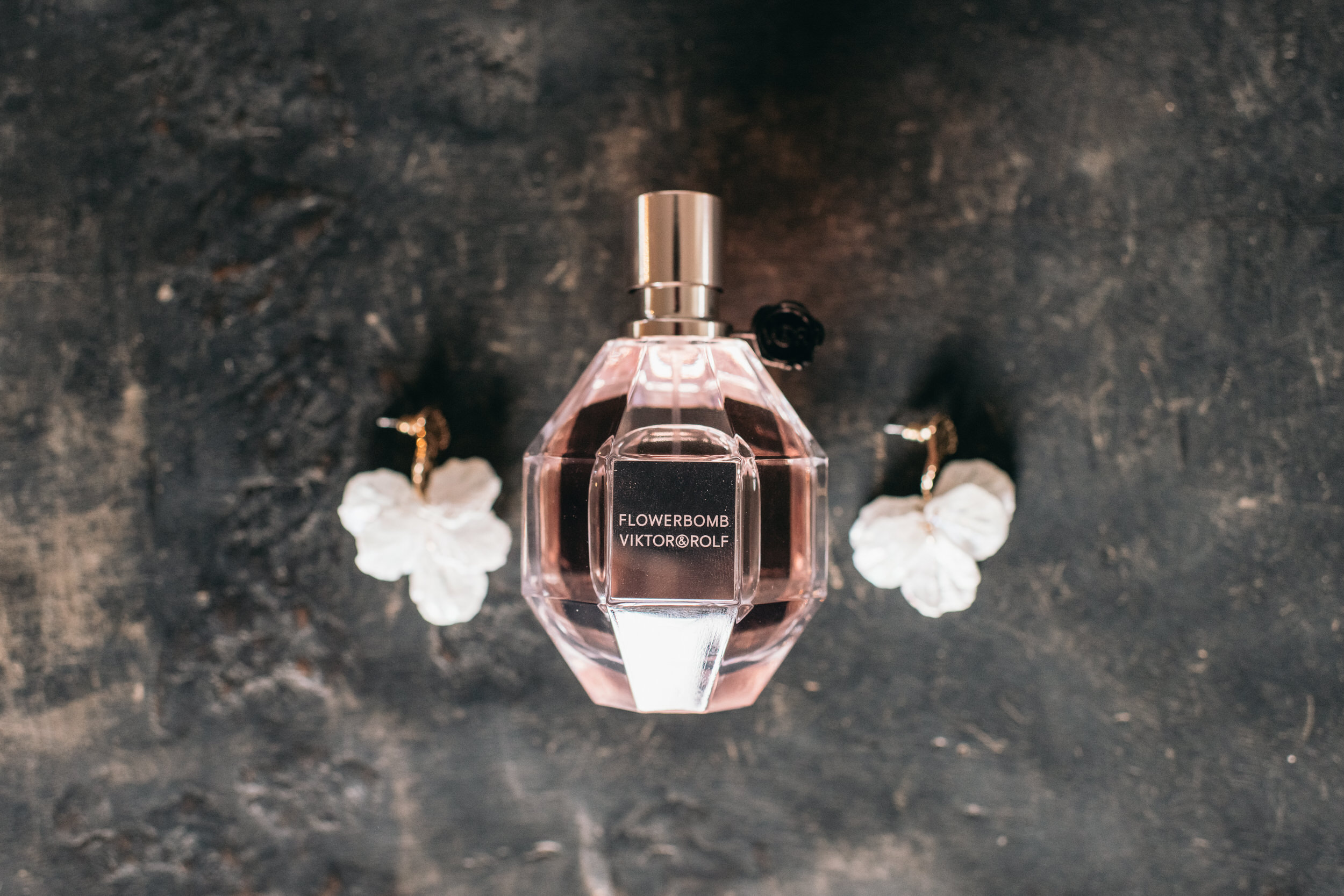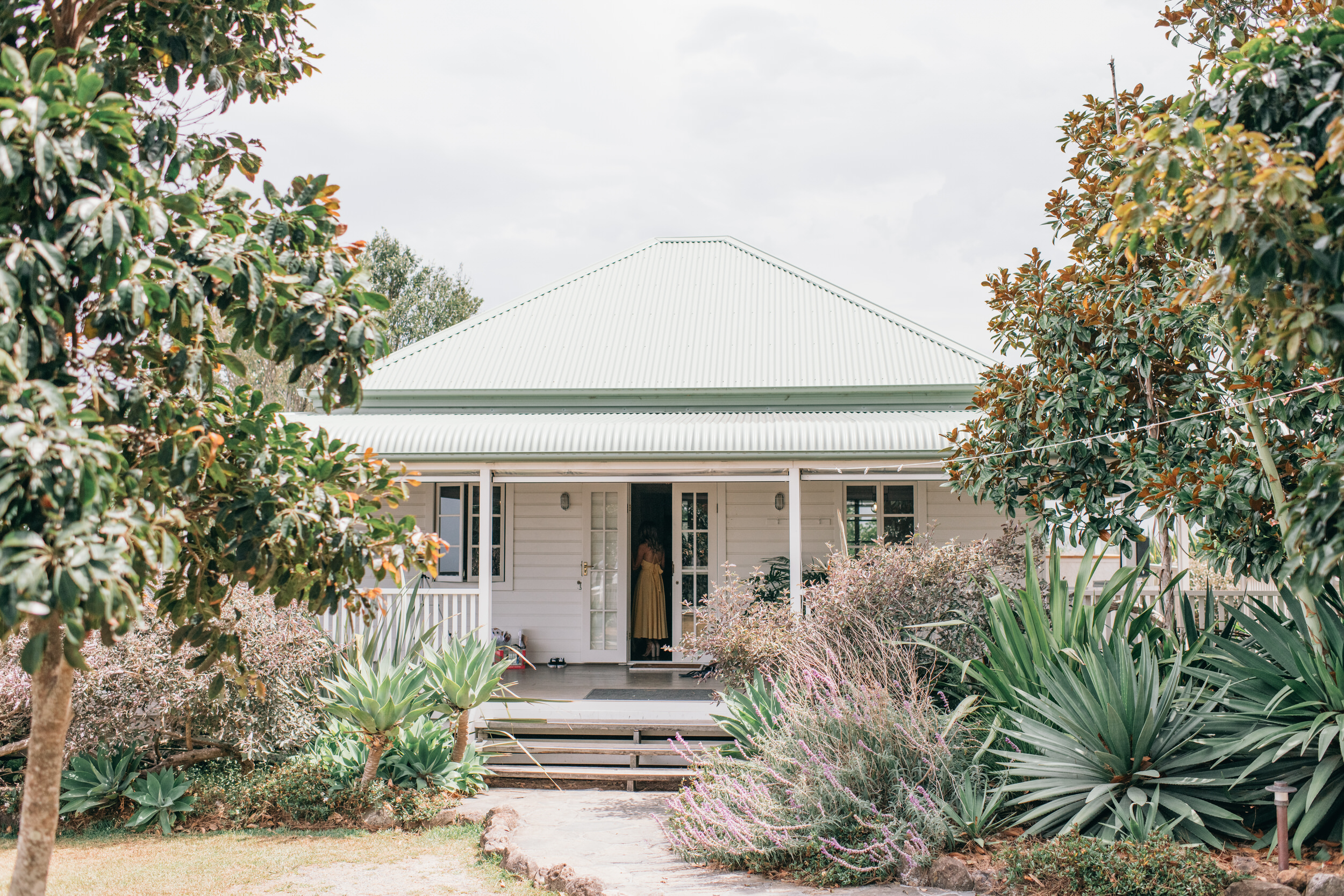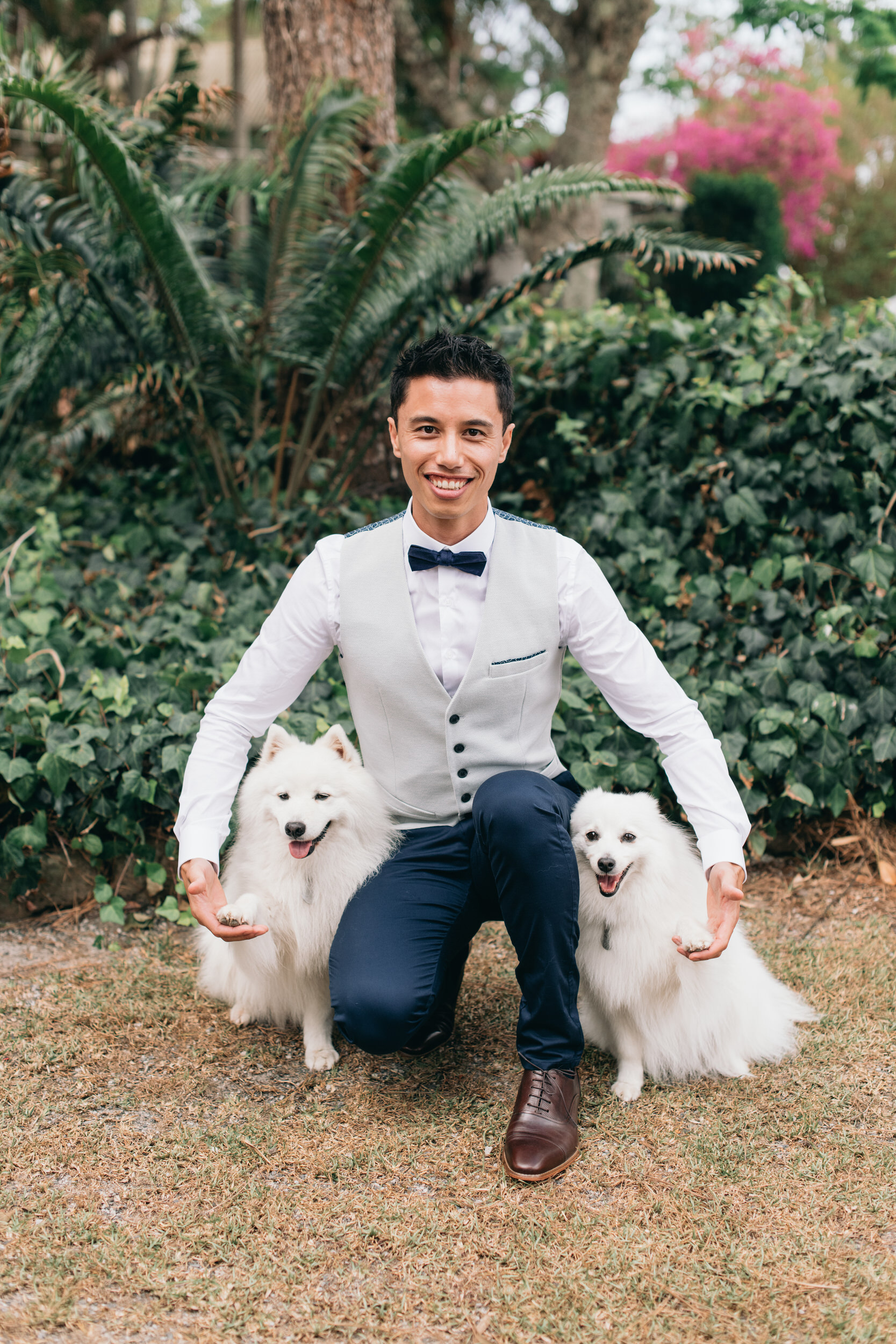 Tell us about your engagement.
We both worked for the same dance company in Sydney where we met about 10 years ago. We were both curious about each other — perhaps a little crush? — but both had partners at the time. I left the company for about a year and then when I came back, we were both single. A few months later at a mutual friend's birthday bash, Jono asked me for a dance and then everything changed.

We were committed to each other for about 8 years before we got engaged, and had even built a house together, however, never really thought much about being married during that time. It wasn't until I was nearing the end of my university degree (which I was inspired to do since meeting Jono) that Jono surprised me. He offered to buy this diamond-shaped geometric ring that I had been eyeing on Etsy but he was too poor (as a student) to buy it. When it arrived in the mail, he hijacked it from the package and proposed!

No big fancy and expensive proposal — just a real and honest moment of love.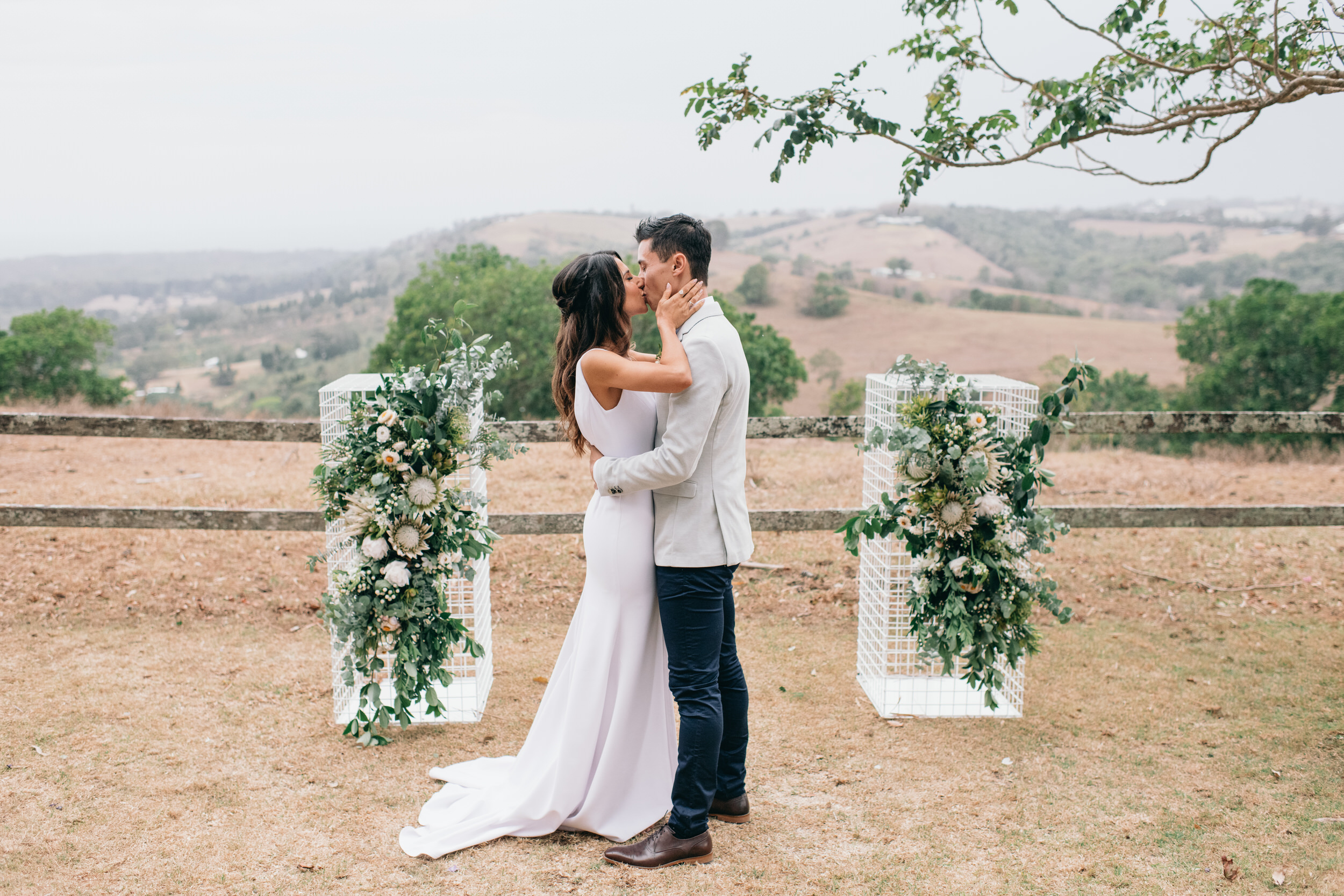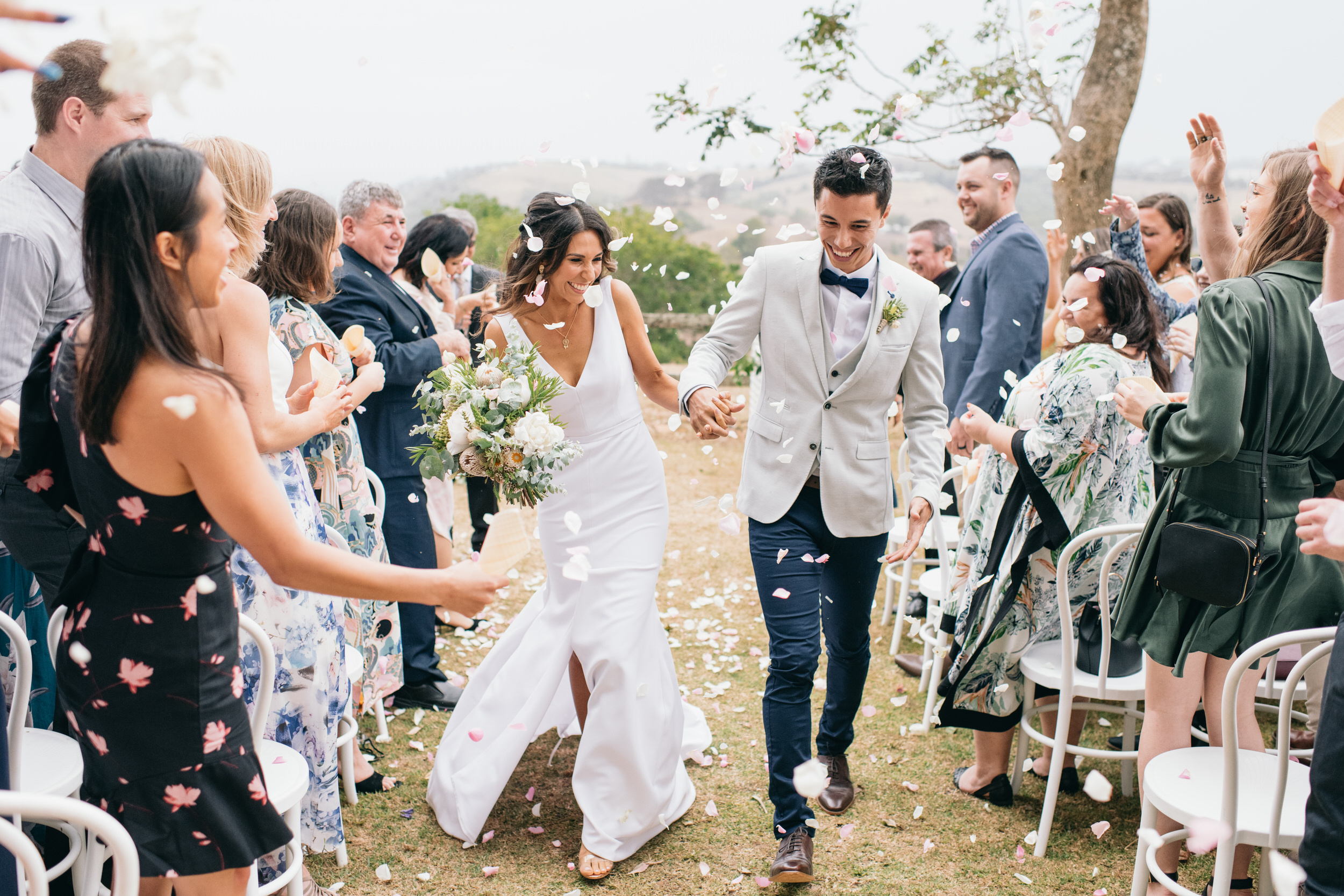 What was important to you when you were searching for a wedding venue and what made Byron View Farm stand out?
My family lives in Brisbane; Jono's family lives in Sydney, and up until the wedding they had never met. We chose to get married on neutral ground in Byron Bay, and wanted something outdoors and dog friendly. We both just fell in love with Byron View Farm the moment we saw it. As we both had super busy years planned ourselves, we really wanted to be able to just enjoy the planning process without any of the stress which our wedding planner made easy, guiding us every step of the way.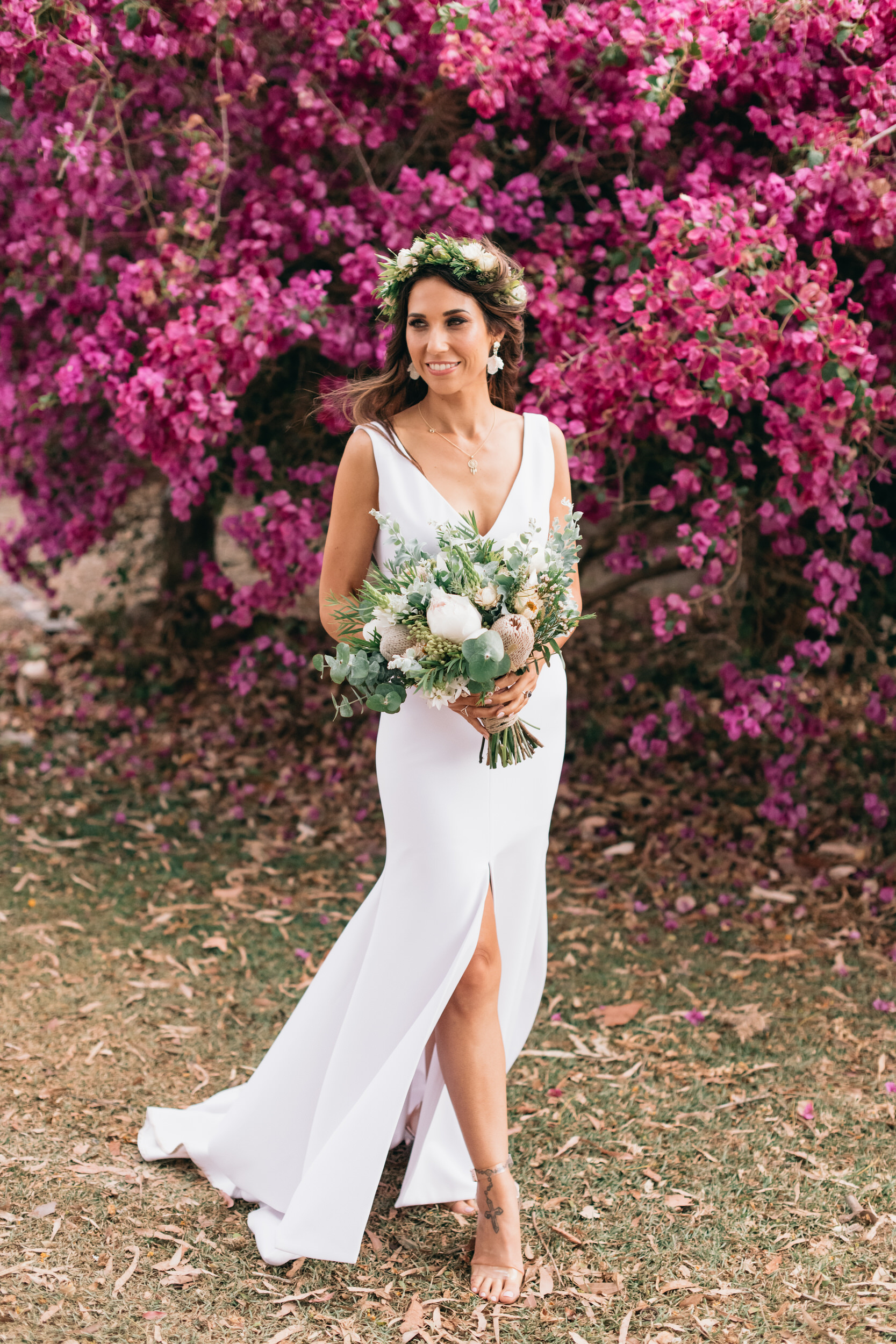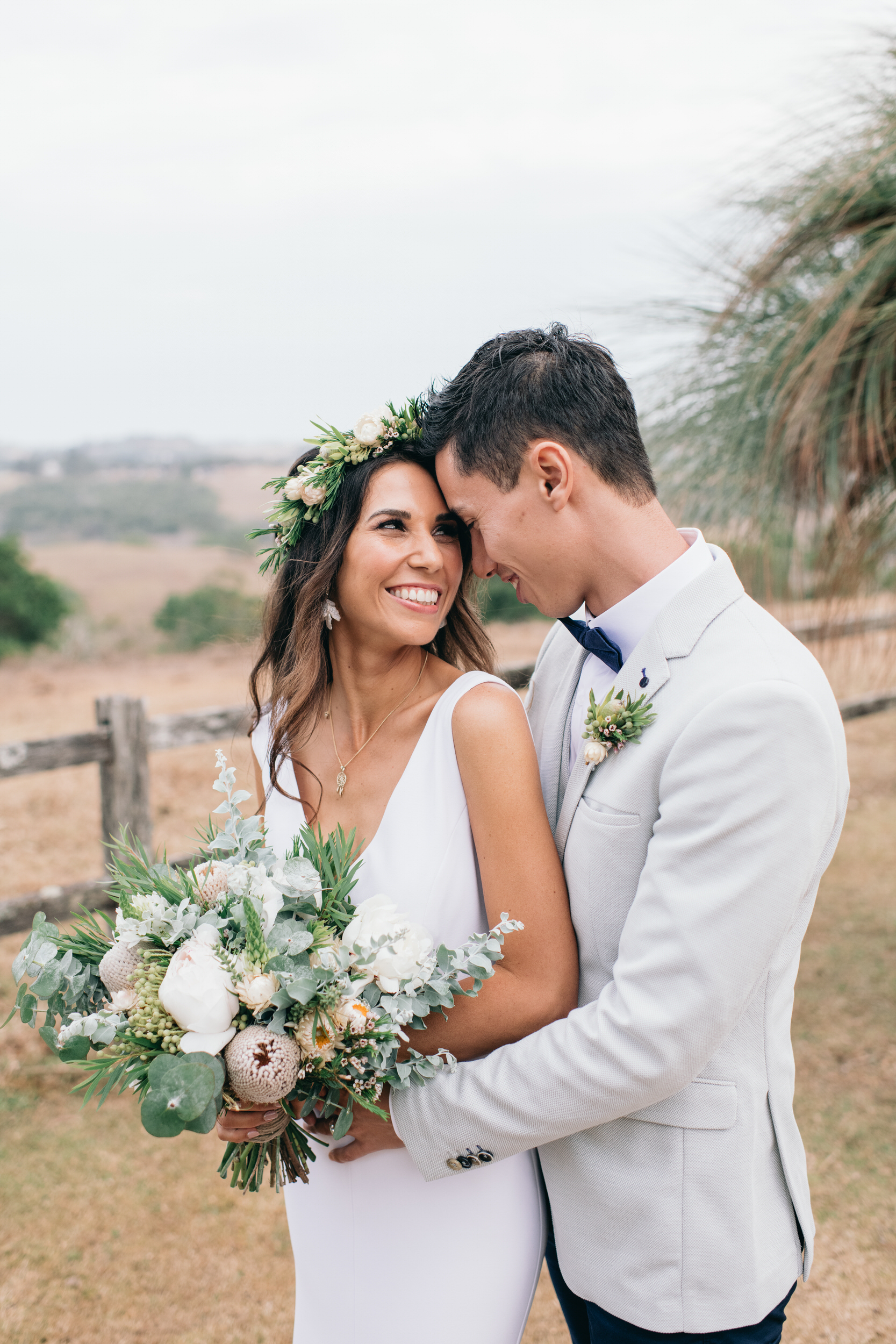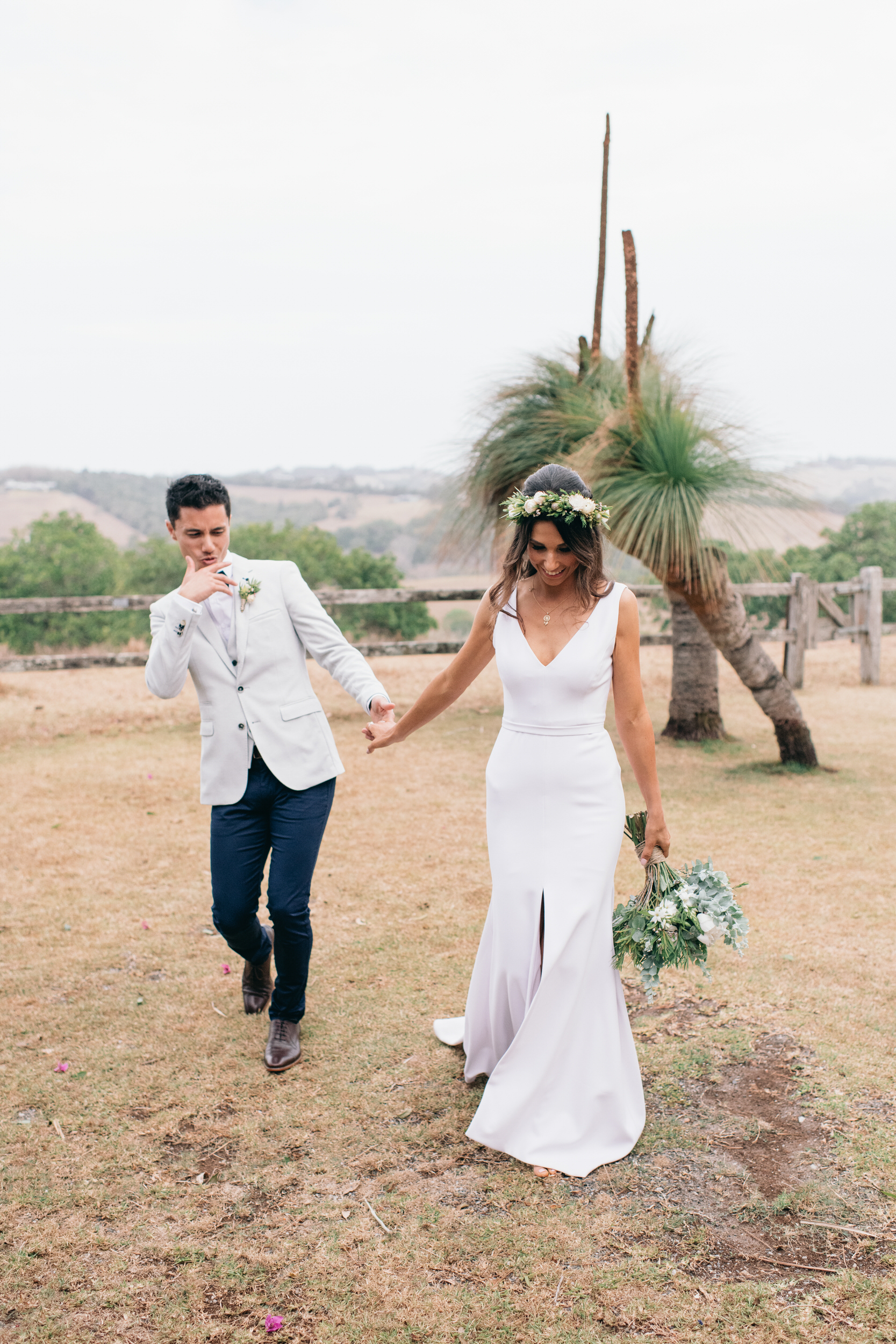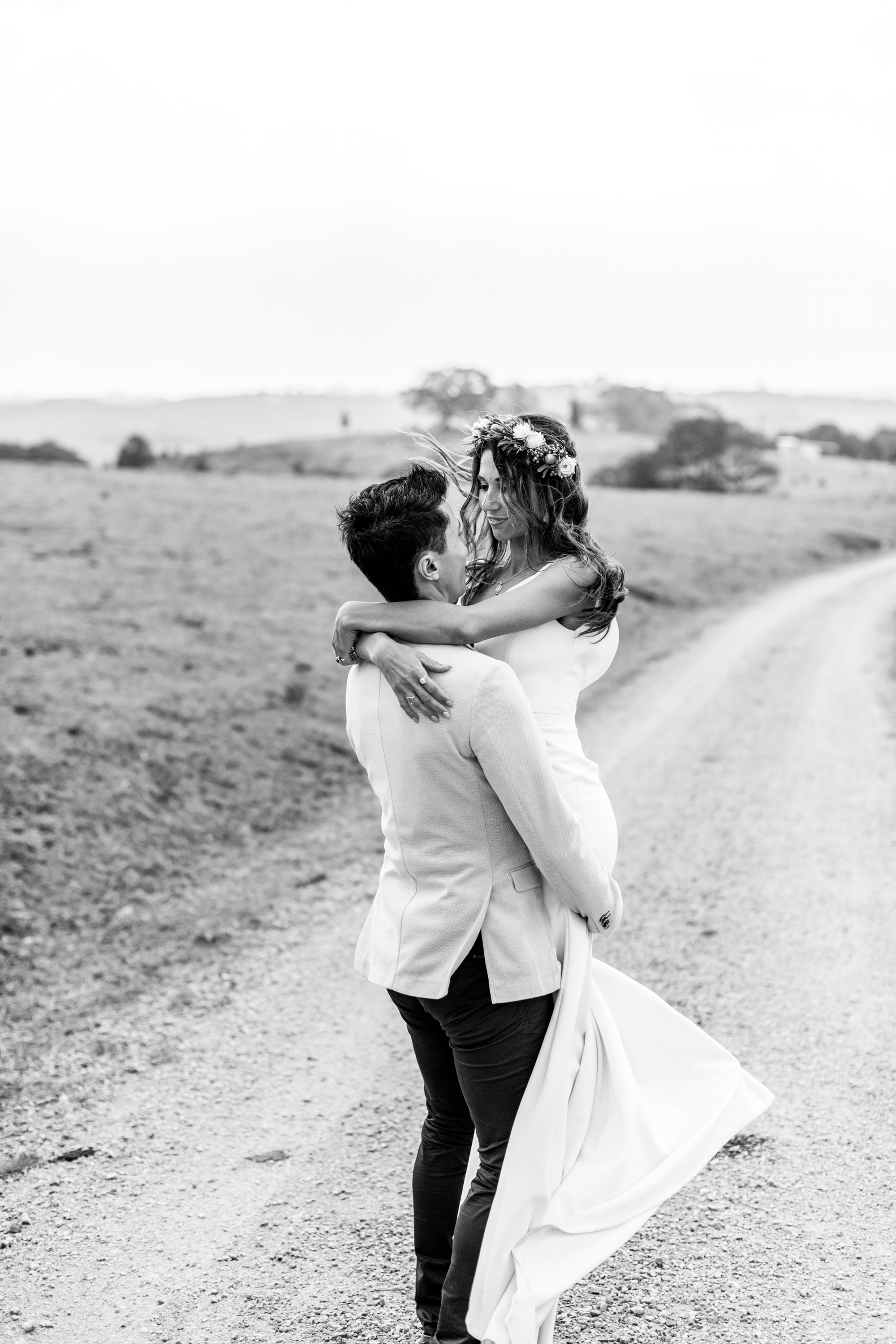 Tell us about your wedding day at Byron View Farm.
We aren't very traditional and just wanted our friends and family to relax and enjoy the day so we did things a little differently. We didn't have a bridal party and instead got ready together at the venue with my sisters, Jono's brother, and his best friend.

Our dogs are super important to us and so they were of course in attendance for the entire day — one of them even bearing the rings in the ceremony. Our rings themselves were different and non-traditional but felt much more like ourselves.

At our wedding, we really wanted our guests to mingle and feel included so we included a flower crown station, which was a huge hit. It gave guests who probably would not have engaged with each other something to talk about, and everyone just looked amazing.

Gardening and growing our own food is a big part of our lives and so rather last minute we decided to gift our friends and family with something that they too could enjoy out in the garden. So we found these cute little seed packets on an etsy store and filled them with different seed varieties along with cute little messages about the plant.

We also really didn't want to have an "us and them" feeling at dinner so we sat right there at the tables with our friends.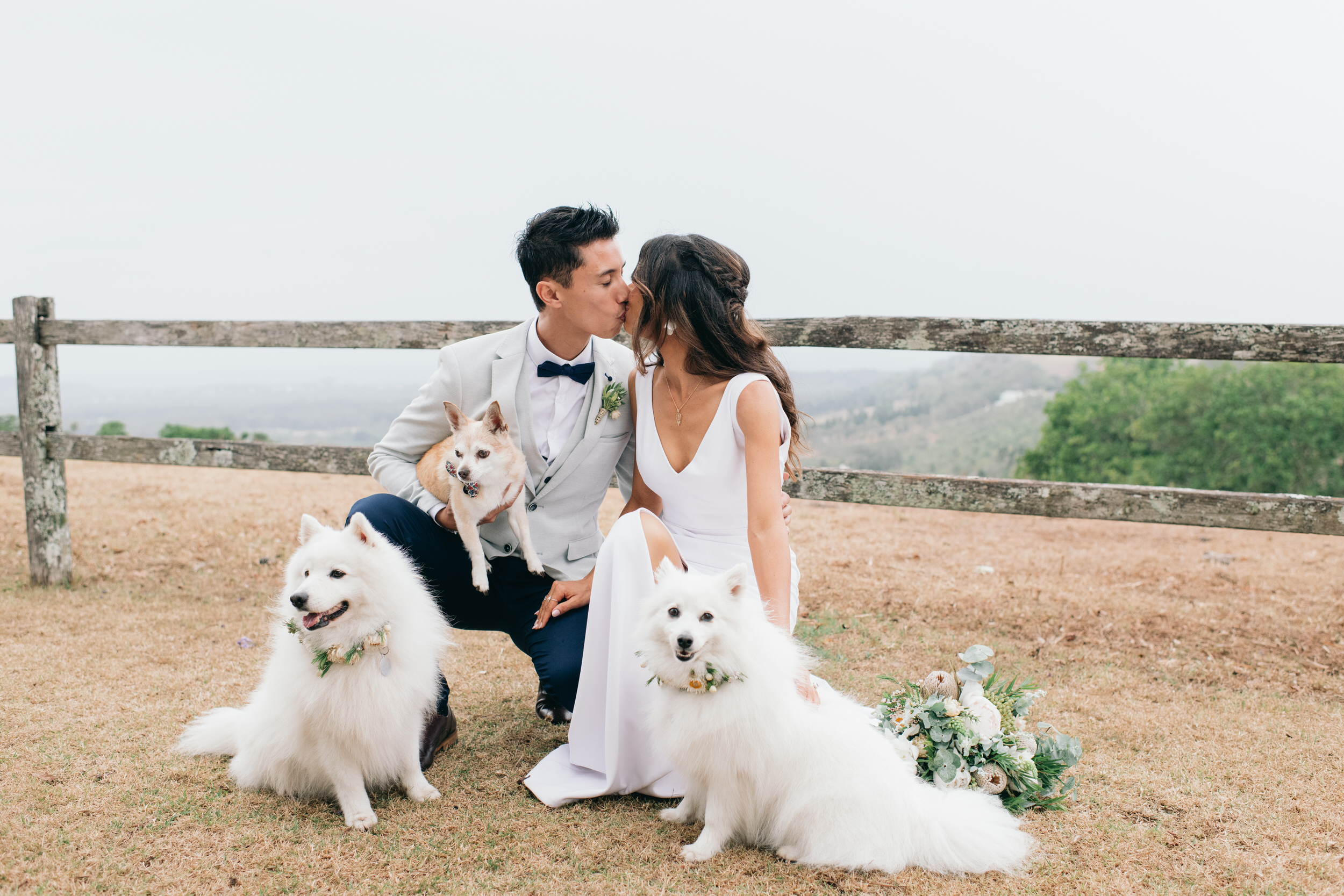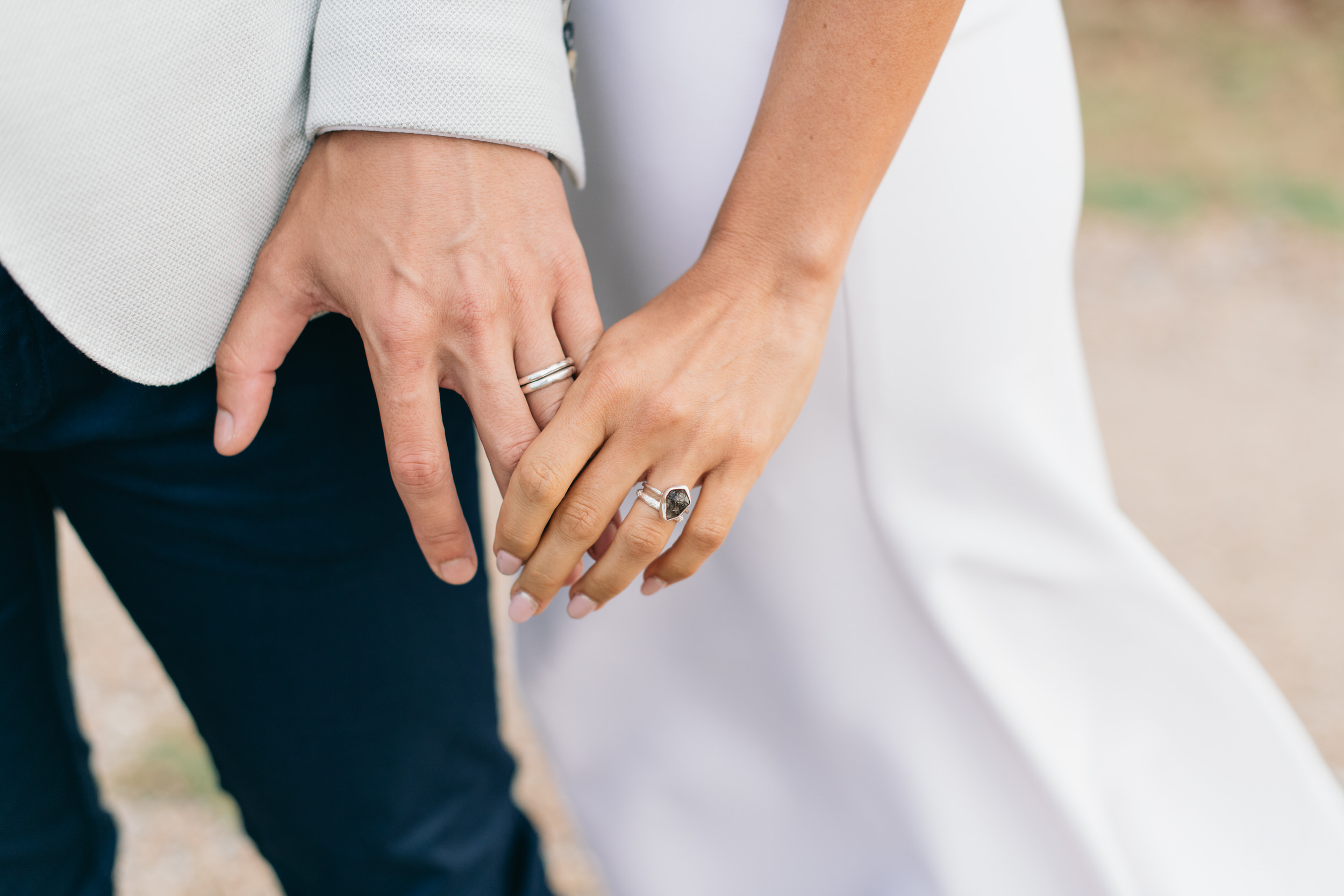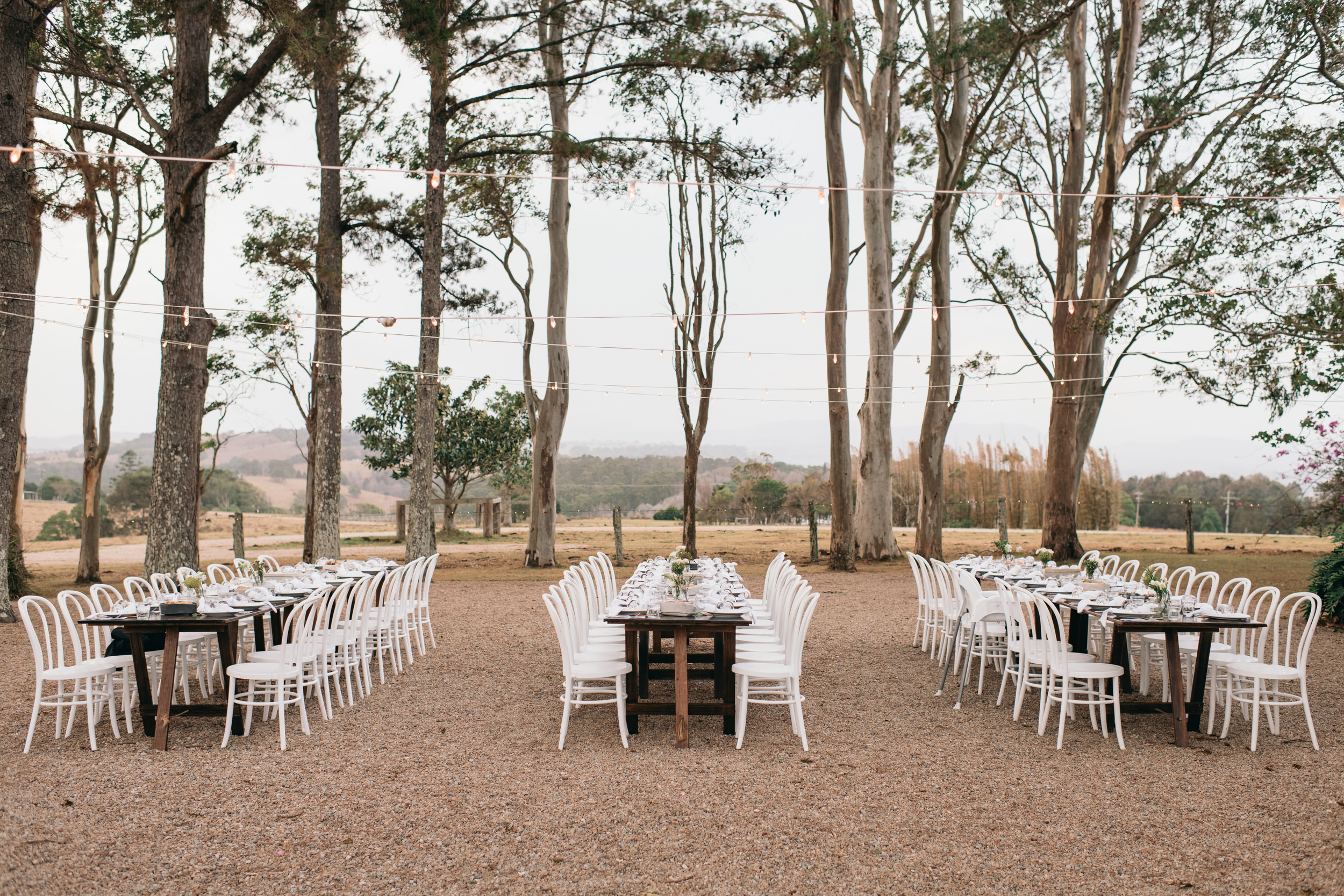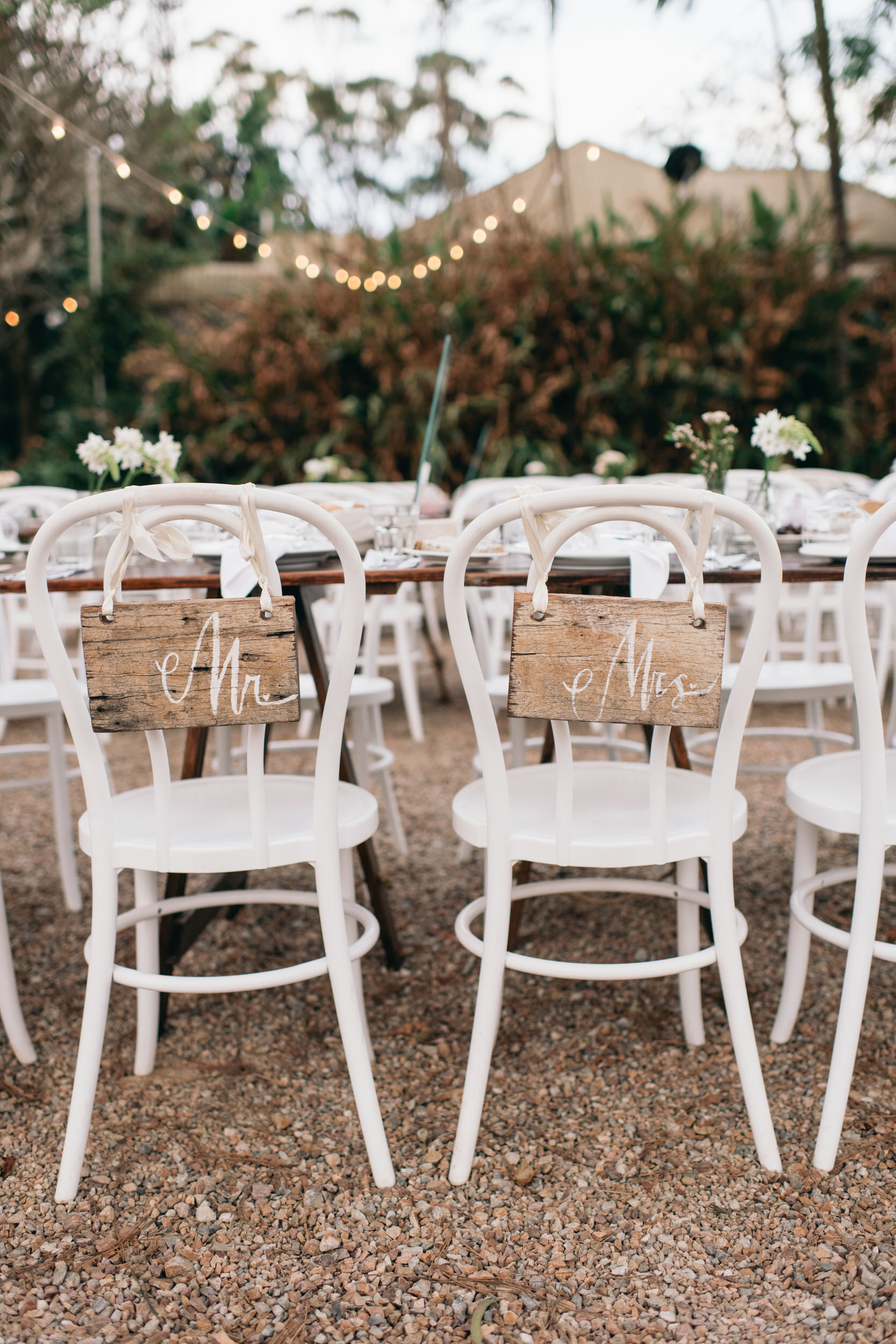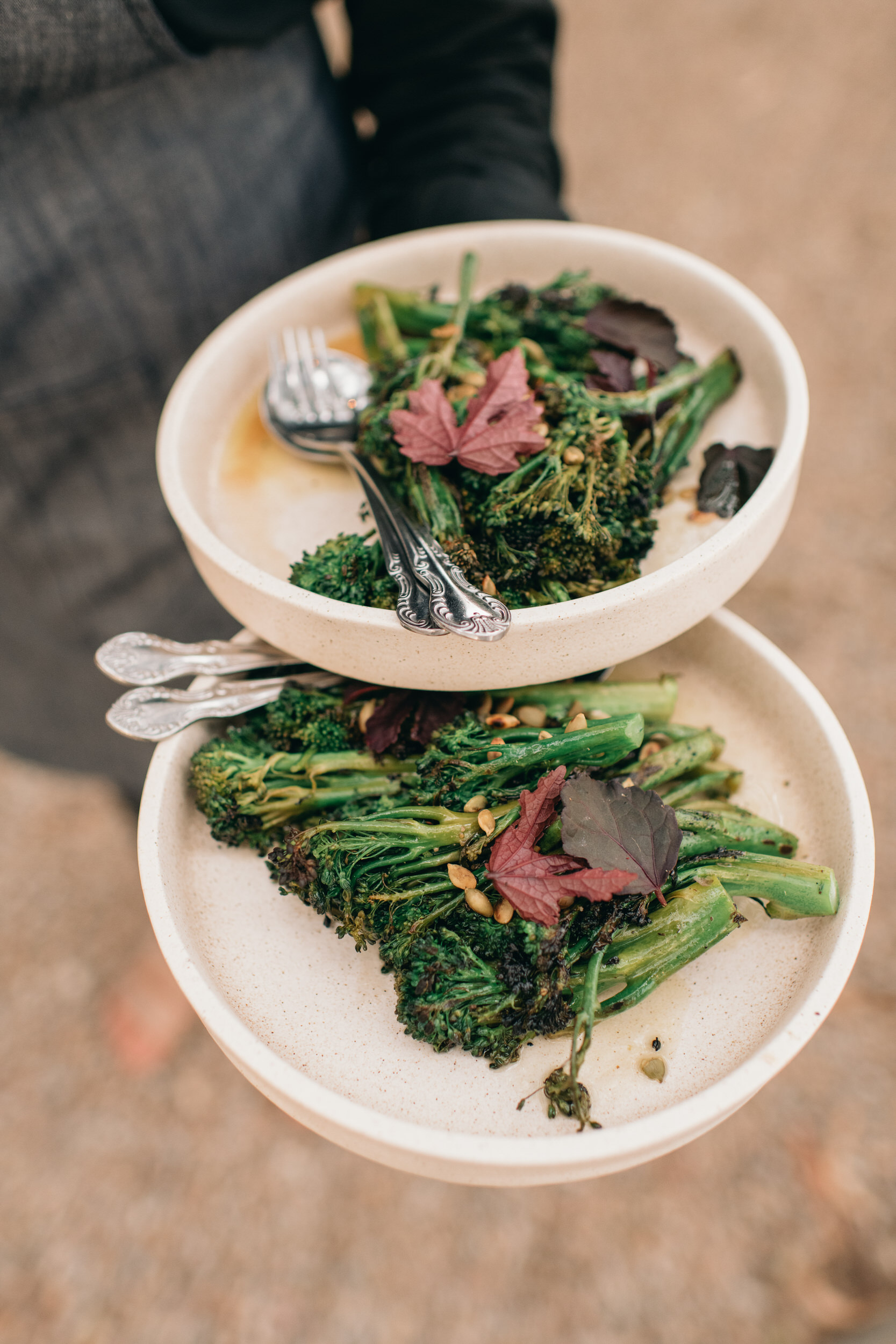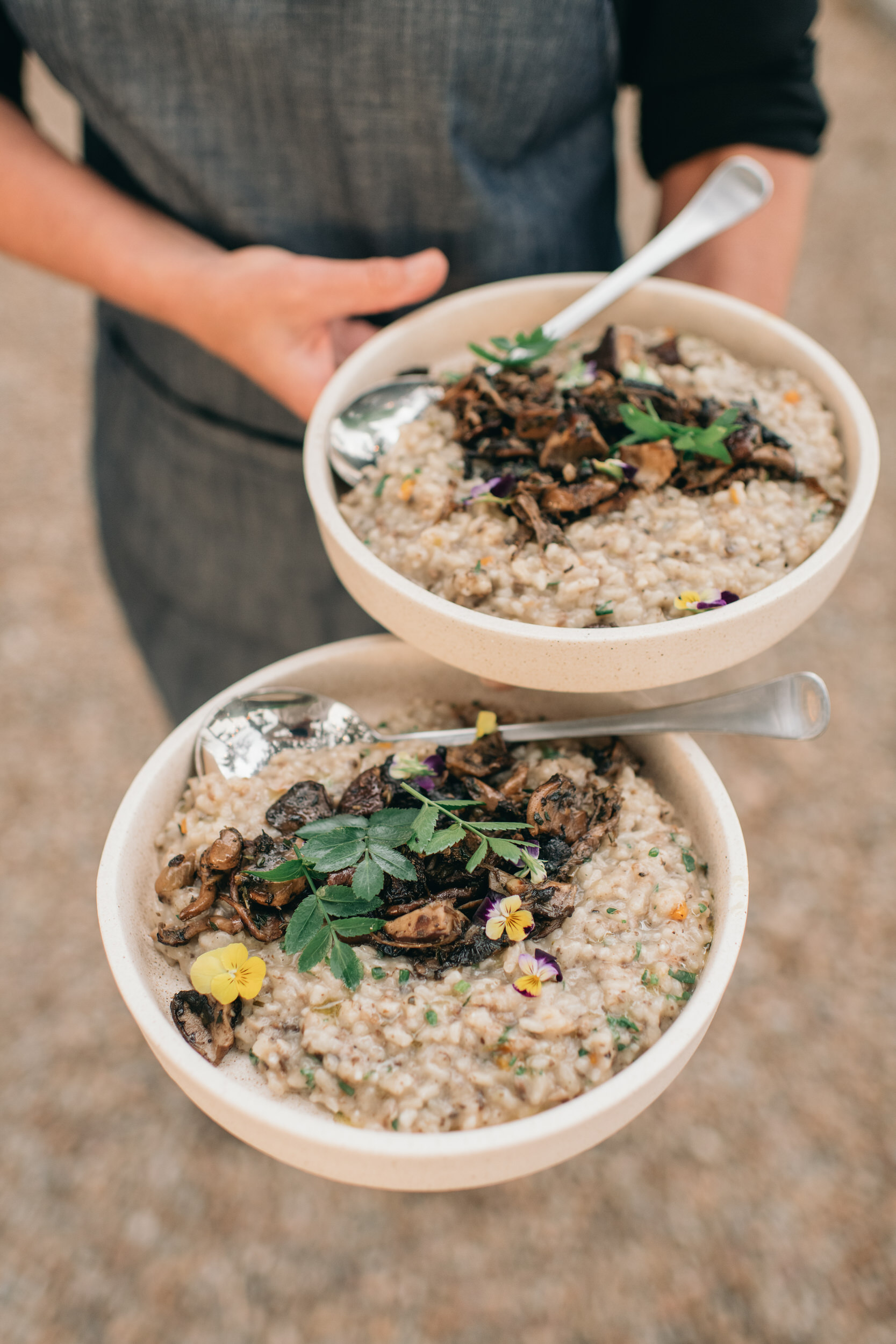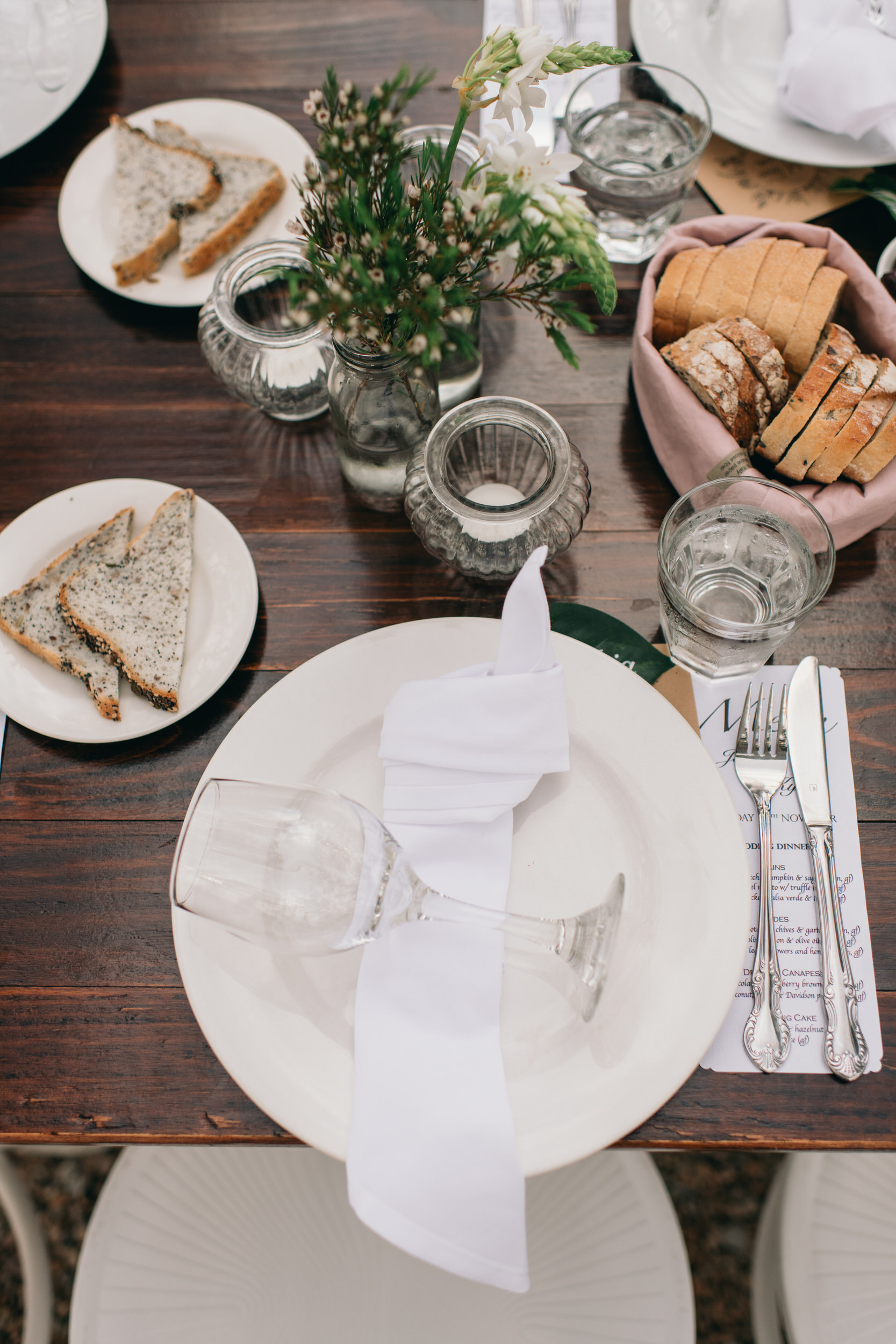 Okay, we need to know more about the vegan wedding menu at your Byron View Farm wedding. What's the scoop?
We both adopt a plant-based diet and so even though we didn't want to force any of our values onto our guests, we also wanted to be able to share this side of us with them.

Our awesome caterers at Fig Tree Restaurant created an absolutely divine and almost entirely vegan (and gluten-free) feasting menu, which satisfied even the most carnivorous of the bunch. As part of the package there were also dessert canapés, which we kept vegan because our wedding cake wasn't.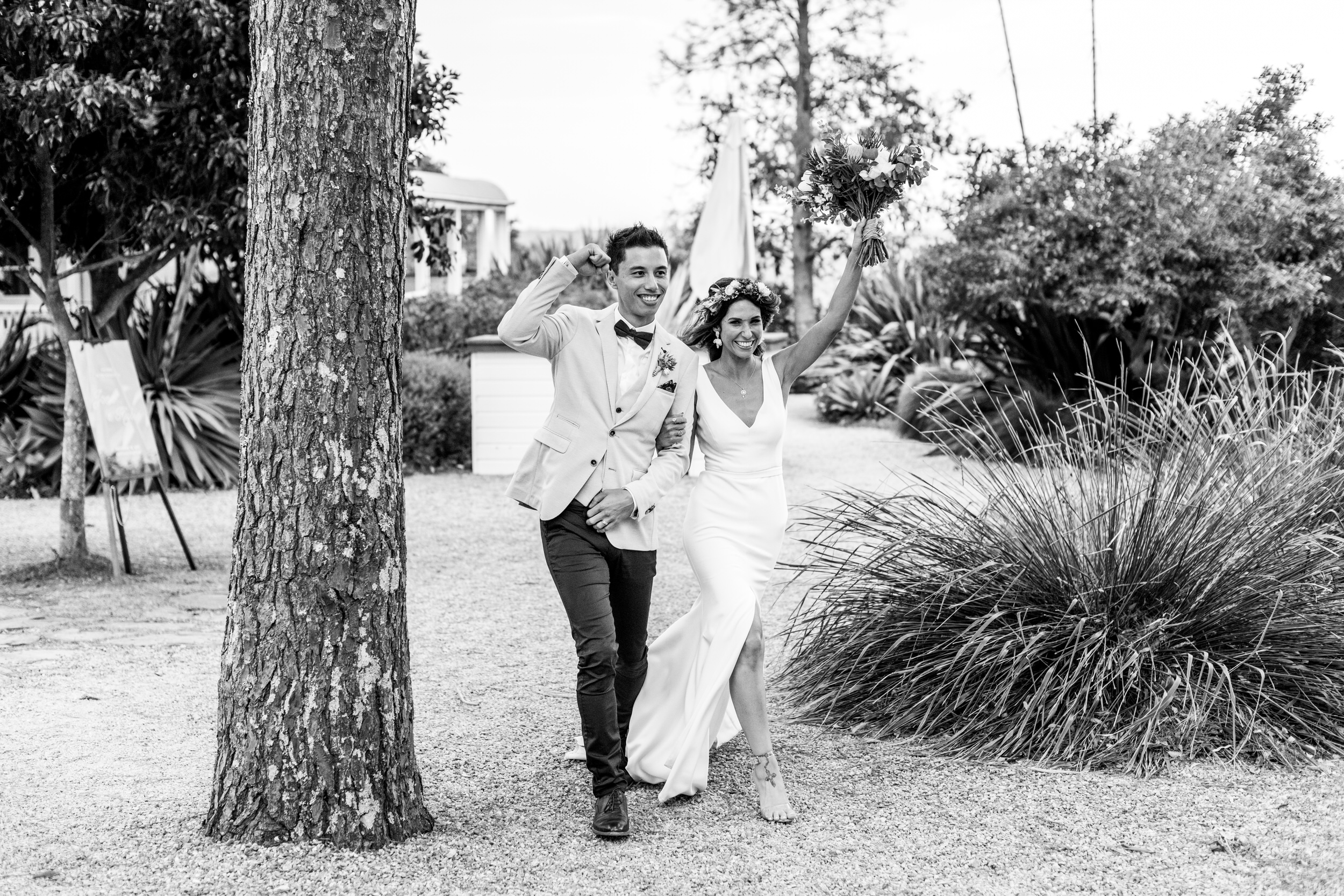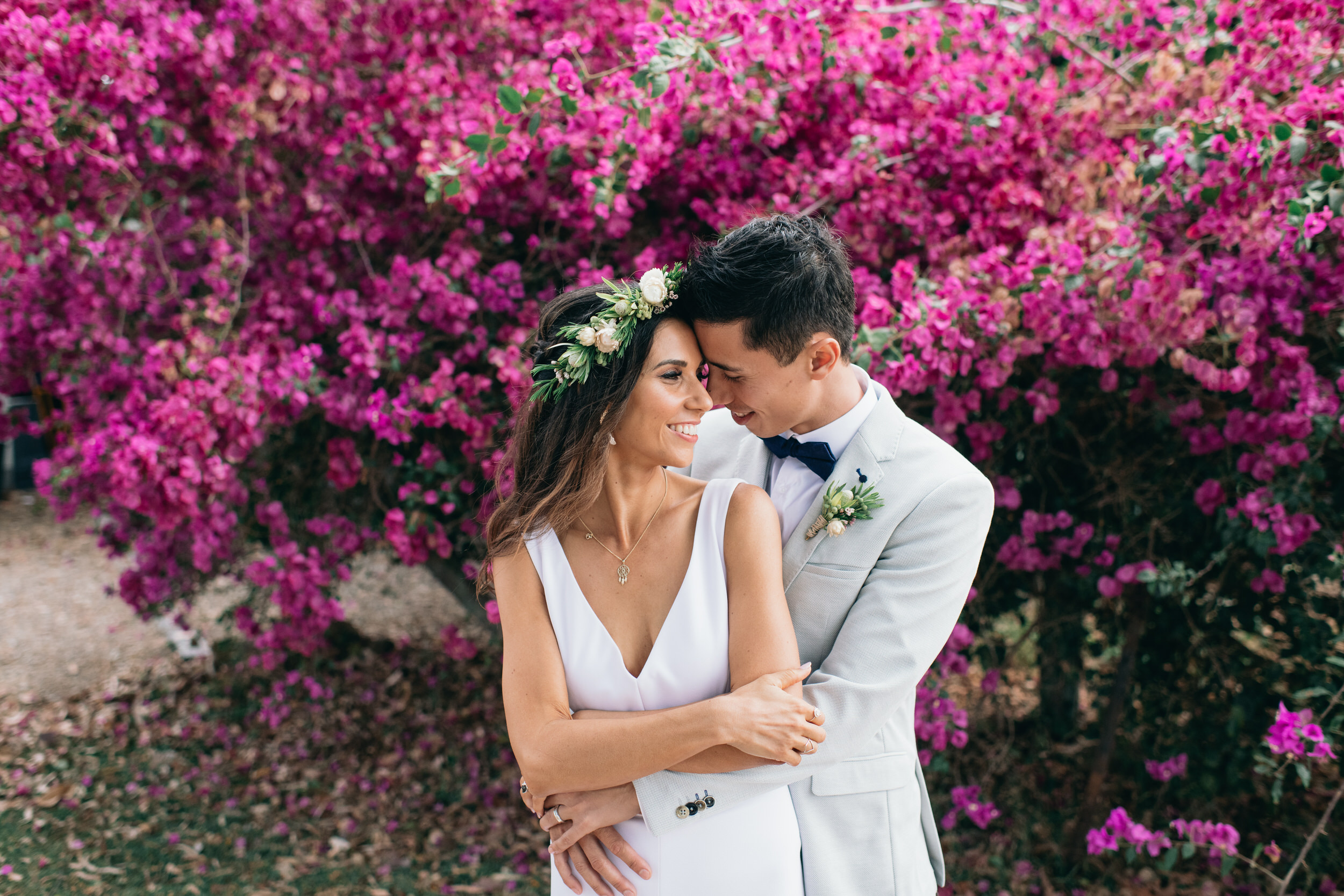 What was it like working with Figtree Pictures for your wedding photos?
We chose Figtree Pictures because we had never seen a photo of theirs that we didn't like and they certainly didn't disappoint!

We never expected to have so many photos that we love. There were a few things that I thought leading up to the day might affect the photos such as the drought and its lack of grass as well as the forecasted rain but none of that mattered at all. Figtree really captured the essence of the day and the pictures are all incredibly beautiful.

The whole company was a pleasure to deal with right from the very first email, all the way through to our beautiful photos at the end. Dan, our photographer, was truly amazing. He really put us at ease from the very first moment and blended right in with the wedding. My sister actually hugged him thinking that he was a guest! Nothing was too much trouble and he was even able to capture our fur-children perfectly.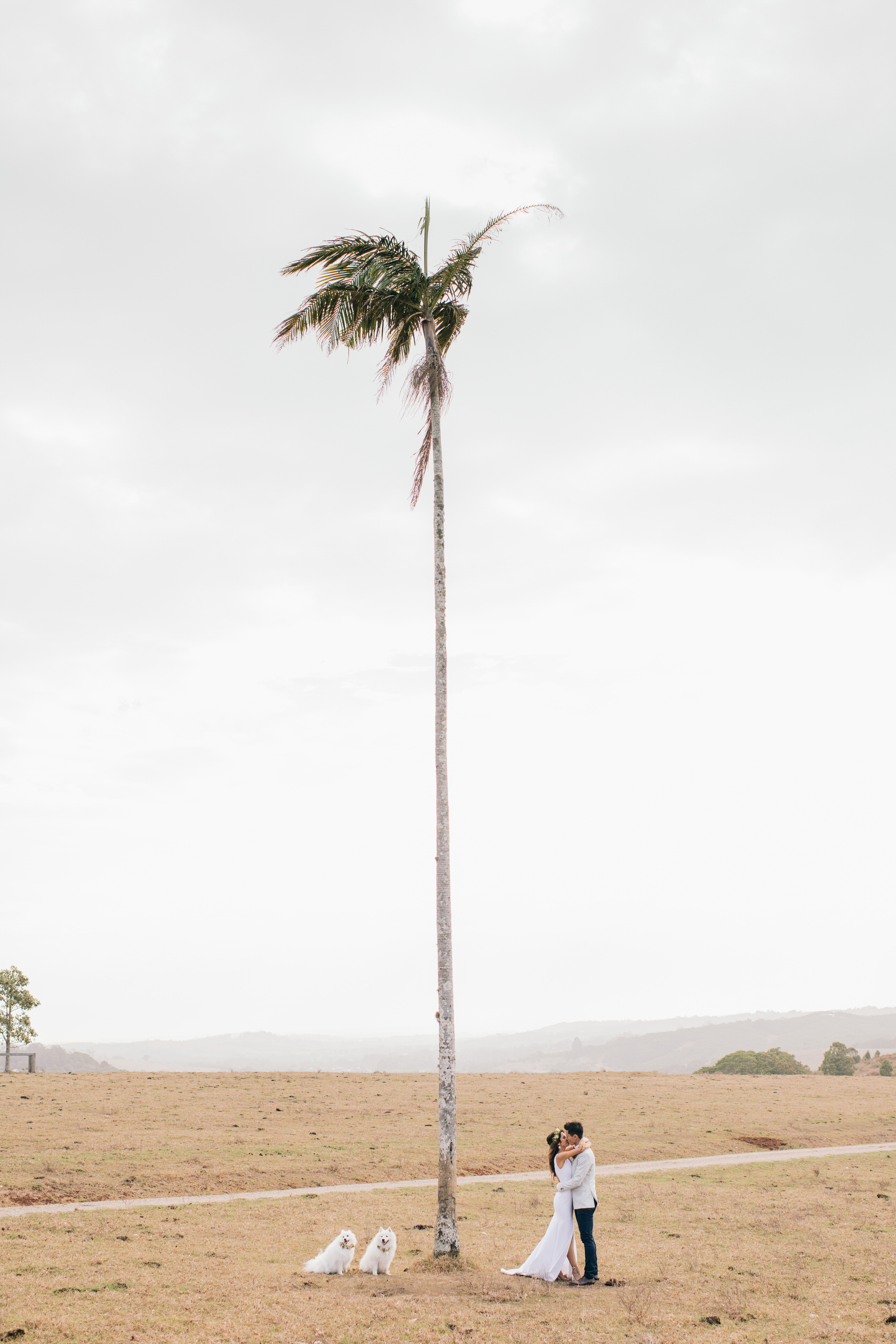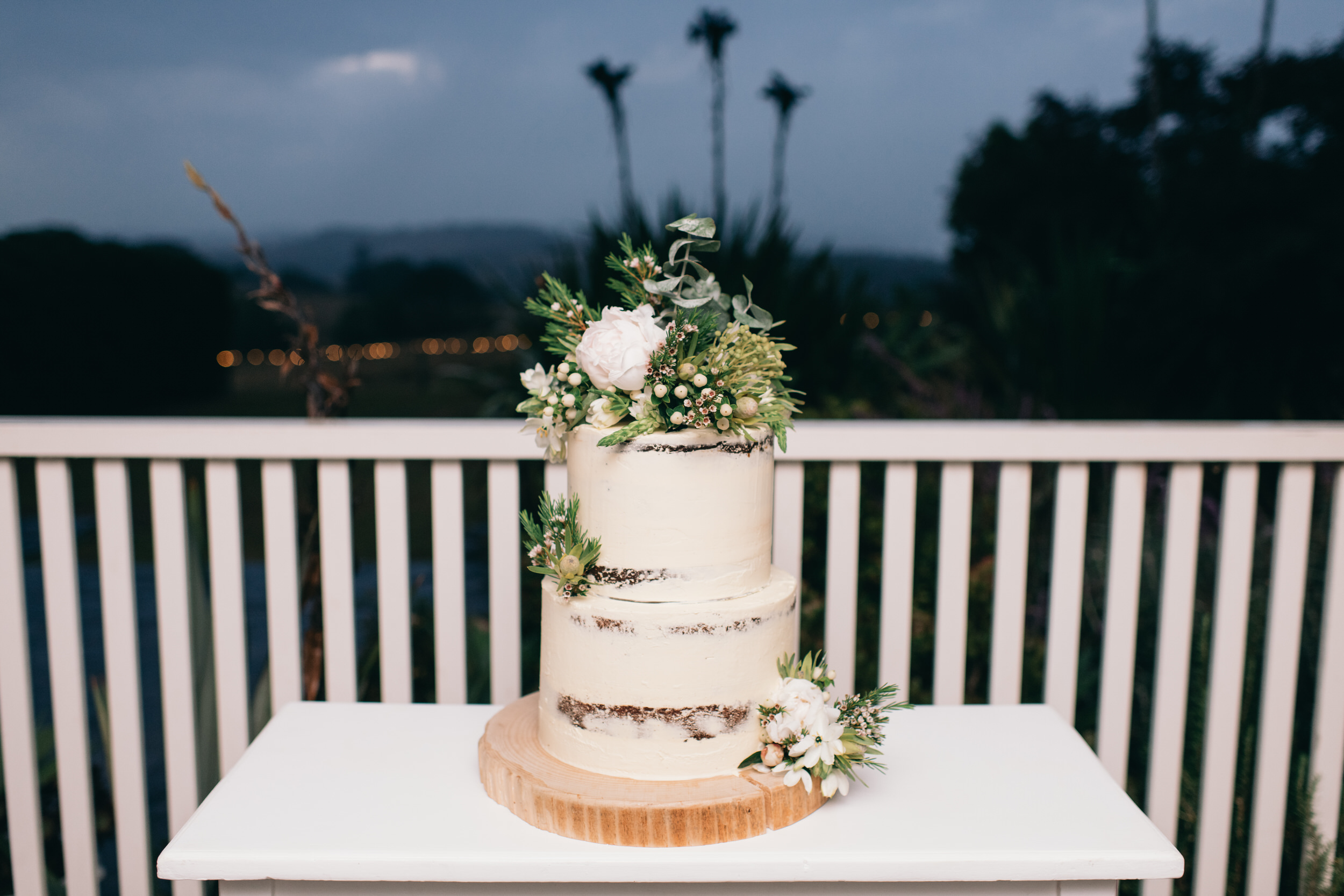 Did you work with any unexpected suppliers for your wedding?
Our choice of venue required us to have a wedding planner — not something that we originally thought that we needed, however, I am so glad we had them! I recommend anyone planning a wedding have a planner. It just made everything completely stress-free and actually fun. They guided us every step of the way, and then on the day, took care of everything so we could just relax and enjoy it.

Also, we have three dogs and it was so important to include them in our day! We didn't want any of our guests to have the burden of tending to the dogs or picking up after them, and we also really wanted to make sure the dogs had a good time. Hiring a pet attendant for the wedding was absolutely a great decision.

Our pet attendant from First Class Pet Wedding Assistants came to our house to meet the dogs before the wedding day and then made sure they were looked after the whole day from the ceremony until their bedtime. It was just such a load off not having to worry about where they were or if they needed something.
Where did you go for your honeymoon?
We stayed at the venue in the cute little on-site cottage both the night before, and the night of, the wedding. It was kind of like having the wedding at our (incredibly picturesque) pretend home. The whole thing just felt very relaxed.

We couldn't afford to have an extravagant honeymoon, so we just rented an Airbnb in the Byron Hinterland and hid out in our little love bubble for the week after the wedding. It was absolute bliss.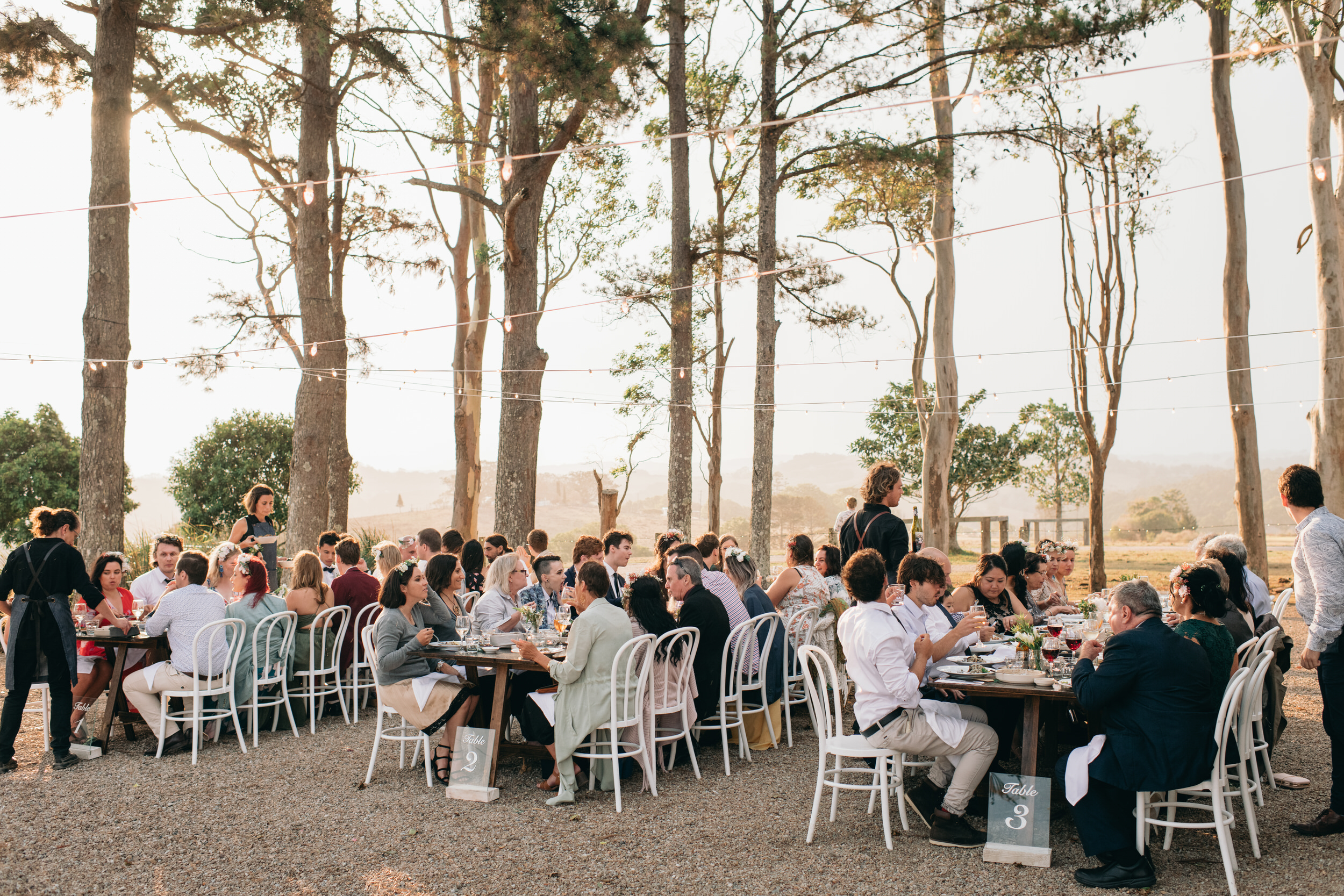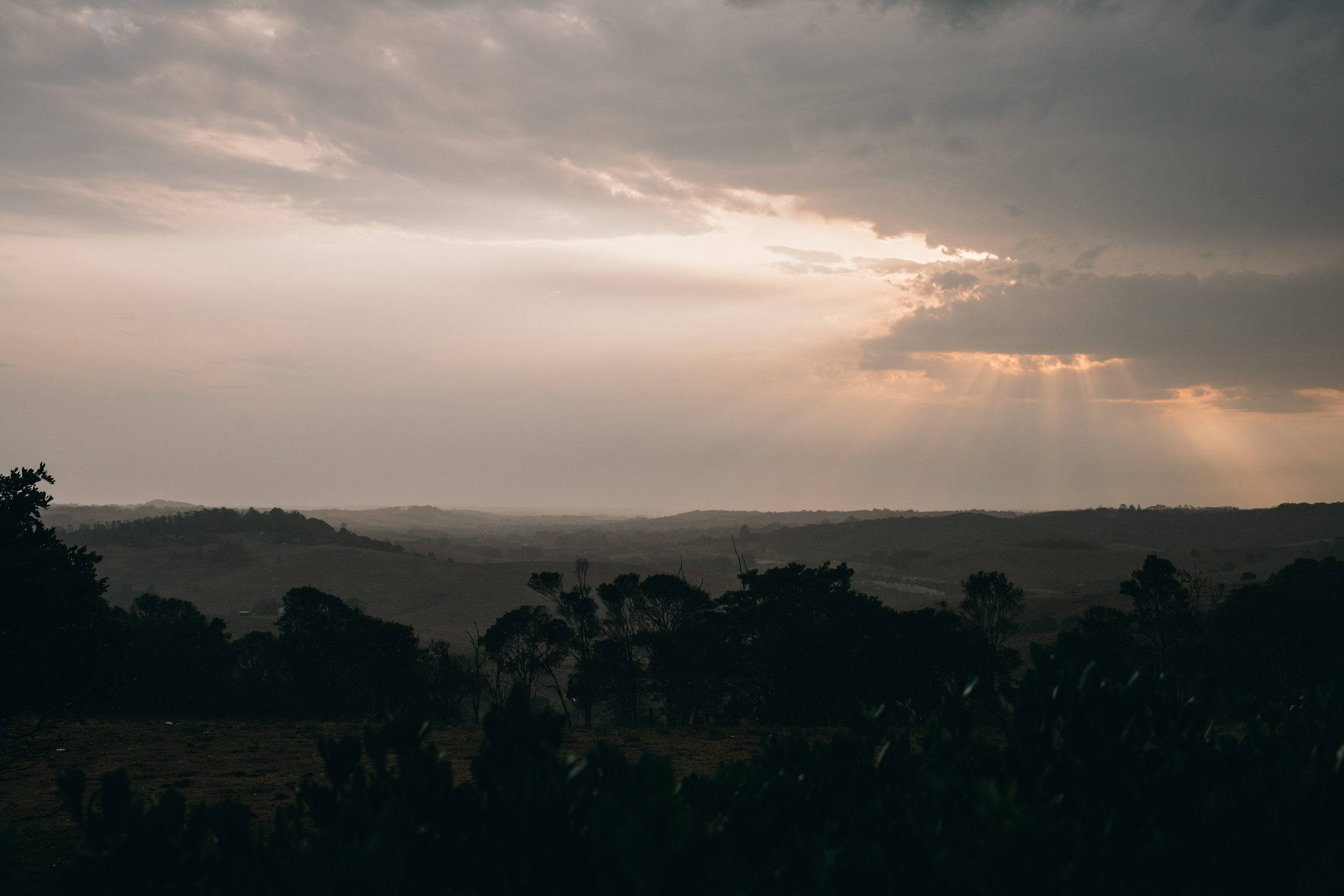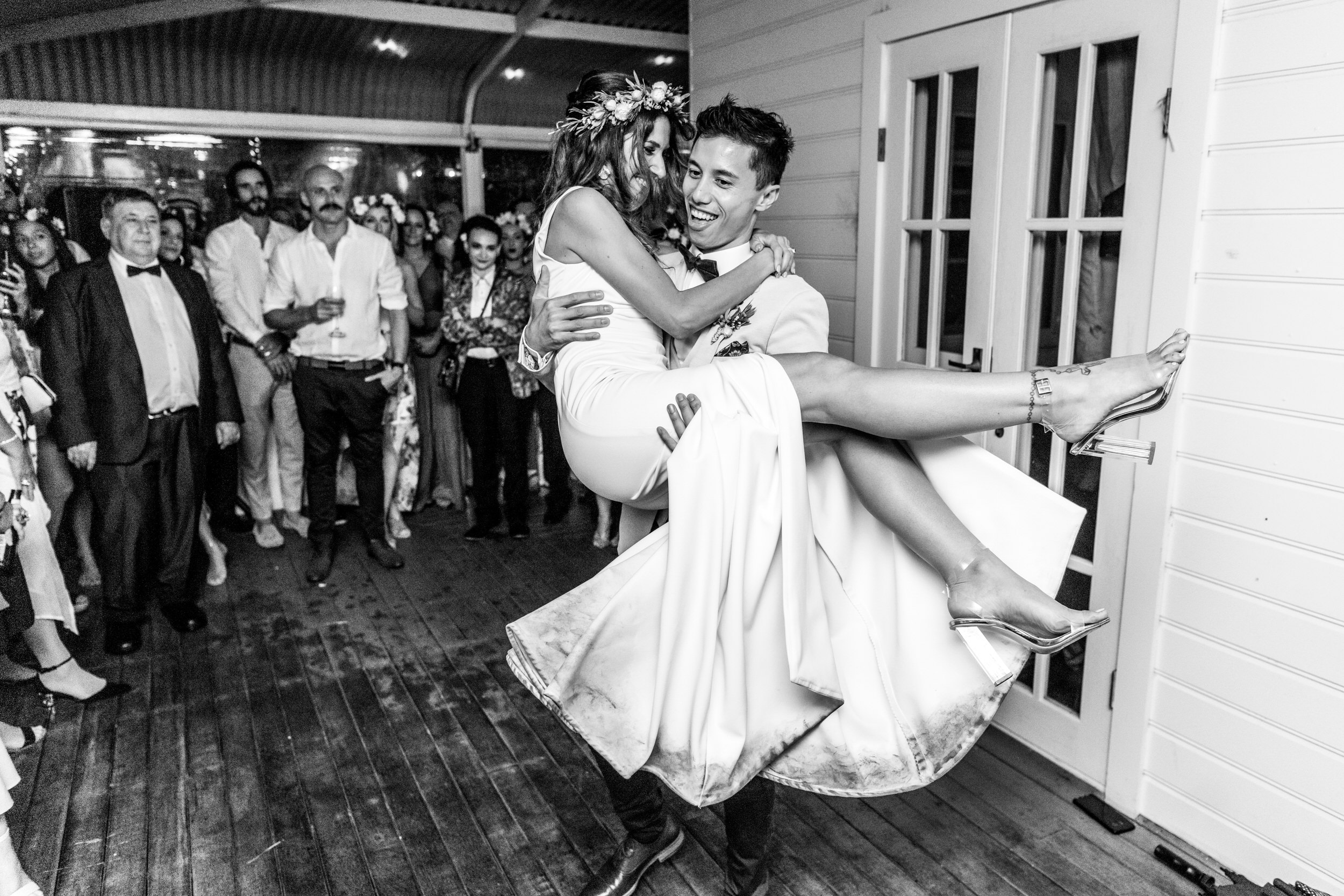 Video by Woven Motion Weddings.