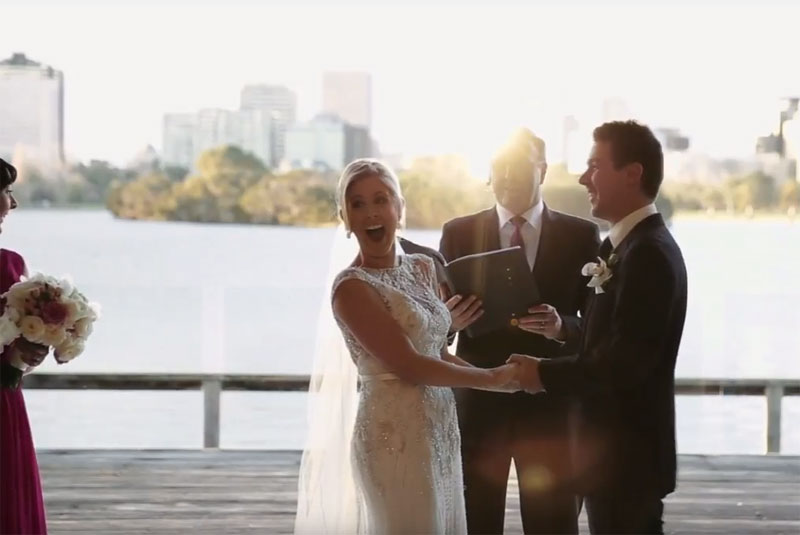 The all-important vows are, usually, the highlight of any wedding ceremony – but not so at Tom and Katie's weekend nuptials where their very restless flower girl, three-year-old Chloe, stole the show after deciding to go for a little run – just as they were professing their undying love for each other.
"The bride thought it was the funniest thing she'd ever seen," says celebrant Mike Larkan, who officiated the ceremony, which took place at Carousel in Melbourne, Australia on Saturday, May 28, 2016.
"Little Chloe had been restless during the ceremony," he adds. "but, naturally, I was concentrating on getting the couple through their vows so I didn't realise what was going on until I heard the guests laughing.
"I turned around just in time to see Chloe dash past – with her poor mum, Eleanor, desperately chasing after her."
https://www.youtube.com/watch?v=CykNwwi_EsU
"Luckily, Burgess Video was shooting with two cameras, so not only did they capture Chloe's little run, they also managed to catch the bride and groom's priceless reactions."
Of course, though the humorous video has caused more than a few giggles, what viewers may not realise is that the three-year-old was running along a lake and her worried mother was trying to catch her before she could, potentially, fall into the lake upon which the wedding venue sits.
"Thankfully, it all worked out and Eleanor caught little Chloe before anything happened, but I think the bride and groom – and, certainly, their guests will remember that moment for a very long time," says Larkan.
"Oh, and I'm sure that snippet will end up being played at Chloe's 21st!"