This weekend, December 9 officially marks one year since same-sex marriage has been legalised in Australia. And we are just as thrilled now as we were 12 months ago!
There are so many beautiful couples who have been able to get married since the legislation passed, either hosting their own wedding ceremonies or renewing their vows and making their marriage legal after having civil ceremonies before the vote.
"Marriage is the union between two people" so we decided to celebrate the love of some of these couples by sharing some of the stunning images from their wedding days!
We went through our real weddings and reached out to Australian suppliers to see what weddings they've been involved in this year. So here are a few of the beautiful couples who got married this year.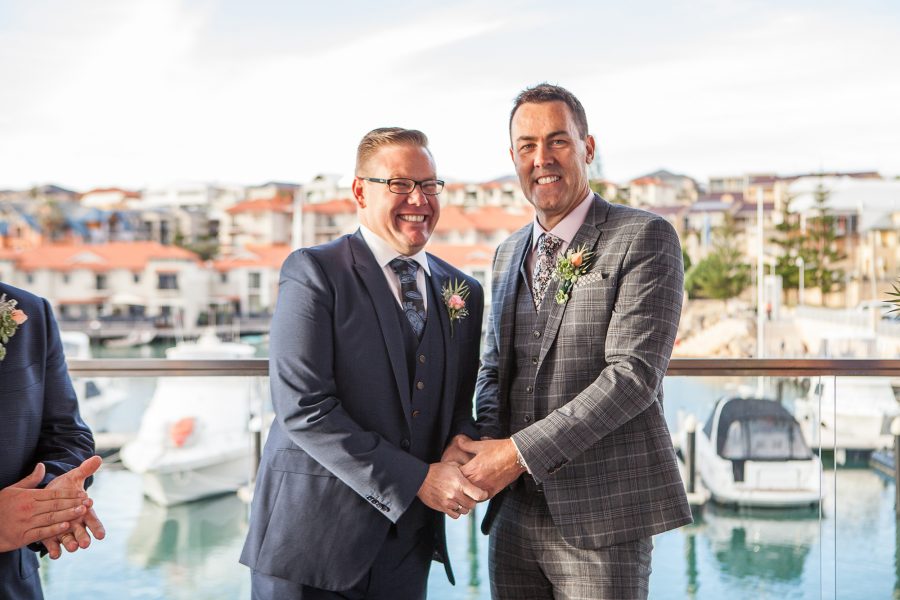 Teresa and Tracy
We love this simple beach wedding for Teresa and Tracy, who have been together for 18 years and have two children! We're thrilled this pair were finally able to celebrate their day.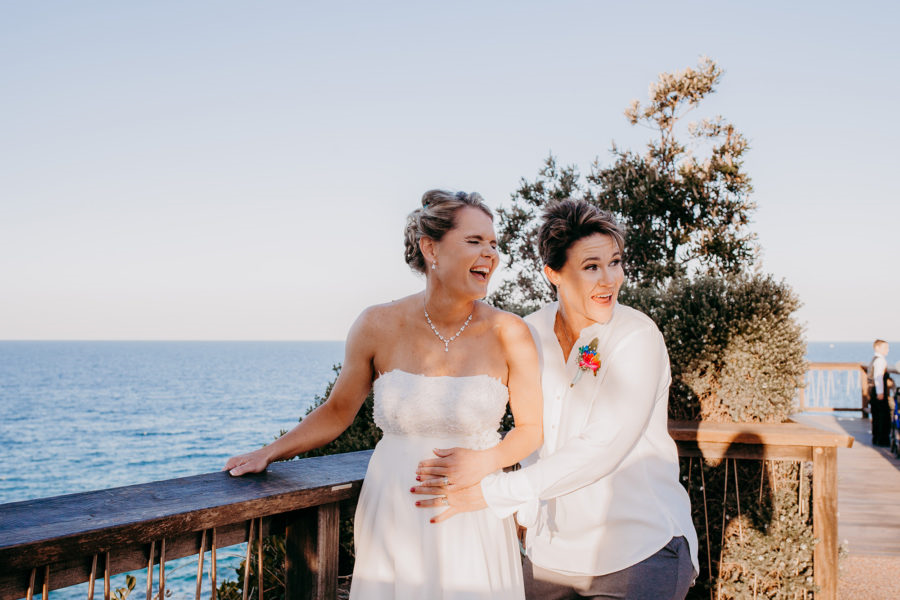 Renee and Felicia
Avid horse riders Renee and Felicia walked down the aisle together with both of their father's giving them away, and got the wedding they'd dreamed of. After getting engaged in January 2017 we're so glad they didn't have to 'settle' for an illegal ceremony like they originally thought!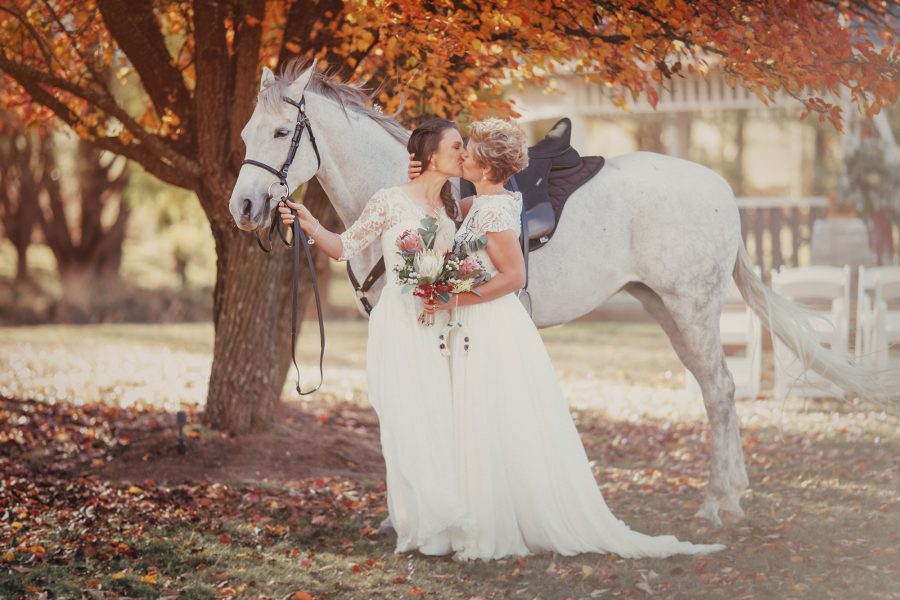 Greg and Troy
Troy and Greg waited three years for the law to change so that they could legally get married. Not only were their suits on point, but as Greg says: "Finally we had the opportunity to stand in front of those that are dear to us and declare our love for one another. A love that was equal. Something that had been afforded to many but denied to some."
Amen to that.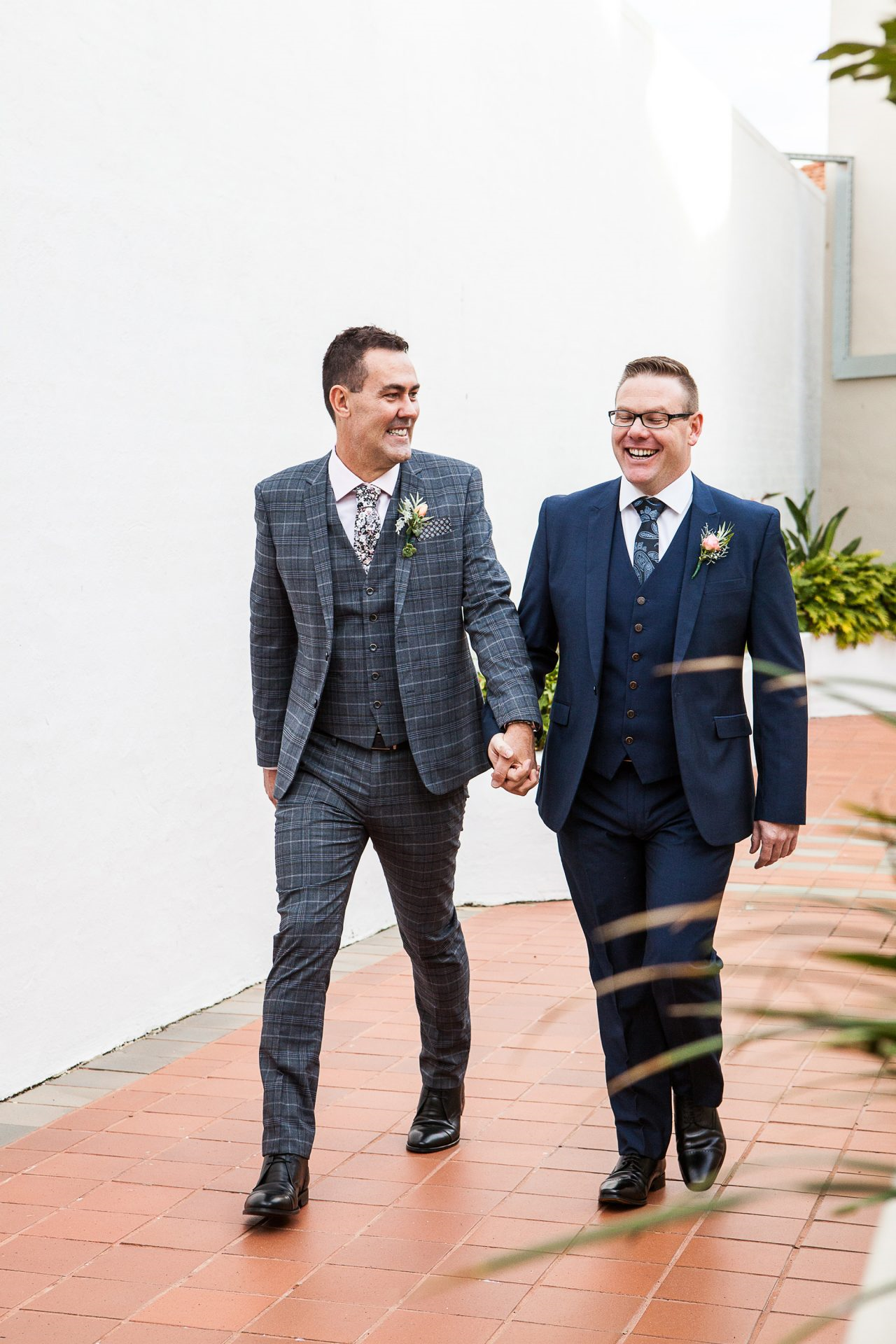 Lauren and Erin
These two stunners celebrated an elegant garden wedding in Perth. After spending five years together they were engaged in 2017 and got to tie the knot in March this year.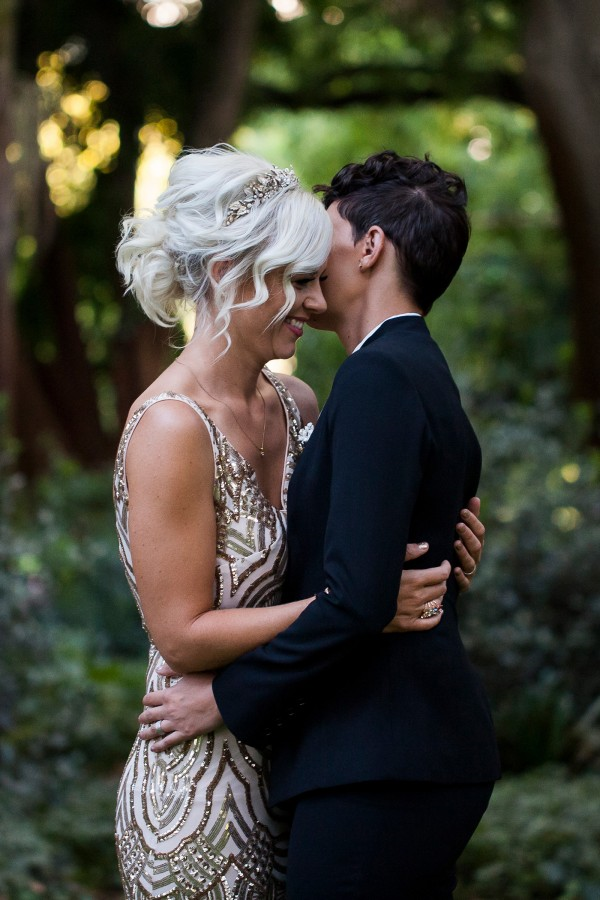 Elisabeth and Fiona
We're loving the moody vibe of this wedding at East Elevation in Brunswick, officiated by celebrant Sharon Byrne.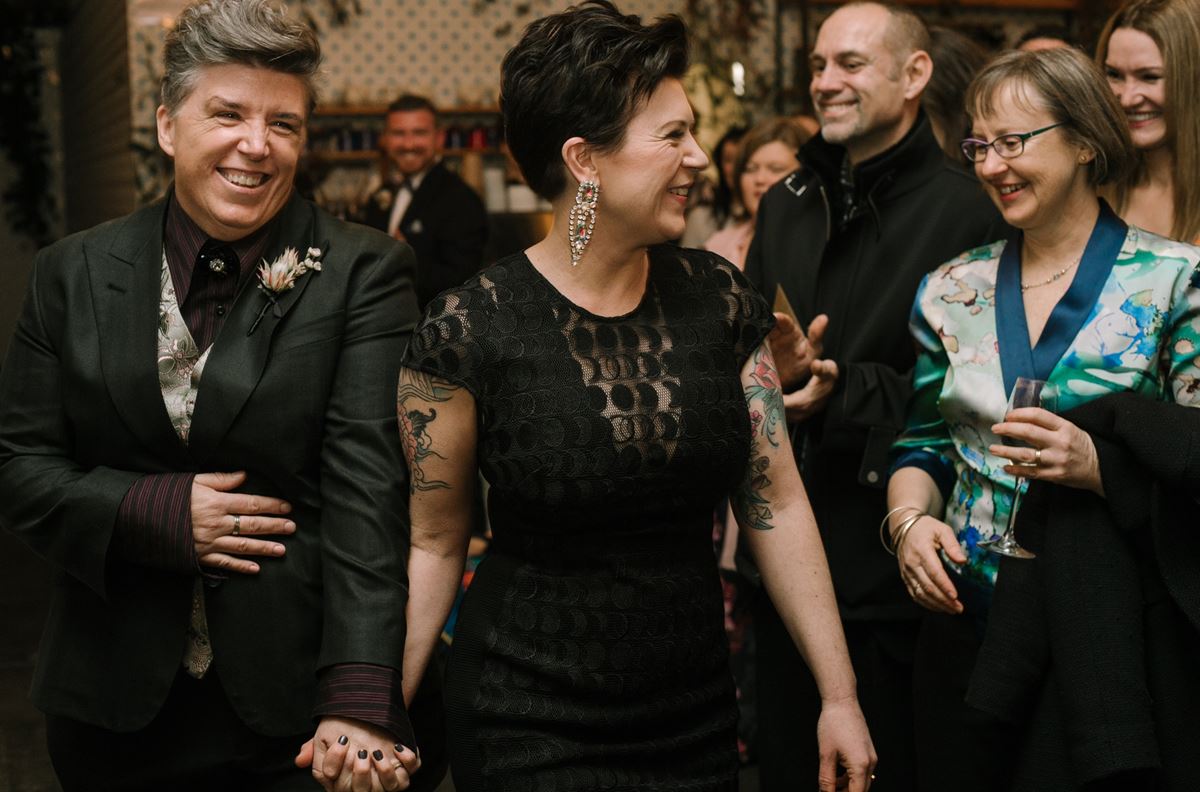 Amanda and Shaneen
This couple finally married this year, after spending 27 years together! They hosted a wedding at Surfers Paradise which was officiated by Celebrant Sue.
Justin and Dan
This pair hosted a stunning beach wedding and their style was on point. They were able to pair their beach photos and ceremony with their wedding at Brighton Savoy in Melbourne.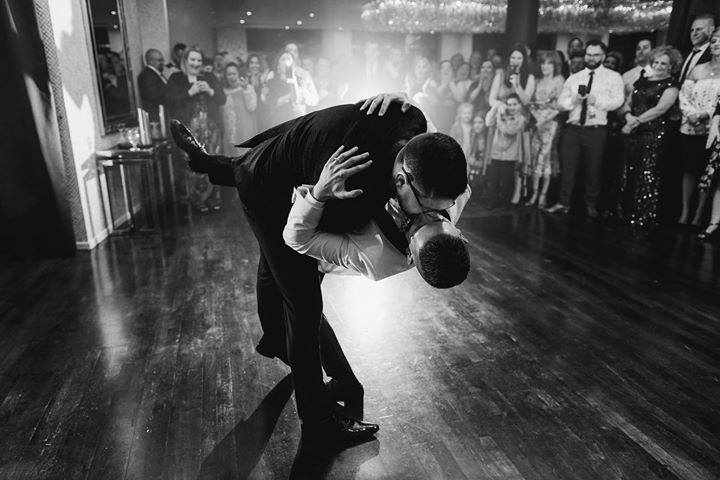 Grant and Adam
Adam and Grant weren't looking for love when they found one another on the dancefloor 7 years ago, but that's just what they did find! And we're so glad – they look so happy together! Many thanks to Passion8 Photography for sending their story through.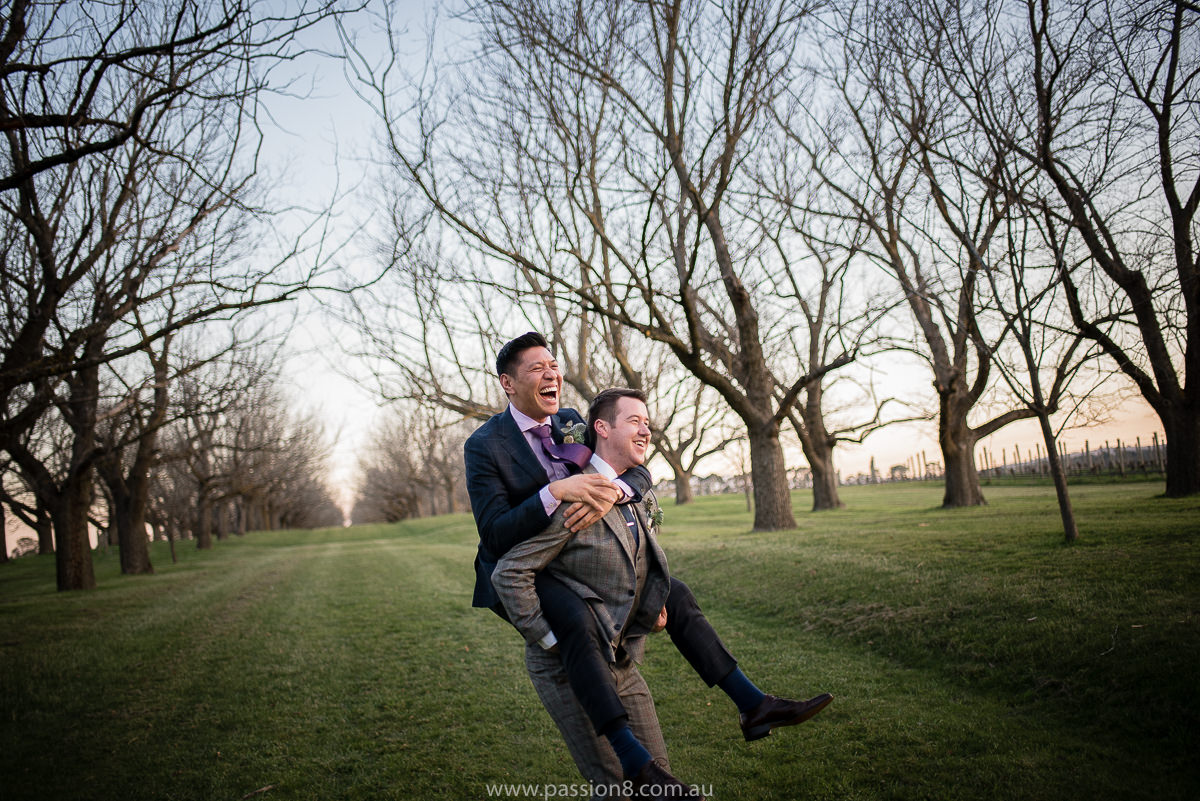 Margaret and Megan
This gorgeous pic shows celebrant Luke Firth by the side of Megan and Margaret as they exchange vows during their beachfront ceremony held at Matilda Bay Restaurant. I'd love to be a fly of the wall to see what has them laughing and loving all at the same time!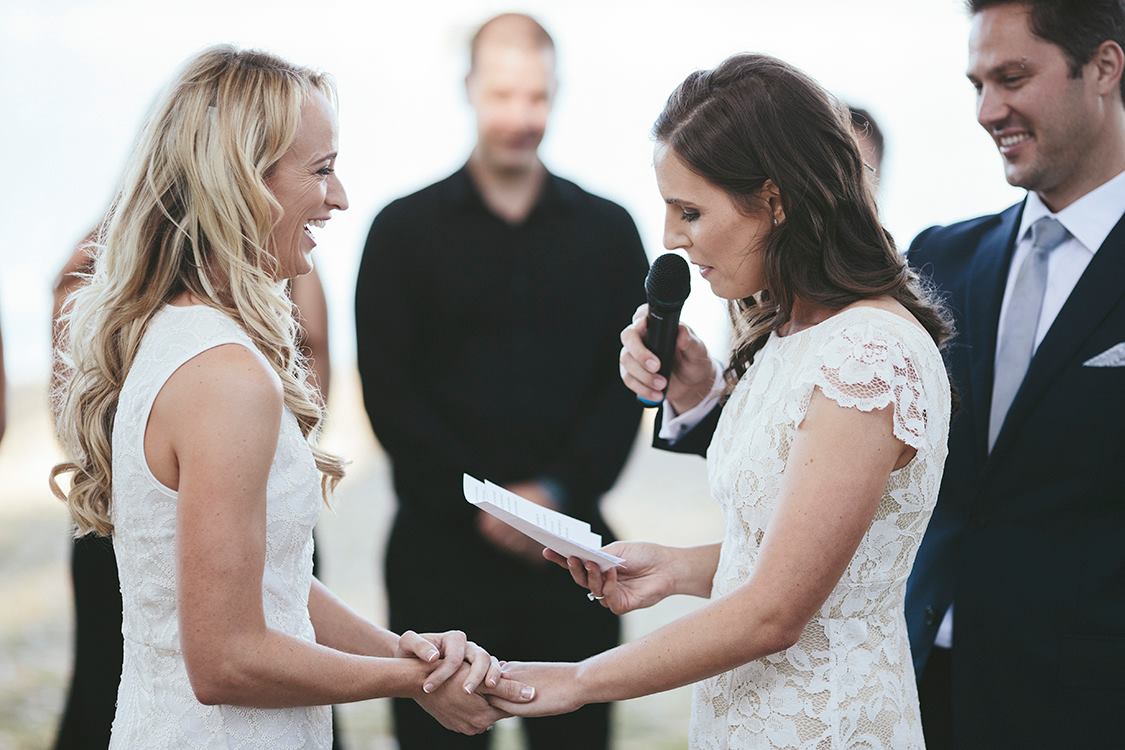 Andreas and Adriano
We can't help but feel warm and fuzzy for our very own celebrant Andreas, also known as Married by Andy, who wed his love Adriano earlier this year. After marrying so many other couples over the year we're thrilled that Andreas got the day he has always deserved!
Plus we've got to say that Andreas and Adriano paired their suits perfectly and look absolutely stunning walking down the aisle together.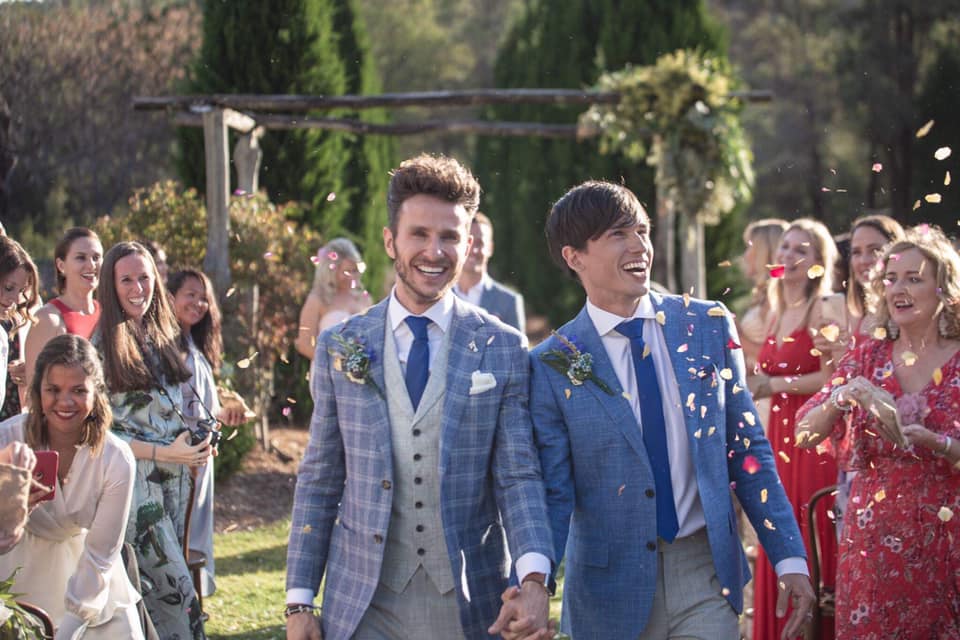 Michael and Will
Another couple who definitely have their wedding wear on point, we cannot get enough of this cute pic and stunning backdrop. The pair were married by celebrant Kate Morgan in Melbourne earlier this year.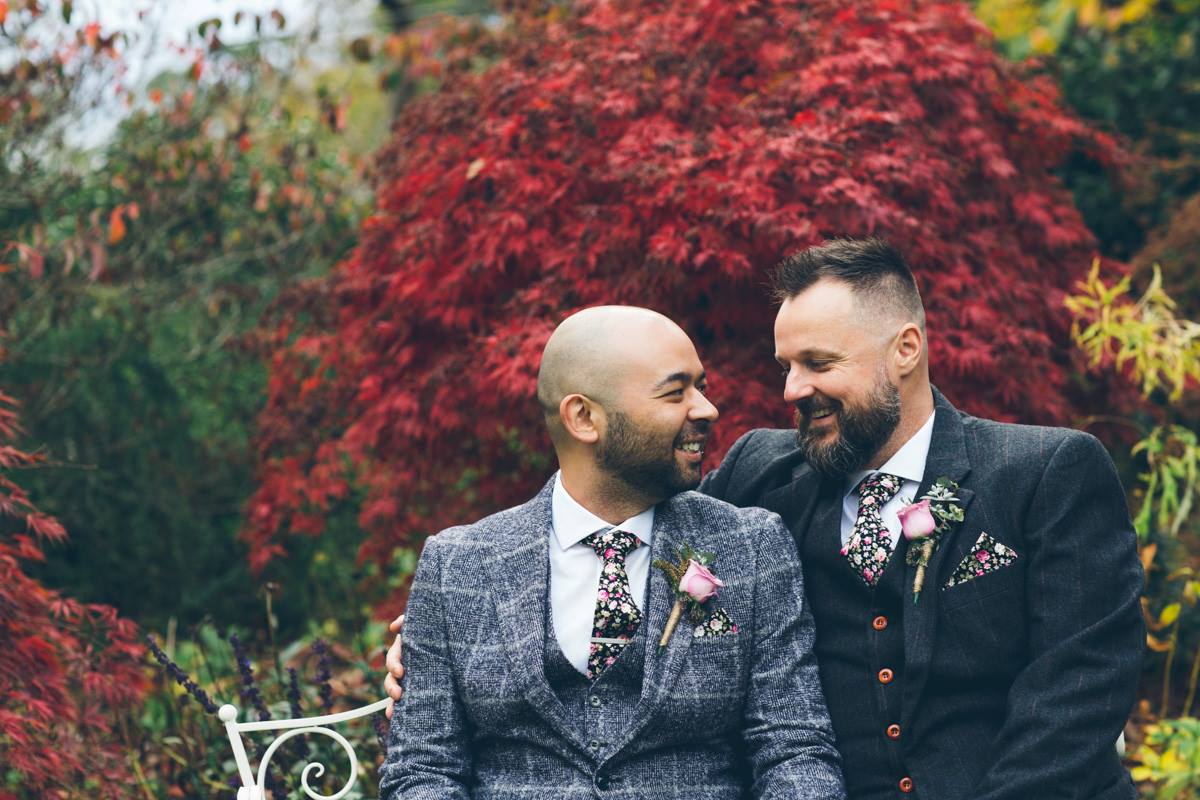 Kylie and Amanda
Is there anything better than looking at a couple staring deeply into each others eyes during their wedding ceremony? Loving this pic of Kylie and Amanda's wedding with the gorgeous floral gazebo at The Retreat at Wisemans in the backdrop, captured by Images by Kevin.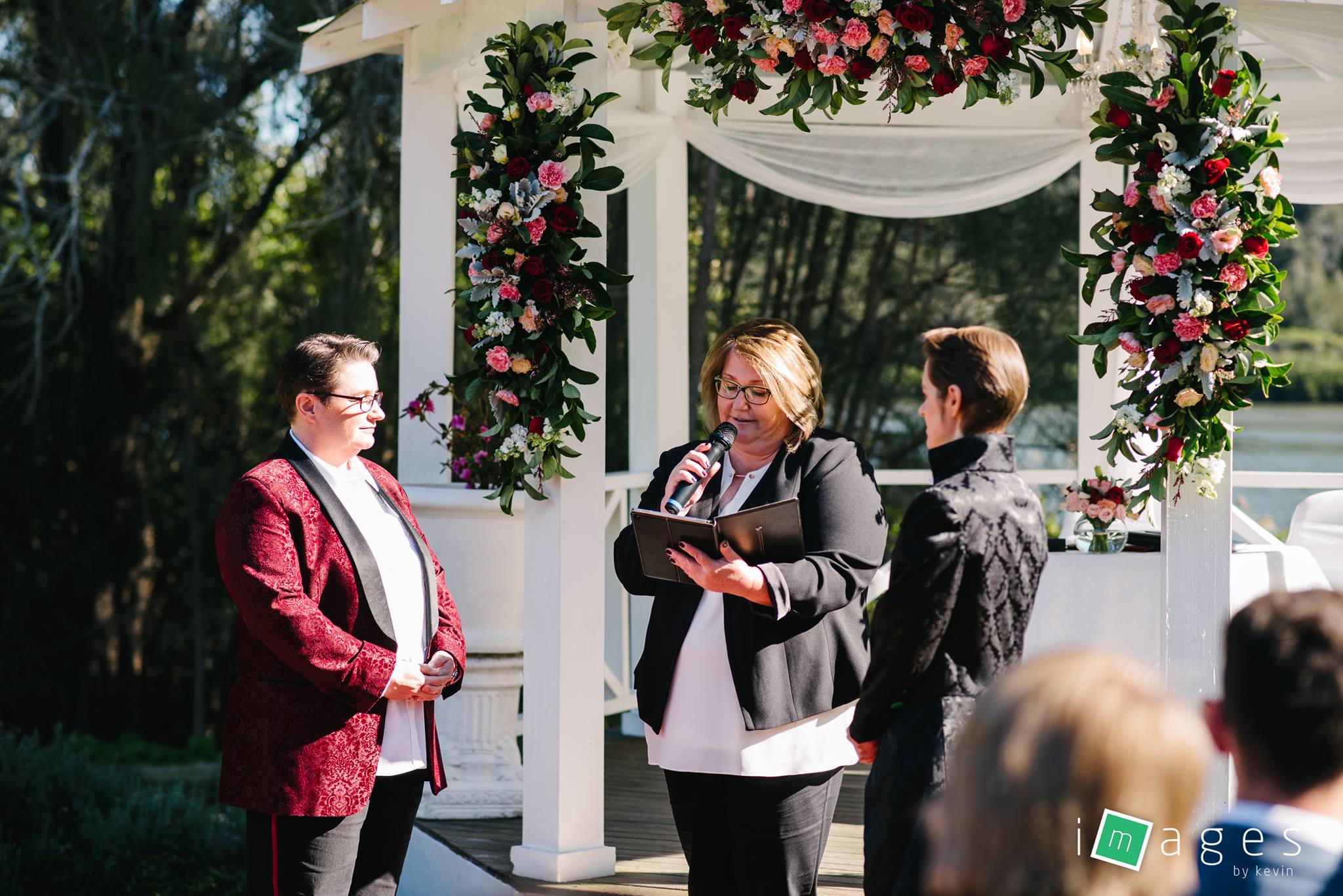 Ben and Justin
Ben and Justin's stunning wedding looks like a heap of fun, and their faces say it all. They hosted a country ceremony officiated by Kirk Samuel Goodsell.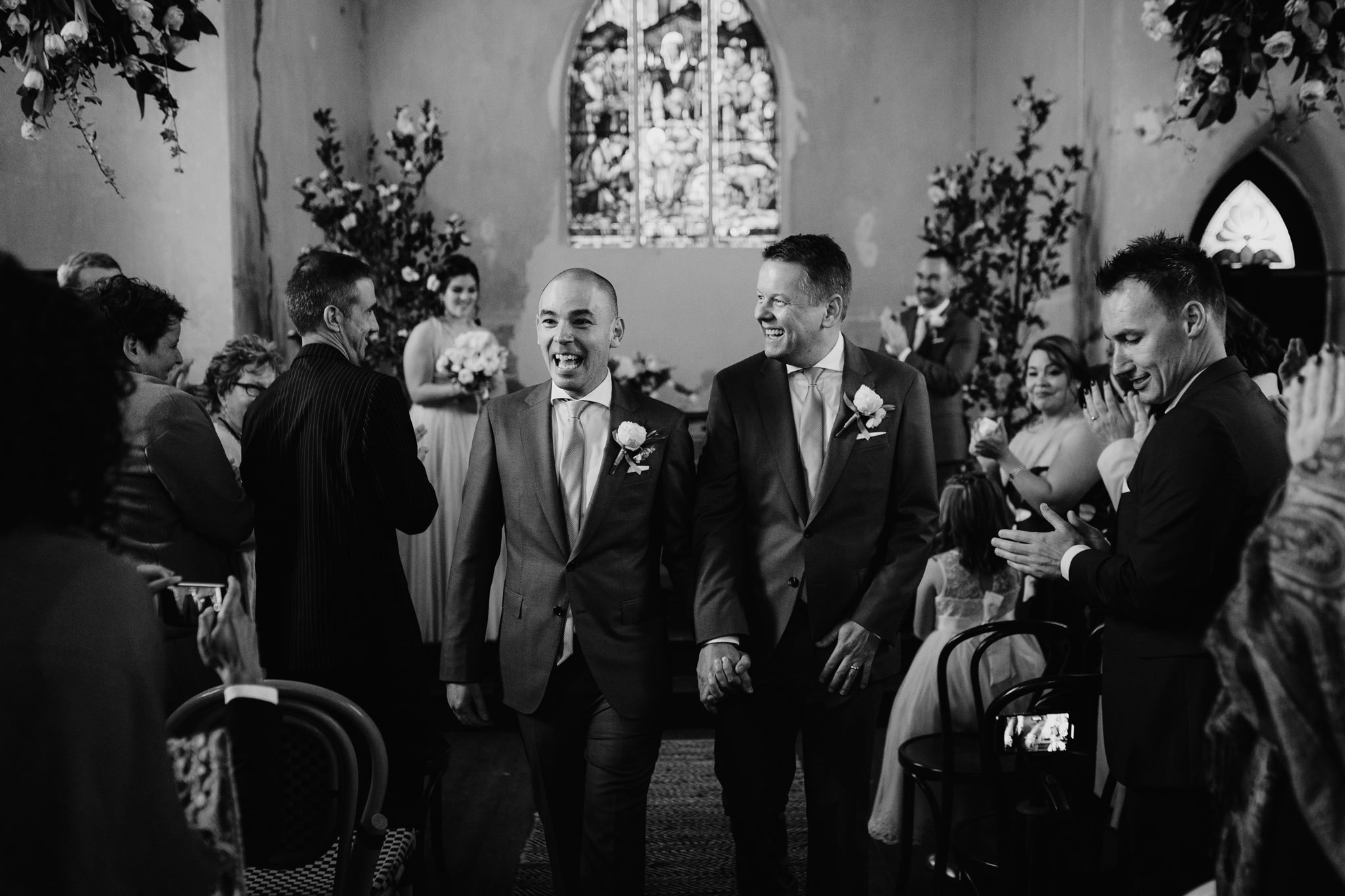 Tanya and Fiona
Tanya and Fiona look absolutely gorgeous here with their celebrant Mel from Two Tie The Knot Celebrant Services. We are loving the burgundy tones and henna!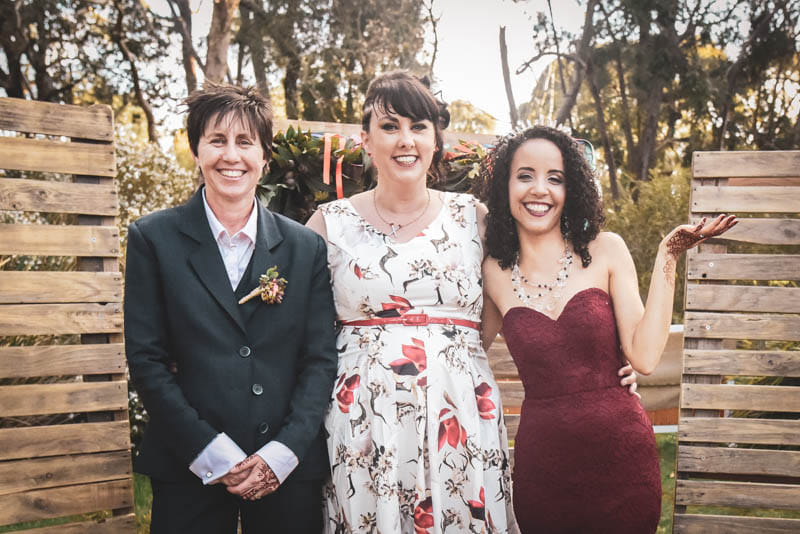 Shayne and Jayson
Shayne and Jayson are absolutely BEAMING and we love their burgundy boutonnieres and arbour décor. Theirs was the first same-sex wedding after the legislation for celebrant Jane Bartlett, who says: "to see the love between two long term committed partners is amazing and I hope more couples are encouraged by their desire to legalise their union."
We agree Jane!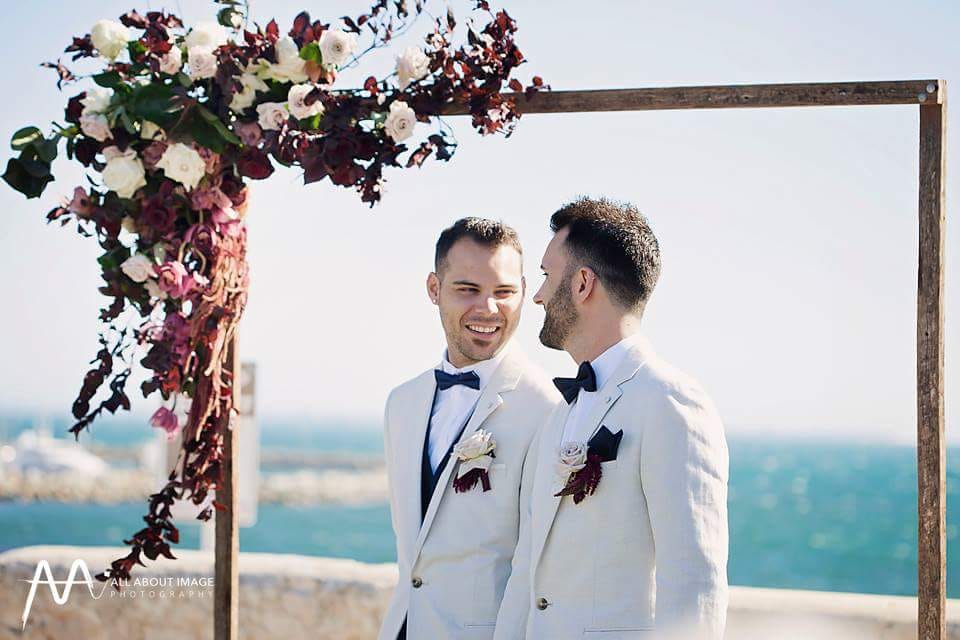 Verena and Tanja
There are too many fabulous pictures to choose from in this wedding shot by Black Avenue Productions, so we can't pick a favourite! But Verena and Tanja are simply beautiful and we wish them a long and happy marriage!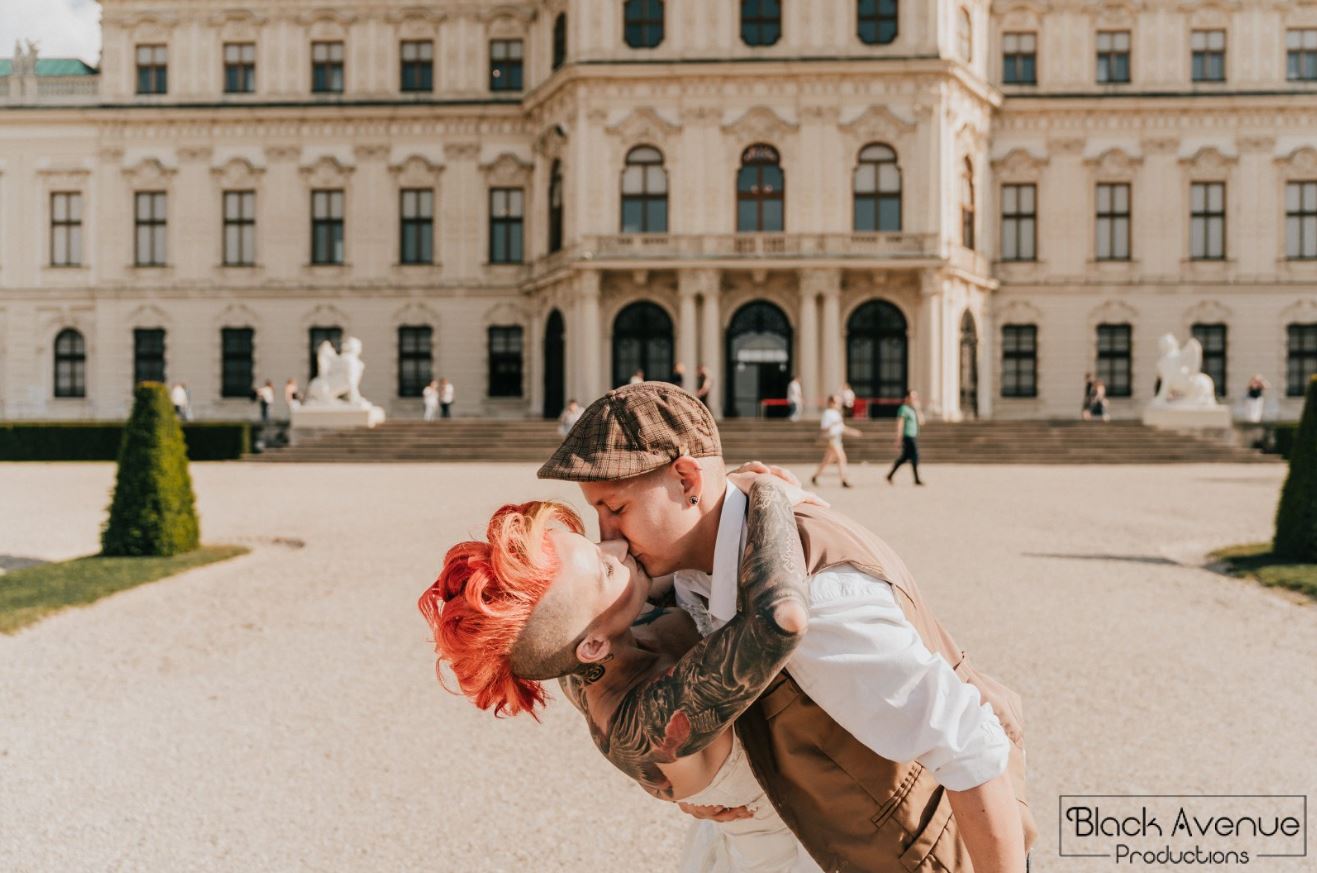 Zoe and Tanja
We cannot get enough of this stylish wedding and AMAZING suit. Zoe and Tanja styled their wedding perfectly at Paxton winery and they just look like they're having so much fun!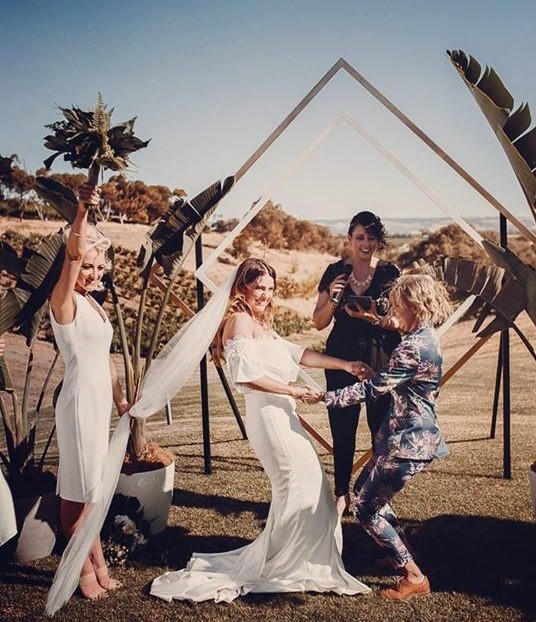 Ash and Erin
It's all smiles for Ash and Erin who were married by celebrant Deb Griffiths earlier this year.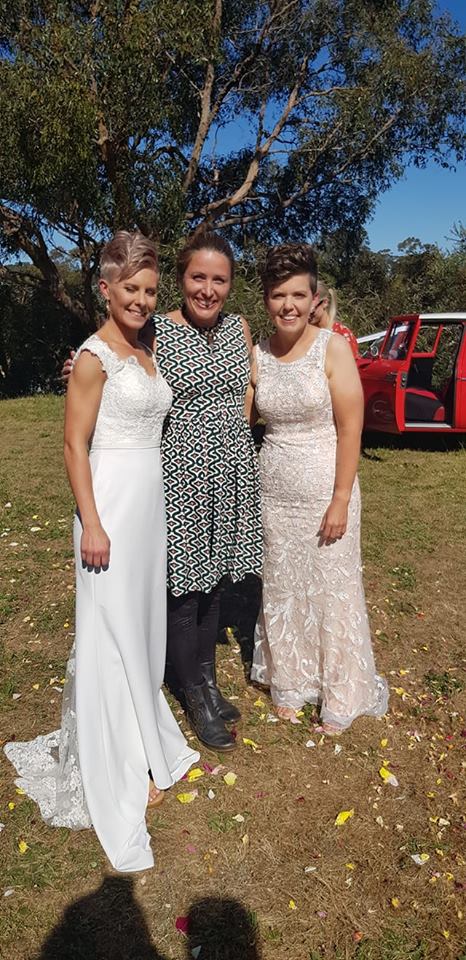 Wolf and Kevin
We're in love with this super cute shot! Wolf and Kevin gave their celebrant Rita Doherty a big thank you after their wedding.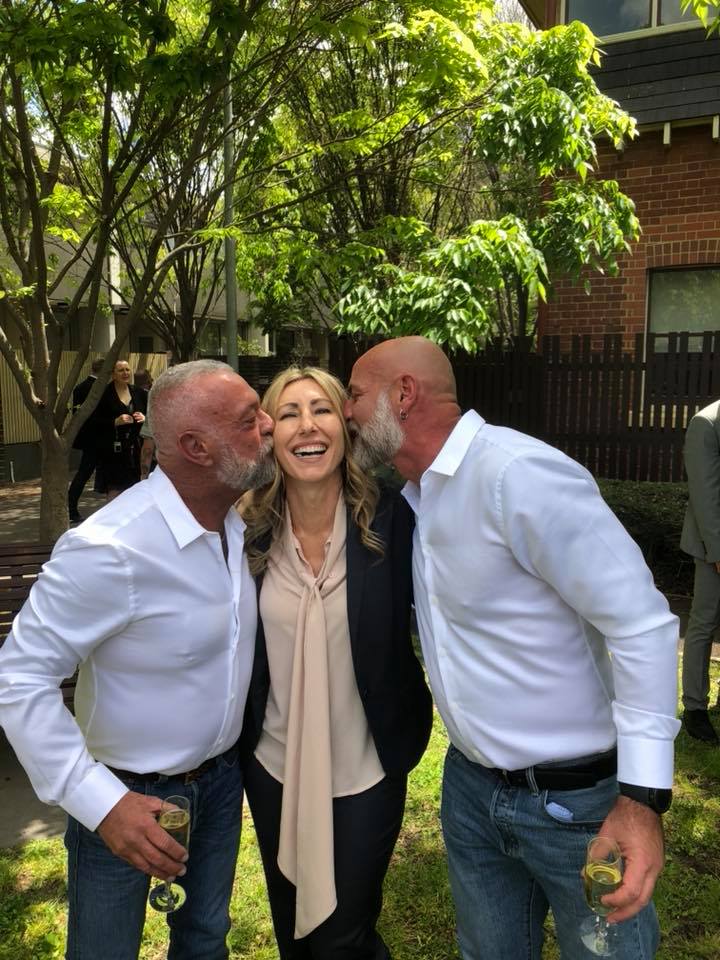 Zoe and Nicky
There's nothing quite like getting into a photo booth and having some fun on your wedding day and this is a beautiful keepsake for Zoe and Nicky!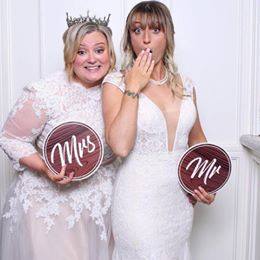 We wish all these couples, and all of the other same-sex couples across Australia, long, happy and fun marriages!