Let's all take a collective deep breath before we dive into the latest COVID-19 news. The situation is evolving rapidly, and we're here to bring you information as it's received. It's our sincere hope that you know you're not alone — numerous couples are putting their wedding plans on hold around the world. The simple fact of the matter is that we're all in this together.
As of midnight 25 March 2020, all weddings in Australia have been limited to groups of five people, including the couple, their celebrant, and two witnesses. We do not yet know how long these restrictions will be in place, but it's something we'll be tracking closely and keeping you updated on.
If your wedding was planned for a date within the next three months, now is the time to postpone if you haven't already. Yes, it sucks. But again, you're not alone. If your wedding was planned within the next six months, we'd recommend keeping an eye on restrictions as they progress, and making a decision four to six weeks out. Wedding vendors and venues around the world are going through this process, and we hope you'll be pleasantly surprised by just how accommodating and kind this industry can be.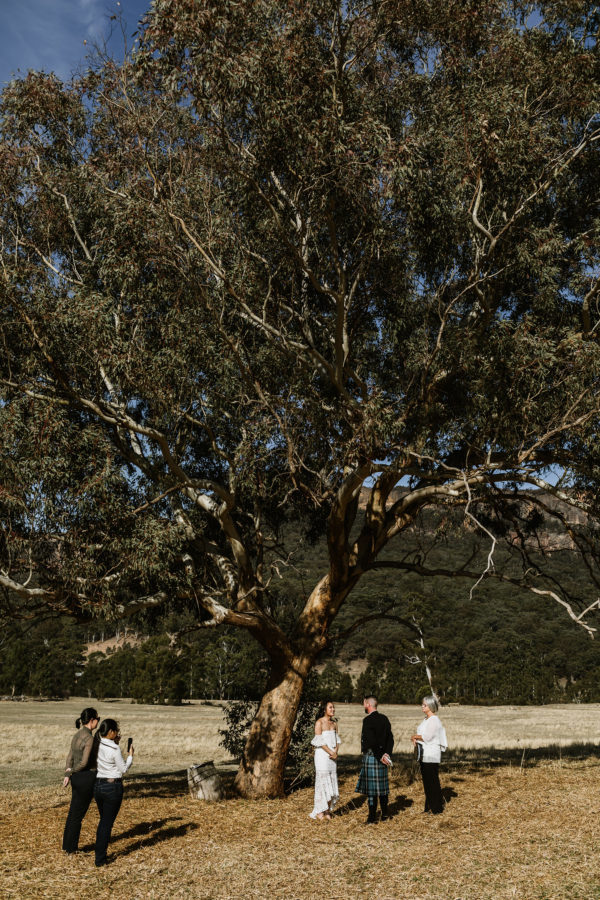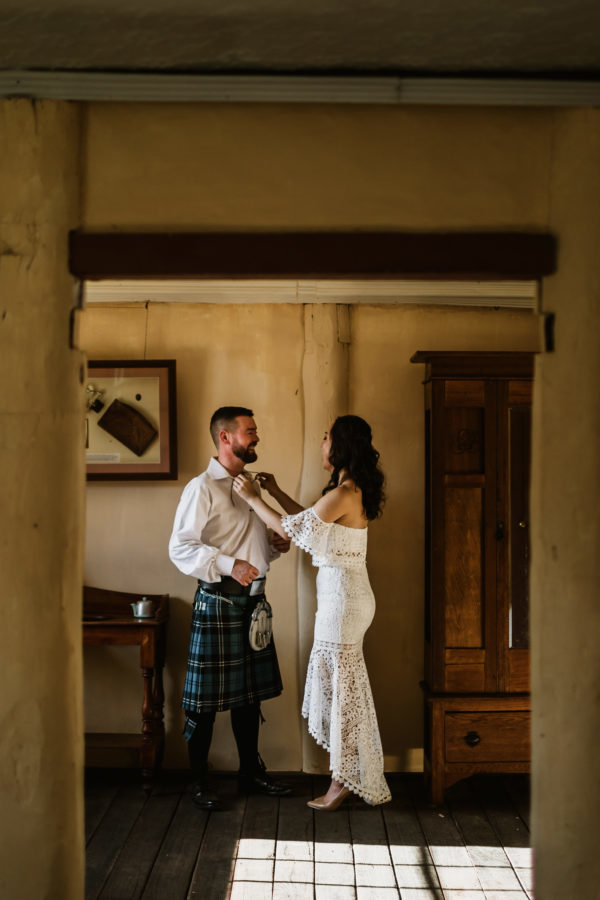 How to Limit Your Wedding Guest List to Two People
The latest rules for weddings during COVID-19 allow two lucky witnesses and one celebrant to join you for an intimate wedding, provided you abide by the government regulations to keep a smart social distance of one person per four square metres of floor space.
Now you've just got to select those lucky witnesses! For many, the idea of having just one parent or one set of parents seems a little unfair. Instead, you might consider bringing your two closest friends into the fold, one representing each side of your inner circle.
Narrowing it down is going to be a struggle for many, and we completely understand that. The good news is that you can take your time to think through this decision and figure out what works best for you as a couple.
Another option is to limit your two witnesses to a pair of photographers — or a photographer and a videographer — who can capture your tiny ceremony in real time. We have plenty of photographers and videographers in our network who'd be excited to capture your micro wedding.
As for a celebrant, if you don't have one locked in already, we know more than a few who'd be thrilled to help you plan a micro wedding ceremony that's as meaningful and romantic as the original ceremony you'd planned. Head to our directory for their details.
Not sure which vendors to go with under these circumstances? Check out our wedding advice page, which connects you directly with celebrants, photographers, videographers, and more so you can ask about their services during COVID-19.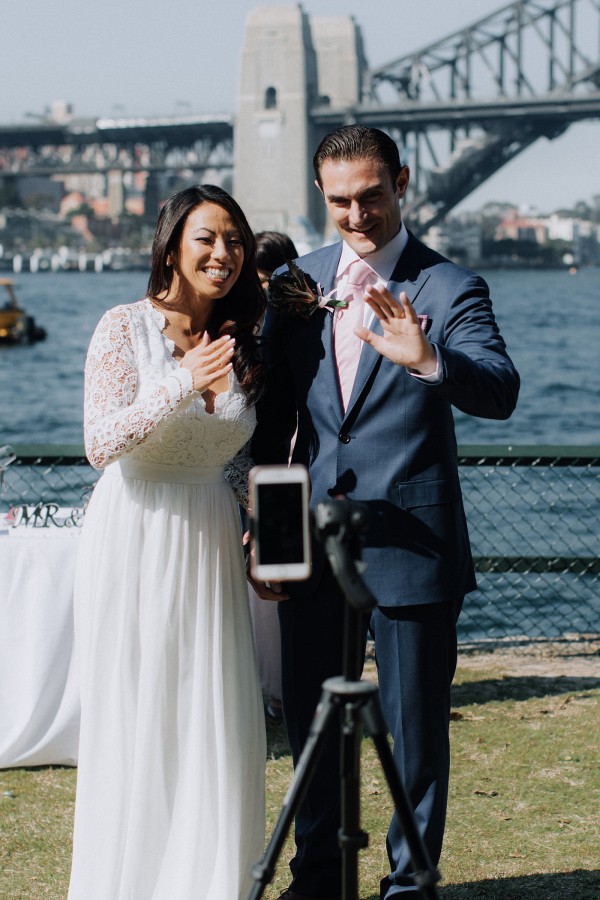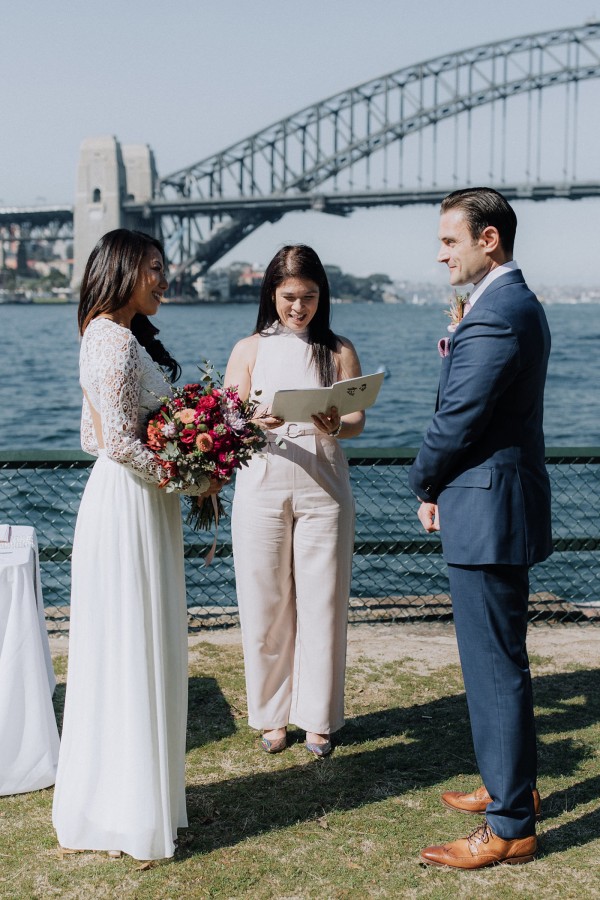 A Virtual Family Affair
Not so keen on the idea of only two people witnessing this special occasion? Fair enough! We love gatherings of our nearest and dearest, especially when something celebratory is on the table. While your in-person party may be postponed, getting your wedding guests to meetup online and witness your micro wedding ceremony is always an option!
The best thing about hosting a virtual wedding ceremony is that you can give all your socially isolated guests something to look forward to and celebrate during this difficult time.
There are many options for hosting a wedding online, but we'd recommend kicking things off by setting up a Facebook group just for your guests. Once you have a plan in place for your micro wedding ceremony, your guests can tune in for a Facebook Live event and watch you exchange your vows from the comfort of their homes.
This doesn't have to feel limiting. Get creative with it! Ask your guests to dress up, grab a glass of bubbles, and enjoy the live feed. Maybe you can even have a bottle of bubbly delivered to them prior to your wedding day.
Get your guests involved leading up to the wedding ceremony by asking everyone to share their favourite story about you on the Facebook page. Designate a couple of people to give virtual toasts. Invite your friends and family to share photos on the page.
Have fun with it now so you can have even more fun later when your in-person wedding is approved to go forward.
If you want to chat with like-minded couples or discuss the impacts of this on your wedding, please join our Facebook group, The Wedding Party and make sure you stay updated with official COVID-19 announcements here.