Not keen on having a communal grazing table at your wedding? Here are some of our favourite grazing platter alternatives for COVID-safe weddings in 2021 and beyond.
While wedding catering may look a little different these days, there are still plenty of deliciously unique ways to serve food that is safe and enjoyable for your guests. Many couples are moving away from shared platters and buffets and instead opting for individually served nibbles.
Caterers are re-imagining the way they serve food at weddings in 2021, tapping into their creativity and experience to create decadent solutions where everything is packaged and served separately. In place of the traditional communal grazing table are hand-held charcuterie cones, mini grazing boxes, and delicious canapés served individually.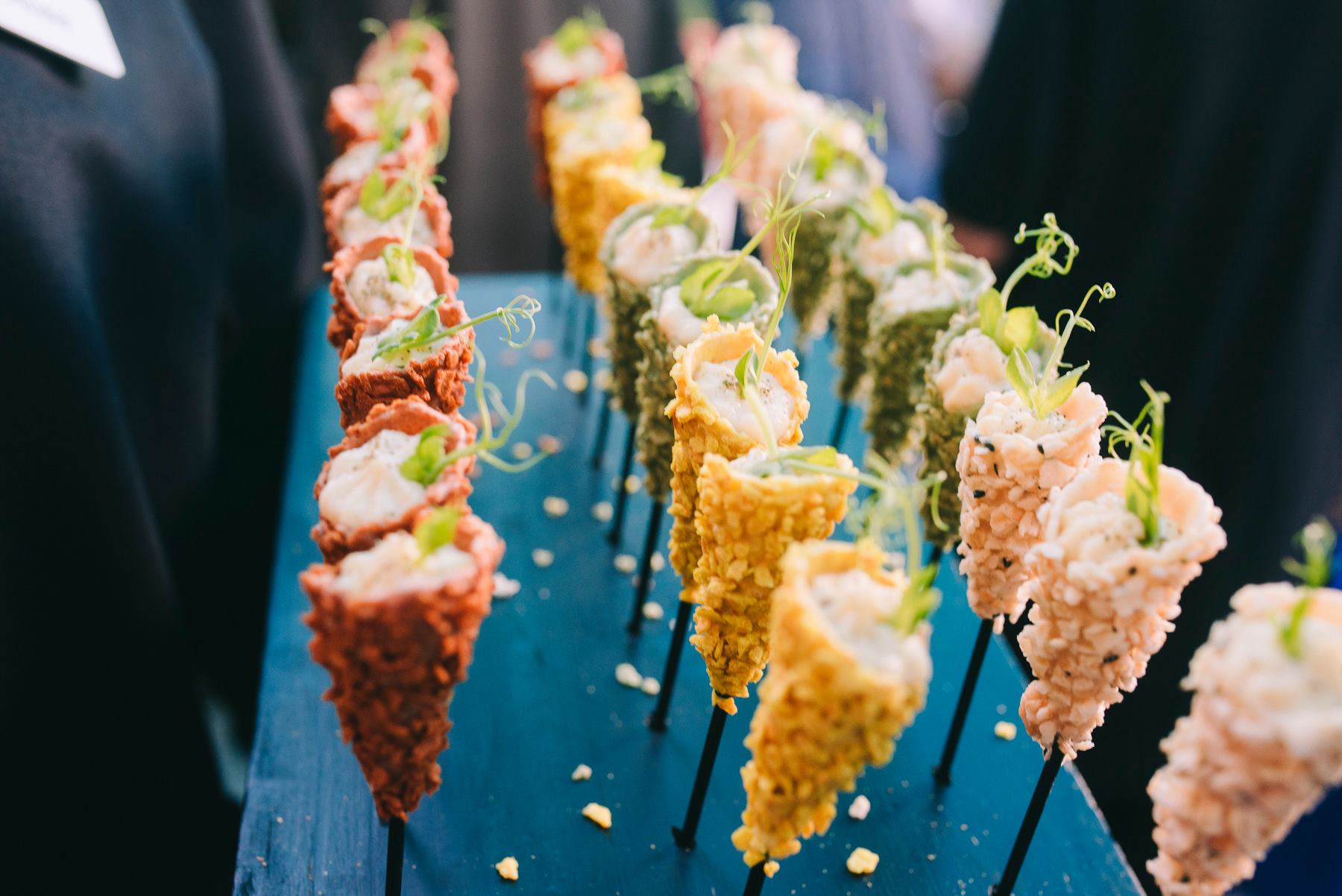 Grazing Cones
For a convenient twist on the traditional communal grazing platter, you might choose to serve hand-held charcuterie cones at your wedding reception. Not only are these delicious treats super cute and perfectly portioned, but they are also completely COVID-safe as each guest can pick up their own grazing cone.
Sydney-based caterers Caroline and Megan from Love Bites Catering have perfected their grazing cones, filled with tasty bites of cured meats, cheeses, fresh fruit, crackers, and breadsticks. Their gorgeous handmade display stands are guaranteed to impress your guests as they enjoy a spot of pre-dinner grazing.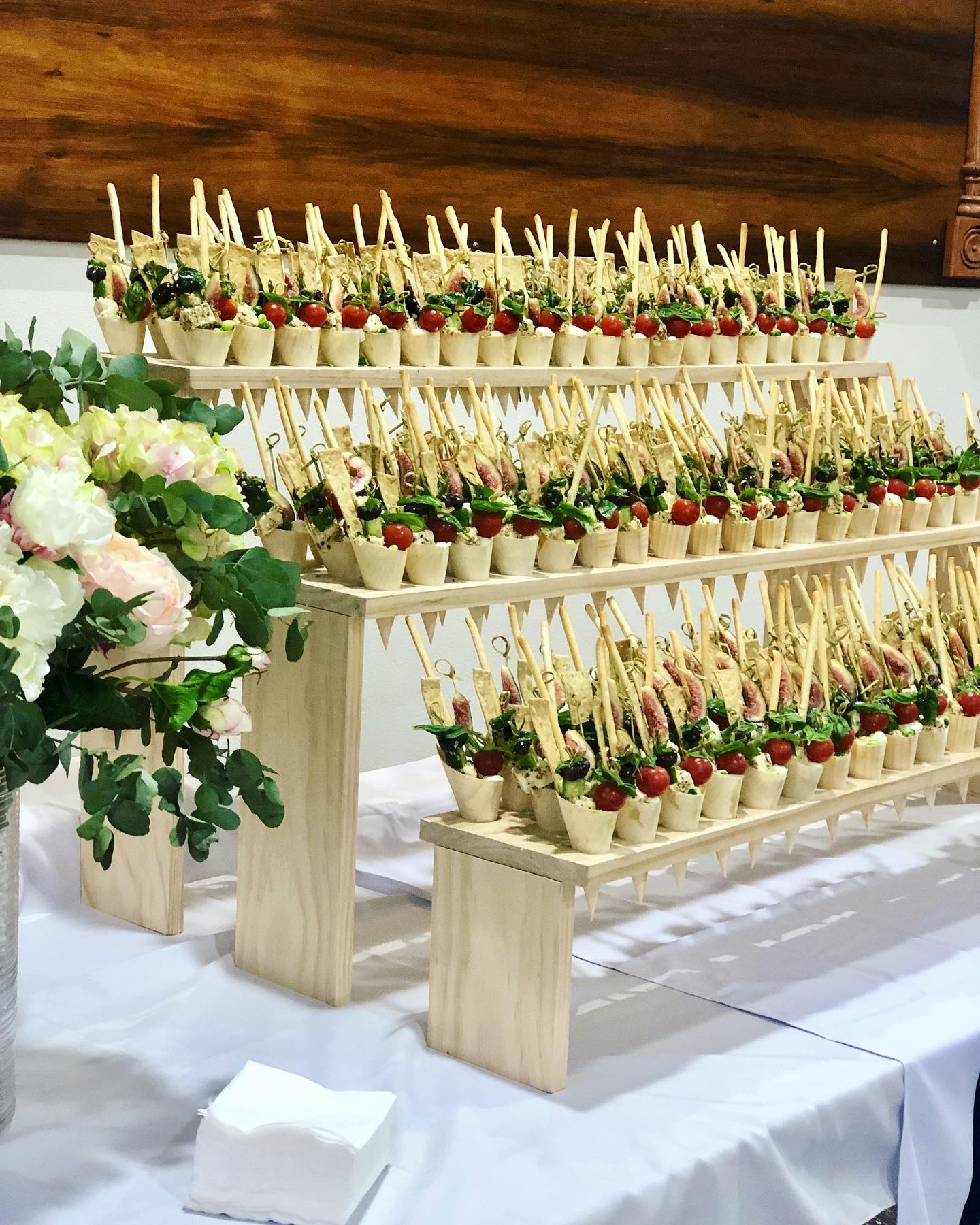 "Where we have previously done grazing tables to tide guests over at the church or park after the service and prior to the reception, to cope with restrictions we are now providing little individually boxed or packaged treats like grazing cones and cups or snack boxes," says Megan of Love Bites Catering in Sydney.
Love Bites' grazing cones typically contain a couple of skewered antipasto combinations, along with crackers, fruit, and nuts. The skewers might include fresh fig with blue cheese and prosciutto or fennel and mint marinated feta with cucumber and olives. Fillings can be customised to suit dietary requirements, including vegan, vegetarian, and gluten-free options.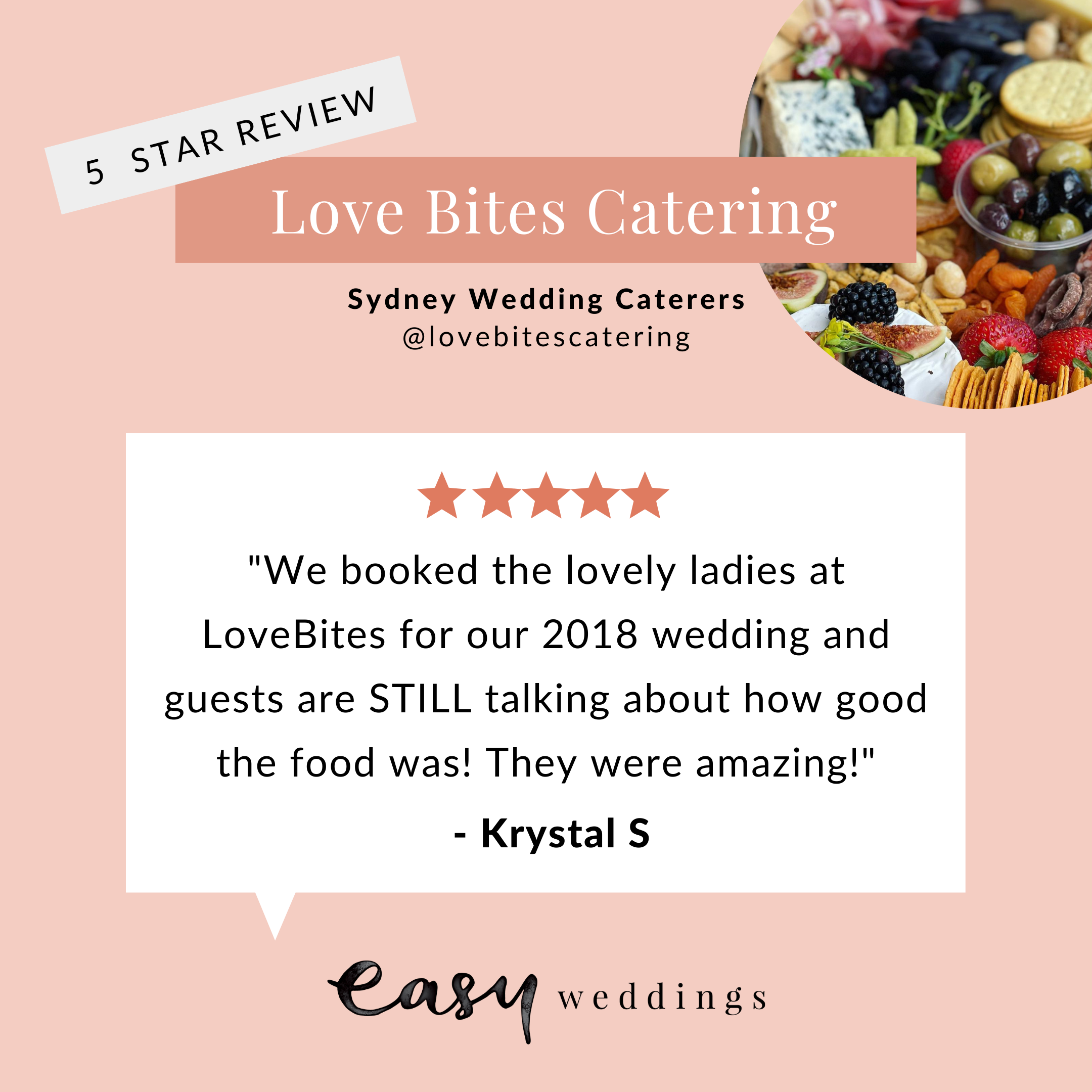 Grazing Plates & Platter Boxes
Another alternative to a classic grazing table is to serve personal charcuterie plates or boxes piled with delicious cured meats, crackers, fruit, and cheese. For an extra element of personalisation, add stickers to the top of each grazing box with your guests' names on them.
Jasmin from Charcuterie & Co Catering in Brisbane has been busy creating a range of COVID-safe solutions for serving canapés and grazing platters at weddings. She now offers beautifully packaged grazing trays and platter boxes, as well as individual canapés and brunch boxes.
"We do miss a glamorous grazing moment, but if I'm completely honest, individual grazing trays are an absolute vibe for any event. Guests still receive the same fantastic selection of cheese and meats, we create less wastage, and it's definitely easier to salvage leftovers and clean up after," says Jasmin of Charcuterie & Co Catering in Brisbane.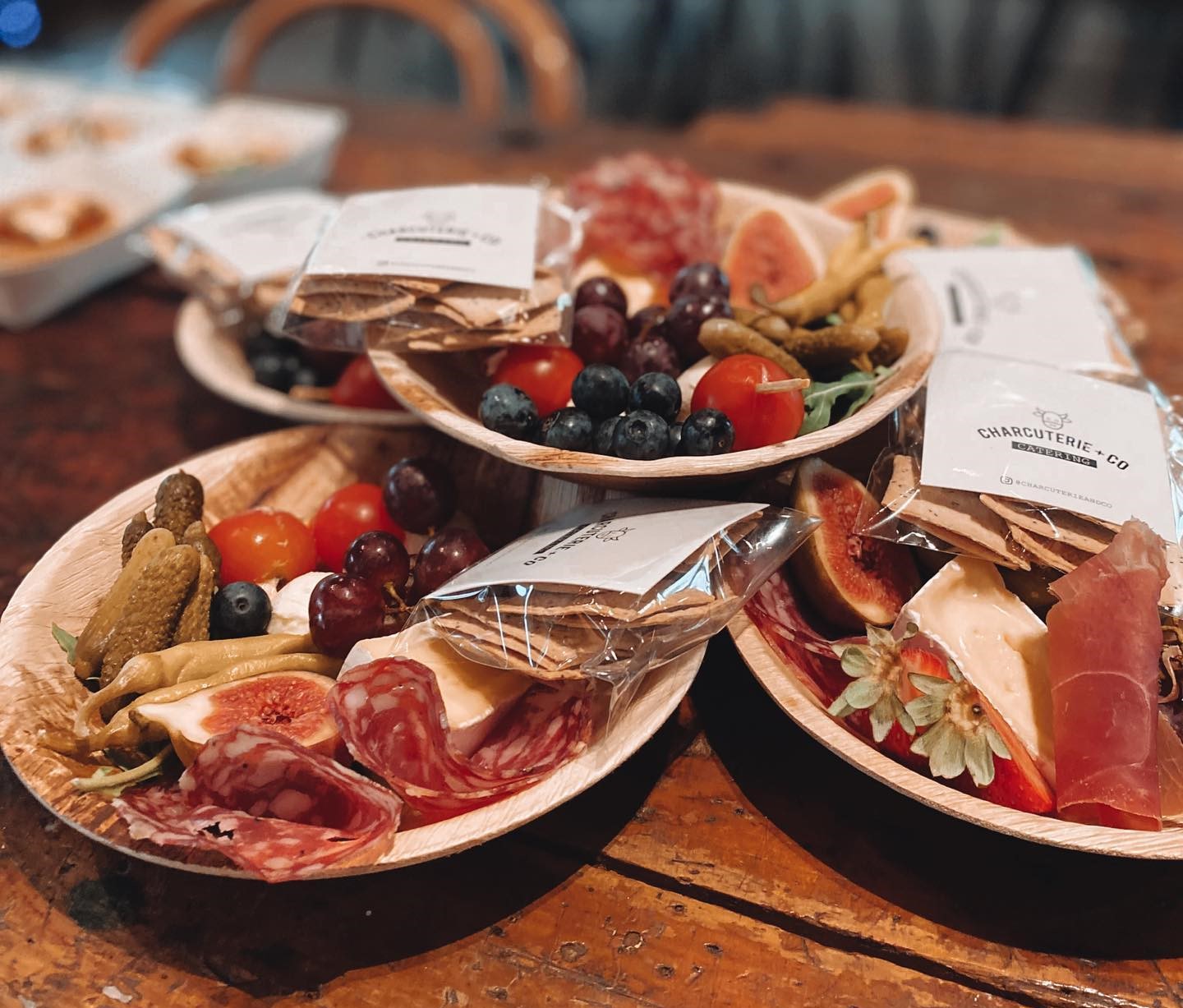 Charcuterie & Co's platter boxes feature a selection of cheese, artisan crackers, market fruit, and house relishes. The brunch boxes also come individually packaged and are filled with delicious pastries and fresh fruit. They are perfect for a fuss-free breakfast on the morning of your wedding.
Individual Canapés
Instead of serving shared tray-passed canapés at your wedding, opt for delicious appetisers served in individual portions. This way, guests can rest assured knowing their food is in a separate container that no one else has touched. Caterers are now using clever solutions like glass mason jars, mini waffle cones, and elegantly curved spoons to serve individual appetisers.
Lara and Tanya from Mudgee Made Catering in New South Wales are constantly looking for new trends in wedding catering. Their individually served canapés are a great alternative to the communal grazing platter. Popular appetisers include their retro prawn cocktail served in cute mason jars and delicious katsu chicken and salmon sushi cups.
The talented team at Creative Catering travels to weddings all over Perth to serve a mouthwatering array of food, including their delightfully bite-sized canapé cones filled with three different kinds of savoury mousse. Some of their other individual canapé options include wonton baskets stuffed with Asian pulled beef and greens, bamboo cones filled with crispy chilli squid and red pepper aioli, and elegant canapé spoons topped with seared scallops.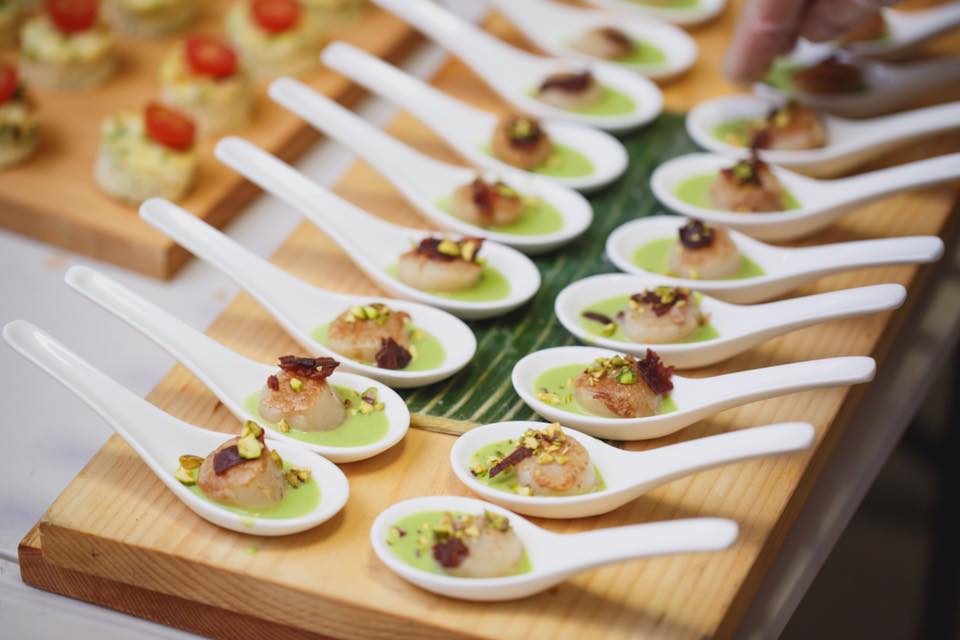 ---