The engagement ring will be the first in a long line of wedding expenses, engagement rings cost so it is important that your fiance doesn't spend more than the two of you can afford. At the same time, the engagement ring is intended to last a lifetime, and it is a one-off symbol of unending love, so it should be high quality and that usually comes at a price.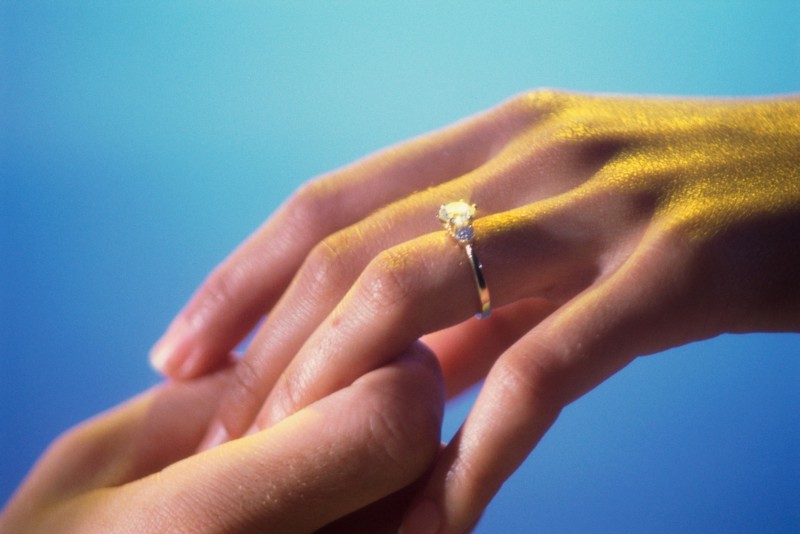 Here are seven pointers to help you with the cost of your engagement ring:
The traditionally accepted method of determining how much to spend on an engagement ring is that it should cost one month's net salary. Unless you are having a ring designed, it's not always possible to be that exact about the price, but certainly, it is a good idea for your fiance to take his income into account when deciding how much he can spend.
Choose based on your tastes rather than the price. If you have small hands and a slight frame a massive diamond might look a little silly on you. Similarly, if you always wear gold because it suits your complexion, there's no point in buying a platinum ring just because it's more expensive.
If you find a ring that you love but that is out of your price range, try other stores to see if there's something similar but cheaper. There are also various ways to reduce the price of a ring, perhaps by having a slightly smaller diamond or choosing a different cut. You may also get a discount if you can pay in cash.
When you tell a jeweller your engagement ring budget, always make it a little lower than you can actually afford; they may well let you have slightly more expensive rings at a discount if you tell them your budget from the beginning and if you are negotiating you can afford to increase a little.
If possible your fiance should save up for the engagement ring before he buys it rather than buying it on a credit card or payment plan. The main reason for this is that you will want to start saving for the wedding once you are engaged and that will be hard if you are still paying off the ring. If you have a joint account, seeing the monthly payment on your ring going out each month can be a real romance killer.
---
What are you hiring for your wedding?
---
The golden rule of determining how much to spend on an engagement ring is only to spend what you can afford. The sentiment and significance of the ring are far more important than its cost. Look for quality rather than quantity, for example, if you have a limited budget, look for a smaller diamond of a higher carat, rather than a huge diamond of a low carat.
80% of Australian couples use Easy Weddings to connect with their dream wedding suppliers.
Browse the directory and start planning today!