The colour of your bridesmaids' dresses is often the starting point for the entire look and colour scheme of your wedding, so it's important to get something that you love. As well as being a personal favourite of yours, the colour of your bridesmaids' dresses also needs to be suitable for the season and style of your wedding, and be something that looks good with your bridesmaids' complexions and figures.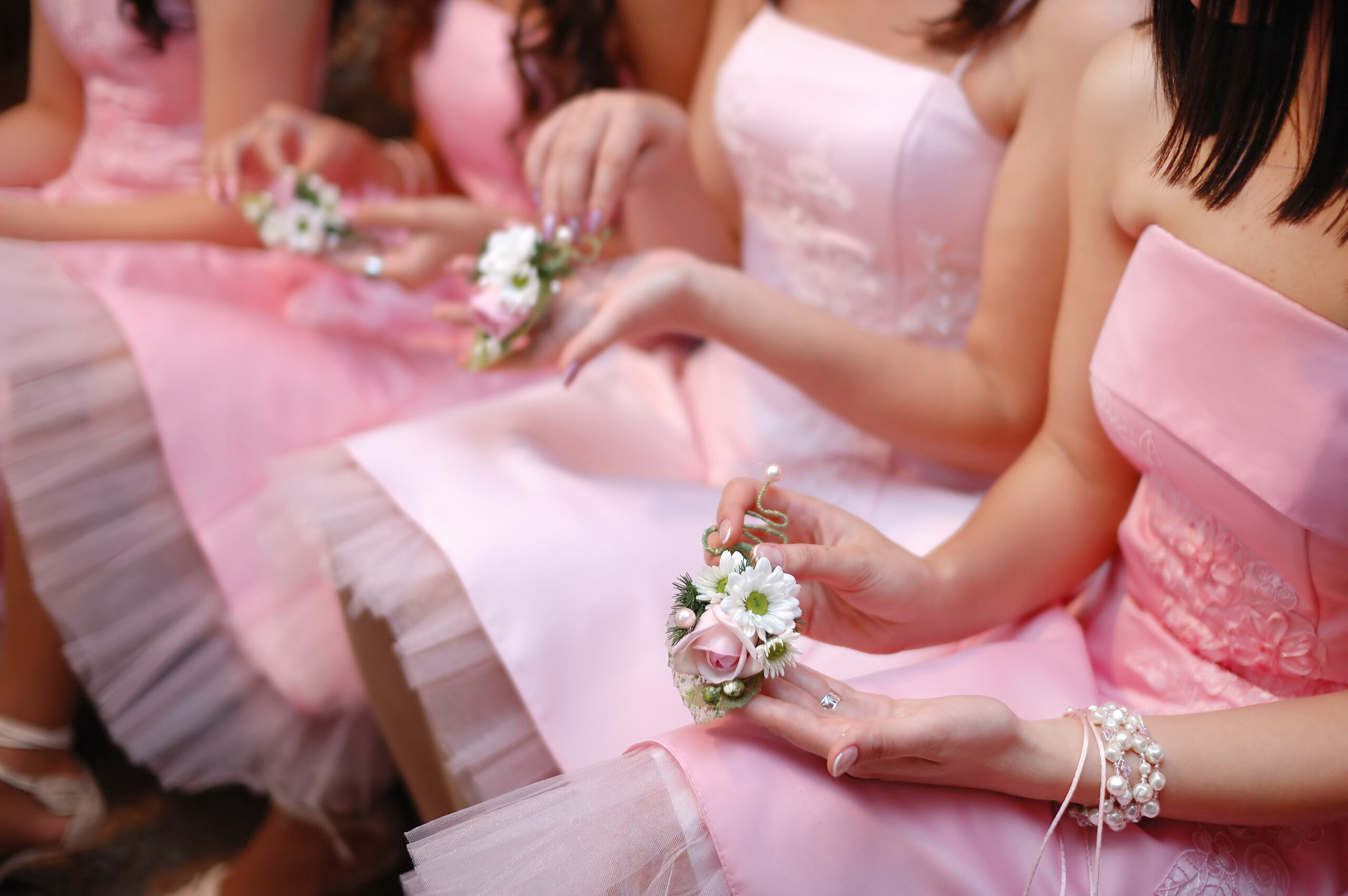 Here are five popular bridesmaid dress colours to inspire you:
Traditional pastels
When we think of bridesmaids' gowns the first image that pops into our heads is usually a girly pink frilly dress, complete with ribbons and bows. Although pastel shades have lost a little of their popularity for bridesmaids dresses, many brides still choose from this palette, especially for daytime spring or summer weddings. Baby blue, lilac, and lemon yellow all make good alternatives to pale pink, but bear in mind these colours are unlikely to flatter heavier bridesmaids, or those with pale skin.
Darker shades
For an elegant and sophisticated look which is particularly suited to a winter or evening wedding, look for darker colours such as chocolate brown, burgundy, navy blue, charcoal grey or dark green. These are more flattering for the majority of bridesmaids, and they also have the advantage that the dresses can be work again to other social occasions without looking too much like bridesmaids gowns.
Black and white
Black and white are currently very fashionable colours for bridesmaids' dresses. Your bridesmaids will love you forever if you tell them they can wear chic black gowns, and you can always add an accent colour with a coloured sash, or corsage, or simply a brightly coloured bouquet. Some people feel that only brides should wear white to the wedding, but in years gone by all the bridesmaids wore white to confuse evil sprits. Dressing your bridesmaids in white can be a very fresh contemporary look, especially for a summer wedding, and don't forget it's not set in stone that you have to wear white yourself.

Shining metallics
The step away from traditional girly pastels has seen an increase in the use of metallic colours for bridesmaids' outfits. Whether you use the metallic theme for the actual dress, or simply accessorize with metallic shoes and details, gold, silver, bronze and metallic pink are all flattering colours for your maids. Gold and bronze work especially well for a summer or autumn wedding, while silver is best kept for the winter.
Bold and bright
One of the hottest wedding trends of the moment is brightly coloured bridesmaids' gowns. Look out for dresses in cobalt blue, hot pink, aqua, pillar box red, jade, coral, and canary yellow. You can always mix and match these to create vibrant colour combinations; particularly if you are having a mid summer wedding or you are having a tropical theme. Choose a dress design that you love and let your bridesmaids select the individual colours to reflect their personal style and complement their skin tone.