People absolutely love getting invited to weddings in Sydney, because the food served is simply world class. Guests have been known to not eat for days leading up to a wedding celebration held there, to make sure they fit in enough of the incredible food!
Well, that might not be quite true, but the quality of the wedding caterers to choose from are exceptional, so if you are planning a wedding there, you are bound to find the perfect team to suit the theme of your special day.
The freedom and flexibility when it comes to your wedding options have never been this good. You don't have to choose an all-in-one venue and compromise on any aspect of your day. You can have your wedding almost anywhere, and then craft the perfect celebration around you that best represents who you are as a couple and tells your own unique love story.
Wedding caterers in Sydney offer an extensive range of cuisine styles, including food from many different cultures. If you want a formal three-course meal that is the epitome of fine dining, there are caterers here for you. If you want finger food, or huge share platters, a boho buffet, or a little touch of everything, you can have this too.
Some wedding caterers offer the whole package, and not only help you to design the perfectly tailored menu, but can also help with drinks packages, event styling, full-service staff and even decorations and entertainment. All you have to do is pick the ideal spot to say, 'I do.'
Top 15 Wedding Caterers in Sydney (plus a couple of new ones to keep an eye on!)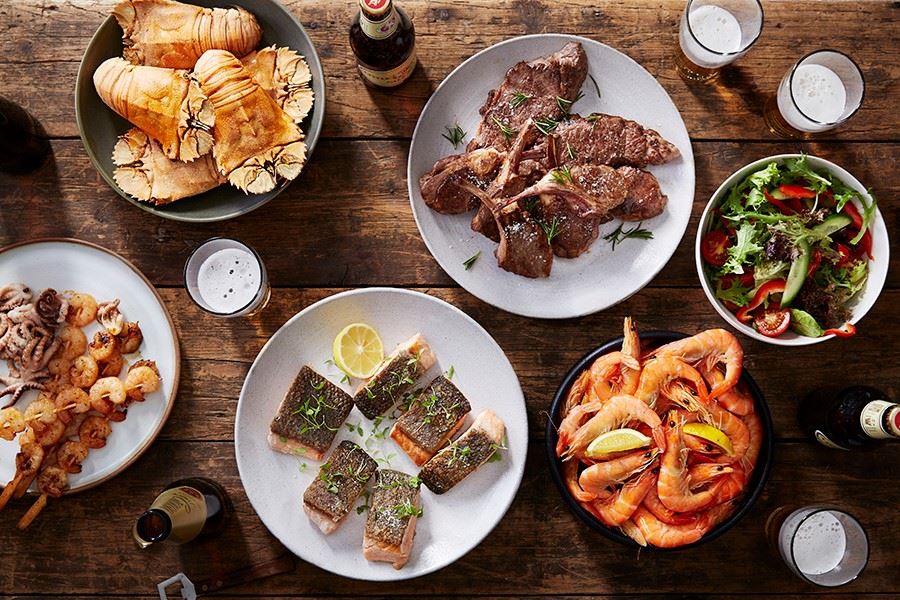 For not just delicious food, but dishes that look like tiny works of art, you have to check out Fabulous Catering. This polished team have bases in all capital cities and of course can cater to a wedding anywhere in Sydney.
The food is modern but can be presented in a lovely rustic vibe, including large platters, seafood BBQ, sumptuous roasts and so much more. They also offer cocktail and canapes, or fine dining options, and have partnerships with some of the most sought-after reception venues in Sydney.

Renowned for feeding discerning guests at some of Sydney's most elaborate weddings and events, Top Cat Catering is the name in elegant dining. They take advantage of the region's incredible access to fresh produce, organic meat and seafood just caught today to put together interesting and exciting menus for you to choose from.
Top Cat love being creative with food and also pride themselves on offering professional service both leading up to and on the big day itself. If you want top quality and stress-free wedding day catering talk to this talented team today.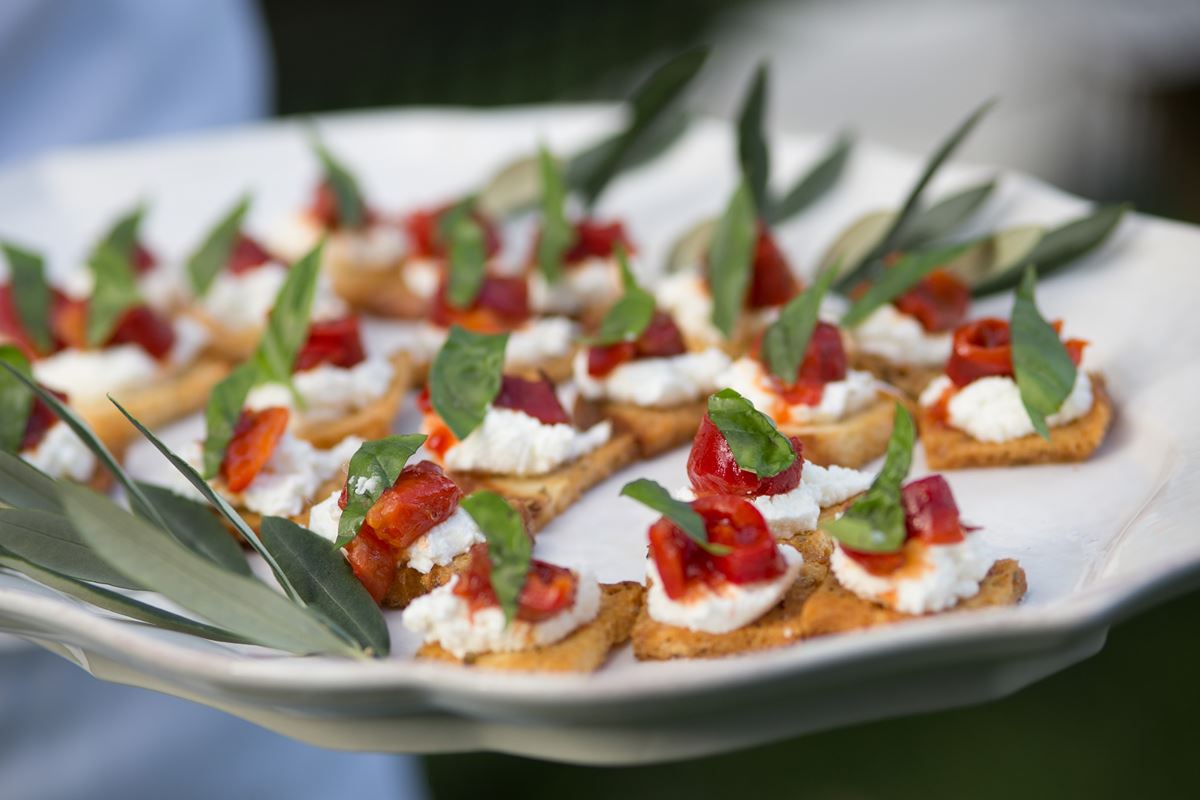 Initially one of Sydney's most famed cake makers, Simmone's wonderful team is now the caterer of choice for your entire wedding feast. The cakes are simply stunning, not just delectable desserts but signature pieces with real wow factor as well.
Their food philosophy is on beautiful presentation crafted from their premium seasonal produce, which they get straight from the source. For intimate gatherings or large events, the quality will remain the same – exceptional. If you want to start drooling, just look at their photo gallery, and then set up a taste testing today.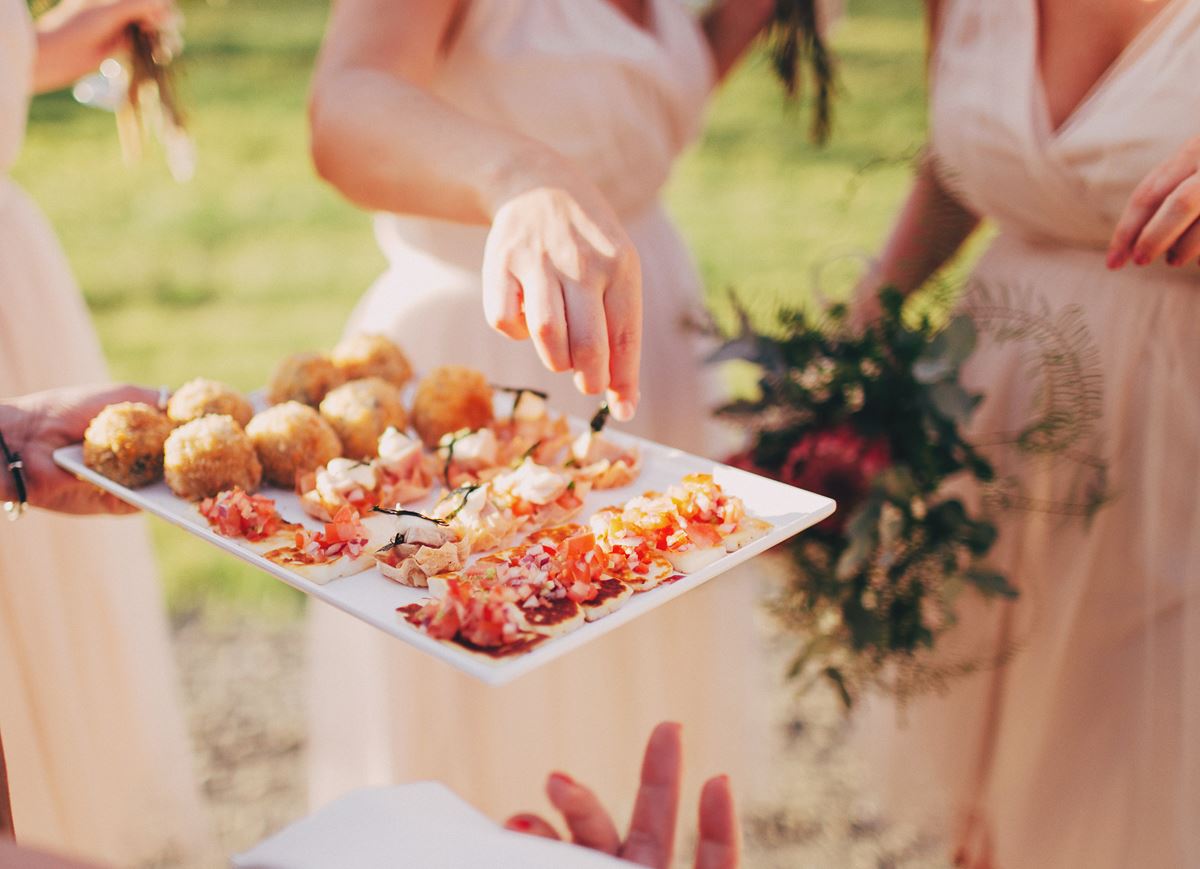 The eclectic background of this phenomenal catering team has blended together to provide an out of this world culinary experience for you and your wedding guests. With training in both Italian and French cuisines and skills honed from cooking all over the world, the sheer love of food of these chefs is present in every dish.
With a range of menus and packages on offer, you will find something to suit your very personal wedding celebration. They aim to provide unforgettable food and service, and they never fail. For a memorable dining experience and full and happy guests, talk to Bev and her team.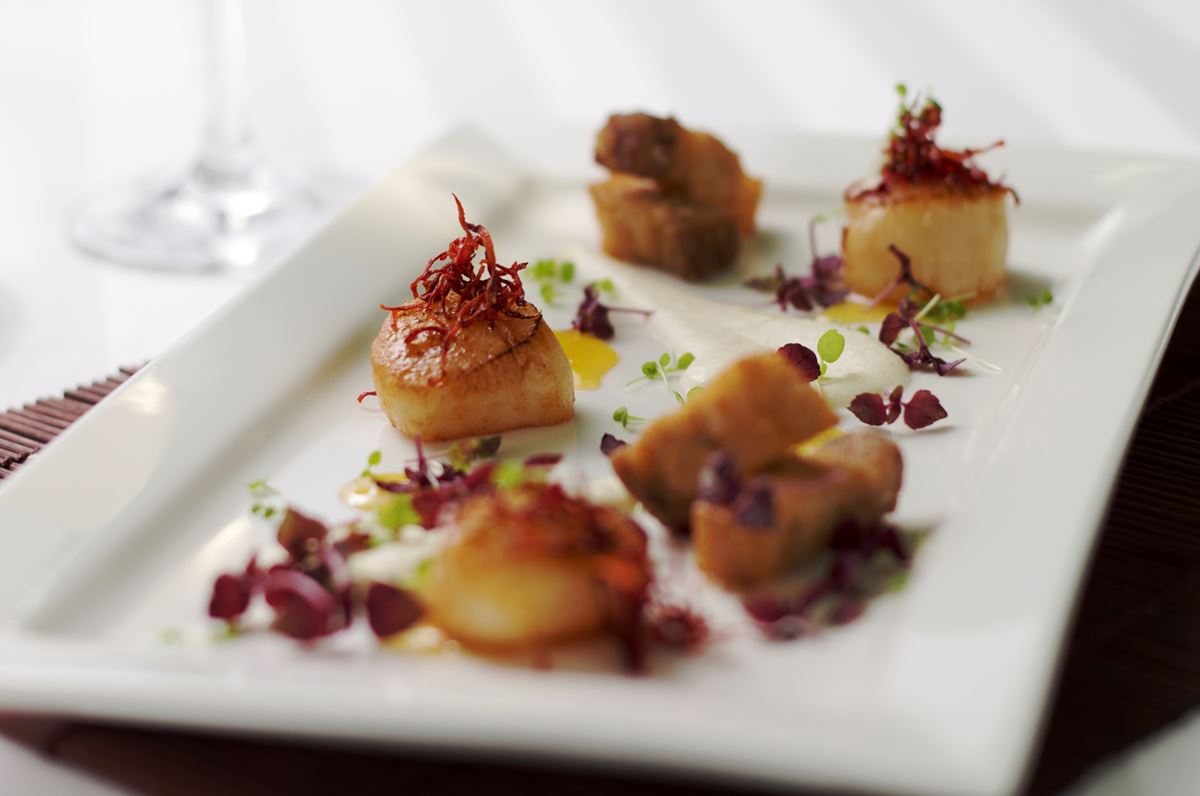 This boutique catering company also specialise in event management and bringing innovative ideas to life. Their food style is contemporary and classy, while their creativeness shines in every bite.
This team believe that high-quality food is central to any successful event, and they know that every wedding is unique. They work closely with you to make sure they bring you the wedding feast of your dreams and with it a seamless, stress-free day. Exceptionally passionate people who do everything with a smile, you will adore working with this gorgeous catering team.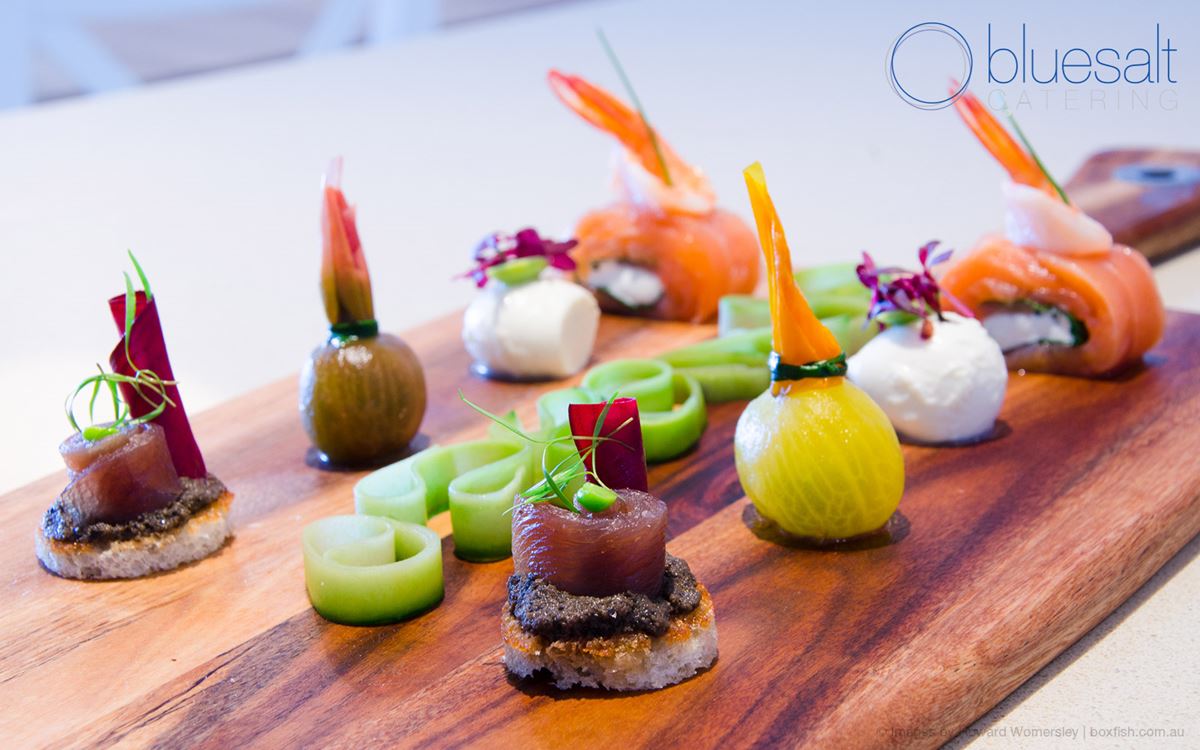 This catering team have an impeccable reputation for amazing food delivered with outstanding attention to detail. They want you to feel relaxed at every stage of your wedding planning, so they go to extra efforts to perfect your catering for the big day.
This business is run by genuine and warm people who delight in crafting the ideal menu to suit your budget, theme, location and the all-important atmosphere of the day. Catering to groups large and small with equal flair, they provide big flavours, vibrant colours, exotic aromas and wonderfully tasty food. What more could you ask for?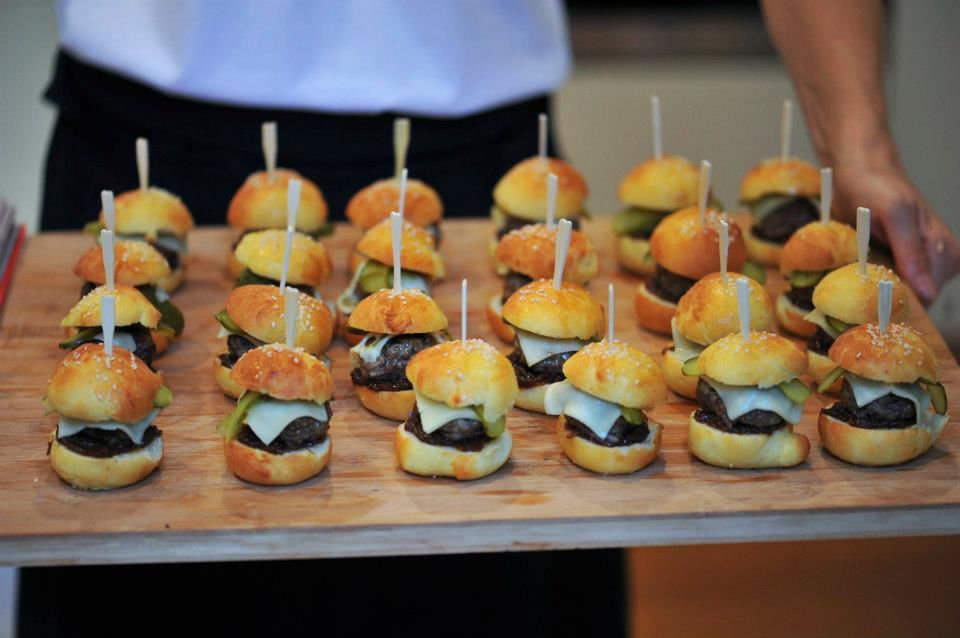 For food that not only tastes sublime but also comes to you as tiny artisanal masterpieces, you must talk to Art Kitchen. Their food is deliciously different and distinctively imaginative.
This team believes that food is not just about filling bellies, but about inspiring souls. They capture your personality as a couple and the whole feel and experience you want for your wedding day, and they use their creative skill to bring this to fruition. Whether you want quirky food stations, classy canapes or a full-service sit-down meal, they have the perfect menu for you.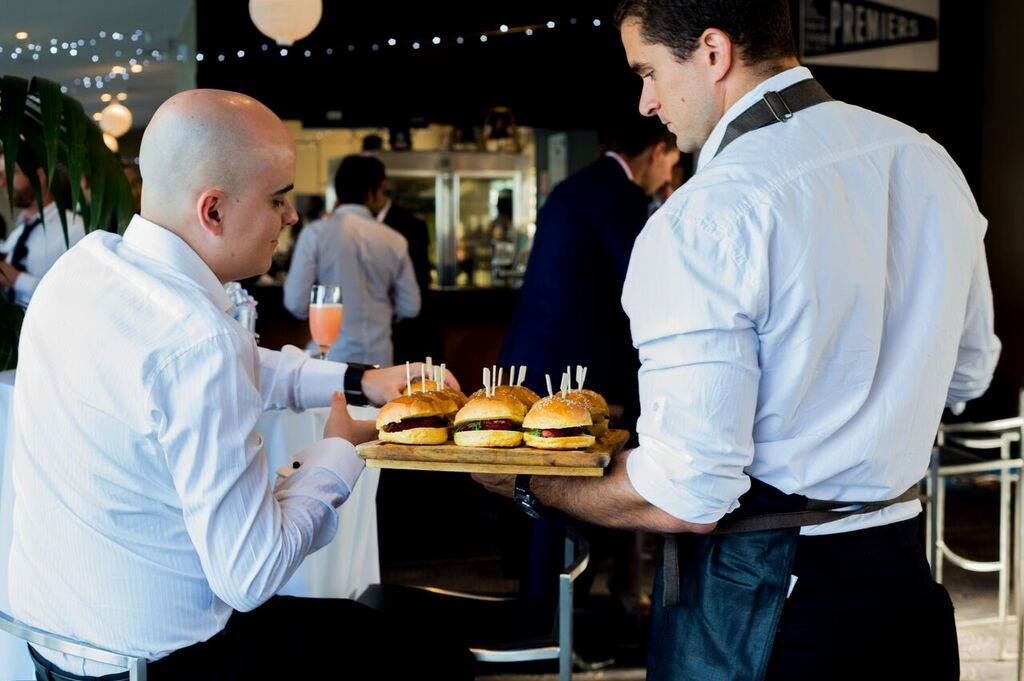 When food is flavoursome, hearty and plentiful, it comes from Barbicrew. Their range of premium meat and fresh produce is locally sourced, seasonal and always of the very best quality. Their food is spit-roasted over natural charcoal to bring out its greatest flavours. The intense aromas will have your guests looking forward to dinner with mouth-watering delight.
With friendly, professional service and a range of packages to suit every couple's budget, this team can deliver any service style, including buffet, cocktail or plated dining. If you want your guests talking about the incredible food at your reception for months afterwards, then talk to this team today.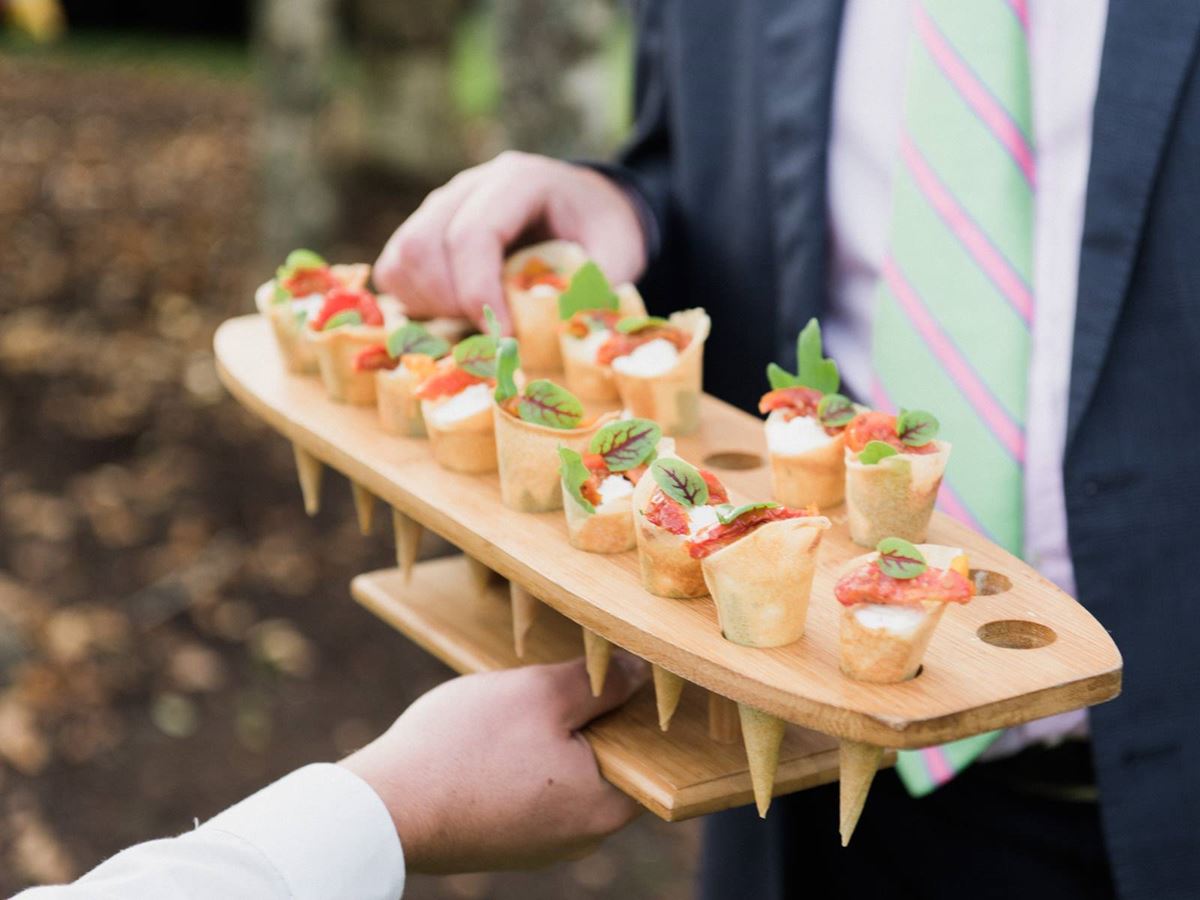 PB Catering understands that you have a particular vision for the services provided on your wedding day, and they have exactly what you need to bring your vision to light. On top of extraordinary food, they provide an extensive event coordination service at no additional cost, helping you with recommendations for trusted suppliers of marquees, florists, photographers and everything you could possibly need to create your fantasy day.
They have easy, ready to use menus if you need guidance on choosing your food, or they can tailor something to your exact specifications if you know exactly what you want. With over 30 years of experience in wedding catering in Sydney and surrounds, you know you are in good hands with this crew.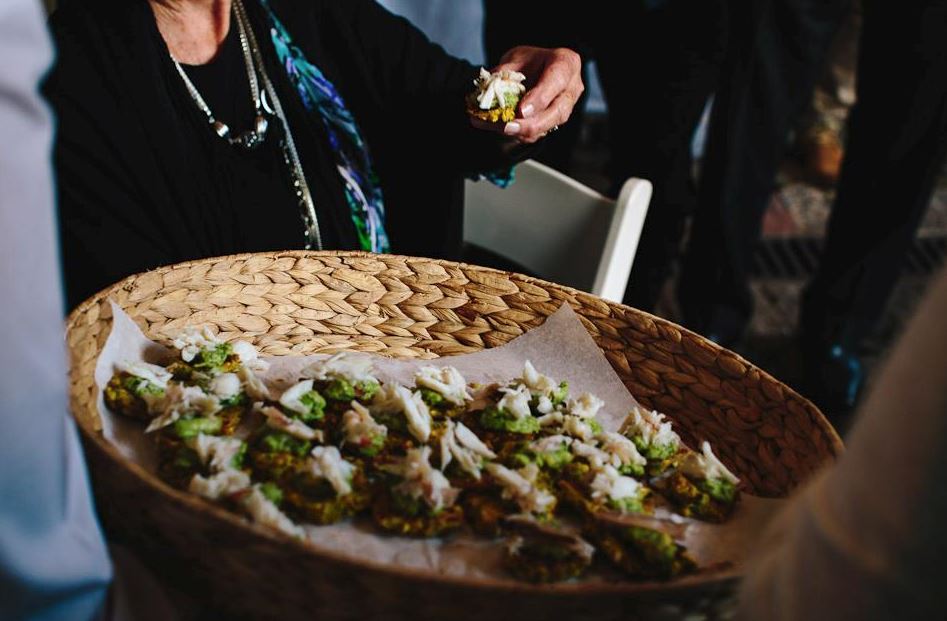 This talented team are all about fun, food and feasting. They craft stunning looking food which is not only a delight for your eyes but will fill all of your other senses as well. They are truly passionate about cuisine, and love trying new things and creating new culinary experiences. They can offer live cooking stations, canapes served by black-tied wait staff, sumptuous grazing platters, or sit down dining.
With an established reputation for excellence, One Pot Catering has relationships with all of the premier reception venues in Sydney, or they can build the perfect wedding day feast in your own backyard.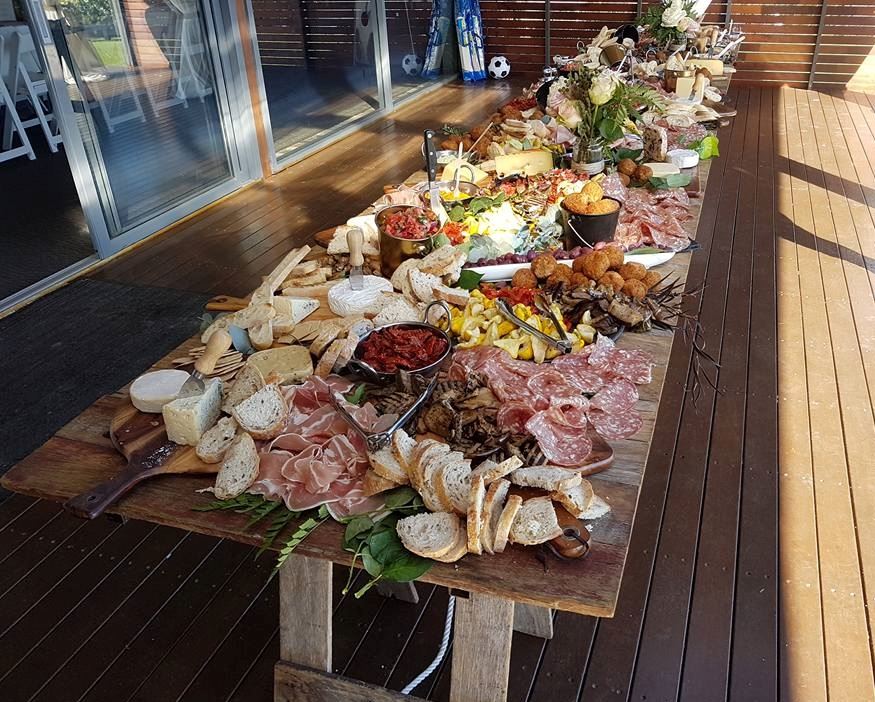 This spirited catering team relish being non-traditional and making food an entire experience for you and your guests. Their menus are innovative and they are always creating something new. Dedicated to what they do, the team behind Fork N Knife bring fun and excitement to food, and are at their happiest when your family and friends are stuffed and satisfied.
Hosting their own food revolution, these lovely people excel at gathering plates, dessert towers, plentiful grazing tables, cute little food trucks and anything out of the box. If your wedding is unique and you want a gourmet foodie feast to match, you must contact this team for a taste testing today.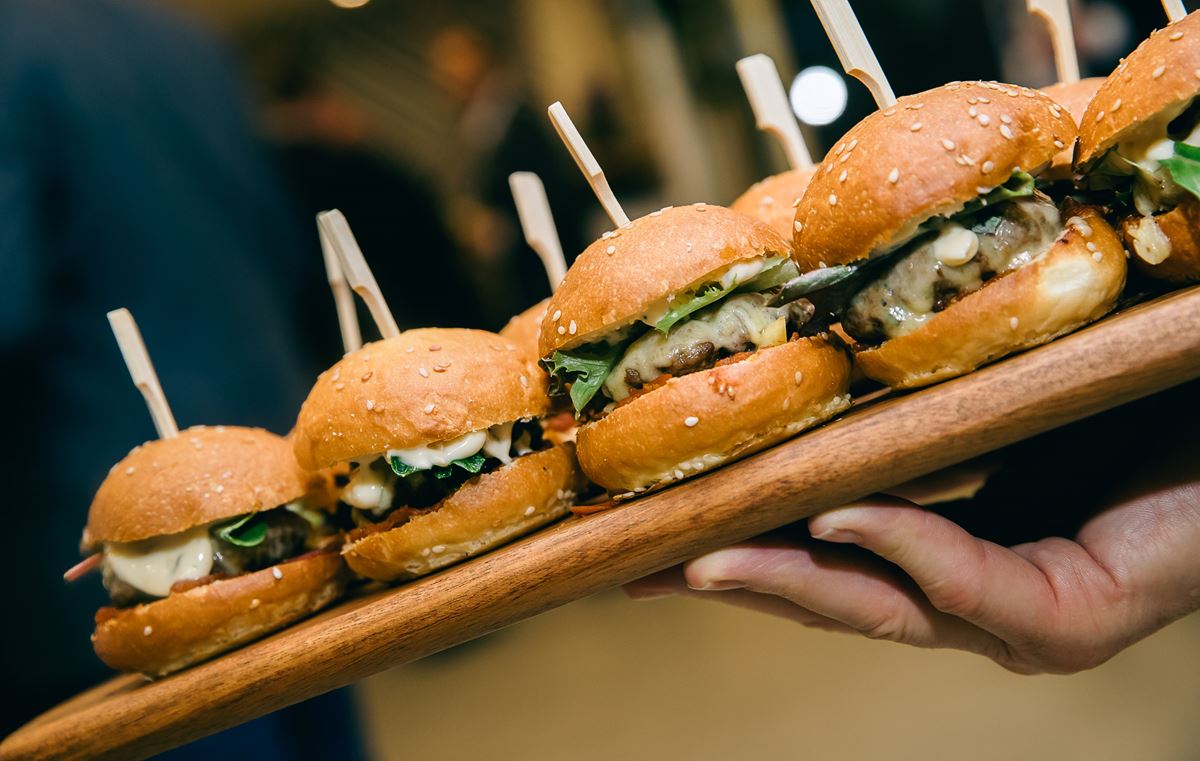 If you haven't yet found your ideal wedding reception venue, this catering crew can provide you with that as well. While, of course, they can bring their talented catering to your home, a marquee in a sunny field, or one of Sydney's best venues, they can also provide their exclusive superyacht on the harbour instead.
Run by a family team, they will relish the opportunity to look after your friends and family on your special day. The professional and caring staff can happily customise any of their dining and drinks packages to suit your needs.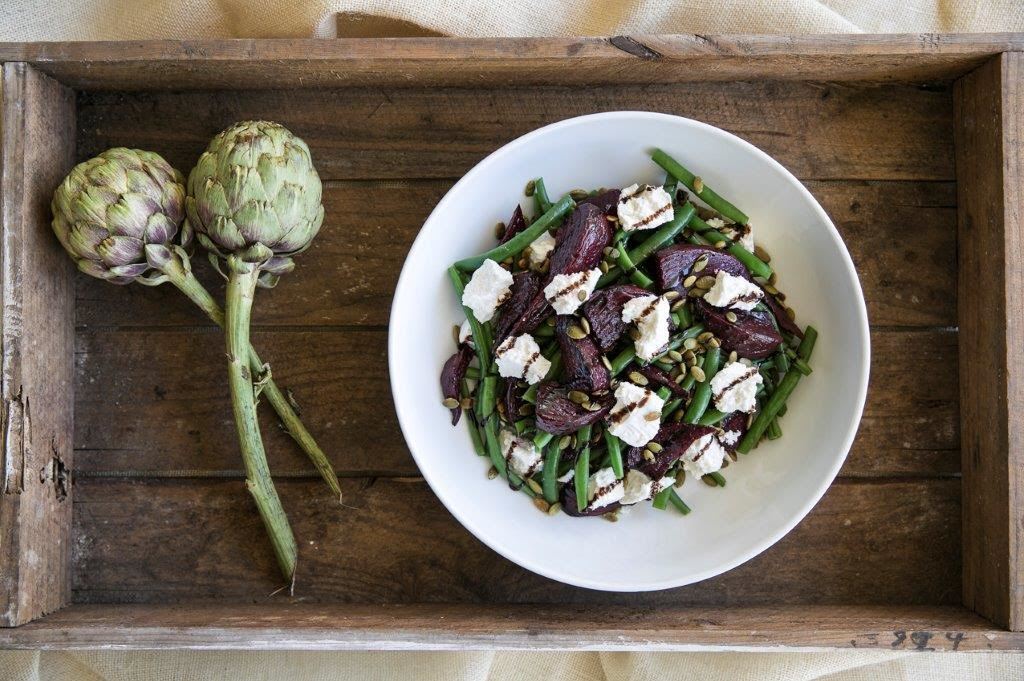 If you want food with heart, and love the idea of making a difference on your wedding day, choose Wesley Catering. With every dish they serve putting money towards the Wesley Mission's life-changing work, this is not just exceptional food but socially conscious too!
Not only dedicated to helping those in need but also dedicated to incomparable food, the chefs that run this team handpick every ingredient and ensure every dish is cooked and presented to perfection. They respect the food they use and showcase the glorious hidden secrets in everything they make. For an obligation free tasting and to find out more contact Wesley Catering today.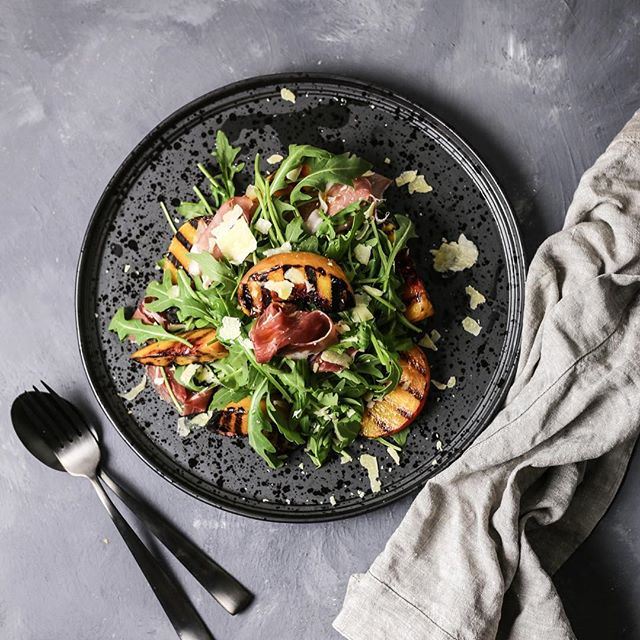 When you are sick of seeing the same food come out at every wedding you go to, contact Orchard Catering Co for something delightfully different. New to the wedding industry but already making a great splash for their quality, originality and friendly, polished hospitality, this team is a hidden gem that you will be so happy you found.
Their food is delectable, colourful and plentiful, and they are not happy unless your guests are completely gratified. They go to the next level to surprise and impress your guests, and make your big day smooth and memorable.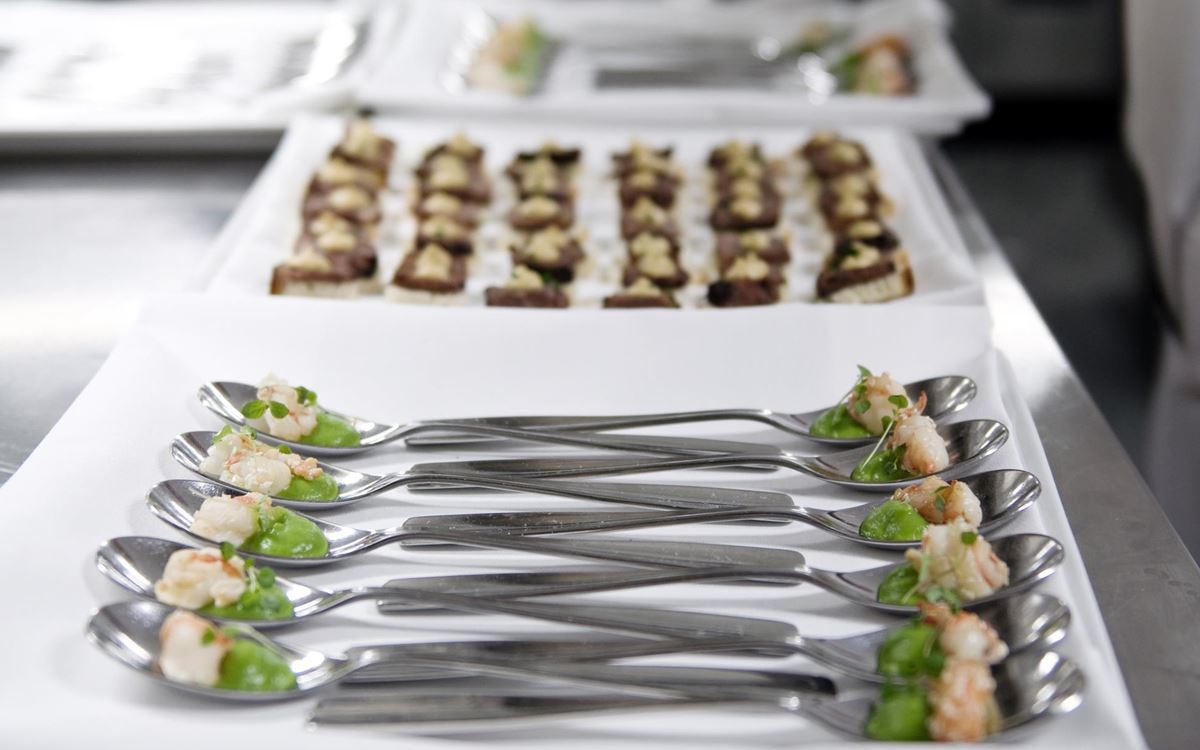 When you want restaurant quality catering this is the team that you call. Offering the relaxed yet sophisticated Italian cuisine for which their restaurants have become famous, in a seamless mobile catering service means you don't have to compromise on anything on your wedding day.
Their style of cooking and service can be tailored to suit every budget, wedding style and dining atmosphere. If you want your food to be interactive and get your guests talking, or if you want it to be subtle, classy and refined this team can bring your vision to life. The only thing they cannot do is make bad food, so this is definitely the team you need to call.
And if these established names don't excite you and you are looking to discover something new, check out these enticing options in Sydney wedding catering:
This boutique catering service was started by a foodie who travelled the world and then settled where the produce and variety were the very best – Sydney. With experience honed across several continents, including working for Jamie Oliver, Nick has brought his love of food back home and is busy making wedding feast dreams come true.
He chooses sustainably sourced and organic produce wherever possible, not just because he is big-hearted, but because he knows it tastes the best. Nick loves the way that good food brings people together, and he would love the chance to do this for you.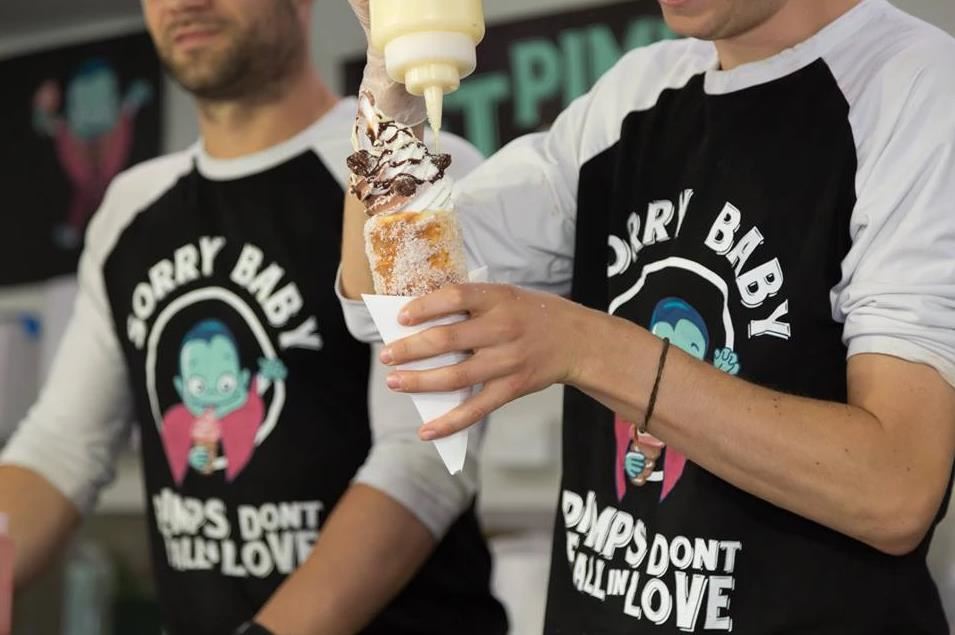 For something completely different, check out the range of vendors you can access through Aussie Food Trucks Online. From burgers to pizza, to Indian or Thai, from main to dessert, there is no cuisine these mobile people can't provide.
If you are looking for drinks at your ceremony, a vintage ice-cream cart, or a midnight feast for hungry guests, they have you covered. For food that is fun, enticing and that comes to you, check out the range on offer here.