Regardless of whether or not Mother's Day is coming up, your wedding day isn't just something that you've looked forward to. The chances are there's also been much anticipation from the Mother of the Bride (or Groom!)
While you're thinking about the perfect dress to wear, your Mum or future Mum-in-law is also likely thinking about their perfect outfit for the big day. They want to make sure they can look nice, fit in with the theme, as well as make sure they're giving you enough space when it comes to the wedding planning. That's a lot to think about!
To give them a hand we've taken some of our favourite mother of the bride looks from real weddings to inspire some gorgeous future looks.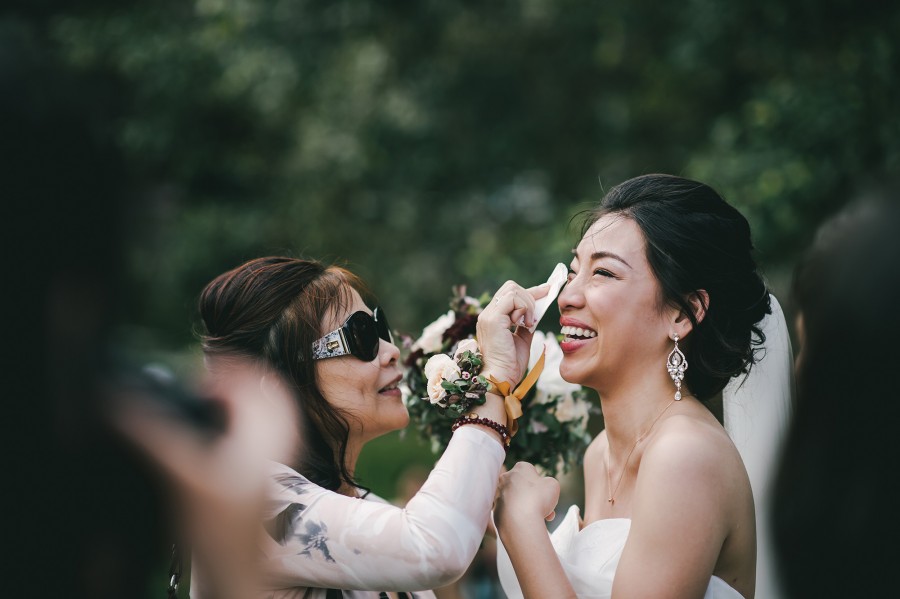 A makeup robe
Of course, before you even start getting ready for your wedding it's important to make sure your Mum feels included. And what better way than by getting her a robe of her own for the morning of the wedding?
This is a great way to make your Mum feel involved with the celebrations while your wedding party is getting ready, even if she's still running around organising things for you! You can also get some robes with 'Mother of the Bride' or 'Mother of the Groom' on the back of them to give her that special little touch for your big day.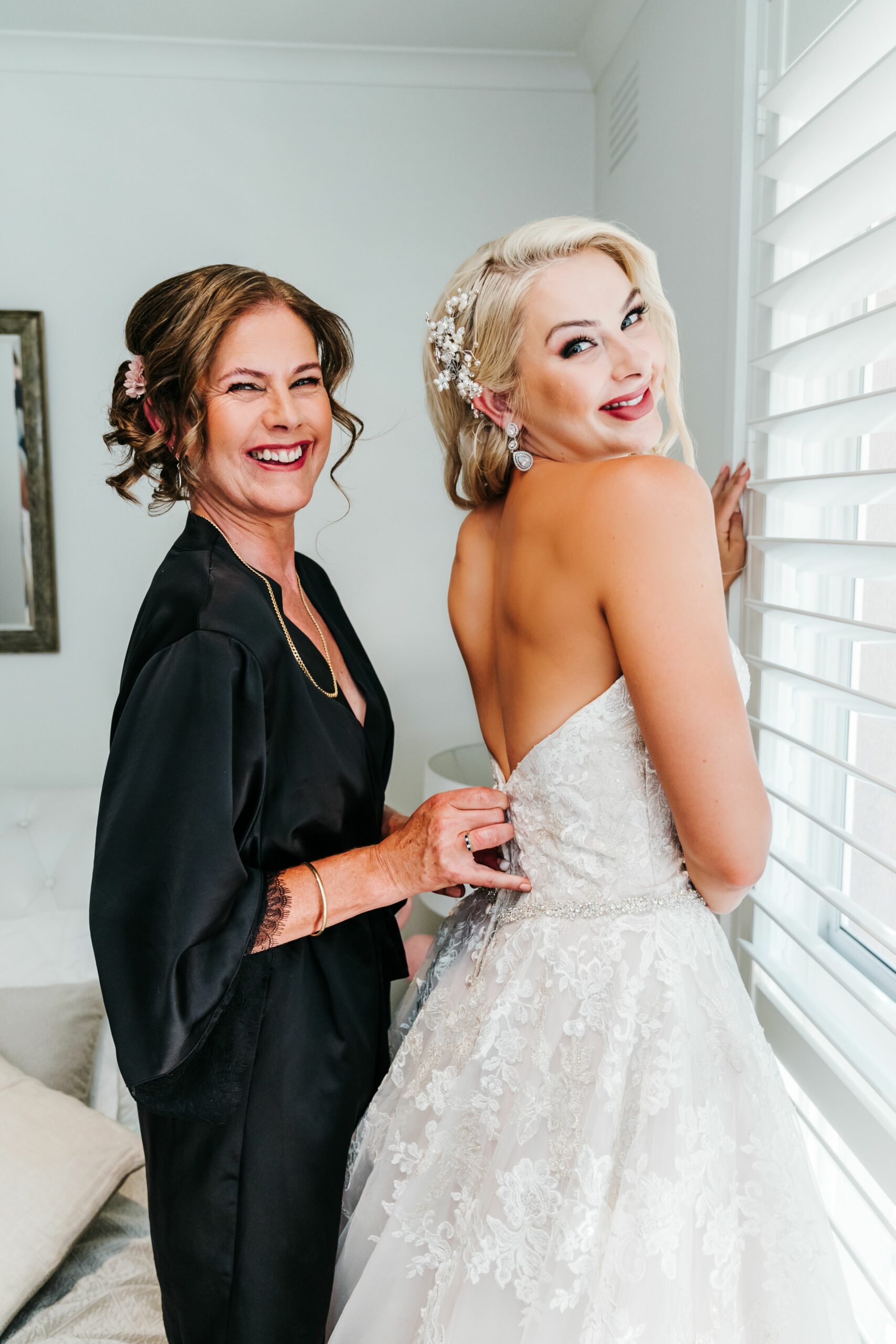 Modern ruffles
If you told me that my Mum was going to wear puffed sleeves and ruffles on my wedding day I would be horrified, but this modern design is absolutely fitting. We're absolutely in love with this look from Natalie's Mum on her wedding day.
From the slightly raised shoulder feature to the thick bold neckline, loose long sleeves, tie and tapered modern ruffles, everything about this design speaks elegance and occasion. Which is perfect for your Mum!
We also love that she's paired the bold aubergine colour with some nude heels as to not take away from the dress.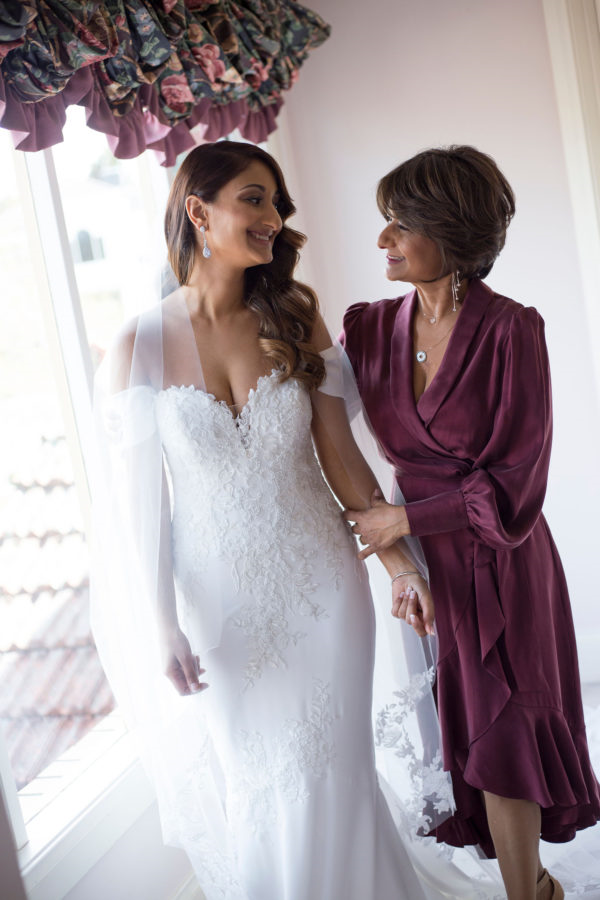 Florals or patterns
A floral or other elegant pattern is a good design for Mums to choose from to try and avoid mixing in with the wedding party too much. The right sort of design on the right sort of material will make all the difference between elegant designs and something too casual here.
That said, patterns give you a lot of room to move for different wedding themes. An elegant cocktail floral design could be perfect for a formal wedding, while a floral maxi dress paired with formal shoes could be a great match for something more casual or outdoors.
We think Corrin's Mum has hit the nail on the head with this full-length white and floral design. The orange and green tones also complement the tones of the wedding flowers perfectly.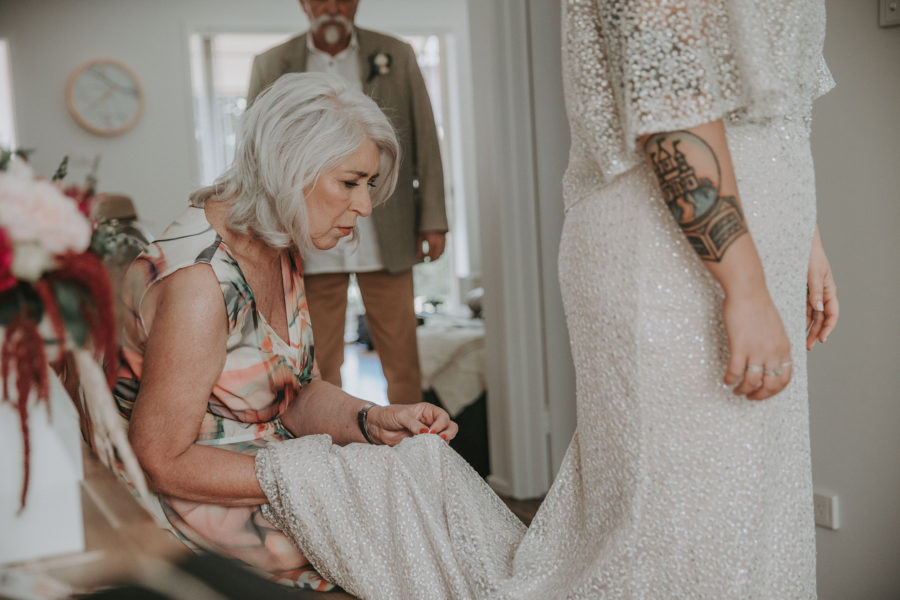 A flower crown
It was an emotional wedding day for Jessie and her Mum, who spent her last day of out hospital before passing away at her daughter's wedding.
Aside from having her Mum give her away, Jessie also gave her a full flower crown to wear for the big day which matched the white and greenery-based wedding florals. The full white design looks absolutely stunning paired with the block navy of her outfit and is a truly stunning addition.
It's also a lovely way to make your Mum feel further involved in the celebrations, particularly if you're giving your father a boutonniere.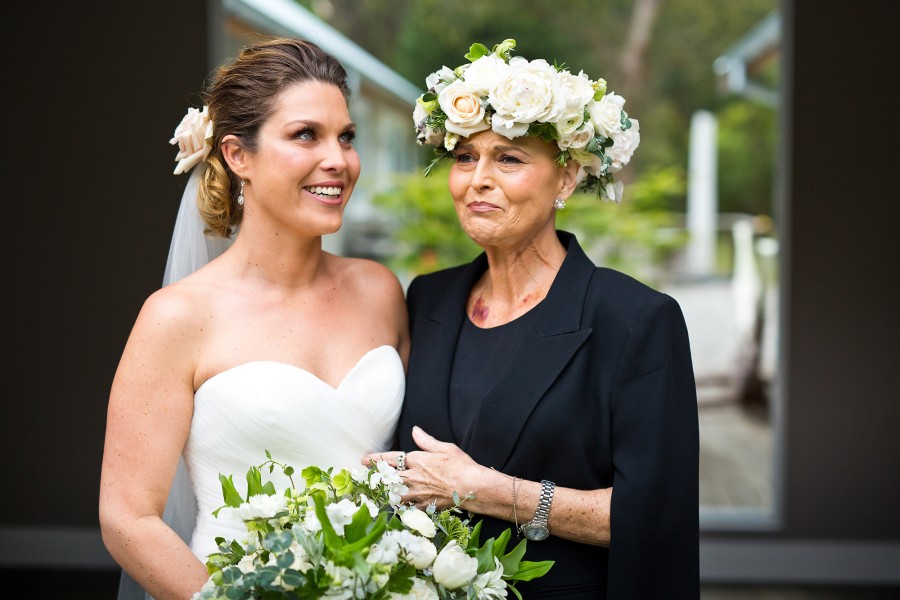 Traditional
If you're having a wedding with traditional elements then it might be a bit easier for your parents to decide what to wear.
That was the case for Danushi, who incorporated her Sri Lankan heritage into her wedding. Danushi's Mum wore a stunning peach saree that complemented the pastel bridesmaids dresses.
Matching
If you really want your Mum to look more involved in the wedding then ask her to wear the same colour as the bridesmaids. Or, if you're having mismatched bridesmaids, then add your Mum to the complementary colour palate.
This is a lovely way to stylistically have your Mum involved in the wedding while still giving her the freedom to buy a dress that she would prefer. Jorinda did this perfectly with her Mum, who wore an elegant long-sleeved and full-length navy dress. This worked well with the varying navy and blue-grey bridesmaids dresses on the day.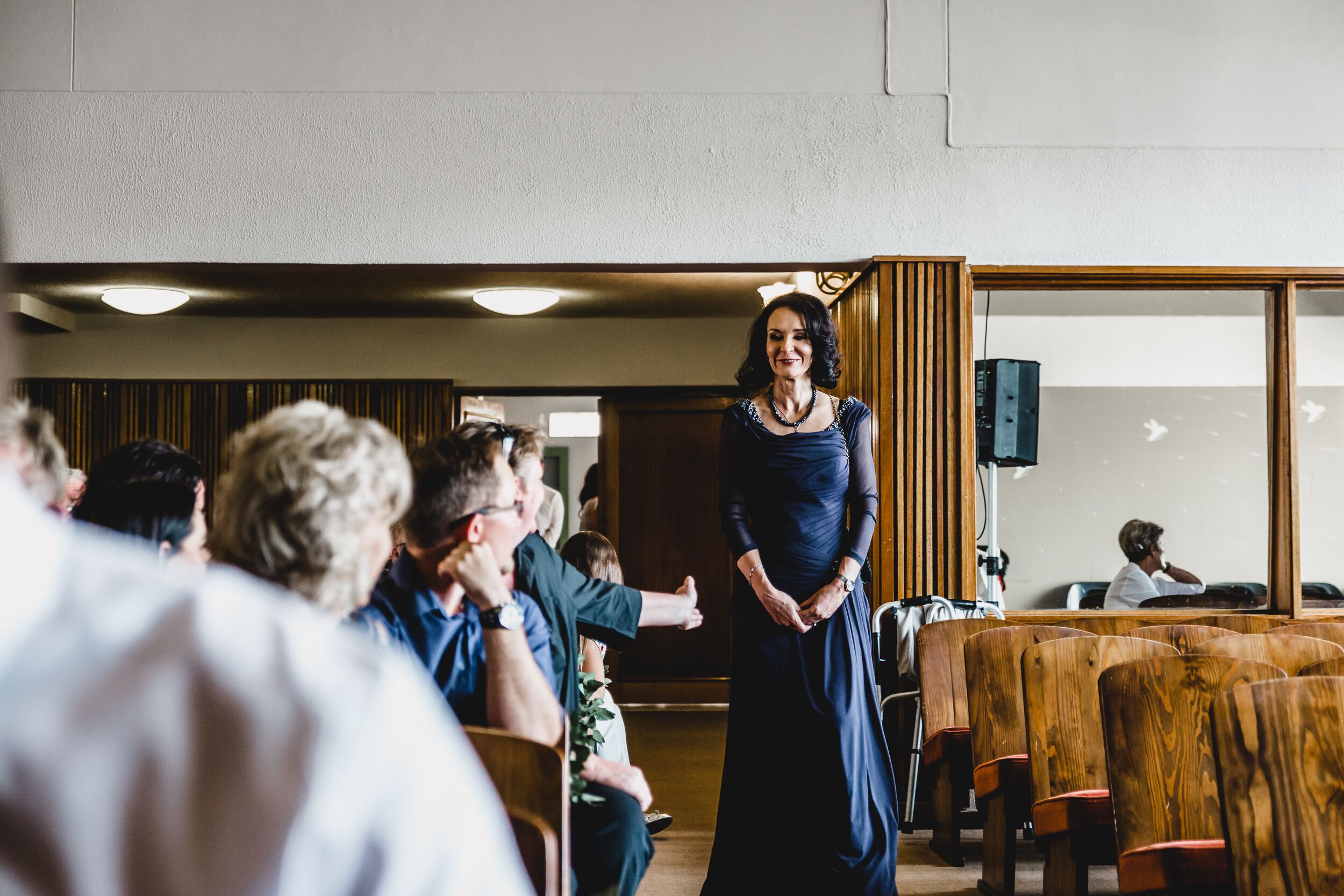 Nude
We're trusting that everyone is mature enough to know that we mean a nude coloured outfit here…
If your Mum is still tossing up what to wear due to your colour palette or theme, then why not get her to wear something less imposing? A nude suit or dress design can look stunning alongside your wedding dress and is easy to pair with all different types of shoes to dress it up or down as well.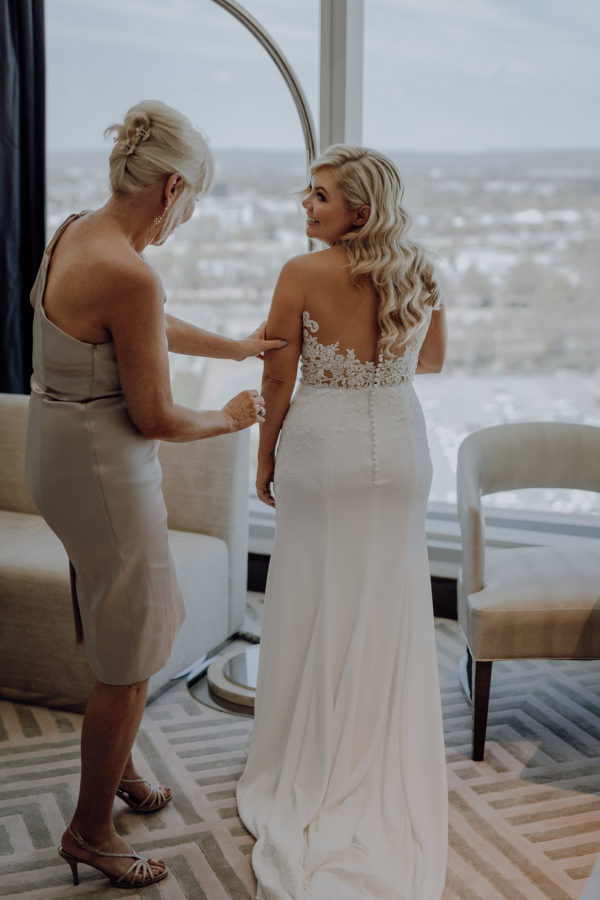 Black
Of course, when all else fails we all have that little black dress to turn back to, or in this case an elegant black design fitting of the mother of the bride. Whether it has a slight pattern or is a block colour, a black dress is an elegant choice for a wedding, and can definitely still be worn on your big day.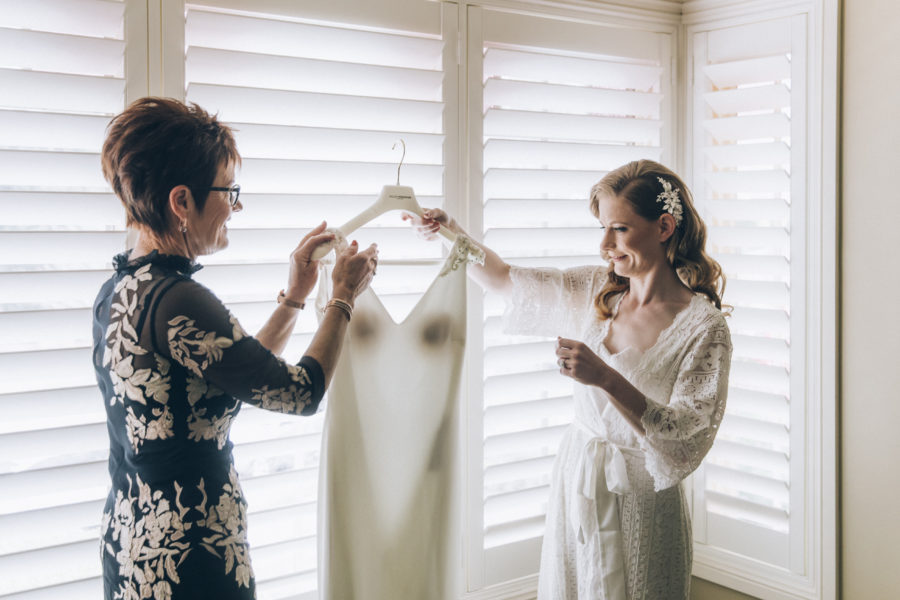 White!
Ok so we know that this is strictly not mother of the bride inspiration, but we wanted to give a shoutout to all those mothers that are brides!
Tip: if this is you and you have your own mother involved in the wedding as well, get a picture of all three generations at your wedding for a truly special memory.