We've all got that little black dress that we fall back on when we can't think of anything else to wear. It's the most versatile outfit in our wardrobe that can be dressed up or dressed down depending on the event. But when it comes to weddings sometimes that little black number can bring up more questions than it answers.
Traditionally speaking, wearing black to a wedding is considered taboo. Whether it's a sign of mourning, a symbol of evil, or a sign of bad luck for the marriage, our parents and grandparents likely wouldn't have even had to consider whether black at a wedding was appropriate. It just wasn't.
But the times they are a-changing and many wedding traditions are no longer relevant in today's modern society.
Thankfully, this is one of them.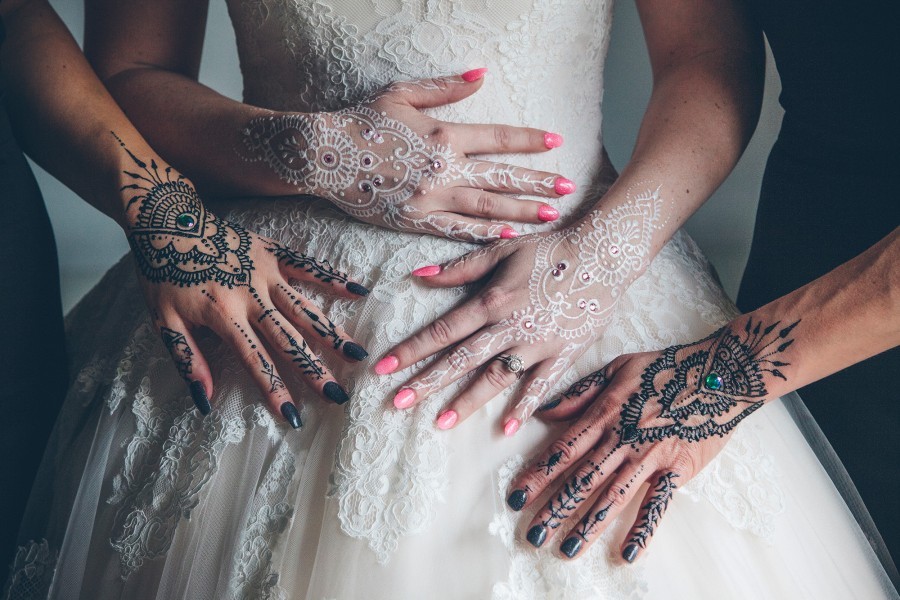 Today, wearing a black dress is no longer considered a faux pas. Formalwear itself is becoming more lenient, with cocktail dresses and even classy jumpsuits more than appropriate for a guest to wear to a wedding.
The fact that black is now considered an open and appropriate colour for bridesmaids dresses also shows how much times have changed. Which is all we really need to know to pull out that LBD, to be honest. If it's good enough for the bridesmaids then it's good enough for us!
Of course, wearing black may still be frowned upon by some older generations, such as a bride or groom's grandparents or even parents. So wearing black to a wedding may still cause you to receive a few odd glances.
Regardless, black is a versatile colour that is appropriate for many wedding and wedding themes. Contemporary, evening, black tie, rustic, vineyard or romantic themed weddings are all occasions where guests can pull out the black dress. And what's perfect about the LBD, and what makes it so popular, is that it can be accessorised to suit any occasion.
However, like most occasions, individual circumstances will always dictate whether something is or isn't appropriate. So if you are still questioning wearing black to a wedding, here are a few instances where it might be handy to go down another route.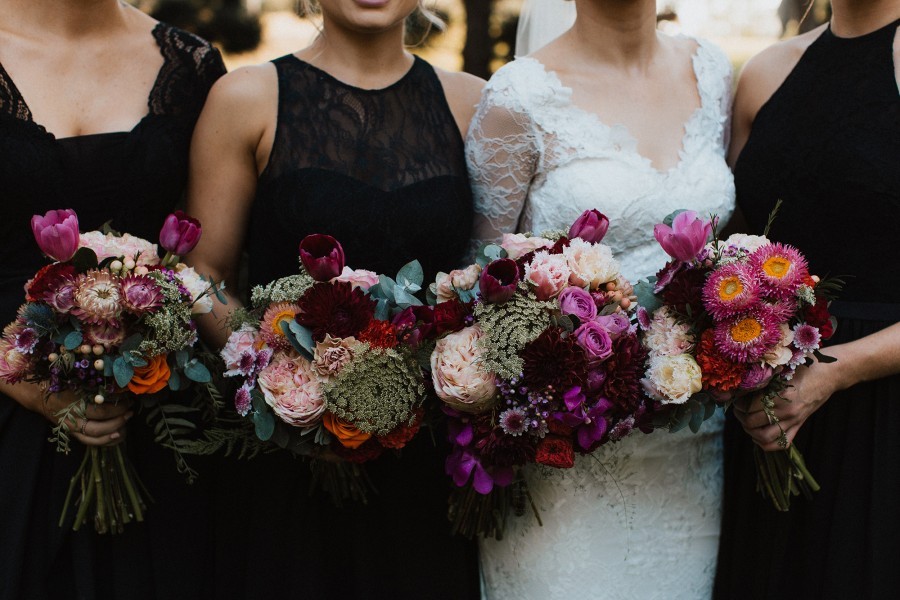 At a traditional church ceremony
Black is still considered the traditional colour of mourning in the church and is worn for sombre events of respect such as funerals or even Good Friday services.
Generally, if a couple is getting married in a church they've had to go through some religious hoops to do so. Whether they're religious themselves or have put the time in to do a couples course, you should ask yourself why they are getting married in the church. Because if it's not for themselves, it will likely be for their families.
Steering clear of the black gown in this instance will mean that you don't accidentally offend anyone based on religious grounds, or by implying that the wedding is anything but a celebration. If you know the ceremony is being held in a place of worship then steer clear of the black or dark charcoal and opt for a lighter grey or navy instead.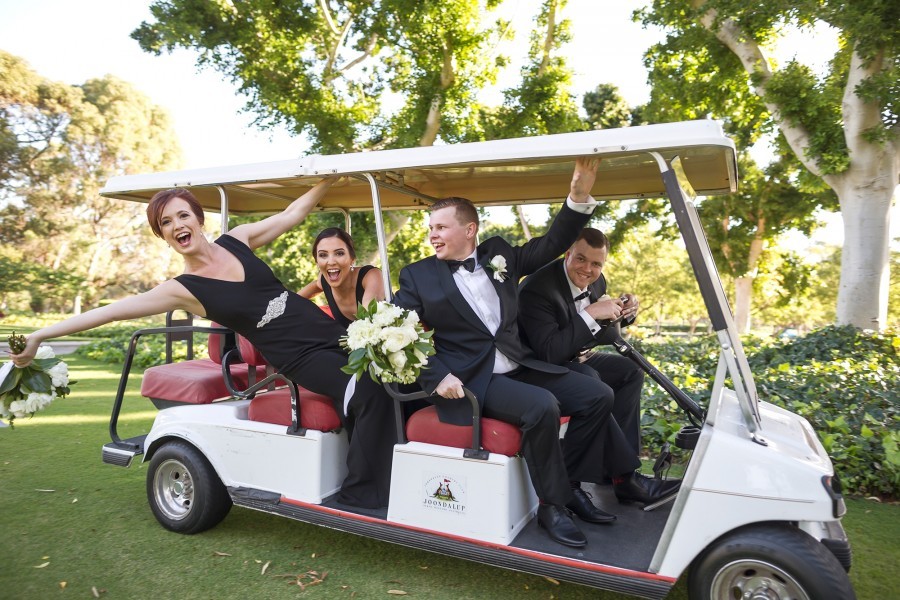 For cultural weddings
Similarly, there are still many cultures which view wearing black to a wedding as a social faux pas. Though like many areas this is changing through the generations, this is another instance where considering the family of the couple getting married comes into play. Particularly if the wedding is being hosted by the parents of the couple rather than the couple themselves, it's a good idea to dress appropriately for your hosts.
The last thing you want to do is offend the parents of your friend who is getting married. So if you think that they might find the black inappropriate, find something else to wear instead.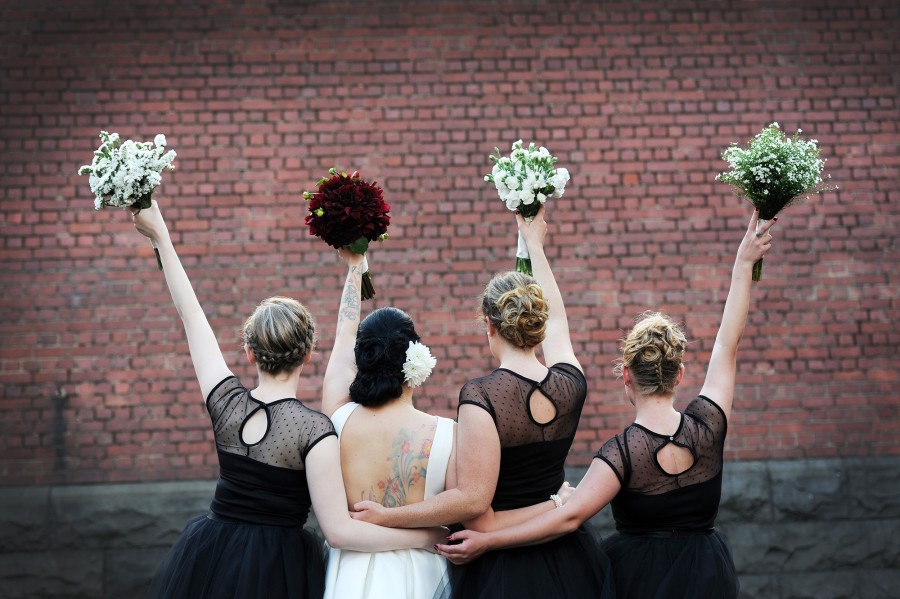 If the bridesmaids are wearing black
Because black is such an evergreen colour, black bridesmaids dresses are particularly popular. What's even better is that the bridesmaids can wear them again to other events and they're suitable for most wedding themes.
As a general rule of thumb with most weddings, it's always a good idea to find out what colour the bridesmaids might be wearing so that you don't accidentally match the bridal party. This is particularly relevant for black dresses because unless they have defining features they can often blend into the crowd.
If the wedding you're attending has a black and white theme the chances are the bridesmaids are already wearing black. Which means that black is, by all means, an appropriate colour to wear as a guest, but also runs its risks. If you do choose to wear black, accessorise with some colourful or statement jewellery pieces. Not only will this make you stand out more on the day, you also won't run the risk of looking like you're part of the bridal party.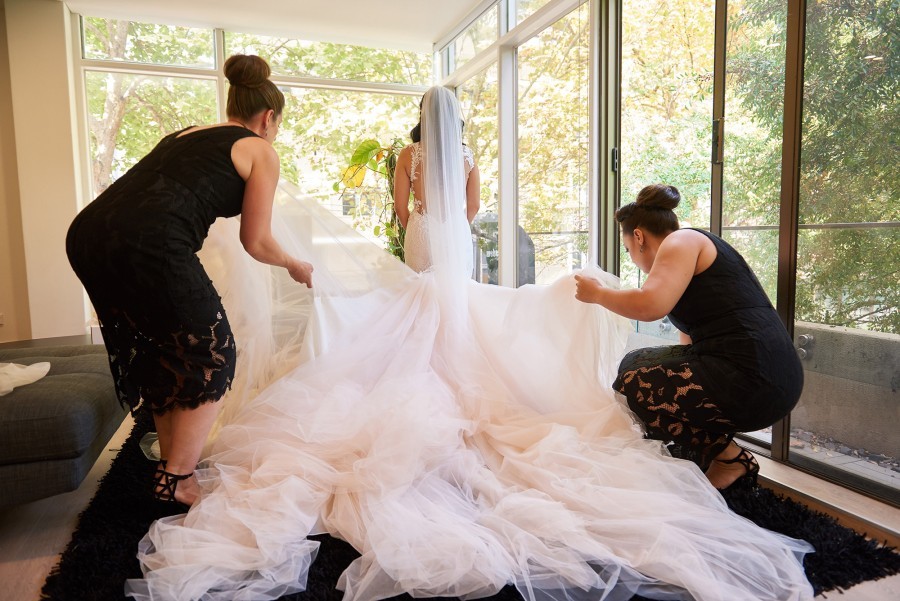 At a daytime beach or garden wedding
Black can be a particularly great colour for winter weddings when the weather is already grey and dreary. However, if you're attending a sunny daytime wedding that's going to be held outside, you might find yourself standing out against the bright colours and pastels of other guests.
While wearing black is by no means a faux pas in this instance, deciding whether you want to stand out quite obviously in all of the photographs on the day can help you decide which dress to take out of the wardrobe ahead of time.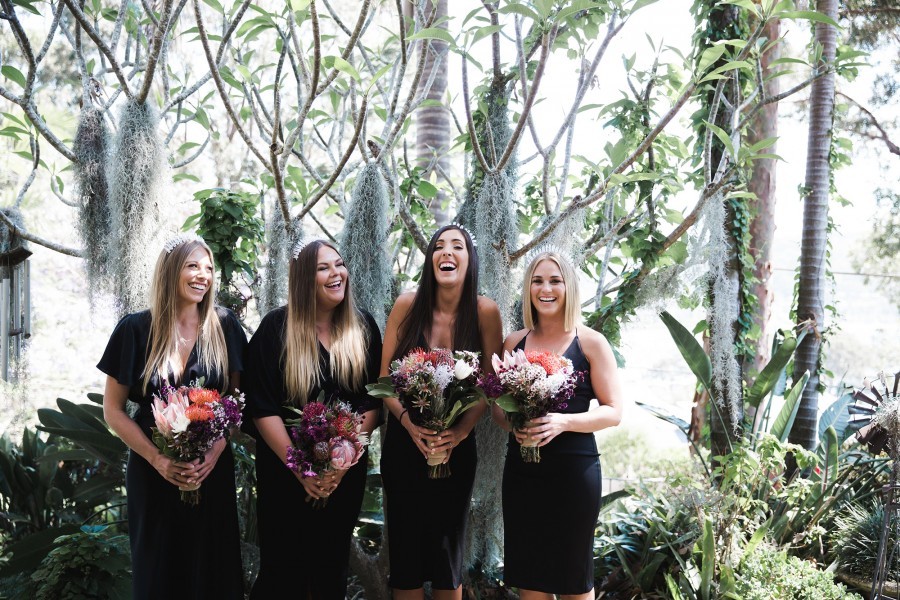 If you have to ask
Wearing black to a wedding is OK! There we've covered it! So if you still think that the wedding you're going to might have some reason where wearing black could be considered inappropriate, then reconsidering your dress choice is a no-brainer.
Usually, as a guest you know the couple well enough to know what will be suitable for their day, so even if you do commit minor slip up you can laugh it off together.
But if you don't know the couple and think they could be offended, then just steer clear. The last thing you want to be feeling on the day of the wedding is uncomfortable with your dress choice. Plus it will save you from bothering the couple with questions about dress code ahead of time when they have other things to plan.
So if you have to ask whether black is appropriate, go with the safer option and leave the LBD at home. We're sure you'll find another reason to pull it out soon!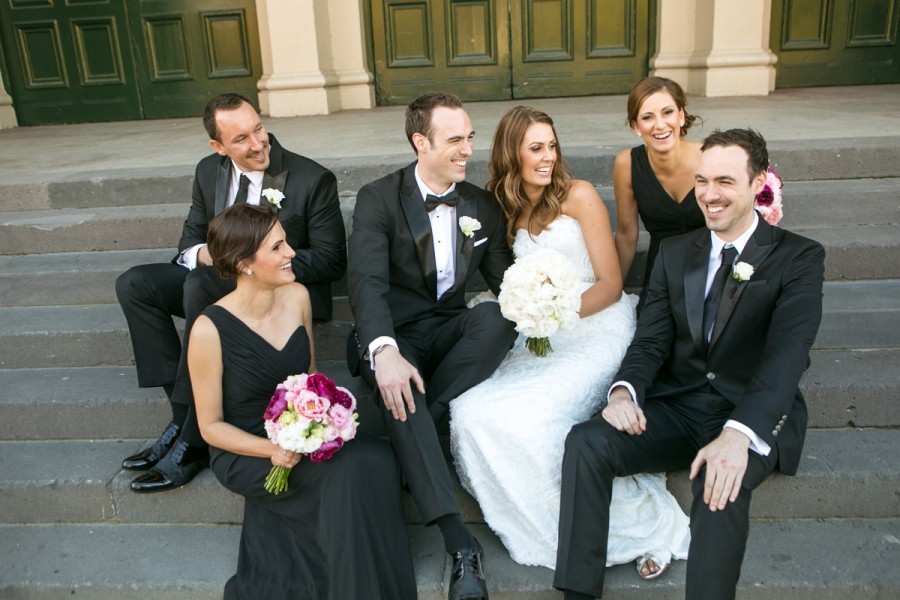 A version of this article also appears on whimn.com.au