Sydney is known for its stunning gardens and lush parks, so it's no surprise that this vibrant city is also home to some of the most beautiful garden wedding venues Australia has to offer.
If you're planning to get married out in nature, surrounded by lush greenery and swaying trees, Sydney is the perfect place, with an array of beautiful outdoor wedding venues to suit every taste. To help with your outdoor venue search, we've put together this hand-picked list of our favourite garden wedding venues in Sydney and its surrounding areas.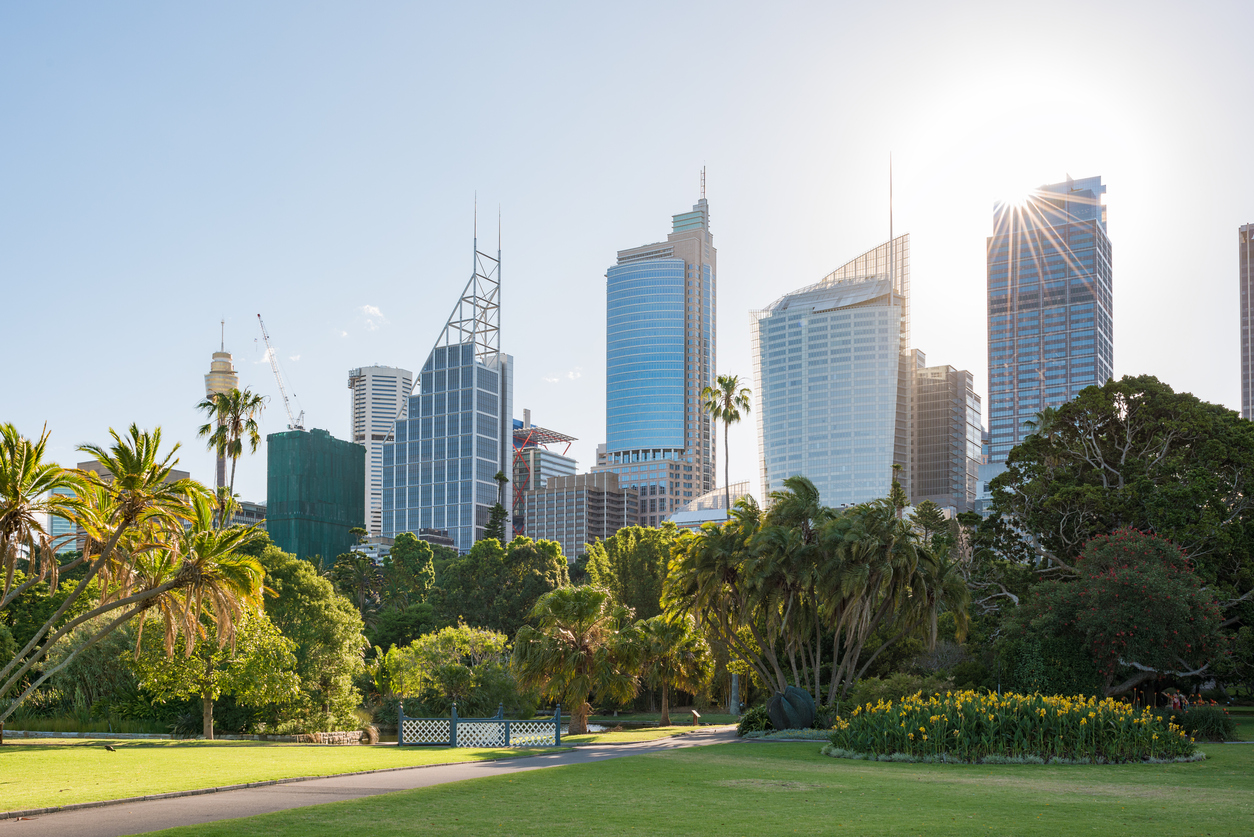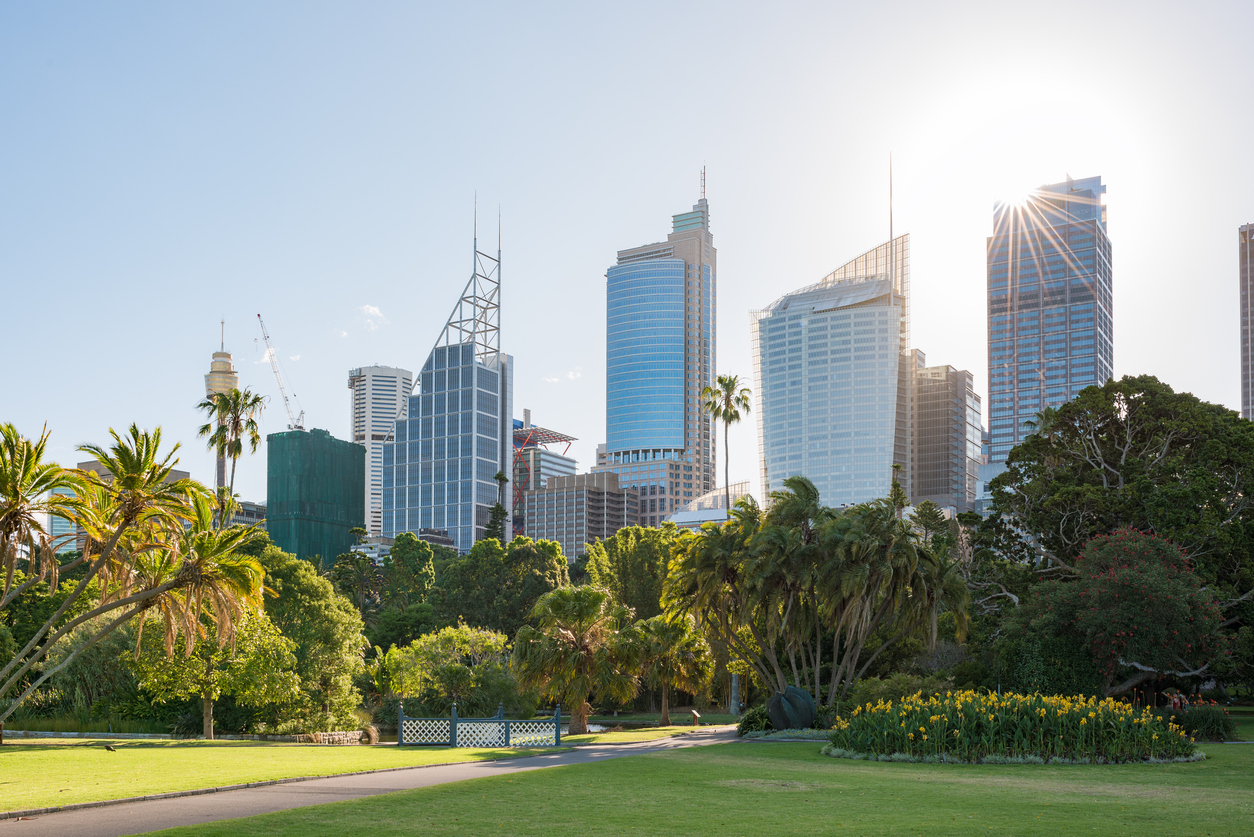 ---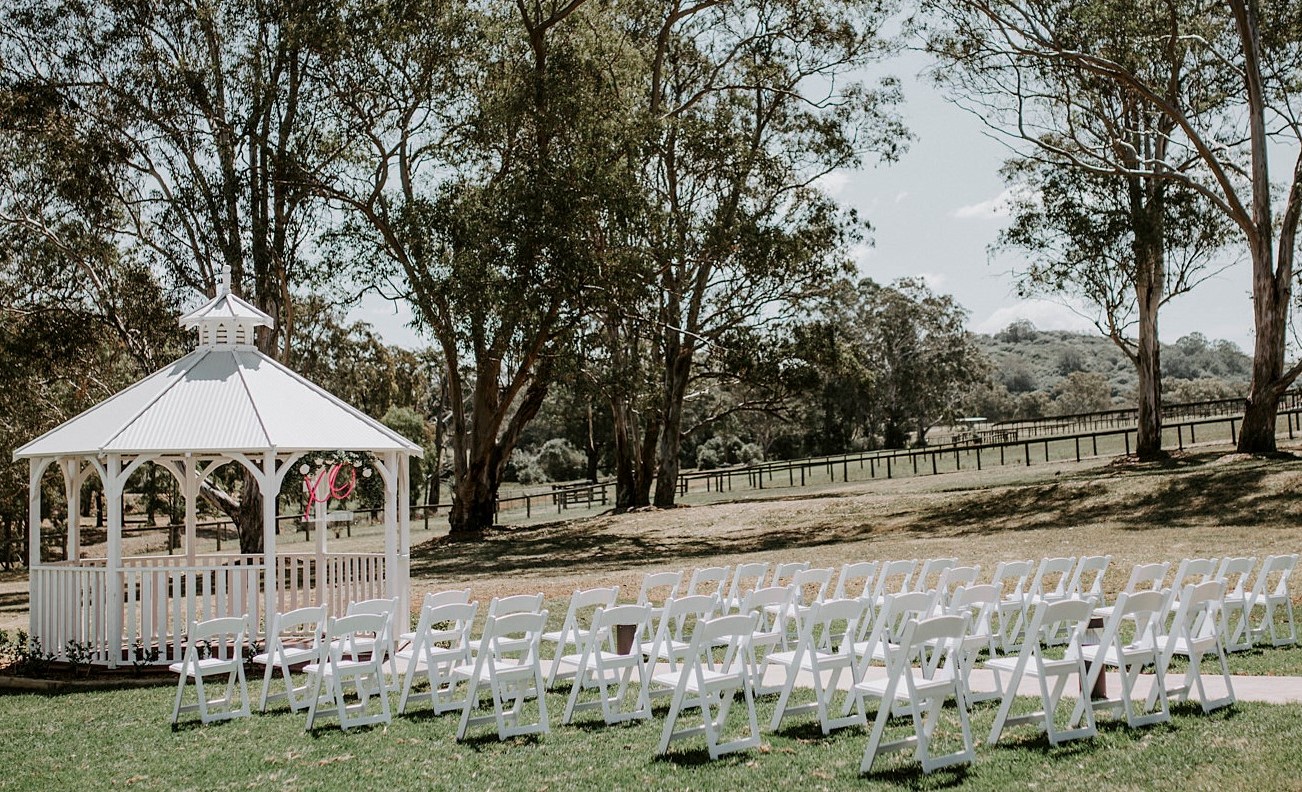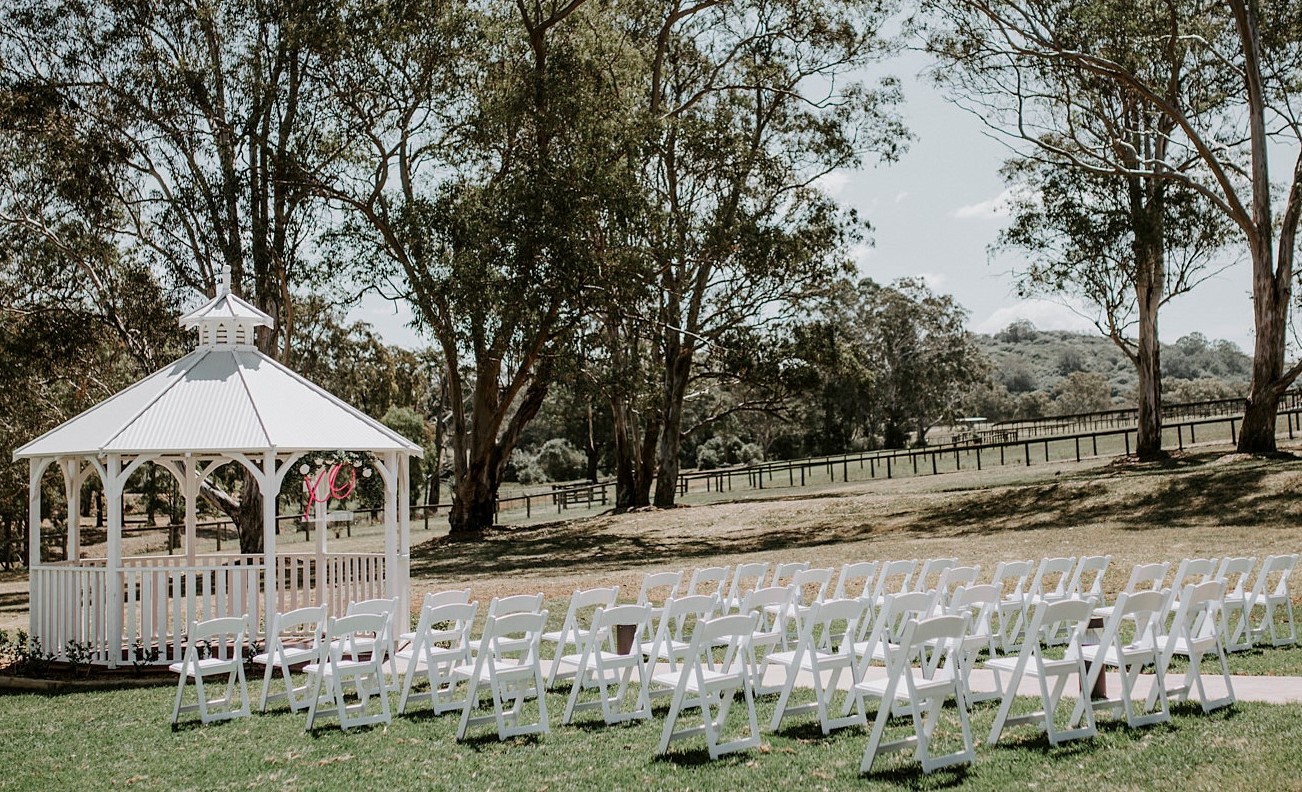 If peace and serenity are what you're after on your wedding day, Ottimo House is the perfect place to tie the knot. With its elegant marquee-like architecture, manicured gardens, and towering eucalyptus trees, your wedding will be a showstopper. Soak up the tranquillity of Denham Court Estate while celebrating your special day in style! Find out more about this stunning garden wedding venue here.
---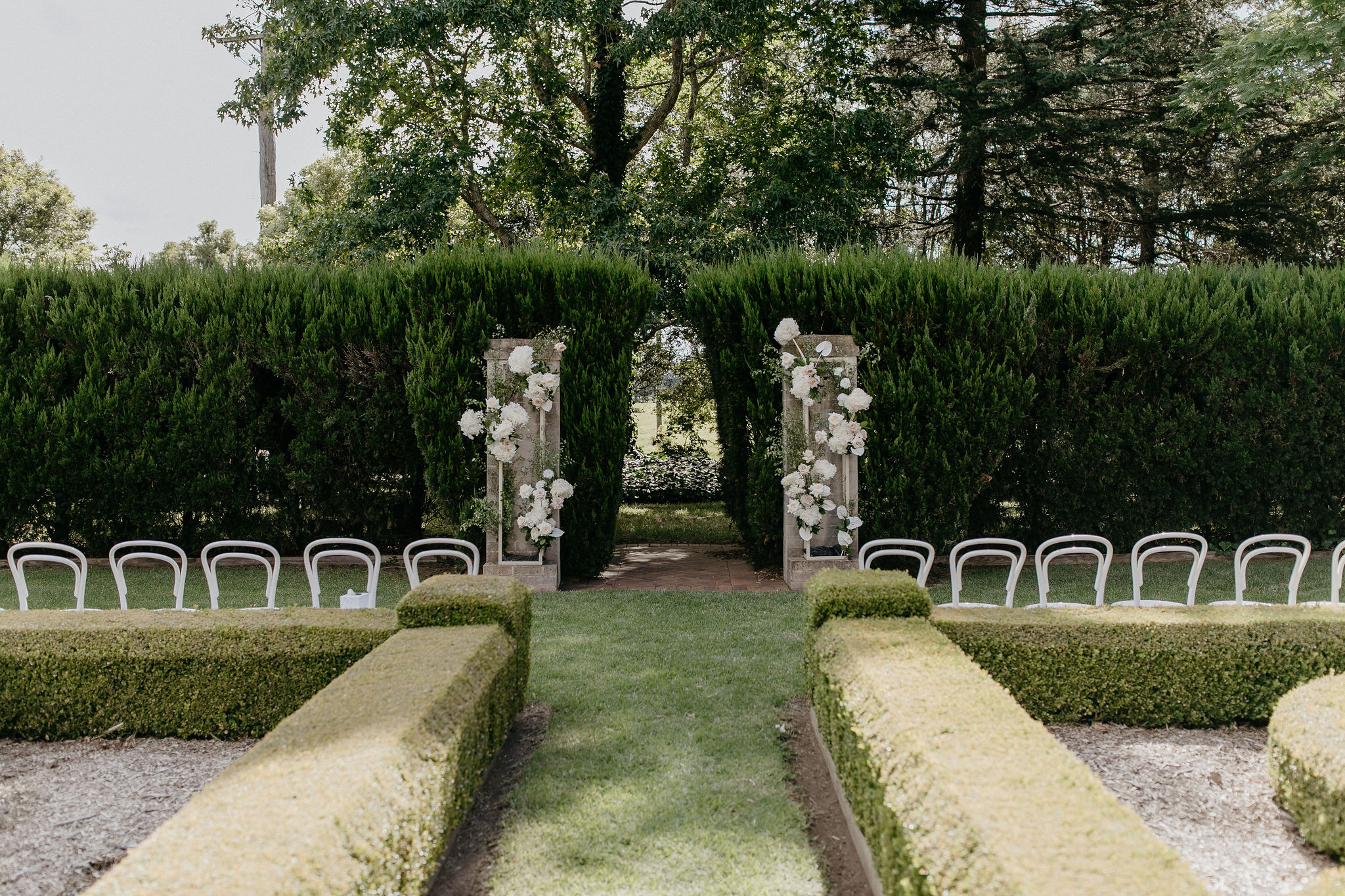 Situated on the picturesque South Coast of NSW, Terrara House is one of Australia's most exclusive and luxurious garden wedding venues. The grand historic mansion sits nestled amidst 17 acres of immaculately manicured grounds, maze hedges, and lush greenery, offering a stunningly secluded setting for unforgettable wedding celebrations. Enjoy on-site accommodation, bespoke packages, personalised service, and endless photo possibilities at this one-of-a-kind venue. Learn more about hosting your wedding at Terrara House here.
---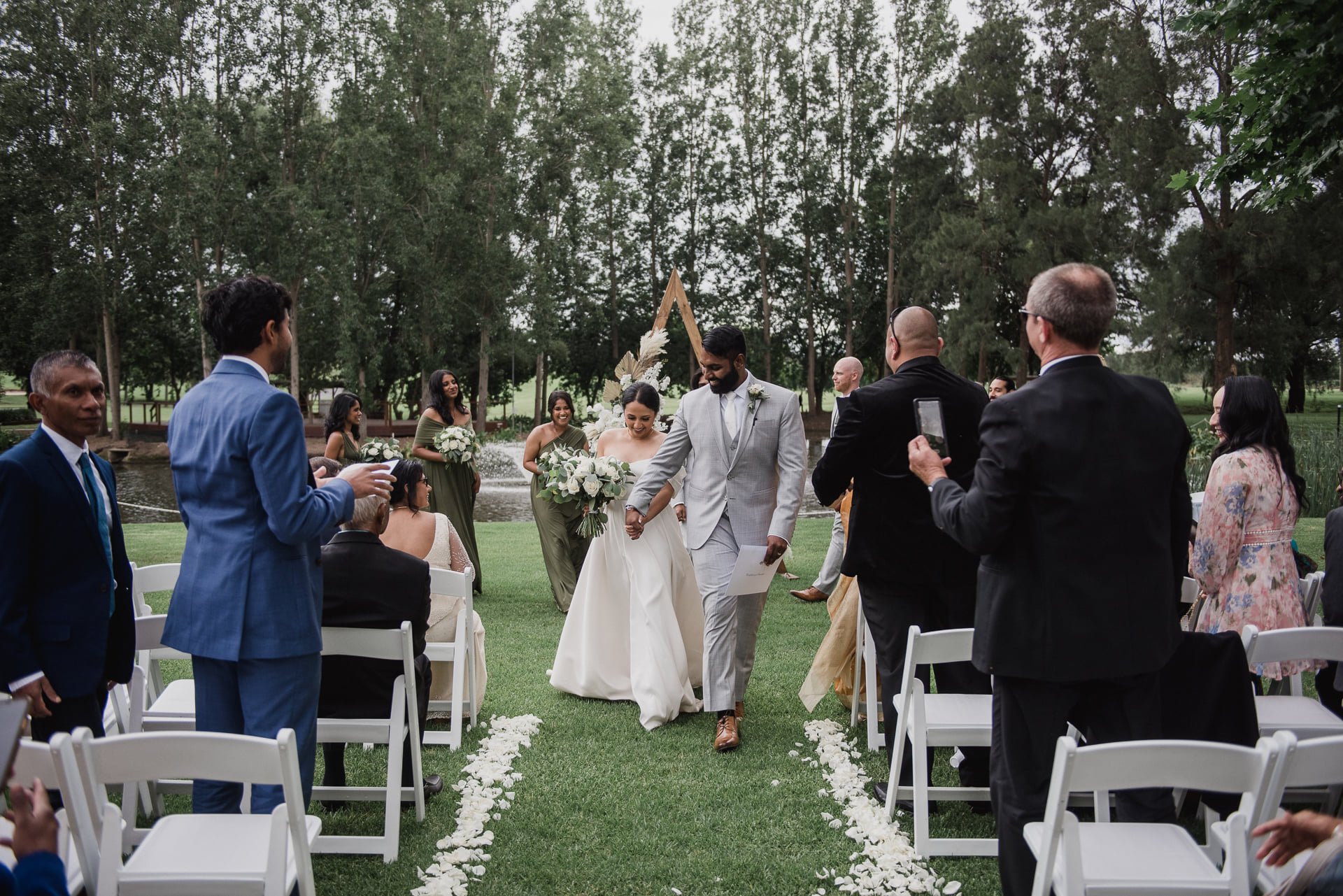 Are you envisioning a relaxed yet elegant garden wedding at a luxury resort near Sydney? If so, let us introduce you to Crowne Plaza Hawkesbury Valley. This stunning resort is a highly sought-after wedding venue in the charming Hawkesbury region, offering elegantly appointed function rooms, newly refurbished guest accommodations, and eight hectares of landscaped gardens for your special day. Discover more about Crowne Plaza Hawkesbury Valley here.
---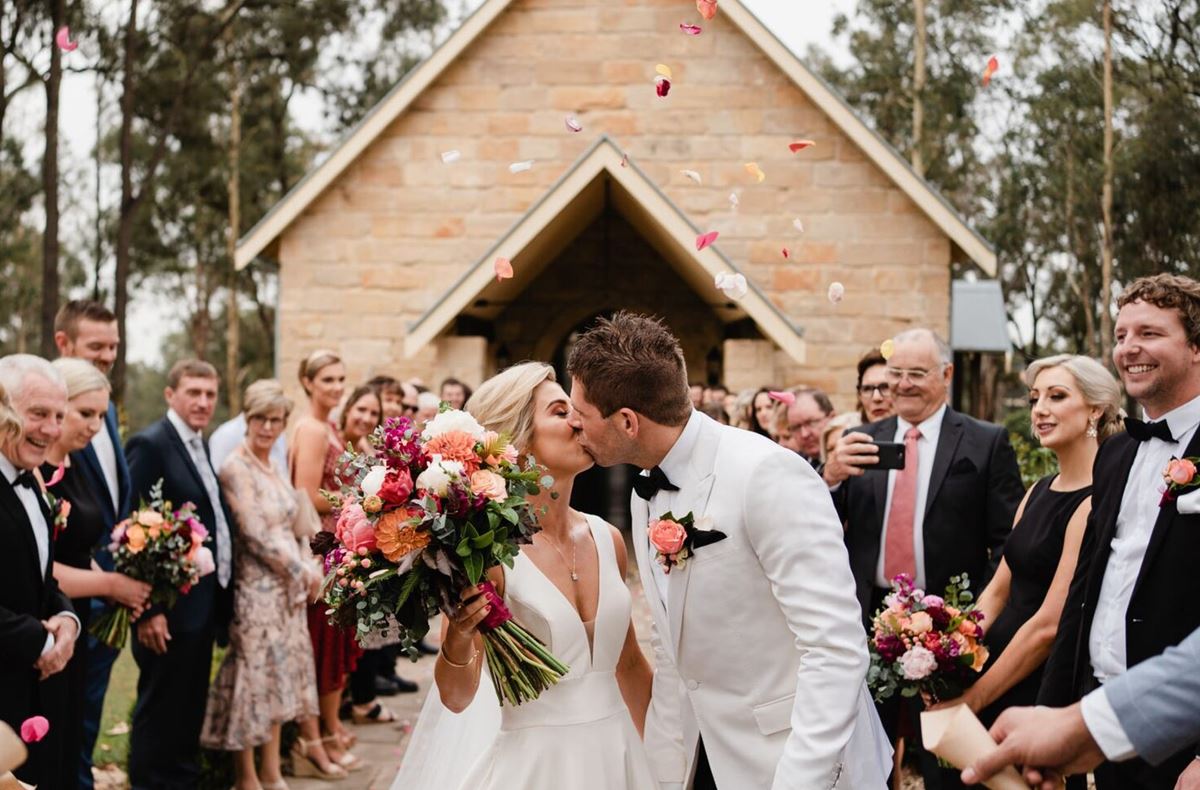 Chateau Elan at The Vintage ticks so many boxes; it's an exclusive golf course that doubles as a hotel, boasting an onsite day spa, sandstone carriage house, and magnificent Hunter Valley vineyard views. Chateau Elan offers several customisable and carefully curated wedding packages that include personalised wedding planning, a pre-reception garden party with lawn games, and a chauffeur-driven golf cart to take the wedding party to photography locations across the property — what more could you want?! Learn more about this beautiful Hunter Valley wedding venue here.
---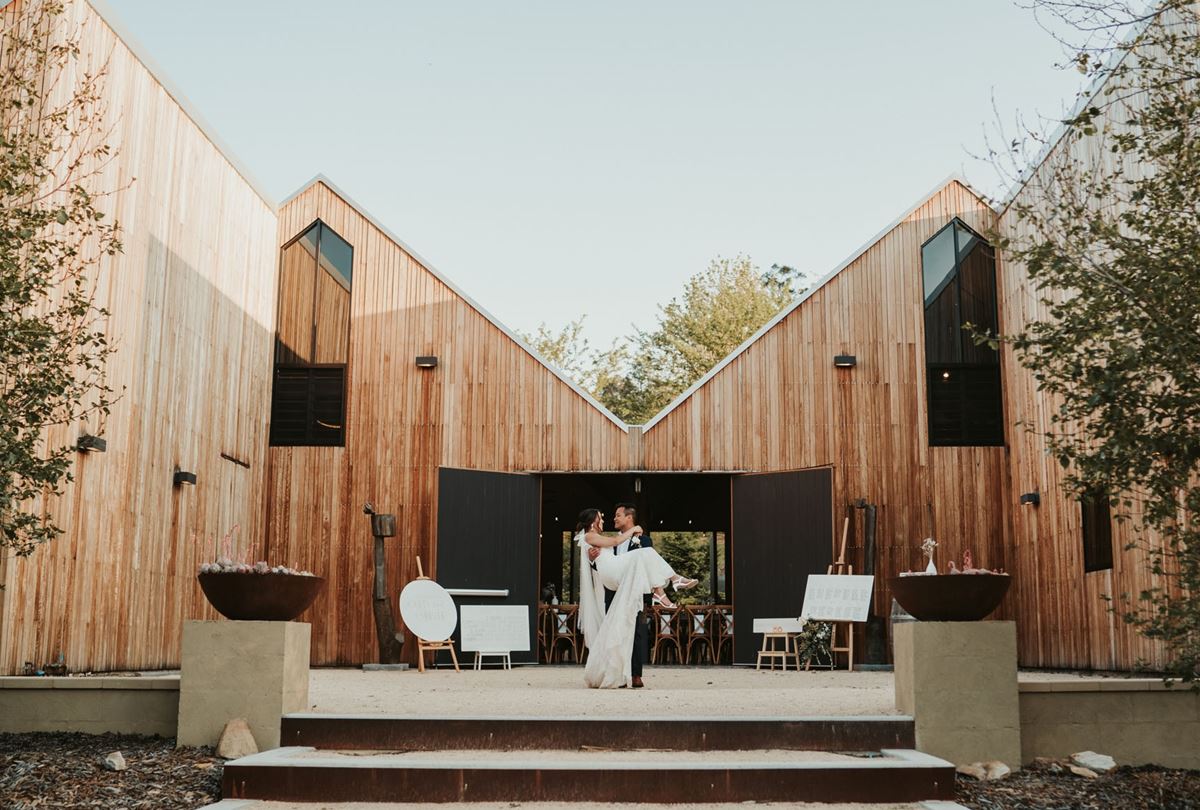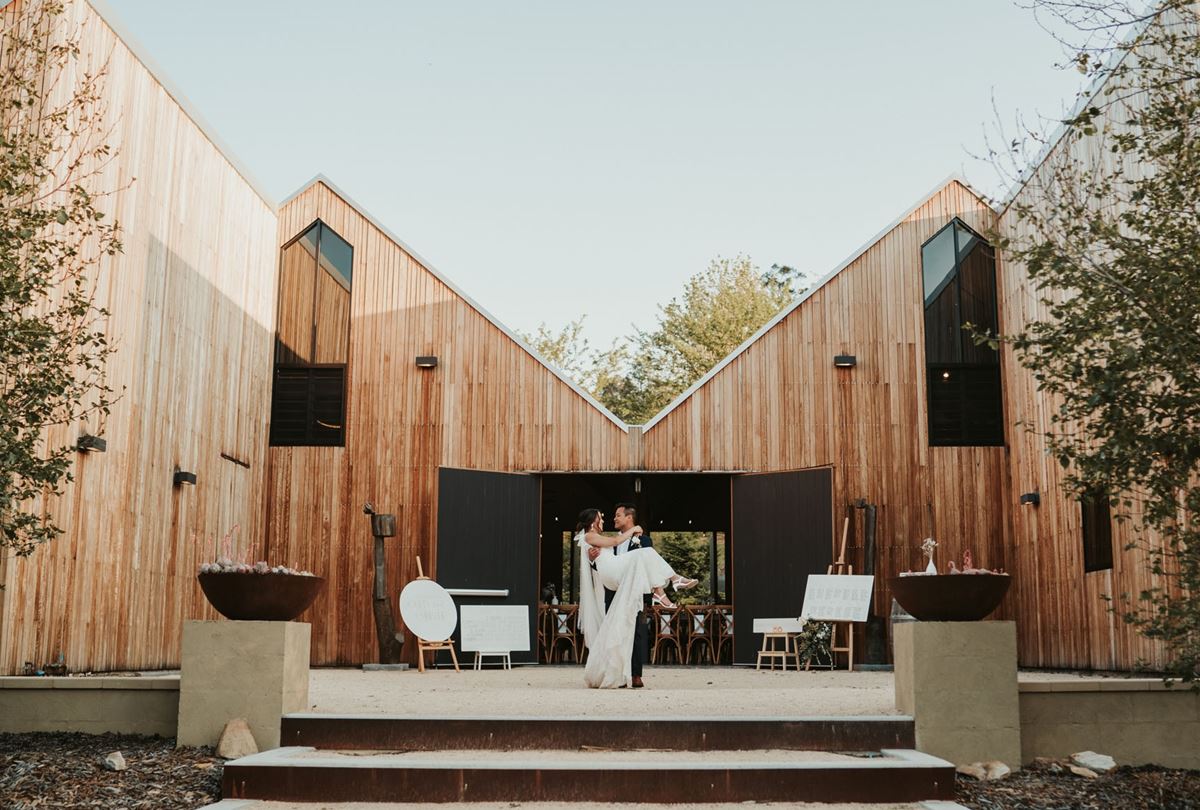 The Woodhouse Wollombi is a wonderfully unique wedding venue located in Redwood Park, a sprawling 100-acre property in the beautiful Lower Hunter Valley. This all-in-one destination wedding venue offers a number of beautiful ceremony locations, on-site accommodation, and a striking architecturally designed timber Woodhouse for receptions, making it a perfect choice for relaxed garden weddings near Sydney. Discover more here.
---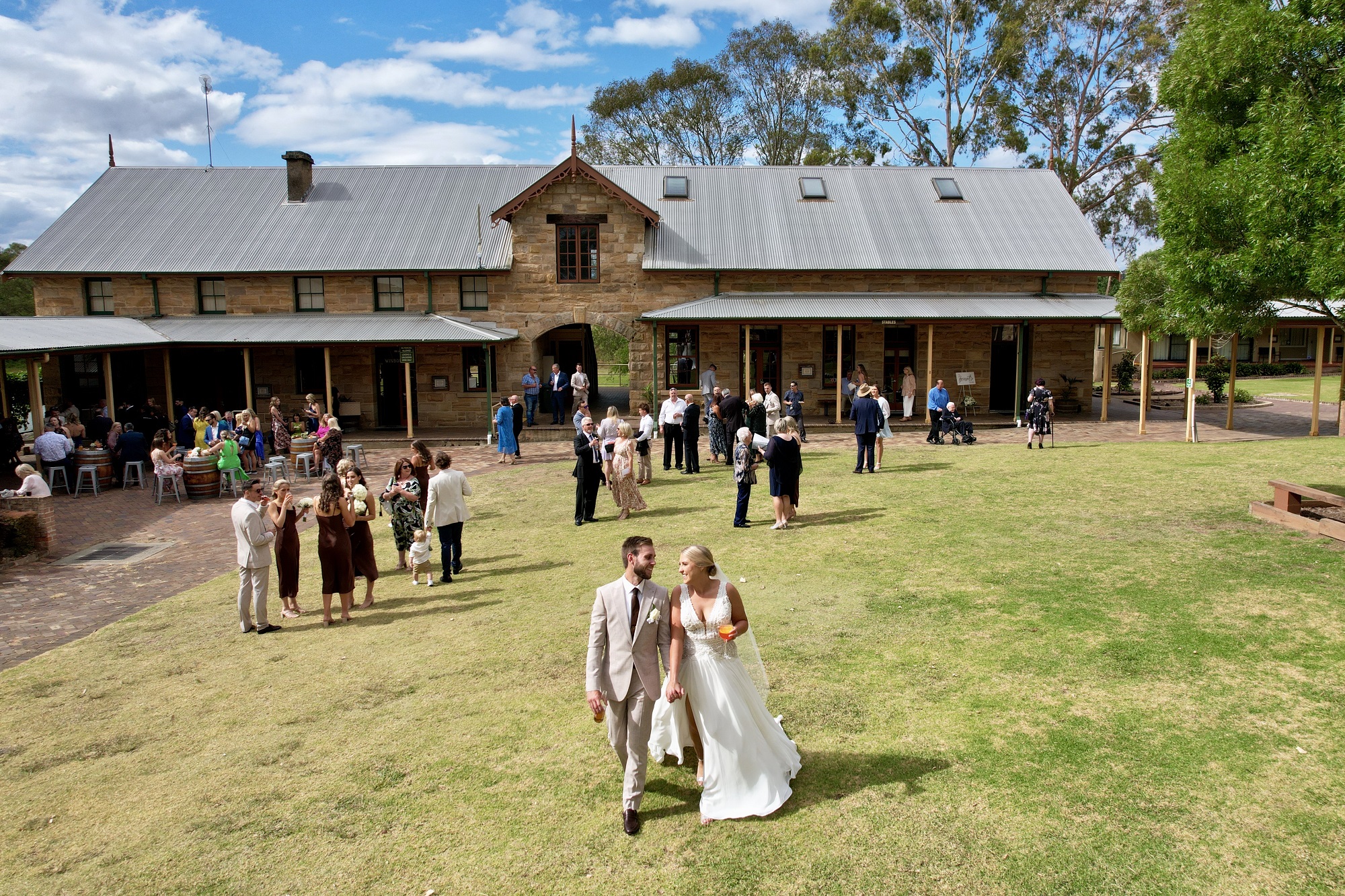 Set in the beautiful Mulgoa Valley near Penrith, Winbourne Weddings is nestled on 120 hectares of serene bushland, making it a tranquil location for relaxed garden weddings in Western Sydney. This breathtaking destination venue boasts gorgeous outdoor or chapel wedding ceremony locations, endless photo backdrops, a relaxed and rustic reception space, and convenient cottage accommodation onsite.​ Check out Winbourne Weddings and learn more about the venue here.
---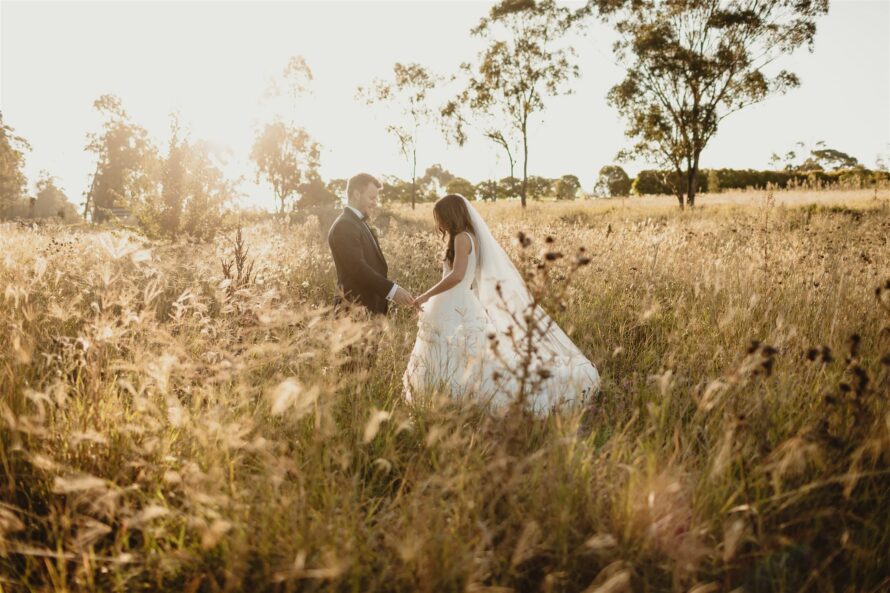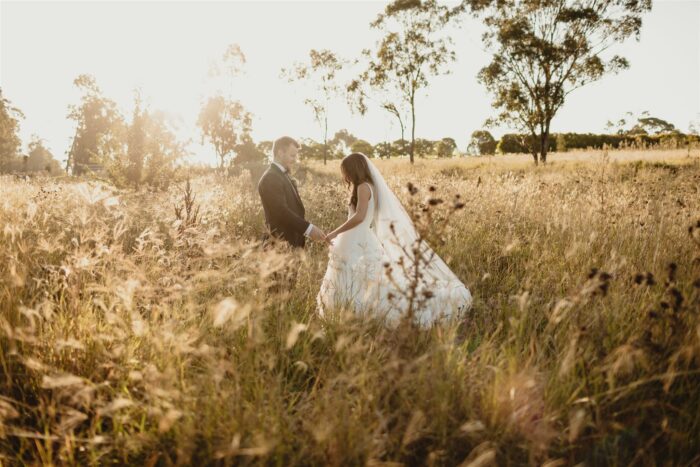 Located in the world-famous Hunter Valley, just over two hours from the Sydney CBD, Peppers Creek is an incredibly picturesque winery venue perfect for rustic-luxe weddings. Boasting a cosy cellar door, sprawling vineyards, a gorgeous sandstone chapel, and stunning reception options, Peppers Creek has everything you need for an unforgettable destination wedding in one place. The venue's highly experienced events team will guide you through the planning process and be there on the day to ensure everything runs smoothly. Learn more about Peppers Creek here.
---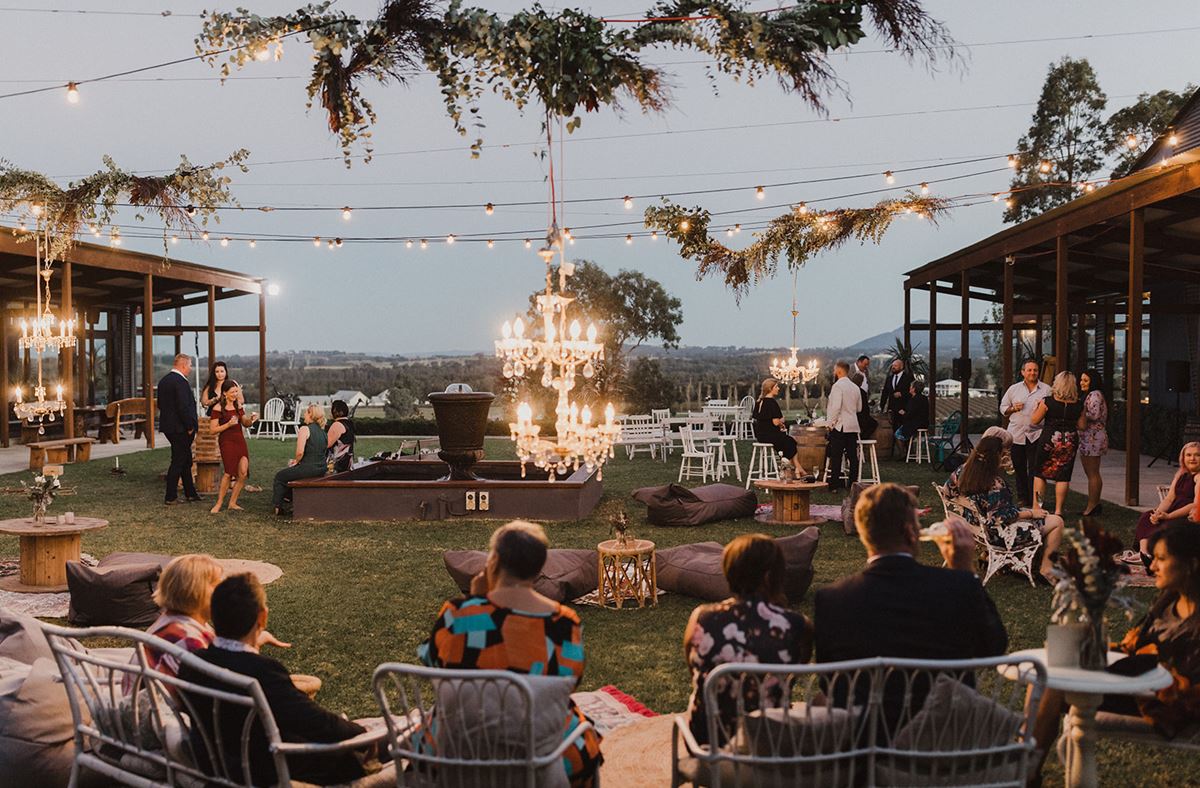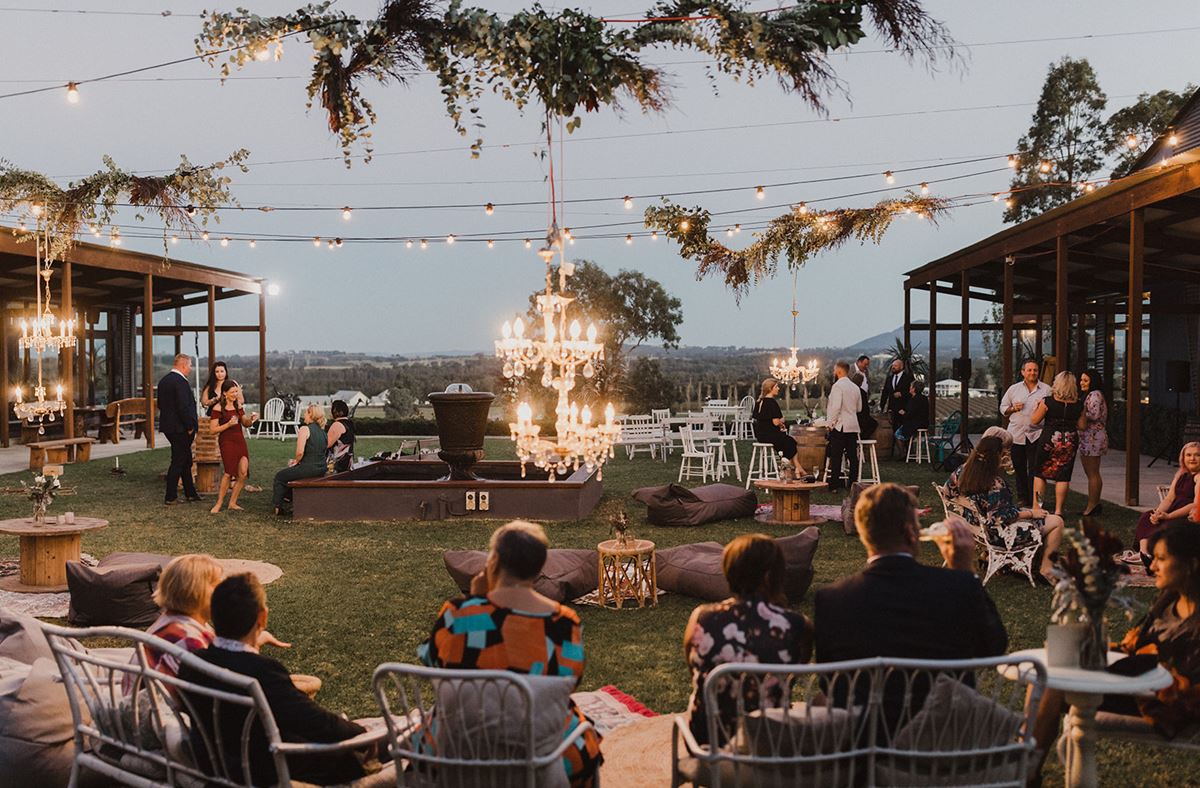 With jaw-dropping views of vineyards and mountains, multiple ceremony locations, a beautiful Tuscan-inspired courtyard, and an award-winning restaurant on-site, Estate Tuscany provides everything you need for the wedding of your dreams. Whether you're looking for an intimate gathering or a large celebration, this venue can accommodate weddings of all sizes. Relax and enjoy your big day in the heart of the Hunter Valley wine country! Visit Estate Tuscany's website and find out more about this stunning Hunter Valley wedding venue.
---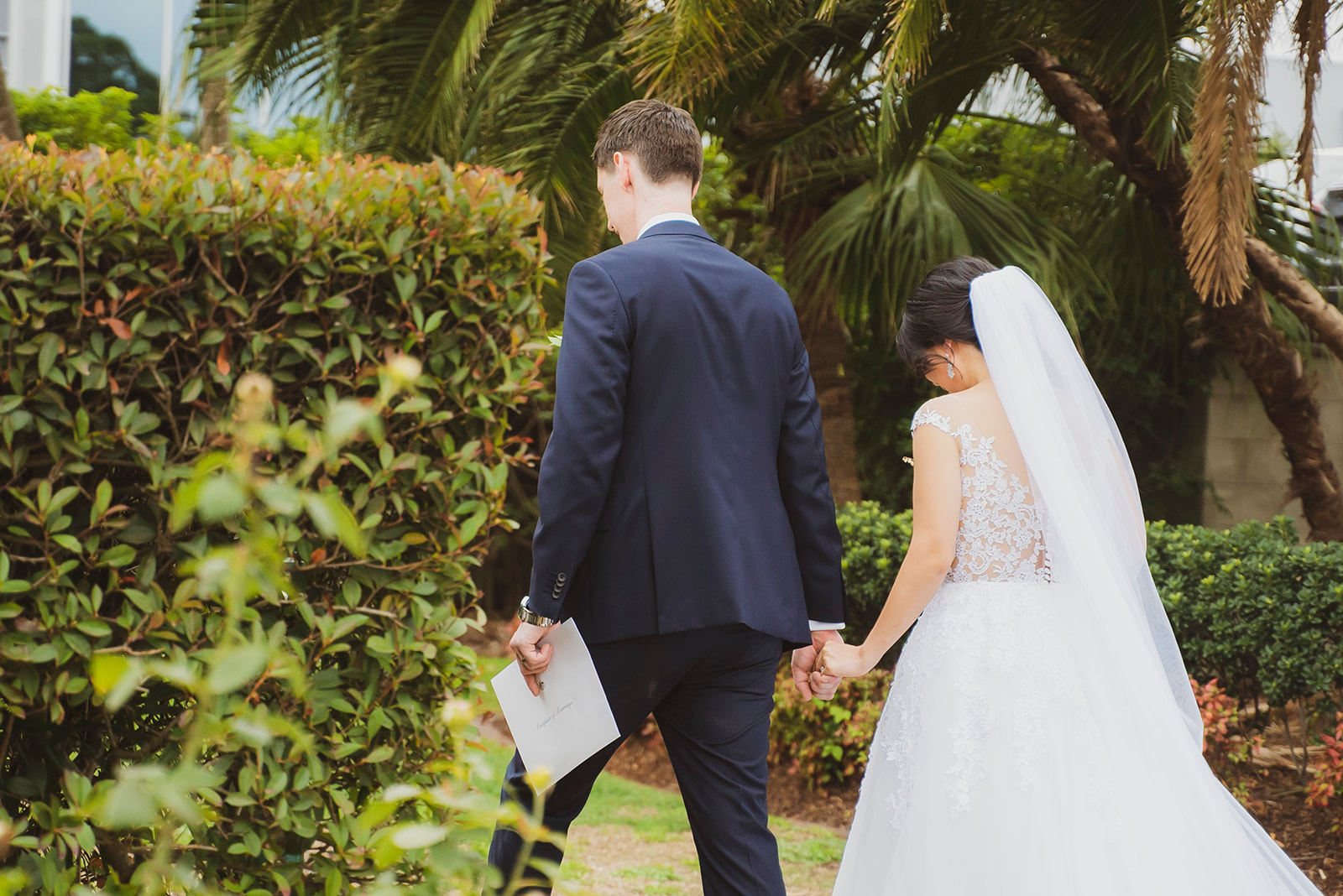 Dreaming of tying the knot against a picturesque garden backdrop? Will & Mike's Sydney could be the perfect place for you! Combining rustic charm and seamless service, this charming Sydney venue is ideal for hosting relaxed garden weddings. Located in Banksmeadow, Sydney, Will & Mike's offers a lush ceremony garden and a stunningly light-filled garden view room for elegant wedding receptions. Whether you want to dine with loved ones in the restaurant or say your vows amongst nature, you won't be disappointed. Check out Will & Mike's wedding packages here.
---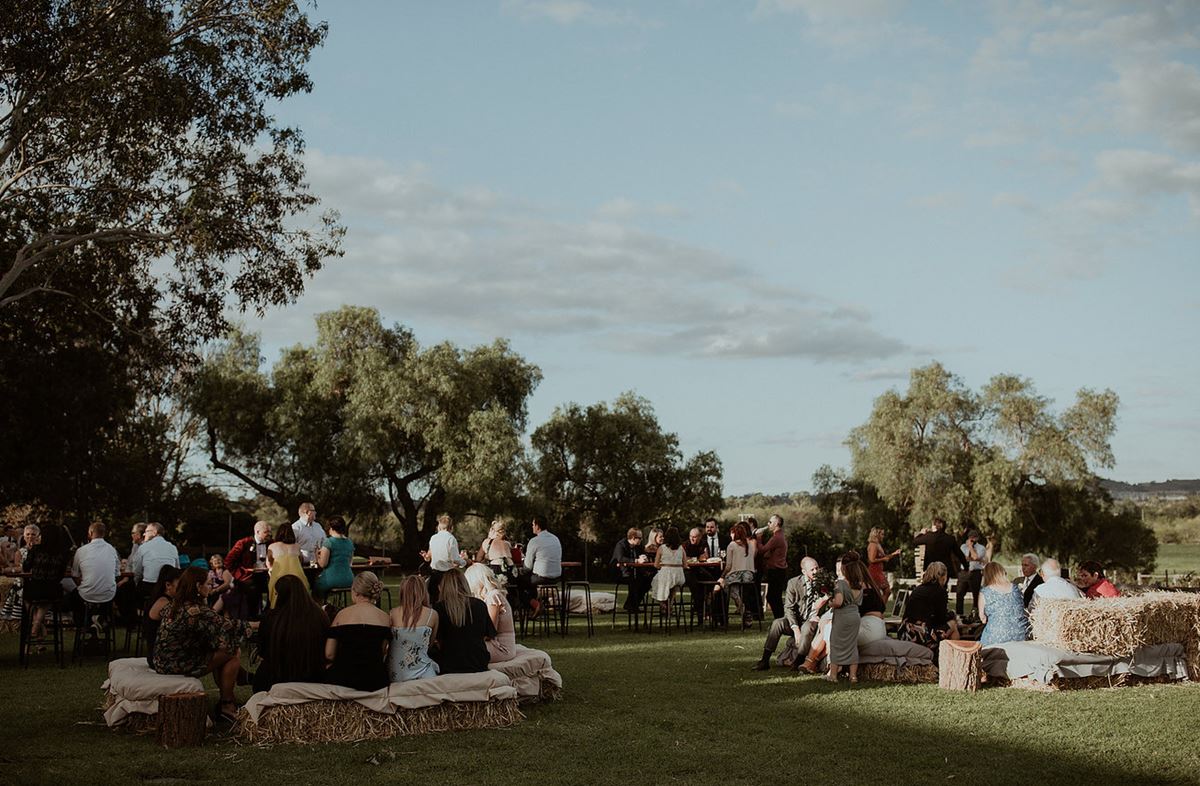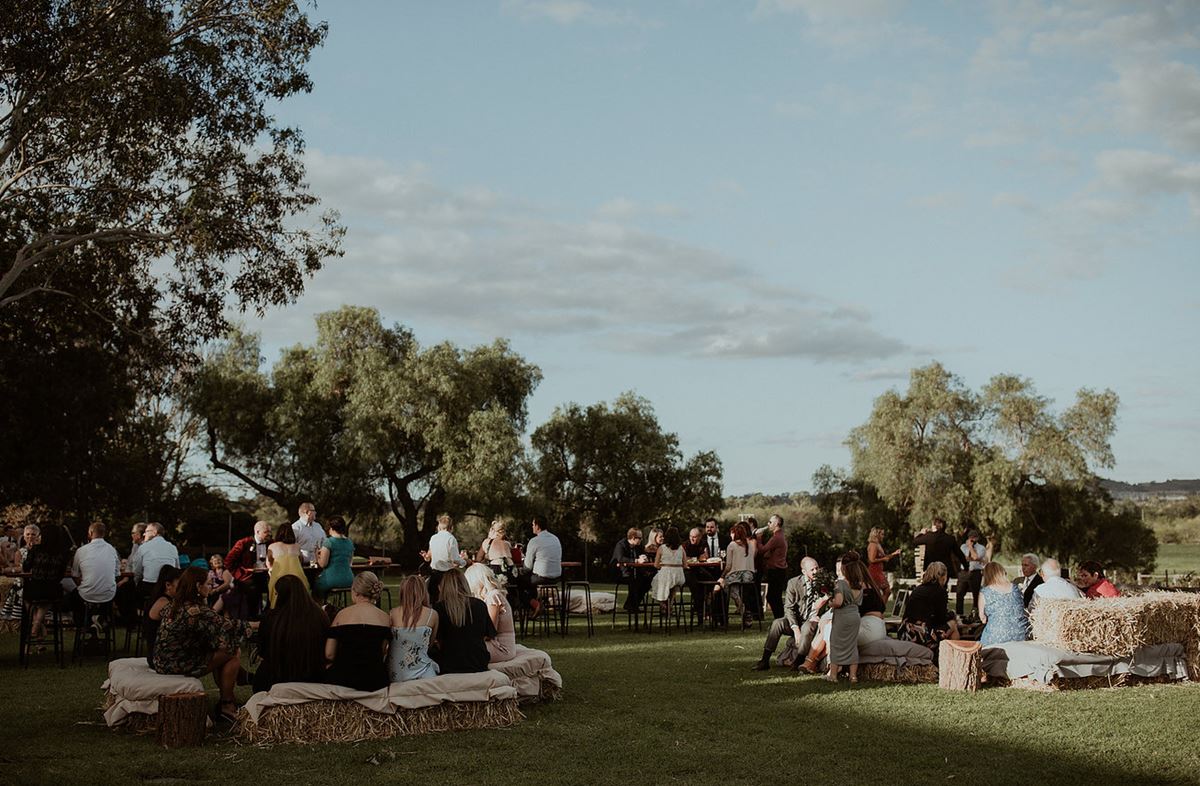 Located in the rolling Macarthur countryside just outside Sydney, Belgenny Farm is a rustic country wedding venue with a spacious barn and historic architecture. Beautiful gardens and lush lawns set the scene for outdoor ceremonies and laidback cocktail hours, while the rustic barn is perfect for relaxed seated receptions. What's more, with exceptional catering and seamless event planning from the renowned Peter Rowland Group, your wedding will be a flawless and stress-free occasion. Learn more about Belgenny Farm weddings here.
---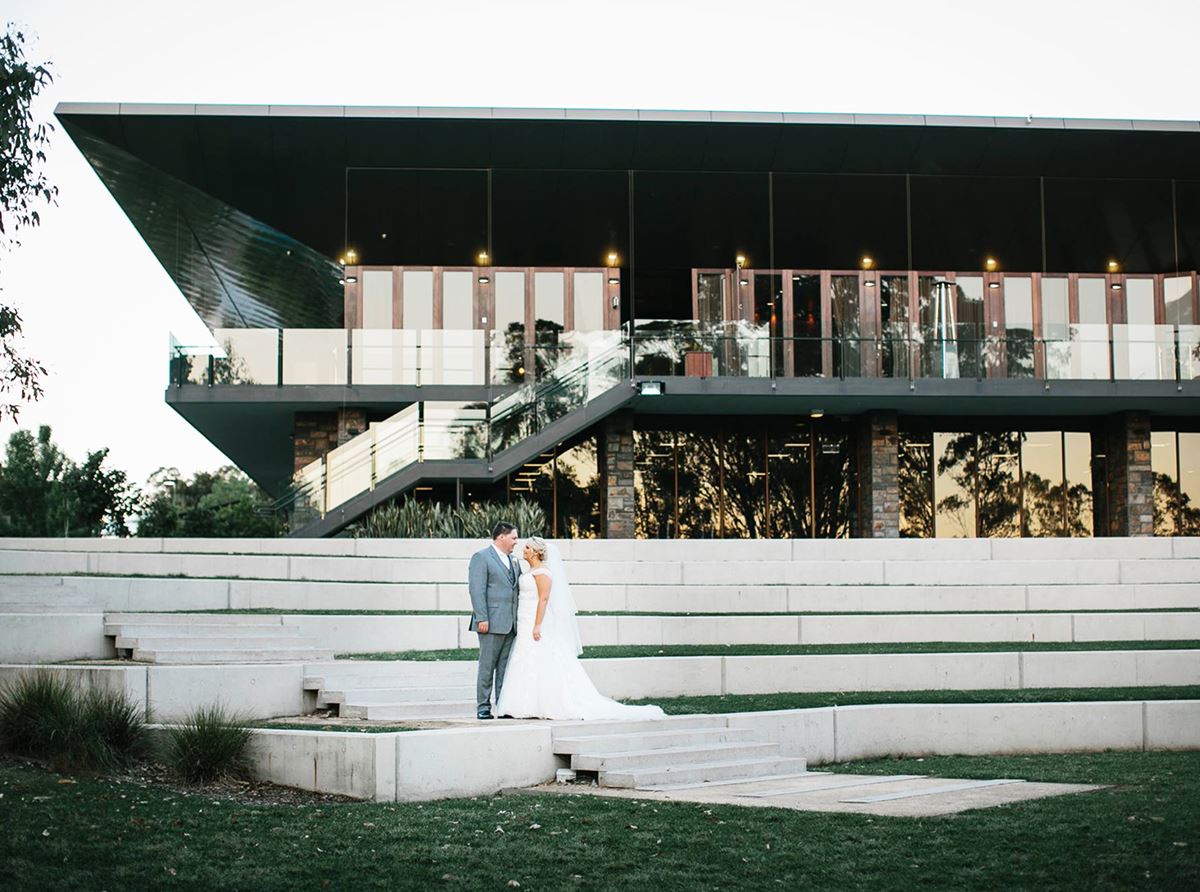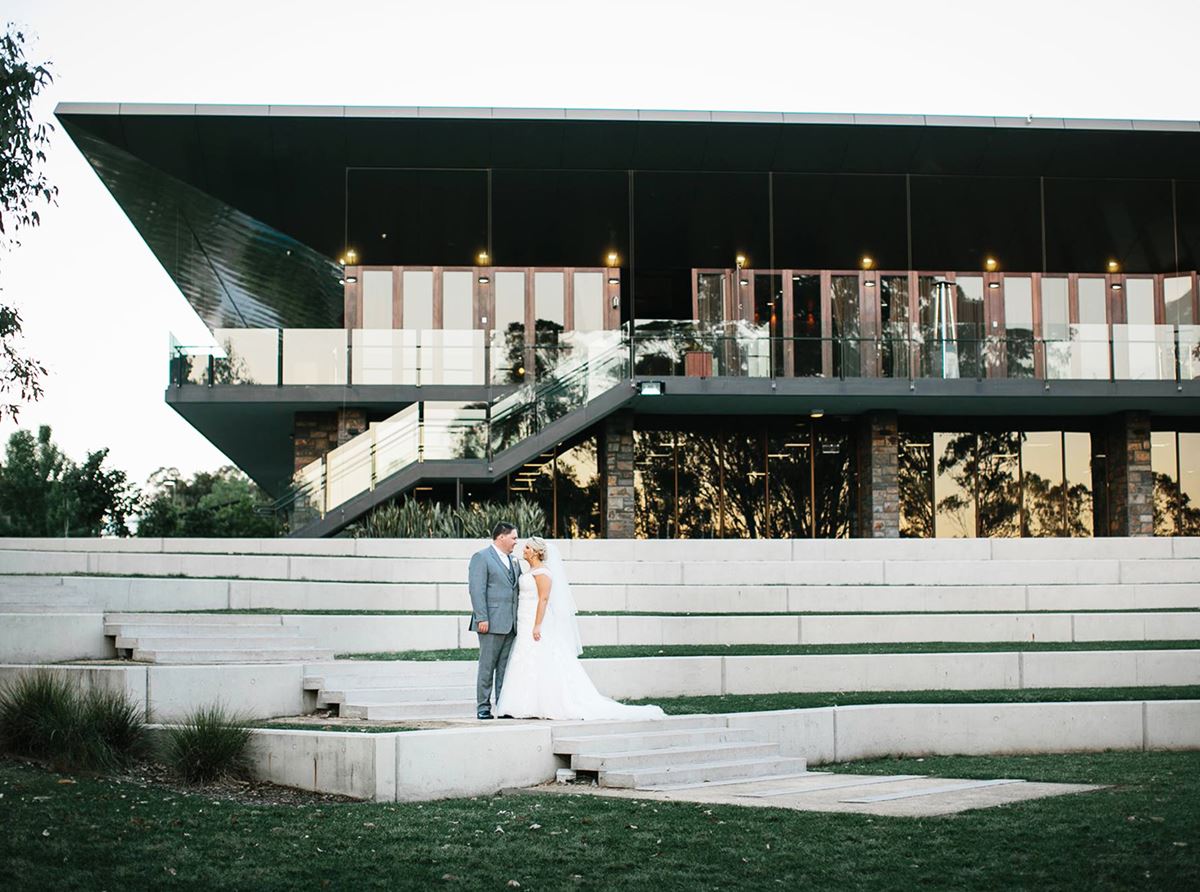 From the moment you arrive at The Woodlands in Harrington Grove, you feel like you've entered an enchanted forest. The contemporary architecture is sleek and stylish, while the surrounding landscape is lush and natural. This makes it the perfect setting for a romantic garden wedding that feels intimate and exclusive. Learn more about The Woodlands here.
---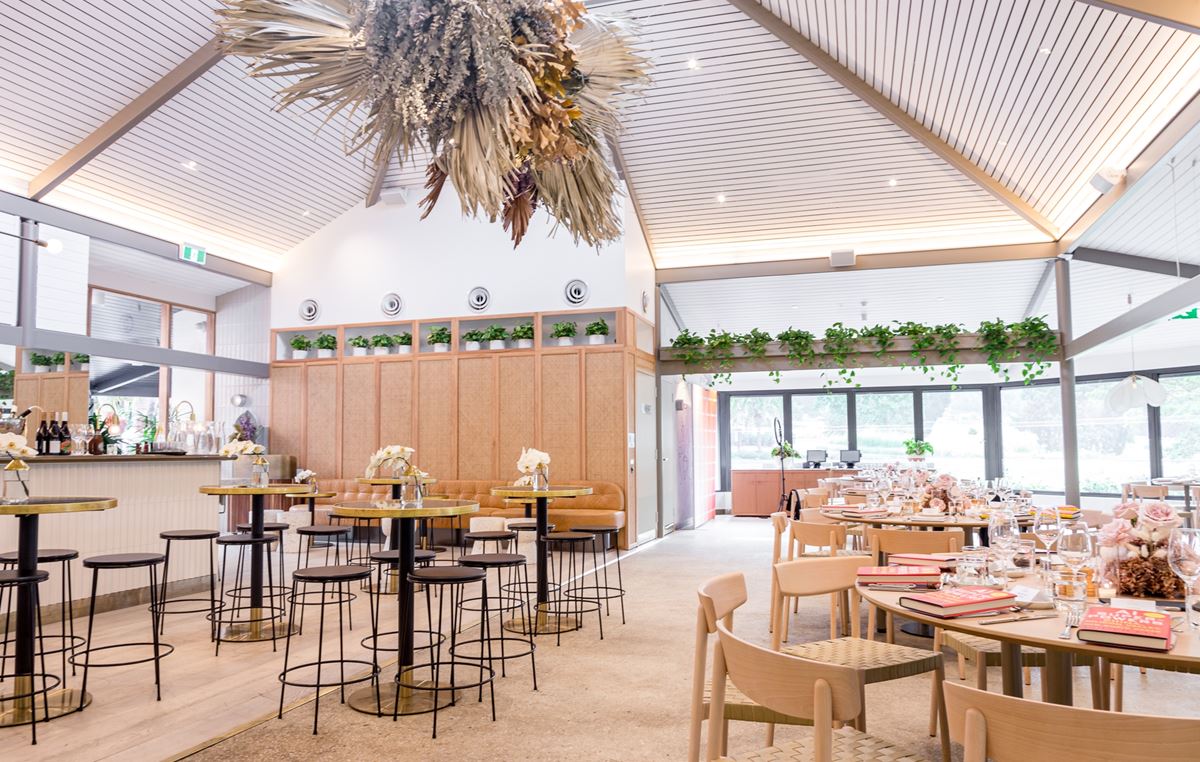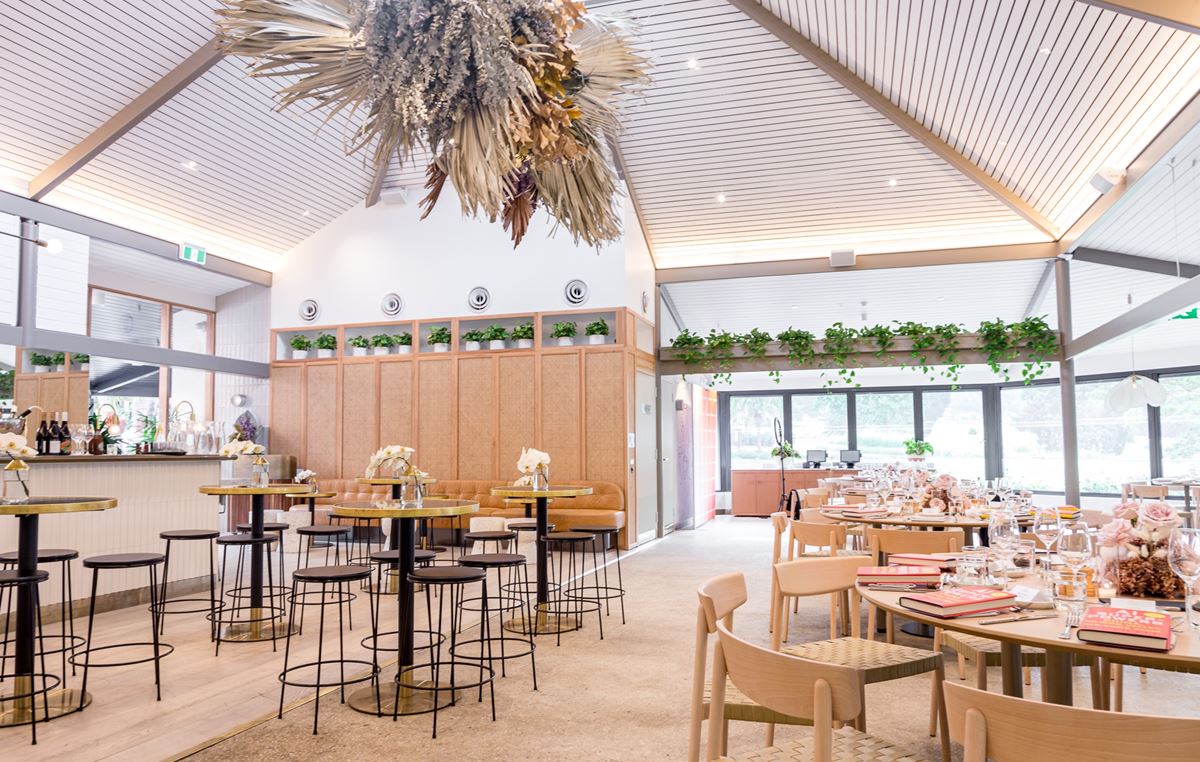 The Botanic House is a versatile event space located in the heart of Sydney's beautiful Botanic Gardens. It features two floors of horticultural-themed event spaces and provides a unique and contemporary atmosphere for your wedding day. With sleek, minimalist decor, it offers endless possibilities for creativity — ensuring your wedding day is uniquely yours.
---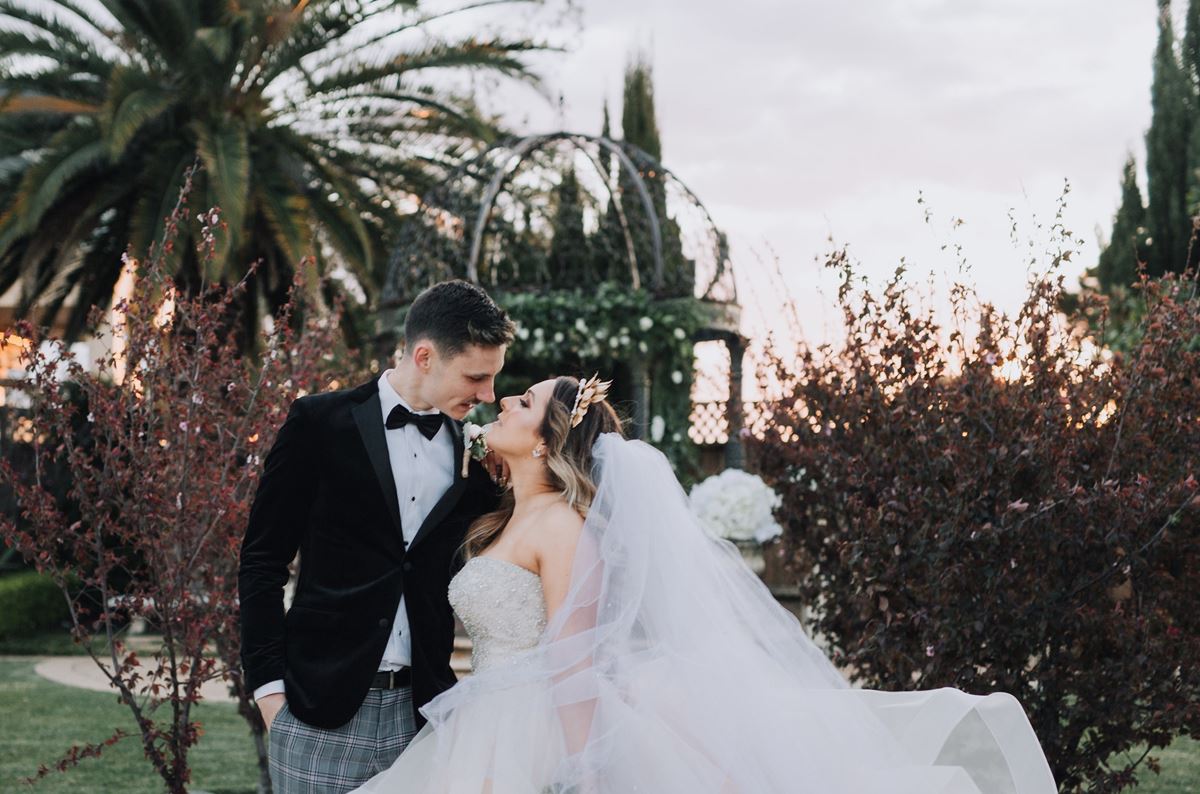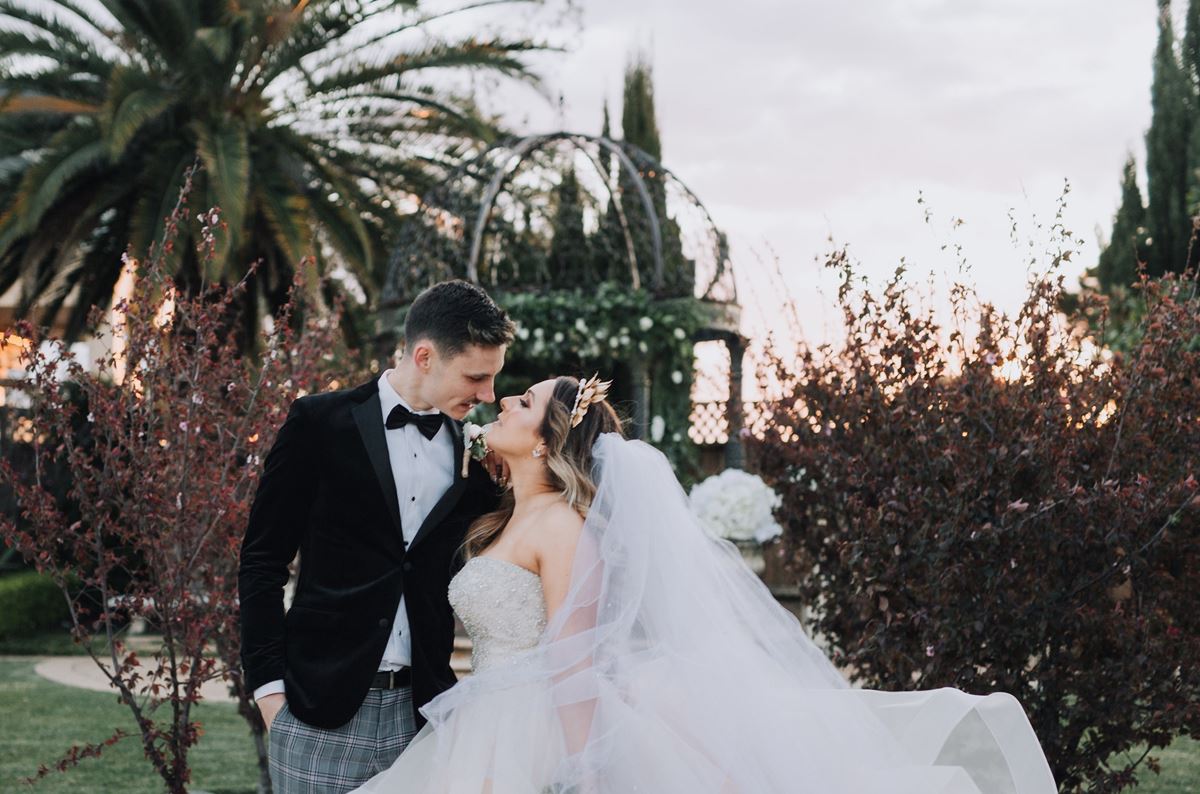 Lauriston House Function Centre is a sensationally unique and charming wedding Sydney wedding venue that'll make your special day unforgettable. With its heritage-listed property and timeless features, including open fireplaces, ornate chandeliers, and a grand ballroom dancefloor, Lauriston House provides an exquisite backdrop for your nuptials. Browse reviews for this venue and see why so many couples love Lauriston House Function Centre.
---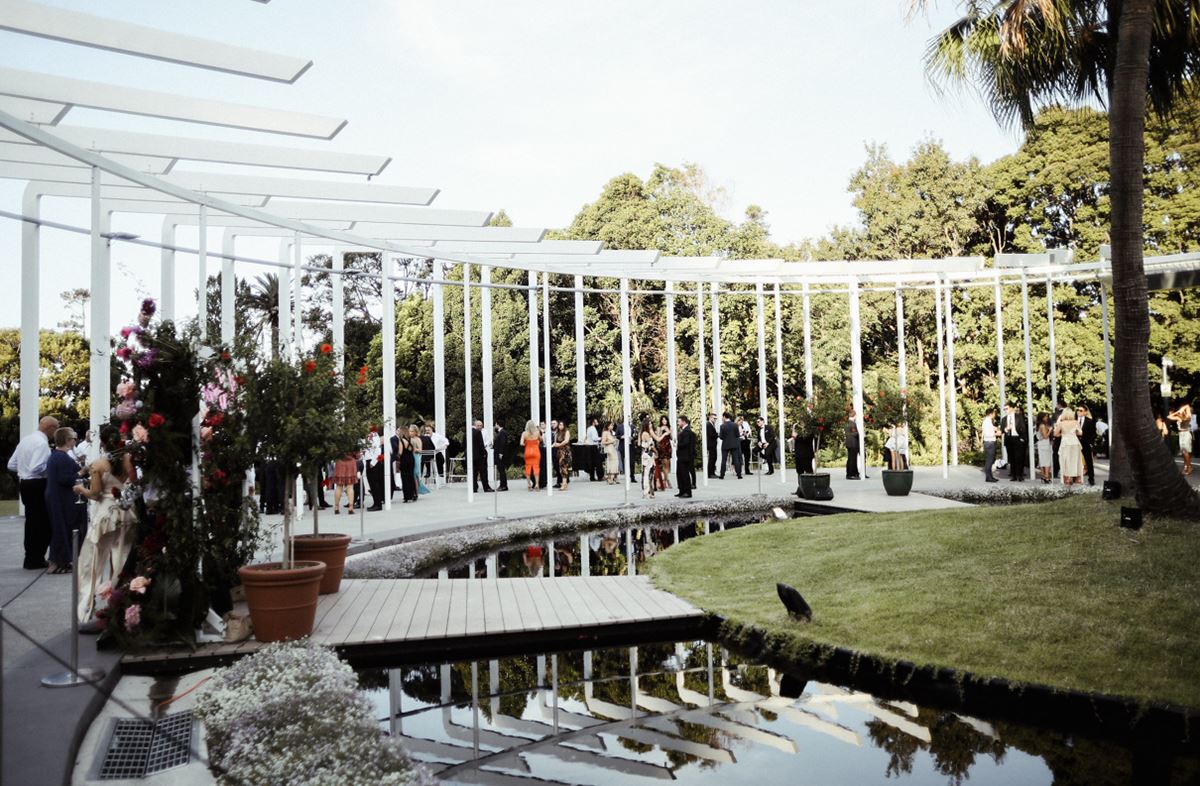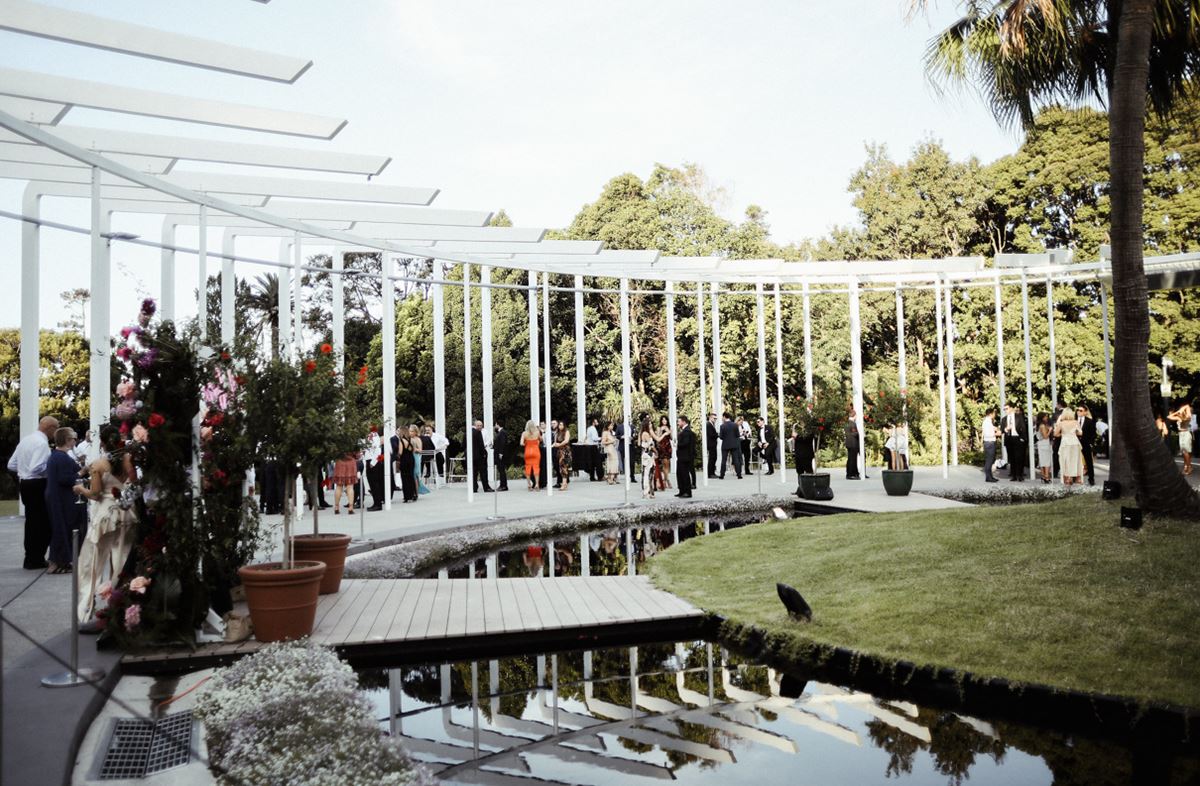 The Calyx is an unrivalled wedding venue offering couples the opportunity to marry in a stunningly unique garden setting. Located within Sydney's iconic Royal Botanic Gardens, The Calyx features striking modern architecture combined with a garden oasis, providing the perfect backdrop for your day. Guests will be transported to this enchanting venue via a trackless train, creating a truly memorable arrival experience. Find out more here.
---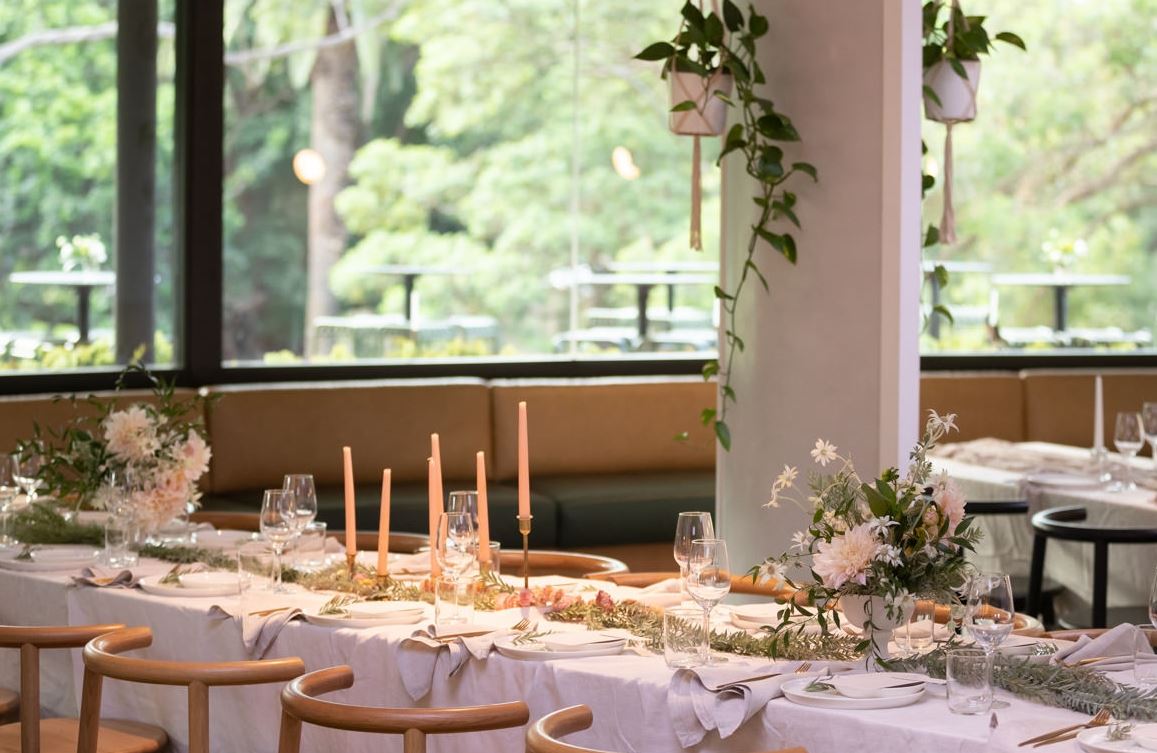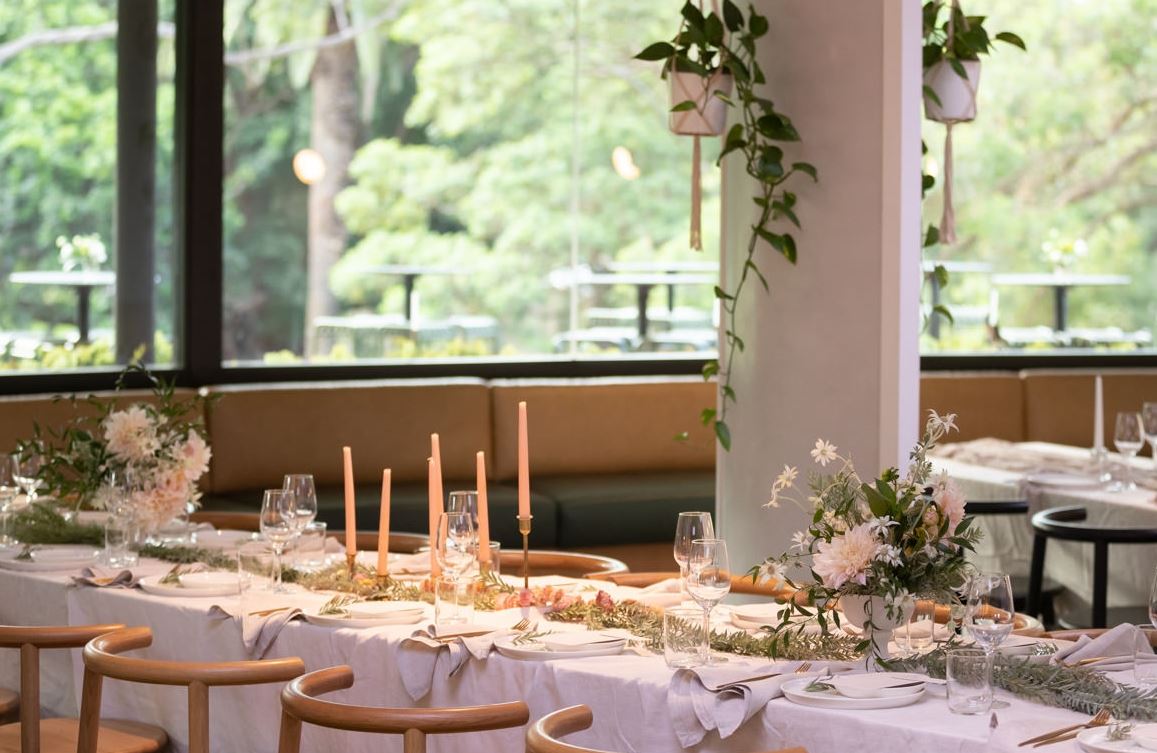 The Terrace on the Domain is one of Sydney's most beautiful event spaces. Nestled in the leafy foliage of the Royal Botanic Gardens, this contemporary restaurant venue offers a lovely wrap-around terrace with stunning views of the park and a light, airy and open-plan space that suits a variety of styles. You can marry outdoors in one of the picturesque locations in the park, then retreat to The Terrace on the Domain to celebrate in style. Read reviews of The Terrace on the Domain here.
---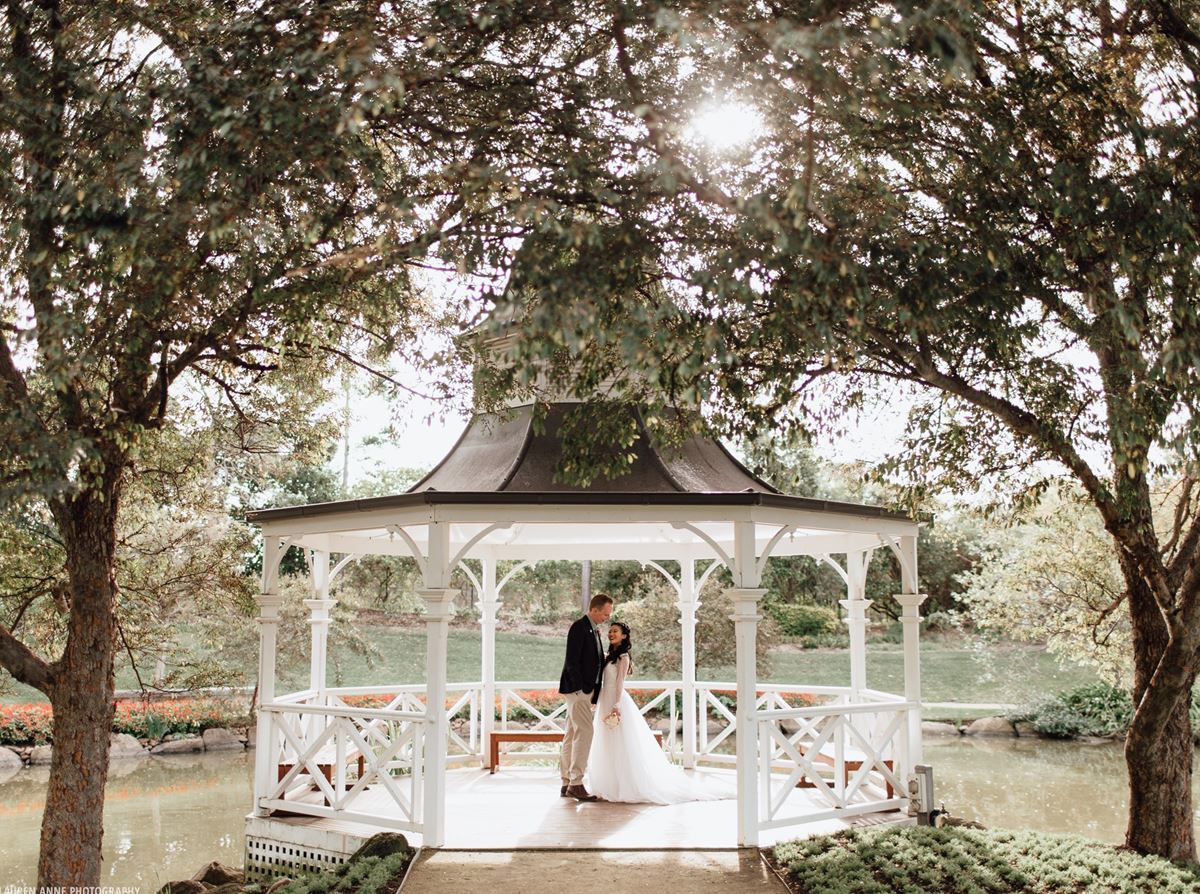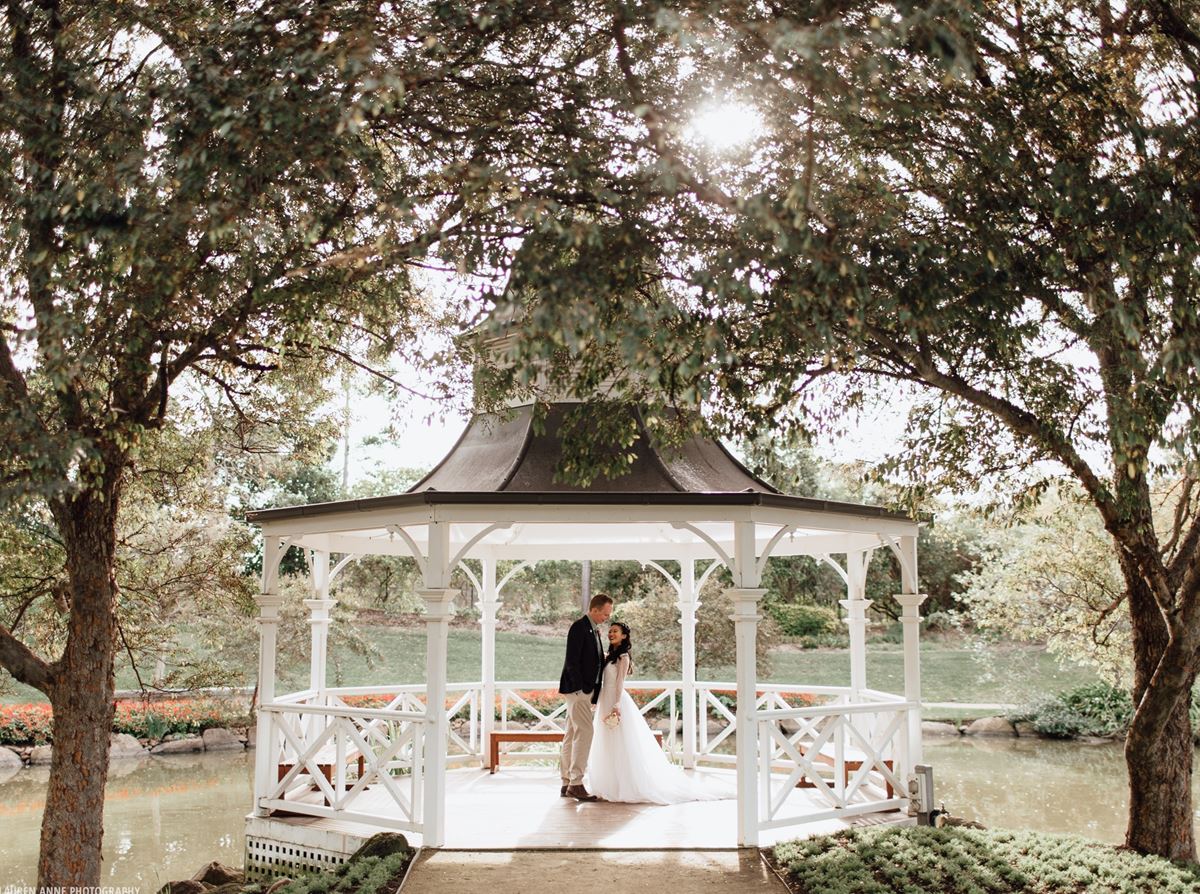 With locations that boast enchanting views of the Brokenback Ranges, waterfalls, and lush gardens, Hunter Valley Gardens offers a fairytale setting for exchanging vows. Plus, with traditional-style pergolas, vibrant carp in tranquil ponds, and plenty of foliage to take in, you'll feel like you've stepped into another world on your big day. Learn more here.
---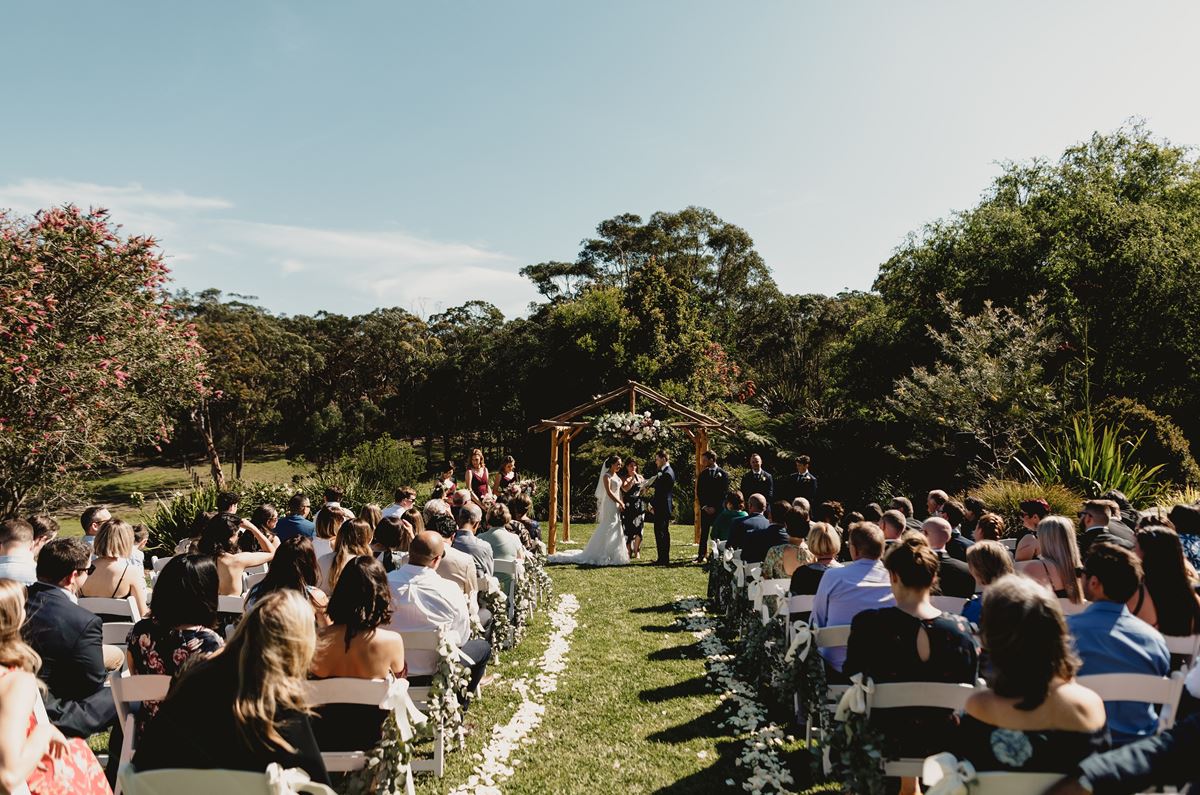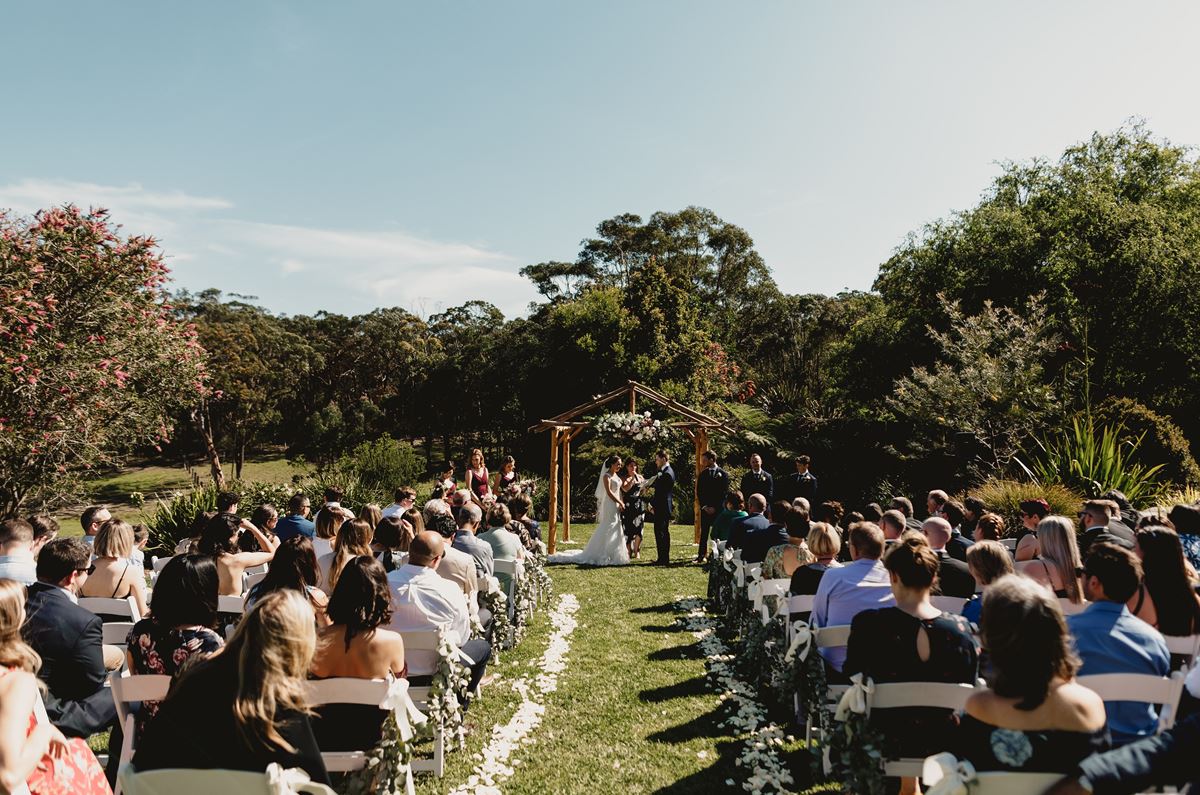 Somersby Gardens Estate is the perfect place to say "I do" in Sydney! Set on 50 acres of secluded property, this unique wedding venue offers four function spaces to choose from, each with its own charm and appeal. Whether you're after an outdoor ceremony under the beautiful Australian sky or a rustic reception in the heart of nature, Somersby Gardens Estate has you covered. Read reviews of Somersby Gardens Estate here.
---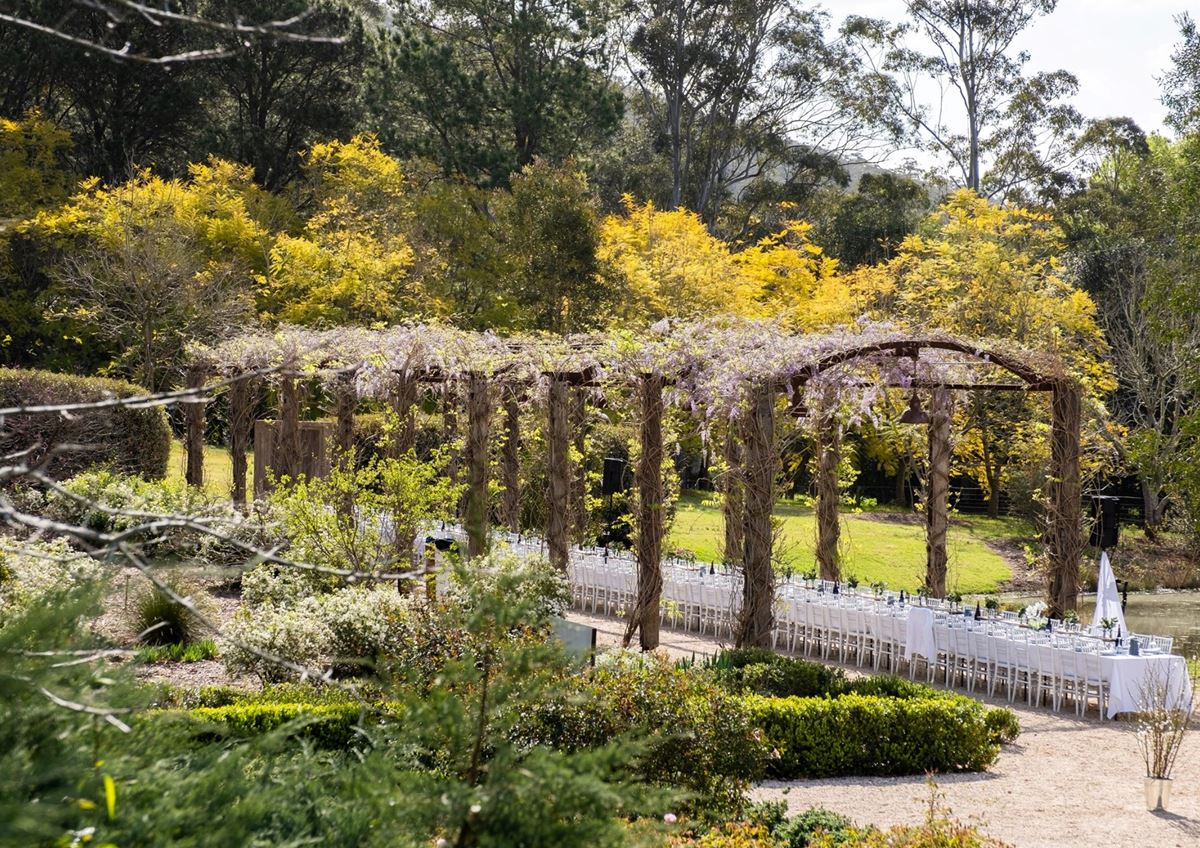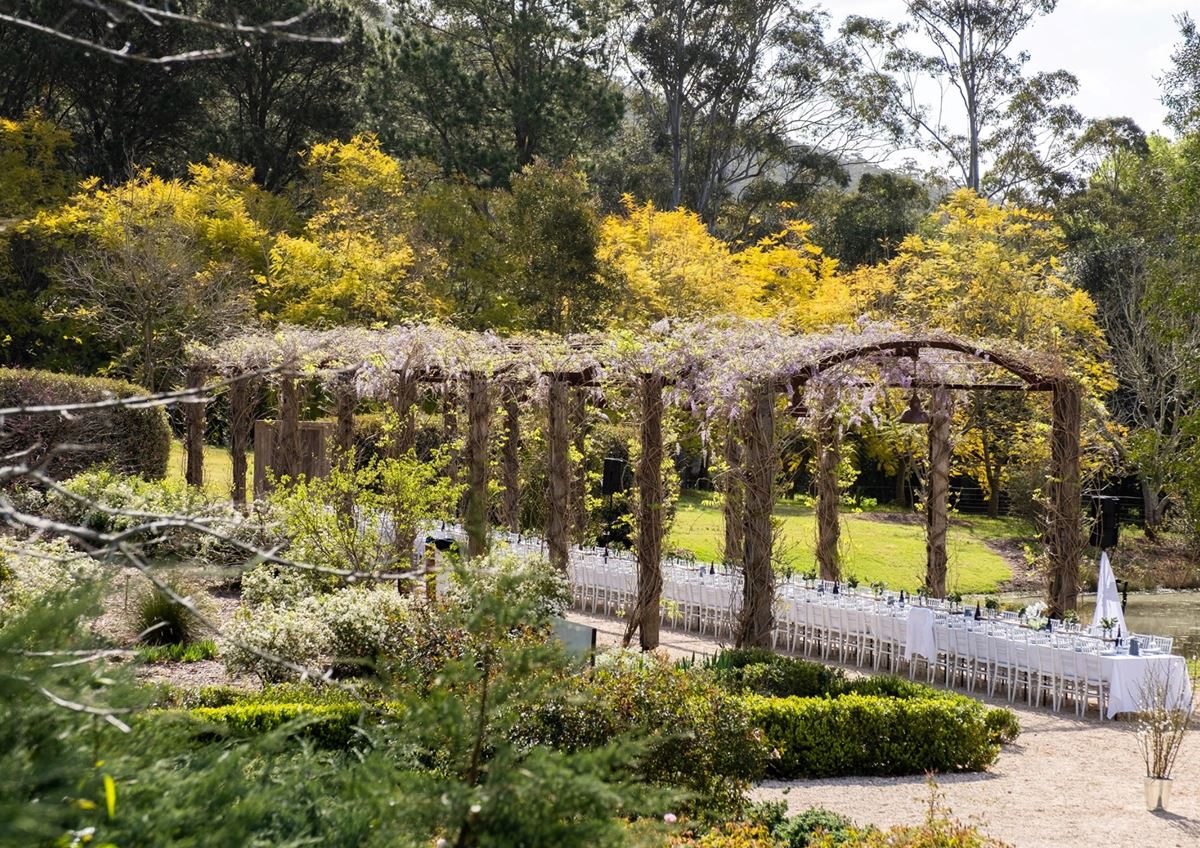 Step back in time at Fernbank Farm, a rustic country retreat with boutique heritage cottages and a majestic manor house. Surrounded by manicured gardens and a picturesque lake, you and your partner can arrive by horse and carriage and enjoy an idyllic garden ceremony. Then, dine with guests under a marquee as the sun sets over the glittering water — it's the perfect fairytale setting for your big day!
---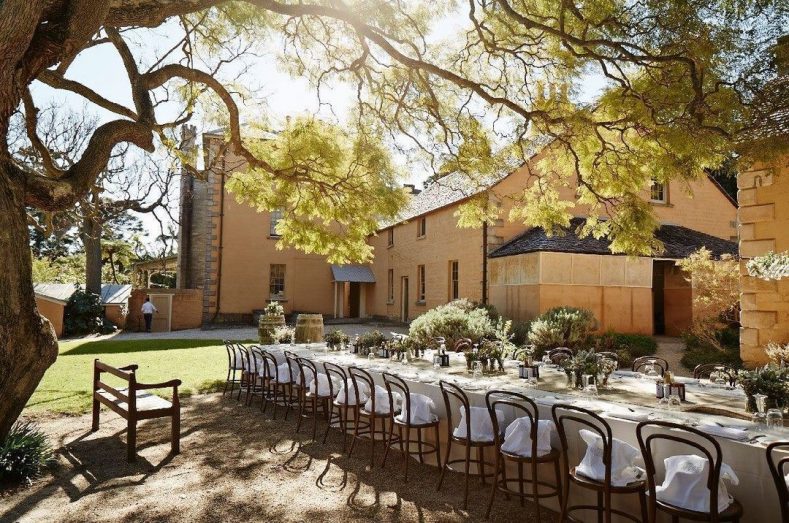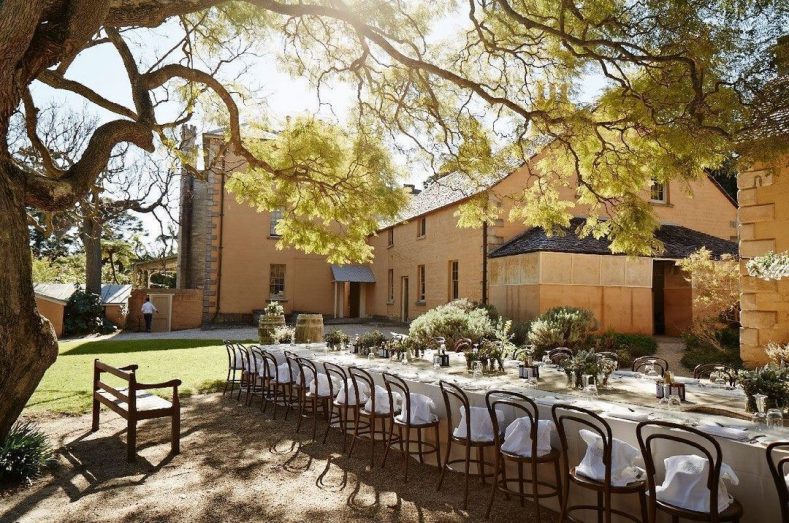 An enchanting and secluded manor house wedding venue, Estate Vaucluse House provides the perfect spot for your Sydney wedding. Set amidst 10 hectares of beautiful gardens, this hidden postcard-perfect location is the ideal backdrop for your ceremony and reception. On top of that, the expert team at Pearl Catering will work with you to create a culinary masterpiece that'll be remembered long after your wedding day. Find out more here.
---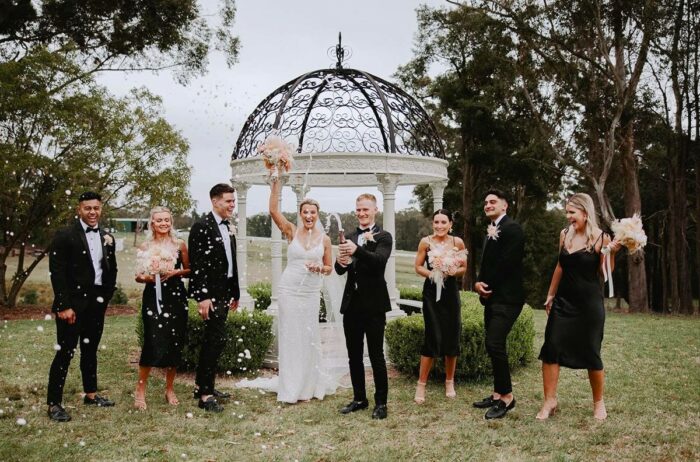 Nestled amid five acres of enchanting manicured gardens, Springfield House offers a picturesque setting for your wedding celebrations in Sydney's leafy northeast. This beautiful venue is home to a stunning clear marquee and a charming manor house that's brimming with old-world charm. Exchange vows in the idyllic gardens, then head to your chosen reception space for an unforgettable night of dining and dancing with your loved ones. Find out more about Springfield House's bespoke wedding packages and pricing here.
---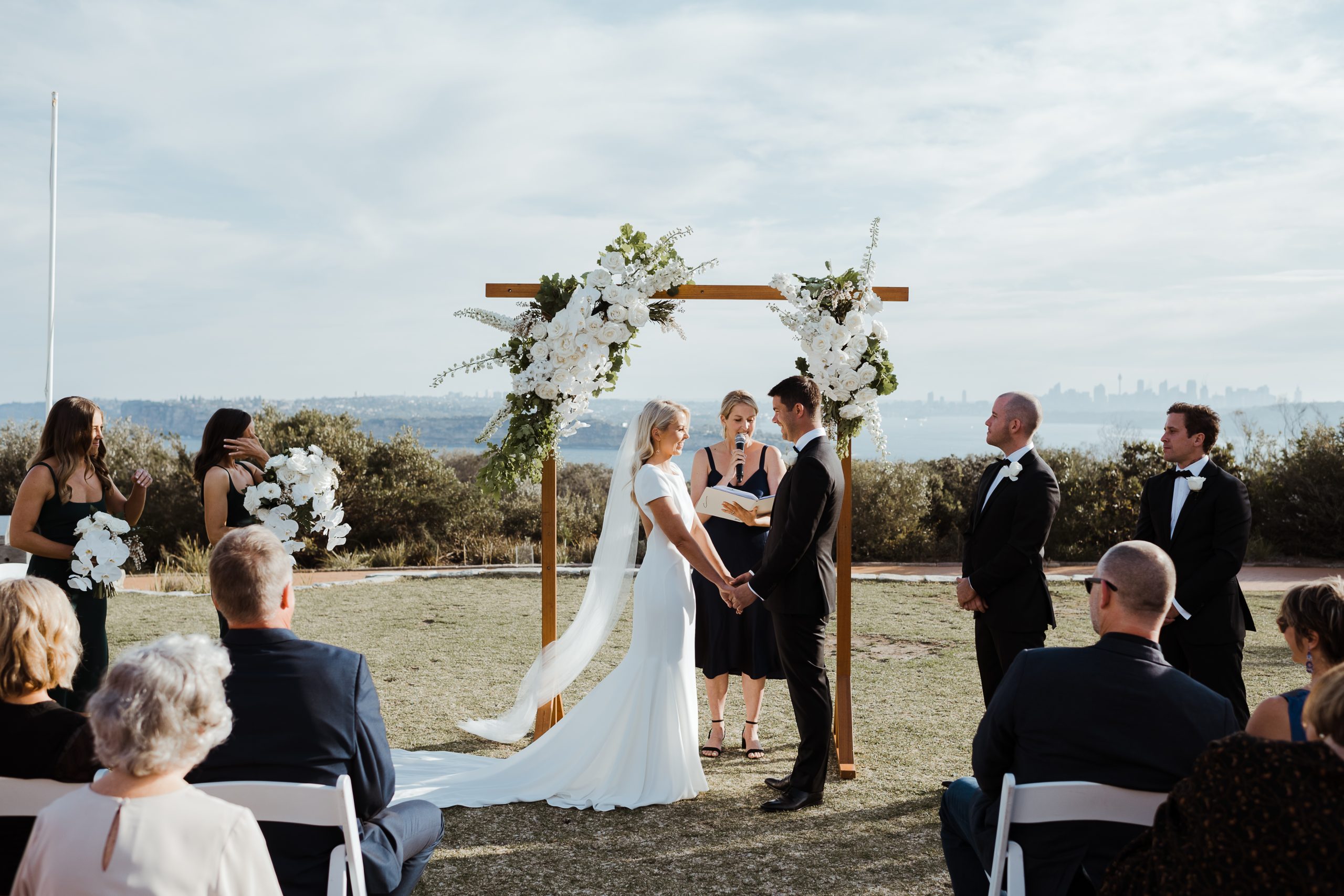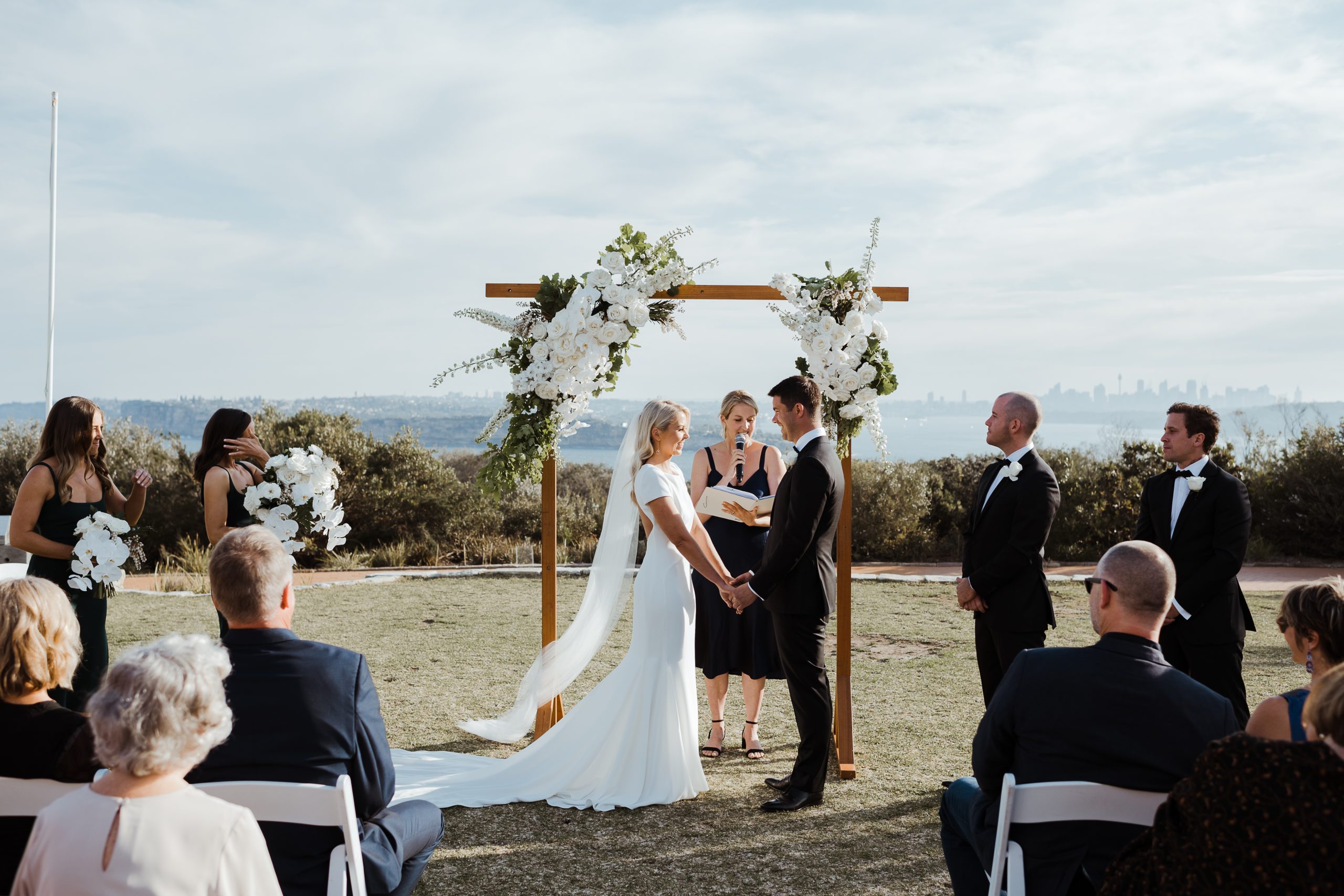 If rustic charm, natural beauty, and waterfront views are top of your list, then Milestone Events is your perfect choice when it comes to garden wedding venues in Sydney! Nestled in the historic Barracks Precinct, just five minutes north of Manly Beach, this secluded location provides the ideal backdrop for your wedding. From the ballroom's majestic grandeur to the picturesque private garden and adjoining cosy lounge, you'll have an unforgettable day at Milestone Events Sydney. Click here to learn more about Milestone Events.
---