Yet another bride has come out raging about lack of RSVPs… this anonymous bride's Facebook post has gone viral after being posted to Reddit, garnering more than 44,000 comments. In the post, the bride even threatened to delete guests who didn't RSVP from her Facebook friends.
We're gonna go ahead and say that losing her as a Facebook friend isn't a real loss after reading this explosive post.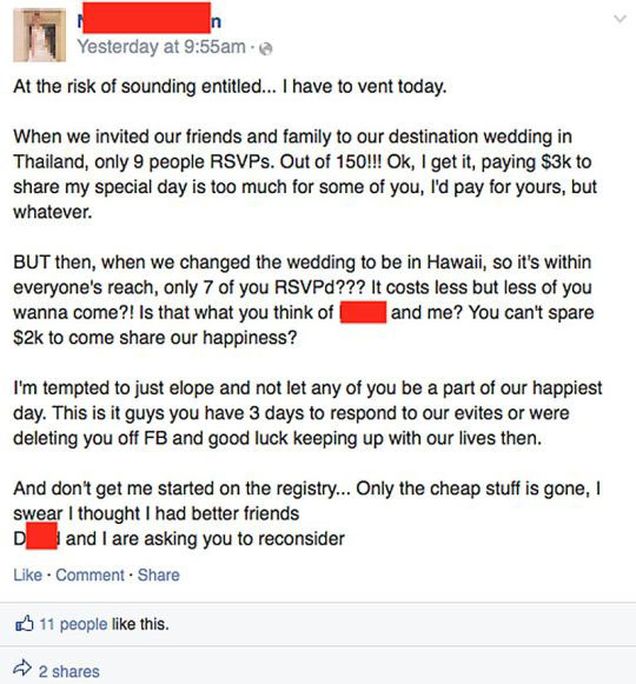 "When we invited our friends and family to our destination wedding in Thailand, only 9 people RSVP[d]. Out of 150!!!
"Ok, I get it, paying $US3k [$AU4,193] to share my special day is too much for some of you, I'd pay for yours, but whatever."
Quick fact check: Wait a minute, she is saying she would fork out $3,000 150 times for her guests weddings? I guess if say, 50-100 of those guests were to get married, that would make for 100 weddings total for example, which still ends up being $150,000 – $300,000. Not everyone has $300,000 laying around for attending OTHER people's weddings! If she does have that money laying around, surely she would spend it on paying for her guests to attend, considering it's clearly so important to her?
"BUT then, when we changed the wedding to be in Hawaii, so it's within everyone's reach, only 7 of you RSVPd???"
"It costs less but less of you wanna come?!
"Is that what you think of [groom] and me? You can't spare $US2K to come [to] share our happiness?"
Turns out, the fiance, which we now know is named David, wasn't happy with this post from his bride to be.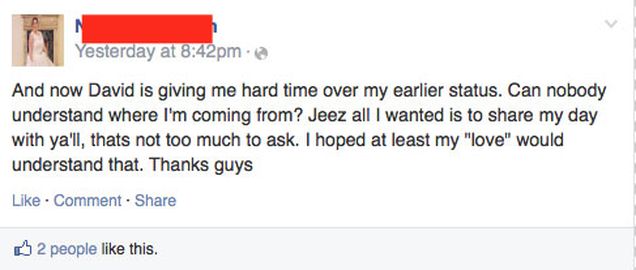 This post is eerily similar to a recent post where another bride to be cancelled her wedding over her friends not donating $1500USD each for her to have the "Kardashian wedding" she had dreamed of. She had a falling out with the groom over the whole debacle and gave up on her wedding. The two bride rants are very similar on Facebook so surely bride two could have learnt from the headlines of the first!
Look, we know guests suck at RSVP-ing on time. But this is a whole new level of rage!