It may have been the year that Miranda Kerr, Evan Spiegel, Pippa Middleton and Serena Williams got married, but 2017 also hosted some stunning nuptials for couples closer to home. Here are our picks for the best real weddings of 2017.
Dani and Chris
This relaxed boho wedding is the perfect combination of stunning meets unique. Featuring matching koala slippers, patterned bow ties and a bouquet with cabbage, Dani and Chris's wedding gives us warm and fuzzy vibes.
Especially when reading about how Chris first tried to ask Dani out when they were in primary school, but they didn't connect as a couple until they'd finished school altogether!
Our favourite feature of this wedding? Chris teared up seeing Dani walk down the aisle, and Dani had to fight back her laughter! What a beautifully matched pair.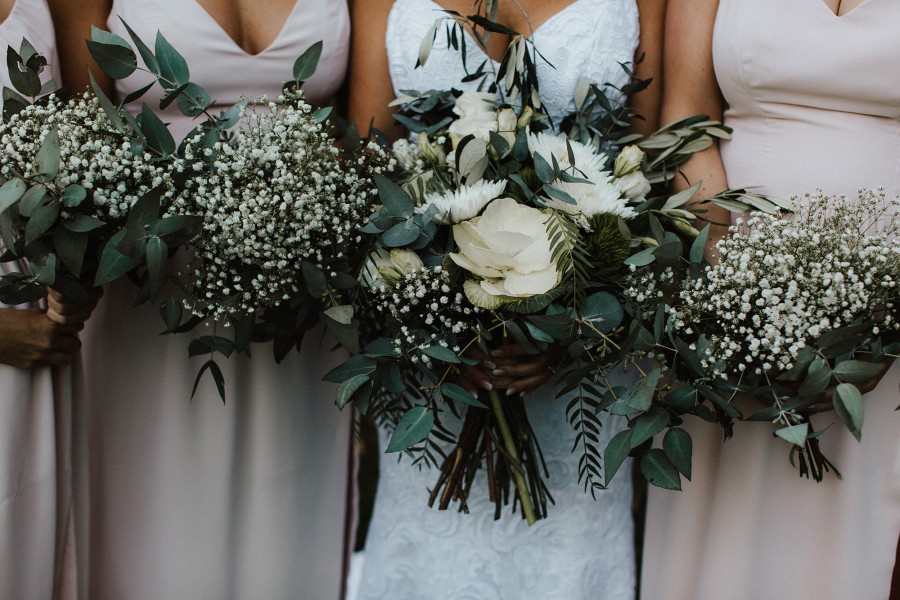 Naomi and Jason
It's hard to pick what we like most about this modern vineyard wedding in Queensland. From Naomi's elegant, sparkling yet simple dress design, to the sparklers and fairy lights at the end of the night, everything about this day is perfect.
The pink of Naomi's handmade Audrey Hepburn-inspired bridesmaid dresses matches perfectly with the greenery around the vineyard, and we love the mixture of crisp white with the natural wooden decor.
Shauna and Sean
There's something so beautiful and intimate about getting married in a venue that's special to you, and that's exactly what couple Shauna and Sean did. These winemakers were married in their own McLaren Vale winery which they decorate themselves.
There's a gorgeous rustic feel to this wedding. We love the mix of pale grey and rich green for the groomsmen and bridesmaids, and the Proteas give the venue a great Australian feel. Plus Shauna and Sean had their dog Rio at the wedding, and any wedding with a furbaby is a winner in our books!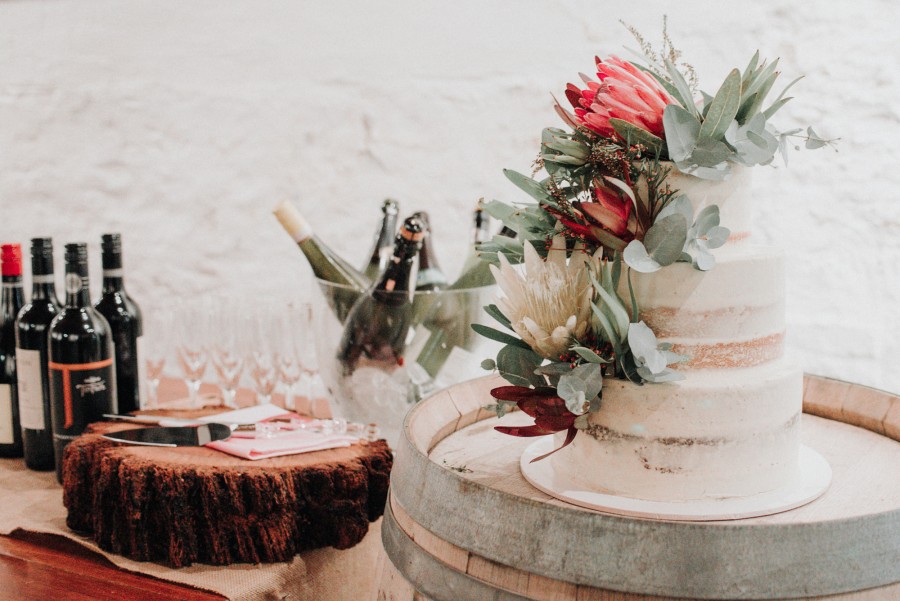 Kim and Matt
Another venue with meaning to the couple, Kim and Matt travelled to Kim's family farm in South Africa to tie the knot. Making the most of the South African hospitality, and the willingness of Australian's to travel, this couple opted for a modern chic theme to go with their farm venue.
The result is a stunning combination of nature and elegance featuring bright decor, highlights of greenery and gorgeous lighting features.
The couple even added star power to their wedding by hiring a contestant from The Voice South Africa to sing on the day!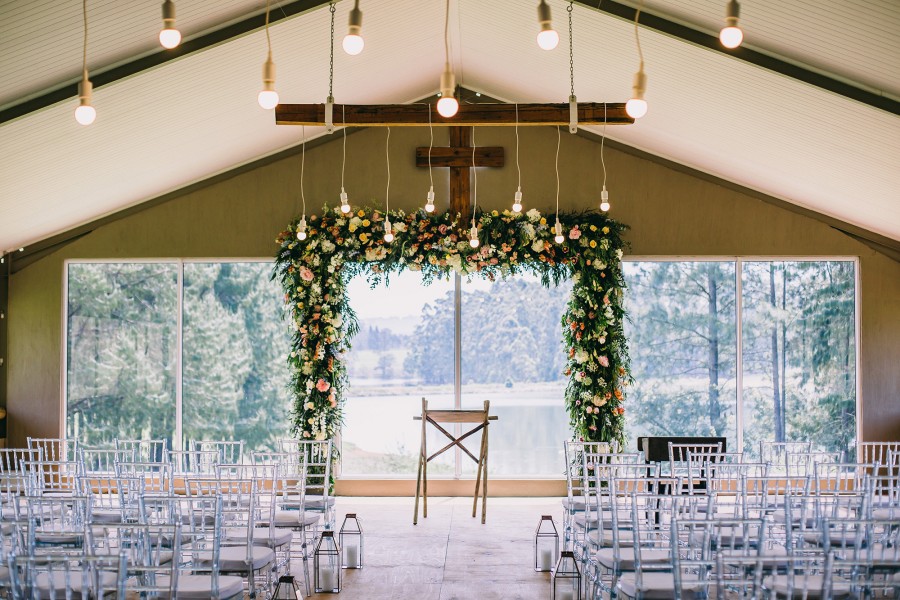 Jonah and Publius
We love these high school sweethearts who themed their wedding to their literary passions. Jonah and Publius went all out with their theming, designing their invitations like a vintage book, giving their guests bookmarks as bomboniere, making place cards using scrabble tiles and even constructing a book wall and a book arch as centrepieces for the day!
Their choice of rich red colouring also blends perfectly with the colours of early winter, as well as the old-world mahogany feel of their ceremony and reception venues.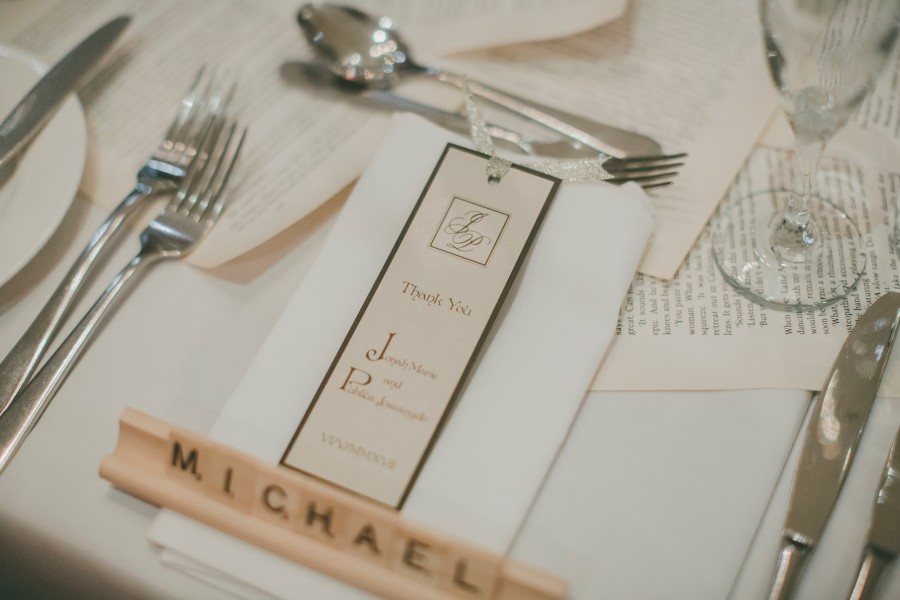 Melanie and Aaron
Melbourne couple Melanie and Aaron were married in the Dandenong Ranges, and their vintage autumn theme is suited perfectly to their choice of venue. We adore Aaron's mismatched jacket and pant combo and Melanie's elegant long-sleeved vintage gown. We also love Melanie's vintage-style hair and makeup to complement the theme, and the polaroids decorating the chapel for a personal touch.
But our favourite part is how the couple included their two sons in the wedding, giving them each a watch and saying a few words to them during the ceremony. We're sure there wasn't a dry eye in the house!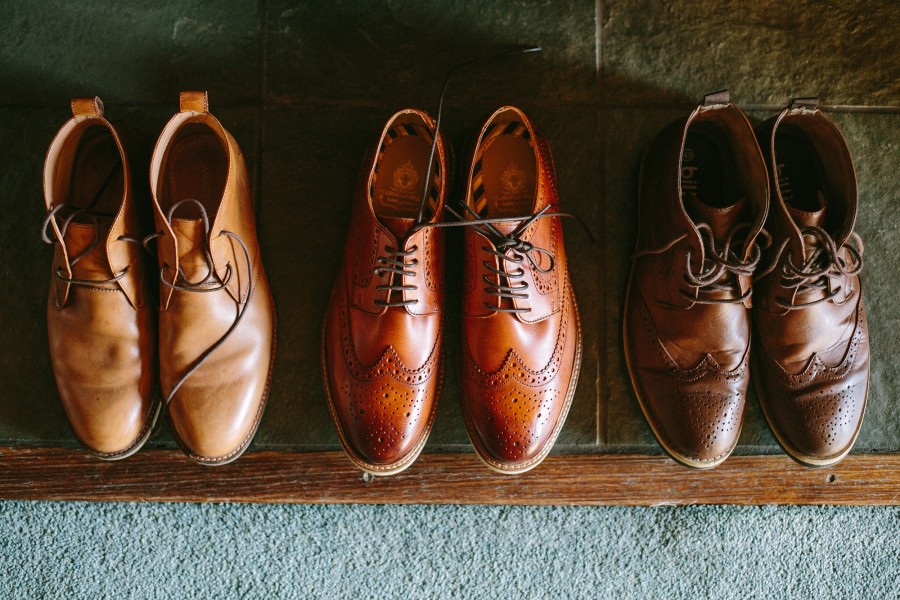 Jade and Robert
This romantic, classic wedding in the Adelaide Hills was the perfect day for this long-term couple. Jade and Robert were married on their 10 year anniversary to make their day extra special and meaningful.
Some of our favourite features of this wedding include the combination of hydrangeas and peonies in the bouquet, the modern take on the wishing well, the doughnut wall, and Jade's spectacular veil. But the bit that gives us warm and fuzzies is Robert's note to Jade on the bottom of her wedding shoes!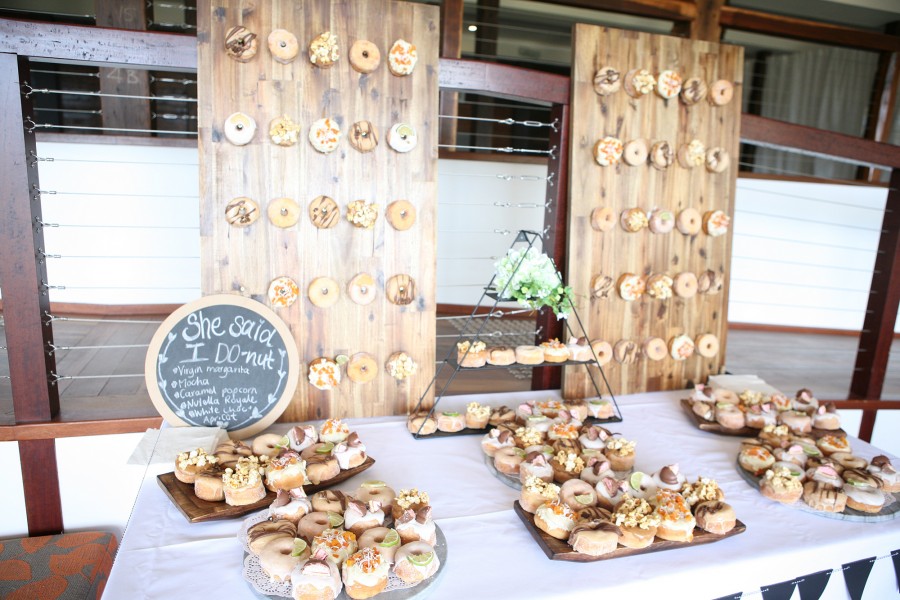 Ashlee and Kate
We adore this summer boho wedding in Victoria's Yarra Valley. Brides Ashlee and Kate look stunning in their designer gowns, and we love the native bouquets mixed with the classic white floral headpieces.
We also love the mismatched colouring of the bridesmaids (and bridesman) outfits and the unique styling on each of the dresses. It really adds to the elegant mismatched feel of a bohemian wedding.
Our favourite feature though is the 'here come the brides' sign carried down the aisle to introduce Ashlee and Kate.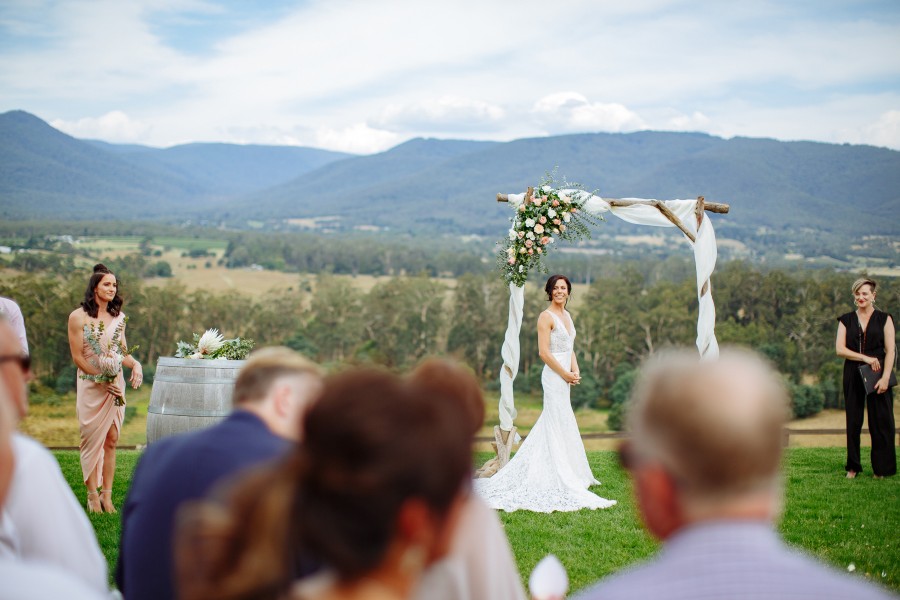 Mikhaela and Shaun
Gold Coast couple Mikhaela and Shaun had a rocky start to their relationship, with Mikhaela being Shaun's retail go-to when we used to buy dating outfits! But he finally realised his perfect match was right in front of him all along.
This pair opted for a romantic garden wedding in the Nerang Hinterland with a lush rainforest backdrop for their big day. Mikhaela wore a structured gown from Craig Braybrook, and the flowers feature red, yellow and pink hues while also being themed to the greenery of the forest. The couple even went for a sustainable option by repurposing the floral arrangements from their wooden gazebo for the reception.
We also adore the table numbers, decorated with photos of the couple at the age of the number. What a cute idea!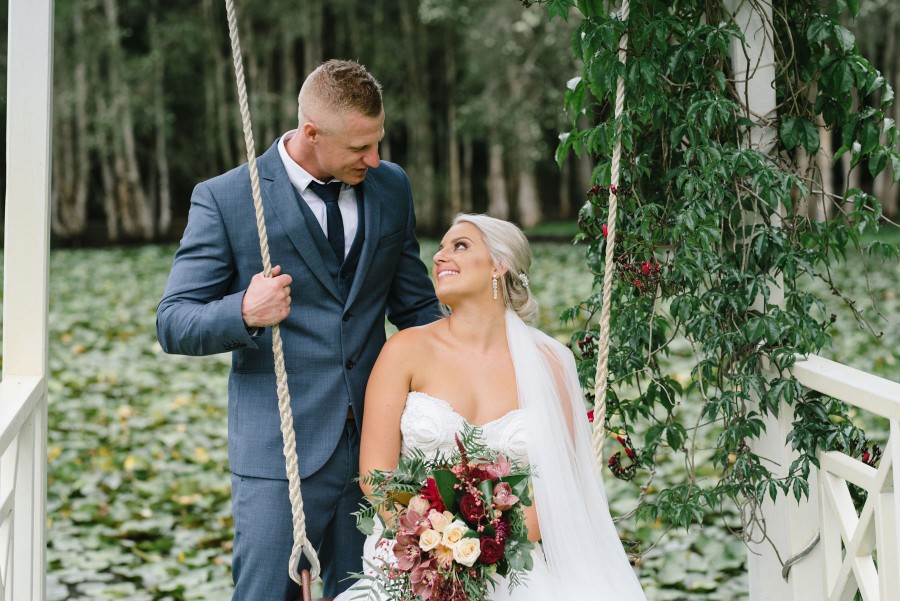 Kelly and Damian
Every part of this country wedding is themed to perfection. Damian is one of the most stylish grooms we've seen in his colourful silk jacket, and we adore Kelly's dress which was designed from imported French lace.
The native greenery in the flowers fits perfectly with the country setting, and the decor of the venue gives the wedding a beautiful vintage feel. The blue groomsmen suits and bridesmaid dresses add a pop of colour to the day that matches with the browns of the rustic country vibe.
We also love the choice of Gum Gully Farm and its resident deer, which make for beautiful and fun wedding photos.
Jena and Michael
This stunning modern, boho wedding was definitely worth the drive for couple Jena and Michael. The pair found their perfect venue in Byron Bay, a 13 hours drive from hometown Griffith. But they instantly knew that it was the venue they wanted to celebrate their big day in.
It's hard to pick what our favourite aspect of this wedding is, from Jena's beautiful backless dress feature to the white mismatched bridesmaid dresses, combi van wedding cars or vanilla honey bomboniere.
What we especially love about this wedding though is the memories this couple made, with their two children as flower girl and page boy, as well as the traditional Haka that was performed during the speeches.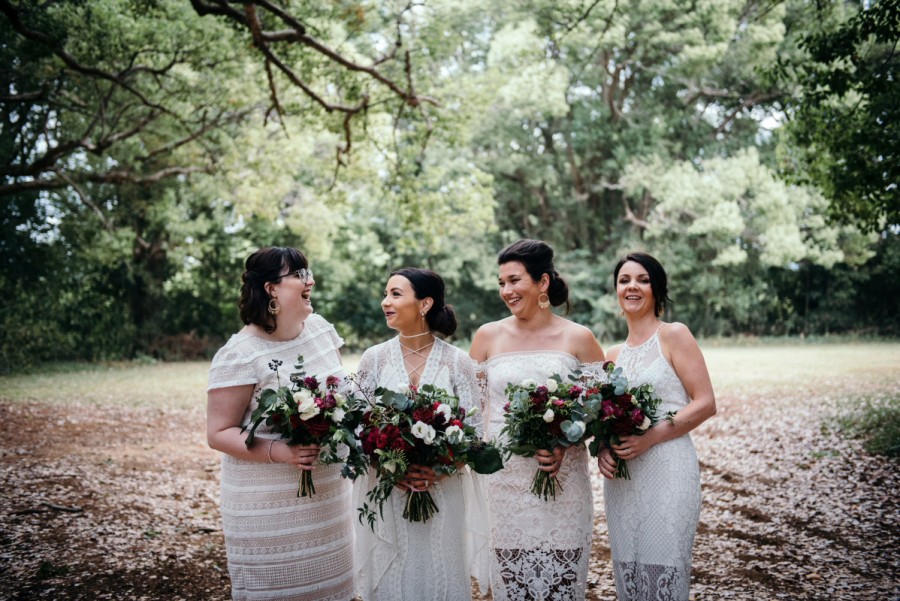 Tanique and Shane
Tanique and Shane held a modern penthouse wedding for a glamorous, elegant feel on their wedding day. The friends-turned-couple went for a modern black tie theme, with the groomsmen wearing elegant bow ties and pocket squares, while the bridesmaids were decked out in stunning rose gold sequined dresses.
We love the mix of glam and grunge in the wedding photos too, with Melbourne's unique laneways adding an extra level of character to their memories. We're also big fans of the ceiling feature at venue Mon Bijou, as well as Tanique's glitzy shoe feature.