We recently chatted with three wedding pros at the top of their game about all things sales. They answered questions like, what's your process when an enquiry comes in? What do you do if you're ghosted? What about when your enquiries are unqualified? Here's a roundup of their top sales tips you can implement into your own wedding business.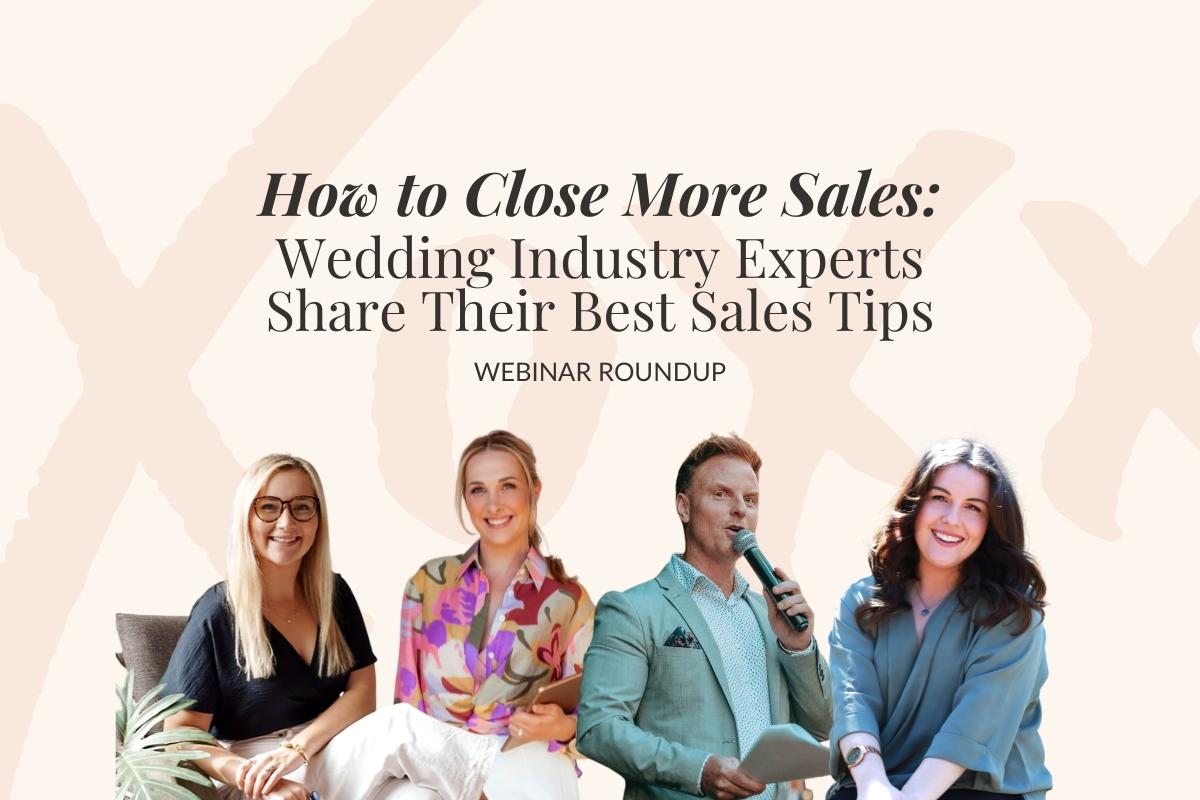 In one of Easy Weddings' recent education webinars, we interviewed Lauren Bridge Celebrant; musician Adam Ray of Something Borrowed Duo and our very own Darcy Allen about their most successful sales-closing strategies.
Lauren is a brand new Gold Coast celebrant who booked 60 weddings in her first five months of business. Adam's enquiry-to-sale conversion rate is a whopping 67% (42% more than the average.) And venue expert Darcy and her team field hundreds of couple enquiries every month.
So, we knew we were in excellent hands. Here's some of their invaluable advice.
1. Respond to Enquiries. Fast
IDEALLY, WHILE THEY'RE STILL ONLINE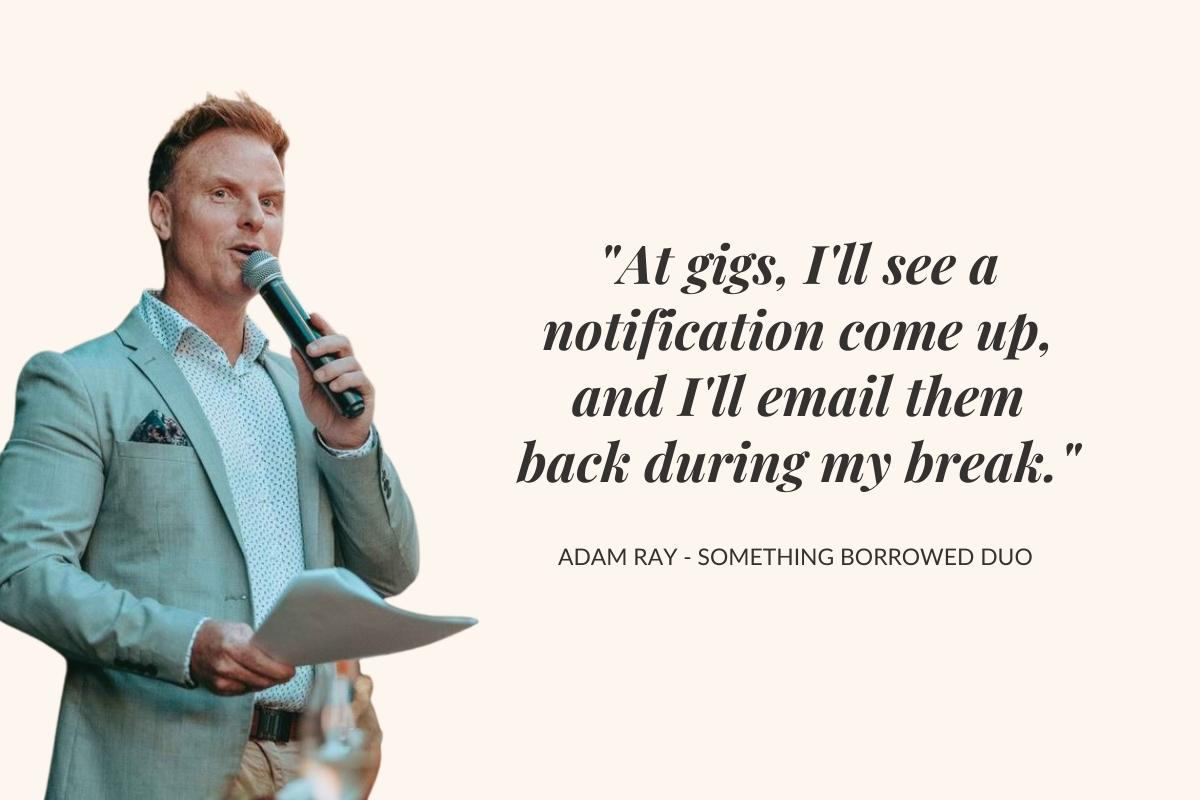 Perhaps one of the most important processes to perfect is responding to enquiries fast.
What does fast mean?
In Easy Weddings 2022 wedding industry report, couples told us they expect a response within 48 hours. HOWEVER. Seventy-five per cent of wedding businesses reported response times within the same day or hour, and sometimes within minutes.
We also know that around half of couples will book the first supplier that gets back to them, and that contacting a lead within the first hour is seven times more likely to result in a booking than within two hours.
How can you make this process easier?
Tips for Quicker Response Times:
Create various messaging templates for different mediums and devices — SMS, email, social media messaging, WedCRM.
Enable email and social messaging notifications on your phone.
Make contact as soon as you're notified (even if it's simply to ask the couple how they'd like to be contacted moving forward.)
Automate responses where possible with some initial info and indication when you'll be able to respond personally.
Follow up emails with a text — make sure they know you've contacted them and to check their spam folder.
"I have the notifications on my phone and I just do it from anywhere," says Adam. "I've got the template down for that email and boom, boom, boom, done — it's out. At gigs on my break, I'll see it come up and I'll email them back."
2. Match Your Personality to Your Marketing
COUPLES DON'T WANT TO HEAR YOUR FANCIFUL TALK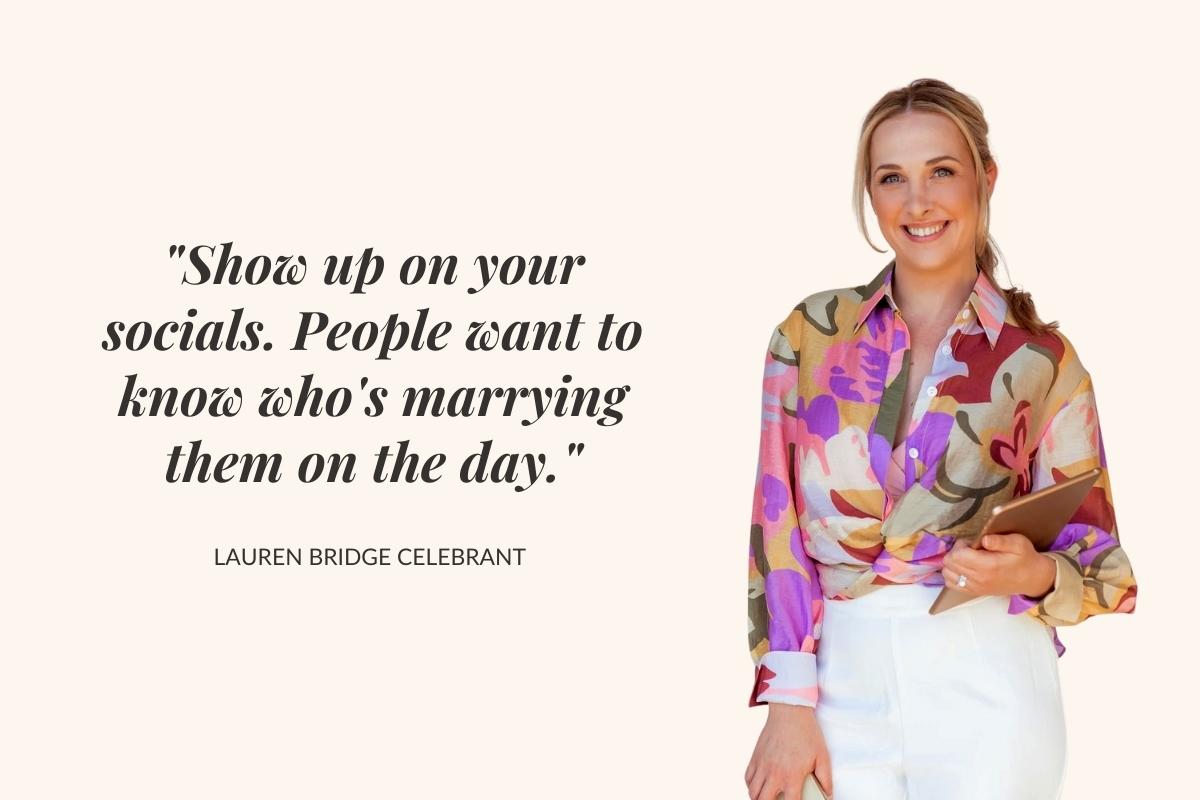 What differentiates your product or service from the hundred other wedding pros in your field?
You.
Attracting your ideal couple has as much to do with your personality as it does knowing how millennials tick. This doesn't only apply to sole traders like celebrants and makeup artists. Even faceless businesses like wedding venues can define their brand personality and stick to it.
The key is consistency. Everywhere.
Tips for Injecting Personality into Your Brand
Give people a glimpse into your personal life or the people behind the scenes.
Use your own authentic voice in your emails, texts, social messaging and website copy.
Be yourself. Don't pretend to be someone you're not — the disconnect will be obvious.
"Show up on your socials," says Lauren. "I get quite a lot of feedback that people love just seeing me talk in my personality and who I actually am day-to-day. I don't put too much personal life out there but just enough so you know who I am and build that trust. People want to know who's marrying them on the day."
3. Be Visual. Paint the Picture
WEDDINGS ARE VISUAL. YOUR MARKETING NEEDS TO BE, TOO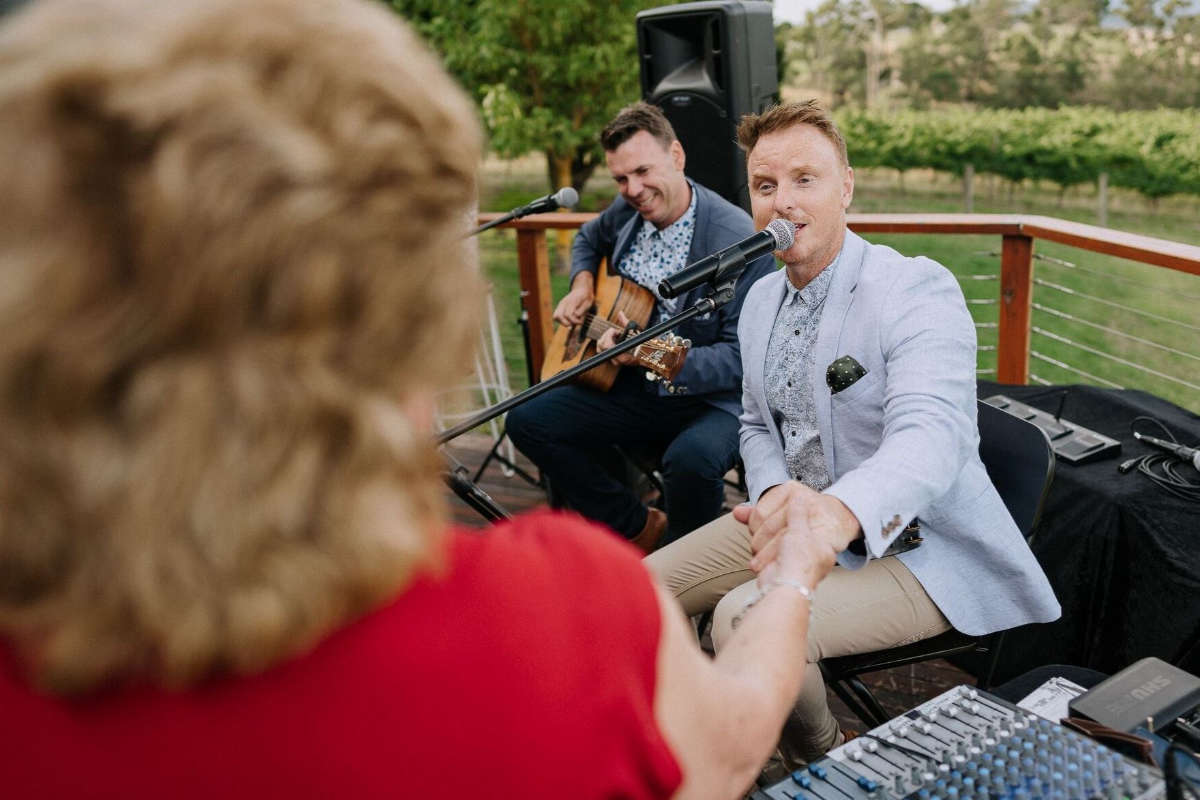 Your business is one of around 14 others whose products and services will be used to bring together an entire wedding. Painting that picture visually, both as a whole and where you fit into it, helps couples feel secure, excited and connected to you.
Being visual doesn't only apply to images and video. How can you invoke a mental image in your website copy and other written communication?
Tips for Painting a Picture with Words and Images
Include professional, crisp, emotive and recent images in your sales proposals (following our helpful image content guidelines here.)
Update ALL your platforms regularly — your website, Easy Wedding storefront, Instagram/Facebook, Pinterest.
Describe in detail how couples and guests might feel when they see/hear/interact with your business in context to the entire wedding.
"Give your couples a visual," says Lauren. "Make it beautiful. Make it pretty. That's what people want to see. They want to see new and upcoming images. I am constantly updating my Easy Weddings profile. I am constantly putting new images on there."
4. Work with Couples' Communication Preferences
MILLENNIALS DON'T WANT TO BE COLD-CALLED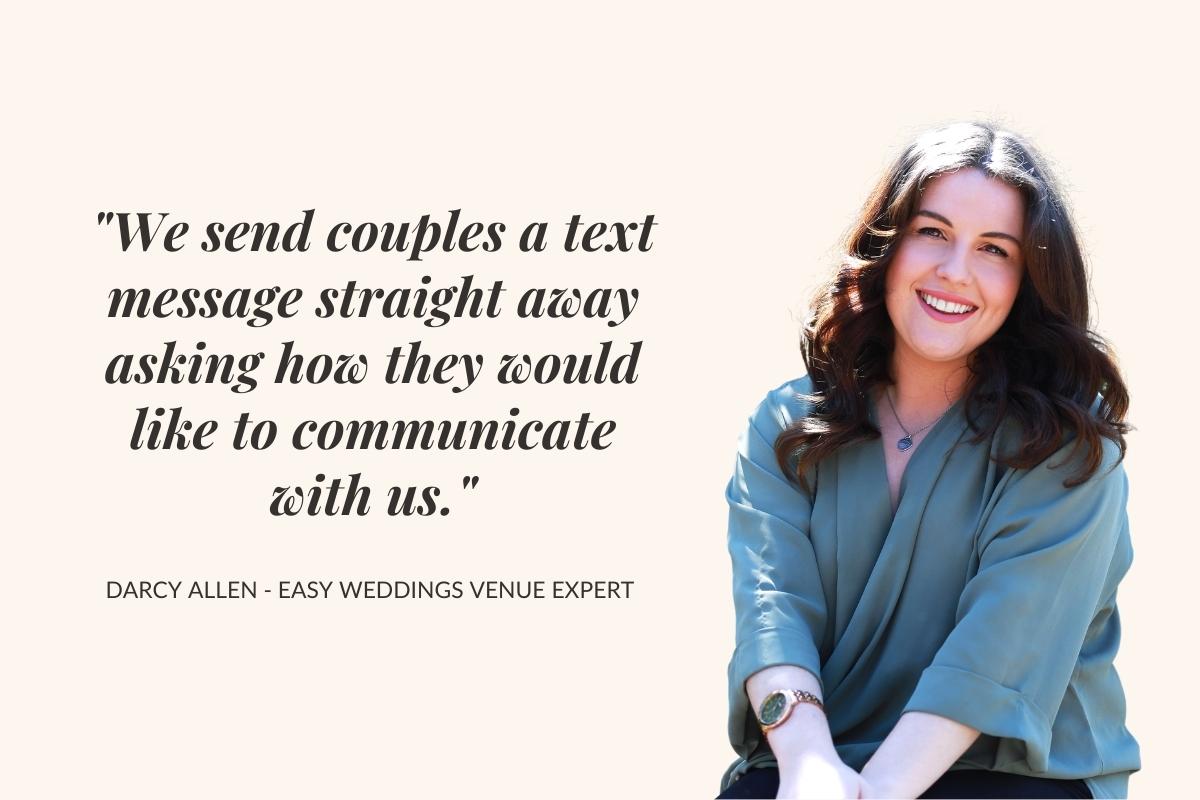 Easy Weddings' recent annual survey revealed how millennial couples prefer to communicate with wedding vendors:
Email – 75%
Phone – 11%
Website, Social Media or SMS – 4%
While it seems that email is the preferred method for couples, Darcy has some invaluable advice:
"We send couples a text message straight away with a link to our brochure, asking how they would like to communicate with us. We let them know we're going to give them a call, but if they're not interested in having a phone call, would they prefer to email or text? We follow the guidance of our clients, which has really improved our connection rate."
5. Prioritise Video
COUPLES CRAVE VIDEO FOOTAGE OF YOU
Emotive pictures and descriptive copywriting are essential to a winning online presence; if you can add video, too, you're sure to convert even more.
Tips for Adding Video Content to Your Marketing
Hire your own videographer to capture footage of your services in action (with the couple's permission.)
Organise a mock video shoot if you're just starting out.
Prioritise Reels and IGTV on Instagram.
Request footage of you from the couple's professional videographer, include it in your sales proposals.
Turn key web pages, such as your About page or Services page into short videos.
Furthermore, with the world that much more comfortable with Zoom, why not add video consultations to your process? It's a strategy that works well for Lauren, who says she can build rapport that much quicker with couples when they can her and have a laugh.
6. Listen More Than You Speak
YOU'LL WIN MARKET INTEL, TOO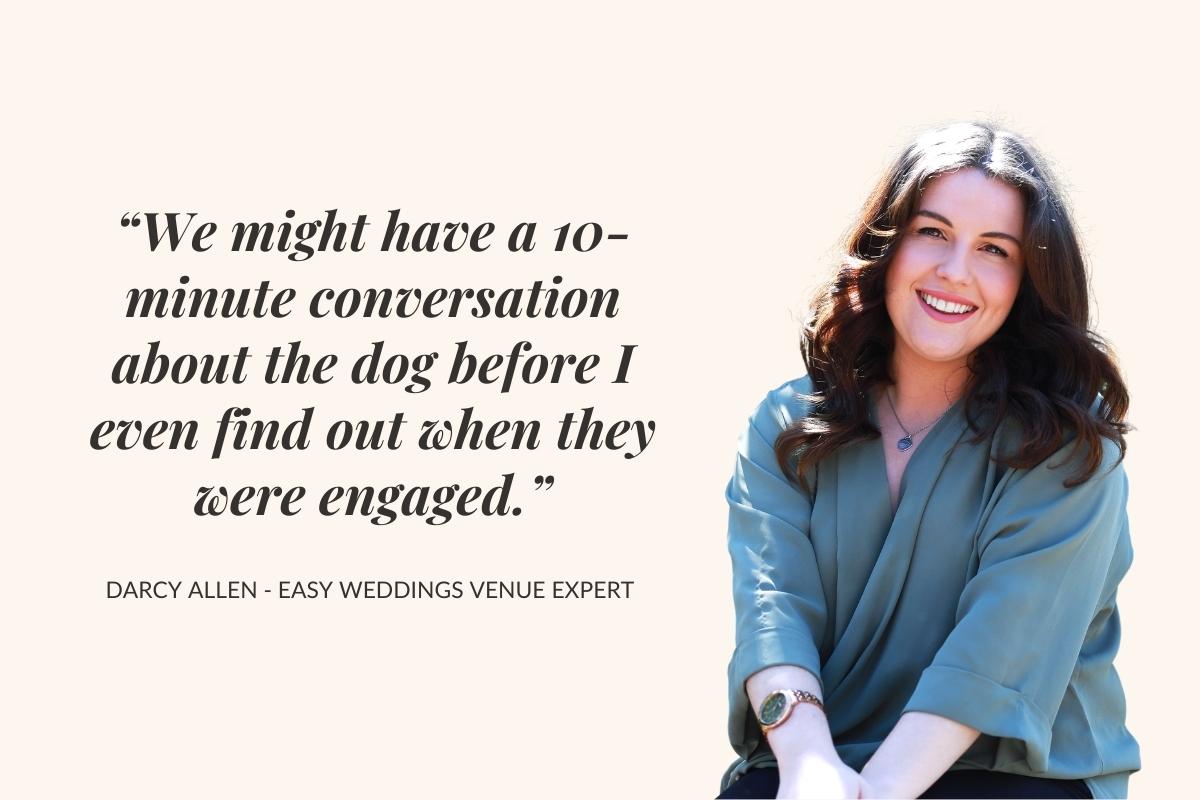 Selling needn't be a smarmy attempt at how to win friends and influence people. If you take a genuine interest in the prospects who've already invested time getting to know you online, not only will you increase your chances of booking them, you'll also gain invaluable market intel.
Tips for Reflective Listening
Get to know your prospects casually before launching into wedding talk.
Show interest in the entire wedding, not just the piece you're involved with. What's their style? What do they want? What are their plans?
Listen for worries and pain points — reassure them with your expertise, be flexible and accommodating.
Tailor your approach to where they're at in the buying cycle — a couple engaged an hour ago is very different to one whose date and venue are already booked.
"We might have a 10-minute conversation about the dog before I even find out when they got engaged… Even if they don't book the venue, they'll always come back and let us know why. That market intel is so invaluable. Direct competitors. Flaws. Issues that your product has. You may not win the sale, but what you can win, is market intel."
7. Final Sales Closing Tips
Be direct. Ask if you're in the running. Don't be afraid to ask prospects directly where they're at in the research/decision-making phase. Was there anything that you didn't like about me that would hinder you from booking? When are you looking to make a decision? Am I up there for consideration? Thank them for their honesty.
Don't be afraid to say no to a job. If the couple's wedding doesn't match what you offer, don't try to mould yourself into their vision. You'll both be disappointed and you'll get a bad review.
Re-engage ghosters in a non-salesy way. If a prospect has disappeared off the face of the earth, try re-engaging them with, for example, real wedding photos you were a part of that emulates their vision. (Also try calling/texting from a different phone number or messaging them through social media.)
Feature couples on your socials when they book. Ask if the couple can send you a nice picture of themselves. Tag them on your socials, letting everyone know you can't wait to be part of their day. Make them feel special.
Create urgency with a wedding date hold. Let couples know you've secured their date for, say, seven days while they continue to research. You'll have a valid/non-spammy reason for following up.
Perfect your craft. Instead of ruminating on what your competitors are doing, put your energy into being the best at what you do. You'll attract couples who want the same for their day.
Be detailed and thorough. Create trust by explaining your process, providing detailed run sheets, and answering questions that seem obvious to you but often aren't. Don't assume couples know the basics. They don't.
Ask qualifying questions on your web forms. Without making them too long, what questions would indicate if a couple is a good fit for you (and vice versa?) You can even include your personality in your forms by asking a fun, non-wedding question. (Are you a dog person or a bear person?)
Did you find these wedding industry sales tips useful? Watch the full webinar replay for more context and ideas.