This Perth dad took a crash course in wedding marketing when he joined Easy Weddings — now, he's one of the West's busiest celebrants.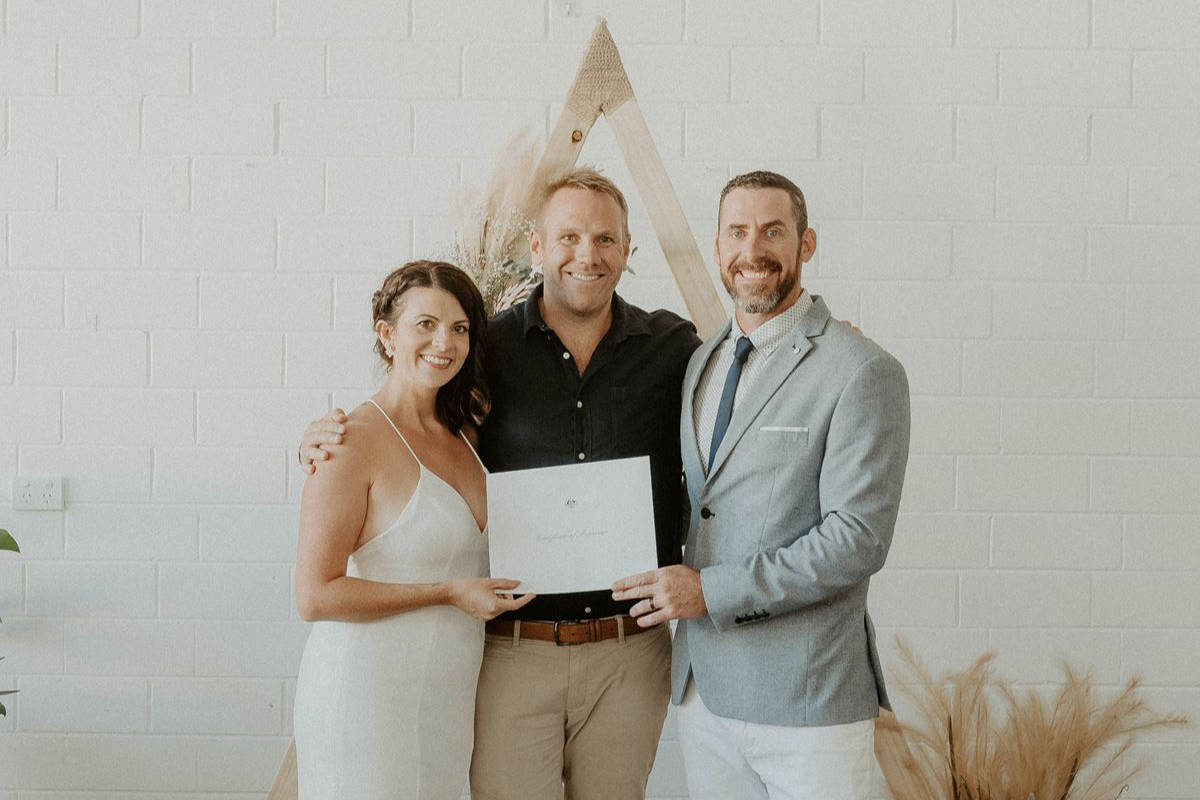 Brent Dickson, aka The Wedding Crasher, first listed with Easy Weddings back in August 2019 while he was still working full-time selling PVC pipes and plumbing supplies.
In just under two years, with the help of his Easy Weddings advertising, he booked enough weddings to become fully self-employed and is absolutely loving his "new start" as a Perth and Fremantle marriage celebrant.
The Rookie Road to The Aisle
Of course, as a new business owner, it wasn't a straight line to the aisle. A fair bit of trial and error had to happen before Brent could realise his ideal clients weren't hanging out in bride groups on Facebook.
"I started getting on these Perth wedding sites and on Facebook," he says. "If someone came up saying, 'Hey, I'm looking for a celebrant', I found that maybe two out of every 10 enquiries would want to meet, but they were really price-conscious. So then I'd drop my price.
"Not sure why I did that to myself.
"I took it personally if an enquiry didn't get back to me. I learned pretty quickly that it wasn't because of me — but I was priced out. I was in the wrong target, I was in the wrong area and people weren't worried about who was going to be their celebrant, it was how much their celebrant was going to be."
Upfront Pricing Means Minimal Money Talk
One of the things that helped Brent turn sales conversations from "how much?" to "how can I help?" was being transparent about his prices. When an enquiry comes in, Brent replies with a quote within 24 hours, and if the couple is happy with it, he invites them to a no-obligation meet-up.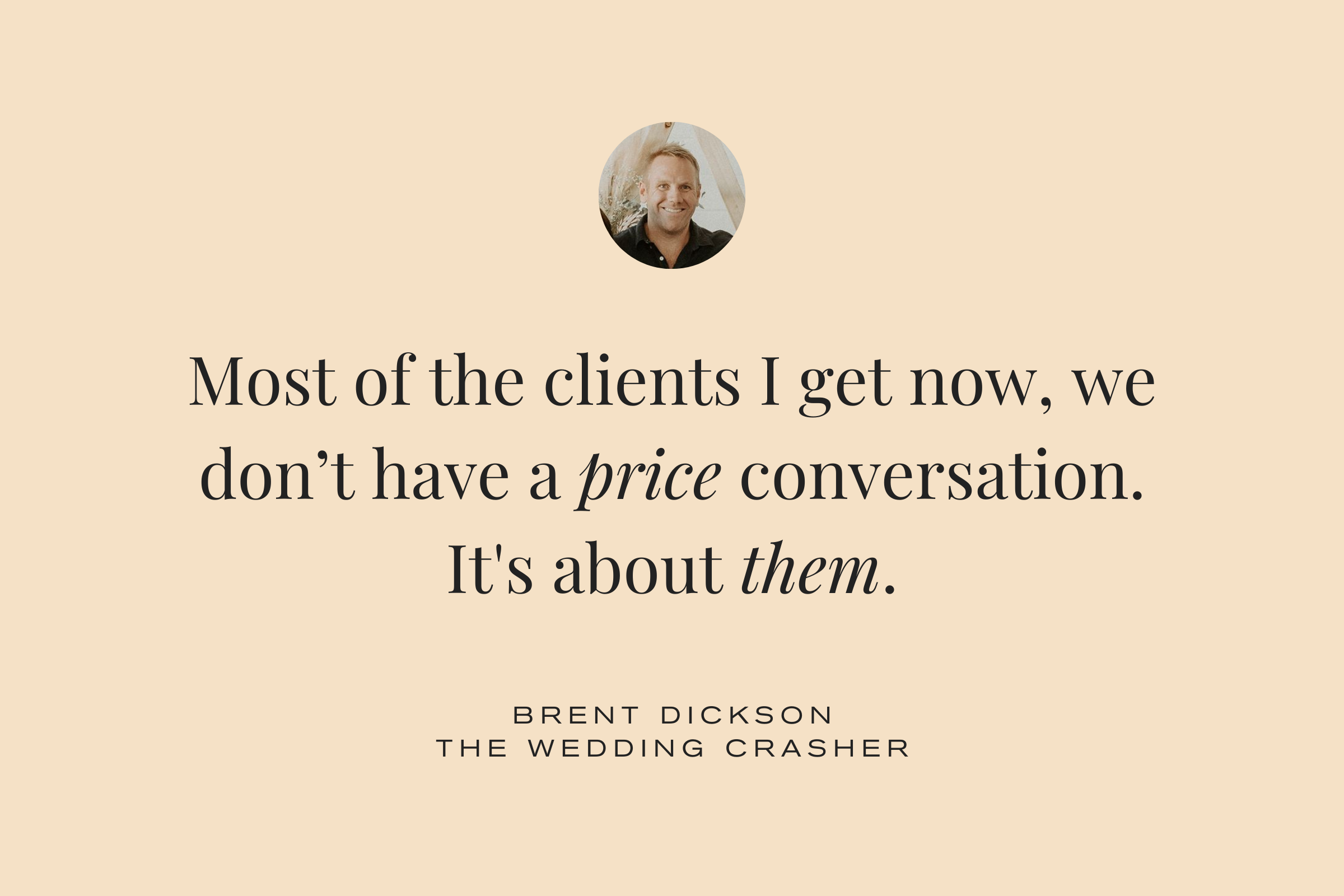 "Most of the clients I get now, we don't have a price conversation," he says. "It's about them. It's about their day. It's what they want. Nine out of ten meetings they'll say, 'Yep, happy to move forward,' and that's from probably 50% of all enquiries."
He adds, "On Easy Weddings, you're able to display your prices so it's pretty upfront as to how much you're going to be. As a result of that, you're only getting people who are price-aware when they contact you."
"And I took my name off all those Facebook pages and asked friends to stop recommending me there."
Crafting a High Converting Storefront with Images and Reviews
As a brand new celebrant, Brent was still learning how best to market to millennials when he started working with his Easy Weddings account manager, Chelsea. One of the first things she advised him to do was work on gathering quality content for his storefront.
"At first, Brent didn't have many photos we could use to create his storefront," says Chelsea, "but we were able to repurpose some images from his own wedding just so he could make a start. Knowing how important high quality, emotive images are, Brent worked hard on getting those images so we could add them to his profile."
The other area Brent focused on, that's helped him get to an 83% profile strength so far, is client reviews. Within two years, Brent earned 40 five-star reviews, which he now uses as one of his key sales strategies.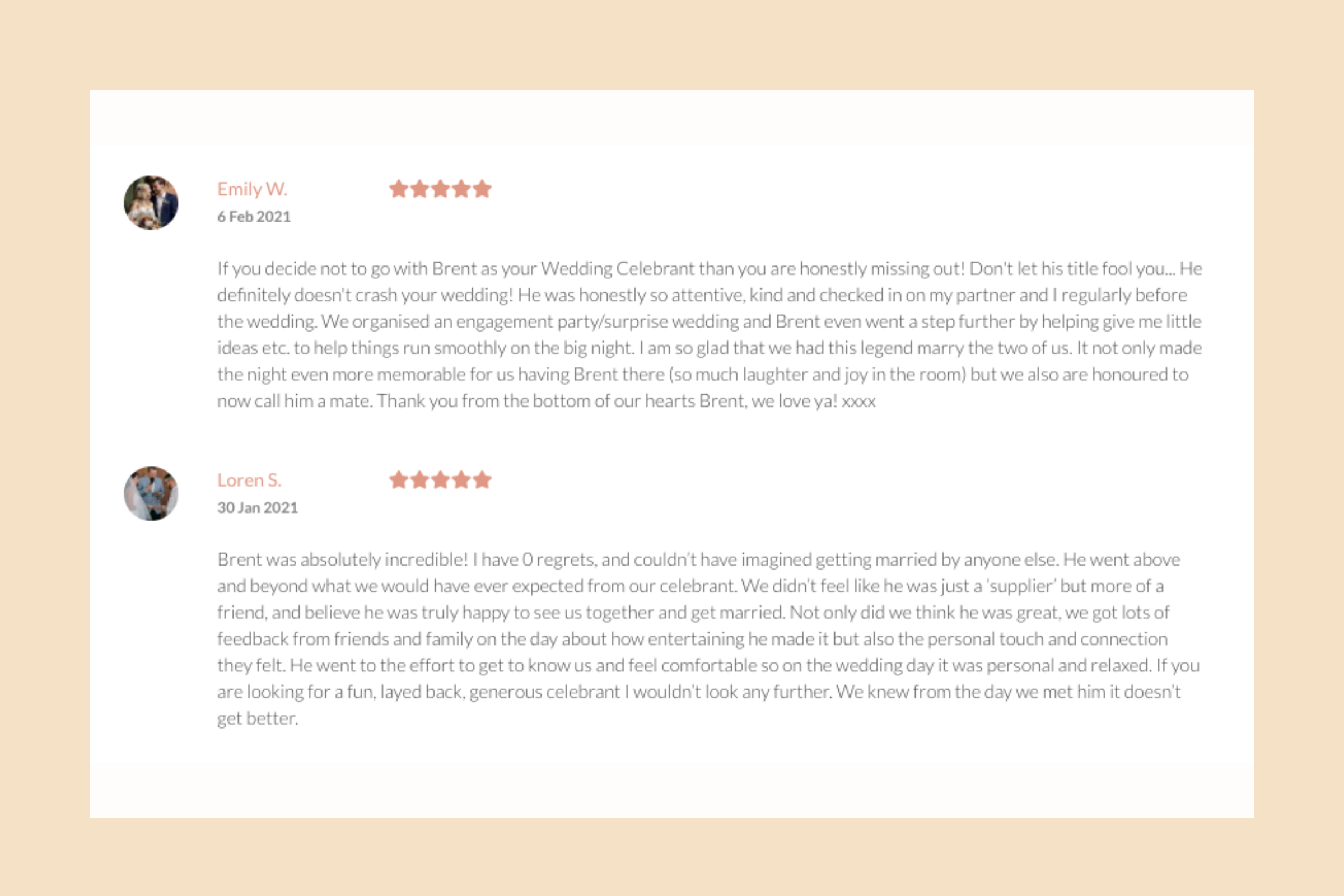 "I always say to couples that if they want to see my reviews, hop onto Easy Weddings and have a look. All my reviews are there," he explains. "But half the time, they've already looked at Easy Weddings before coming through from my website."
Utilising many of the in-built features of his Easy Weddings storefront, Brent has also written an engaging bio, crafted personalised answers to frequently asked questions, and had his storefront professionally written by our in-house content team.
New Heights
"I heard of people doing a hundred weddings in a year and I was just like, 'How am I going to do that?'"
That's a question Brent asked himself while he was still a hobbyist celebrant. He says, "So, I contacted probably the busiest celebrant in WA to catch up for a coffee."
Kirk Samuel Goodsell is a Perth marriage celebrant and a long-time member of Easy Weddings. "One of the things I asked him was, what to do if someone's not getting back to me," recalls Brent. "He said, you need to do two follow-up emails, maybe within a fortnight, and if they don't come back to you, then you just have to move on. He also said to get that first email out within 24 hours; action that straight away."

When Brent decided to take the plunge and give Easy Weddings a go, he started out with a "Priority" level listing that very quickly resulted in enquiries and bookings. "Then I spoke to Chelsea about doing more weddings in the south of Perth. We upgraded my campaign to the "Premium" level and I look at the overall result. For what I put in, it's a no-brainer. If I got five weddings a month through Easy Weddings, that more than covers the cost."
In 2021, Brent upgraded again, taking advantage of Easy Weddings' new "Premium Plus" offer to receive additional exposure with a long-form SEO article, social media campaigns and newsletter features.
"It's such a great article," Brent says, "I attach it in an email to all my enquiries, and it's helped me secure several bookings."
Post-Pandemic Advice for Fellow Wedding Biz Owners
Brent's road to becoming a full-time wedding celebrant has been so inspiring, we wanted to hear what other advice he had for fellow wedding business owners — particularly in the recovery from the pandemic.
"First of all, you have to make sure you've got something to offer. So, get your marketing right — your Facebook, your Instagram, your reviews, your Easy Weddings site, your website — get that sorted.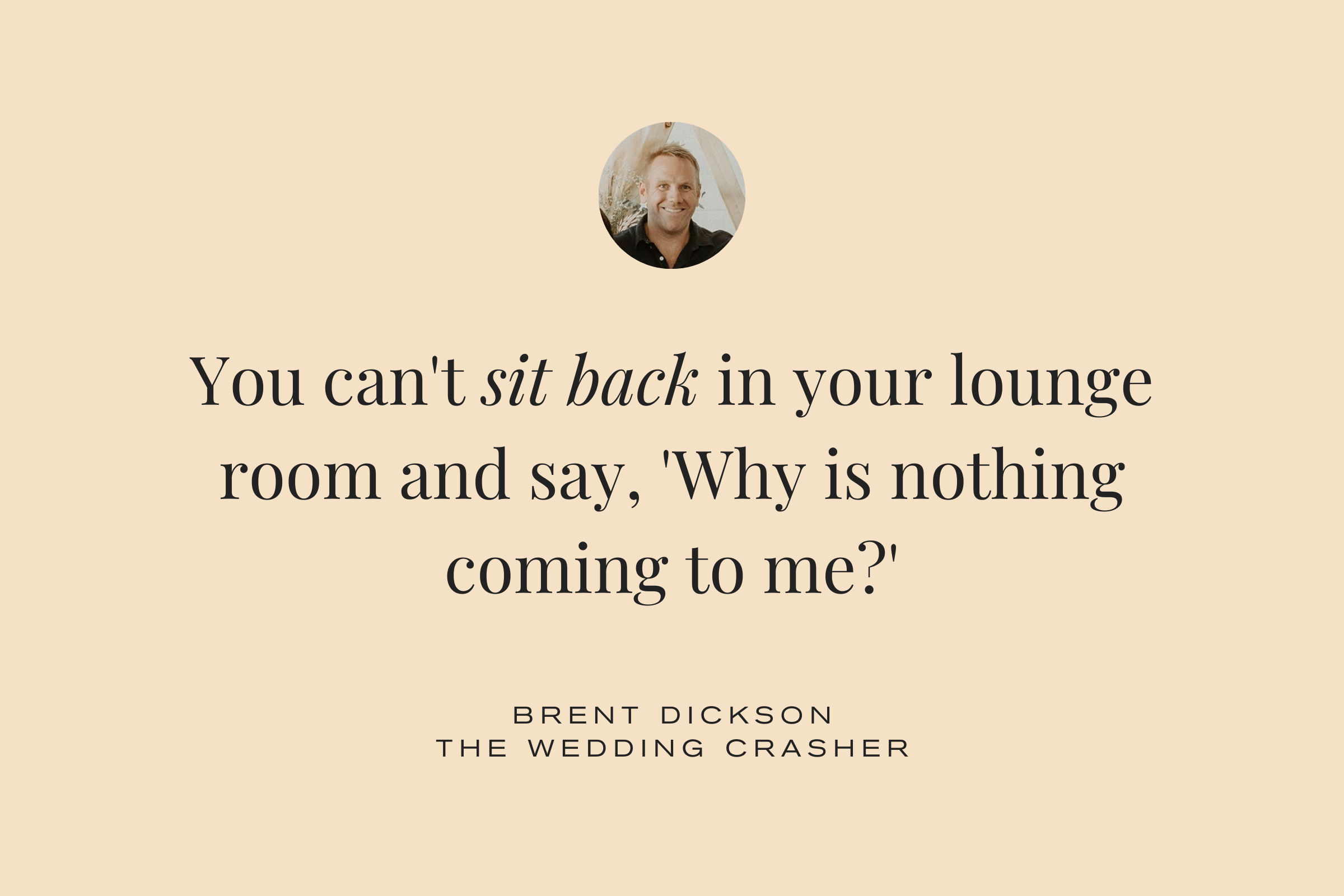 "But then you have to invest in your business and it's not always about money. It's networking. Three weeks ago, I went down south for a week and I organised 10 meetings with venues I'd never met before.
"You can't sit back in your lounge room and say, 'Why is nothing coming to me?' "If you don't go out and give something first, nothing's going to come back."
Life's Great as a Celebrant — But Better as a Dad
Becoming a full-time celebrant has not only meant a stunning career change for the former Reece Group manager of 15 years, more importantly, it's given Brent and his young family flexibility and balance at a time they needed it most.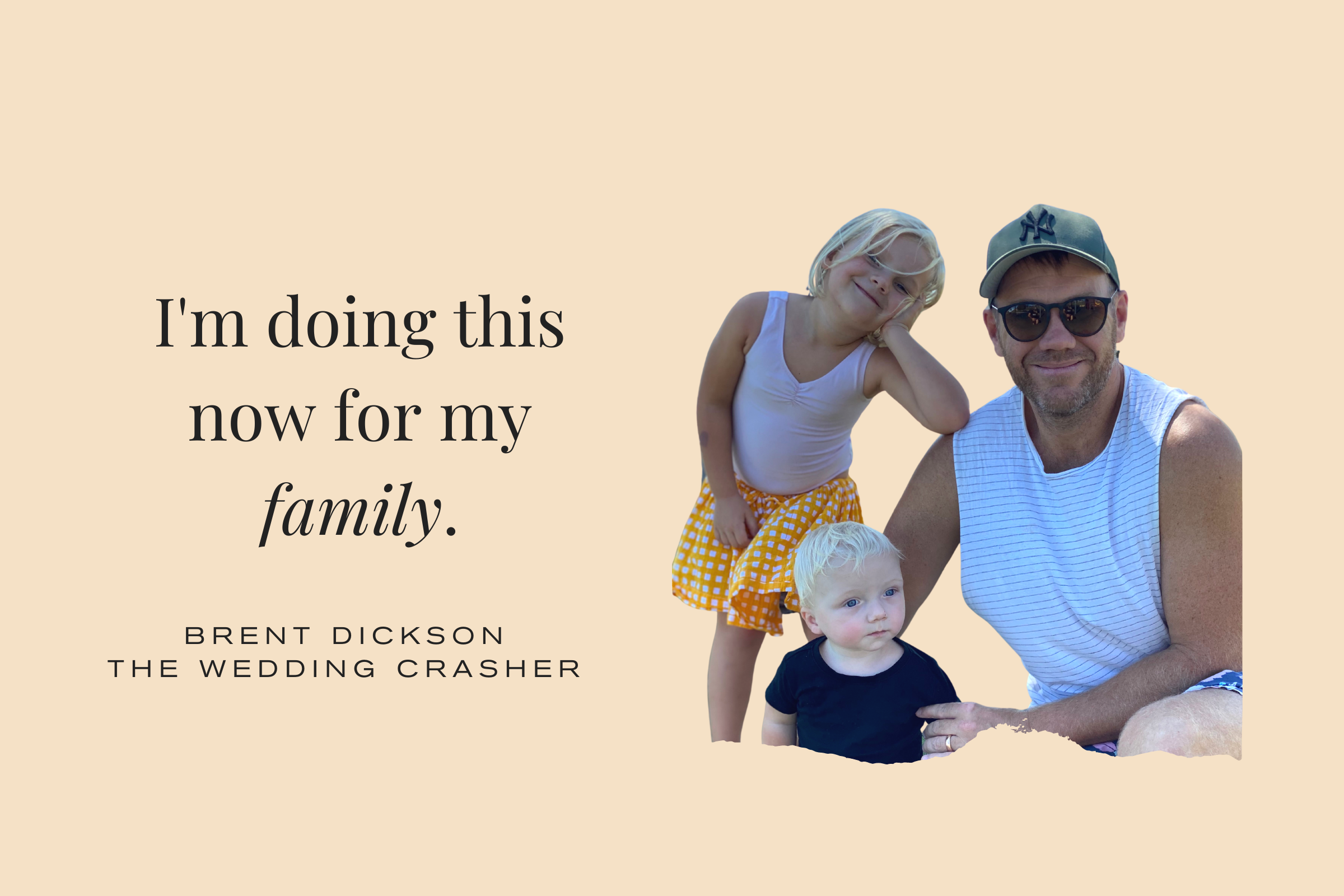 "Soon after our second child, Frank was born, he had to have open-heart surgery," Brent reveals. "Someone had to stay home to look after him. It was going to be me.
"I absolutely love being a celebrant — but, really, even more important than that, I now have the time, flexibility and balance to be there for him.
"I'm doing this now for my family."
Curious to see how your business could grow with Easy Weddings?
Tell us a little about yourself
and we'll reach out for a no-obligation chat.