Do you imagine your wedding day with a spectacular water view? Allow this dream to become a reality with these gorgeous waterfront wedding venues in Perth.
We've rounded up the most popular wedding venues in Western Australia with stunning water views to help you organise your big day. From boho beach spots to picture-perfect yacht clubs, there's a waterside venue for all tastes. Keep reading to find your dream waterfront wedding venue in Perth.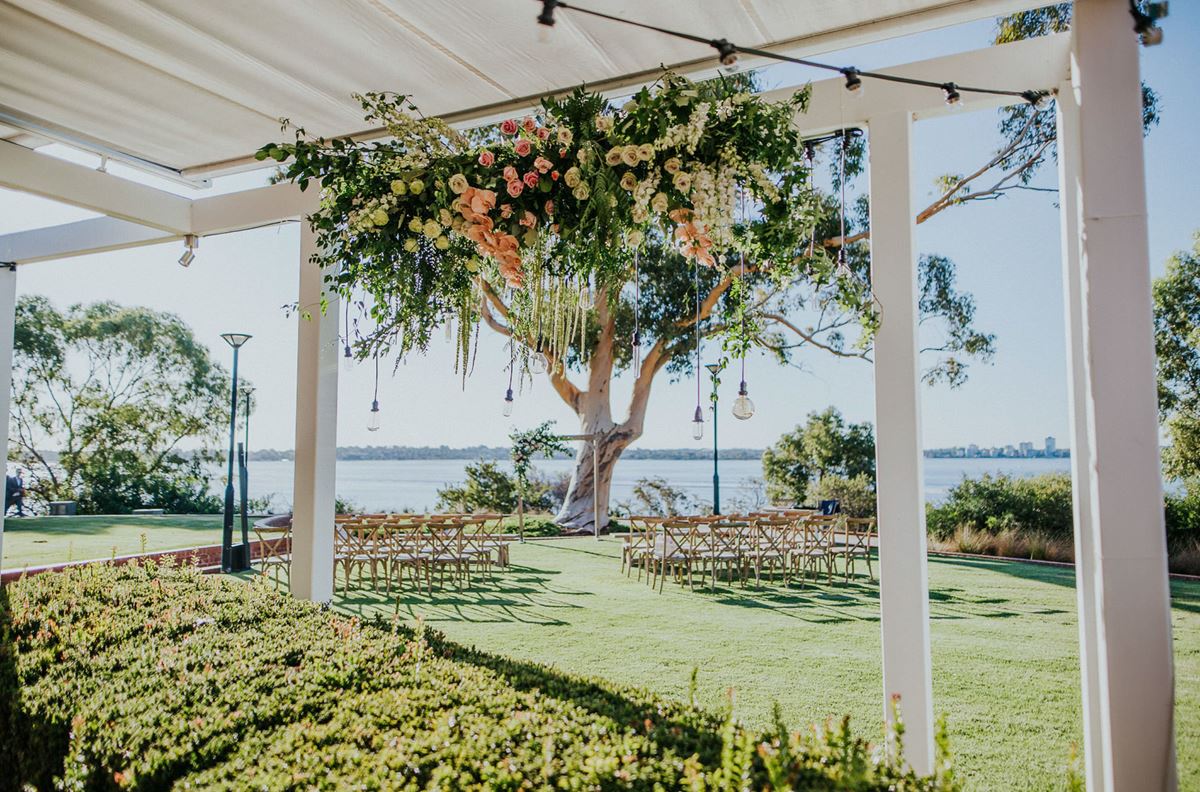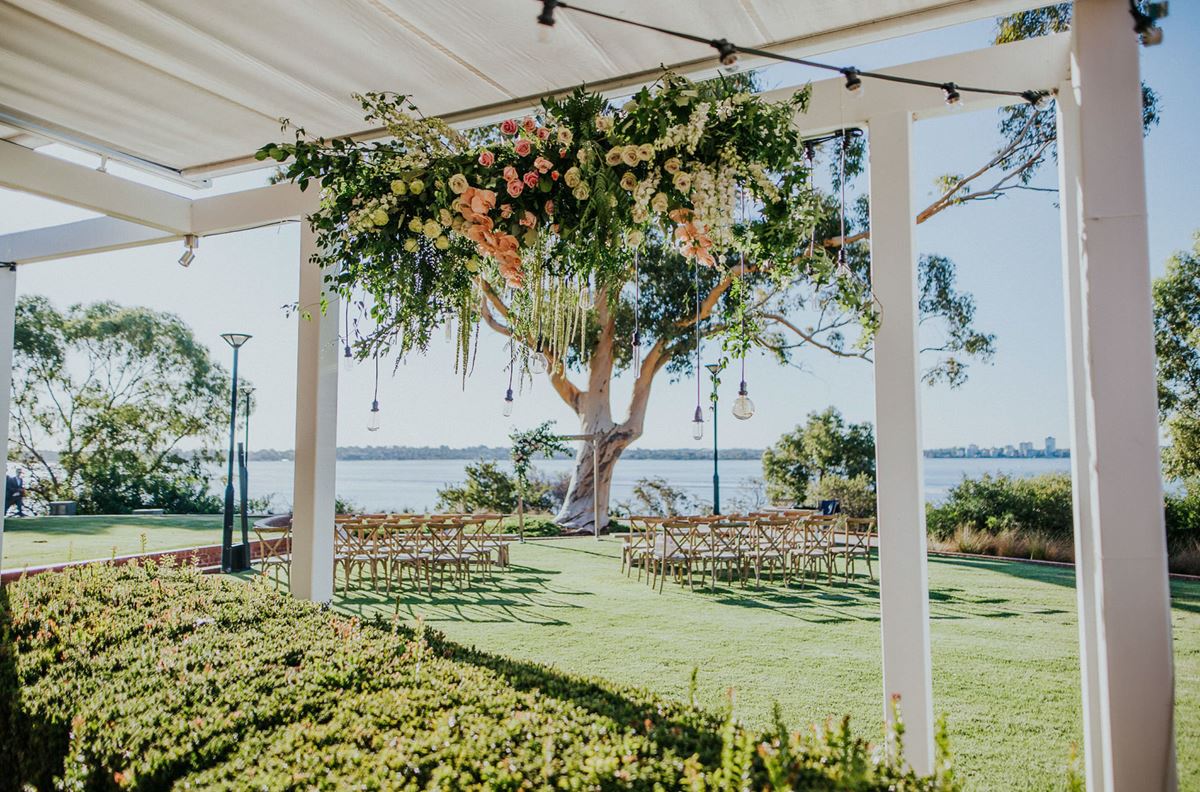 ---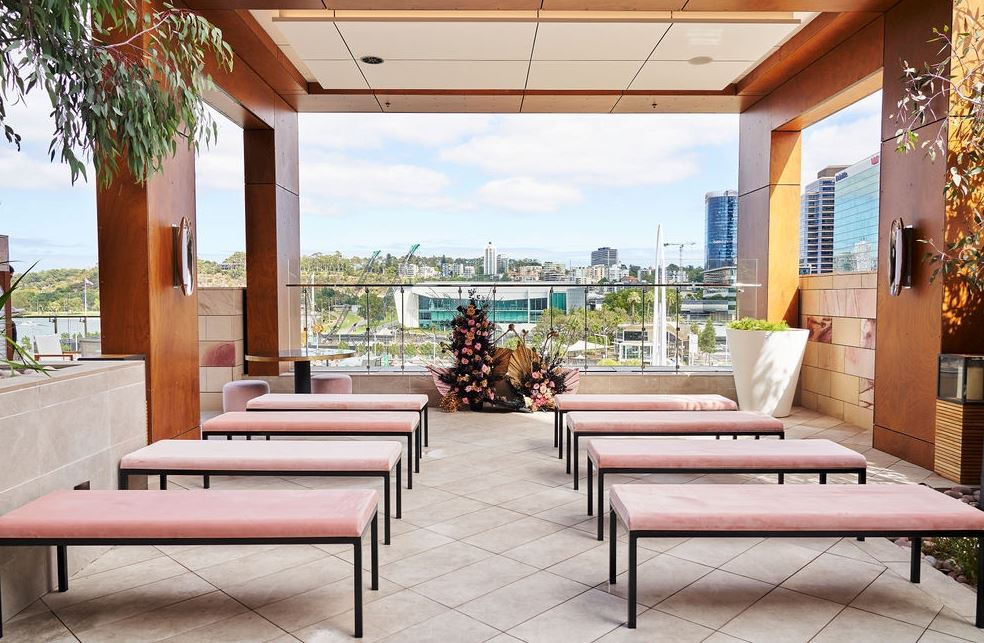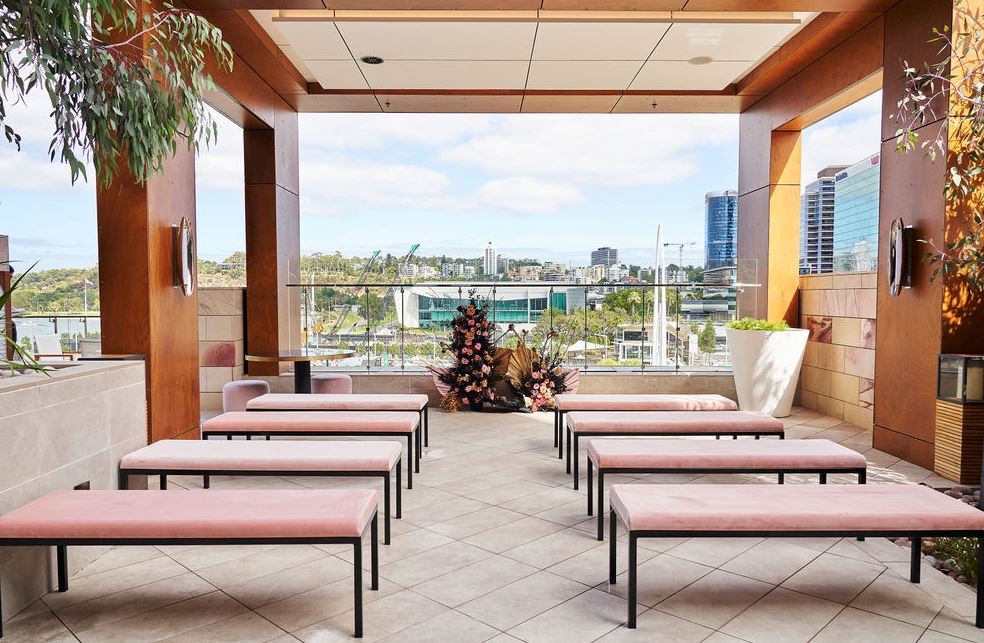 Setting a new standard for waterfront hotel wedding venues, the five-star Ritz-Carlton boasts an unrivalled waterfront location in Perth's picturesque Elizabeth Quay. The hotel's grand ballroom is a popular choice for glamorous Perth weddings, with luxurious furnishings and elegant lighting. The ballroom is available as a single space if you have a larger guest list and can also be split into three smaller private rooms for more intimate wedding celebrations. Find out more about this fabulous waterfront wedding venue here.
---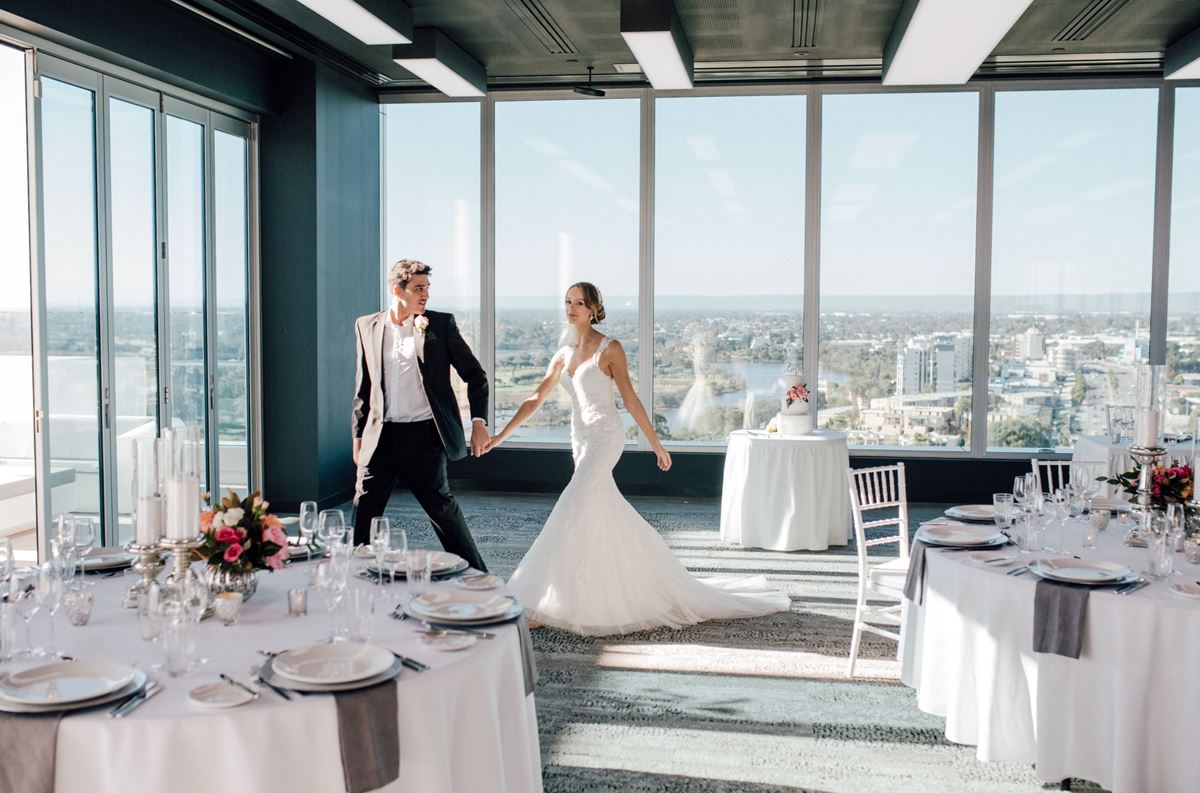 Are you ready to enjoy unique views of the Swan River? Consider Aloft Perth for a memorable waterfront location. Weddings here take place in the hotel's rooftop ballroom and the rooftop terrace. Ensure your wedding is the best of the season with one-of-a-kind rooftop views.
When you work with this venue, you'll be working directly with Aloft Perth's dedicated event planners. These experts know how to plan an event that runs smoothly, taking the stress out of planning and allowing you to focus on celebrating your love. Find out more here.
---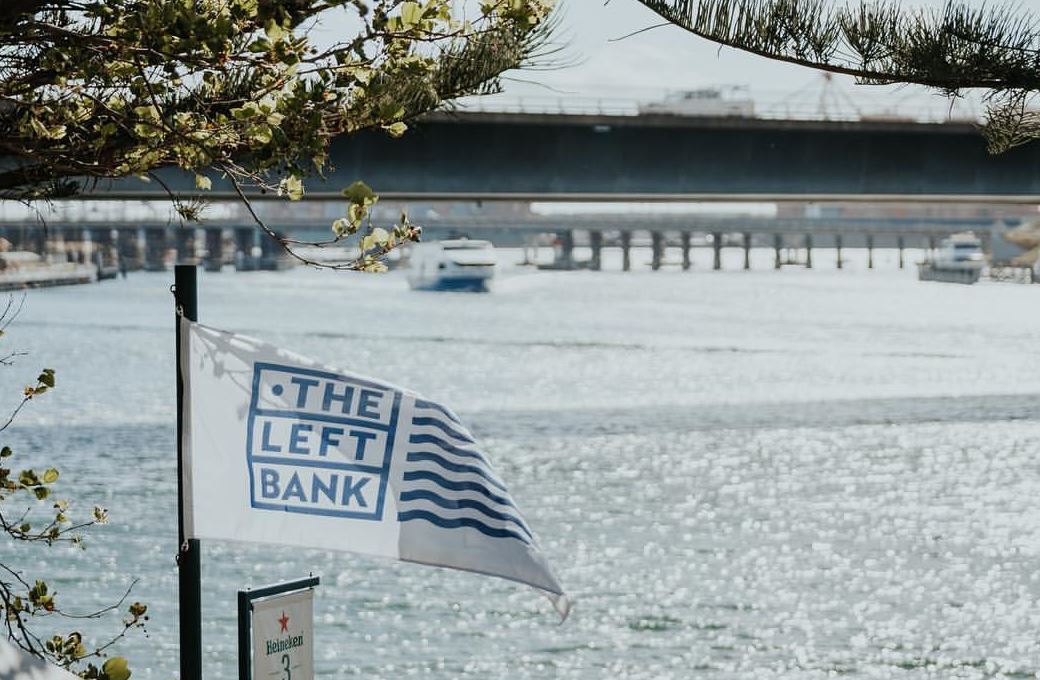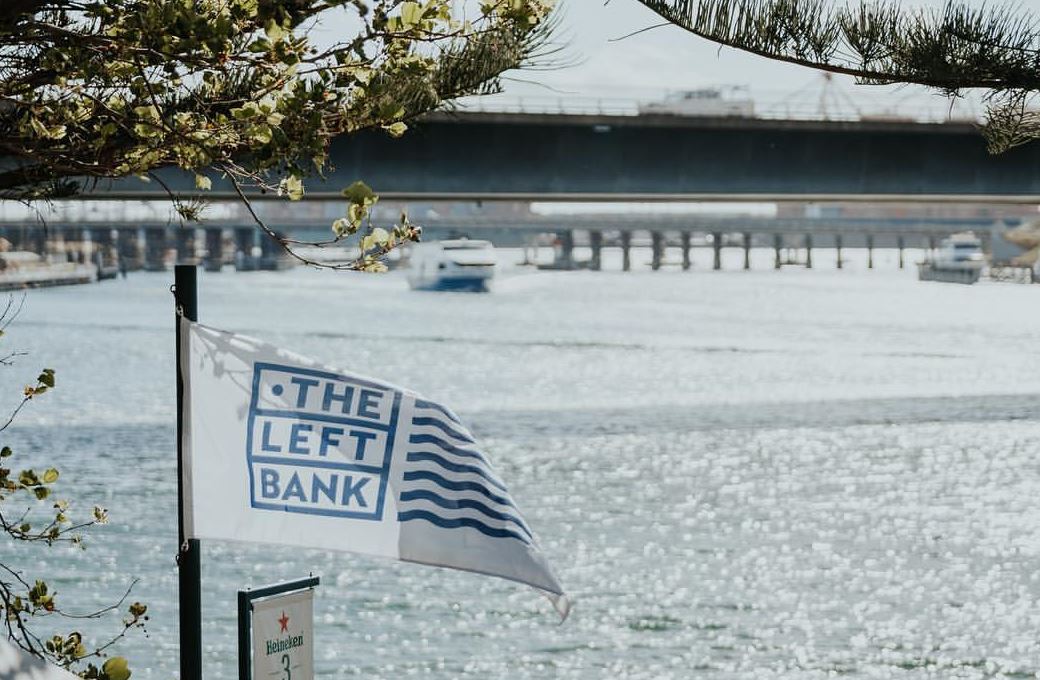 If you're interested in a riverside wedding venue, The Left Bank might be the perfect option for you. This East Fremantle location offers a river bar, balcony, and reception space. Panoramic views and a tranquil atmosphere are always available in this popular space! The Left Bank pairs couples with a dedicated events coordinator to help them make the most of the big day. Read reviews of this stunning riverside venue here.
---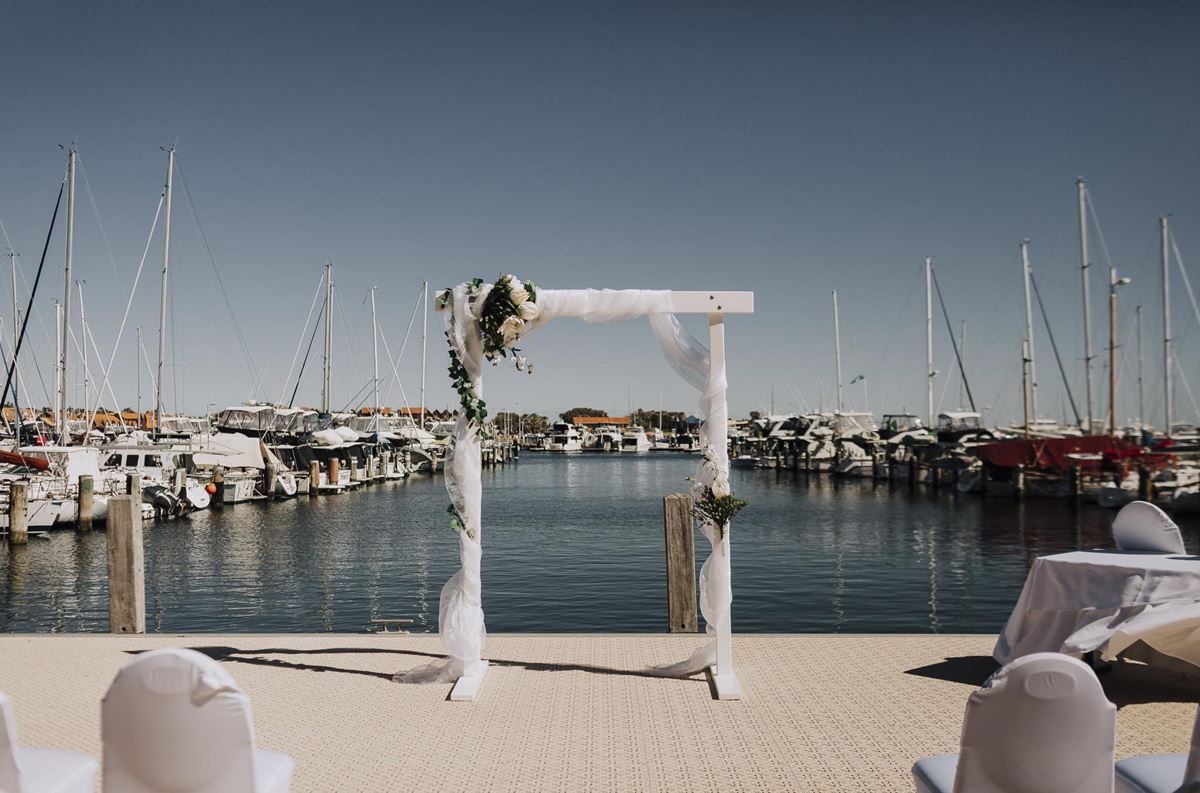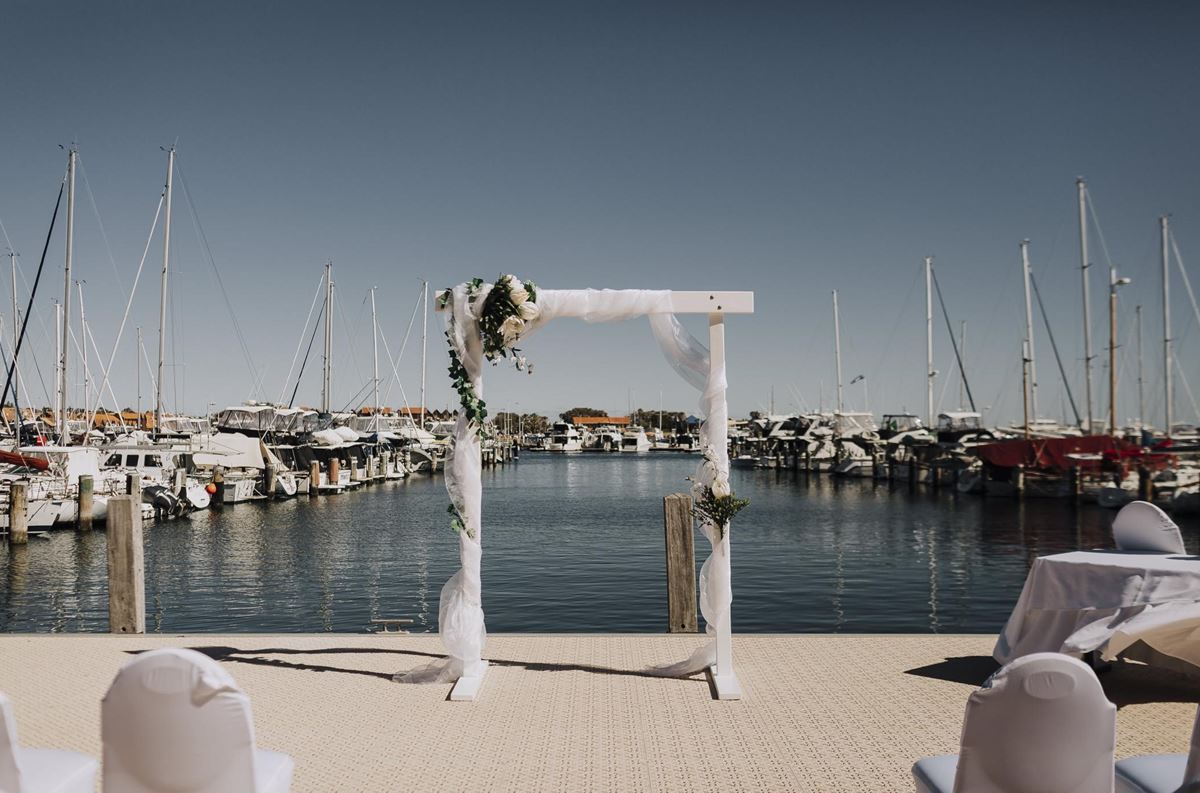 There are many waterfront wedding venues in Perth, but Hillarys Yacht Club offers a serene wedding atmosphere like no other. This gorgeous venue overlooks the crystal clear Indian Ocean, ensuring your wedding photos are immaculate and the experience is peaceful.
Not only that, but Hillarys Yacht Club is just 10 minutes from Joondalup or a 20-minute drive from Perth CBD, meaning guests will be able to arrive at the venue with ease. Learn more.
---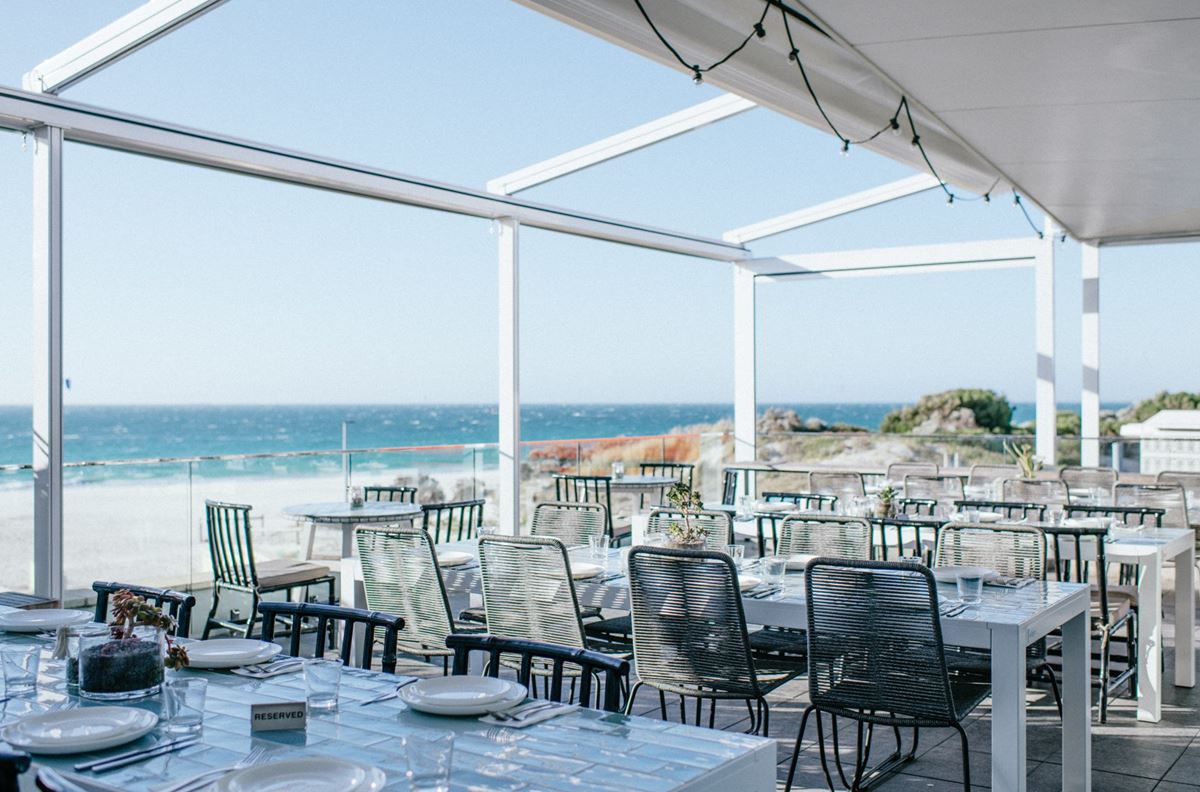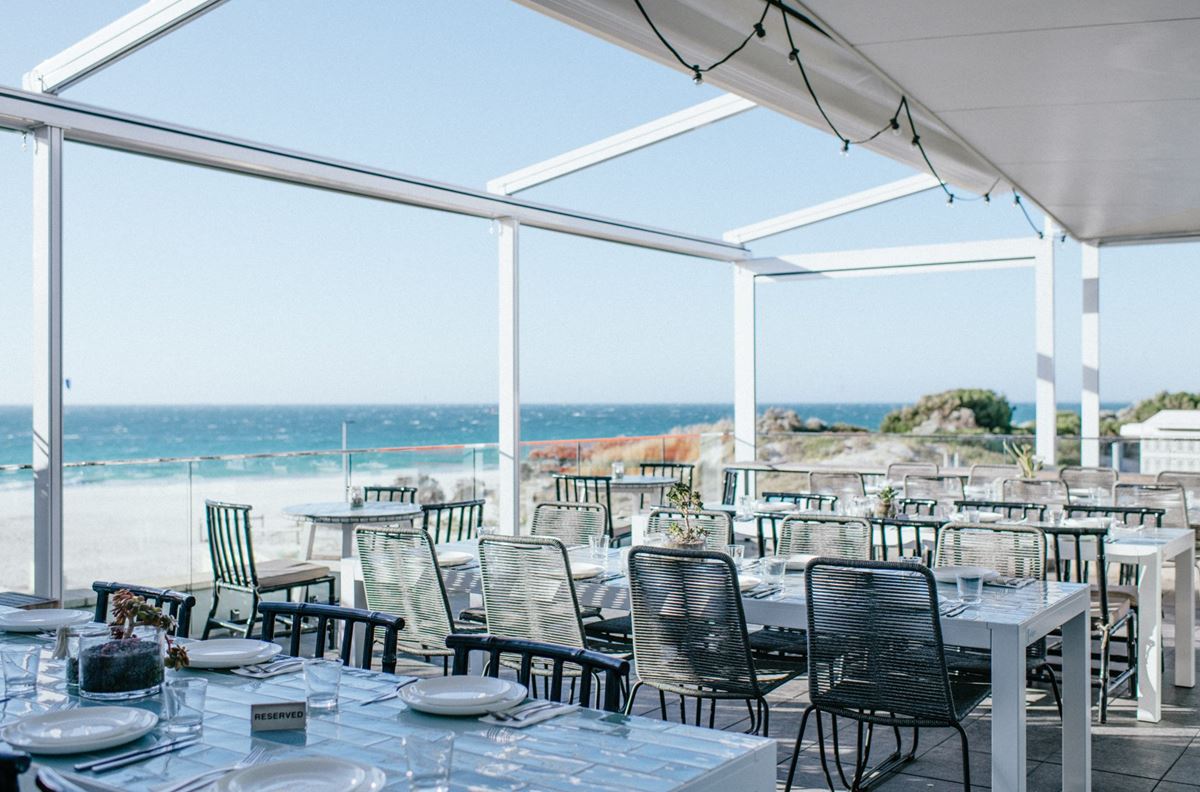 Looking for a beautiful beachfront venue in Perth? Located in Leighton Beach, Fremantle, Bib & Tucker is here to bring the sea to you. With a balcony that overlooks the ocean and uninterrupted views of dunes, this venue is a must-see for all beach lovers.
Weddings at this location have the option of a long table for larger parties. Ensure your guests are fed well with seasonal menus and modern Australian dishes. Whether you're a foodie or not, Bib & Tucker's delicious fare never disappoints. Check out Bib & Tucker's Easy Weddings storefront to learn more about this beautiful beachside wedding venue.
---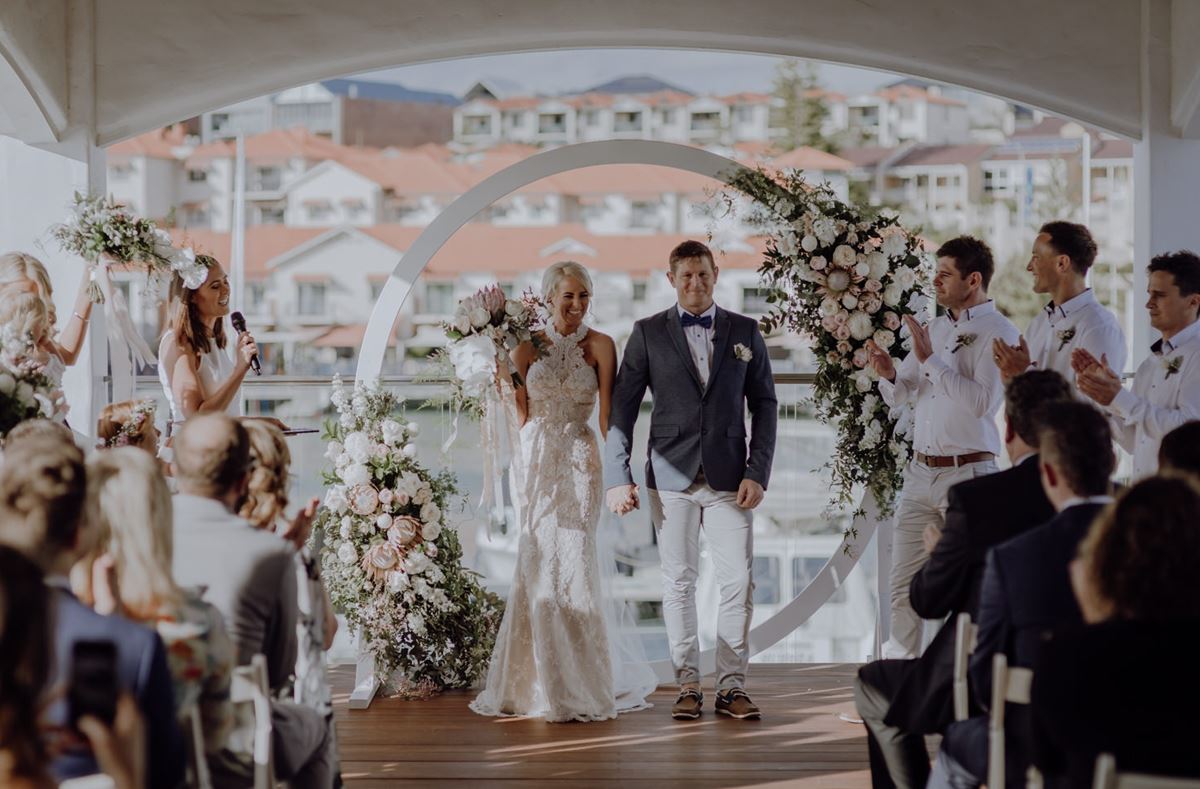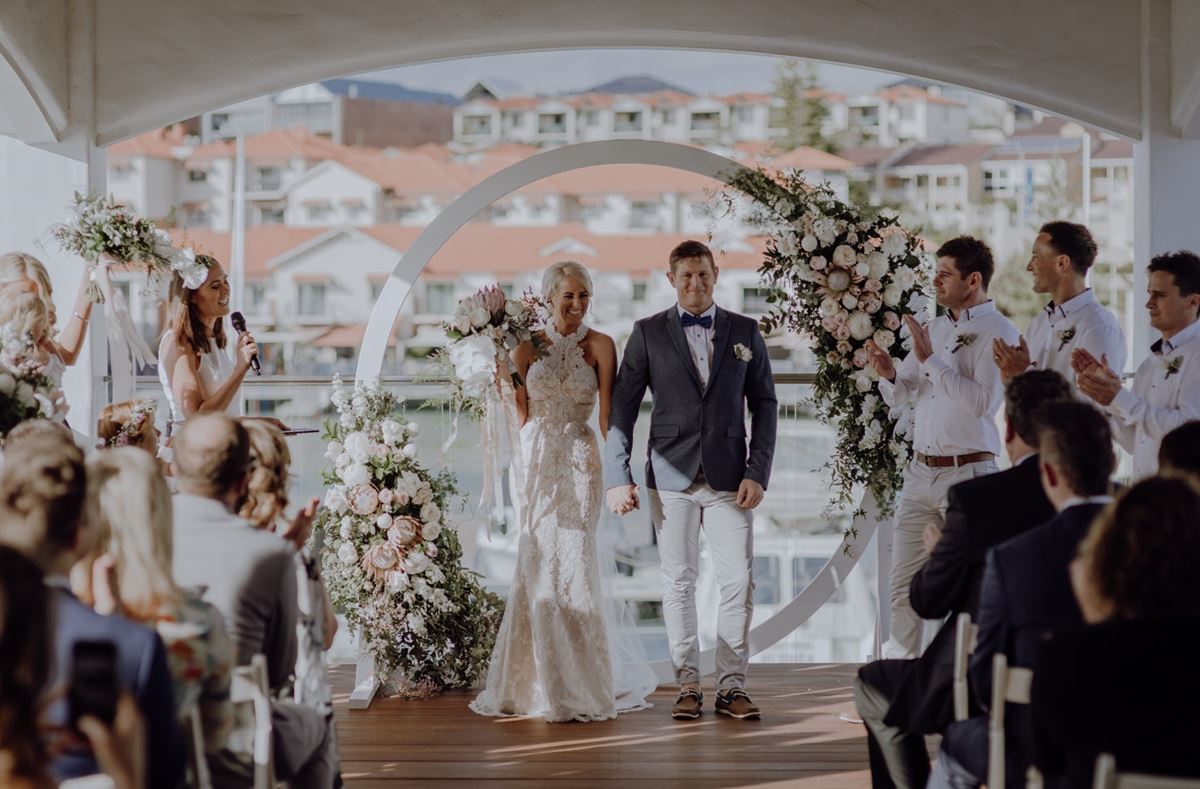 If you want to get married amongst shimmering waters and sophisticated sailboats, visit The Marina Mindarie. This location comes with a water view you'll remember forever. Alongside gorgeous views, The Marina Mindarie strives to offer chilled out Mediterranean vibes.
The Marina Mindarie has its very own purpose-built ceremony space — the Sky Chapel. This dreamy space comes with a signing table, floral arrangements, standing room for extra guests, and of course, a spectacular sea view. Check out The Marina's reviews to see why so many couples love this waterfront wedding venue in Perth.
---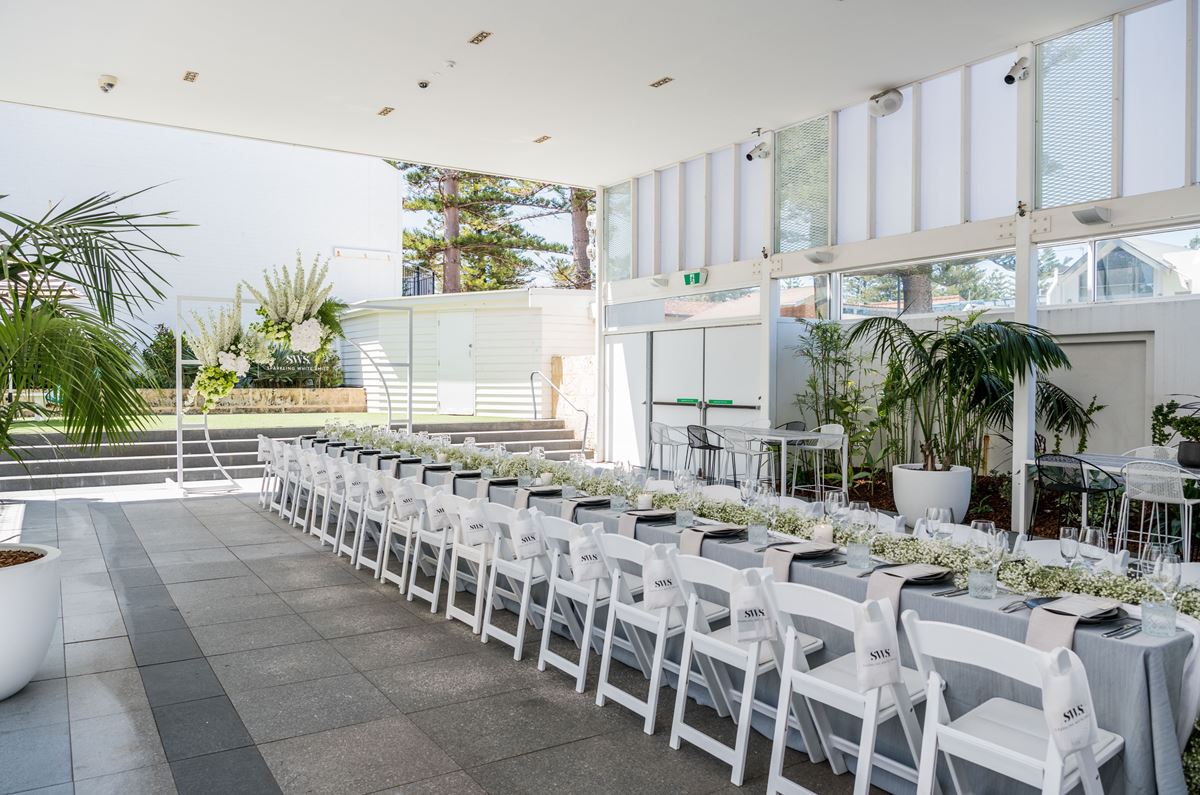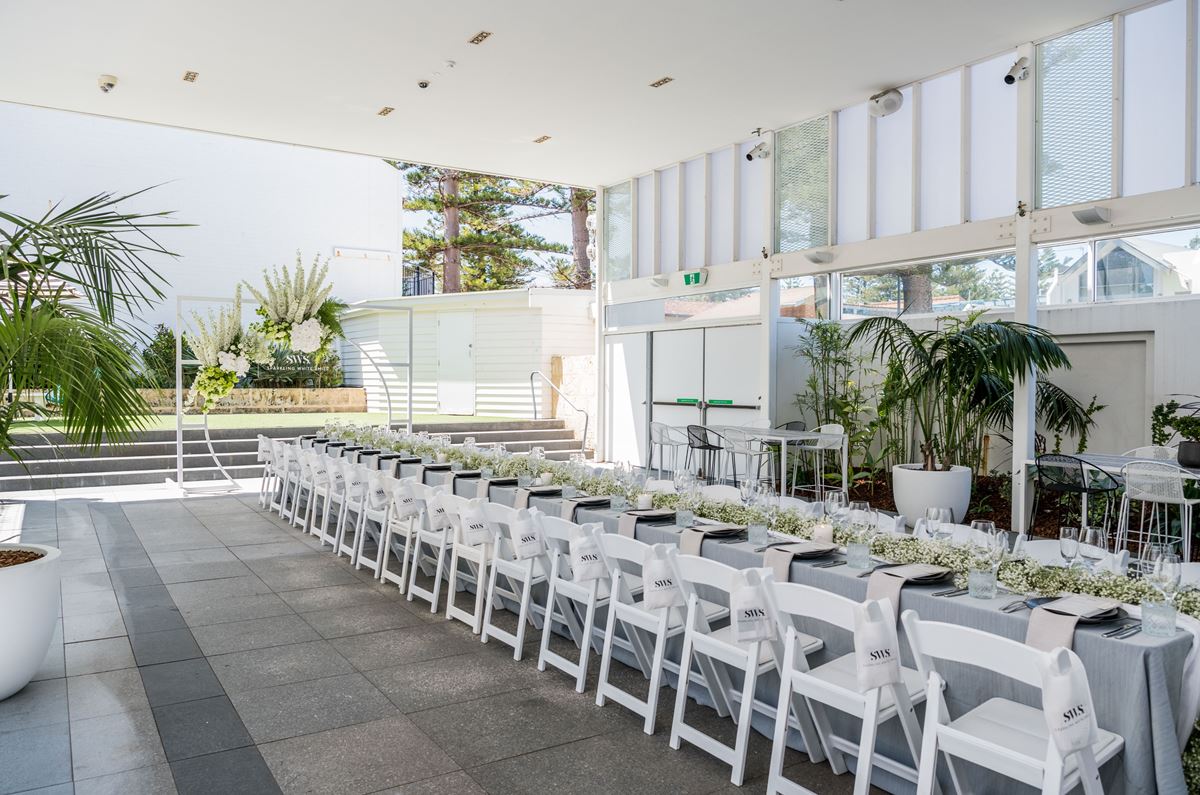 Beachfront weddings are like no other. The Cottesloe Beach Hotel is here to offer a range of boutique spaces for your wedding day. This beautiful beachside venue boasts an array of stunning wedding spaces, including a pavilion, elevated deck, terrace, and indoor beach room.
The expert team at Cottesloe Beach Hotel are ready to tailor the venue to your individual needs. From cocktail parties to sit down dinners, you can enjoy your wedding day in various styles. Find out more about this incredible beach venue here.
---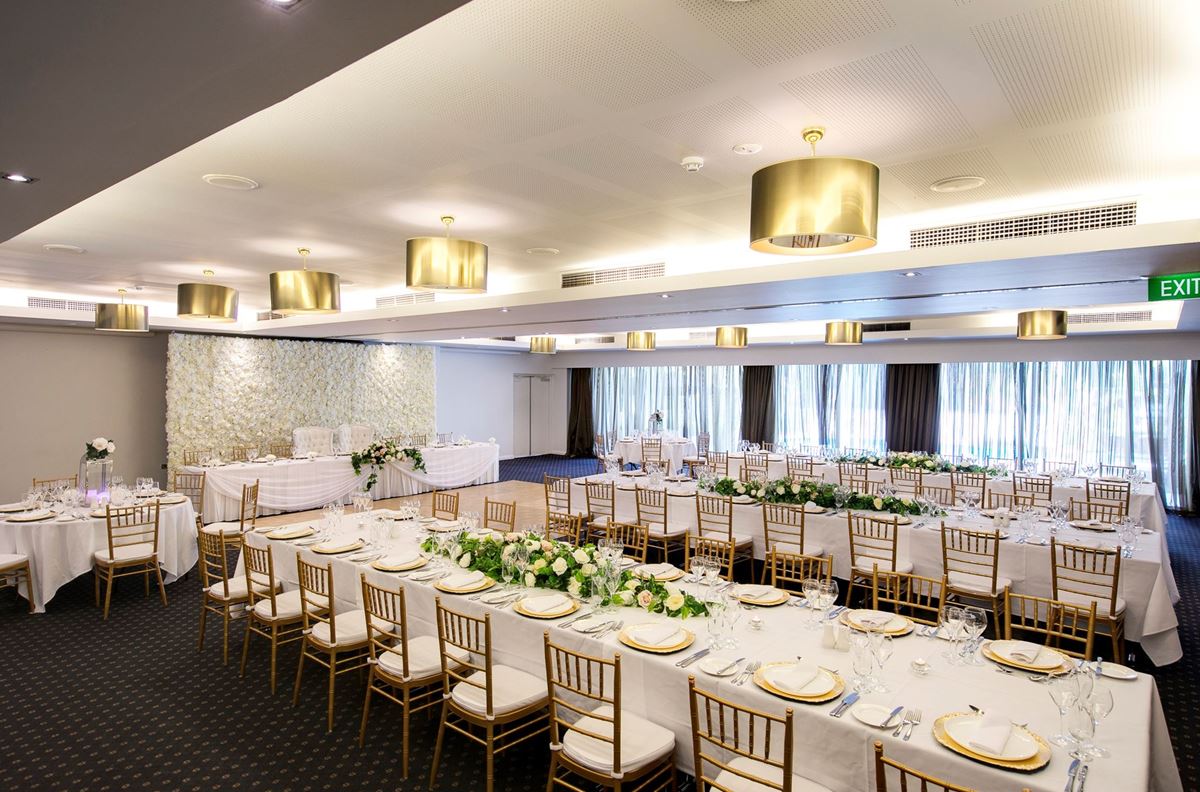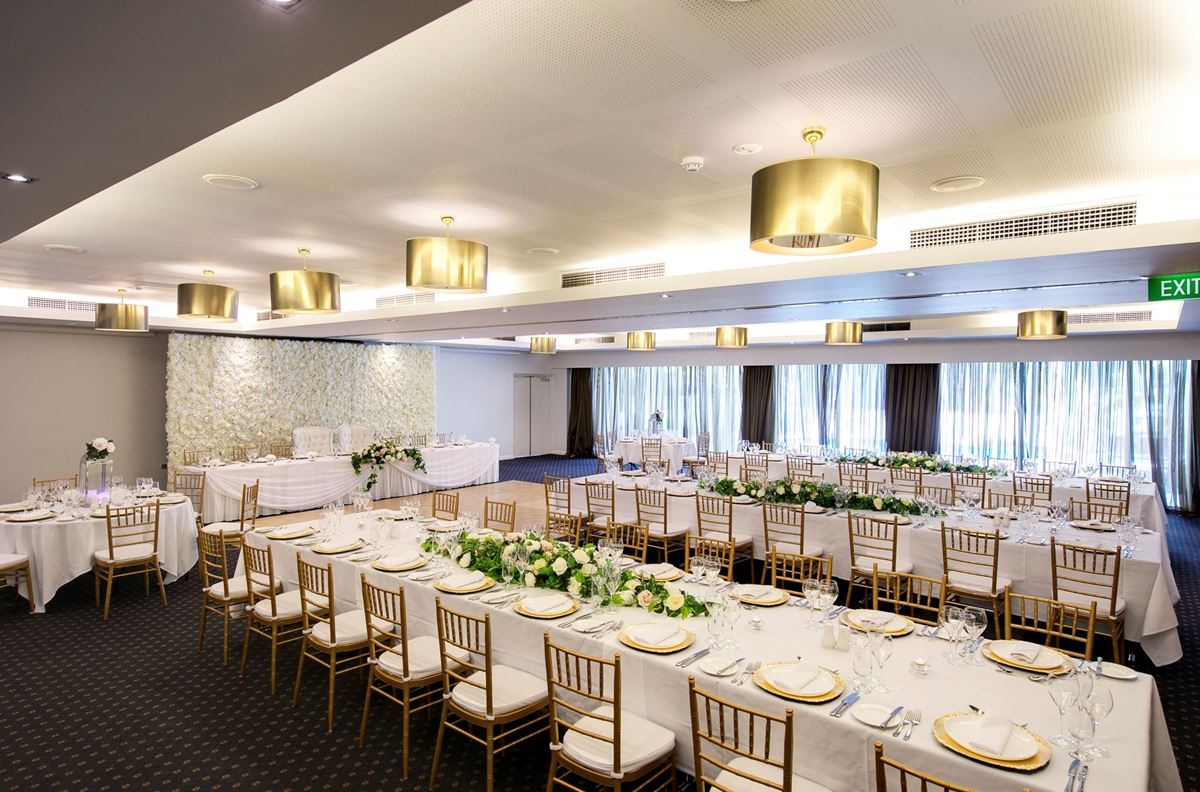 Looking for a Perth wedding venue that offers understated glamour? The Esplanade Hotel Fremantle can meet your requirements. With seven different function spaces, balconies that overlook the ocean and beautiful gardens, this stylish hotel is equipped to make your dreams come true.
Couples choose this location due to its intimate charm and ample space. Wedding packages come with dance floors, a two-course menu, beverage packages, and special accommodation rates for guests. Guests also love weddings here, as they can relax poolside after the big day.
---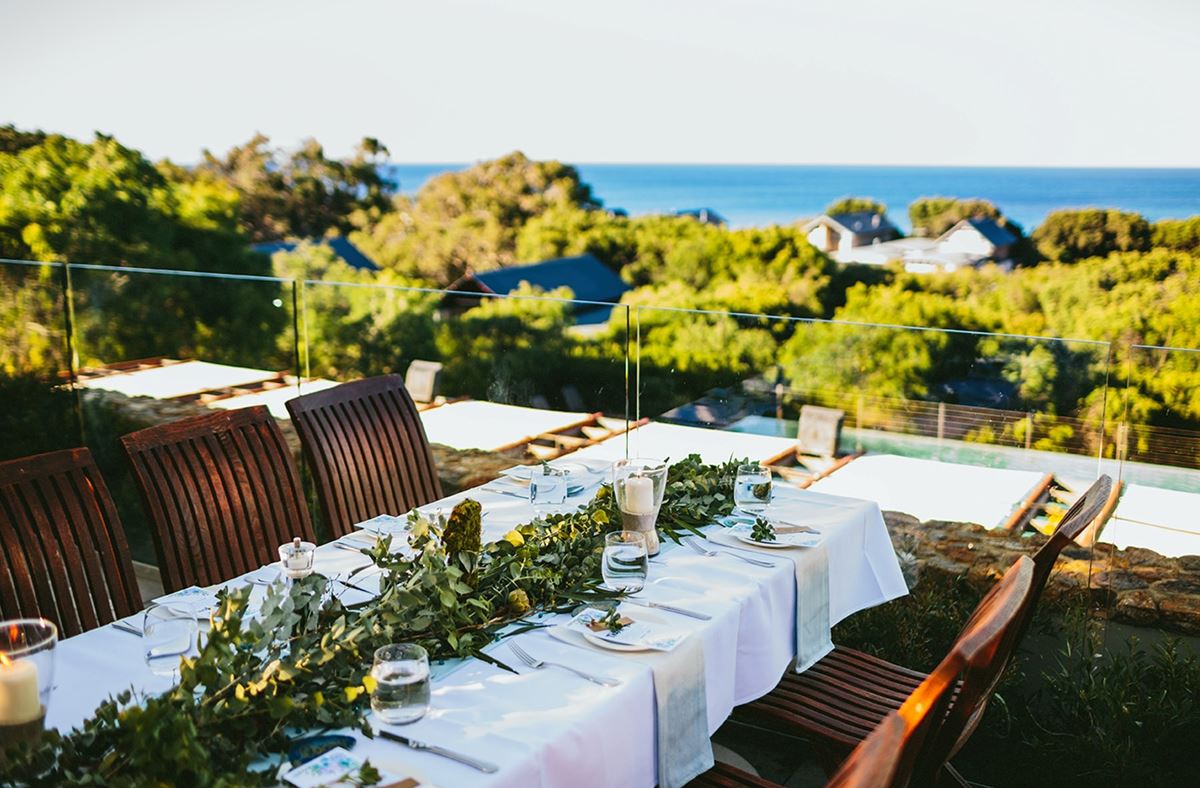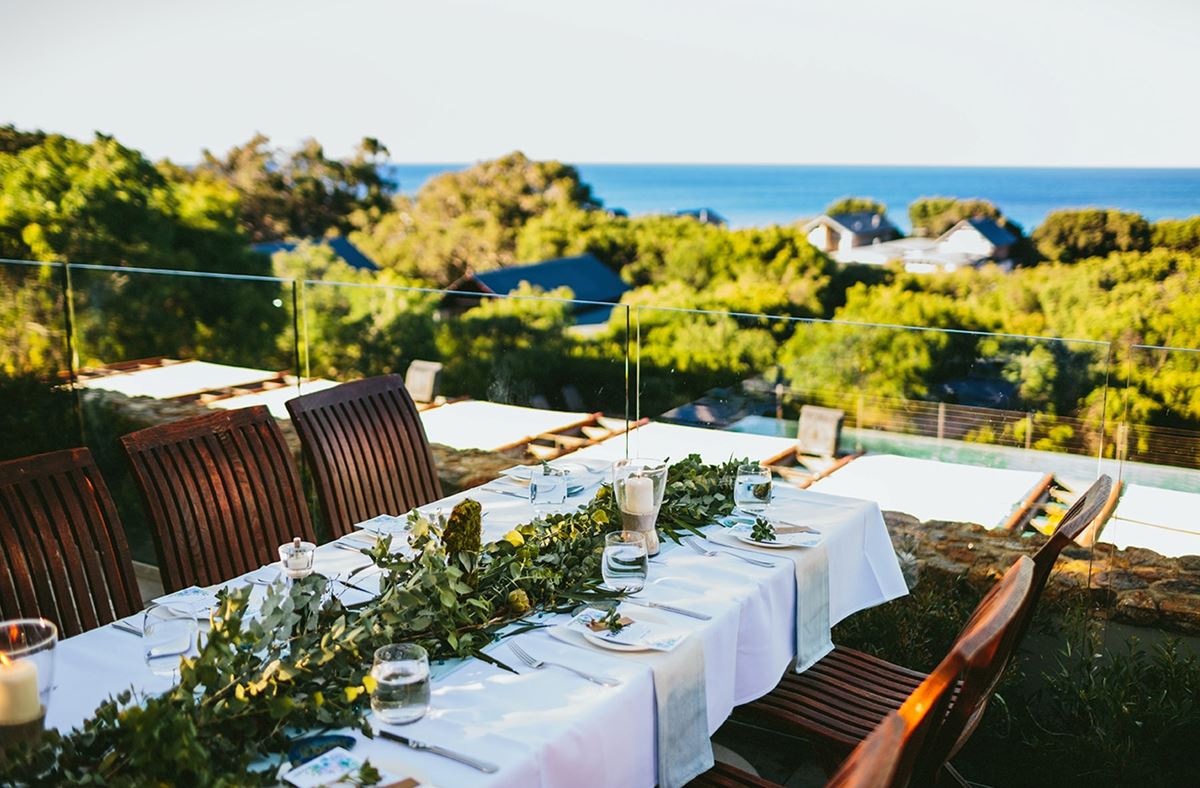 Pullman Bunker Bay Resort is a five-star beachfront retreat located in Naturaliste, Western Australia. Specialising in destination weddings, this stunning venue boasts 30 acres of beautifully landscaped native gardens and magical coastal scenery.
When you hire this venue, you'll be working with an experienced wedding team that knows how to organise an unforgettable day. Ensure your wedding is in good hands with the Pullman Bunker Bay Resort team. Check out the resort's reviews to see why so many couples adore this stunning wedding location in Western Australia.
---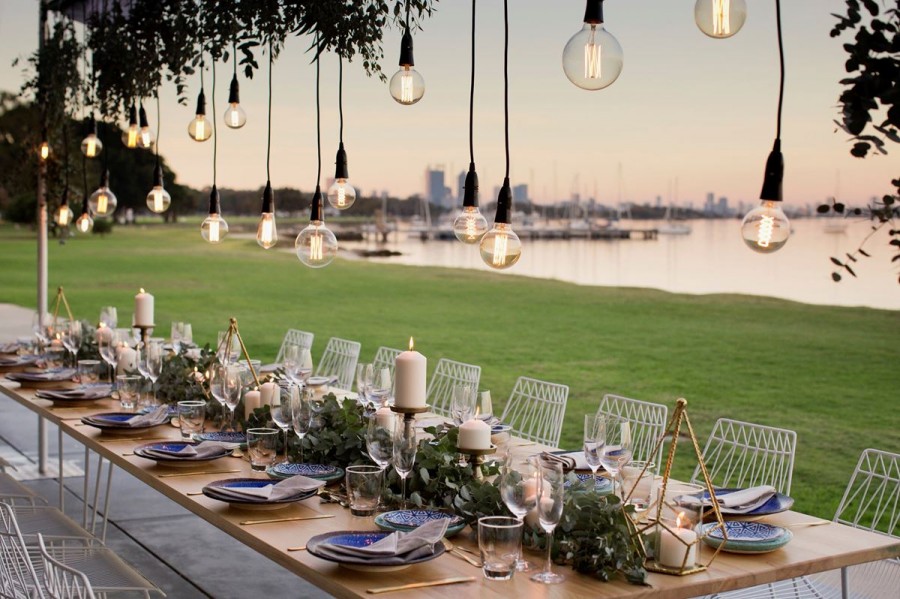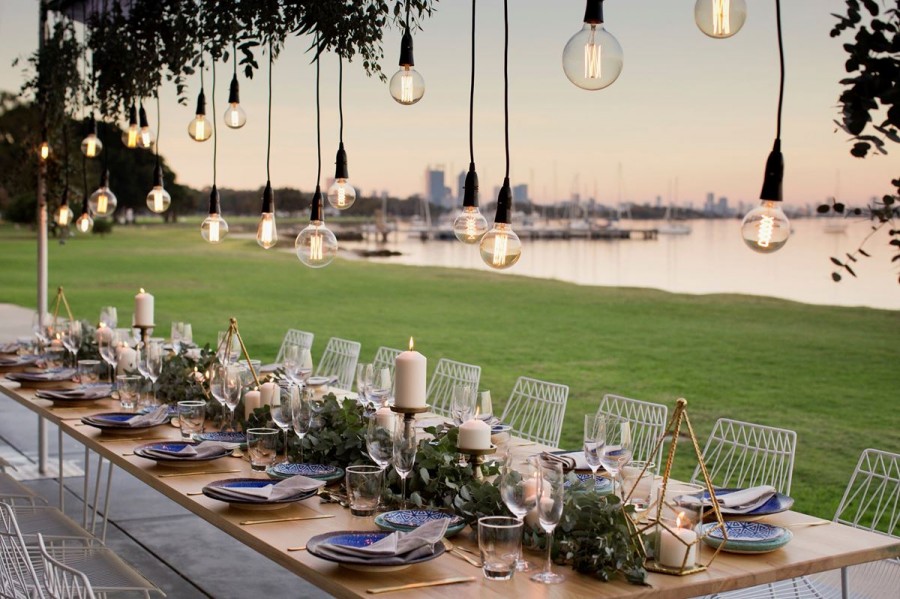 Waterview weddings are unforgettable, so ensure your big day is perfect with the help of the Nedlands Yacht Club. This riverside venue allows you to exchange your vows against a breathtaking backdrop of the peaceful Swan River. Alongside great views, the Nedlands Yacht Club offers an outdoor bar, free parking, and a fully air-conditioned indoor area for weddings. Find out more about this beautiful yacht club wedding venue here.
---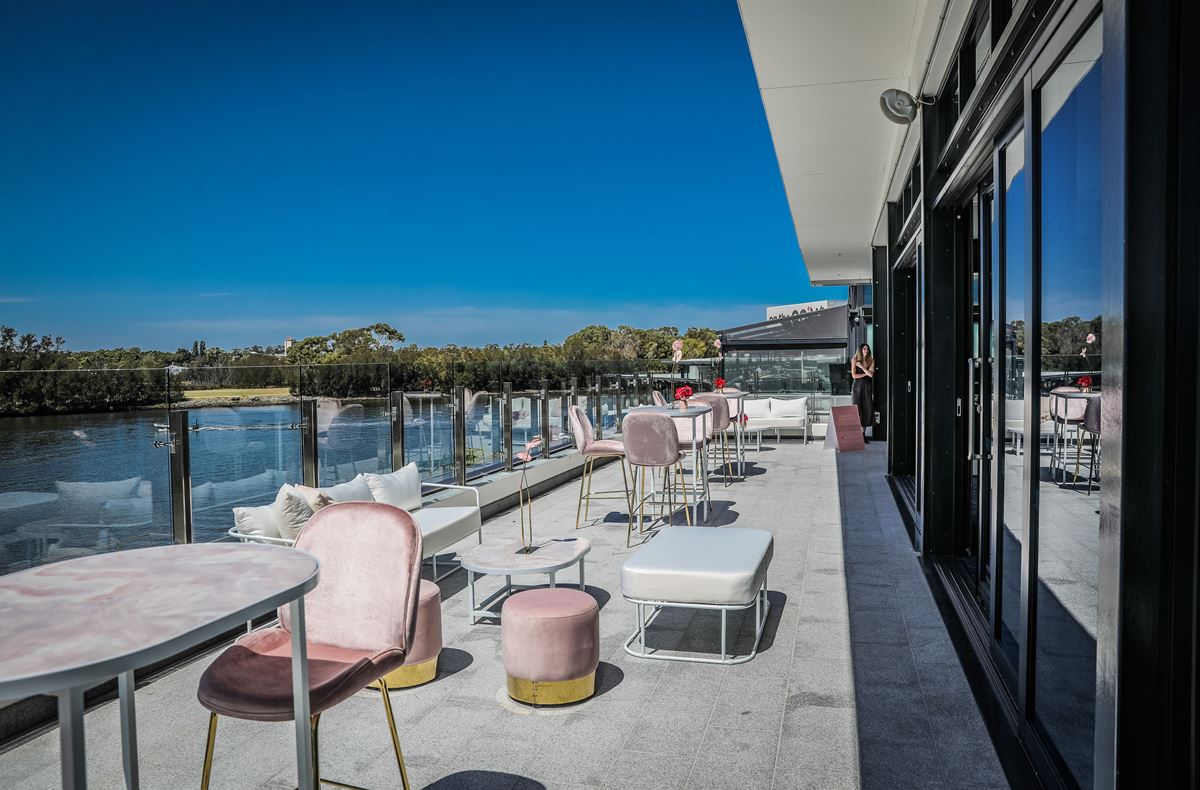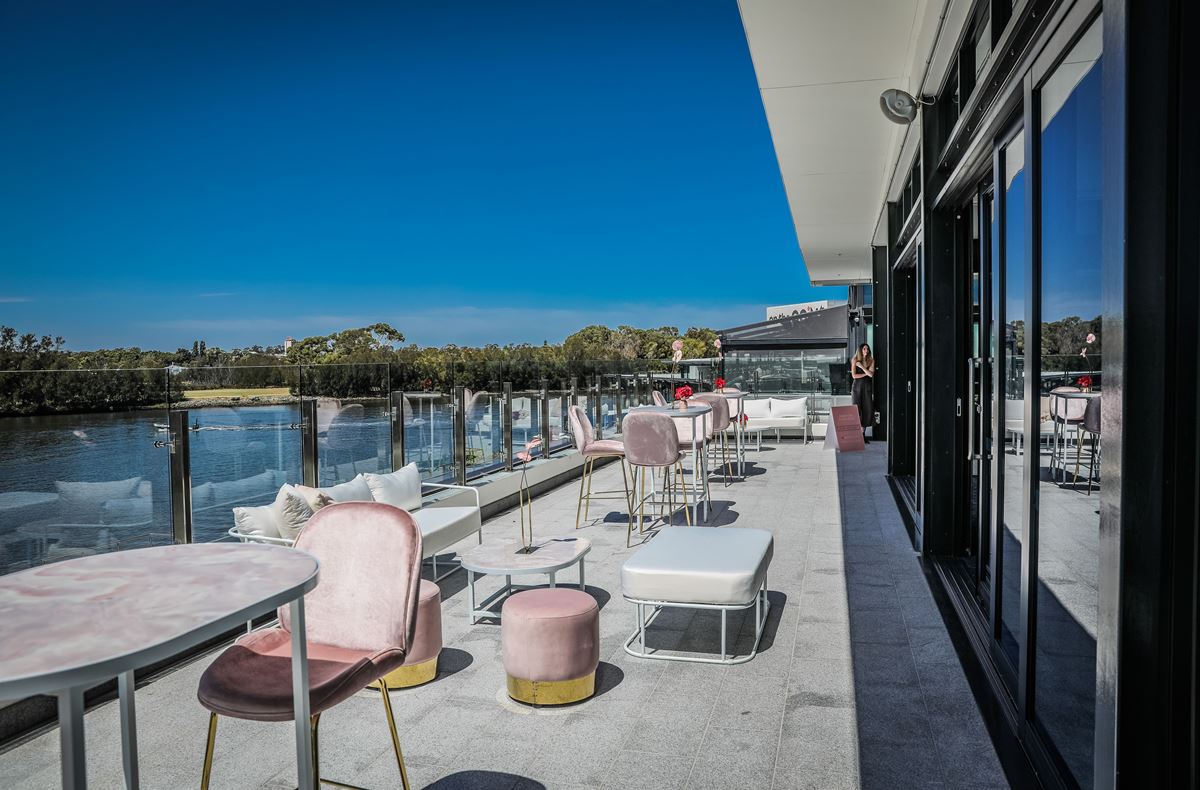 If you're looking for an East Perth wedding venue with gorgeous riverfront vistas, be sure to check out Beaumonde on the Point. This riverside location boasts stunning decor and breathtaking views. This venue is also great for anyone hosting a large wedding, as their Grand Ballroom can hold up to 400 seated guests or 700 cocktail-style. Ideal for any couple that wants to celebrate with all of their family and friends. Read reviews here.
---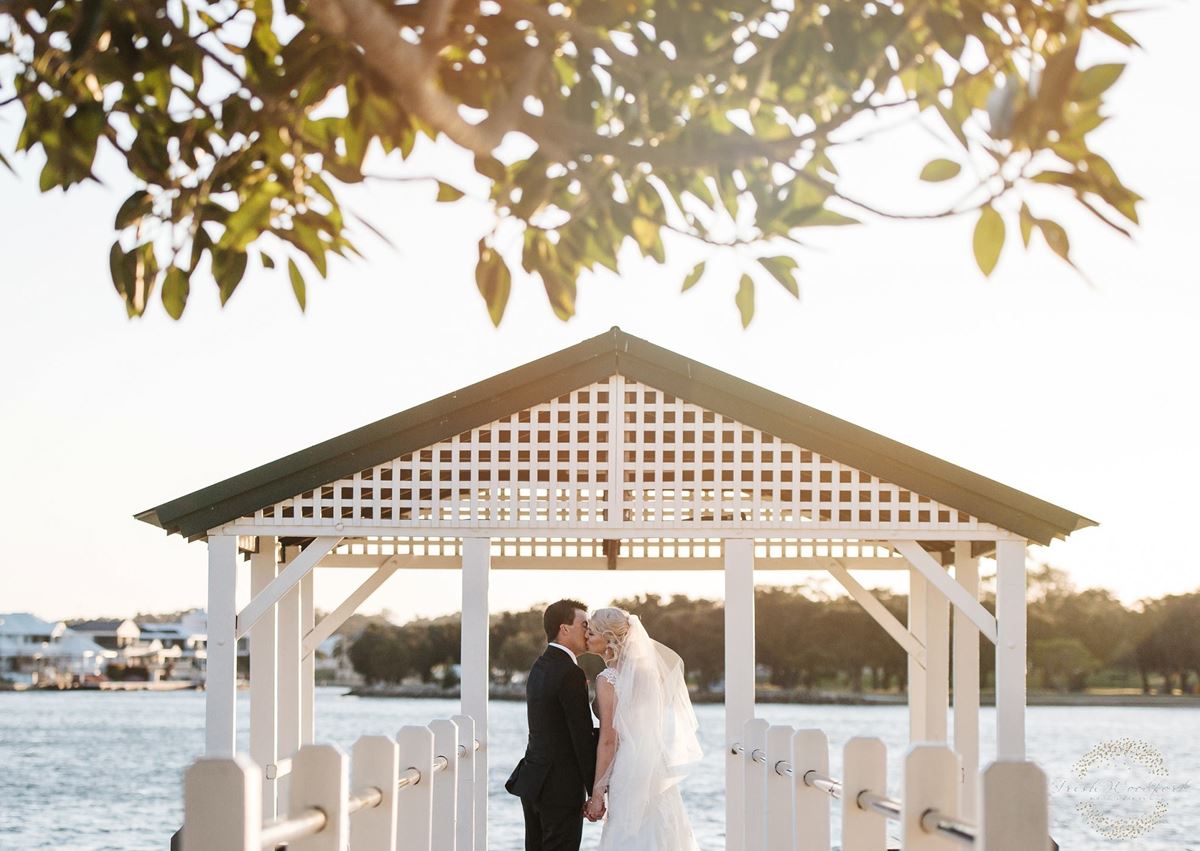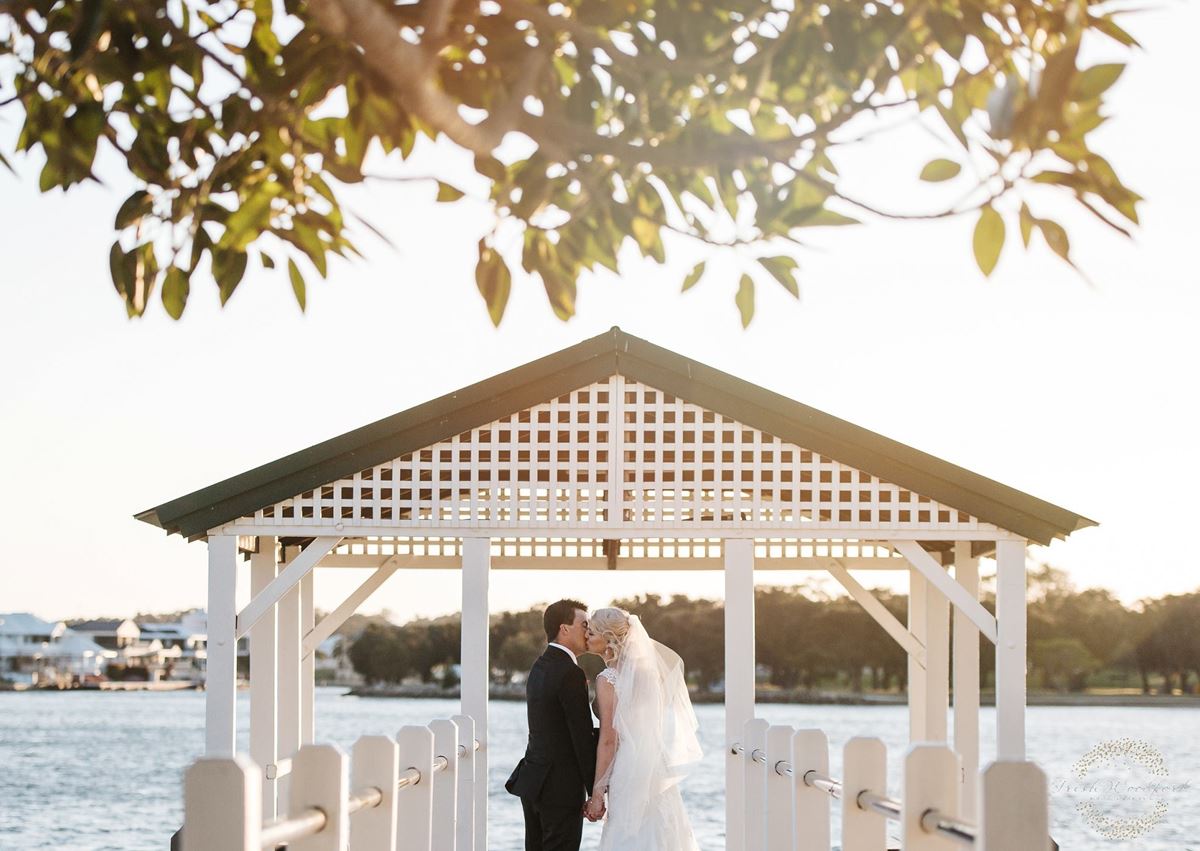 The Sebel Mandurah is a popular wedding venue located just 50 minutes from Perth in the laidback coastal town of Mandurah. This hotel is world-class and offers a range of function rooms and picturesque scenery that will help you create lifelong memories on your special day. The Elegance Package on offer from this hotel includes drinks, food, a dancefloor, and everything else a couple needs to celebrate their love without blowing the budget. Find out more about this waterfront hotel wedding venue here.
---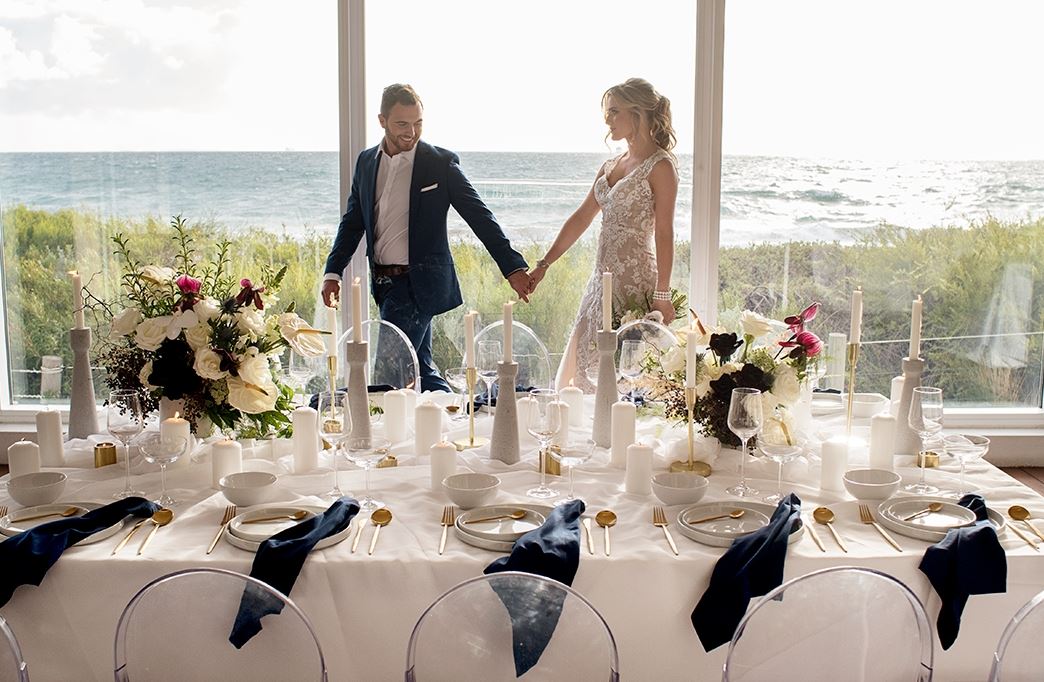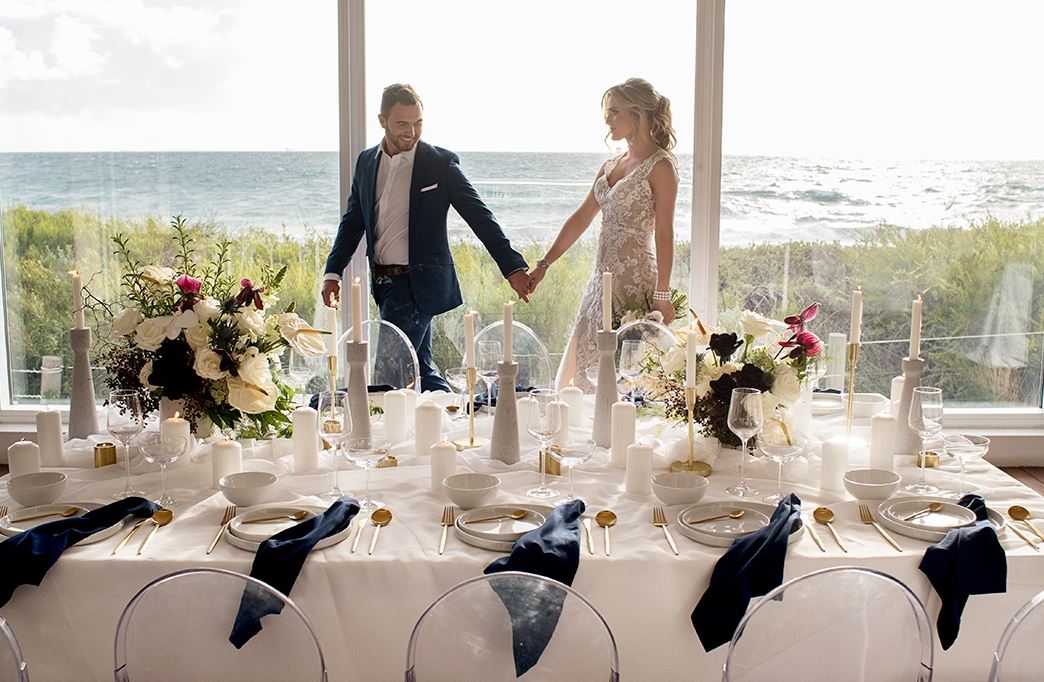 COAST Port Beach offers spectacular beachfront views and relaxed vibes. Weddings here can take place on the beach or in the exclusive Boathouse. COAST Port Beach offers a range of catering packages to suit all budgets. These include sit-down feasts for 150 guests or cocktail receptions for 250 guests. Whatever your plan is, their dedicated team is here to help. Check out COAST's Easy Weddings storefront to learn more about this gorgeous venue.
---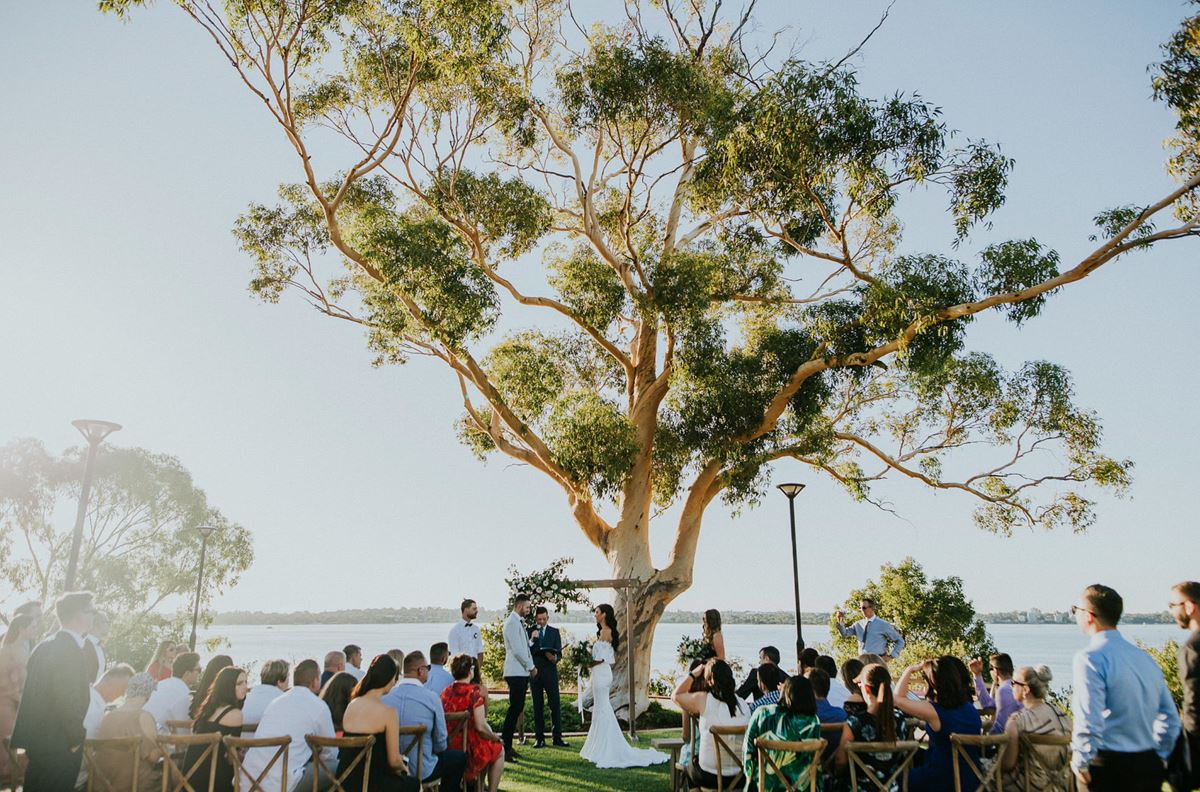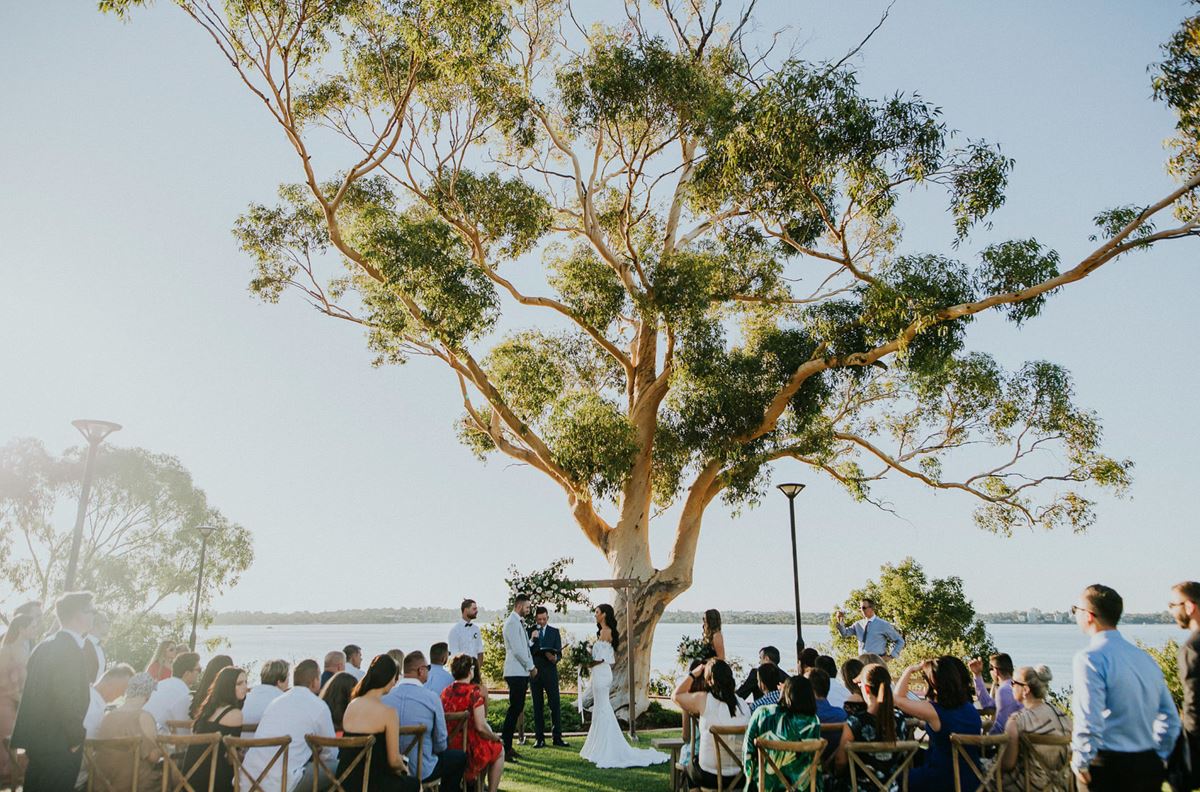 Weddings are more romantic with a slice of history. Pair your riverside wedding with heritage architecture at the Bluewater Bistro. This stunning spot sits high at Heathcote Reserve in Applecross, offering spectacular views of the Swan River and the Perth skyline. At Bluewater Bistro, you can marry outside on the picturesque lawns beneath beautiful swaying trees before heading indoors for an unforgettable reception in the bistro. Find out more here.
---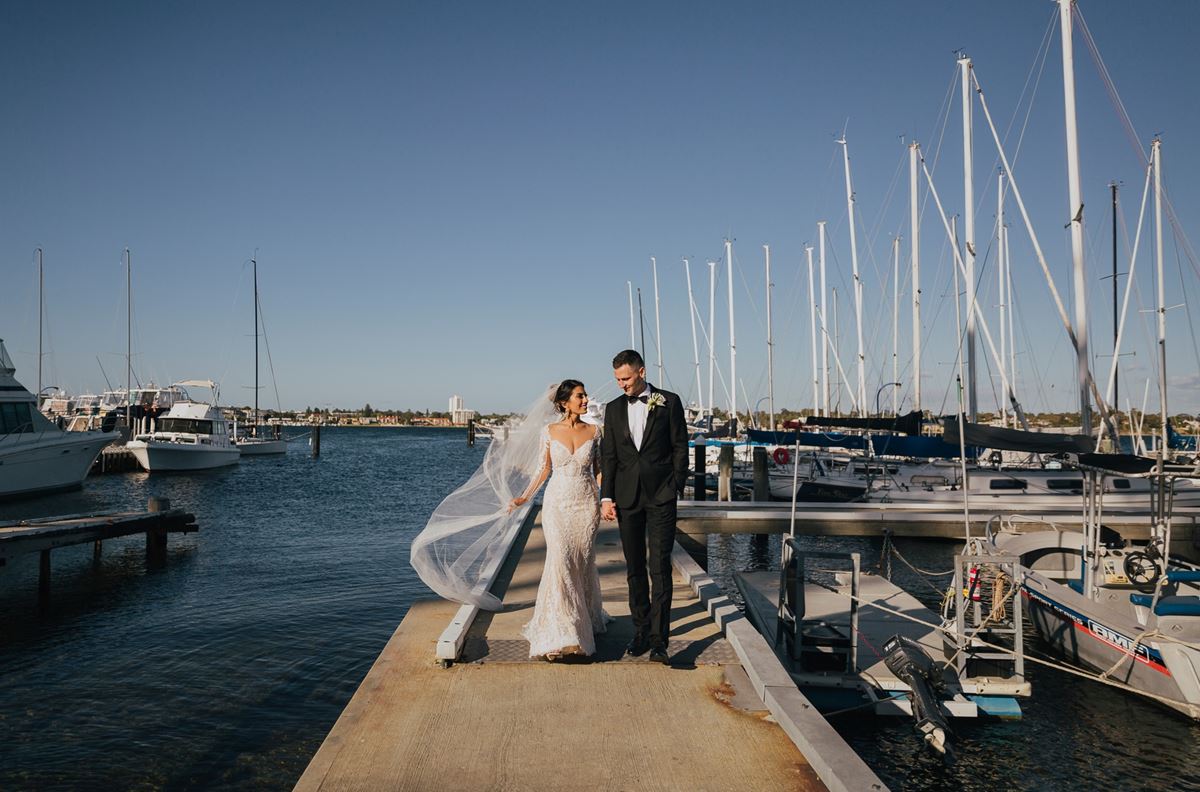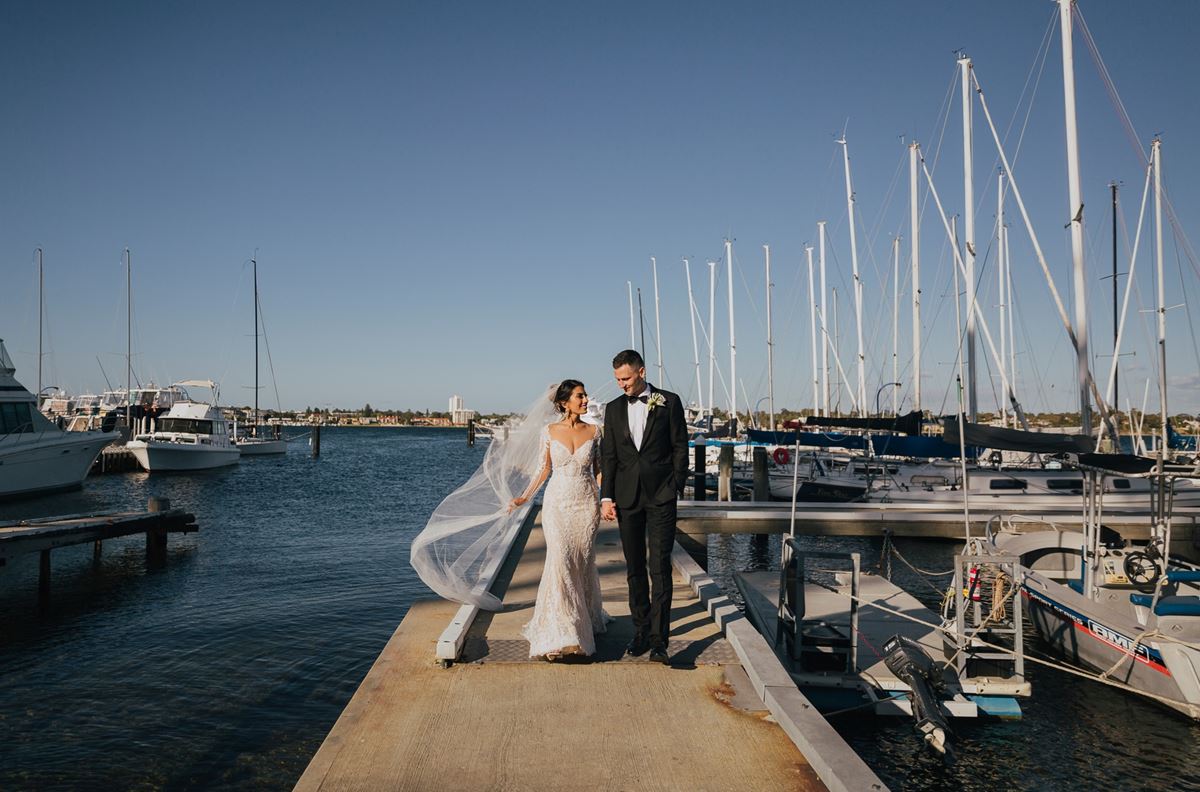 The Royal Freshwater Bay Yacht Club combines intimate settings with a lavish design. This yacht club is situated in a prestigious suburb with views overlooking the nearby bay. This is an excellent venue for couples looking for contemporary design with classic touches.
When you work with this venue, you'll have the chance to collaborate with the experienced events team and dedicated staff. You can also choose from multiple cuisines to complement your evening. Read reviews of this gorgeous yacht club venue here.
---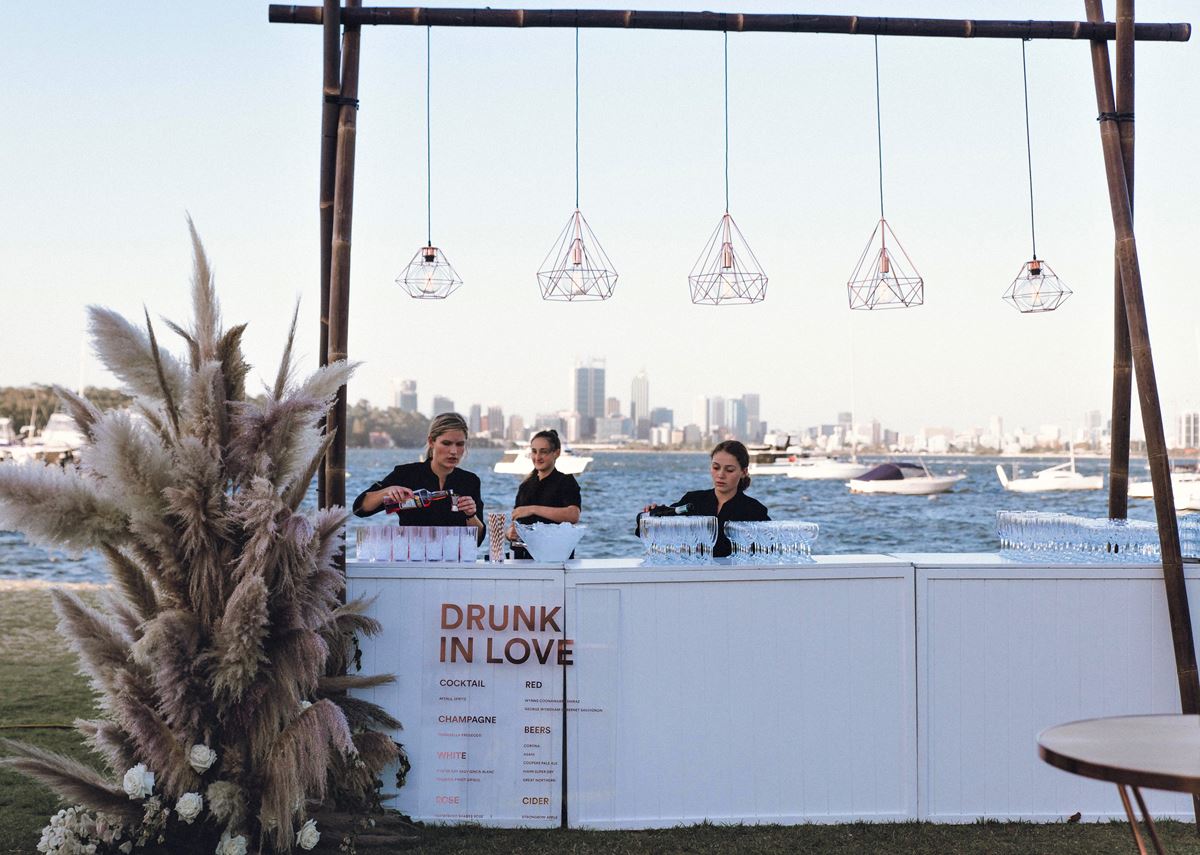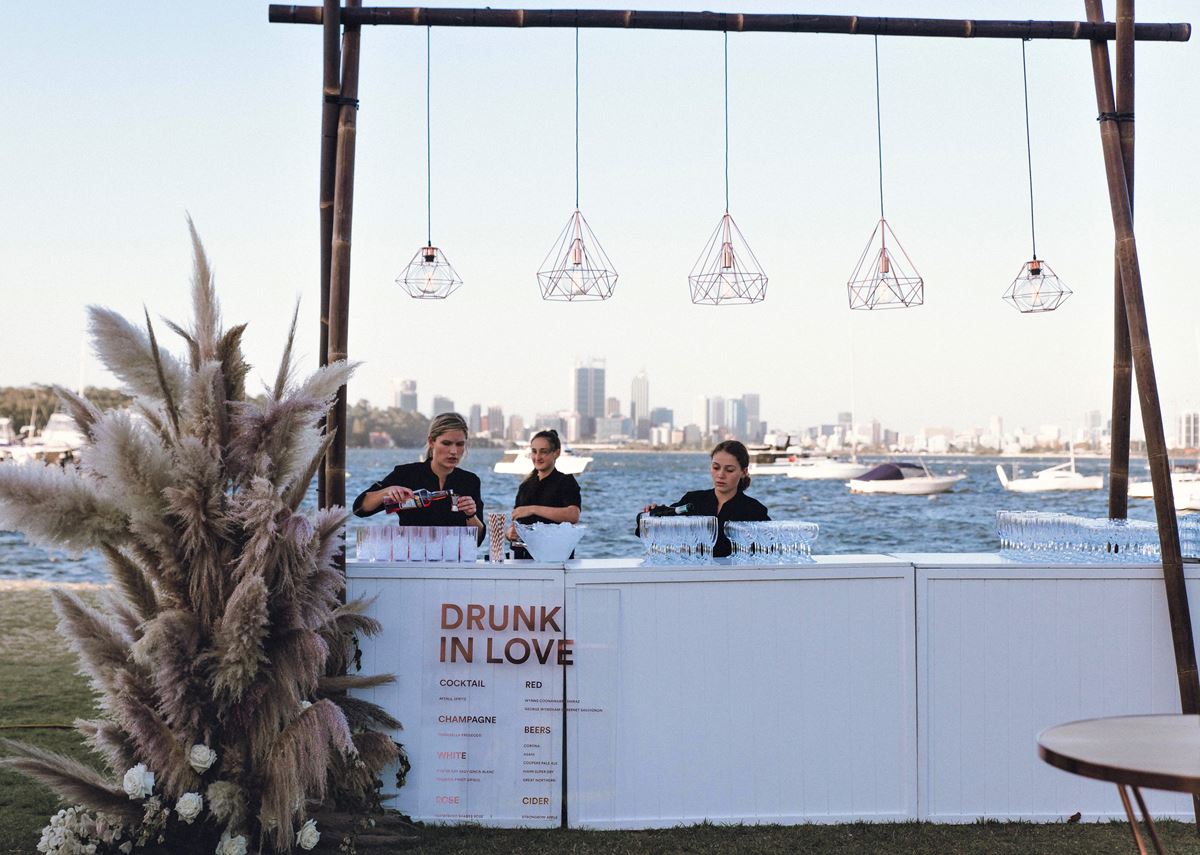 Situated next to the Swan River, Mounts Bay Sailing Club is a riverside venue with a difference. Unlike other venues, this location offers green lawns, waterside views, and cityscapes too. Couples can celebrate their wedding with dinner and dance in the Kilburn Hall.
The Mounts Bay Sailing Club can hold 30 guests for an intimate event. However, it can also host up to 300 for a banquet-style wedding. Check out their Easy Weddings storefront to find out more about weddings at Mounts Bay Sailing Club.
---