*These are the most popular wedding colours for 2018. For the most popular wedding colours today click here.
Everyone has a favourite colour, and making that colour fit into your wedding day should be easy. Whether it's picking bridesmaid dresses, shoes, tablecloths or flowers, incorporating colour into your wedding day can sometimes take longer than expected. We've put together the most popular wedding colours and how you can use these shades in your own day.
Choosing a colour, or colours, that will match your wedding theme can help complete the visual experience of your wedding. You can pick a colour to match a theme or a little something to add a pop of colour and that wow factor to your day.
With the popularity of rustic, glamorous, vintage and bohemian weddings we're seeing light, bright and clean wedding colours take centre stage in wedding colour schemes. Colours with pastel-friendly shades are more popular than the darker, rich colours that tend to be used for more romantic and classic-style weddings.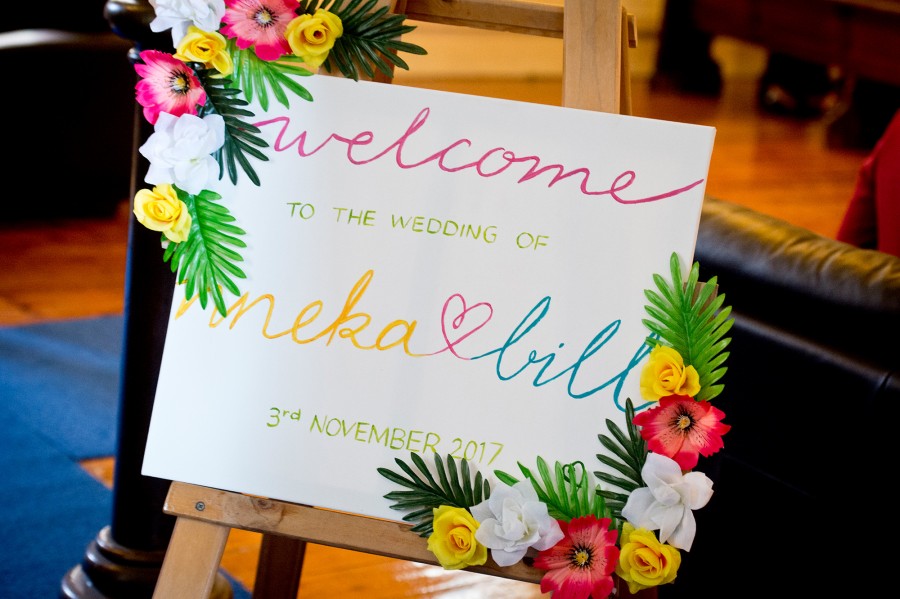 The first factor you want to consider when picking a colour for your wedding is to make sure that it's going to age well. You want to make sure that you're picking a timeless favourite that you're going to be able to look back on with pride, rather than embarrassment!
We're also seeing metallic colours being taken into consideration when couples are choosing their themes. Whether you're matching your colour to gold, rose gold or silver metallics, choosing a versatile colour that can match every style of your theming will also make your scheme more complete.
Here is our list of the current most popular wedding colours, and how you can incorporate them into your wedding day.
Blue
Leading the list for the last couple of years is the colour blue, which remains the most popular wedding colour in Australia. And with varying shades to choose from, it's easy to see why. Whether you're after a sky blue, blue-grey or traditional navy theme, or even want to pair various shades of blue together, blue is a timeless classic that is suited to various wedding themes. Plus, there's nothing like adding blue to your wedding theme to make sure that you get that 'something blue' covered for your big day!
If you're looking at incorporating some blue into your wedding, consider your theme to see how strong you go. We love dark blues and navy's being featured in classic and elegant weddings. They can also be a good choice if you're looking at having a darker theme but think black is too harsh. When it comes to vintage and rustic themes, pale sky blues or pastel blues will go well with all the rustic brown colouring for your wedding.
Blue is also a very versatile colour when it comes to pairing it with other colours. Metallics such as golds and silvers will pair well with blue. Pale blues will also match pastel pinks, while rich navy paired with dark reds will give your wedding a more elegant feel.
Our favourite tips to include blue in your wedding theme include your shoes, formal wear, decor, and even flowers.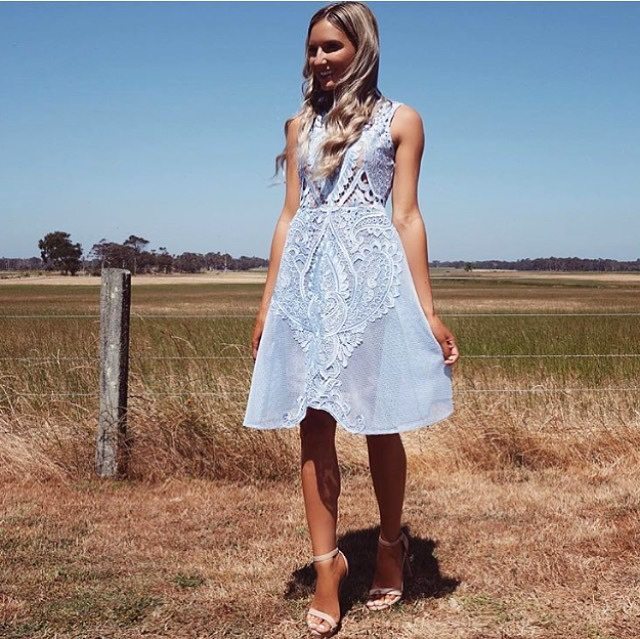 White
Rising in popularity as a major player over the last couple of years is the colour white. While the concept of a white wedding has always been a popular one, white has previously been seen as the exclusive colour of brides, or a secondary colour that will fill in the gaps. But not anymore! We're seeing more and more weddings make a statement with feature white pieces and white theming.
Aside from the obvious white wedding dress for brides, our favourite white statement pieces include white bridesmaid dresses and even white suits for grooms! We also love the white on white look when it comes to crisp, clean decor and floral bouquets.
White is obviously a colour that will pair well with everything, but we love adding it as a feature of light pastel colour schemes or glam luxury weddings.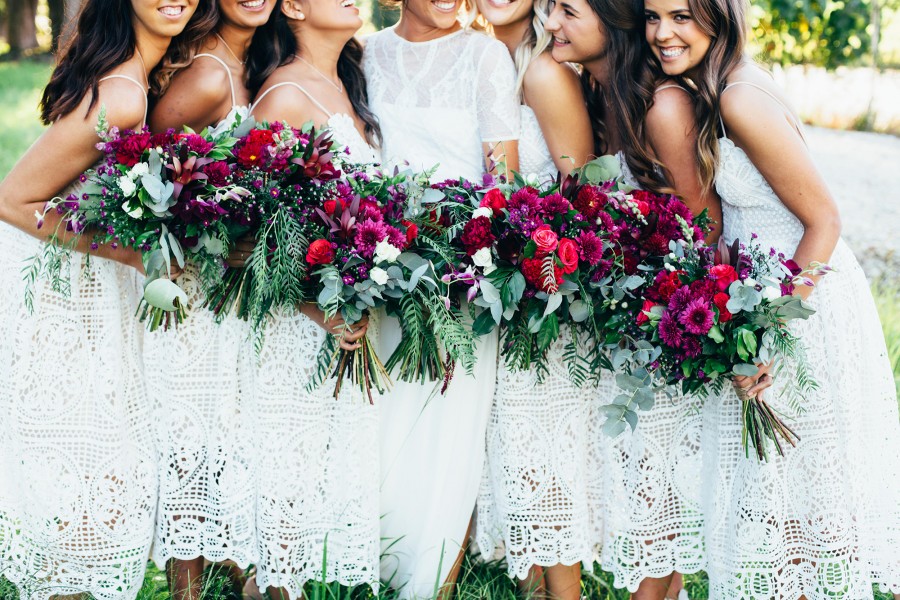 Pink
Whether it's in fashion, homewares or weddings, the colour pink is becoming more and more popular as a versatile colour for everything, rather than the 'girly' colour it was traditionally considered. We've seen pink as a colour rise in popularity over the last year through 'millennial pink' and 'blush' tones, which have been taking over retail stores, homewares sections, social media feeds and even food (pink fairy floss brunch anyone?) Pink is a great versatile colour that can be featured in various shades for your wedding, and is suited to the trifecta of gold, rose gold and silver metallics as well.
Apart from the obvious choice of bridesmaid dresses, pink wedding features we love are pink shoes, cakes, and even grooms suits. Pastel pinks are a great addition to a pastel colour scheme and will pair well with peaches, yellows and sky blues for a rustic or vintage theme.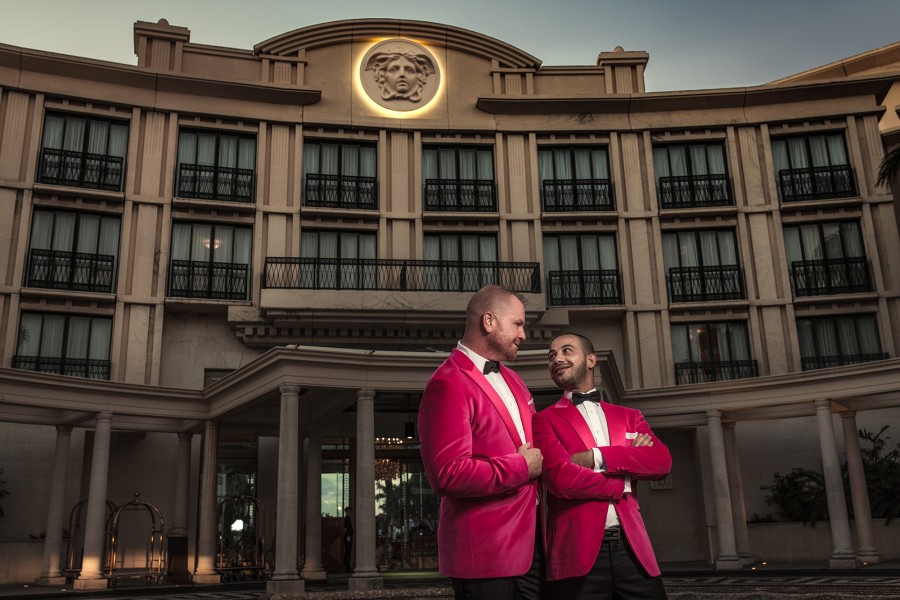 Purple
Despite UltraViolet being named the 2018 Pantone Colour of the Year, we've actually seen the colour purple decrease in popularity as a wedding colour over the past year. Lighter purples such as violets and lavenders can be used in pastel themes to complement a vintage or bohemian wedding, while darker richer tones can add elegance to your traditional, glam or luxury wedding.
Purple can also be themed well with metallics, and we love seeing purple features paired with natural greenery or making a statement in wedding invitations or decor.
Red
Despite being the 'colour of love', the colour red has made it into our list of most popular wedding colours this year for the first time. We're partially contributing this to the rise of the bohemian trend, where we're seeing lots of rich reds and burgundy's being used to complement natural greenery.
However for many years, red has also been considered a colour of luck, and is a popular colour in many cultural weddings. This rich colour can add a real pop to your wedding day and is going to be more suited to richer, darker themes than light pastels.