Feeling overwhelmed and not sure where to start with planning your Melbourne wedding? This in-depth guide covers all the essential steps to ensure your wedding planning journey is smooth sailing.
In this article, we'll walk you through all the necessary steps for planning an incredible Melbourne wedding, from finalising your wedding date and budget to locking in your venue and suppliers. Keep reading to discover all of our handy hints and tips for a seamless and stress-free wedding planning experience!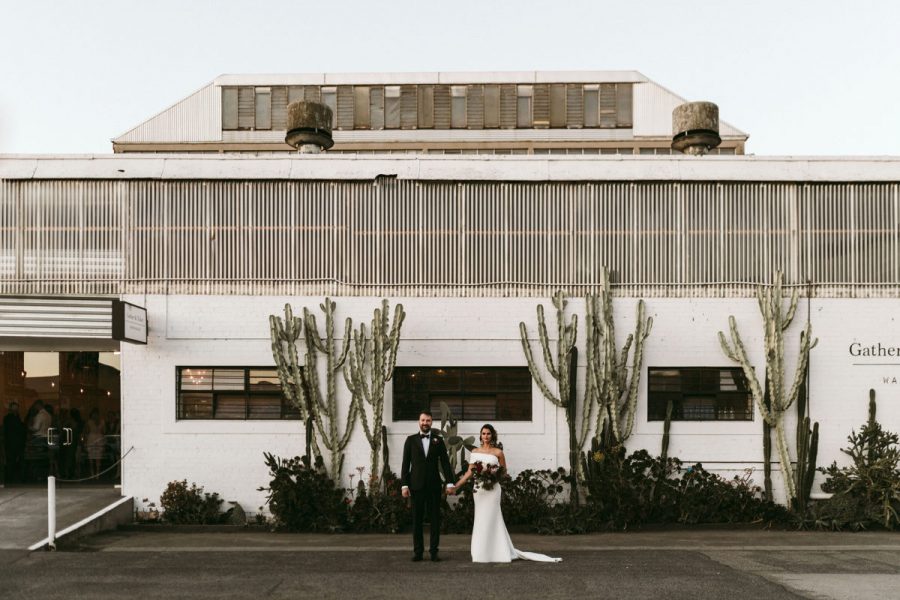 What's included in this article:
---
When to start planning
When to start planning a wedding during COVID has been a difficult question for anyone to answer. However, now that the Australian government has announced the map for reopening based on vaccination rates, we're seeing more optimism across couples and suppliers alike.
What this means is that the sooner you can start planning your Melbourne wedding, the more options you'll have. Because many couples who had originally booked their wedding dates for 2020 or 2021 were forced to move their weddings to 2022, many venues and suppliers alike are facing very full calendars next year.
If you're hesitant to lock in a date with your venue or suppliers, we'd recommend having a candid conversation with them about their COVID date flexibility just in case there's a snap lockdown or unexpected surge of the virus at the last minute.
When you work with our wedding packages, you'll be able to lean into our wedding experts for advice on just this type of thing. They'll also work with you to find the best suppliers for your Melbourne wedding.
Book a free planner consult
Choosing a date for your Melbourne wedding
First things first, you'll need to decide on a date for your Melbourne wedding. Be sure to consider the season you'd like your wedding to take place in while also giving yourself enough time to secure your dream venue and suppliers far enough in advance.
Are you dreaming of an outdoor summer wedding or a more cosy indoor affair in winter or autumn? Whatever it might be, our resident wedding planning specialist Darcy Allen recommends giving yourself around 12-16 months to plan your wedding.

"Most couples take about a year to plan their wedding," explains Darcy. "That being said, if you want to have the most options for availability in regards to venues and suppliers, eighteen months of planning is really the sweet spot."
Read more of Darcy's tips for creating the perfect wedding planning timeline here.
Of course, if you're willing to be more flexible, you can plan a beautiful wedding in just a few months. The best way to do this is to enlist the help of someone who's done it all before. Our wedding experts know all the best suppliers across Melbourne and will work closely with you to curate your wedding supplier dream team.
Chat to a wedding expert
Setting a budget for your Melbourne wedding
Before you can start reaching out to suppliers and venues, you'll need to sit down with your partner and have the wedding budget conversation. This can be one of the most daunting parts of wedding planning, and our wedding specialist Darcy Allen has put together some helpful discussion points to help get you started.
"First of all, you'll need to decide whether you're having an intimate or larger wedding and finalise guest numbers," says Darcy. "It's then important to consider whether any of your relatives will be contributing to the budget, and if so, how much are they comfortable contributing."
"You'll then need to consider the location and non-negotiable elements of your wedding," explains Darcy. "For example, will you spend more on food and drinks and less on flowers? Or more on entertainment and less on photography or videography? These things should be discussed with your partner in great detail before finalising the budget."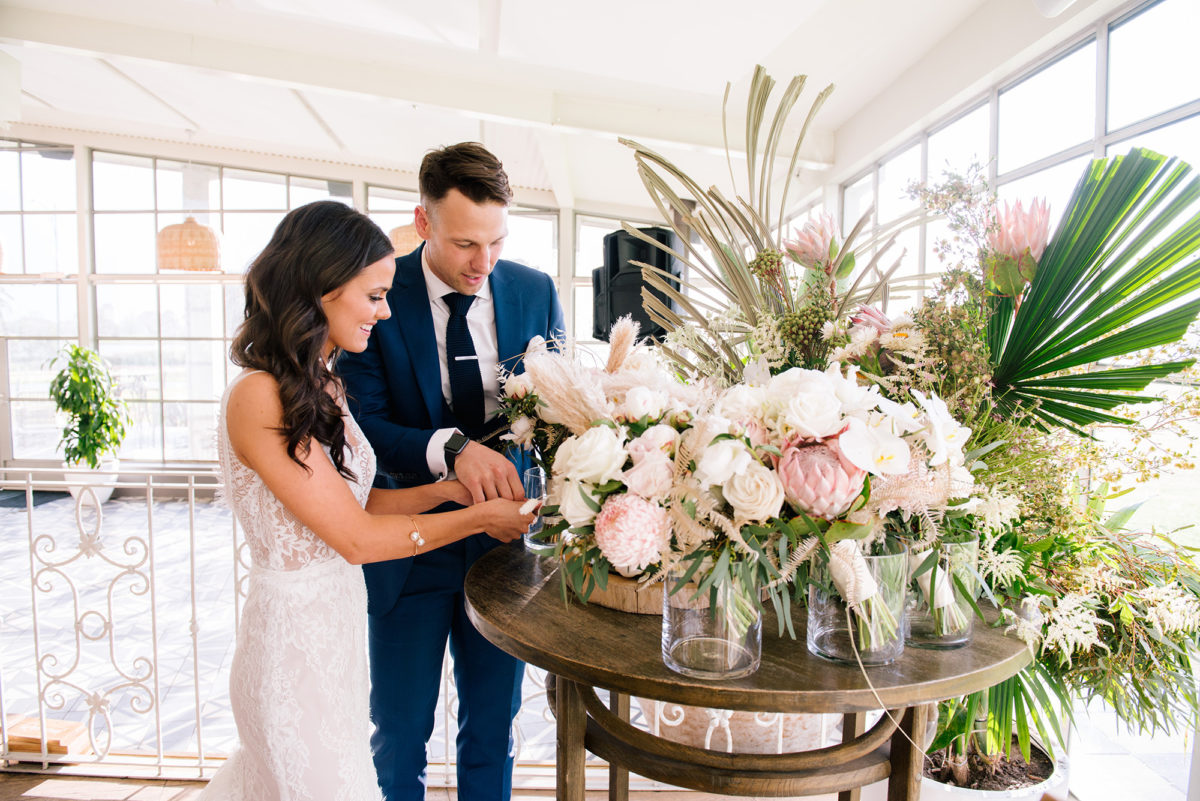 Once the discussions are over and you're ready to get down to the nitty-gritty, check out our handy Budget Calculator. The calculator is super easy to use and will help you keep track of your spending to ensure any unexpected expenses are accounted for. This helpful planning tool itemises all of your wedding expenses, including quotes from venues and suppliers, actual costs, and payments made.
plan your budget
If you've had the dreaded budget chat and feel slightly overwhelmed by the whole wedding planning process, why not have a chat with one of our wedding supplier experts? They'll work closely with you to design a bespoke supplier package that fits your wedding budget and vision, saving you time, money and stress.
How to find a Melbourne wedding venue
Once you've set a date for your wedding and finalised the guest list and budget, it's time to find the perfect Melbourne wedding venue. It comes as no surprise that this vibrant city is home to a diverse array of incredible wedding locations, from elegant winery wedding venues in the Yarra Valley to stunning waterfront wedding venues on Melbourne's iconic Southbank.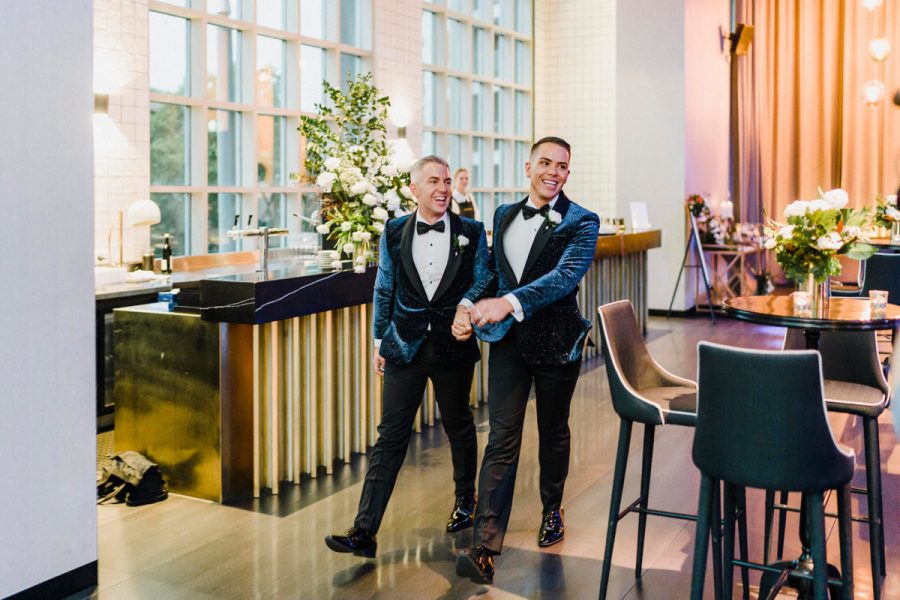 Find a Melbourne venue
First of all, you'll need to decide on your wedding theme. Are you envisioning a rustic wedding in the Yarra Valley? Or is an industrial-chic shindig in one of Melbourne's trendy warehouse wedding venues more your style? If you've decided on a theme and are feeling overwhelmed by the vast array of locations available, our expert Venue Finders can help you narrow down your Melbourne venue search.
It's super simple — just let our Venue Finders know your wedding style, budget and must-haves, and they will match you with a list of your most suited Melbourne wedding venues. These industry experts know Melbourne inside and out and will make this step so much easier for you by taking the stress out of the venue search.

How our Venue Finder service works:
We pair you with a list of your perfect Melbourne wedding venues
We schedule site inspections for you at your preferred venues
We finalise the details and arrange a contract for your chosen wedding venue
Find a venue
Where to find the best Melbourne wedding suppliers
Now your venue is locked in, you'll need to start thinking about the smaller yet equally important details like photographers, celebrants, hair and makeup artists, musicians, and transportation. Having a top-notch team of suppliers will ensure your Melbourne wedding is a fabulous affair that unfolds seamlessly and truly wows your guests.
The supplier selection process can be overwhelming, and you'll no doubt have lots of questions. Do I need a videographer as well as a photographer? Should I book a DJ or a live musician? How many hours will I need my suppliers for? These are all questions that we've heard many times here at Easy Weddings, and our wedding planning specialists have all the answers.

Our planning specialist, Abbey Sands, has helped plenty of couples find their supplier dream team for a seamless and stress-free wedding experience. "We have years of experience planning weddings and an extensive network of five-star suppliers that we can tap into," says Abbey. "This makes it easy for us to create personalised wedding packages by matching our couples with their perfect suppliers."
Chat to a wedding expert
When you work with our planners, you'll receive a bespoke wedding package that fits your budget, vision and wedding style. They'll help you stay on track with your budget, curate your supplier dream team, and share lots of insider tips and planning tools along the way.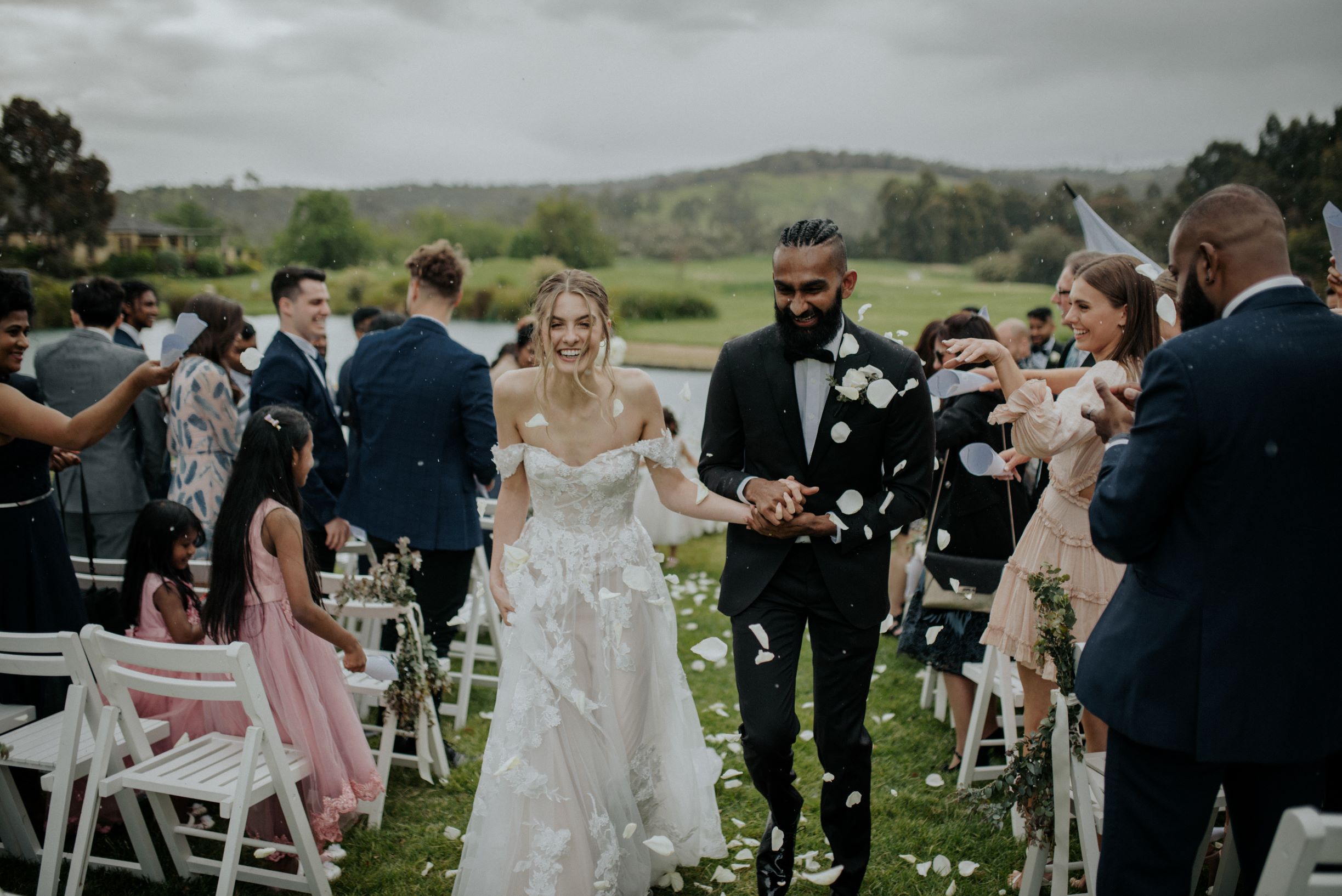 Helpful tools for planning a Melbourne wedding
If you're struggling to stay on top of all your wedding planning tasks, the Easy Weddings mobile app is jam-packed with useful tools, including a wedding checklist, budget calculator, style quiz, supplier directory, and vision board creator. This all-in-one wedding planner allows you to keep track of all the different elements of your wedding, from your preferred suppliers to your ever-changing budget.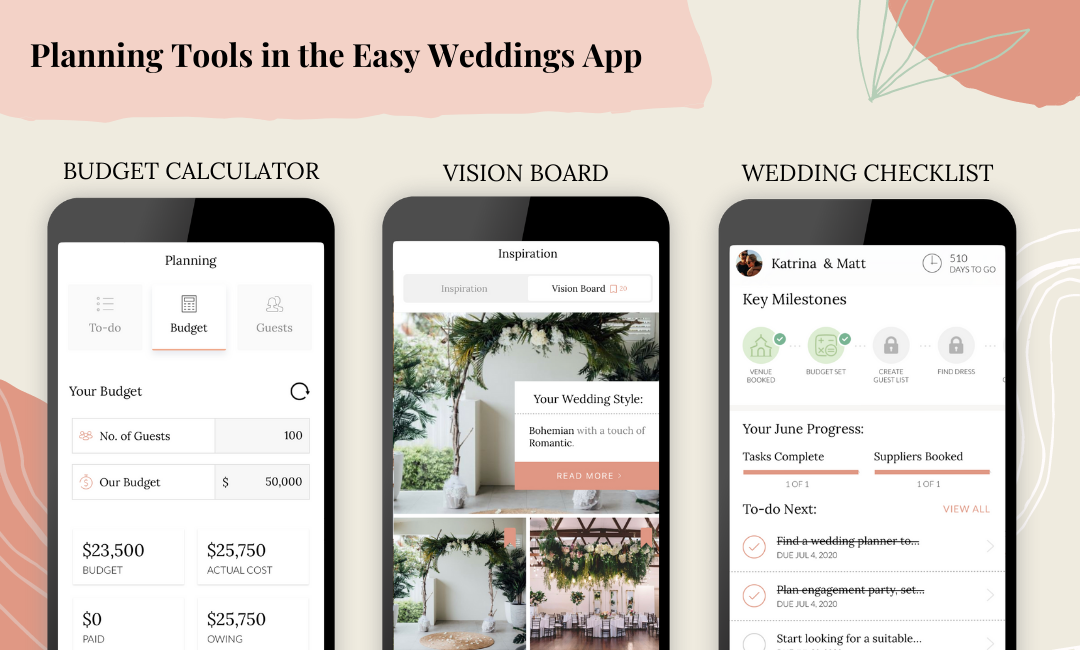 download the app
Our free planning guide is another wedding planning game-changer that will help ease any stress you're experiencing. This handy guide has been carefully curated by our in-house wedding experts to ensure it covers everything you need to know, from pre-engagement through to your wedding day.
Gathering inspiration for your Melbourne wedding
Now that you have all the planning basics covered for your Melbourne wedding, you're going to need some serious inspiration! Here are a few of our favourite real weddings from beautiful venues across Melbourne to get your creativity flowing.
Brodie and Andrew's industrial luxe wedding at Gather & Tailor in trendy West Melbourne was modern and elegant, with eye-catching moody florals and a fabulous long table dinner setup. To top off their wedding celebrations, this stylish couple had a flowing Champagne tower and stunning sparkler send-off!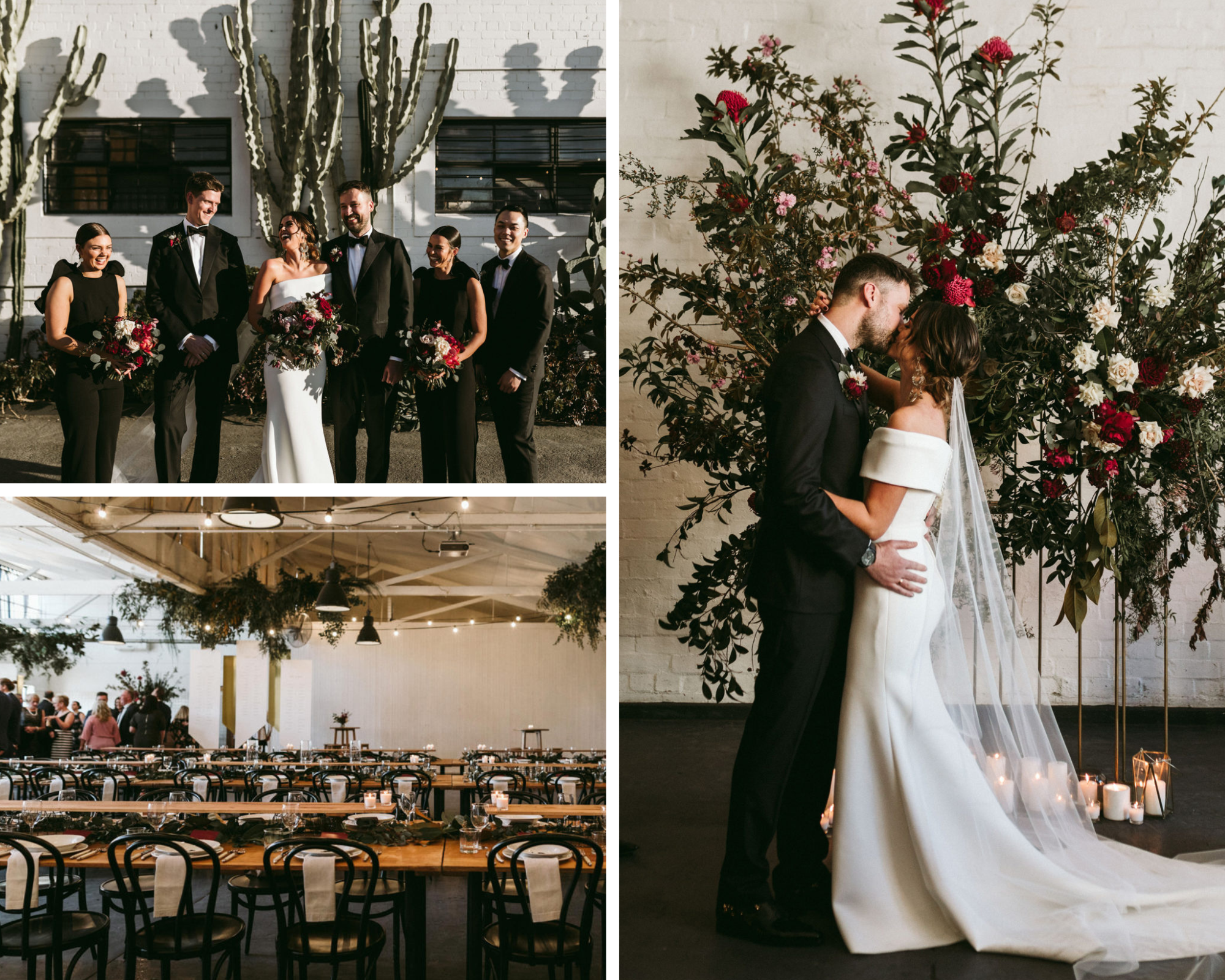 See more industrial venues
To say that we are obsessed with Daniel and Michael's luxurious modern wedding at Metropolis Events on Melbourne's Southbank would be a massive understatement. This lavish affair featured a celebrity celebrant, hundreds of dreamy white roses, and two handsome grooms in matching glitter tuxedos — need we say more?
See more waterfront venues
If you're dreaming of a romantic garden wedding, Chiara and Dane's magical day at The Terrace Royal Botanic Gardens Melbourne has all the inspiration you'll need. Their beautiful outdoor ceremony took place on the lush Taxodium Lawn in the Botanic Gardens and was followed by an elegant reception dinner at The Terrace.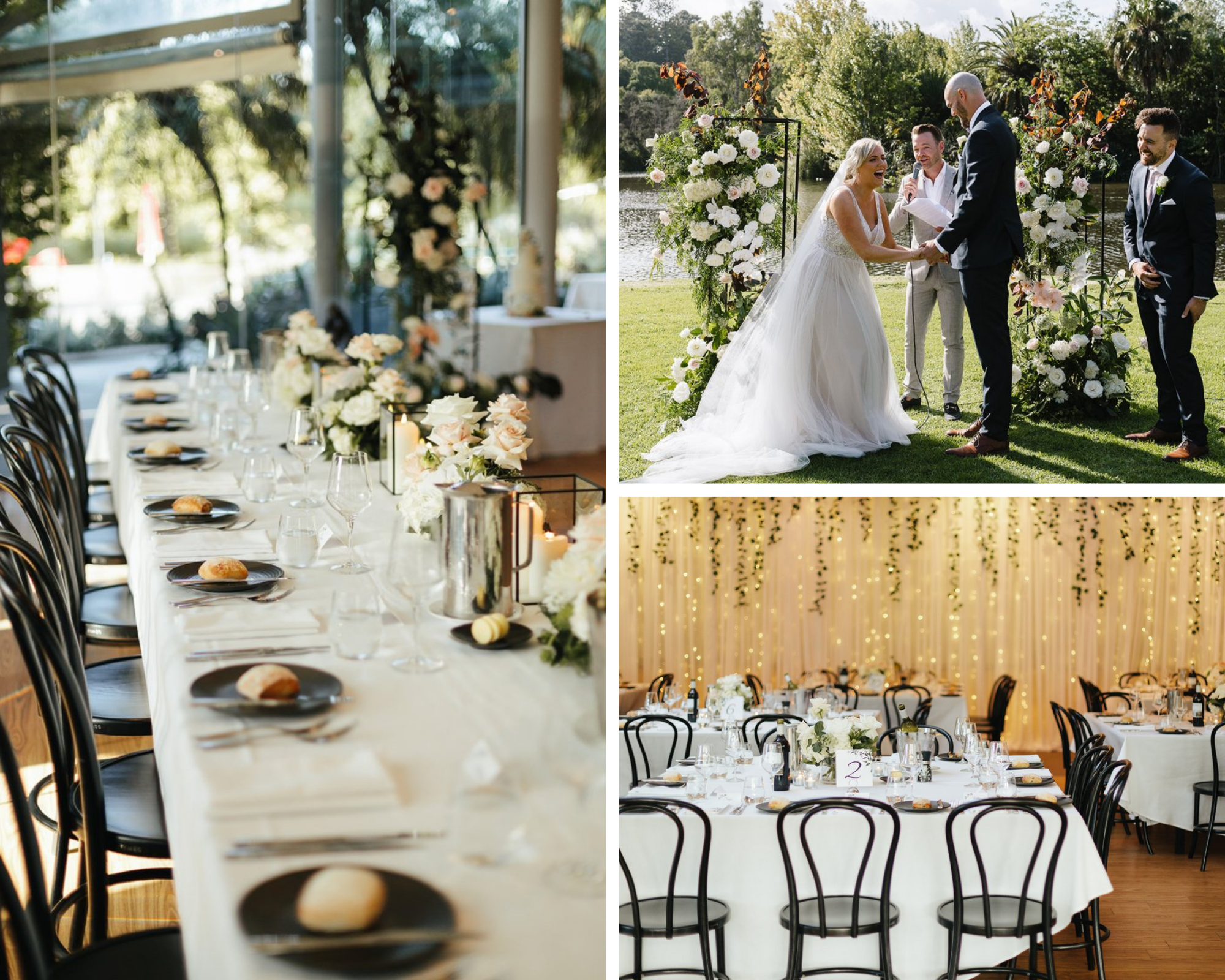 See more garden wedding venues
In need of some more inspiration for your dream day? Check out more real weddings from across Melbourne and the rest of Victoria.
---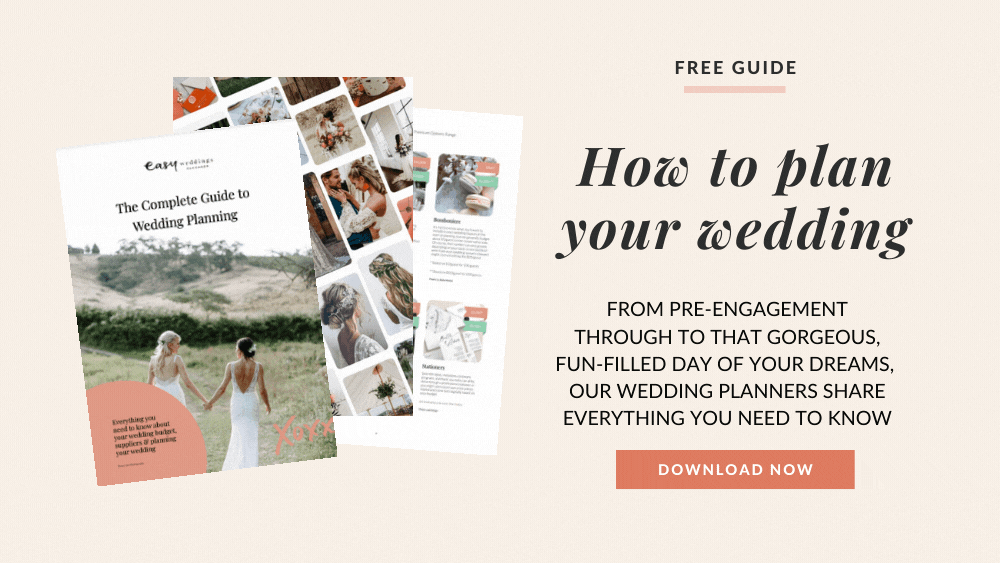 ---