There's nothing quite like scrolling through your Instagram feed and picking out your favourite wedding goals. From luxe bridal gowns to elegant golden hues and decor themed to perfection, there's no doubt that we're sometimes guilty of wedding envy.
And why shouldn't we be? With real weddings like these, we'll be hashtagging #goals for days.
This glam outdoor wedding
Gold Coast couple Stephanie and Gene hired a luxury waterside mansion for their nuptials, with marble floors, gold details and windowed walls in all directions.
Stephanie wore a stunning hand-made embellished wedding gown with an elegant train and her bridesmaids were decked in dresses with a golden bodice to complement the decor of the house.
Their photographer (and friend) at Blossom Forest even flew in from London for the event, capturing all of their moments with glam and elegance.
Plus the couple and their bridal party stayed in the house in the days leading up to the wedding, so we can't help but feel a bit envious of their mansion 'slumber party' as well as luxurious day!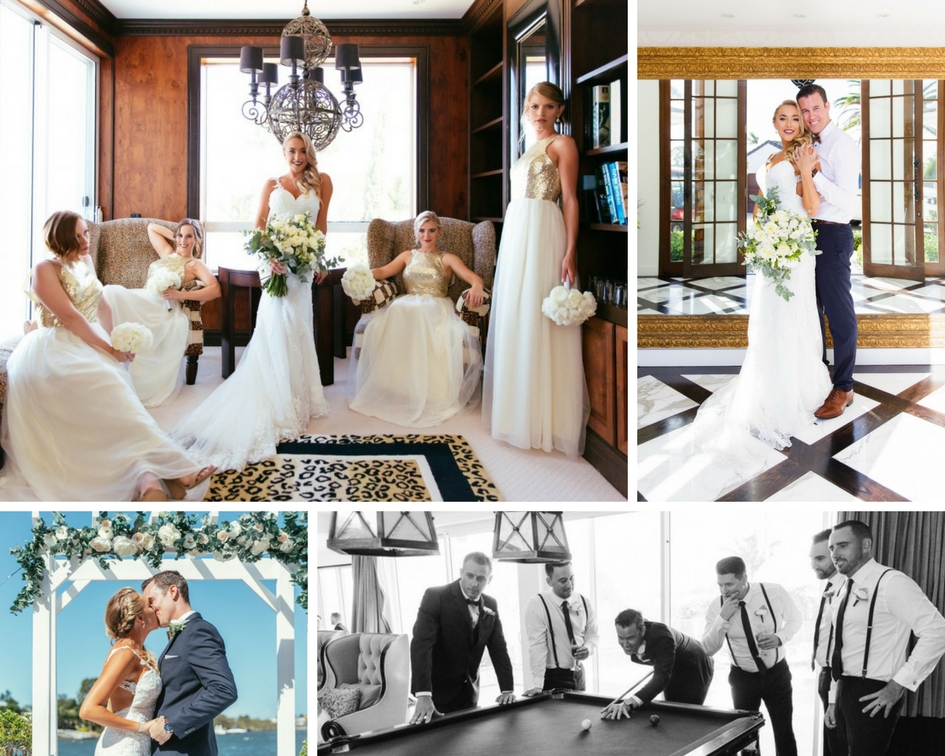 This elegant double celebration
What's better than hosting one elegant affair? Two of course!
Adarshna and Aurnen are giving us major wedding envy with their week celebrations for their double ceremony and reception.
Their first wedding was a traditional Hindu event with glitz, glam and an array of amazing colours. Adarshna wore a stunning traditional Indian dress and her sparkling red shoes are to die for.
The couple's second wedding was a Catholic event with Assyrian traditions. Everything from Aurnen's feather buttonhole, to Adarshna's dramatic ivory gown, their elegant four-tiered cake and the San Remo Ballroom are just perfect. We just can't get over this breathtaking mix of cultures.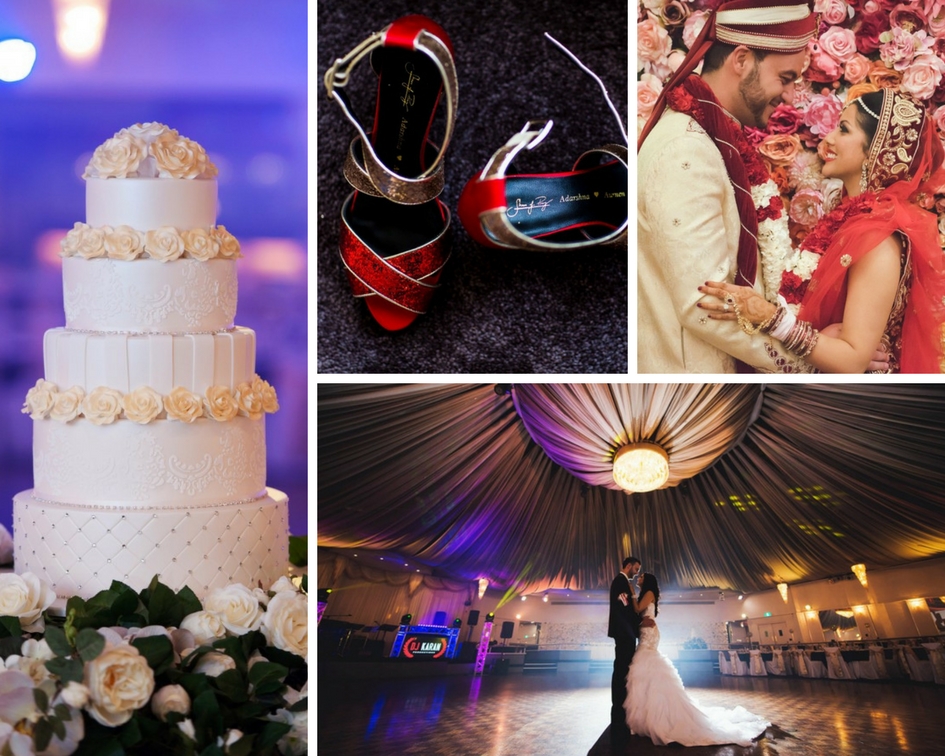 This luxe extravaganza
Dani and John's grand soiree was held at the Regent Theatre's Plaza Ballroom and we don't blame you if you're starting to get a serious craving for having a ballroom wedding (like the true princess you are).
Dani and John's wedding is elegance from start to finish. Dani wore an amazing custom designed gown by J'Aton Couture. But the best bit isn't the heavy beading or stunning embroidery, it's the 1.5-metre rounded train with all of the same details. Stunning!
Even the bouquet was lavish, featuring cascading orchids and vines and all wrapped together with an ivory satin ribbon. And we love the SIX-TIER wedding cake with a custom gold stencil of the letters 'DJ', which of course was designed to match their invitations.
To top the night off the couple also departed on a horse and carriage. Seriously, can you say goals?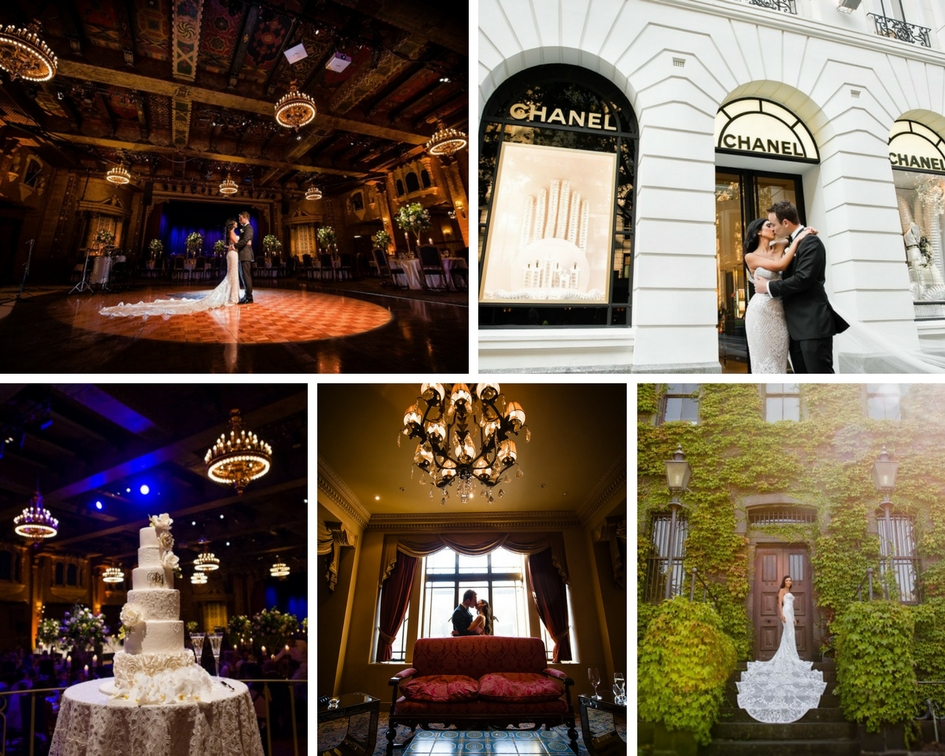 This lavish destination affair
When you have more than 150 guests willing to travel from Australia to Serbia for your wedding, you know you've got to put on a show.
Nikolina and Mladen held a three-day gala with more than 300 guests for the wedding of their dreams. Of course, their fairytale reception was held in an 11th-century fortress, and yes that is a live jazz band entertaining guests outside the church.
We absolutely adore Nikolina's champagne beaded dress, which was made by the same designer who made her sister's dress two year's prior. The bottom of her dress could even be removed to reveal a breathtaking mermaid fishtail and split for later on in the day.
And don't even get us started on the immaculate golden styling with floran and greenery hints by Events by Nadia. We can't even.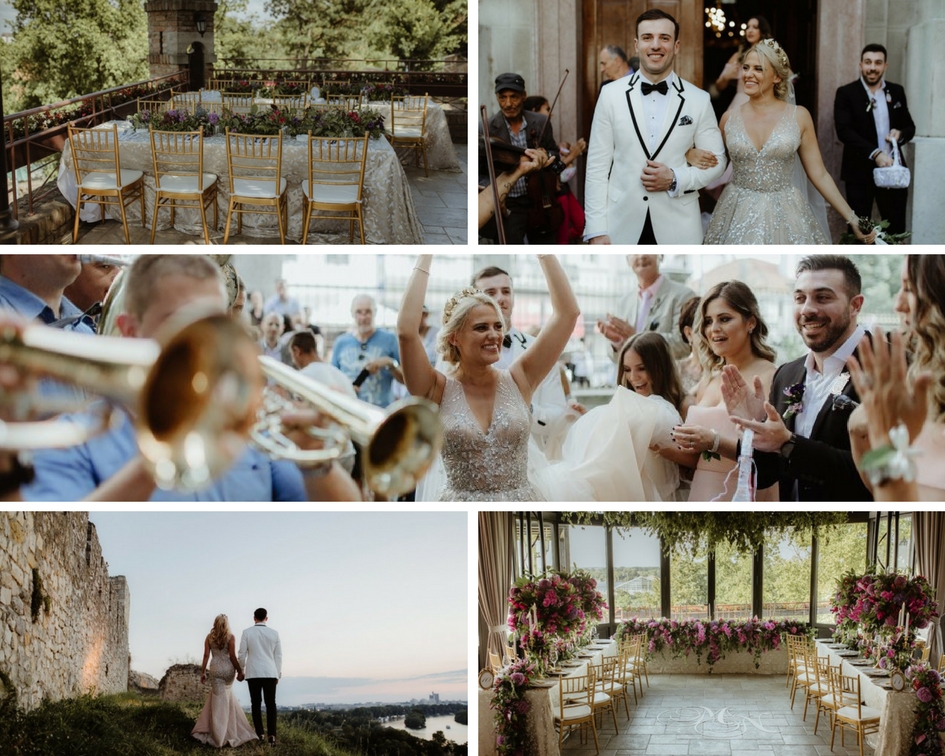 This fashionable private event
Our favourite couple to go that little bit extra is Wade and Mohammad, who were the first couple to ever shut down the private beach at the Palazzo Versace Hotel on the Gold Coast. What an achievement!
These fashion-forward grooms were decked in Christian Louboutin, Alexander McQueen, Dsquared2 and Fendi for their big day, and sported show-stopping hot pink jackets.
These two are our idols after turning their wedding into a full-scale production. Their ceremony featured hundreds of candles and lanterns, an orchid and wisteria archway, their own giant hashtag and even a fashion photographer to take the whole day in.
Plus they announced themselves as Mr and Mr Thompson to Katy Perry's 'Unconditional', as fireworks erupted in the background. #goals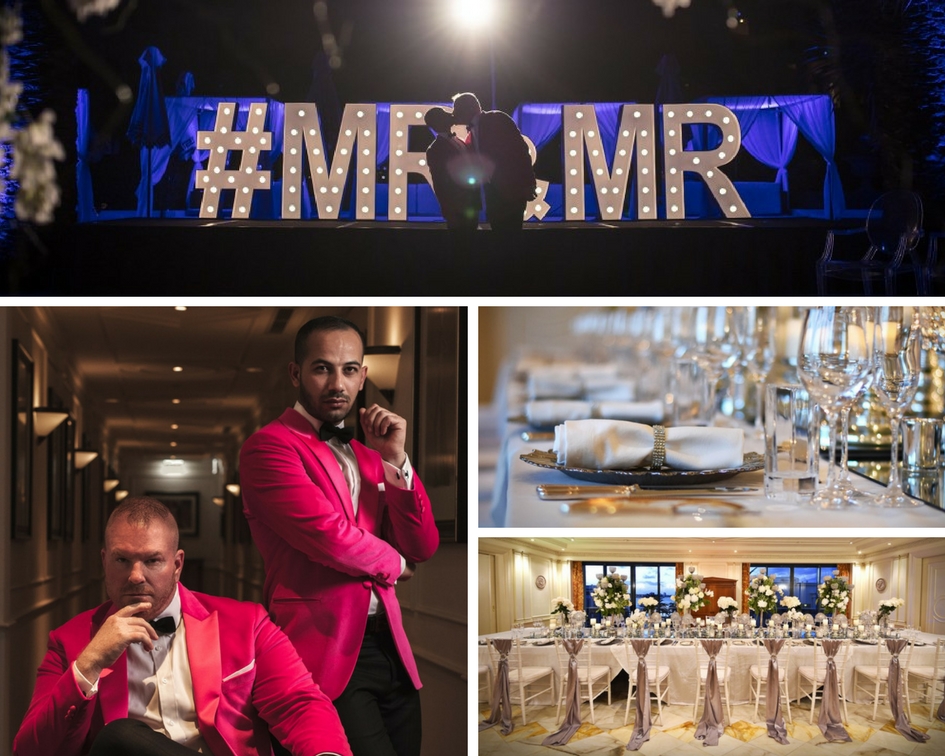 This luxe rustic ceremony
If there was a Kate and Will of rustic ceremonies, these two would be it. I mean come on, who has an aerial shot of them walking into the church if they're not a royal?
Wedding planner Shannon and husband Brad were long-time friends before being married in Victoria's Yarra Valley and spared no detail to deck their wedding out perfectly.
We are in love with Shannon's breathtakingly embroidered wedding gown, with elegant sleeve features and of course a stunning train to follow her into the church.
The mixture of luxe with industrial rustic and greenery features are to die for, and we especially have a special soft spot for Shannon's on-trend rose gold tassel earrings.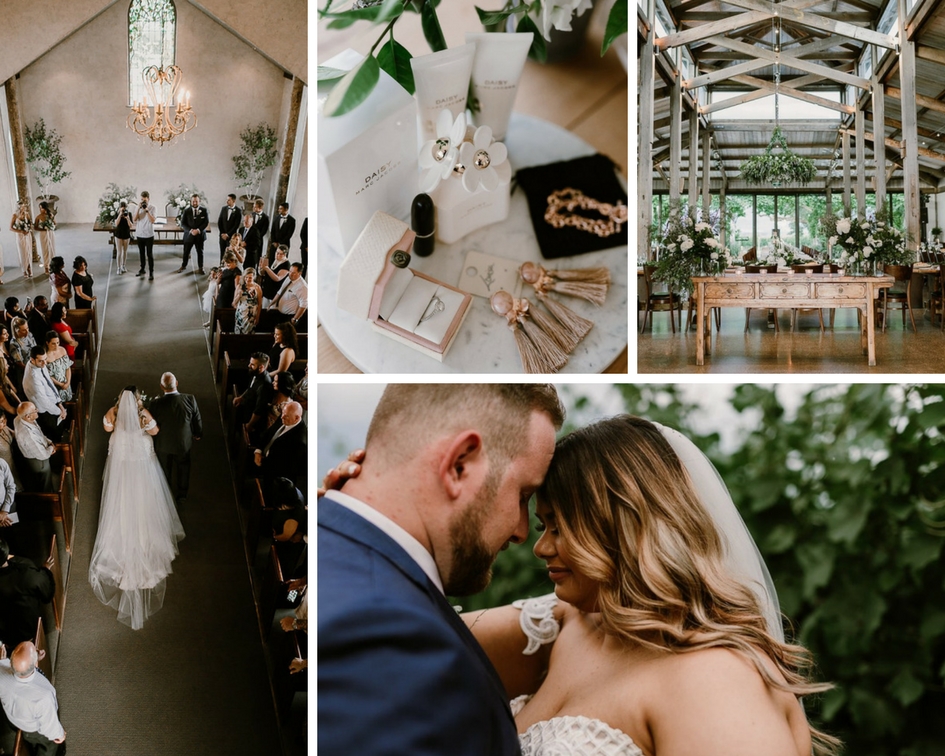 This enchanted forest wedding
If you've ever wanted to have a fairytale romance and the big day to match, then Zeina and Gabriel's wedding will surely be your favourite on this list.
Zeina had not one, but TWO, stunning wedding dresses for the day, with a stunning embroidered princess design for the ceremony and a slim-fitting dress for the reception. Meanwhile, Gabriel wore a stunning fitted white tux jacket that we absolutely love.
We love the mix of glam and greenery for this wedding, and the stunning traditional buildings featured with modern elements and designs.
Plus the couple added pyrotechnics to their first dance and if that doesn't say wedding goals we don't know what does.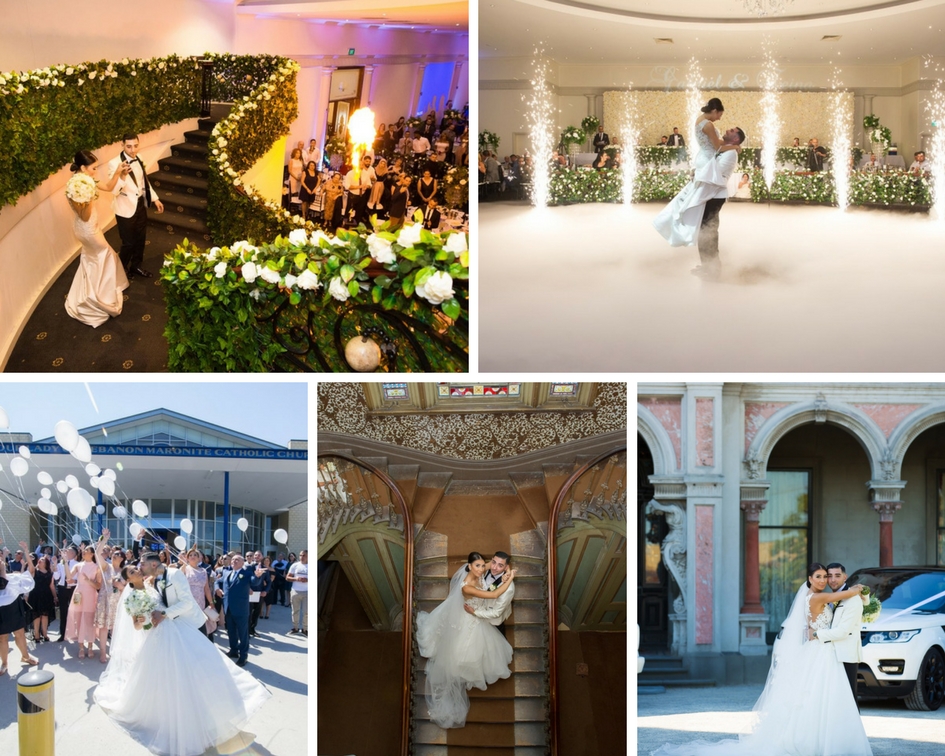 If you can't get enough glamorous wedding inspo then check out more amazing real weddings here.