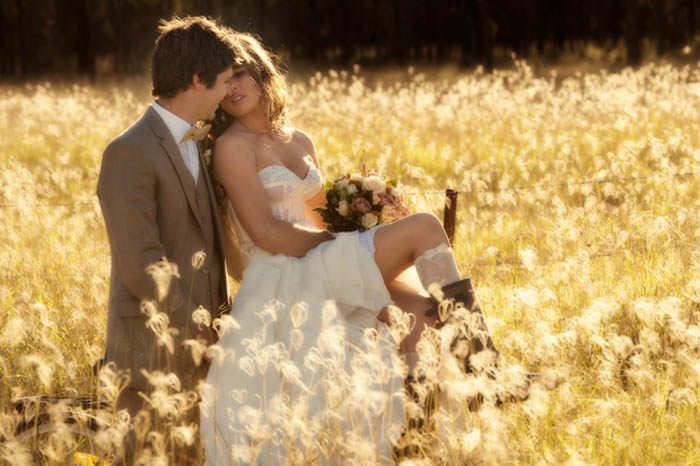 Wedding shoes are among the most crucial parts of the day. After all, they have to carry the bride through some very special moments. Many women choose to go the dainty, or high-heeled, route, but others see something equally wonderful in a great pair of boots. Here are 10 brides from our real-life wedding files who took the plunge in style – and comfort.
Knee-high style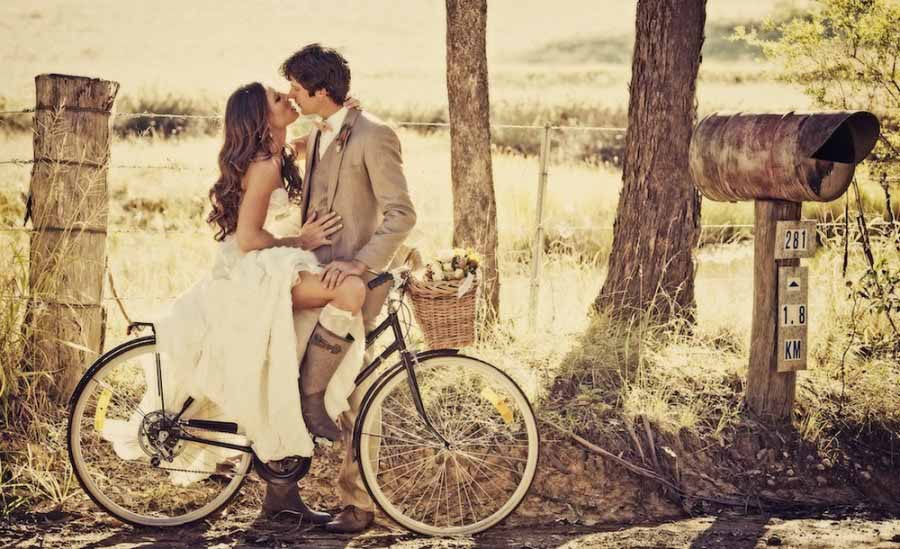 When Taleah married Aaron she revealed he "loves that I ride dirt bikes and I'm not afraid to get my hands dirty". That may be the case, but when it came time to scrub up for her wedding, the bride looked sensationally stylish, especially with her unique combination of boots and lacy knee-highs. Read more about her wedding here.
Pretty in pink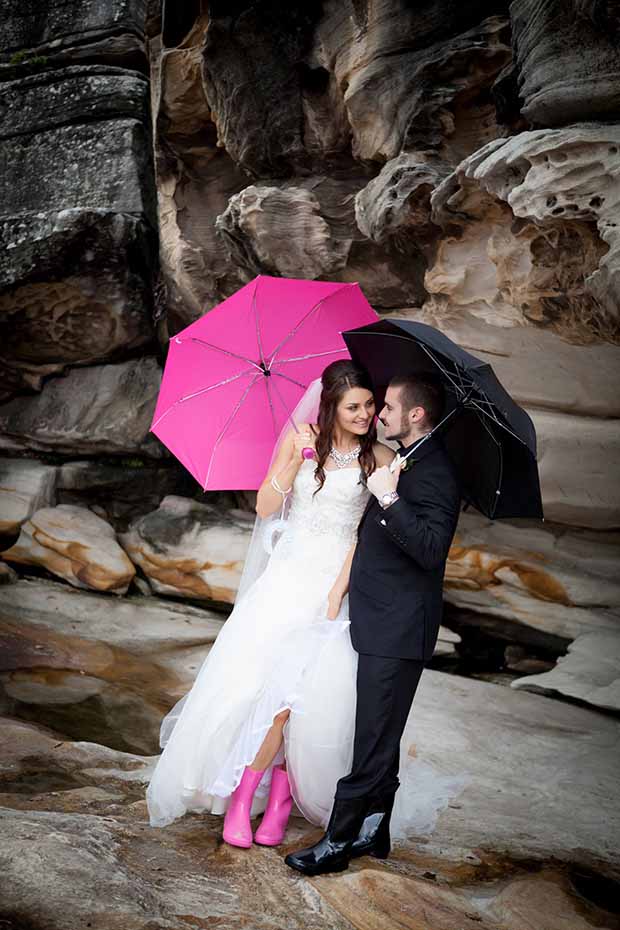 If you can't wear pink rubber boots on your wedding day, when can you? Danielle and Anthony had a fairytale wedding, which showcased their unique style. For example, since there was a huge storm the night before the celebration, the pair made the most of the puddles by jumping in them for photos – after Danielle switched her stunning heels for something a little sturdier, of course. Read about her wedding here.
Something blue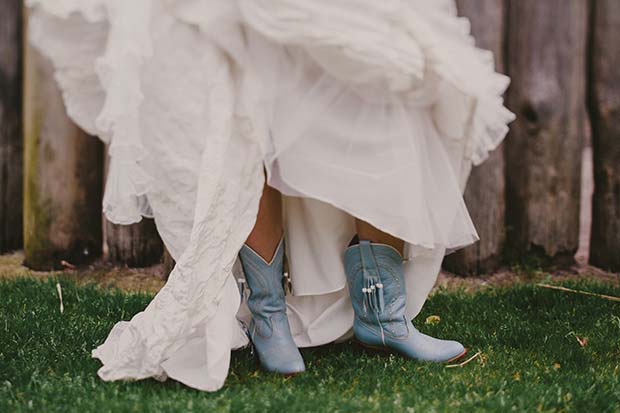 Wow, we absolutely adore Elli's stunning blue cowgirl boots, themed perfectly for her zoo wedding to John. She assures us they're the real thing too: "They were vintage 1970s cowgirl boots from the motherland of all cowgirls – Austin, Texas. They were my something blue and bought from a real cowgirl!" Read about her wedding here.
Step ahead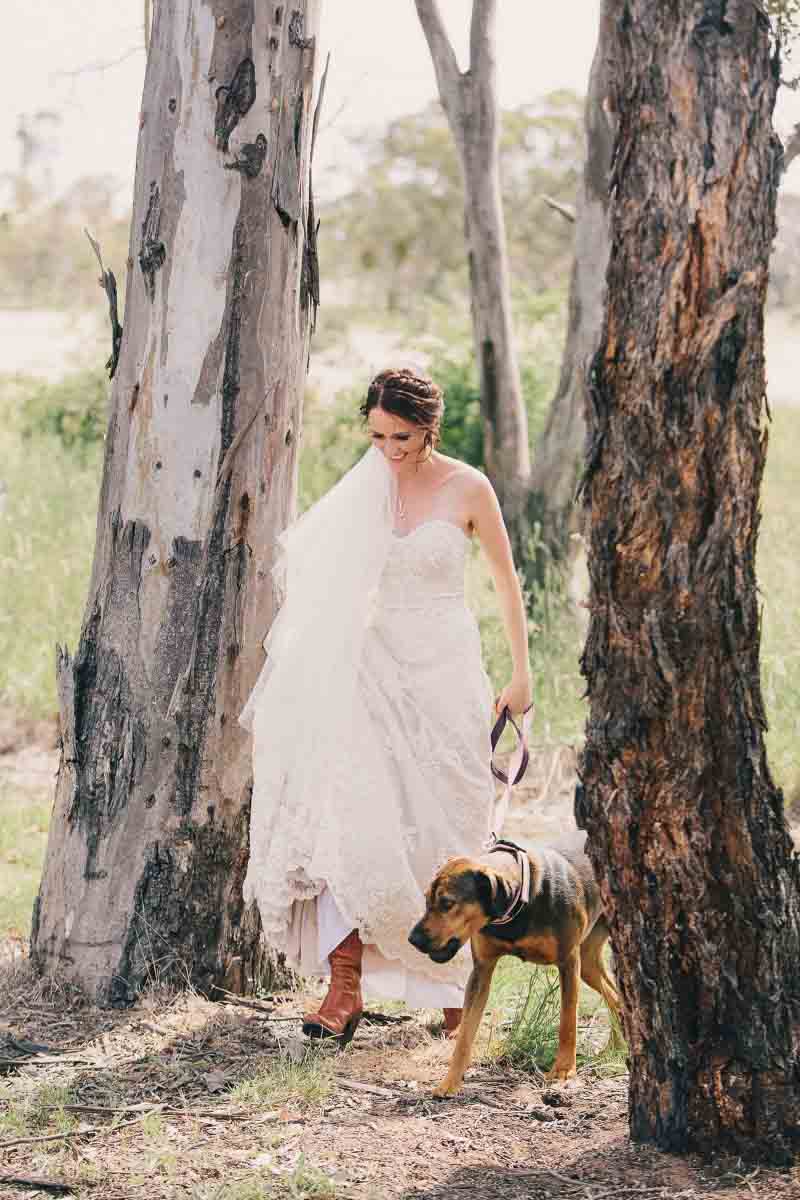 When Naomi married Ben in a stunning lace wedding gown handmade by her mother, you would never have guessed she was wearing cowgirl style boots underneath. It's a combination of delicate and sturdy that doesn't just work, it rocks. Read about her wedding here.
Sole mates
Image:
Voss Photography
Sinead, a keen horse rider, decided her bridesmaids would wear brown boots when she tied the knot with Matt – as would she. When she came across the perfect pairs, with insides lined in a material that matched her bridal party, she knew it was meant to be. Read about her wedding here.
Cold as ice
Image: Kent Tunlind
Jessica had her heart set on marrying Brendan in Sweden's famous ice hotel after discovering it in a documentary. And that's exactly what she did, complete with glitter snow boots to keep her toes cosy. The couple spent their wedding night sleeping on an ice bed in thermals and beanie hats! Read all about her wedding here.
Matching pair
Image:
Whitepoint Photography
We love that brides Vanessa and Irene wore matching gumboots at their wedding. And there is, of course, a story behind it. As Irene explains: "Ness doesn't like heels and I actually had an injured foot, so to make sure we made it down the aisle without falling flat on our faces, I came up with the idea of wearing gumboots and changing on the stairs. My sister suggested the striped socks to add some more fun into it." Read about her wedding here.
Made for walking (down the aisle)
Image :
Bluesky Photography
A shared love of the great outdoors brought Lynette and Liam together, so when it came time to plan their elegant outdoor country wedding, it's no surprise she opted for cowgirl-style boots for the entire wedding party. Chic and very comfortable. Read about her wedding here.
Blooming beautiful
Image:
Real Image Photography
Katherine and Peter had an unconventional wedding full of special touches. For example, they said their vows on a Persian rug, which they have kept to pass down through the generations. And in another gorgeous twist, inspired when rain made the ground too soggy for more traditional shoes, Katherine donned a gorgeous pair of blue and pink floral wellington boots! Read about her wedding here.
Well spotted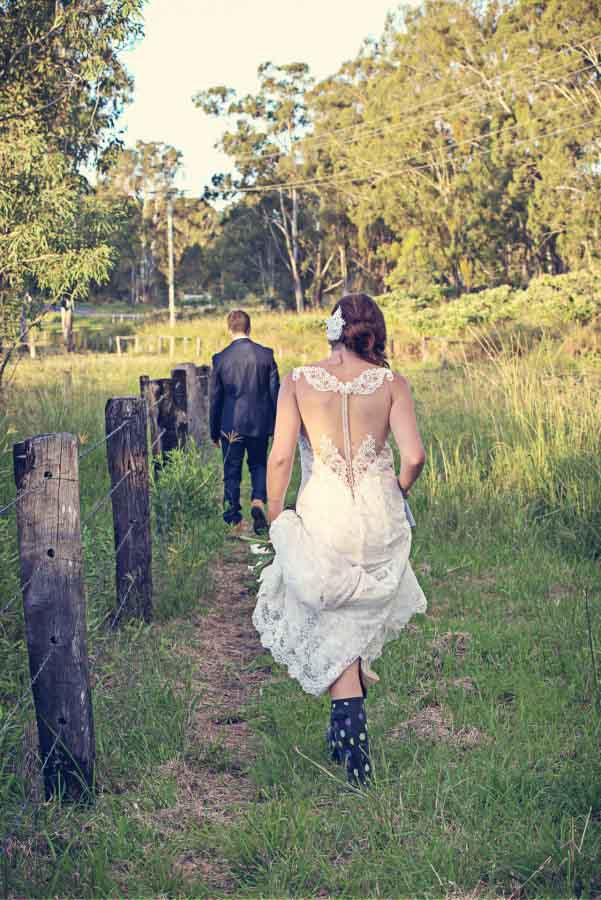 When Nicolette married long-time love Ryan, they staged the entire event on their own property. Tapping further into their local spirit, they looked to capture gorgeous memories of the event: "Niki, our photographer, took us to some local areas for the most amazing photos. We were wearing gumboots, climbing train bridges, trudging through thigh-high grass, but it was so fun." Read about her wedding here.