I received a phone call recently from photographer Marcel Voss: "Have I got a wedding for you." I took one look at Sinead McAuley and Matt Commerford's rustic country wedding and fell in love, for not only are the photos impeccable – including a breathtaking trash the dress shoot in country Victoria – there is something special about high school sweethearts making it down the aisle.
Classmates at Melbourne's Thornbury High School, Sinead and Matt both 23, started dating at the tender age of 15. After graduating, animal lover Sinead went on to become a veterinary nurse; she laughs that while all her friends were saving up for cars, she was saving for a horse.
Six years and an adopted puppy later the young pair's relationship was only getting stronger and at Sinead's 21st birthday party, during his birthday speech in front of all her family and friends, apprentice electrician Matt got down on one knee and proposed. "Matt is super sweet, warm hearted and the most unselfish person I've ever met," gushes Sinead. Her answer was an emphatic 'yes'.
Aptly, the country-loving pair chose the working horse paddock of The Historic Gulf Station in Yarra Glen to say 'I do', and held a sit-down reception for 110 guests at The Vines Restaurant at Helen's Hill Winery.
Much of the event's styling was enthusiastically taken on as a DIY project, Sinead commenting, "My glue gun was my special weapon with all my wedding creations!"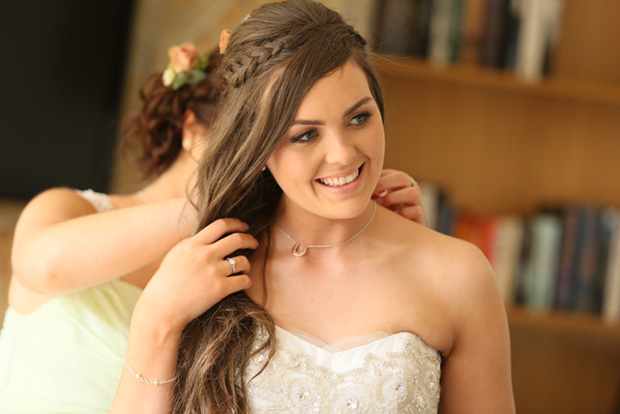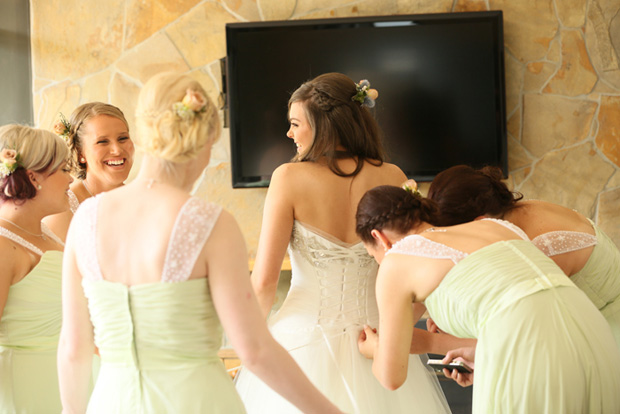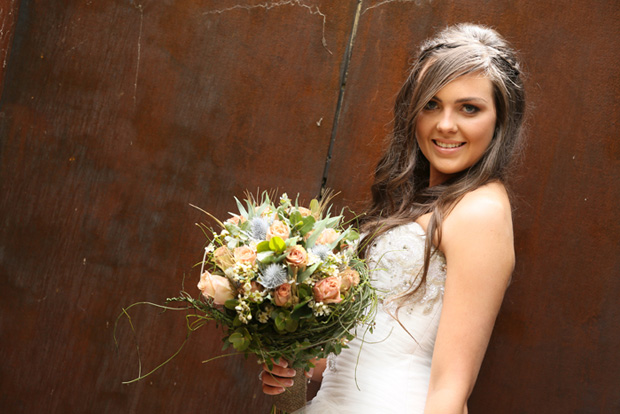 When Sinead told Emma at Beautiful Flowers in Bundoora that she wanted a "rustic country feel" and a "messy look" for her bouquet, Emma produced the perfect arrangement. It consisted of gum leaves, tarragon nuts, Hypnose and Honeymoon roses, sea holly, dodder vine and dry wheat – all wrapped up in hessian fabric with diamante pins.

Instead of posies for her bridesmaids, Sinead opted for wrist corsages. "It was something a bit different, and cheaper too," she explains.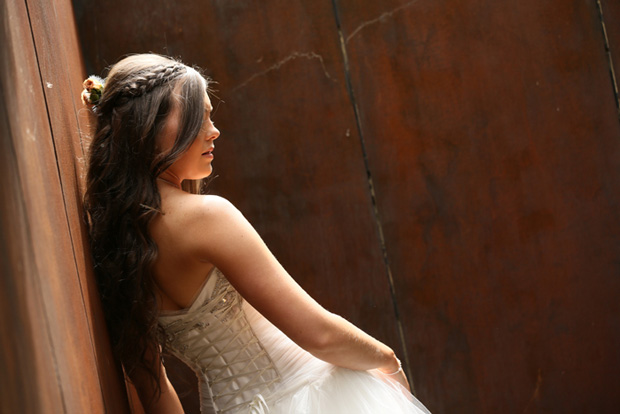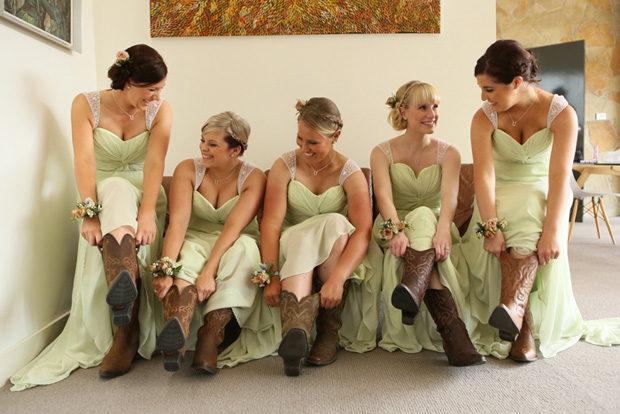 Sinead, to her bridesmaids' initial hesitation, chose super-comfortable brown riding boots for them all to wear. An avid horse rider, Sinead says, "I have quite a collection of cowboy boots, all of which were pretty beaten up so I bought brand new ones for the wedding. The colour on the inside even matched the bridesmaids dresses… it was meant to be!"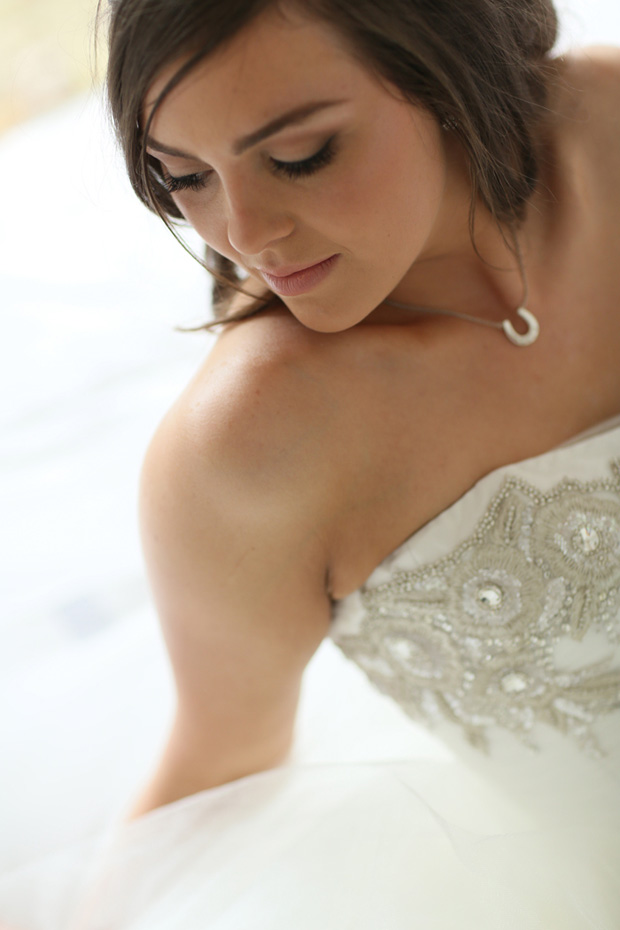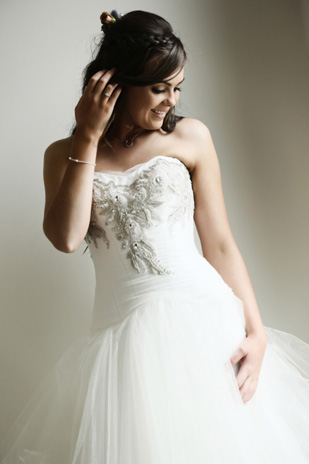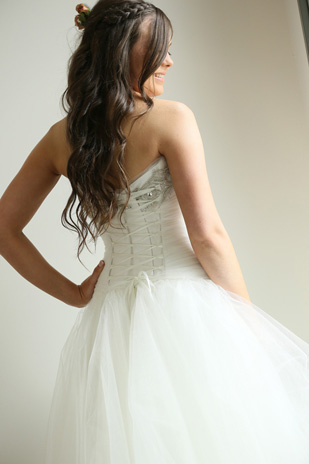 The bride wore the 'Felicity' gown; a made-to-measure style from Karen Willis Holmes' demi-couture collection. "I fell in love with the Felicity dress and chose the lace-up back instead of the buttons," says Sinead. "The dress was made out of glimmer tulle and was ivory in colour."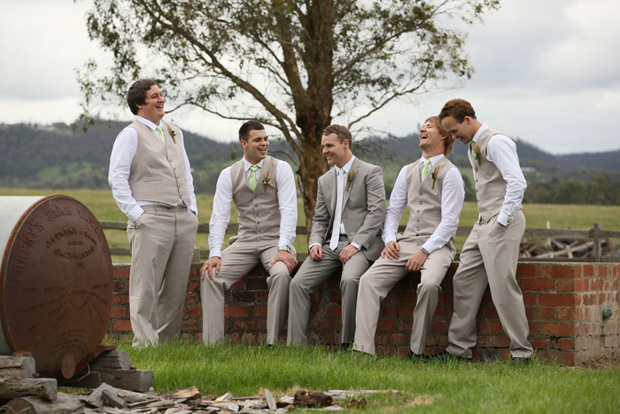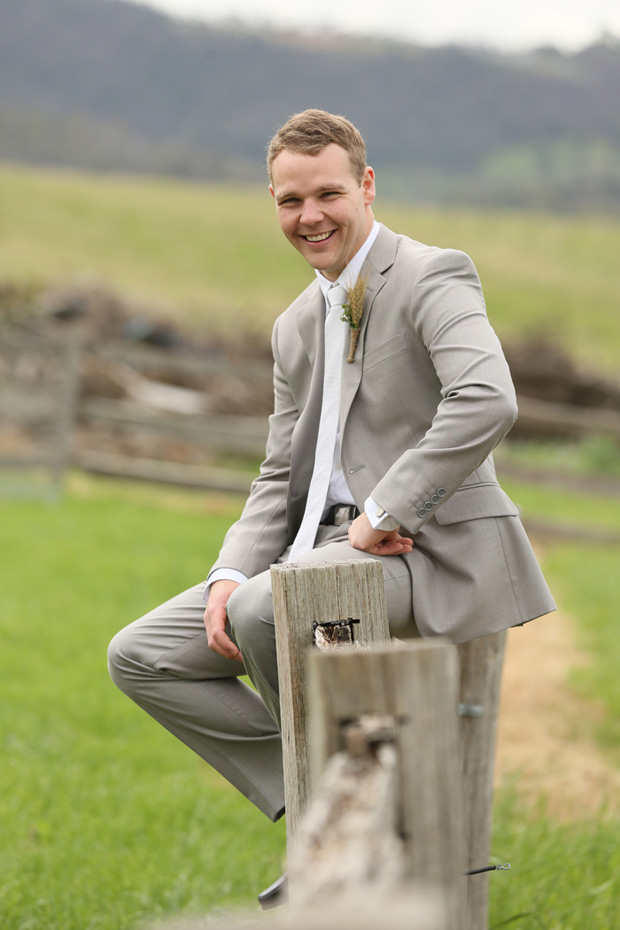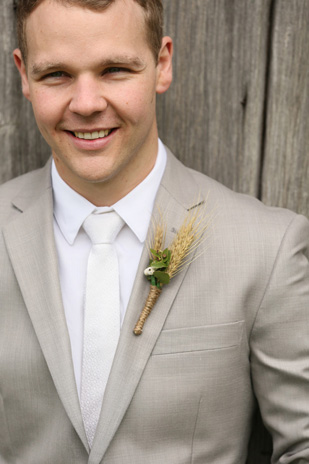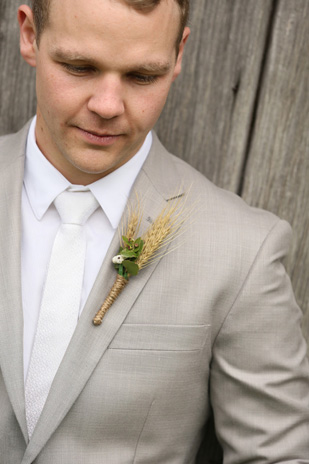 Matt wore a light grey Man To Man lounge suit and the groomsmen opted for vests in lieu of jackets, from Spurling Greensborough. They accessorised with boutonnieres of tarragon nut and dried wheat.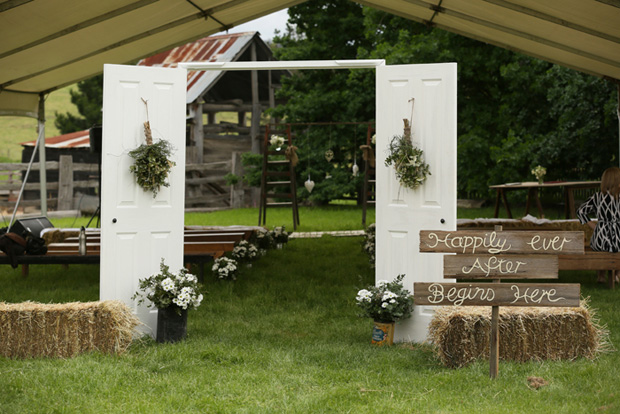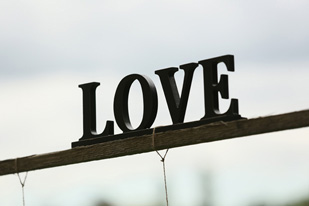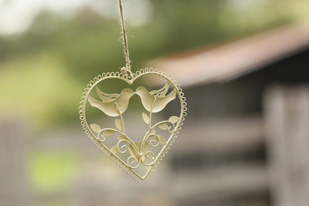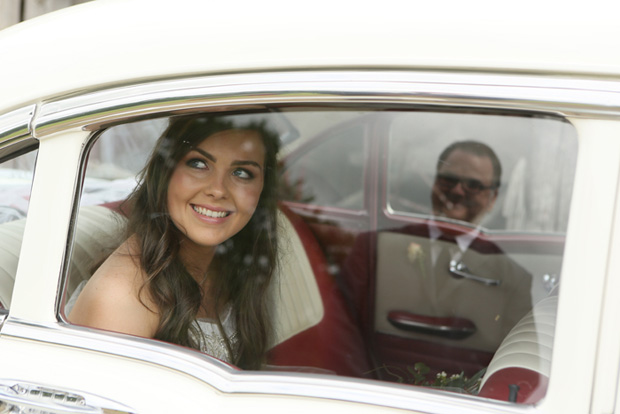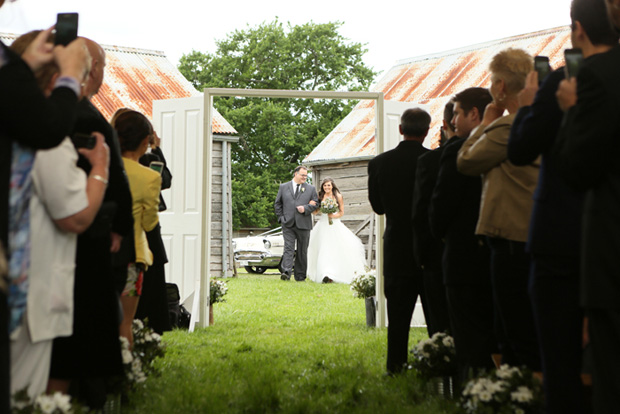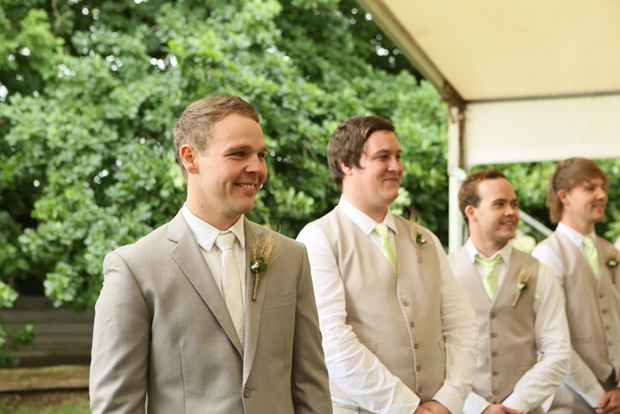 "I love that Sinead is smart, sweet, funny, kind and lets me watch the footy when my team is playing. Sounds cliched but it's true. To put it simply, she is amazing," says the groom.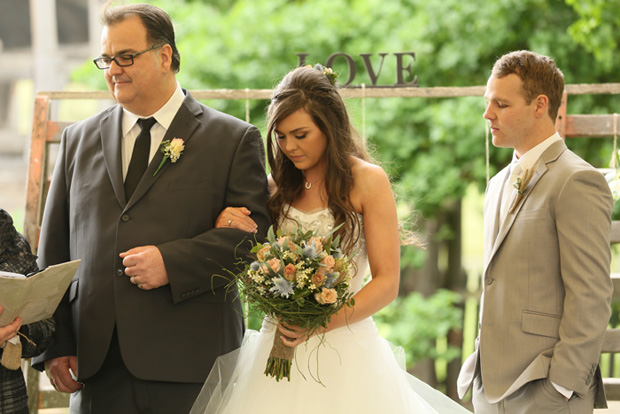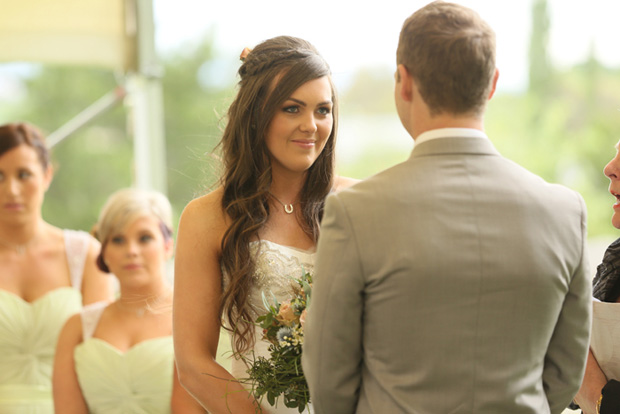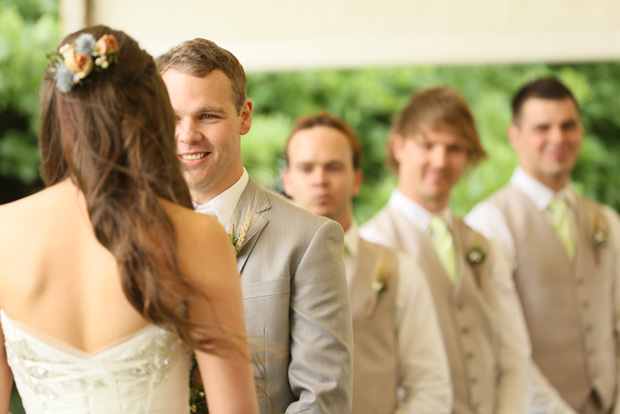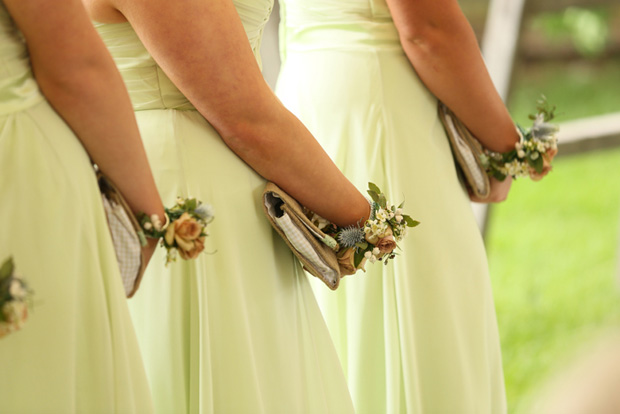 Sinead loved the entire 18 months of wedding planning and went to enormous lengths to style the event herself. "I went crazy making things for the wedding!" she tells. She even made the bridesmaids' clutches. "They were made out of horrible one-dollar placemats from The Two Dollar Shop! I covered them with hessian, lined them with gingham, and glued on flowers and a green border from Spotlight."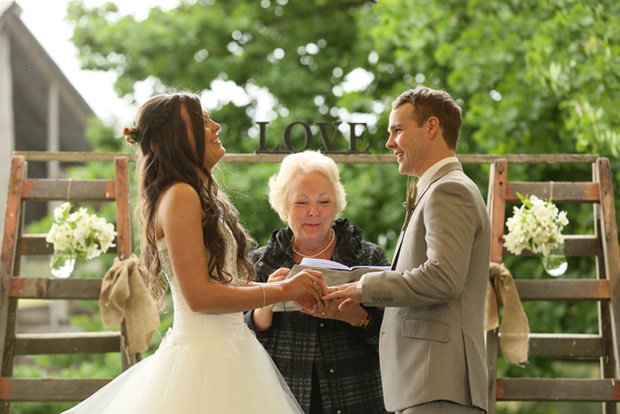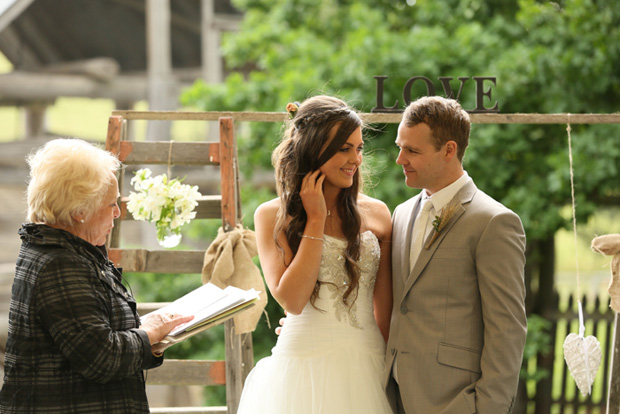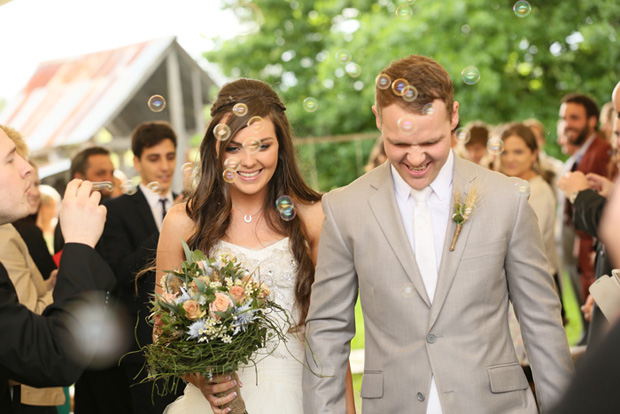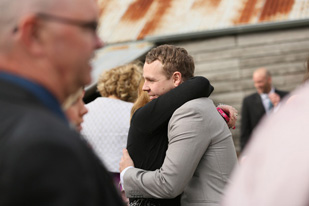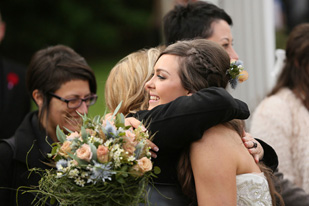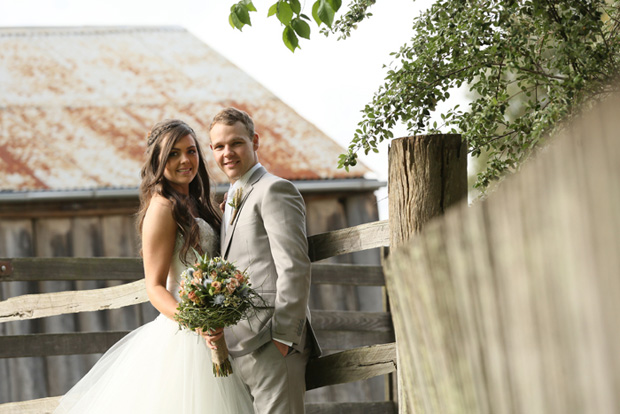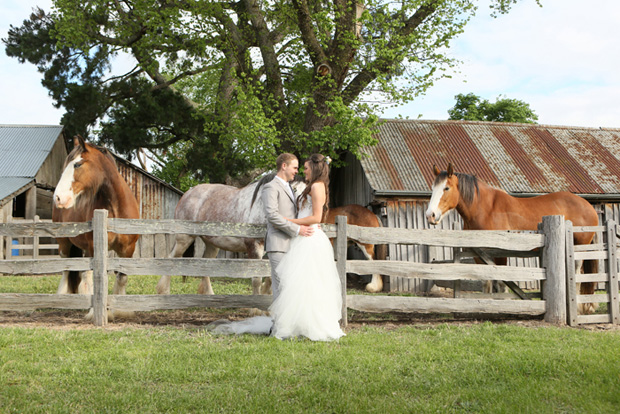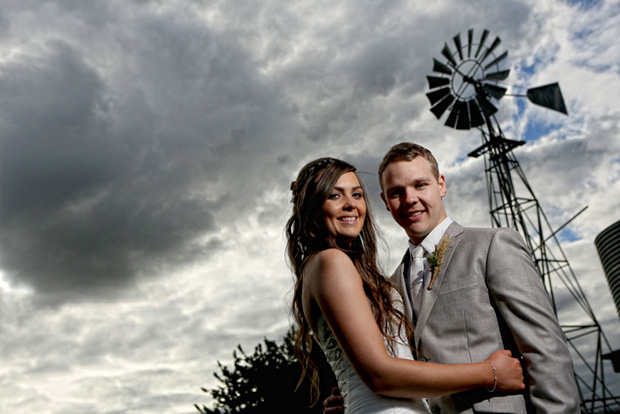 The bridesmaids' pale green chiffon and lace dresses, were ordered from an overseas dressmaker on eBay – as well as the groomsmen's matching ties.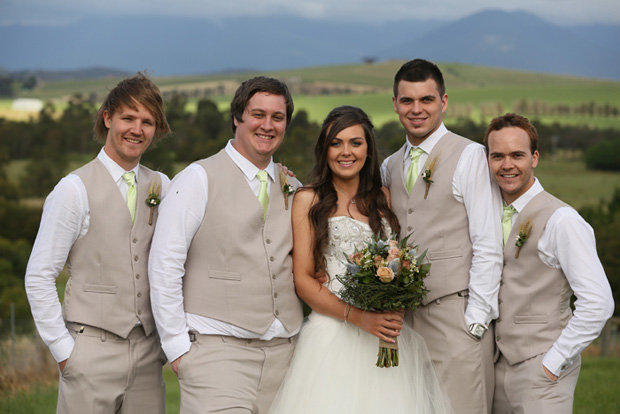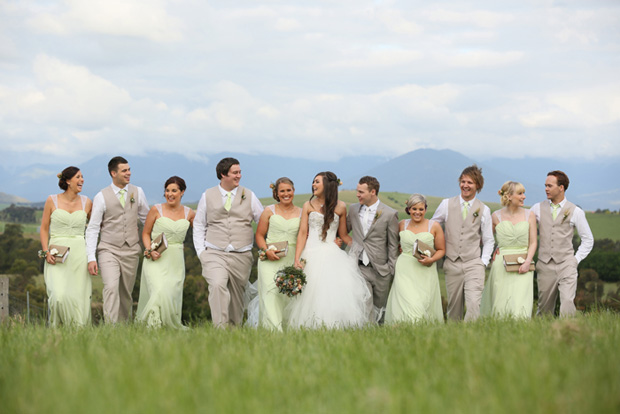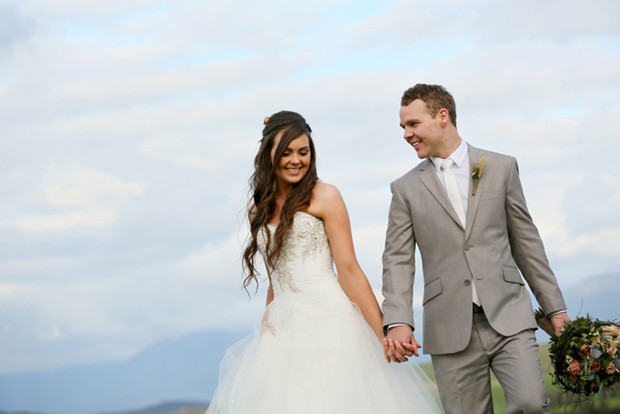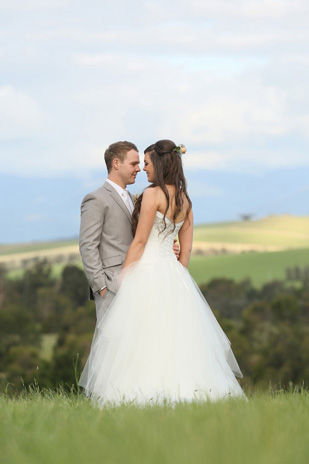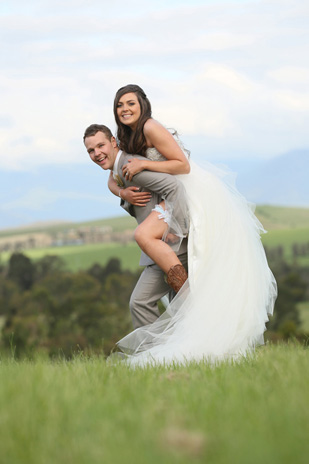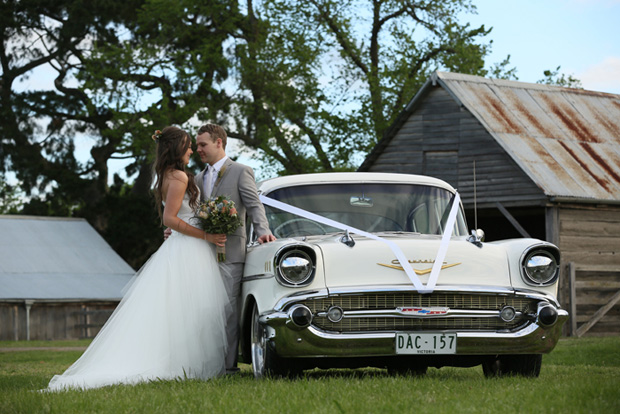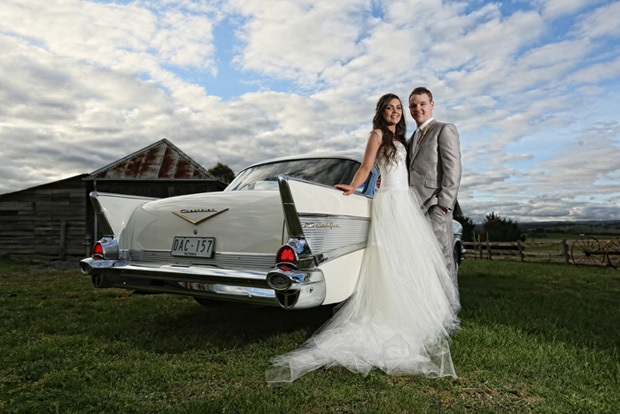 "Matt and I both love Chevys; we named our dog after the car!" says Sinead. They sourced their white 1957 Chevy sedan from 1300 Limos Now.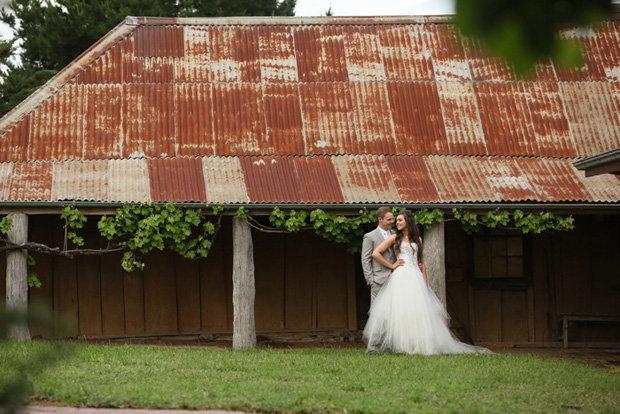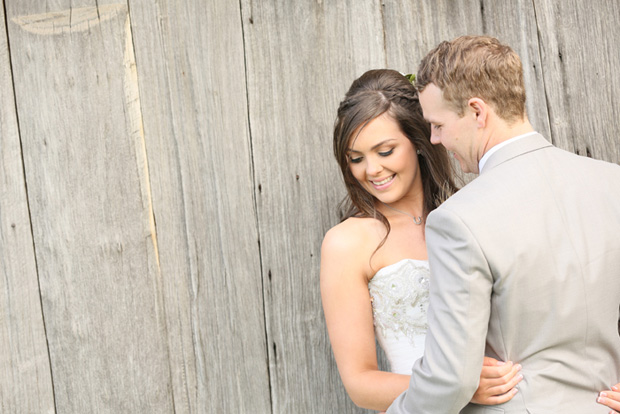 Photos courtesy of Voss Photography.
Check out Sinead & Matt's breathtaking trash the dress photoshoot with Voss Photography here.