Ever heard of elephant dung paper? Nope, neither had I, but I was certainly intrigued to learn more!
Melbourne couple, Carly Wilkins and John Gillieron used it to invite friends and family to their Aussie bush wedding at Craig's Hut near Mt Stirling, Victoria (the remote log cabin originally built for movie, The Man from Snowy River).
So of course, I Googled this new and fascinating term and here's what I learnt: elephant dung paper is exactly how it sounds – paper made, not from trees, but from fibrous elephant poo! Umm, ew?
But it's all in the name of environmental and animal conservation (you can read more about it here) and whilst some guests "thought it was gross," says Carly (with loads of jokes about who licked the envelopes), others thought it was fantastic. Because the final product, despite its interesting beginnings, is a rather lovely eco-friendly paper, perfectly suited to the rustic wedding theme.
For this outdoorsy couple (who met at Scouts), their bush wedding was a huge logistical challenge. A fourteen-hour day that commenced at 10am meant that lunch as well as dinner had to be catered for, not to mention the physical logistics of transporting guests through rough terrain to the cabin. But 4WD enthusiast, John, wouldn't have had it any other way.
Carly tells, "We got all our friends with 4WDs to operate a shuttle system. Guests loved it – many of the cars were well-done-up tough machines and it was their first time in 4WDs."
With no option for a limo, Rolls Royce or any other girly wedding car, the bride still arrived in total style, not to be upstaged by big boys' toys – a magnificent chopper accompanied by her dad and only bridesmaid. What an entrance!
Carly tells how her Rina Di Montella taffeta gown from Ravish withstood their rustic bush wedding. "It got pooped on by a bird, walked through blackberry bushes, trampled climbing into a tree and stood on several times while we danced. The dress endured all and still looked fantastic at the end of the night!"
Can you tell the bride's bouquet uses fake flowers? Not wanting to risk wilting on a potentially scorching February day, Carly sourced these impressive fakes from Lifelike Plants and provided them to a florist friend to arrange. "The florist was amazed at the quality of the fakes and none of our guests picked it," says Carly.
It was a bit of an ordeal getting the boys' suits. Having purchased custom-made suits in Thailand a couple of years prior, the couple contacted the same tailor who still had John's measurements on file. Relying only on images of colour swatches, they ordered what they thought was charcoal, only to have brown delivered. In the end however, the accidental colour proved a perfect match to the couple's bush theme and blended in like it was meant to be.
To the guests' surprise, the bride arrived by chopper (Alpine Helicopters). "There was a chance we weren't going to be able to fly due to weather, but fortunately it was perfect," says Carly.
Carly's bridesmaid wore a strapless orange frock from events boutique, Garfunkle, with a clip-on flower from Etsy. Both girls wore mocha-coloured peep-toe shoes from Easy Steps.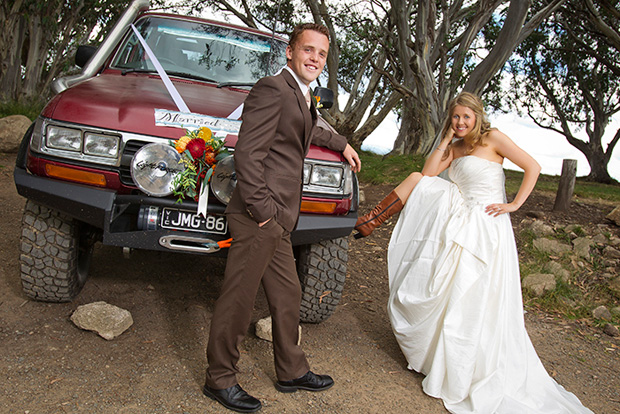 In another environmental statement to guests, the couple gave gum tree saplings wrapped in hessian as their bomboniere. "As guests had to travel a bit of a way, I wanted to offset the carbon of our wedding," Carly explains. "Most guests have planted the trees in their gardens or local parks and they will forever be a memory of our day."
"I have always loved the willow tree figurines and I thought this would make the cake look rustic," says Carly of their white chocolate and raspberry swirl wedding cake. "It is a lovely reminder to have in our house and I like that it does not look like a cake topper."
Carly and John had four dance lessons in the lead up to their wedding – a wedding gift from a friend. Carly says, "It was a great thing to do leading up to the wedding. It helped us feel more connected in the weeks prior while everything was so hectic."
Photos courtesy of Whitepoint Photography.
Featured Suppliers:
Brides Accessories: Gifts from groom / Brides Gown: Rina Di Montella from Ravish / Brides Shoes: Easy Steps / Bridesmaid Shoes: Easy Steps / Bridesmaids Accessories: Etsy / Bridesmaids Dresses: Garfunkle / Celebrant: Diane Storey / Ceremony Venue: Craig's Hut / Entertainment: Own playlist / Flowers: Lifelike Plants / Grooms Attire: Custom made in Thailand / Grooms Shoes: Hush Puppies / Groomsmen Attire: Custom made in Thailand / Invitations: The Paper Place / Reception Venue: Grand Mecure Pinnacle Valley Resort
Comments
No comments yet