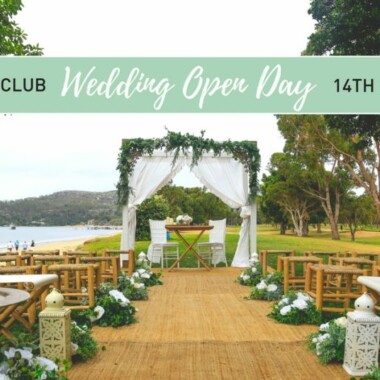 Wedding Open Day
Date: 14 Oct 2018, 12pm - 4pm
Venue: Palm Beach Golf Club
Address: 2 Beach Road, Palm Beach, NSW
Admission: Free with registration
Oh no! This wedding expo is now over.
It looks like you've missed this one! Please check the expo homepage to view all upcoming wedding expos.
Getting Married?
Join us for our Wedding Open day located at the iconic "Palm Beach" enjoying views across the Golf Course out to Lion Island, it is a perfect setting for your Wedding.
You will be able to see our venue set and styled for a Wedding, meet the team, and chat to 20 of our favourite suppliers.
We will be revealing our "New" Ceremony Package styled on the green and if you come between 1-2pm you will receive a glass of complimentary bubbles and nibbles.
Bring your family & friends, we look forward to meeting you and showing you what Palm Beach Golf Club has to offer. Its Free to enter, register today.
Meet our suppliers attending;
Florist -Sarah @ Pandanus Design
Ceremony Stylist - James @ The Hutch Wedding & Events
Stylist & Faux Flowers- Sam @ Faux Flower Company
Cars- Rob @ Kombi Experience
Entertainment- Adrien @ Northern Beaches DJs
Entertainment- Tim @ Timeless Wedding Entertainment
Celebrant - Saskia @ Dovetail Celebrants
Celebrant - Liam @ Liam Chapman Marriage Celebrant
Photographer - James @ James Billing Photography
Photographer - James @ Rose Photos
Letter Lights - Meredith @ Big Buzz Letter Lights
Signage - Sue @ Simply Scripted Signage
Balloons - Sarah @ Let's Party Balloons
Photobooth - Cedrik @ Open Air Photobooth
Cake - Julie @ Distinctive Cakes
Make Up, Hair stylist, Tan - Tia @ Artisty Co
Make Up - Ashley @ Ashley Longstaff Makeup
Cosmetics- Julie @ Cosemetics331
Travel - Anne @ Travel Book Monavale
Travel - Julie @ Fiji Island Holidays
Holiday Rentals - Diane @ Palm Beach Holiday Rentals
Bridal - Diane @ Mathesonandme
For enquiries contact Amy Towner functions@palmbeachgolf.com.au