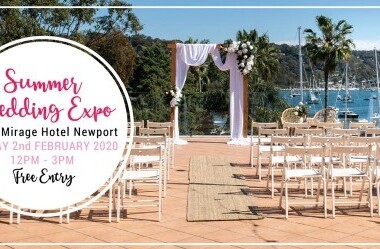 Summer 2020 Wedding Expo: Free Event
Date: 02 Feb 2020, 12pm-3pm
Venue: Metro Mirage Hotel Newport
Address: 2 Queens Parade West, Newport, NSW
Admission: Free
Oh no! This wedding expo is now over.
It looks like you've missed this one! Please check the expo homepage to view all upcoming wedding expos.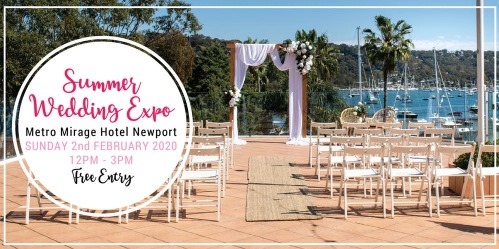 Our next Wedding Expo will be on Sunday, 2nd February 2020, 12-3pm.
The Metro Mirage Hotel – Newport offers waterside weddings + events with a focus on excellent service + a beautiful, welcoming venue.
We invite you to join us at our next wedding expo, showcasing what we have on offer. Grab your bridal party, or you mum or husband to be, and head on down to the Northern Beaches premier Bridal Expo.
Set overlooking the picturesque shores of Pittwater in Sydney's Northern Beaches, The Metro Mirage Hotel – Newport will open its doors with live music, sparkling wine + canapé menu tastings + all of our favourite suppliers here for you to meet.
Our team will be here for you to chat with, and you can have a close up look at all of our beautiful additional styling options and packages.
There will be plenty to see, eat and drink, and you can always make a day of it and head over to The Newport to carry on the conversations and planning afterwards.
Register and attend on the day for your chance to win a Weekend Indulgence Escape Package at Metro Mirage Hotel Newport.
Follow us on Instagram or Facebook for updates about the Expo!
Who you'll meet on the day!
Lamel Designs (wedding stylist), Rosas Roses (florist), Louise Spedding (celebrant), Maria Nizetti (celebrant), La Petit Tarte (cake maker), Bre Parsons (cake maker), Astijano Designs (stationary), Lee-Anne Holistic (health & beauty), Images by Sophie (photographer), Big Buzz (letter lights), White Clover (music), Luv Bridal (couture).