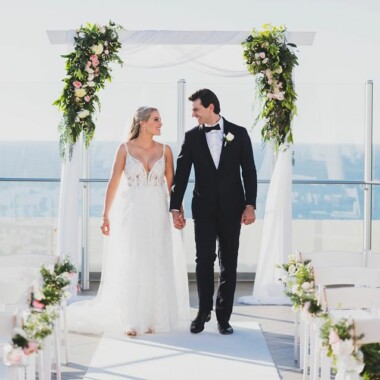 Rendezvous Hotel Perth Scarborough Wedding Expo
Date: 03 May 2020, 5pm - 9pm
Venue: Rendezvous Hotel Perth Scarborough
Address: 148 The Esplanade, Scarborough, WA
Admission: Free
Oh no! This wedding expo is now over.
It looks like you've missed this one! Please check the expo homepage to view all upcoming wedding expos.
Rendezvous Hotel Perth Scarborough has a sophisticated charm offering the perfect setting for your special day. Your wedding will be truly memorable, as guests walk through elegant luxury, uncovering all this iconic beachside location has to offer. Whether it's a sit-down reception or a stand-up cocktail party, our team of wedding professionals and specialty chefs will help curate your perfect day.
Everything you need to know about your wedding will be at the Wedding Showcase on Thursday 5th March from 5pm - 9pm.
Meet with a curated selection of Perth's finest boutique wedding professionals and suppliers. View inspiring reception and ceremony spaces to see the venue in action. Enjoy regionally-sourced fine wines and fresh canapes from our brand new menu.
Plus, join us for your chance to win a honeymoon to Singapore.