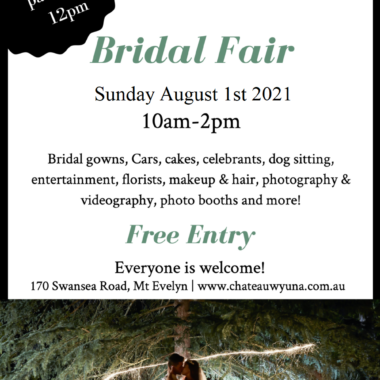 Chateau Wyuna Bridal Fair
Date: 08 Jan 2021, 10am-2pm
Venue: Chateau Wyuna
Address: 170 Swansea Road, Mount Evelyn, VIC
Admission: FREE!
Oh no! This wedding expo is now over.
It looks like you've missed this one! Please check the expo homepage to view all upcoming wedding expos.
---
Bridal Fair in Melbourne's Leafy Outer East
The Chateau Wyuna Annual Bridal Fair is on again!
After missing out last year, the charming Mt Evelyn wedding venue is excited to be back bringing their couples a huge range of beautiful vendors. From cakes, cars and celebrants, to dog sitting, entertainment, makeup, bomboniere, photographers, videographers, bridal gowns and more!
PLUS: There's a bridal runway show at 12pm!
Sunday August 1 | 10am-2pm
FREE ENTRY - no need to register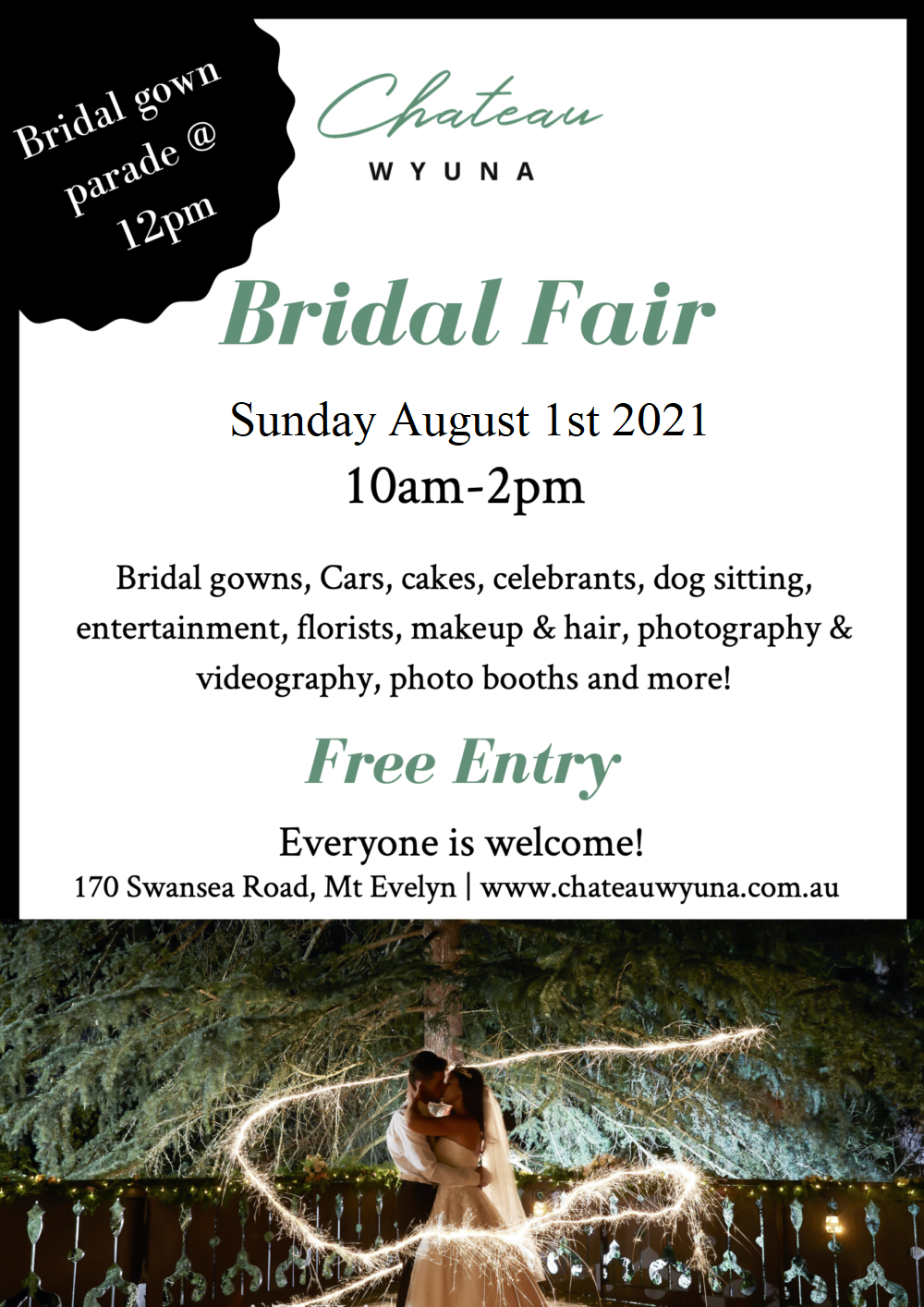 Exhibitors
FLOWERS
Heathmont Flowers
Classic Bouquets
PHOTO/VIDEO
A Touch of Flash
Amber Williams Photography
Stu-Art Productions
Lemon & Lime Photography
CAKES
CARS
Authentic Limousines
E&R Classics
Mustang Chauffeured Cars
Blue Moon Hot Rods
Sherbrook Vintage Hire
Swans on Doongalla
White Classic Jags
Paradise Chevys
Yarra Valley Kombi
CELEBRANTS
Ceremonies by Cherie
Bianca Paliaga
ENTERTAINMENT
STATIONERY
Chloe & K Personalised Products
HAIR & MAKEUP
BOMBONIERE
DANCE LESSONS
PHOTO BOOTH
In The Booth
Photobooth Girl
ACCOMMODATION
Yarra Valley Pet Resort
The Oaks Lilydale
BRIDAL GOWNS
COFEE CART