We all want the best wedding photos for our big day, but sometimes there are just too many locations to choose from!
You might be getting photos at your house before getting ready, your ceremony location and your reception space. But what about those iconic photos in between?
If you're based in Sydney or Melbourne there are plenty of places to get your wedding photos done to truly show your love of the city, and make your day stand out that little bit more. Or even a few under-rated spots with a touch of the city without being too obvious.
We chatted with 5-star photography company Dreamlife Photography to find out the best locations to go for your wedding photos in Sydney and Melbourne.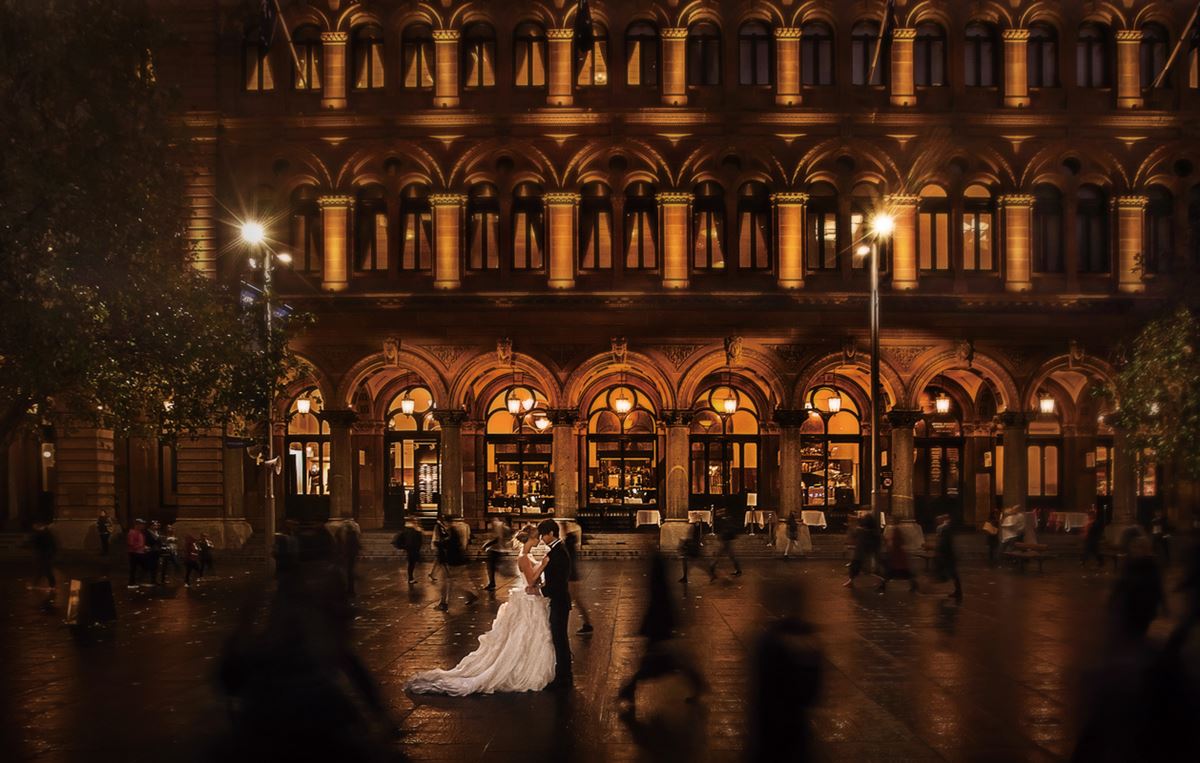 Sydney
Sydney Harbour Bridge / The Opera House
We're just going to get the most obvious one out of the way straight up!
Getting some photos with the iconic Sydney Harbour Bridge or Opera House in the background is a sure way to go if you're having a wedding anywhere in the CBD. The benefit is that it doesn't matter which side of the harbour you're on, there are plenty of different locations to choose from.
If you're on the north side, you could head to Bradleys Head to get some lovely pictures in nature. The Taronga Centre and Athol Hall both offer stunning locations for pictures. Plus you can actually host your wedding at both if you're looking for the view for your whole day. There's also Cremorne Reserve for pictures and even Luna Park for a stunning view.
If you're on the south side then you can always head to the Opera House itself for the perfect shot! The opera house stairs always make for a stunning backdrop. There's also The Rocks for the iconic backdrop with some unique shots of scenery around the area. And Circular Quay to work the harbour in a bit more.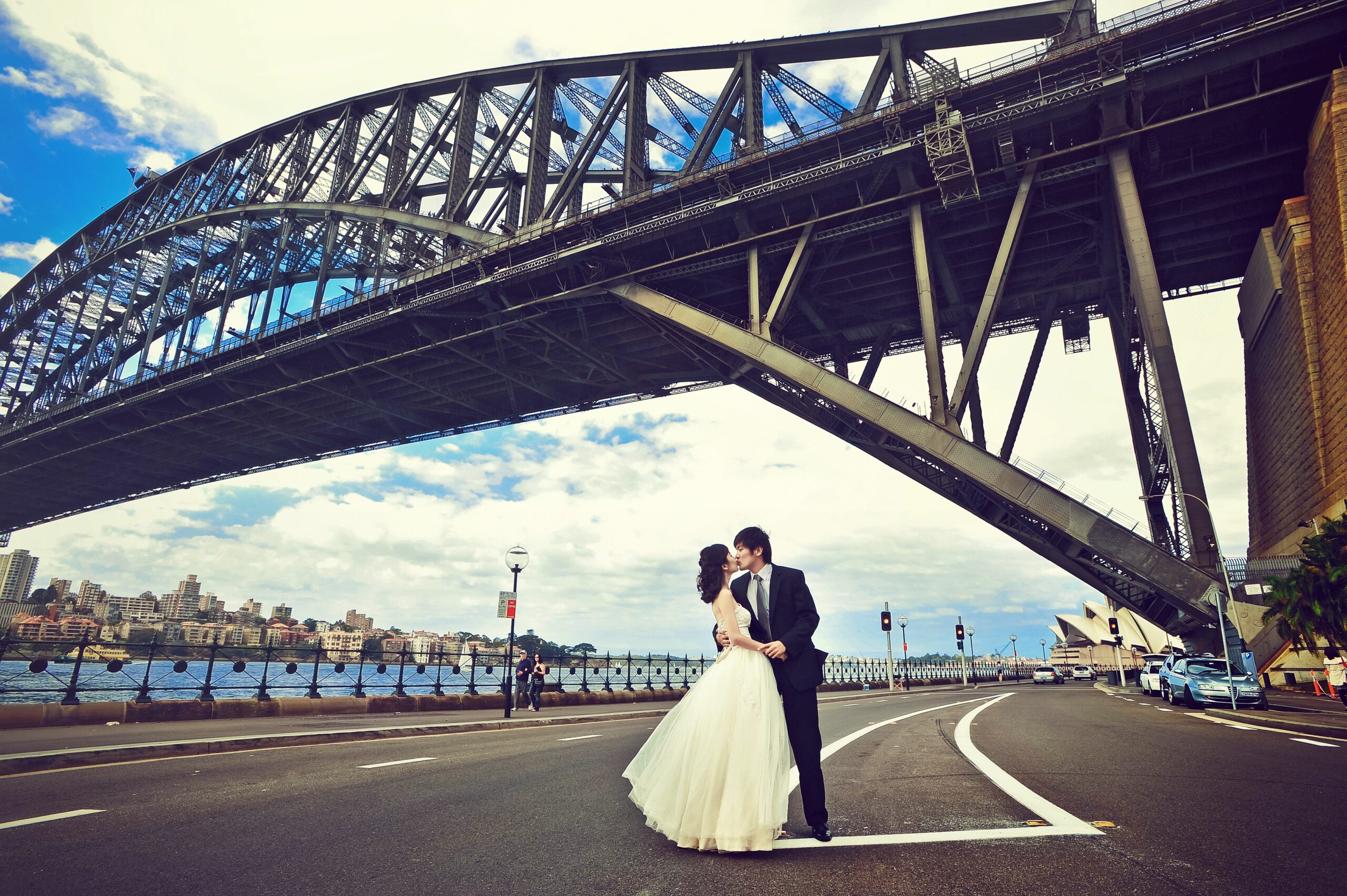 Martin Place
If you're more of a shopping or city fan then Martin Place can make for some stunning photos at any time of year.
The older buildings in the precinct add a bit of elegance and charm to your wedding while you can also play around with lighting at different times of the day or in different seasons. You also don't need to worry about traffic getting in the way when posing for pics in the walking mall.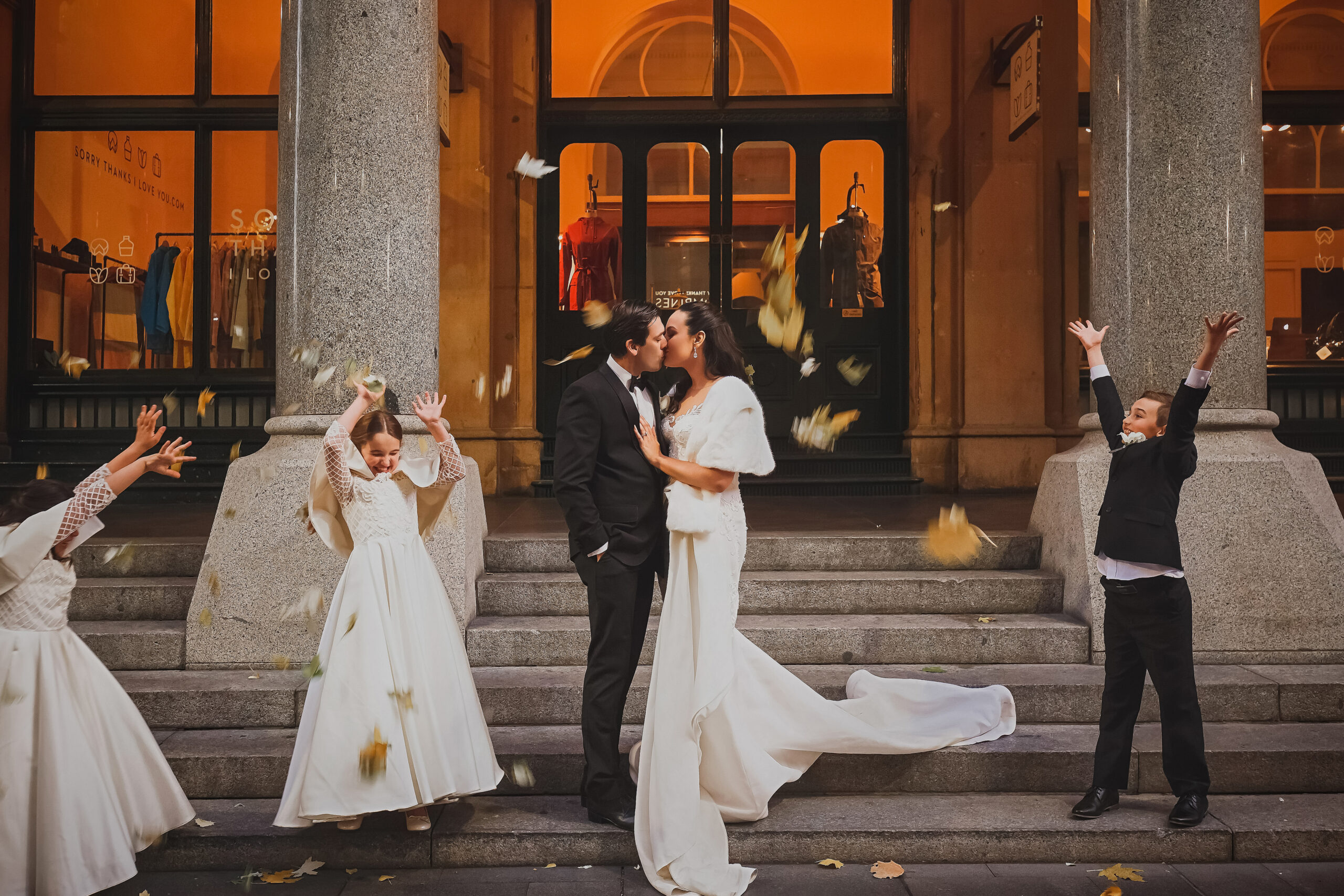 QVB
Depending on the weather, you might want to head inside for some stunning photos, and that's ok too! The Queen Victoria Building offers stunning architecture and lighting options for your wedding photos.
The vast domes inside the heritage listed QVB cannot be beaten for your big day, and are located in the centre of the city meaning you won't need to travel far to get the perfect pic. You can also have your wedding at The Tea Rooms, cutting your travel back even further!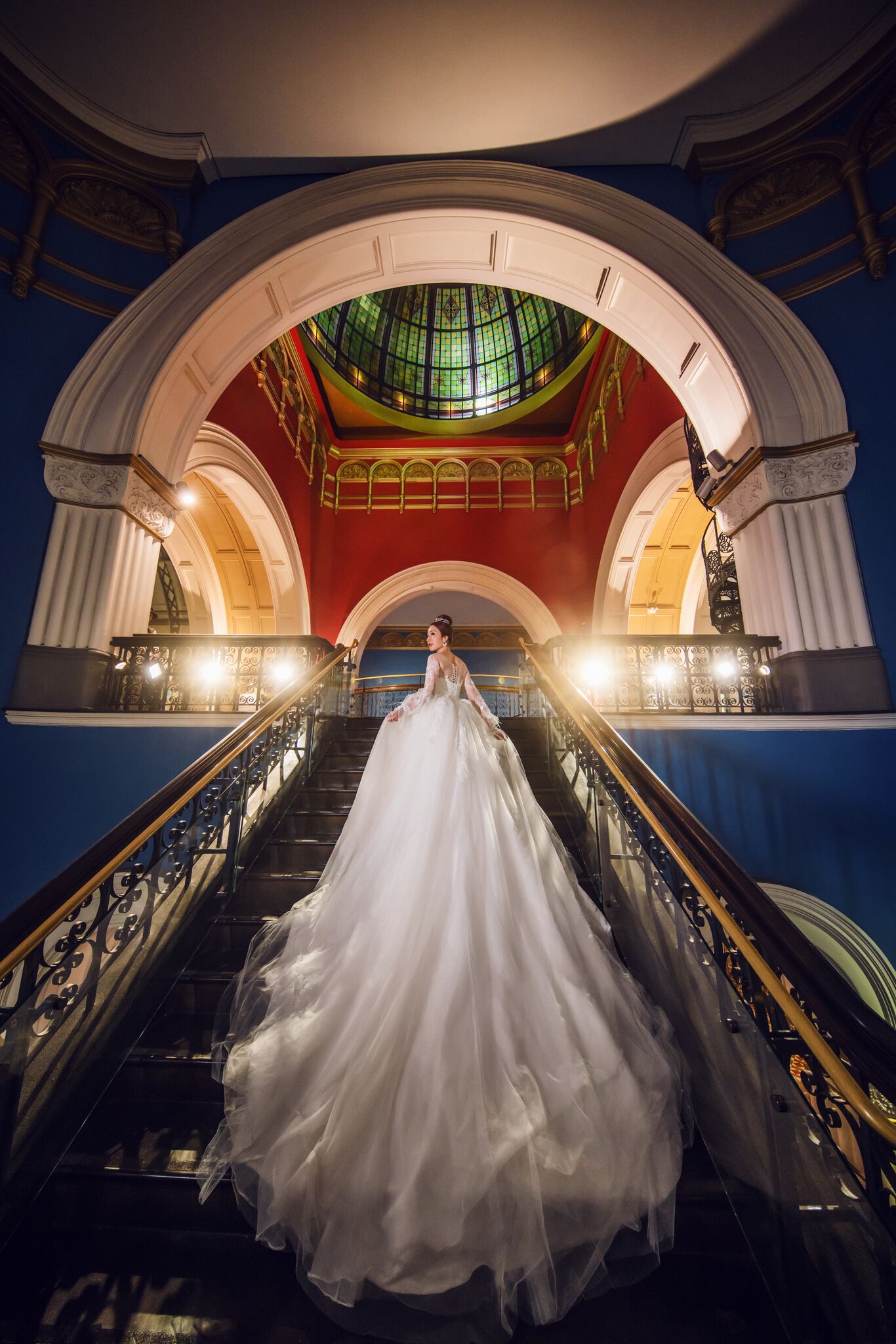 The Royal National Park
If you're looking for something a little bit different but still within the area of the city, the Royal National Park can offer some stunning photos for your big day.
There's an abundance of locations within the gardens and on the Hacking River to give you those stunning images you want to remember for all time. This is the perfect location for both autumn and spring weddings to make use of the natural changes in colour.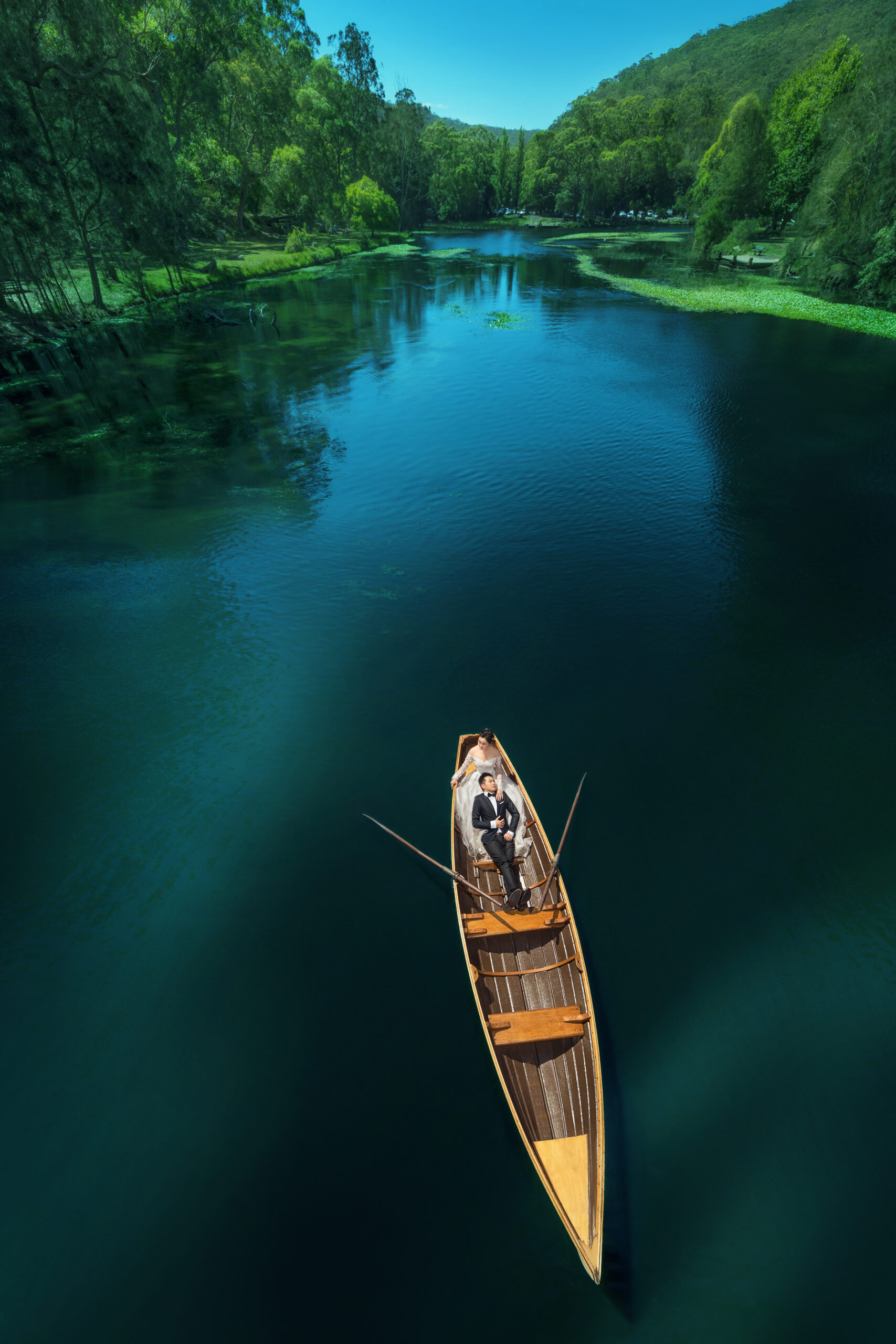 The Blue Mountains
If you're expecting to have a bit more time on your day, or are having photos done a bit earlier during the day, then you might have time to venture a bit further out of Sydney into the Blue Mountains for your perfect shots.
With the rugged landscape, gorgeous backdrop and advantage of height, these will truly be wedding photos to remember.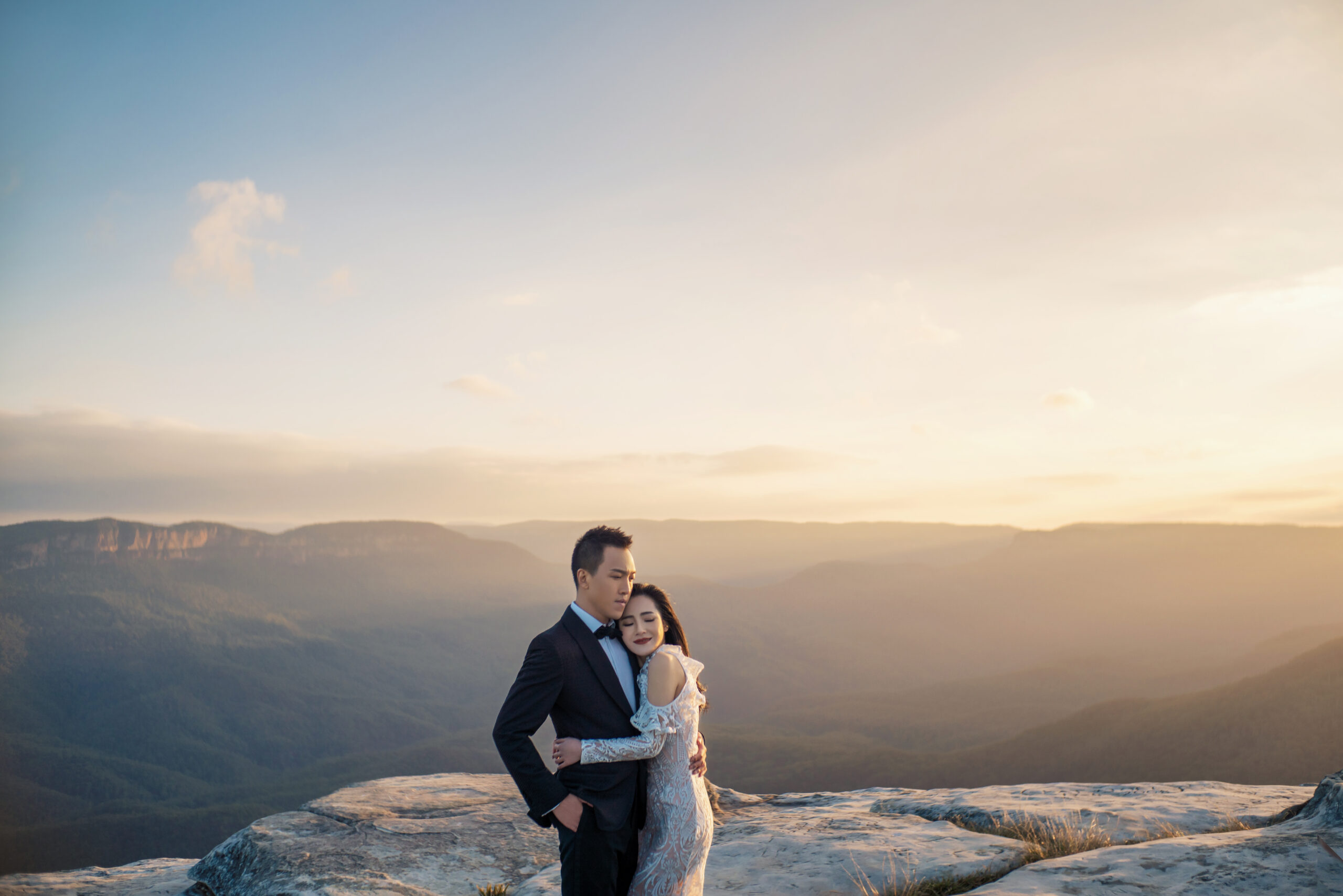 Melbourne
Carlton Gardens
If you're looking for a touch of architecture with your garden scenery then the Carlton Gardens are the perfect spot to slip off for your wedding photos. There are plenty of different areas in the stunning gardens, which combined with the Royal Exhibition Building will give you some lovely pics.
Just be sure to work around with the weddings that are taking place in the gardens at the time as most weddings will have purchased a permit for that location.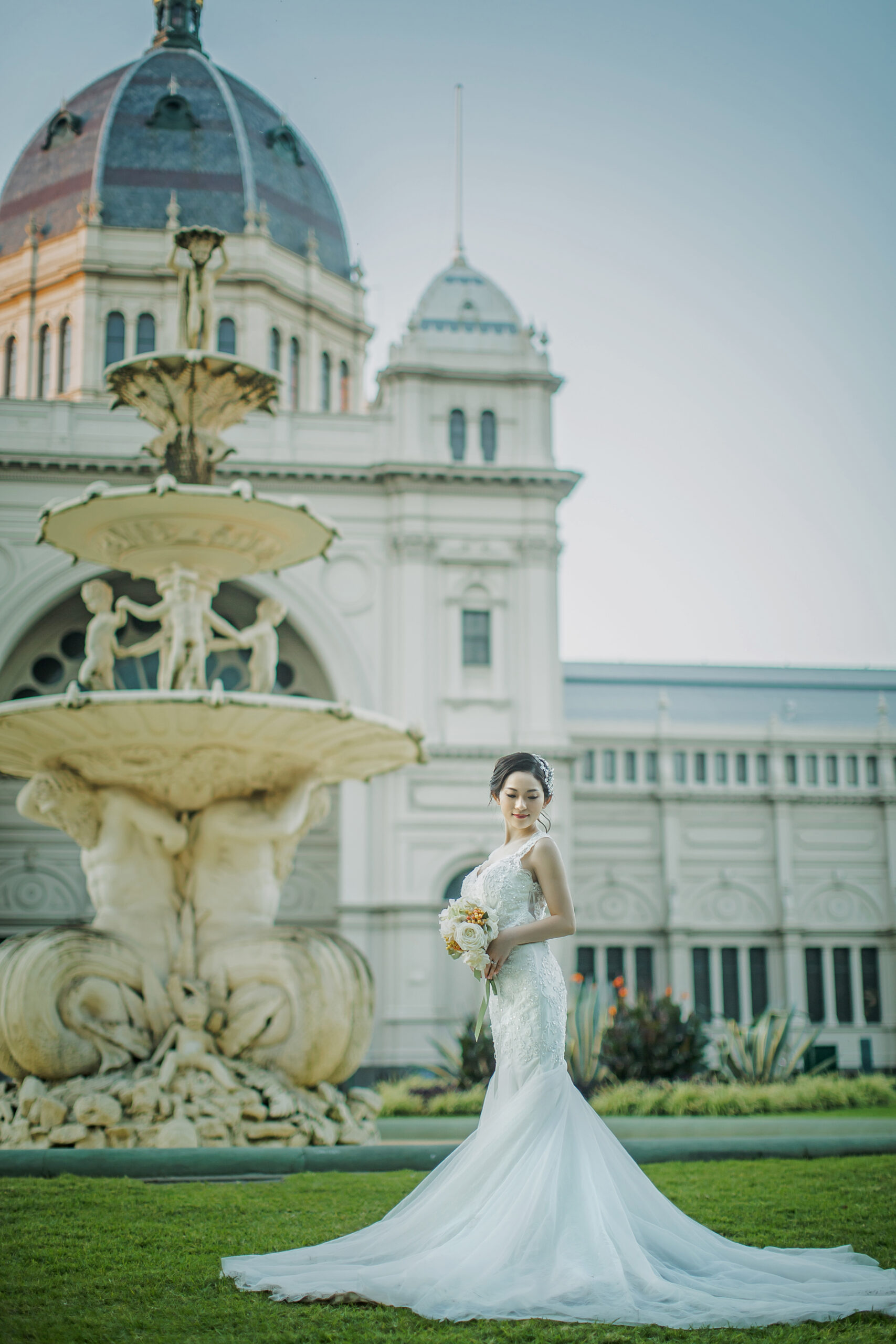 Flinders St Station
You can't be more Melbourne than Flinders Street Station! This iconic spot is the perfect place to show your true love for Melbourne on your wedding day.
Make sure to hire a professional photographer who has worked in the area before if you're going to be heading into the famous intersection for photos though. This will mean they know what to expect when it comes to traffic – and trams – when it comes to posing in the right spot.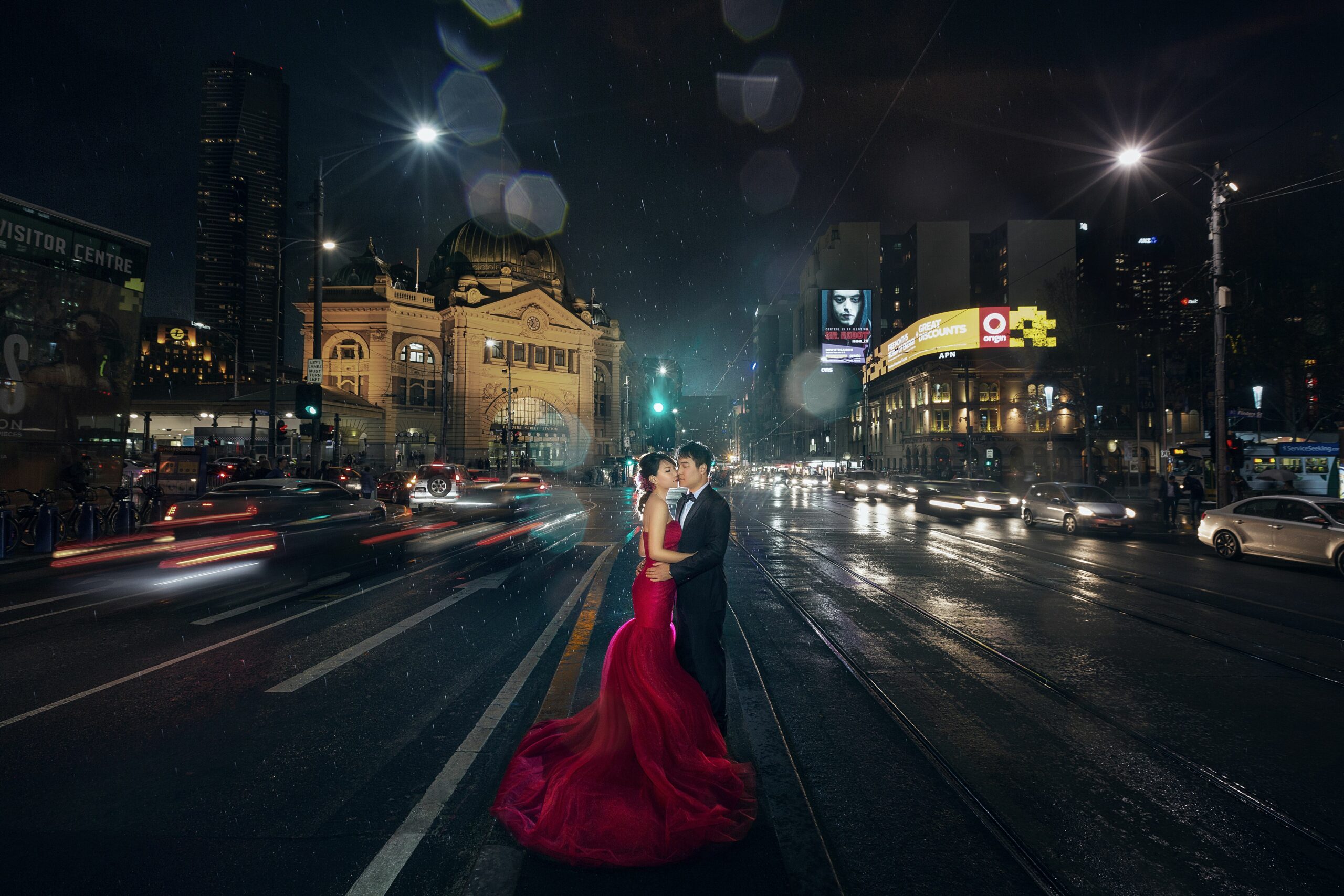 Albert Park
Just south of the CBD, Albert Park can often be overlooked when it comes to getting a great view of the city. The lake at Albert Park offers some stunning areas for your photos, and you can then get a stunning city backdrop if you position yourself just right.
The lighting of sunset can make for some truly gorgeous and memorable pics.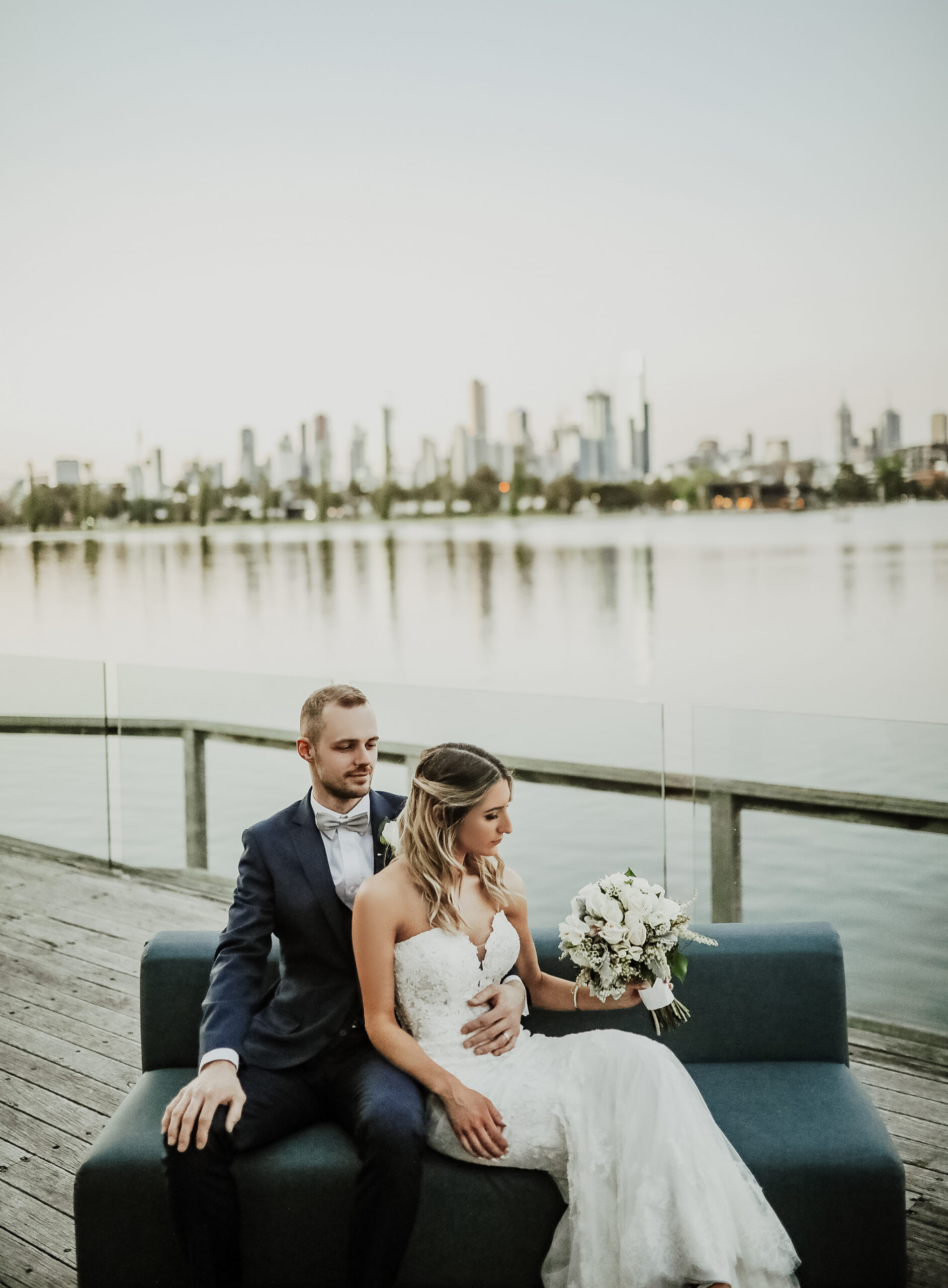 Victoria Barracks
The army barracks on St Kilda Rd have long been known by photographers as a stunning location for your wedding photos. The architecture of the building combined with the greenery that grows around the facade will give you a stunning photo location with a bit more of a subtle Melbourne touch.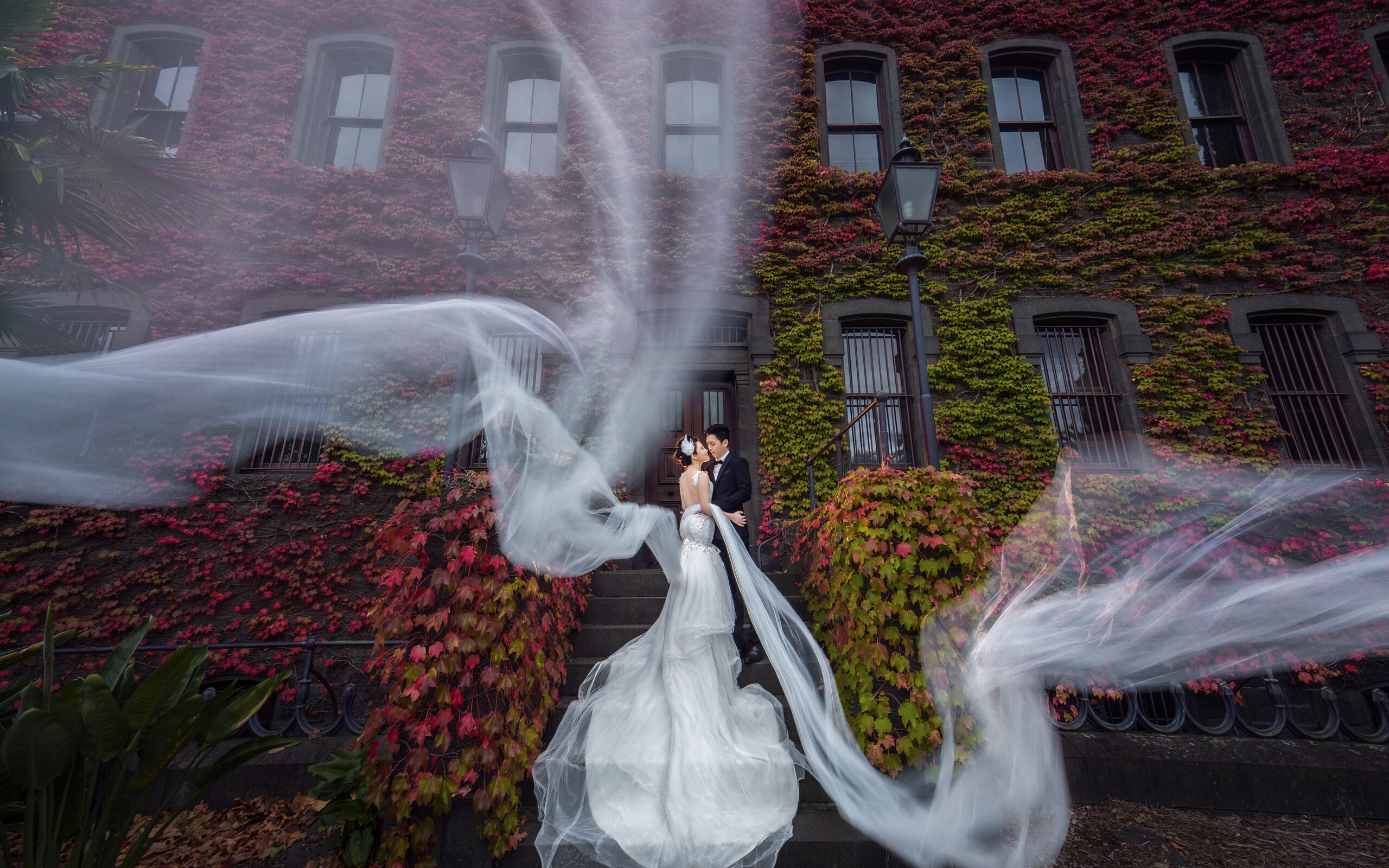 Mornington
If you're getting married in the southeastern suburbs, or just have a bit more time when it comes to travelling for your wedding photos, you should take the time to head down to Mornington.
The beach location, wooden walkways and a touch of sunset can make for some truly amazing wedding pics. Don't be turned off if you're getting married during the colder months either. A good photographer will be able to work with the earlier sunsets, colder elements, and even a little bit of rain to make something truly special.