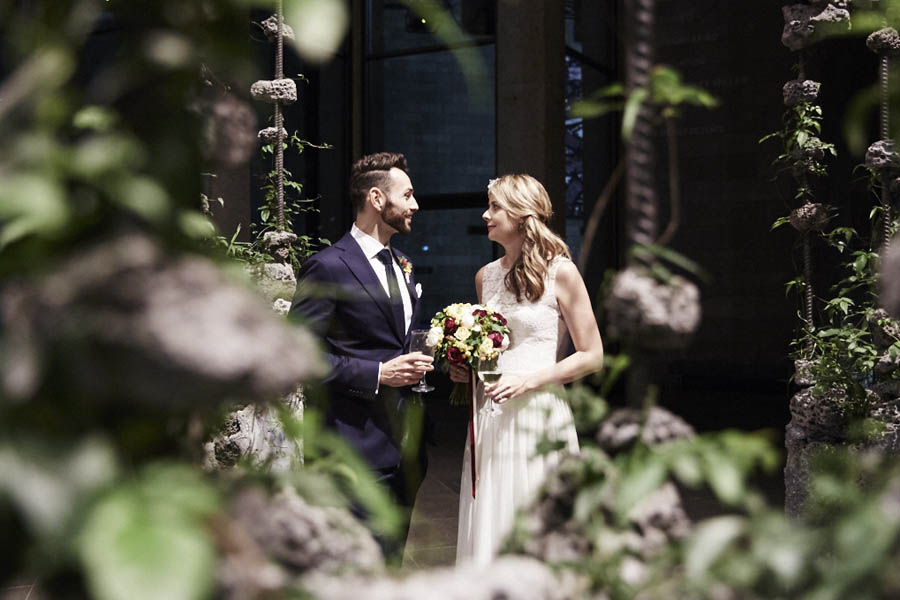 Modern weddings are an intoxicating mix of timelessness and trends. While some elements remain eternal – among them the promise to "I do" – other aspects of the celebration ebb and evolve throughout the seasons, giving couples new and inspired ways to share their unique love story.
Someone with their finger on the pulse of this ever-changing mood is Fiona Scanlon, lead wedding consultant at Melbourne-based Peter Rowland, who has helped plan everything from intimate 30-person gatherings to lavish affairs for 800-plus people. Working with brides and grooms day in and out, she pulls together tailor-made packages that tap into everything from a wedding concierge service to a portfolio of venues including the Australian Events Centre, National Gallery of Victoria and Rippon Lea House and Gardens. And with that insider expertise, she is the perfect person to spotlight the latest wedding celebration trends – and what's to come.
Florals get fancy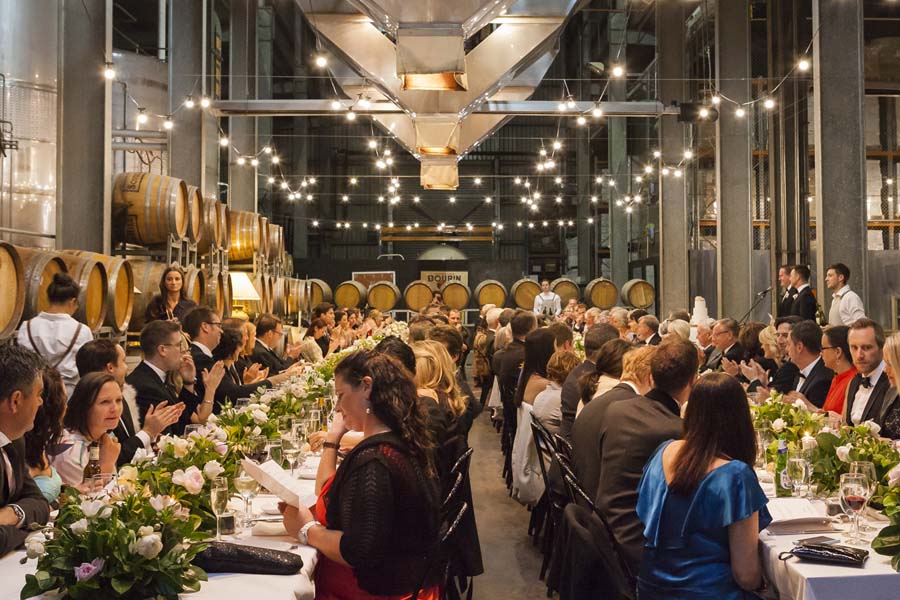 Flowers play a major role in defining the look, feel and personality of a wedding. And according to Fiona – who has strong vendor partnerships, including Melbourne's best florists – the modern mood is one of maximum impact.
"Florals have taken a bold and beautiful step into the spotlight, with couples looking to create a mood that is dramatic and over-the-top," she says.
And we're not just talking the usual suspects such as bouquets or centerpieces either – it's an attitude that is filtering right down through the celebration.
"Hanging installations, for one, are incredibly popular," says Fiona, who notes them as a terrific way to create a knockout first impression.
"But couples are also focused down to the smallest details, such as incorporating a floral design or motif in their seating chart."
Brides and grooms are also being creative with their choice of botanical, so it's not just a play on colour and design, but one that further introduces guests to new inspirations, such as ornamental kale, which sounds like it belongs on a dinner plate, but looks stunning in a floral arrangement.
"It's all about using flowers to create a sense of mystery, magic and mystique," says Fiona, who notes OTT blooms work year around, although they fare best in spring and summer.
"It's about creating a moment that simultaneously has guests catching their breath and reaching for their camera."
Hot idea: As well as bouquets and centrepieces, tap your imagination to come up with new and interesting ways to feature flowers, be it floral pomanders hanging in place of paper lanterns, floral chandeliers, a wall of hanging pot plants or even an entire dancefloor covered in petals for your first dance.
…But less can also be more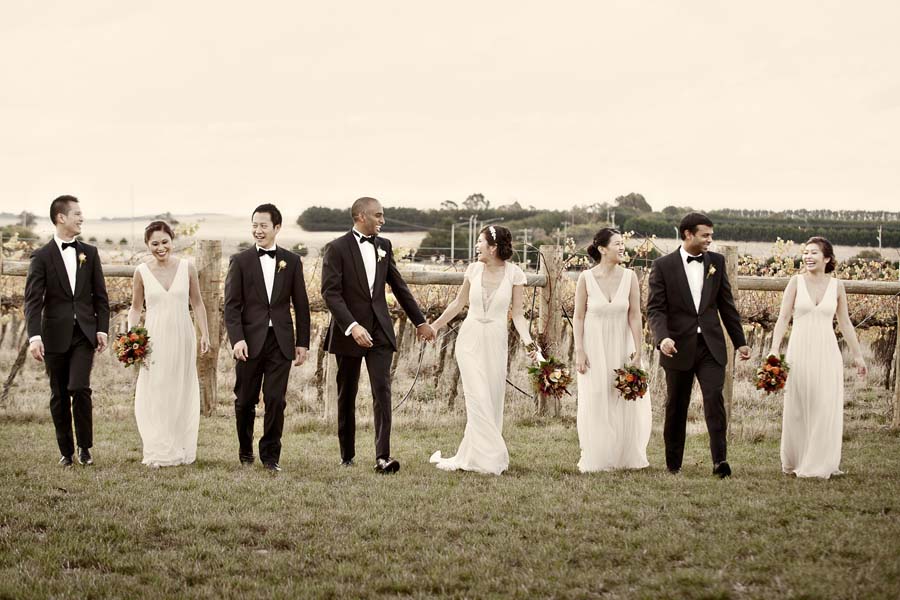 At the opposite end of the spectrum, Fiona notes some couples are going in the alternate direction with their floral design, foregoing over-the-top for understated elegance.
"For these brides and grooms, it's about taking a pared-back approach, and creating a look and feel that is rustic, and beautifully minimalist, with earthy colours as the standout," she says.
But that doesn't narrow their ability to be creative with their choice of blooms.
"With the simple approach, you can incorporate traditional flowers such as roses, while couples are also looking to our bush and natural surrounds for inspiration," Fiona says.
Depending on the theme, colour scheme and time of year, this could mean waratahs, proteas, billy buttons or even seed pods. And if you're a little unclear on what's available, don't be afraid to ask for expert input.
"Australia has a lot of beautiful native flowers and wildflowers, more so than what people might imagine," says Fiona.
So if that's the direction you want to go in, talk to your florist or wedding planner, as they'll be able to help you come up with an out-of-this-world look that really suits something like a rustic or garden wedding. Again, it's about putting your stamp on the celebration and having people look around and think:
"Yep, this is them to a T."
Hot idea: If you do go for a native floral theme, take the opportunity to bring in other beautiful elements of the Australian bush. You could use chunks of timber as the base of your table centrepieces, surround your cake with gorgeous gumnuts or even just add a touch of personality with the aptly named flannel flower or kangaroo paw.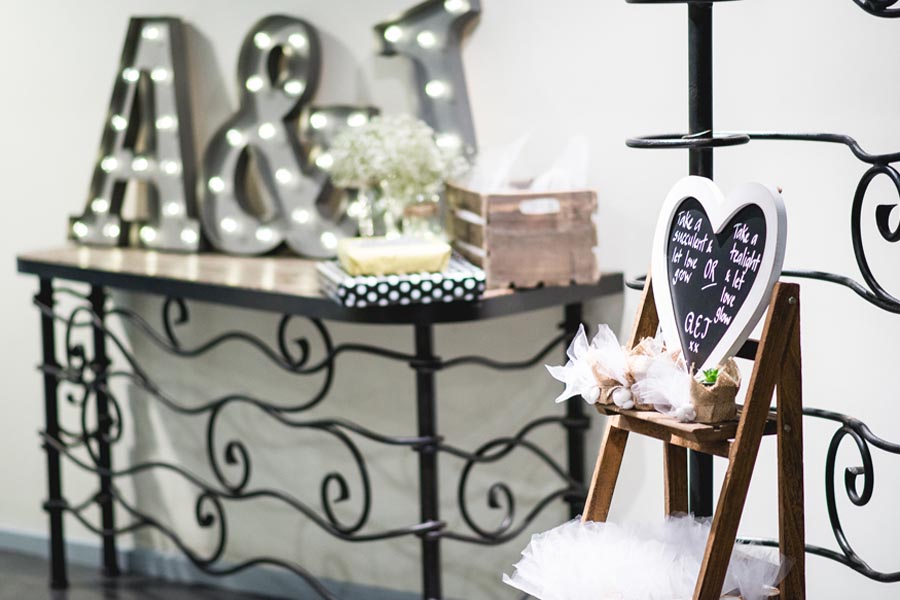 Stationery sets the tone
Designing stationery for your wedding is all about blending form and function. On the one hand it has a VIP job – to invite guests to share your day and detail the who, what, when, where and why. But it's also about making that dazzling first impression, which is something couples are increasingly embracing.
"Harking back to that focus on flowers, we're finding that couples are looking to incorporate their floral theme into their stationery," says Fiona, who notes Peter Rowland packages come with an exclusive wedding planning journal.
"For example, if they're having a really vibrant floral scheme they'll echo this by using a beautiful watercolour design in their invitations."
But brides and grooms are also looking to other sources of inspiration.
"At their most classic, of course, couples will look to their colour palette and work backwards from there," explains Fiona.
But modern stationery is building even further on that, drawing on location, era, food and beverage, and even a couple's own relationship to capture the imagination. You could create an infographic that highlights your relationship milestones, share the recipe for the signature drink you plan to serve on the night, print your invitation on reusable material, such as handkerchiefs, or even opt for interesting presentations such as origami.
"It's about elevating the moment that guests open their envelope," says Fiona.
"It's creating that sense of anticipation that makes them excited not just for your vows, but also for the celebration you're going to create around them."
Hot idea: To literally give guests a taste of your wedding, create an invitation box that includes some samples of what's to come. For example, if you are both known sweet-tooths who plan a sensational dessert bar, include a treat such as a small pack of caramel popcorn to whet their appetite. Or, for a night that will firmly focus on music and dancing, include a voucher for a download of a song you love and would like them to enjoy as well.
It's all about that personal experience – for you and your guests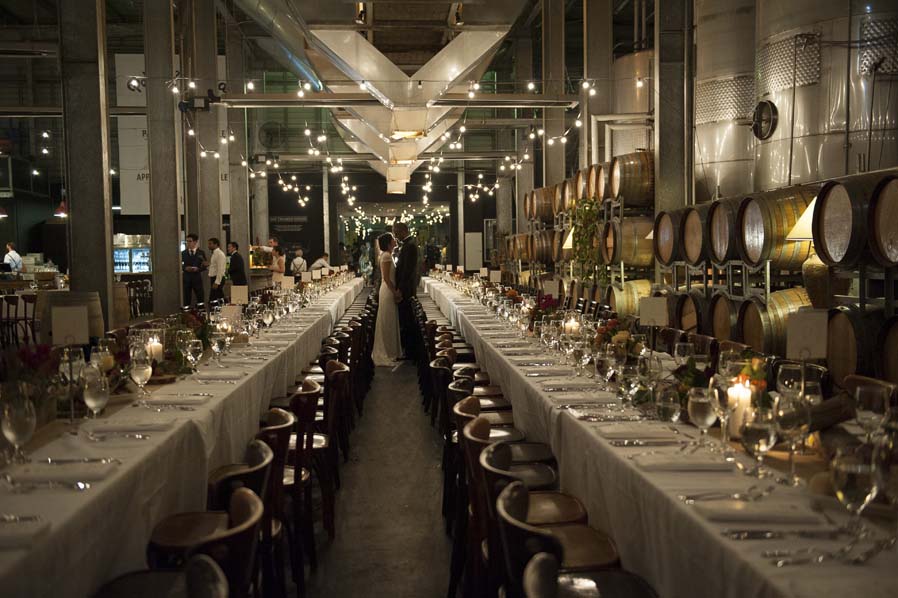 Some parts of a wedding are non-negotiable, but for the most part the celebration is a blank canvas – one that's yours to decorate as you see fit. And part of this is making sure the day really reflects your personal love story, rather than feeling hemmed into a classic definition of how a wedding should unfold.
"There's a definite trend of steering away from tradition at a modern wedding," says Fiona.
"For example, unless they're from a European background, a lot of couples are choosing not to do a farewell circle these days, because they want to keep their exit low-key, rather than bringing the dance floor action to a halt as they head off."
And this focus ties neatly into another trend that continues to grow in popularity, which is prioritising the guest experience.
"Weddings are ultimately about two people," acknowledges Fiona.
"But for most brides and grooms, being surrounded by their friends and family makes the day more special."
So they look to honour that by ensuring their wedding is as enjoyable for friends and family as it is for them. At its most simple, this could be about creating vegetarian options – such as a roasted cauliflower and cheese pakora with green chilli mayonnaise – that go beyond the mundane to tantalise and delight, or having an element of shared dining that helps encourage conversation.
Other suggestions include an opportunity for guests to request certain songs as the mood strikes them, the creation of a lounge area where they can relax, enjoy a drink and strike up a conversation with other friends and family, or even a DIY element of some sort, such as a caterer-curated punch bar where they can indulge their own tastes.
"At the end of the day," says Fiona – who notes Peter Rowland's expertise has been honoured with accolades such as the 2011 award for Australia's Best Venue Caterer – "it's about waving them off at the end of proceedings thinking not only that it was a beautiful wedding, but that it was also a fantastic party."
Hot idea: For a truly out-of-this world experience, complement your music with a performance that will thrill your guests. It could be a salsa demonstration, fireworks, a lantern-release ceremony or even a lesson in magic tricks.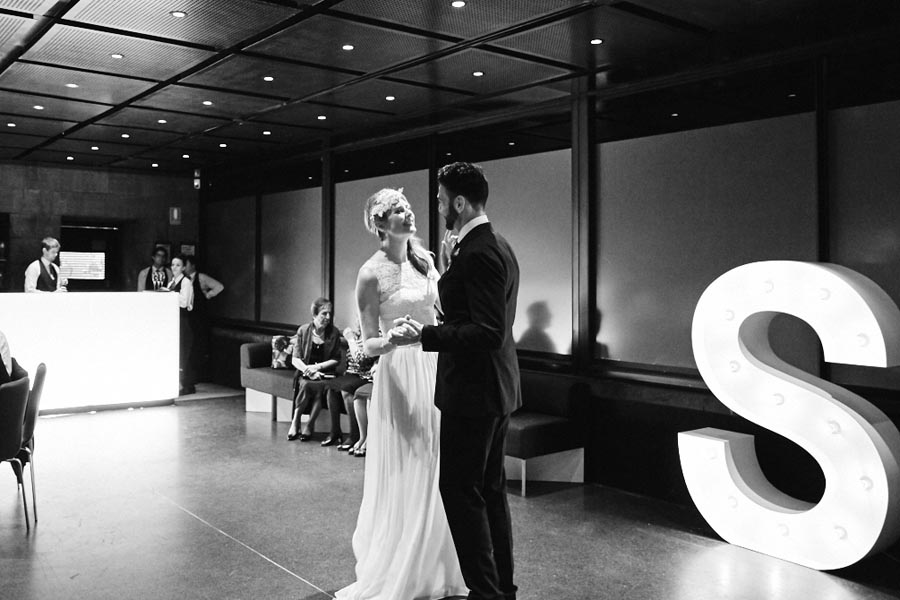 Turn up the music
According to Fiona, "music can make or break a wedding".
So it's no surprise brides and grooms are always on the lookout for ways to create a soundscape that will fill the dancefloor with young and old.
"When it comes to music, we have definitely seen an increase and interest in having live elements, for example a DJ accompanied by a vocalist or a saxophonist," says Fiona.
"And that's about having the best of both worlds, because a DJ can create a really amazing atmosphere while live music really captures the attention."
On the flip side, increasing numbers of bands are also offering a DJ component to fill in their breaks.
"This means that couples only need to make one booking to create a soundtrack that ebbs and flows in perfect harmony," Fiona says.
And in both cases, you're left with experienced professionals who can expertly read a crowd and adjust their repertoire to suit.
Hot idea: Even if you're a fan of niche or alternative music, remember that the best wedding playlist is one with broad appeal, so in amongst the songs you'd like people to discover, make room as well for classic favourites. After all, there's a reason they're still popular at weddings decade after decade.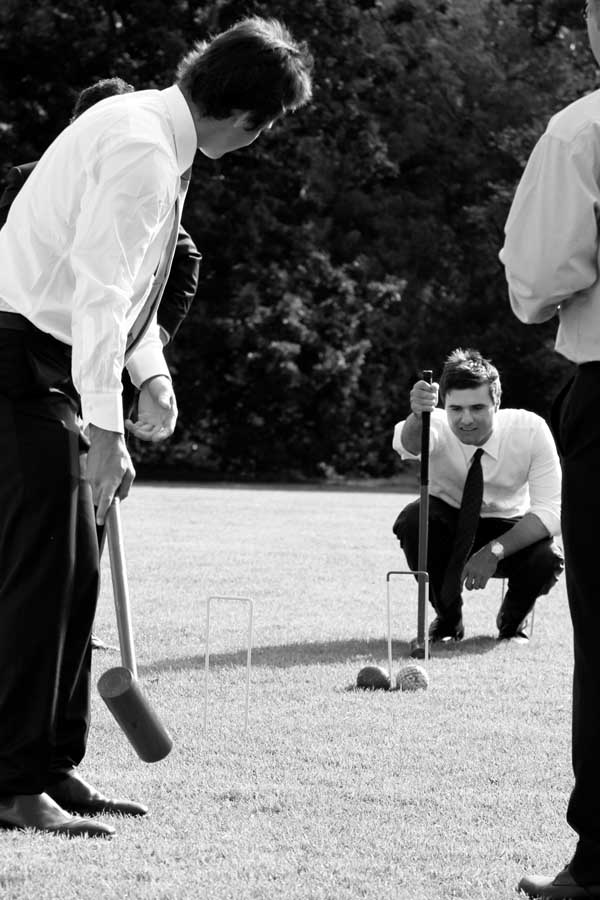 White is the new black
Comment favourably on a white dress at a wedding, and most people will assume you're talking about the bride. But these days, that's not always the case, as modern bridal parties are also getting in on the act.
"White bridesmaids dresses continue to be really popular," says Fiona.
"It's a trend that was around last season, and is still a firm favourite."
Acknowledging that 10 years ago the combination would have looked out of place, she notes it takes absolutely nothing away from the bride.
"Because the bridesmaids' dresses are much more simple than the wedding gown, they don't steal any of the bride's thunder, but they do create a really beautiful and elegant sense of cohesion," Fiona says.
This extends to the groom's party, where royal blue is cementing its status as a colour du jour.
"It's especially popular for rustic-style weddings, where the guys might just wear a blue shirt, jacket and bow tie, paired with a classic brown shoe," she says.
"It looks a little bit hipster and a lot sensational." Then, of course, there's the classic combination.
"Traditional black never goes out of fashion for the men, as it just pairs so well with any colour palette for the bridal party," Fiona says.
So in this case, it's more thinking about the small touches to stand out, even down to something as simple as a buttonhole designed to catch the eye with a bold bloom or a touch of character such as the inclusion of a Lego superhero figure. Ultimately, it all comes down to the best style tip of all, which is to wear something amazing that makes you feel as important and amazing as you are.
Hot idea: If you do go white with your bridesmaids, inject a massive dose of personality with brightly coloured shoes. These could be tied into the colour theme of the overall wedding, or you could just give your attendants carte blanche to pick their own shade. Just imagine how sensational the photos will be!
Fiona, who notes that Friday night weddings have overtaken Sundays as the most popular alternative to Saturday celebrations, says that ultimately, the biggest and best trend of all is to make your wedding a true reflection of your own unique personalities and your relationship.
"We always encourage our brides and grooms to be creative and be inspired," she says, noting the Peter Rowland team can work with all budgets and visions to guide couples through decisions ranging from styling and audio-visual to menu selection.
"After all, at heart, it's about a simple concept, which is creating your day your way."