As intimate weddings at home continue to increase in popularity, marquee weddings are becoming more common. A marquee is the perfect way to have an outdoor wedding without the worry that your guests will get soaked if there is an unexpected downpour.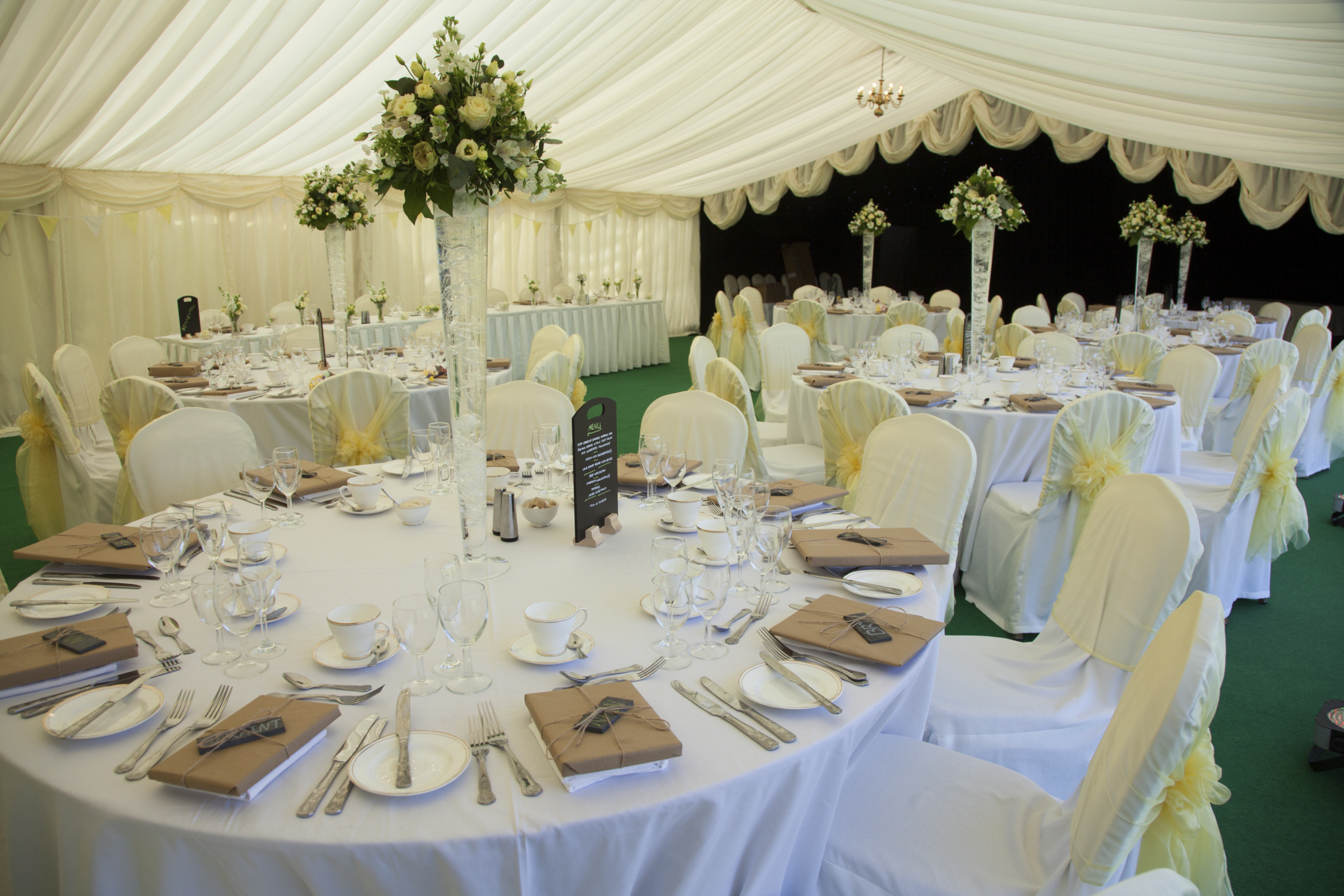 A wedding marquee is also a perfect option for brides with very specific ideas on wedding decorations as it literally provides a blank canvas for your designs.
Here are four of the current top trends in marquee weddings:
Marquee Villages
Modern marquee weddings have moved on from a single large tent, and marquee villages are big news. These consist of multiple marquee structures with small distinct spaces, such as a bar area, a relaxing lounge area, a dining area and an area for dancing.
Individual marquees can be linked using covered walkways, and outdoor spaces such as a terrace or a bar under the stars can be incorporated into the overall design. Traditional style marquees work well as a marquee village, but for added wow factor you could try tepee style marquees.
Soft Furnishings
Many couples find a large white marquee a little stark and daunting, although they can feel very refreshing in the summer. The introduction of soft furnishings such as coloured linings and drapes, cushions, comfortable sofas, and even carpet, can all make the atmosphere of a wedding marquee more relaxing, cosy and inviting.
Soft furnishings work particularly well for a winter or evening wedding, and many brides are embracing the trend for Indian or Moroccan themed decorations and using hot pinks, deep reds, and bright blues in their marquee decor.

Dramatic Lighting
Lighting is another element of marquee design that can help to add atmosphere to a blank space. Lighting schemes can range from romantic low lighting provided by table lamps, to full scale lighting rigs projecting different coloured lights around various zones in the marquee. Projecting coloured patterns onto the marquee walls is a fashionable option, and these patterns can change as the day progresses.
Eco Friendly Marquees
Eco friendly is a buzz word in any industry, and the wedding industry is no different. Couples are becoming increasingly concerned about the impact their wedding has on the environment and are doing everything possible to make their celebrations green.
If you want to hire an eco friendly marquee, make sure it is made of natural organic canvas. Try to hold your marquee wedding during the day in spring or summer so minimal energy is needed for lighting and temperature control. Your marquee may be able to do without an energy supply altogether if you have acoustic musicians to accompany your reception.