The advantages of a garden wedding are obvious. Beautiful scenery for you and your guests to admire, the fresh air scented by seasonal flowers in bloom, and the warm sun on your shoulders as you recite your vows; what could be more perfect?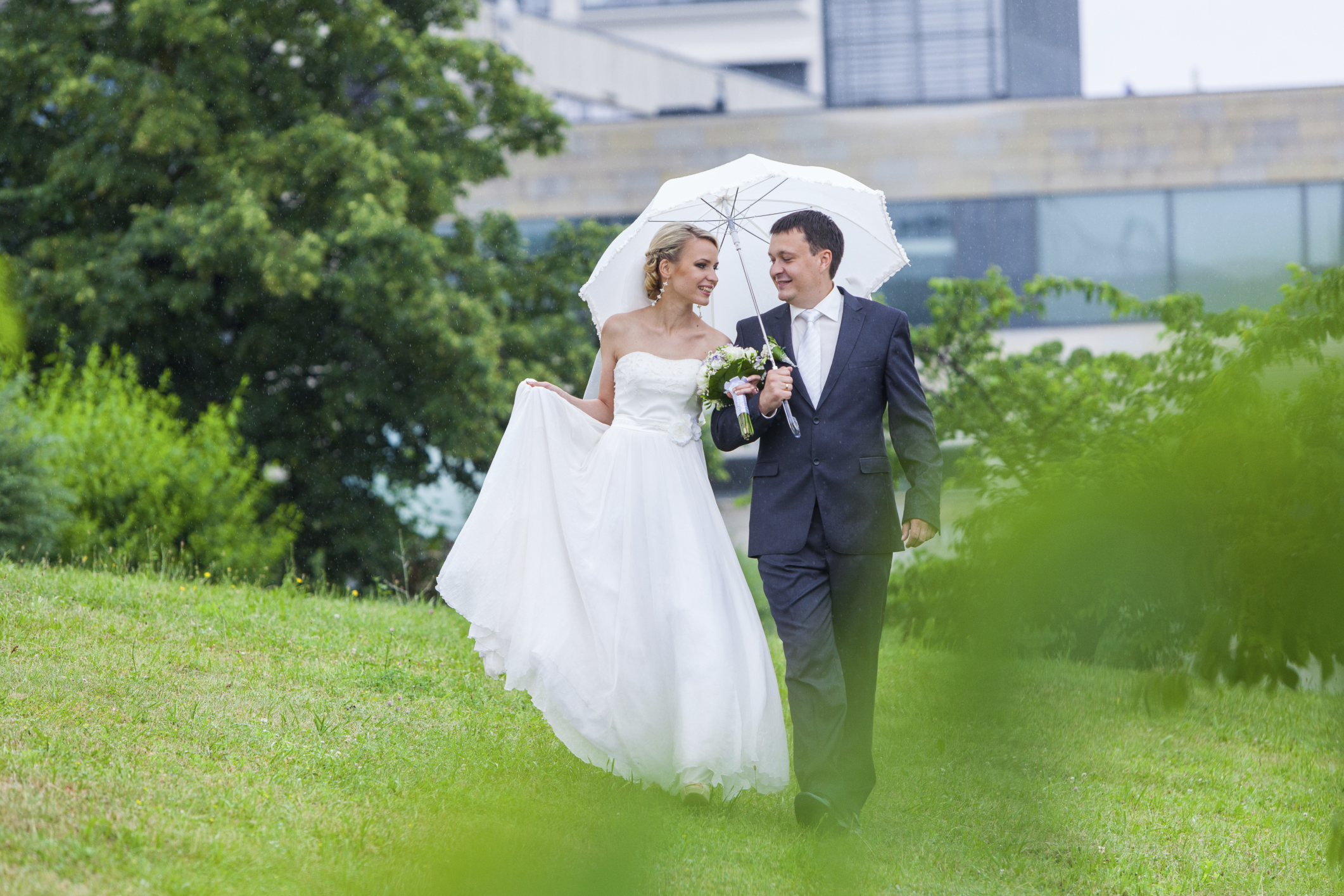 A garden wedding does take a great deal of planning, however, and there may be practical aspects you haven't considered. If you are hiring a garden venue that is frequently used for weddings, they should already have a lot of the facilities in place for your big day. On the other hand, if you want to have your wedding in your own garden, that of your parents or a friend, or perhaps in a park that isn't often used for this purpose, you may find you are starting from scratch.
Here are five practical aspects of a garden weddings:
Facilities for your guests
You garden venue may be beautiful, but does it have the necessary facilities your guests will need such as parking, toilets, and electricity for the catering and entertainment? If not there are always ways to get around these issues, but you will need to plan well ahead.
Birds, bees and pollinating trees
A garden looks its best in full bloom, but not just to your guests. Insects will be attracted to open flowers, and may be a bit of a nuisance. Equally, if there are fruit trees in your garden, you might want to avoid them when finding a site for your ceremony. Birds tend to sit in fruit trees for a quick snack and then stay there until they have decorated the ground beneath. In spring pollinating trees can cause havoc, and in autumn your guests may get showered with leaves when the wind blows.
If you are having a garden wedding, make sure your guests are aware of that so they can bring insect repellent, sun cream, a good hat, and appropriate clothing. Sometimes just naming the venue is not enough, some guests will still assume the wedding itself will take place inside. You need to be explicit.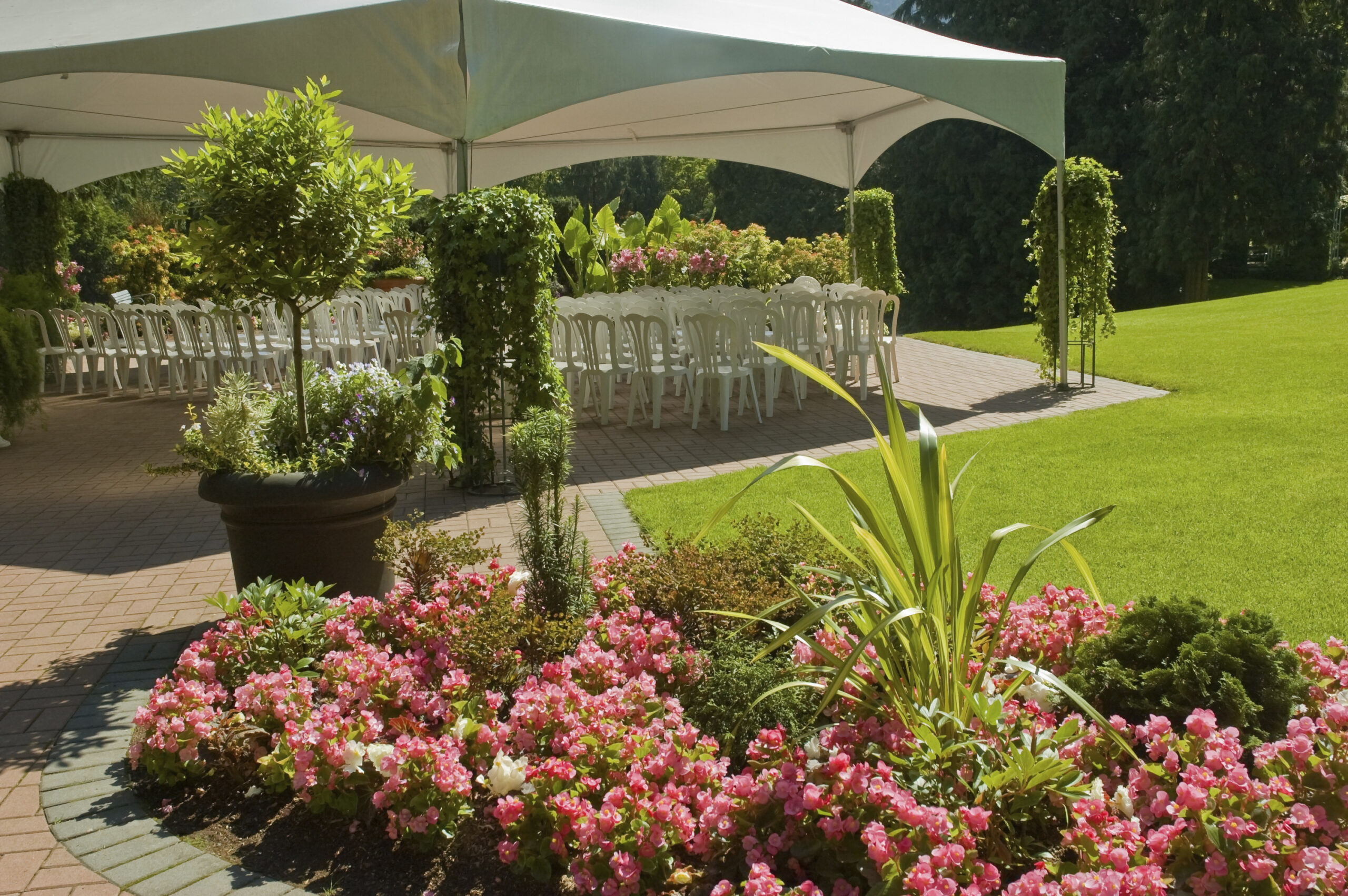 Unseasonable weather
Every garden bride's worst nightmare is high winds and rain on the big day. Always have a back up plan for a garden wedding. If you are hiring a marquee you might just get away with it, but if you are planning on being completely outdoors hire a local hall as a back up just in case. In the case of light showers you may just need to make sure there is somewhere your guests can take shelter, and have a good supply of umbrellas on hand.
The ground underfoot
Check the layout of the garden to make sure it is level enough for a marquee if you are having one, and see if special arrangements need to be made for disabled guests to get around. Look for the perfect ceremony location; you can create a focal point with a hired archway or gazebo if there isn't one in place. You may also want to determine where the processional path or aisle will be.
As well as space for tables so your guests can eat, you will need an open space for dancing, and an area to take group photographs. Check the drainage in the garden; even if the day itself is dry your guests will have a miserable time if they are dancing in standing water from the day before.
The photographs and wedding video
When you are looking for a photographer or wedding videographer, make sure you choose people that have experience in garden weddings and can show you examples of their outdoor work. They may need to bring specialist equipment such as light meters, shades, or amplifiers, and they may need additional time to set these up before the ceremony. Ask your photographer to visit your garden before the wedding to get some ideas for photo locations.